The Jeep brand has been around since the 1940s, offering a rugged appeal and off-road capability. With all the different models on the market, you are left wondering – are Jeeps good cars?
Jeeps are good vehicles if you plan to head off-road or you want a well-equipped SUV. If you are hoping to find an SUV that holds up against rust, or you are looking for a low-cost used model, another brand might be better suited to your needs.
In this article, I look at the areas where Jeep excels above the competition. I also look at some areas that they are lacking in, and show you what models to stick with.
Are Jeeps Good Cars?
1. Safety
The Jeep brand is known for having a variety of models to choose from, with a wide range of advanced technology included. In fact, the brand leads the pack, offering plenty of available features you can add to increase peace of mind.
Of all the models, the Renegade and Cherokee have regularly done well in crash test ratings. Both of these models have earned Top Safety Pick designations from the IIHS, proving they are top choices for family travel.
On the other hand, the Wrangler and Gladiator models have been notoriously deemed unsafe by consumers. In fact, the Wrangler has suffered for many years with something known as the "death wobble." For this reason, it's been best to leave these models to those who choose to head off-road or who want an adventure-focused vehicle.
2. Engine
The most reliable Jeep engine has been the brand's 3.6-liter Pentastar. It's also known to provide plenty of power without sacrificing too much efficiency.
However, there are some newer engine types that are also gaining a lot of attention. With the latest eTorque technology, you can expect much more efficiency, keeping the Jeep brand in line with today's standards.
3. Rust and Body
Sadly, the Jeep brand has been plagued with issues of rust and corrosion. It's possible that it's not the brand itself causing issues, but rather the way that they are used.
Jeep owners tend to take the SUVs off-road in water and mud, leading to an excessive amount of moisture. However, one would think that the brand would plan for that kind of use, since that's the market being appealed to.
4. Features and Technology
Over the years, the Jeep brand continued to lead with some of the most innovative technology available. Many of the SUVs are designed to be family-friendly vehicles, with top entertainment features offered.
It's easy to get some of the largest touchscreens in their SUVs and trucks. Plus, you can opt for some amazing packages that include all of the premium features you are looking for.
5. Performance
If you want to compare the towing ability of the Jeep Gladiator to that of larger trucks, it can't compete. However, for what the lineup is, it is capable of a lot more than you would think.
Additionally, the entire Jeep brand was designed for adventures. Much of the lineup is better equipped to handle off-road travel and trail driving than other models on the road.
6. Affordability
Jeep creates an extensive lineup with vehicles at every price point. You can choose a more expensive, well-equipped SUV, or opt for a cheaper compact model if your budget is tight.
Used Jeeps don't depreciate as quickly as some other models. While this helps you retain your investment, you won't get much of a break when buying a pre-owned Jeep.
7. Cost of Ownership
In general, the cost of owning most Jeeps is about average – neither unusually low nor uncommonly high. I've taken insurance premiums, loan interest, depreciation, repairs, fuel costs, and maintenance all into account while making this assessment.
While there likely won't be many repairs to the Jeep, your insurance premiums could be a little higher. Expect to pay more if you are in a modified Jeep or a model that's meant for off-roading.
8. Repair & Maintenance Costs
Jeep vehicles don't require any more maintenance than the average vehicle. However, if you are spending time off-road, you might need specialized tires or more frequent repair.
On the bright side, it's simple to get your hands on Jeep parts. There are dealerships in every city, and the aftermarket supply is booming with options.
Jeep History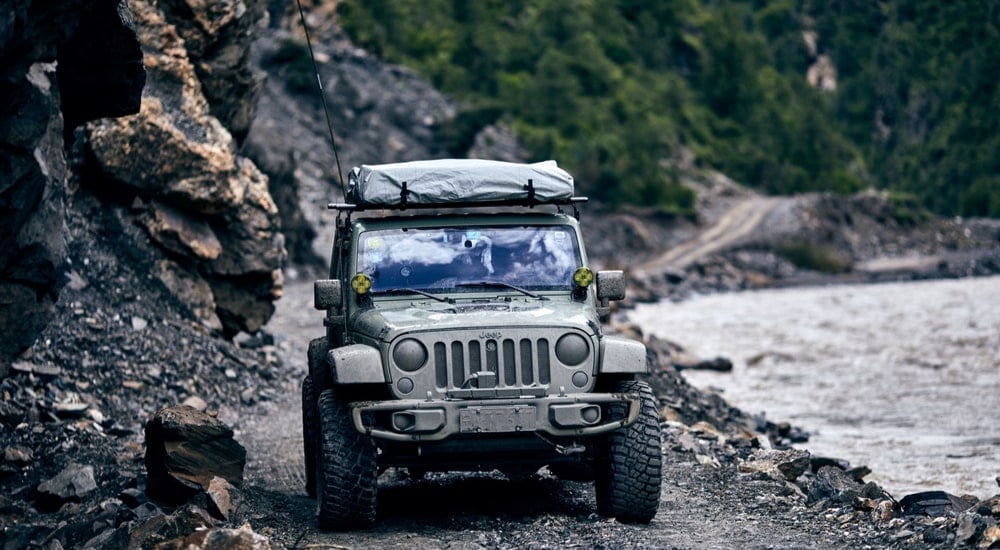 Jeep was founded in 1941 as a brand, but the company was building vehicles for the military at the time. The company supplied the first mass-produced car with four doors, birthing the SUV. During the war, the U.S. Army was supplied with many Jeeps. However, the vehicles were known as GP (Government Purpose) at the time, later turning into Jeep as people slurred the letters together.
Once the war was over, Jeep was poised to gain a lot of popularity in America. The company set out to make recreational vehicles that also served a transportation purpose. During the 1950s, the CJ-5 was born, later becoming the longest Jeep run ever until it was discontinued in 1984.
In 1953, Henry J. Kaiser purchased Jeep for $60 million. Under his leadership, 4WD was born and the Jeep brand expanded into more than 150 countries. In the 1960s, the modern-day Cherokee and Grand Cherokee models were first released, first known as the Wagoneer, helping the brand hit a new market of consumers.
American Motor Corporation purchased Jeep in 1970. When 1976 hit, the brand celebrated its 35th birthday by releasing the CJ-7, which would later become the Wrangler. Officially, it was 1987 when the model became known by that name. In that same year, American Motors Corporation sold off the brand to Chrysler Corporation. It was under this leadership that the Cherokee and Wrangler blasted off into massive popularity. By 1997, both the Wrangler and Cherokee were awarded top honors from well-known auto publications.
Now, the brand has many reliable models that round out the lineup. From compact SUVs to pickup trucks, Jeep has a little something for everyone.
Are Jeeps Reliable?
The Jeep brand appears to be considered reliable by many of the top publications. It tends to sit in the middle of the rankings, although one popular source puts it at the bottom of the brands instead.
In 2021, Jeep rose in the Consumer Reports list for reliability. New and redesigned models had some advancements offered that made them more reliable. Additionally, RepairPal has given Jeep an average reliability score, putting it right in the middle of all the brands.
On the other hand, J.D. Power ranks the Jeep brand closer to the bottom of the rankings. In fact, the brand rarely wins any awards from the consumer insight publication.
What are Common Jeep Problems?
1. Death Wobble
The most known problem with Jeep Wranglers and Gladiator models is the death wobble. This issue occurs most frequently when traveling at higher speeds.
The Jeep becomes difficult to handle and the vehicle will shake. In fact, this has led to many accidents, though there are no records of these accidents being fatal.
2. Exhaust Leaks
A few of the most popular models have been victims to exhaust leaks. The 1987-2001 Cherokee, 1993-2004 Grand Cherokee, and 1991-2006 Wrangler, with their 4.0L inline-six engines, are the most popular models with this problem.
It's also been found with the 1999-2009 Grand Cherokee, which is equipped with a 4.7L V8 engine. In every case, the exhaust manifold cracks and starts leaking.
3. Clogged Fuel Injectors
The same 4.0L engine is victim to clogged fuel injectors. When the deposits build up, the fuel flow is hindered, leading to severe performance issues.
In some cases, it only takes a fuel additive to clean out the injector. When that doesn't work, the injectors need to be replaced.
4. Water Leaks
Wrangler and Cherokee SUVs are sometimes prone to leaking. The main problems are found around the windows and doors. You might also notice some excessive wind noise. In both cases, the issues are defective seals. Thankfully, these aren't difficult to replace.
If you have a Wrangler with a removal top, there are problems of their own. With that said, it's something to be expected of anything resembling a convertible.
Most Reliable Jeep Models
1. 2007 Jeep Wrangler JK
If you are looking for something older to keep the cost down, consider the 2007 Wrangler JK. It's affordable and avoids most major defects.
It also features a spacious cabin with better sound insulation. It's a great SUV for highway travel or off-road adventures.
2. 2018 Wrangler Rubicon
On the flip side, the 2018 Wrangler Rubicon is a newer model for those looking for something more recent. It features a stylish cabin and plenty of high-tech features.
It also comes equipped with the eTorque technology that helps save more fuel. Still, there's plenty of power being pumped out.
3. 2019 Jeep Grand Cherokee
If you are focused on getting something better geared to the family, you might prefer the 2019 Grand Cherokee. There are so many features included with the SUV, you'll be surprised by the value offered.
It can also tow up to 7,400 pounds, making it ideal for family vacations. Just pay attention to what powertrain you choose, as some aren't as efficient as others.
Least Reliable Jeep Models
1. 2012 Jeep Wrangler
It doesn't matter where you look, the 2012 Jeep Wrangler will be listed as one to avoid. Stability, control, and comfort are all sacrificed in this model.
There are even people discussing rollovers with this SUV. Not only that, but the engine was also prone to overheating.
2. 2011 Jeep Grand Cherokee
This Jeep Grand Cherokee has received more complaints than any other model year, mainly because of how much maintenance needs to be performed. However, the complaints go beyond what would be considered normal maintenance.
More than 200 people have complained about the engine failing to start or taking longer to start. In fact, a class action lawsuit was filed against the automaker as a result of engine failure. Considering it is the first model in the generation, it makes sense why there were so many problems.
Is Jeep a Good Car to Buy Used?
If you are looking for a vehicle to take off-road or you need a family SUV, there might be a model that's good for you. Jeep vehicles are going to retain resale value, so they make a good investment, but it's hard to get a reliable model when you have a tight budget.