Free VIN Lookup in 3 Steps
Using our VIN decoder is easy. Use these three simple steps below to decode your VIN.
1. Find the VIN
To decode your VIN, you need to find it first. It is usually found on the inside of the driver's door frame or windshield.
2. VIN Lookup
Enter the VIN in the search form above. Press the button or press enter and wait for your VIN to be processed
3. Get VIN Report
Review the report to ensure you have entered the correct VIN. If you need more data, you can get a vehicle history report.
Why using a VIN Decoder is important
Using a VIN decoder or vehicle history report is one of the most important things before buying a used car. There are a few reasons why using a VIN decoder is important. First, it can help you determine if a vehicle has been recalled. Second, it can tell you if the vehicle has been involved in an accident. Third, it can help you make sure the vehicle you're considering buying is the right model for you. Fourth, if you choose a vehicle history report, it can provide you with important maintenance and repair history.
There are also other important reasons why you should use a VIN decoder, but those are the most important points for sure. Let's look at some important questions about VIN decoders.
What is a VIN (Vehicle Identification Number)?
When a car is manufactured, it is assigned a 17-character code to identify it. It is both letters and numbers, without spaces or q, i or o, as they confuse with 0 and 1.
The first three digits are called the World Manufacturer Identifier (WMI), which identifies the manufacturer of the car or vehicle. After this come 12 numbers representing the assembly plant-specific codes for various components, such as body and engine type.
Finally, two additional characters at the end identify modifications made to individual vehicles by their owners or dealers. It is this number that you need when doing a VIN lookup.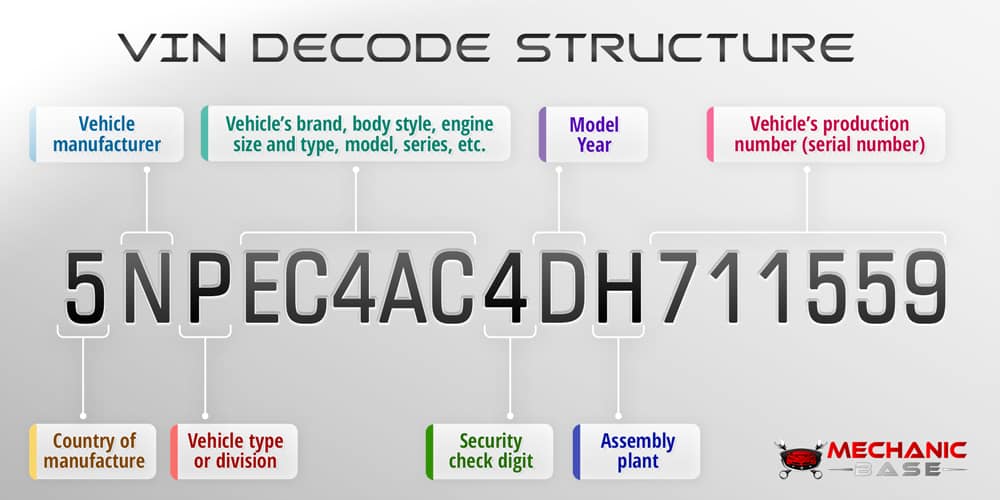 How to Find the Vehicle's VIN Number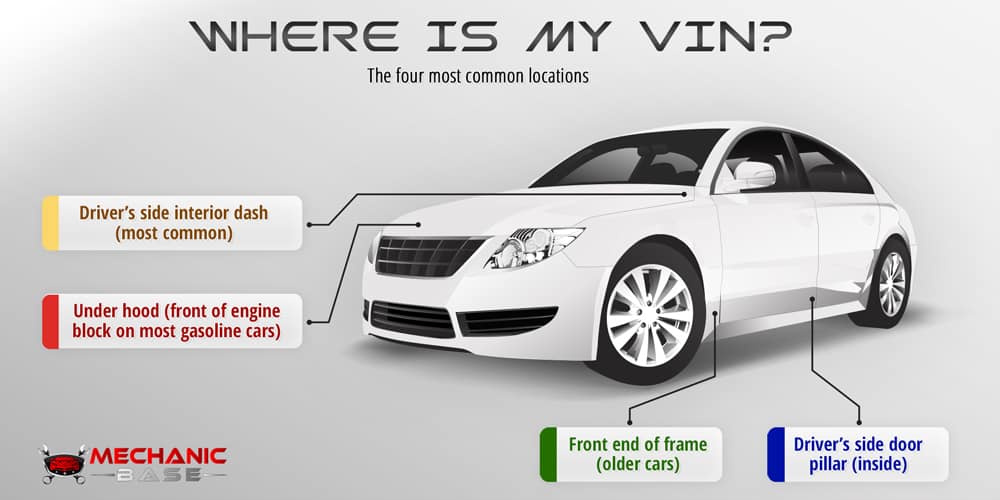 The VIN number is either found on the outside of the windshield at the bottom, on the driver's side, or on the driver's door pillar. Open the door and look for a label around the area where the door locks to the car. You can also find it on your license plate or in the engine compartment, usually in front of the engine.
The motorcycle's identification number is located on its handlebar neck under the handlebars; but you may spot it near or around the engine and frame – so be sure to check both places before assuming anything! The semi-trailer version has an even more accessible location: on the front part of the semi-trailer on the left side.
If you cannot find the VIN number on your vehicle, the vehicle's registration, title or liability insurance documents will provide the VIN number.
Vehicle History Report
A vehicle history report is a document that provides information about a car's history, including accidents, thefts, total loss records, repairs and other important events. This information can be very helpful when you are considering buying a used vehicle, as it can give you a better idea of the vehicle's condition and value.
To get a vehicle history report, you need to enter your car's VIN (Vehicle Identification Number) in our VIN decoder at the top of the page, which is usually found on the dashboard or door frame. You can then purchase a report from our partners which you will find in our free VIN check report
Once you have the report, you can use it to look for things like accident history, ownership history, depreciation rate, and outstanding recalls. You'll also find flood damage, junk, salvage title and loss records and more. By doing your homework before you buy, you can help ensure you get a good deal and a safe purchase.
What Vehicles Can Use A VIN Decoder?
Most vehicles can have their VIN (vehicle identification number) decoded, which can tell a lot about the car. Many people think that only a car's VIN number can be decoded, but there are actually more. Some of the possible vehicle types that can use a VIN decoder are:
Cars
Buses
ATV's
Mopeds
RVs
Commercial Trucks
VANs
Motorcycles
Pickup Trucks
For example, the VIN can reveal the car's manufacturer, make, and model, as well as its engine size and specifications. It can also show where the car was manufactured and when it was assembled. decoding a VIN can be helpful if you're thinking of buying a used car, as it can give you an insight into its history.
Can you look up vehicle specs by VIN number?
Yes, you can look up a lot of information about a vehicle using the Vehicle Identification Number (VIN). The VIN is a unique identifier for each car, and it can be used to find out things like the model year the car was made, the make and model of the car, and other important information.
How to find your car's VIN number?
You can find your car's VIN (Vehicle Identification Number) on the driver's side dashboard. Look for a metal plate with the VIN etched into it; The VIN code must be 17 characters long and should contain both numbers and letters. If you can't find the VIN plate, open the driver's side door and look for it on the door frame near where the door latches closed.
Is there a free website to check VIN?
There are many free websites to check and use a free VIN decoder, and Mechanicbase is one of them, and we think it's the best free VIN decoder. However, if you want to get extended information about your car, such as vehicle history, you may have to pay for it.
What is a VIN number?
There are a few different companies that offer vehicle history reports, and each has its own advantages and disadvantages. One of the most popular is CarFax, which offers a comprehensive report that includes information about accidents, title history, odometer readings and more. Another popular choice is AutoCheck, which specializes in historical vehicle data.
Is it Safe to Give Out a VIN Number?
The quick answer is yes, it is safe to give out your VIN number. Your VIN number is like your car's identification number – it uniquely identifies your vehicle and is used by insurance companies, dealers, and mechanics when ordering parts or searching for service information.
That said, while your VIN number can be used to access "sensitive" information about your car (like its service history or recall status), it's easy to access the VIN number for the public just by searching for the license plate number through a VIN number search.
Official Data From NHTSA
Vehicle Specific