The Infiniti brand is the luxury arm of the Japanese automaker, Nissan. Many of the cars are closely related, but Infiniti tends to come with more luxuries included. Are Infinitis good cars, and can they be considered reliable?
In this guide, I evaluate every aspect of the Infiniti brand to determine if it fits your needs. I also evaluate the top Infiniti models, and show you some of the problems you might experience as an owner.
In the end, you will have a better idea about whether the Infiniti brand is right for you and what model might be the best.
Are Infinitis Good Cars?
Infiniti is overall a good car, and it is rated average among the top car brands. It's reliable and tends to have high safety scores, but these cars aren't considered low-dollar. You won't want an Infiniti if you are looking for something affordable with a low cost of ownership.
1. Safety
Both Infiniti and Nissan vehicles are some of the safest on the road. Many of them earn top honors in crash test ratings, proving that it's a good option if you want to protect your family.
Most of the newer models also include high-tech driver-assist technology. With blind-spot monitoring, lane departure warning, pedestrian detection and other safety equipment, you can rest easy while you drive.
2. Engine
Infiniti has always produced a well-built gas engine. There aren't many diesel engines, but you can find some older models.
On the other hand, Infiniti is moving into the electric market. You can find many reliable hybrid powertrains if you want more efficiency.
3. Rust and Body
For the most part, Infiniti vehicles hold up well against corrosion. However, there are a few models that haven't done well.
The 2007-2009 Infiniti G35 and 2009 FX35/50 SUVs often produce a clicking sound from the axles. The problem is due to rust between the axle hub and outer CV joint, so this is an area you want to inspect before you buy a used Infiniti.
4. Features and Technology
Because Infiniti is a luxury brand, you can expect the newest technology and features. In fact, you will find more included than the comparable Nissan model.
Today's Infiniti cars and SUVs have the technology you often need to pay extra for with other brands. However, the Infiniti model could be more expensive than the ones you compare it to.
5. Performance
The Infiniti lineup always drives and handles well. You get plenty of power when you push down the accelerator pedal.
Some of the models are comparable to sports cars and offer plenty of excitement. But, you can also find reliable yet high-performing SUVs if you need something tamer for the family.
6. Affordability
All luxury cars are more expensive than the standard lineup of vehicles. For these reasons, Infiniti vehicles are not considered affordable.
However, the Infiniti lineup is often cheaper than many other luxury brands. If you are shopping among luxury models, you might find the Infiniti brand more affordable than your other options.
7. Cost of Ownership
To look at the cost of ownership, you want to consider fuel economy, insurance, depreciation and maintenance costs. These are more expensive to own, so insurance is going to be higher. The heavier weight and powerful engine also make it less efficient.
These luxury cars also depreciate quickly, so there's less return on investment. With so many sophisticated parts, there is also more that can break over time.
8. Repair & Maintenance Costs
The average repair and maintenance expense is considered slightly more than average with Infiniti vehicles. You will usually spend more to repair an Infiniti versus a Nissan.
It also appears to be in for repairs more often than the average vehicle. However, the urgency of the problems tends to be on the lower end of the spectrum.
RELATED: 20 Most & Least Expensive Cars to Maintain
Are Infinitis Reliable?
Infiniti vehicles have an average reliability rating. They don't seem to outperform or underperform when compared with most mainstream brands. It also falls right in line with the majority of luxury car brands.
The brand also falls in the same area as other luxury cars. It performs slightly better than most Mercedes-Benz, BMW and Audi cars, but slightly worse than Lexus and Acura.
Infiniti History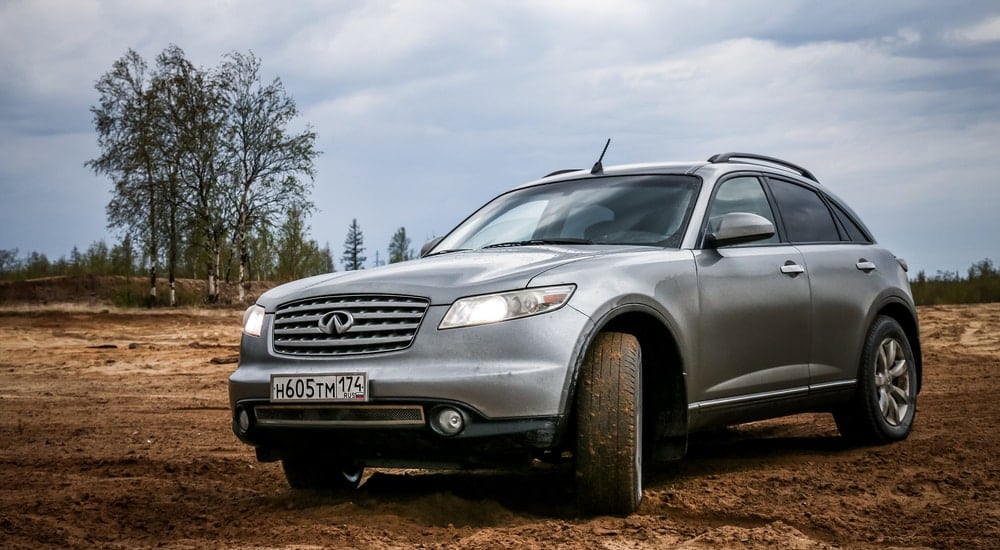 Nissan has been selling vehicles in the United States since 1960. However, it wasn't until 1989 that the luxury brand Infiniti debuted in the U.S. The first models were the M30 and Q45. Both of these models were already being sold in Japan, but under the Nissan nameplate.
However, Nissan recognized the need for a luxury brand in the United States, which is why Infiniti was born. The two brands remain closely connected, with many of the models sharing platforms and features. In fact, the Nissan Skyline was the predecessor of the famous Infiniti Q50 sports car.
What are the Common Infiniti Problems?
1. Peeling Paint
When you purchase a luxury automobile, the last thing you hope will happen is the paint starts to peel. However, several Infiniti models have been dealing with these defects, making them less popular among discerning enthusiasts.
You might deal with peeling paint on the 2011 QX56 models. It also seems to occur with the 2012 models, showing that Infiniti did nothing to correct the defect.
2. Cracked Dashboard
Inside the vehicle, the cabin of most Infiniti models is well-built and appointed with some of the best luxuries. However, most people don't think about the quality of the stationary parts, such as the dashboard.
With the 2009-2011 G37, customers continue to complain about the dashboard cracking. It's hard to get excited about a luxury car that looks like a piece of junk inside.
3. Electrical Power Loss
Sadly, the 2009 Infiniti G37 also had other problems, which is why it's making our list as one of the least reliable. Along with a cracked dashboard, customers also notice that the power can be completely lost for no reason.
It's dangerous to drive a vehicle that loses power suddenly. In fact, it could lead to an accident if the person behind you isn't paying attention.
Most Reliable Infiniti Models
2015 Infiniti Q60
The 2015 Q60 has received some of the highest ratings from the brand. The interior design might not be as sophisticated as you are looking for, but you can't beat the reliability.
It comes equipped with a potent V6 engine that provides the on-road excitement you hope for. Plus, it includes sporty handling that gives you a little thrill as you take corners.
2010 Infiniti M
The M model is still one of the highest-rated ever. It isn't just spacious, but also offers nimble handling and is quite reliable. The top-notch powertrain puts the icing on the cake.
Inside the cabin, you get advanced features and simple controls. However, the fuel economy isn't the best, but that seems like a fair trade-off considering everything else you get.
2000 Infiniti QX4
You don't have to choose a passenger car if you want something reliable. There's also the option to drive the QX4. Even 22 years later, you can find many of these going strong with plenty of life left inside.
Plus, the capability is unparalleled in luxury models this old. You can tow a camper or take the family away for a weekend of fun.
Least Reliable Infiniti Models
2011 Infiniti QX56
I've already discussed how this model's paint tends to peel off of this car, but that's not all that goes wrong. Because 2011 was a complete redesign year, there were many glitches that customers had to deal with.
The majority of the complaints center on engine issues. Some customers complain about engine vibrations, while others are talking about how the engine doesn't respond to input from the accelerator pedal.
2009 Infiniti G37
Clearly, the 2009 G37 has its share of problems that customers don't want to handle. The cracked dashboard and electrical power loss would be enough in themselves, but there's more to deal with when it comes to this model.
Additionally, the airbags in this model continue to fail. If you were to get into an accident, you might not be protected with the current flaws. For that reason, it's hard to recommend the G37 as a good used vehicle.
Is Infiniti A Good Car To Buy Used?
Most Infiniti cars would make a great pre-owned option. These are stylish luxury cars with potent powertrains and plenty of technology included. You can also find a majority of used Infiniti models for a super price, much lower than other luxury brands.
On the other hand, you might have a higher cost to own an Infiniti. There seem to be more maintenance and repair appointments, plus the parts can be expensive to purchase. However, if you do your research ahead of time, you can avoid one of the troublesome models. Choosing a reliable model will help you avoid problems down the road.