Does your transmission have strange problems with shifting and unexpected error messages on the dashboard?
The shift solenoid is a part that causes a lot of strange problems in automatic transmissions. There are a few ways to find out if your shift solenoid is bad.
Replacing a shift solenoid is often costly so you want to make sure that you are not replacing a functional shift solenoid.
In this guide, you will find everything you need to know about transmission shift solenoids, how to locate the problem and how to replace the parts.
What Is a Transmission Shift Solenoid?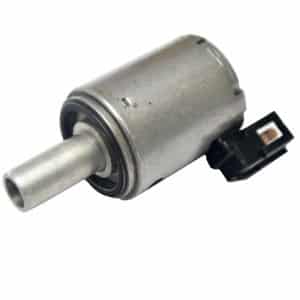 The transmission shift solenoid's job is just like it sounds – it shift the gears for you. The transmission control unit is getting information from the engine, vehicle speed sensors, and other parameters. The engine is using all these parameters to calculate when it's time to shift.
When it's time to shift, the transmission control unit sends out power or ground to the required shift solenoid and it causes the solenoid to open and let the transmission oil flow into the valve body.
The function of a transmission shift solenoid
The shift solenoids are spring loaded with a coil inside. It depends on the car, but there are normally 12 volts going to the solenoid all the time and the transmission control unit sends ground to the solenoid when it's time to open and releases the pressure.
If the transmission control unit is not able to open, the shift solenoid with help the power or ground, and it will store a trouble code in the transmission control unit on the affected shift solenoid. It's also possible that the shift solenoid has an internal problem or is stuck so the transmission control unit can't open it properly.
Bad Transmission Shift Solenoid Symptoms
There are a few different symptoms of a faulty shift solenoid. In the table below, you will find the most common symptoms, causes, and fixes. However, it's always recommended to carry out proper research about the problem and not just replace parts from the list.
The most common symptom of a damaged transmission shift control or wiring is a warning light on your dashboard. This is often a check engine light or a transmission warning light. If you see a warning light on your dashboard, read the trouble codes with an OBD2 scanner and start your troubleshooting there.
Problem
Symptoms
Causes
Solutions
Transmission shift solenoid problem
Shifting delays

Skip / Jump over some gears

Stuck in gears

Downshift / Upshift problems

Check Engine light

Limp mode
Faulty Shift Solenoid

Low transmission fluid

Bad electrical connections on transmission

Faulty wirings to shift solenoid

Faulty TCM(Transmission control unit)

Replace Shift Solenoid(If possible)

Check transmission fluid level

Clean connectors on transmission

Repair wirings between shift solenoid and TCM

Replace TCM
How to Diagnose a Shift Solenoid Problem?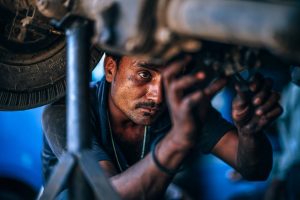 First, we have to figure out if it's a wiring, shift solenoid, TCM or mechanical fault. To do so, you should read and research the trouble codes carefully to understand the problem before starting the troubleshooting.
If the trouble code is telling us that it's stuck or an electrical problem, it is most likely a wiring or shift solenoid problem.
A lot of the shift solenoid codes could be solved by trying to make a transmission fluid replacement or a carring out a transmission flush. A transmission fluid change is often not that expensive and it can solve a lot of problems with your transmission.
Here is a list of the most common problems regarding shift solenoid problems.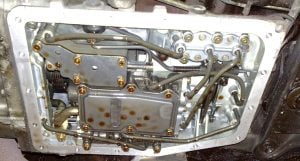 If you get an electrical or stuck code, the easiest way to check this is with an OBD2 reader with the function to test the shift solenoid by forcing the transmission control unit to open and close. If you do not have an OBD2 reader with this function at home, you can borrow one or check out our article OBD2 Scanner Reviews.
Here is a list of how you can carry out the troubleshooting with a scanner:
Find a transmission wiring diagram for your transmission.
Find out which pins are going to the affected shift solenoid.
Loosen the transmission wiring plug on the transmission
Use the OBD2 scanner and start the output test of the affected shift solenoid
Measure to see whether you get both 12 volts and ground to the shift solenoid at the plug on the transmission on the affected pin.
If you do not get both 12 volts and ground – you may have a wiring problem or a faulty TCM ( transmission control unit ).
If you get 12 volts and ground and the shift solenoid trouble code keeps coming back after you have erased it, you probably have a faulty shift solenoid.
How to Repair a Transmission Shift Solenoid?
If the shift solenoid itself has an internal error, the best way is to replace just the shift solenoid if possible. In some cases, you can clean the shift solenoid if you find a lot of dirt inside of it. As I mentioned before, a transmission fluid change or a transmission flush can solve some shift solenoid trouble codes, so you could try that out first.
To replace a shift solenoid, you have to remove the transmission fluid pan to reach the faulty solenoid. It is located in the valve body.
NOTE: In some vehicles, you can't replace just one solenoid, you have to replace the whole solenoid pack. Always check this with your dealer before you start to remove the transmission pan.
Shift Solenoid Replacement Cost
The replacement cost of a shift solenoid replacement depends a lot on what car model you have. As I mentioned before, in some cars, you can't replace just one solenoid. You have to replace the whole solenoid pack and that is often expensive. When you are replacing a shift solenoid or shift solenoid pack, you should always also replace the transmission fluid and filter.
Single shift solenoid replacement: ~$50 – 150
Shift solenoid pack replacement: ~$200 – 500
The price is also affected a lot depending on what parts and transmission fluid you are using. Aftermarket parts are often cheaper than original parts, but often not of the same quality.
Conclusion
A lot of shift solenoid problems can be solved by changing the transmission fluid and with the help of a transmission flush to get all the dirt out of the solenoid pack. If you can't just replace a single solenoid, and you have to replace the whole pack, it could be worth trying to change your transmission fluid first instead.
You should always make sure that there is not a wiring problem between the transmission control unit and the solenoid before replacing any parts.
If you need help with other transmission related problems, you can check out our transmission problems repair guide or our other transmission articles in the category.
If you still have any questions about the shift solenoid for which you would like answers, comment below and I will answer them as soon as possible. If you have other car questions, you can go to our homepage and ask a mechanic for free.
Hello I'm Magnus, the owner and the writer of this website. I have been working with cars since I was 16 and I'm specialized with in-depth Automotive diagnostics. Also been driving drifting for the last 6 years. I'm here to give you answers to all your automotive questions and I hope that you enjoy our content.