When your vehicle needs repairs, no tool is more useful to help you figure out what's going on than an OBD2 scanner. Because while a check engine light tells you there's a problem, an OBD2 scanner often tells you exactly what that problem is. But, what's the best OBD2 scanner to choose?
While the right tool can point you in the right direction and help you fix your vehicle in no time, the wrong one can have you running in circles trying to figure things out. That's why we took the time to track down the best OBD2 scanner out there.
Whether you're looking for a simple code reader for your garage or a comprehensive OBD2 scanner that can do it all, we've got you covered.
Top 10 Best OBD2 Scanners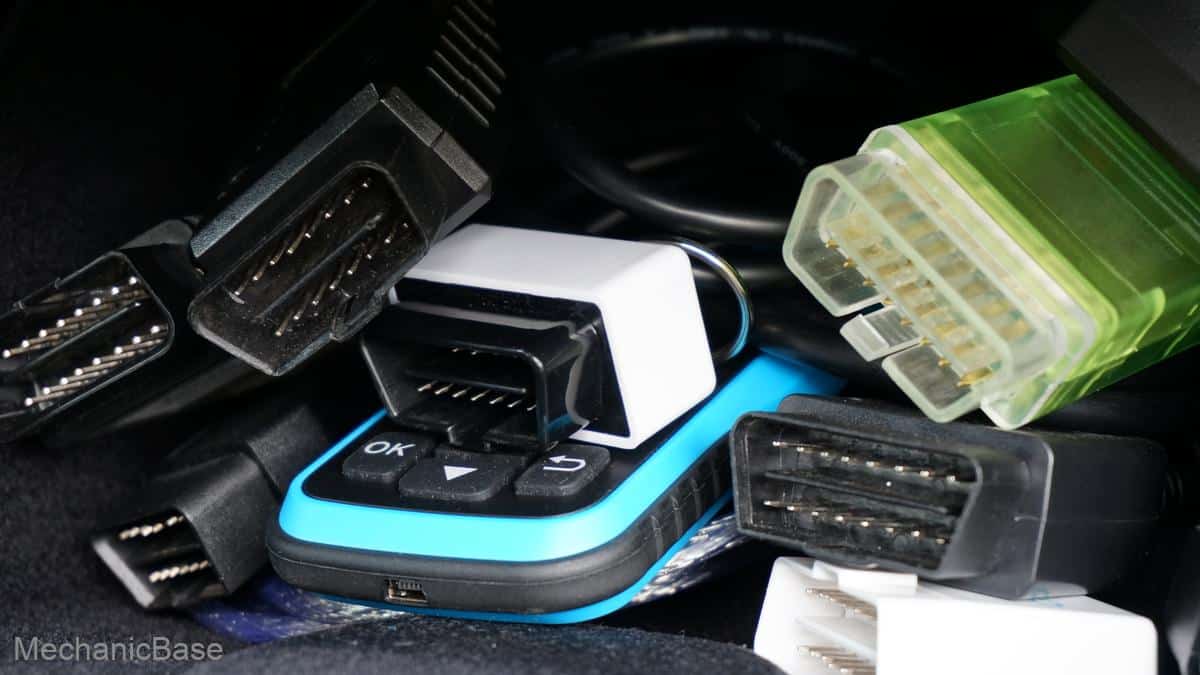 1. BlueDriver Bluetooth – Best OBD2 Scanner Overall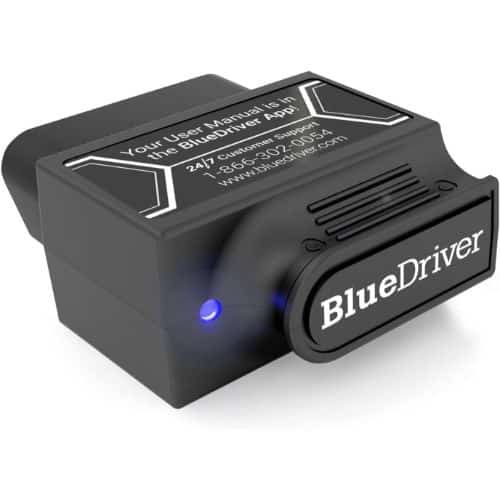 Key Features:
iPhone and Android compatible
Live data streams
Customizable displays
Unlimited vehicle-specific repair reports
If you are looking for the best OBD2 scanner with a great balance of price and affordability, the BlueDriver scan tool is a great choice. In the modern world, there's no reason for a bulky scan tool that takes up a ton of space in your toolbox. With the BlueDriver Bluetooth Scanner, you get a compact scan tool that works with your mobile device to give you up to the second results.
The entire system is completely wireless, user-friendly, and customizable. Since you're using your phone, you can easily record and screenshot data which is useful for showing customers to explain the problem or to technicians for some additional advice.
Not only that, but you also get access to tons of vehicle repair reports, and there's no limit to how many reports you can pull. You don't' have to worry about spending more money on updates or support, which is a big deal compared to some of the more expensive options out there.
If you're an at-home mechanic or an overall novice, these features can be everything you need to prod you in the right direction. Not only do they offer likely solutions, but they also offer links to the parts you'll need to fix your vehicle.
While this scan tool doesn't eliminate the need for mechanical know-how, it does an excellent job for novices and those willing to learn while they get their hands dirty.
However, while the entire setup is user-friendly, there isn't a physical screen. You must pair it up with a mobile device, so if you're not tech-savvy or don't have a connected device, this isn't the OBD2 scan tool for you.
But since most people have a compatible mobile device, this is everything you could ask for and more.
Pros
Good mix of price and features
iPhone/Android compatible
Unlimited vehicle repair reports
Completely wireless
User friendly
Cons
No physical screen – you must use a phone
---
2. Autel MaxiCom MK808 – Best Premium Scanner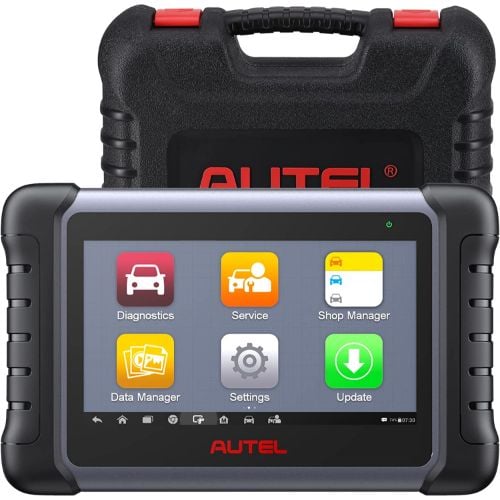 Key Features
Over 25 service functions
Live data streams
Provides detailed reports and possible fixes
7-inch LCD screen and 32GB memory
Auto VIN technology
Alright, the Autel MaxiCom MK808 isn't the lowest-priced OBD2 scan tool out there but compared to the premium options Autel offers, it's a steal. If you have a repair shop, this is definitely one of the best OBD2 scanner choices you can make.
And for most at-home mechanics, this is more than you'll ever need. There are over 25 service functions that allow you to complete a wide array of maintenance functions, including key programming, brake bleeding, injector coding, and more.
Even better, this tool does more than just check the OBD2 engine codes. It also checks the SRS, ABS, and transmission systems and breaks everything down for you. The MK808 provides diagnostic reports, live stream data and even suggests repairs.
With the Autel MaxiCom MK808, a novice mechanic looks like a pro, and a pro looks like the best of the best. This device has a 7-inch LCD screen for easy-to-see displays and 32GB of memory for plenty of storage.
It's lighting fast, and with the Auto VIN technology, you also save time since you don't have to input each vehicle's information. Simply hook up the tool, and the scan tool does the rest, inputting all of the vehicle's information for you.
Not only does this save you time, but it also prevents mistakes from happening, which helps you diagnose and repair your vehicle right the first time.
You can live stream data and save the results for later without ever worrying about running out of space. So, while this might be a more expensive option for an at-home mechanic, it'll do anything you could ever need, saving you money and keeping you out of the repair shop.
It is definitely the best OBD2 scanner for home usage if you are not afraid of paying a little bit extra.
Pros
Tons of features and service functions
Checks every system
Provides diagnostic reports and suggests repairs
Works on almost any OBD2 vehicle
---
3. Kasmotion – Best Budget Scanner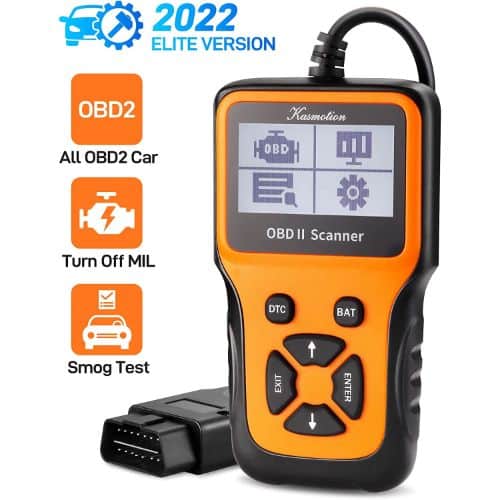 Key Features
Read and clear codes
Emissions test (computer only)
Freeze frame data streams
Just because you don't want to spend a ton of money on an OBD2 scan tool doesn't mean you can't get one that gets the job done. The Kasmotion is the best OBD2 scanner if you are looking for a cheap scanner with basic functions and large vehicle coverage. With the Kasmotion OBD2 Scanner, you get a top-notch option that does more than just read codes – and you don't have to worry about spending a ton.
You can still live stream and freeze frame data streams, which means you get more information about the system you're trying to fix. While it doesn't offer playback capabilities, in the world of mobile devices, that's not as big of a deal as it used to be.
The Kasmotion OBD2 Scanner supports seven different languages, so chances are, no matter what language you speak, this tool works for you. And while it doesn't have a ton of features or service functions, it can check your vehicle's emissions system to help you pass local inspections.
But keep in mind that this is only a computer check. That means it will read the data from the oxygen sensors and other inputs and let you know if everything looks right. But if those components are giving faulty results, your vehicle might be putting out different emission levels.
Also, this scan tool only reads OBD2 codes. SRS, ABS, and transmission codes are not covered. That might not matter now, but if you get one of these codes down the road, this tool won't be able to help you out.
Finally, while this tool will give you the engine code and even clear it for you, it doesn't offer any diagnostic support. You'll be on your own for researching potential causes and solutions. But at this price, it's a steal, and it can bail you out of a variety of diagnostic trouble codes.
Pros
Affordably priced
You can freeze frame data streams
Checks emissions systems too
Supports seven languages
Cons
Not a ton of features
No service functions
---
4. Actron CP9690 OBD1 & OBD2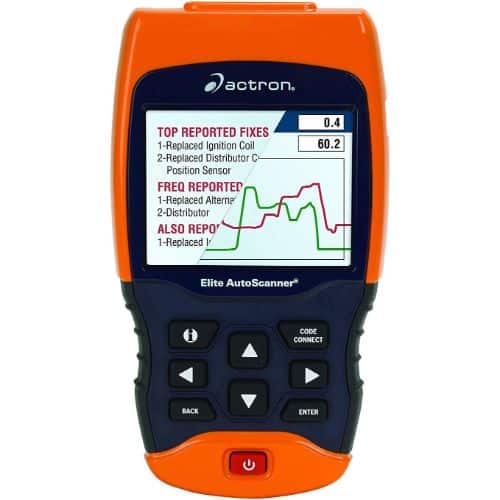 Key Features
Works with both OBD1 and OBD2 vehicles
CodeConnect for databases of reported faults
3.5" color screen
Record and view live data
Since OBD2 only entered vehicles in 1996, if you have an older vehicle, then it has OBD1. While OBD1 isn't nearly as comprehensive as OBD2, it can tell you some important information to help you track down the source of a check engine light.
So, if you own an older vehicle or a repair shop that works on older vehicles, you need something that can read OBD1 codes. With the Actron CP9690, you get a comprehensive OBD1 and OBD2 code reader in a single device.
Keep in mind for OBD1 vehicles, you're likely getting nothing more than a code, even with a code reader like this. That's because OBD1 was manufacturer-specific, and getting a scan tool that works with all of them while providing comprehensive diagnostic and troubleshooting tools is near impossible.
However, for OBD2 and select OBD1 vehicles, this scan tool allows you to view and record live streaming data and diagnose ABS and SRS codes. It presents all of this data on a small but crisp and color 3.5" display to help you interpret data.
Also, this scan tool only works with Ford, GM, Chrysler, and Toyota OBD1 vehicles. Once again, this is because OBD1 was manufacturer-specific, so tracking down the coding used for each smaller vehicle manufacturer isn't easy.
If you do need an OBD1 code reader for a smaller vehicle manufacturer, it's best to track down a product that specific manufacturer produces.
Finally, this scan tool doesn't offer service functions, although it does have CodeConnect that gives you access to databases of confirmed fixes for your specific code and vehicle.
Pros
Provides diagnostic troubleshooting suggestions
Provides ABS and airbag codes too
Provides and records live data streams
3.5" color display
Cons
Only works with Ford, GM, Chrysler, and Toyota OBD1 vehicles
Does not have service functions
---
5. MOTOPOWER MP69033 OBD2 Scanner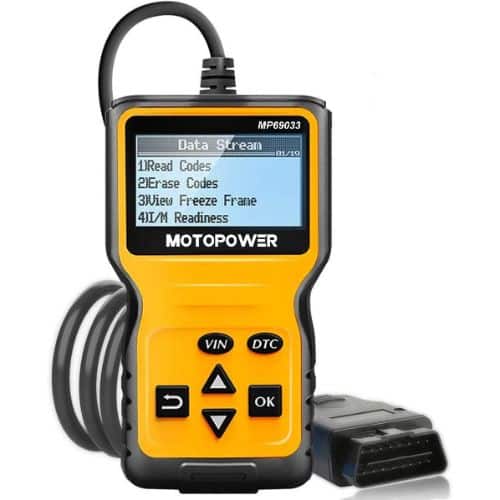 Key Features
Easily read and erase codes
View freeze-framed data
Checks the emissions system (computer only)
DTC lookup
If all you need is a scan tool to give you the code and you can handle the rest, then the MOTOPOWER MP69033 is an excellent choice. It can read and erase codes and even allows you to view and freeze frame data streams.
For those that just want the DTCs, this OBD2 scanner does that and provides you with a short DTC lookup. While this is a far cry from a full diagnostic troubleshooter and doesn't make repair suggestions, it does give you enough information to let you know what the specific code means.
The only other feature this scan tool offers is an emissions check, but even that doesn't check the actual emissions coming out of the tailpipe. Instead, it just tells you what the various sensors are telling the ECU about the emissions.
But since you're not getting a scan tool that's jam-packed with features you don't need, you're also getting one at a great price. Why spend more on a scan tool that has a ton of features you'll never use?
Another perk is that it still comes with a two-year warranty despite the lower price, so you don't have to replace it anytime soon.
But most importantly, it's extremely user-friendly. So, if you're looking for a basic scan tool because you want something easy to use, this is an outstanding choice.
It's a no-frills scanner that gets the job done and is easy to use – perfect for the mechanic that already knows what they're doing and just need the code.
Pros
Affordably priced
DTC lookup feature included
Also checks the emissions system
Two-year warranty
Cons
No service functions
Very basic OBD2 scanner
---
6. Autel MaxiSys MS906BT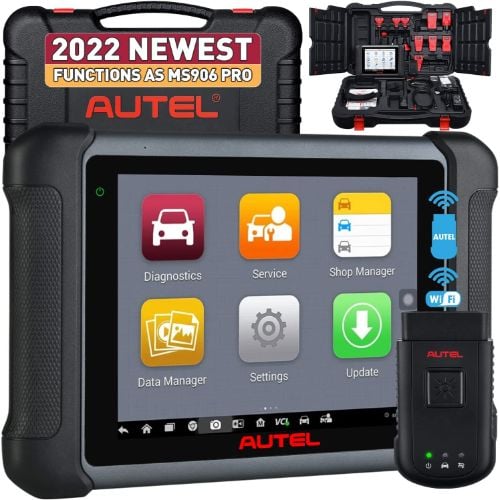 Key Features
Tons of service functions
"Active" troubleshooting – you can turn components on and off
Works on almost any vehicle
Live stream and record data
If you're running a workshop, good just doesn't cut it. You need a scan tool that gives you the capability to tackle any job that comes your way. With the Autel MaxiSys MS906BT, you have that capability. Not only do you get an OBD2 scan tool, but you also get a tool that has 31 service functions.
Whether you're trying to program keys or code BMWs, this scan tool can do it all. Another huge perk of this tool is that you can actively test components. You can turn various components on and off with the click of a button to troubleshoot, and you get access to live data.
You can record and freeze-frame, and with an 8" LED screen viewing the results is easier than ever. This scan tool works with 99.99 percent of vehicles in the world, which means you can tackle almost any vehicle that comes through the door.
Moreover, this scan tool supports 14 different languages, so no matter where you're at, you can use it. But keep in mind that it only supports one language at a time, and you can't easily switch between them.
But while this is a state-of-the-art diagnostic OBD2 scan tool, it's also priced like one. It's extremely expensive upfront, and after the first year, you'll need to spend another $695 to keep it up to date. While the scan tool will continue to work without the most recent updates, you're not getting the most up-to-date information.
Not only do you need those updates, but if you do need to switch the language on the machine, there's another $100 fee associated with that too. While this machine can do anything at the shop, you're also paying quite a bit for those capabilities.
These high costs are why this isn't a good fit for those looking for a scan tool to use on their own vehicles.
Pros
Supports 14 languages
Over 31 service functions
Actively test components (cycle on and off)
8" LED screen
Works with almost any vehicle
Live data streams
Cons
Very expensive option
Yearly updates are expensive
Only one language is supported at a time – and it costs to change it
---
7. Autel MaxiCOM MK908
Key Features
Tons of service functions
Live stream and record data
"Active" troubleshooting – you can turn components on and off
10.1" screen
Works on almost every vehicle
While the Autel MaxiSys MS906BT is an excellent choice, if you're looking for something even better, it's the Autel MaxiCOM MK908. This device is a direct upgrade to the MS906BT, and upgrading that already impressive machine is no small feat.
It has the same 31 service functions, can check every single vehicle system, works on 99.99 percent of vehicles, and live streams and records data. Furthermore, it has active troubleshooting that allows you to turn various components on and off while troubleshooting.
It supports 14 different languages, but you still can't easily switch between them. The upgrades for this scan tool are simple but important. First, this scan tool has a 10.1" LED screen, making it easier to see each chart.
But while the larger screen is the most visible upgrade, what's more, important is what's going on underneath the surface. The MaxiCOM MK908 has an upgraded processor that speeds up each process, and for an automotive shop, that means faster repairs and more money.
But once again, the major trade off is price. This scan tool is even more expensive, and you'll still need the expensive yearly updates, and if you plan to change the language from English, you'll have to spend an extra $100.
If you're on a tight budget, this isn't the tool for you, but if you're running an automotive workshop, this tool will pay for itself in no time.
Pros
Over 31 service functions
Checks every vehicle system
10.1" LED screen
Fast and effective
You can check each component individually
14 languages supported
Cons
Very expensive option
Yearly updates are expensive
Only one language is supported at a time – and it costs to change it
---
8. LAUNCH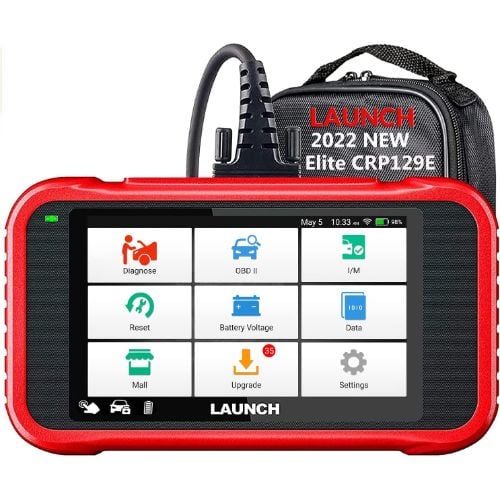 Key Features
5 service functions
Live data and playback
5" screen
Printable results
Just because the LAUNCH OBD2 Scanner doesn't have a "best for" tag next to it doesn't mean that's not worth checking out. It's an excellent choice for the at-home mechanic who wants a scan tool that can do a little more without spending a ton of money.
While it's not the lowest-priced scan tool out there, it's not in the stratosphere as the higher-priced Autel models. Moreover, this scan tool comes with a 5-year warranty, has free lifetime updates, and supports nine different languages.
You get live data and playback and the ability to check the transmission, ABS, SRS, and of course, engine codes. While it only has five service functions, they're important functions that include an ABS reset and steering angle calibrations.
And while you don't get as much diagnostic support or features as the more expensive models, they still have far more than just a basic OBD2 scan tool. This tool also allows you to print out your results, so if you're trying to explain your findings to a customer or a supervisor, it's easier than ever.
While this isn't ideal as the only scan tool in an automotive shop, it does make a great second option or a great choice for a mechanic working out of your garage. It gives you tons of data to make troubleshooting easy and works with just about any vehicle out there.
In the end, it's an outstanding mix of price and performance, even if it didn't earn a "best OBD2 scanner of" nod.
Pros
Good mix of price and features
5-year warranty
Checks engine, transmission, ABS, and SRS system
Live data and playback
Lifetime free updates
Supports 9 languages
Cons
Only five service functions
Not as much diagnostic support/features as more expensive models
---
9. INNOVA Car Scan Advisor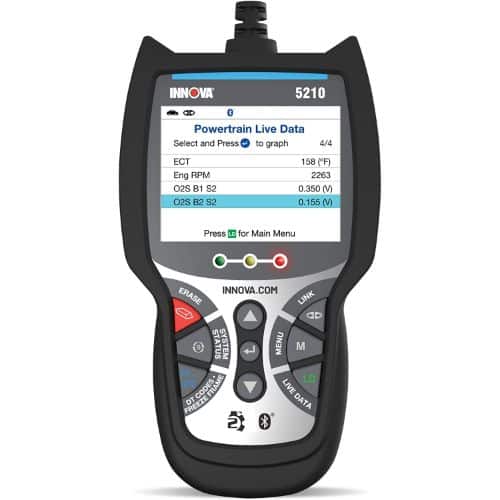 Key Features
ABS diagnostic check
Live graphs and data
Diagnostic tips and suggested repairs
While the INNOVA Car Scan Advisor can't do it all, for the amount you're spending, it can do quite a bit. It supports three different language options that you can change with the click of a button, and it gives you live data to help you troubleshoot what's going on with your vehicle.
Moreover, it checks both the ABS and your OBD2 system, which means that it can help you address and fix even more problems. However, keep in mind that it doesn't support SRS troubleshooting, so if you do get an airbag light, it won't be able to help you out.
Still, the INNOVA Car Scan Advisor offers a wide array of diagnostic tips and ASE mechanic verified fixes to similar problems, and it's completely free of charge. You can pull as much information as you'd like without spending a dime which is a bid deal if you're scanning a lot of cars.
It also helps out novice mechanics by connecting them to data that professional mechanics have used to fix problems. With the INNOVA Car Scan Advisor, it's like have a certified mechanic in the garage with you to help you figure out what's going on.
The entire setup is extremely user-friendly and easy to use, so if you're not the most tech-savvy, you still should be able to figure out how to use this scan tool. Still, it doesn't have any service functions, and the overall number of features is a bit limited.
Because of these concerns and the fact that it can't check the SRS system, there was no way we could include it on the higher end of our list.
Pros
Good mix of price and performance
Supports 3 languages
Live data
Unlimited diagnostic tips and verified fixes
Easy to use design
Checks ABS
Cons
Limited features
No service functions
Doesn't check SRS system
---
10. Autel ML629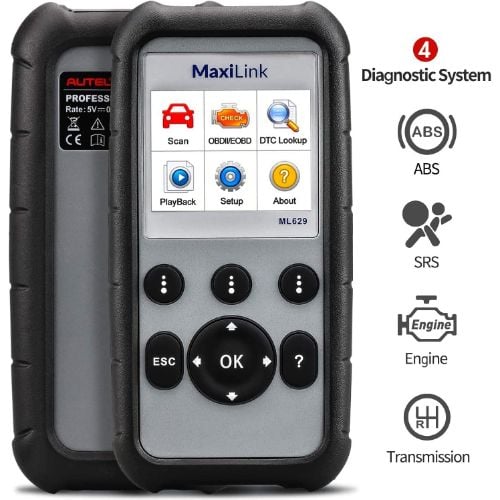 Key Features
Engine, ABS, SRS, and transmission diagnostics
Live data and freeze frame
Lifetime free updates
Autel makes our list of top products quite a few times, and for good reason. While the Autel ML629 is far from their top option, it is one of their most affordable. It's a simplified version of their top tools, which is exactly what many novice mechanics are looking for and can afford.
The Autel ML629 can check the ABS, transmission, engine, and SRS systems and has a comprehensive DTC library to help you figure out what each code means. The Autel ML629 comes with a lifetime of free updates, but since it doesn't have troubleshooting advice, the updates don't contain near as much.
Still, you get live data and the ability to freeze-frame what's going on, and you get a one-year warranty. But with an Autel product, the chances of you needing to use that warranty are extremely slim.
But there are two features we wish Autel would improve with the ML629. For starters, you can't record data, only freeze-frame it. While you can record what's going on with a mobile device, the smaller screen size is our second complaint.
Not only does this make it hard to see what's going on, but it makes it much harder to record live streaming data in a usable way.
Still, the Autel ML629 is an extremely affordable scan tool option, and it gives you all the data that their far more expensive OBD2 scan tools offer – even if it doesn't provide all the same troubleshooting tools.
But if you're just looking for a solid OBD2 scanner for your garage, this isn't a bad choice.
Pros
Good mix of price and features
Checks ABS, transmission, engine, and SRS system
Lifetime free updates
1-year warranty
Built-in DTC library
Cons
No troubleshooting advice
No playback features – just freeze frame
Smaller display screen
---
How To Choose The Best OBD2 Scanners?
While all the OBD2 scan tools are a good choice, the best choice for you isn't necessarily the best OBD2 scanner choice for everyone. That's why we came up with this comprehensive buyer's guide to walk you through everything you need to know and help you pick out your perfect scan tool.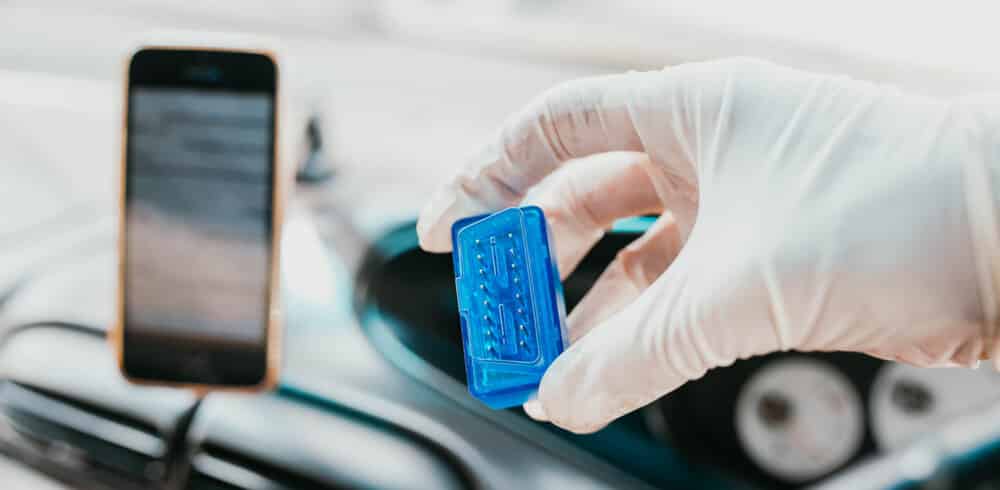 Determining Compatibility
Before you head out and purchase an OBD2 scan tool, you need to determine compatibility between the device you're trying to purchase and the vehicle you're trying to use it on. Because while OBD2 has been universal since 1996, that doesn't mean every feature on every scan tool will work on every vehicle.
If the vehicle was available in the US market after 1996, then it's OBD2 compatible, but that doesn't do a thing for the live data tracking, service functions, active troubleshooting, and other advanced features.
Before you go out and spend a ton of money on a scan tool with tons of extra features, see if it works with your vehicle. You can check the product description page for your specific vehicle, but if you're still unsure, you can always shoot the manufacturer a message, and they'll let you know!
Finally, ensure that you're actually trying to check the OBD2 system because the SRS, ABS, and even the transmission system work with different computers, and basic OBD2 scanners won't get the job done.
What To Look for In Your OBD2 Scan Tool
If you're only interested in a code reader, then you skip this section. But if you're wondering what else your scan tool can do for you to make troubleshooting easier, keep reading. Because modern scan tools can do far more than just read a code.
1. Live Data
When you're troubleshooting what's going on in your vehicle, live data can be invaluable. They can tell the number of times a particular cylinder is misfiring, the amount of air the intake brings in, and more.
If you know what you're looking at, you can use this data to pinpoint problems past the check engine light. Extremely experienced mechanics can use live data and the engine code to pinpoint almost any problem – although even they need to verify before getting any parts on order.
2. Transmission/SRS/ABS Scanning
Check engine lights are one thing, but they aren't the only systems on your vehicle. A basic OBD2 reader can only read engine codes, but an advanced one can read every system in your vehicle.
This might not seem like a big deal if you only have a check engine light on, but having a tool that can check every system can bail you out down the road.
Even better, this is often one of the first features that manufacturers put in their tools, so it's not too hard to find one that can check every system.
3. Troubleshooting Tips
Whether you're a novice mechanic or an expert, it's only a matter of time until you run into a problem that leaves you stumped. That's why there are databases full of information out there to help you through problems.
But while many of those databases lock their information behind paywalls, select scan tools will give you access to these databases – sometimes for free. Even better, many scan tools will automatically put in your vehicle's information and problems and guide you in the right direction.
This means less time searching for relevant information and faster repairs. Whether you're stumped or just want confirmation of what you think the problem is, it's a great tool to have at your disposal.
4. Service Functions
Did you know that you need a scan tool to complete some jobs? For jobs like steering wheel recalibrations and key fob programming, you need a scan tool.
But not every OBD2 scanner can do these tasks. While these features quickly drive up the cost of the tool, they're also essential for mechanics that need to be able to complete any task.
While some service functions are more important than others, functions like ABS brake bleeding helps by turning a two-person job into a one-person job. It's not necessary, but it can help free up time in the shop to get more work done.
5. Active Troubleshooting
Active troubleshooting is something that only some of the most expensive and best OBD2 scanners have, but it can make troubleshooting complex problems a breeze. Devices with active troubleshooting allow you to input different variables into sensors or turn various components on or off – all with the click of a button.
This allows you to determine precisely what's going on and even troubleshoot various theories without the need to dig into hard-to-reach locations on the engine.
While most OBD2 scanners require you to get out and physically troubleshoot your theories, with an OBD2 scanner that has active troubleshooting, you don't always need to do that.
Software Updates
Before purchasing an OBD2 scan tool, check how often and how much they charge for software updates. These updates often give you up-to-date access to troubleshooting tips because as vehicles age, new problems emerge.
But while some scan tools provide these updates for free, others charge quite a bit for them. The last thing you want is to drop a ton of money on a scan tool only to realize that you have to spend even more every year on updates.
Most lower-end scan tools give you the updates for free, but if you're purchasing a more expensive option, be sure to double-check.
Wired vs Wireless
There's a big debate about whether you should get a wired or wireless scan tool, but the truth is that for most devices, you want both. Because most wireless scan tools need batteries or a charger, and the last thing you want is to deal with a dead scan tool when you need it.
Meanwhile, if you're trying to troubleshoot a vehicle when you're up at the engine bay, the last thing you want to deal with is a cord running to the cab.
Scan tools that have both typically charge when you plug them into the vehicle, but when you need to move around, you can unplug it and move. Of course, options like the BlueDriver Bluetooth Scanner are completely wireless, and you never require batteries, which gives you the best of both worlds too.
What Scan Tool Do You Need?
Finding the best OBD2 scanner for your vehicle doesn't need to be complicated with a review like this. Most at-home mechanics could benefit from the BlueDriver Bluetooth Scanner, but if you already have a ton of experience and want to forego the maintenance tips, the MOTOPOWER MP69033 is all you need.
Meanwhile, both the Autel MaxiSys MS906BT and the Autel MaxiCOM 908 are great for professional workshops. While they're expensive to purchase and maintain, they allow you to complete any job that comes through the door.
In the end, the best OBD2 scanner for you is one that you're comfortable using and gives you all the information you need. Because if you don't understand some of the more complex features and don't know how to use them, there's no reason to spend the extra money on them.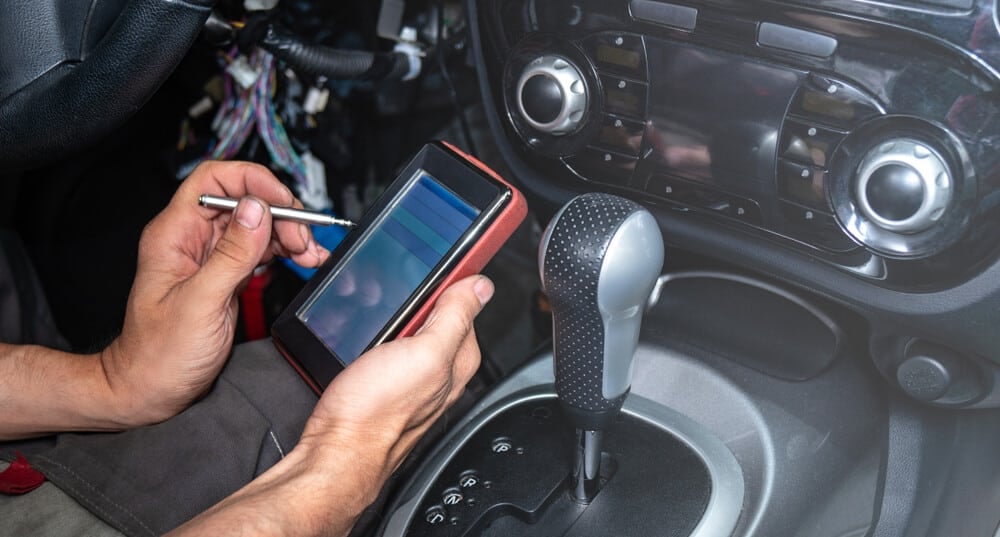 Frequently Asked Questions
We understand that finding the best OBD2 scanner for your vehicle can bring up many questions. That's why we addressed a few of the most common here before diving into our comprehensive buyer's guide.
When Do You Need an OBD2 Scan Tool?
If your vehicle has a check engine light, an OBD2 scan tool can tell you what the code means. However, while an OBD2 scan tool will read check engine lights, it won't read transmission codes, ABS, or SRS codes.
Some OBD2 scan tools have these capabilities, but this is an added feature, not an integral part of the OBD2 scanner.
What Vehicles Are Compatible with an OBD2 Scan Tool?
If you own a vehicle made after January 1st, 1996, and available for sale in the US market, it's compatible with OBD2. That's because, from January 1st, 1996, the United States government required that every vehicle sold in the United States be OBD2 compatible.
And since vehicle manufacturers don't want to make separate vehicles for different markets, if the vehicle is available in the US market and the manufacturer made it after that date, it has OBD2.
Where is the OBD2 port?
If you're trying to track down your vehicle's OBD2 port to hook up your scan tool, it's pretty easy to find. Simply look underneath the steering wheel and underneath the paneling. It's typically to the left of the steering wheel and connected underneath the dash there.
Can You Use a Scan Tool While Driving?
Once you hook up an OBD2 scan tool, there's nothing to stop you from using it while driving. While you need to be careful not to get into an accident, the live data that it displays while driving can be extremely useful during troubleshooting.
With the scan tools that record this data, you can always go out for a drive and view the results when you get back for added safety.
Conclusion
Without the right tools fixing your vehicle can be next to impossible. But with the right tools, you can tackle the job and move on with your life. If you're an at home mechanic with access to a smartphone and looking for the best obd2 scanner, you really can't go wrong with the BlueDriver Bluetooth Scanner, and if you're running a shop, you want an Autel.
While the other options can be a great choice too, you can't beat what those devices have to offer. So, what are you waiting for? Pick up an OBD2 scanner and get your vehicle back on the road in no time!