There's no reason to visit a car dealership any longer to buy a used car. With all of the online options available to us, it's simple to find exactly what you are looking for without leaving your home.
However, not all of the options given to you are reputable, which is why you need to know which ones are the best used car websites that can be trusted.
Some of these used car websites have unique benefits that appeal to a certain shopper. In this review, we look at each option, showing you what is done right and what requires improvement.
10 Best Used Car Websites
Here is a more detailed list of the best used car websites:
1. AutoTrader – Best Used Car Website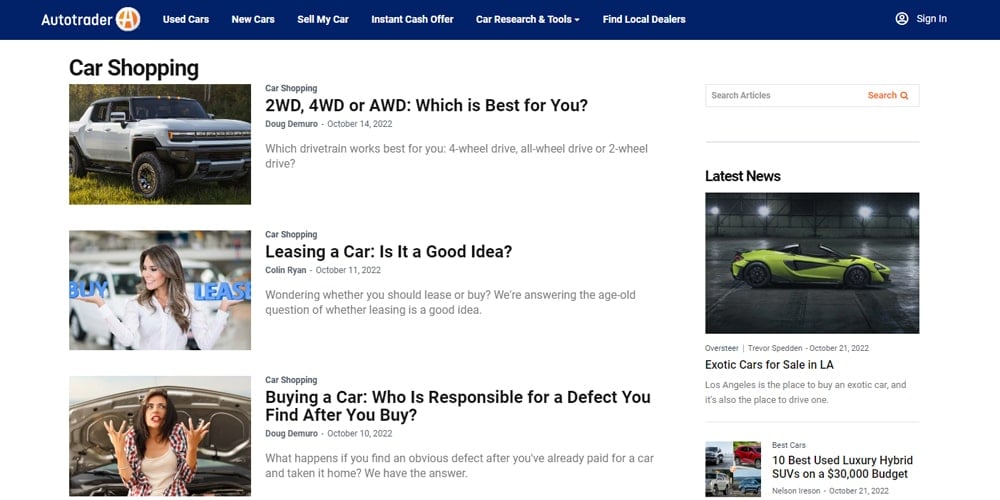 Overall, AutoTrader earns the top spot because of how many options are available and for all of its advanced tools. Across the nation, you can find more than three million used car listings. Plus, it's simple to search the vehicles with a variety of filters.
Once you find the vehicle you want, it's easy to get connected with insurance and financing options, saving you even more time. Considering AutoTrader was the first online marketplace to occur nationwide, you know that they have calibrated the process quite well. In fact, AutoTrader has been around since 1997, proving that the company continues to lead the pack.
AutoTrader isn't perfect by any means, even though it is the best overall option. Those posting vehicles are responsible for paying a fee. Even still, there isn't a fabulous screening process, so it's possible to get ripped off.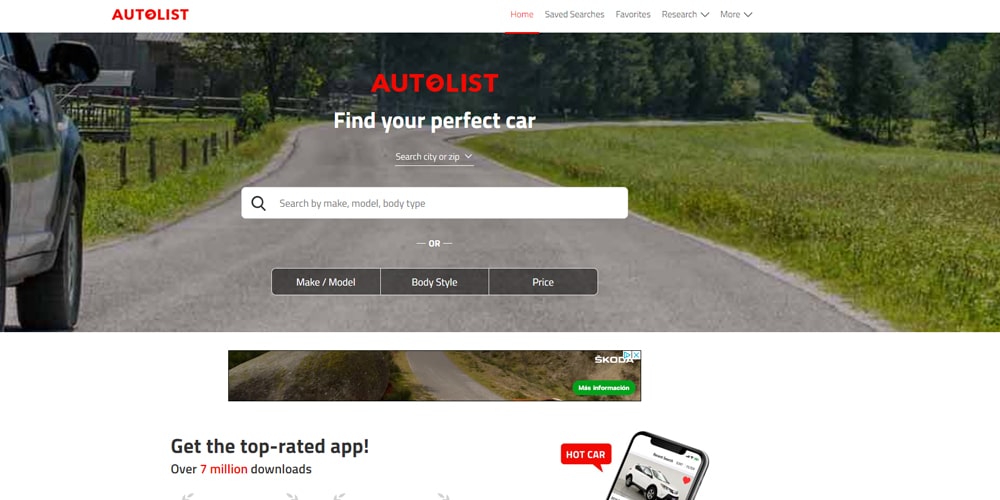 AutoList has been around since 2014, so it's a newer option, but the platform has something unique to offer. The company collects used car listings from across the web and organizes them conveniently in one place. Plus, you can use the handy app, which has been downloaded millions of times.
With the fair price comparison tool, you know you aren't overpaying for a vehicle. You can also easily view the CARFAX report and watch for any fluctuations in pricing. If you sign up for a free account, you will get regular email alerts about vehicles that match your search filters.
However, when you use AutoList, you don't gain access to financing help. You will have to do your own research for a car loan.
RELATED: The Best Places to Buy a Used Car – Online & Offline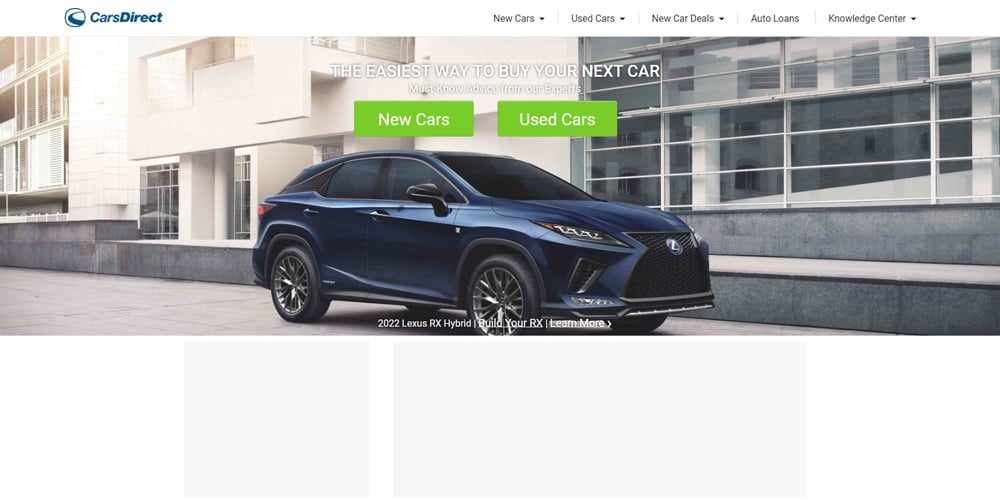 With CarsDirect, you can easily compare the various used car listings from local dealerships without leaving your home. The website is simple to use and remains uncluttered, so you can pay attention to what you are looking for. Plus, there are handy car buying guides that help you make up your mind.
CarsDirect is also a veteran in the industry, providing support since 1998. Once you find the vehicle you want, you can directly apply for low-credit or no-credit loans. With this online application, you face less embarrassment than when you are sitting in front of the finance department at your local dealership. Still, you have access to the company's support team if you need further help.
On CarsDirect, you won't find any private sellers. All of the listings are from dealers, which saves you time, but it doesn't help you find low-dollar third-party vehicles. Additionally, dealerships are known for changing prices for sales and promotions. Because of this, the listing's price isn't always accurate. You will want to reach out to the dealership to confirm any details that you find.
4. Hemmings – Best For Classic Cars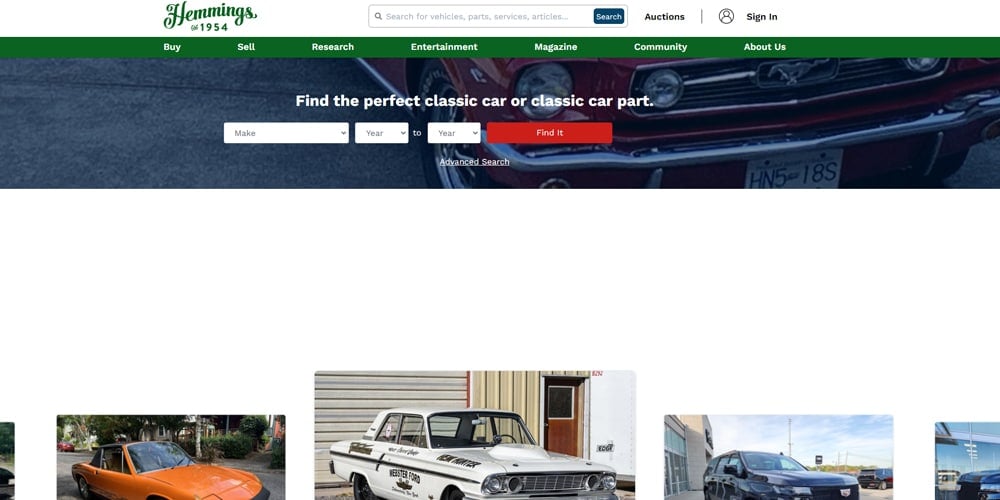 If you are looking for classic cars, Hemmings is a great place to start. Not only can you find a variety of classic cars for sale, but there's also a multitude of car parts available to you. Most of the cars are dated from the 1930s through the 80s. Plus, the company sends out a newsletter if you want to be kept up to date about new listings or happenings.
There's also a blog that spends time educating on classic cars. It's a site used regularly by all classic car enthusiasts, even when there isn't a search for a used car. This site has evolved over the years. In fact, it was originally a car magazine that was started in 1954. Since then, the popularity has grown, allowing the company to branch into used car listings. However, some people find that ClassicCars.com offers more listings, but there aren't as many tools to take advantage of.
Additionally, you will need to have an account to use Hemmings. Some people prefer not to sign up for email newsletters and communications, but you can always opt-out later. Considering all of the tools that are gained by signing up, it's really a no-brainer if you are hunting down used classic cars or parts.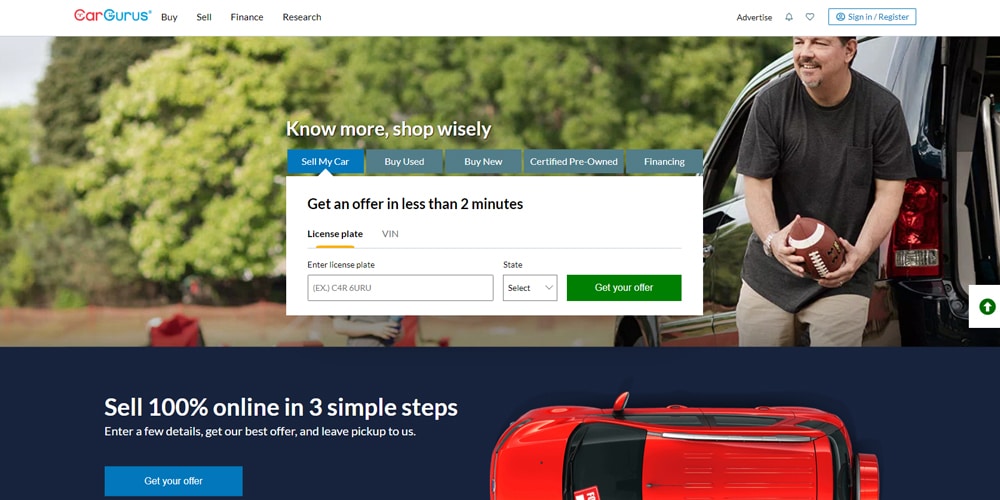 CarGurus has been around since 2006, and it was started by TripAdvisor, an online leader. This used car marketplace offers some of the best research tools for an educated decision-making process. With the ability to see the true market value, you can ensure that you are getting the best deal. Plus, there's a "Deal Rating" with each car, so you don't have to do a lot of research.
Knowing how long the car has been listed on the marketplace helps you decide if there's room to negotiate. Plus, there are car reviews that inform you about the features, performance or anything else you want to know about before buying. You can even utilize the handy question and answer board if you need more support.
However, CarGurus doesn't vet its sellers. For this reason, it's possible to be scammed if you aren't careful. The seller also gets charged a fee when the car sells, so you might be paying a little more to compensate for that expense.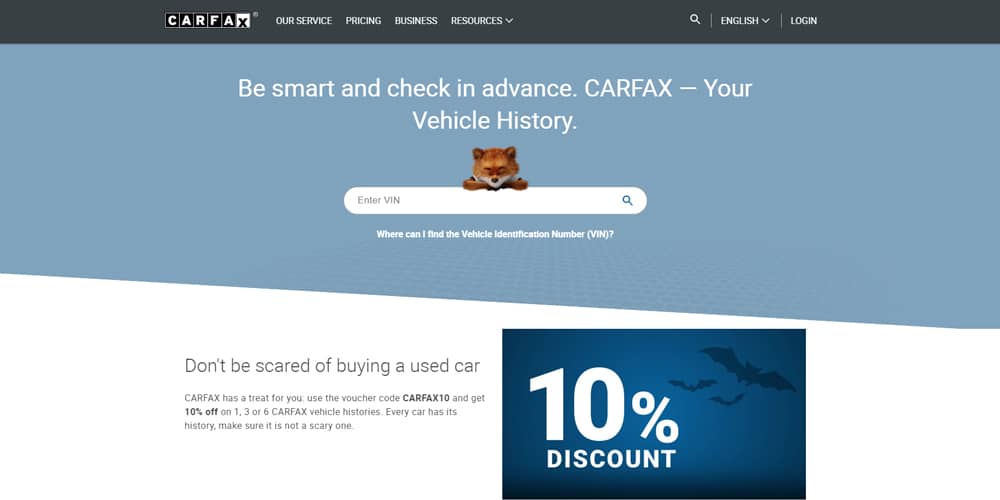 You may recognize the CARFAX name, but not probably for the same reasons as used car buying. Instead, you know this company offers trusted vehicle history reports that make it easy to determine if a vehicle is worth buying in the first place. Because of its unique position, it only made sense for the company to also promote used car sales at the same time.
CARFAX now offers an online platform to find your next used car. You can browse through the options based on the make, model, price, body style or zip code. What's unique about the search criteria is that you can include CARFAX information, such as choosing cars with a good service history or a model that's only had one owner. You even get the entire CARFAX report on the car for free, which normally costs money.
As with some of the other options, there's not much vetting happening of sellers. For this reason, you will still want to do your own research before putting any money down on a vehicle.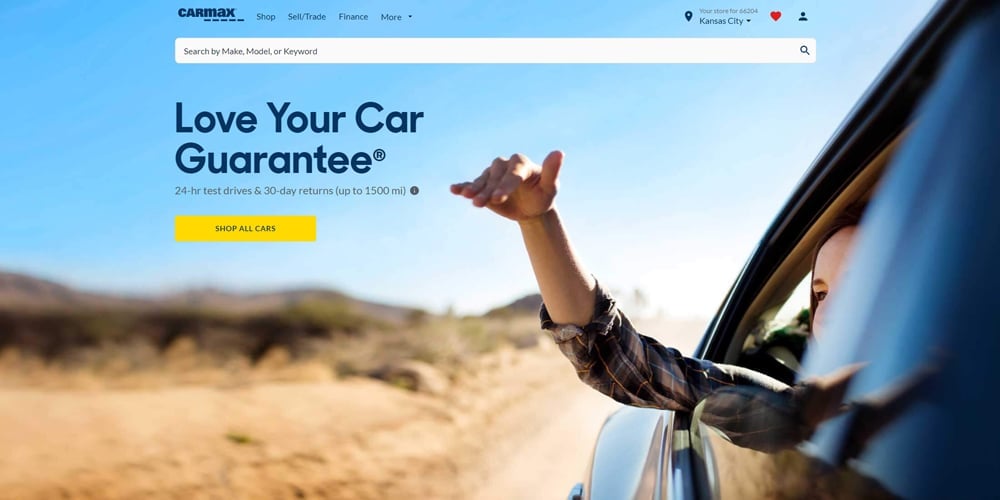 This platform started from the success of the used car dealerships of the same name. In conjunction with the physical locations, you can now purchase used cars online. The search criteria help you find exactly what you are looking for. You can also enjoy 24-hour test drives, giving you the time needed to ensure it's the right vehicle for you.
All of CarMax's finance options are available to you online. You can essentially work out the entire deal before you ever commit to anything. It's one of the easiest ways to figure out exactly what you will be paying.
However, you aren't going to find vehicles from any source other than CarMax. These vehicles are all for sale through the dealership. Additionally, CarMax isn't known for negotiating. The price you see is likely what you are going to pay, thanks to the no-haggle pricing. If you are looking for a better deal than what you see, don't waste your time.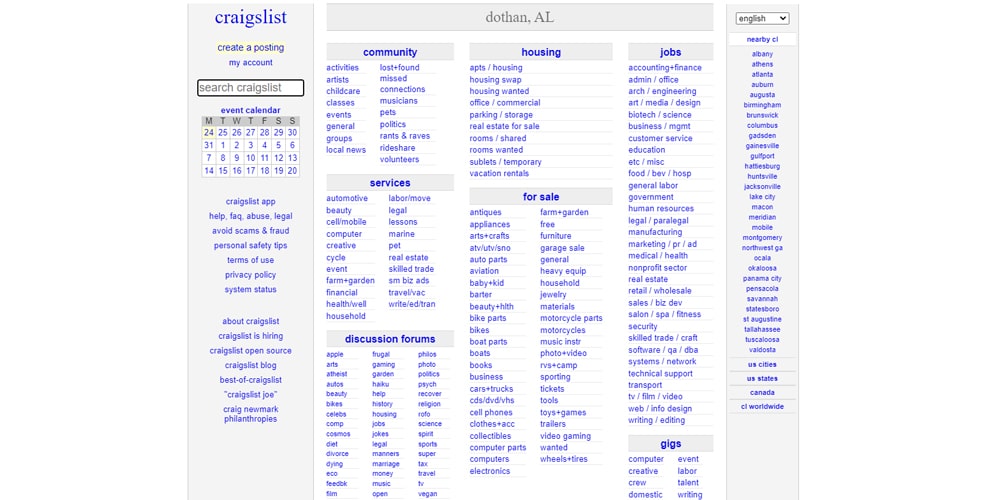 This online classified site is known for so many things, but it's grown in popularity because of the amount of low-dollar cars that are posted. This free-to-use site allows you to narrow down some criteria, but the search isn't always as accurate as some people want. However, you can find some unique options, such as sellers that will accept cryptocurrency.
There's also a way to set up email alerts to get notified when something you want hits the market. You can search without visiting the site every day. You can also choose the appropriate location for your search, so you never travel further than needed.
Craigslist is completely free to use, but it's also a common platform for schemers. You will need to use extreme caution when buying from private parties. This requires you to put forth more effort to ensure the deal is good. Plus, some listings are insanely basic, sometimes without photos, making it even more time-consuming to weed through.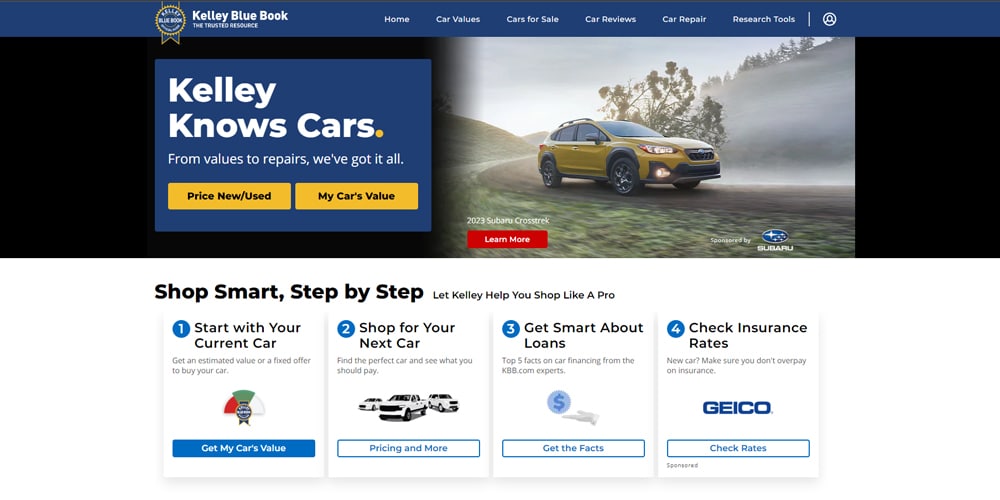 Kelley Blue Book has become a trusted source in finding used car values. When KBB launched the used car platform, it was a welcome addition for shoppers. Along with finding the best used cars in the area, you can also quickly access the market value and other pertinent information about the vehicle.
Plus, KBB offers some other helpful tools, such as giving you the ability to calculate your car payment and making it easier to check your credit score. There are also some top ten lists, allowing you to find the vehicle that will suit you best. You can even access expert reviews on the cars you are looking at to see which one is better. If you want to trade-in your vehicle, you can get the value for that as well.
The only downside to shopping with KBB is the lack of vehicles. Depending on your location, you may not find as many cars through this platform as you would with one of the other options.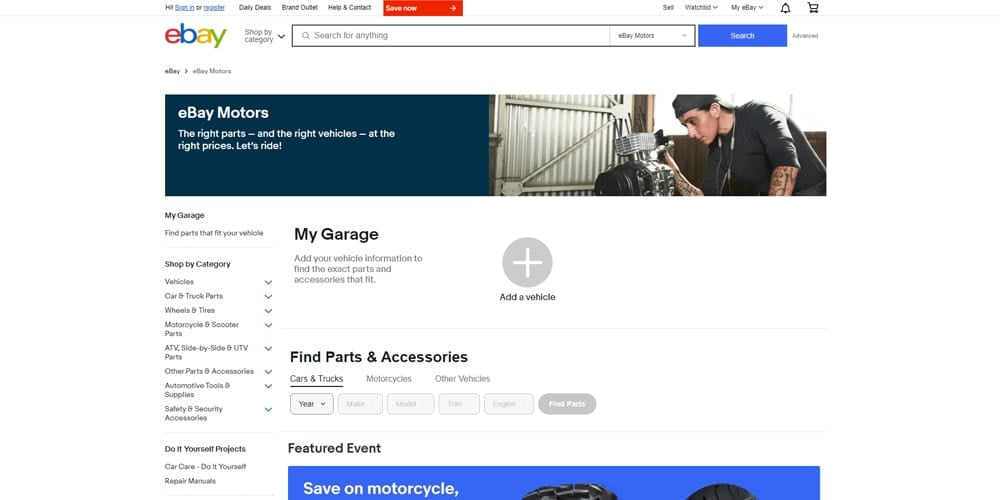 The famous auction site is used to buy things from priceless collectibles to used clothing. So, it only makes sense for budget-minded consumers to check eBay for used cars too. The easy-to-use search engine allows you to customize the options by the make, model year, location and options. You can also narrow down the selection by the location, ensuring you never travel further than needed to get your used vehicle.
With the Market Price Analysis tool, you can see how the asking price compares with other vehicles that have sold on the same site. There are also seller ratings that show you if the private party is reputable and can be trusted.
Of course, it's still possible to get ripped off, so you want to use caution. Plus, you can be outbid on a car at the last minute if you aren't fast enough. In some cases, you might even get caught up in the excitement and pay more than you should.
What Used Car Website is Best for You?
There are some used car websites that are designed specifically for a particular buyer. For example, if you are looking for a classic car, it might be better to use a site such as Hemmings. On the other hand, if you just want a low-cost used car in your local area, both Craigslist and eBay Motors might be better options. With both of these, you might need to invest a little more time to find what you want and you will need to use caution when arranging the deal.
If you prefer shopping at your local dealerships without leaving home, most of the other sites will serve you well. Utilize the available tools, such as a free CARFAX report or the KBB market value, to make a more informed decision. In the end, all of your efforts can pay off by providing you with the used ride you have been dreaming about.