When your car battery dies, you scramble to find a new one, since transportation becomes impossible. While you need to replace it fast, you also want to save some money. That's why it's essential to know the best stores to buy cheap car batteries.
In this guide, I cover the reasons to use these retailers for your next car battery replacement. I also give you a few online options in case you don't want to leave home.
Disclaimer – This article may contain affiliate links, which means that at no cost to you, we may receive a small commission for qualifying purchases.
The Best Stores to Buy Cheap Car Batteries
1. Walmart
Walmart tends to be one of the top choices for finding cheap batteries. There's no coupon needed, because Walmart has low prices every day. Walmart carries the EverStart lineup of batteries, which tend to perform better than expected.
Plus, these car batteries have a decent warranty. If you choose the cheaper lineup, you get a two-year warranty, while the MAXX models boast about a five-year warranty. On average, you can expect to save up to 25% over most auto parts stores when you visit Walmart for an automotive battery.
2. Costco
If you already pay for a Costco membership, you may want to check out the cheap batteries at Costco. Otherwise, it might not pay to get a membership specifically for this purpose. Costco sells Interstate batteries, but they do not install them. You will have to do that yourself.
Still, these batteries tend to get good reviews and also include a three-year warranty. I recommend calling ahead to your local Costco before making the drive. Many warehouse clubs have a limited selection, so they may not have a compatible battery for your vehicle.
RELATED: Why Is Costco Gas So Cheap?
3. Sam's Club
Another warehouse club that is worth checking out is Sam's Club. This warehouse sells Duracell batteries that are known for being durable.
Again, the selection could be limited, so it might be best to call ahead. However, Sam's Club is willing to install car batteries, unlike Costco.
RELATED: How Much Does It Cost to Replace a Car Battery?
4. Advance Auto Parts
If you are going to buy a battery from an auto parts store, Advance might be the best option. You can save nearly 30% off other auto parts stores, especially if you order the battery online. Very often, the company provides coupons for a discounted price.
It's easy to find a battery that fits most vehicles at Advance. Plus, the store carries multiple brands, even though it specializes in selling Die Hard.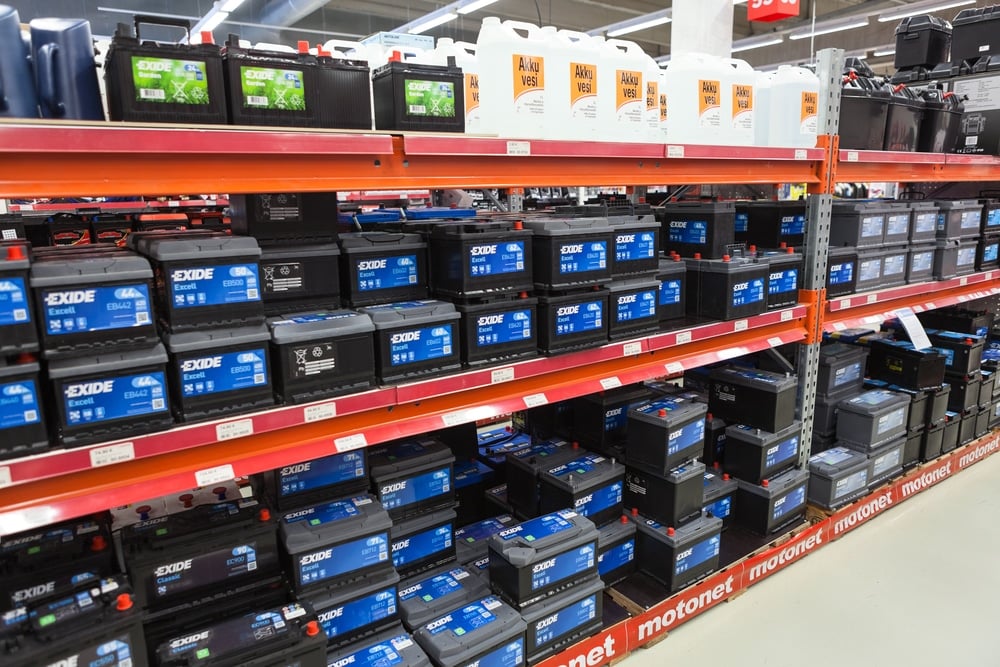 5. Batteries Plus
If you want a massive selection of car batteries, check out Batteries Plus. While this store doesn't carry all automotive parts, it is known for having just about any battery brand you could want. This is another retailer where you can shop online and pick it up at a local store.
With that said, there aren't as many locations as you might think. You will have to see if there's a store in your area.
6. NAPA
NAPA might not be the cheapest overall, but you may still be able to get a good deal on a car battery, especially if you order online. Still, one of the reasons people choose NAPA consistently is because of its performance.
NAPA sells its own lineup of batteries, with LEGEND being their most well-known model. This powerful battery is easy to carry with the fold-down handles, and it provides maximum performance. Check your local area to see if you can shop at a NAPA retail location.
7. O'Reilly Auto Parts
This auto parts store is known for selling Super Start batteries. The retailer also sells a few other brands, but they aren't as popular.
At the top of the lineup, there is a Platinum model. It's known for cranking well on cold mornings and offers a bunch of reserve capacity. O'Reilly stores are also found in 47 states, so it's likely there's one near you. Order online to see if you can save some money with a limited-time promo code.
8. Pep Boys
Pep Boys automotive parts store may be one of the oldest around. With more than a century of experience, the store has been one of the most trusted. Plus, they sell a variety of Champion batteries that are made to perform.
Sadly, it might be one of the more expensive of the auto parts store. I recommend shopping around before choosing this retail location.
9. AAA Mobile Battery Service
While not the cheapest option on our list, this is a great option if you are stranded and need a new car battery. With your AAA membership, you can get a replacement battery delivered to you.
The batteries provided also come with a three-year replacement and six-year warranty. AAA offers Duracell batteries, so you know they are built to last. The only downside is that you may need to wait for the technician to arrive, depending on how busy they are.
10. Junkyard
Of the cheapest options available, nothing can beat the cost of a battery found at a junkyard. If you are severely strapped for cash, you may want to go this route. Still, this isn't the best option for most people.
If the junkyard offers any kind of warranty, it might only be for thirty days. They also aren't known for testing the batteries, so it's unclear how well they will perform. Additionally, you may have to shop around at multiple junkyards before you find a replacement that works with your vehicle.
RELATED: 7 Best Car Batteries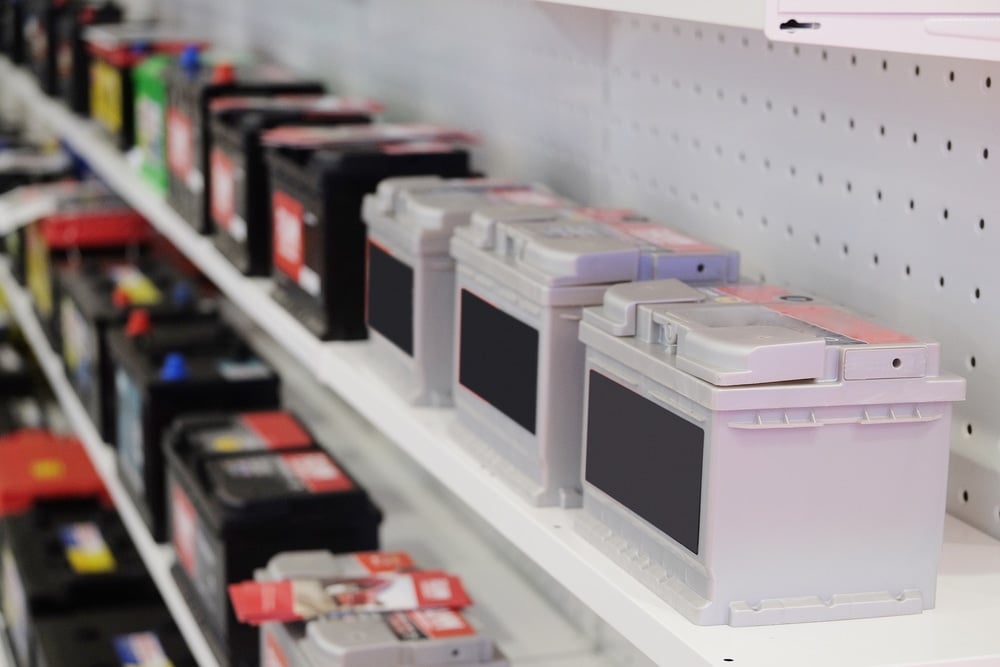 Top Online Stores to Buy Cheap Car Batteries
1. Amazon
If there's an online retailer that sells just about everything, it is Amazon. Still, many consumers don't think of Amazon for car batteries, even though they should. You can find a variety of car batteries from almost any brand.
Whether you are looking for a cheap or a high-quality battery, you can easily search on Amazon. Plus, you can read through the reviews to see what other consumers think. The best part is that you don't have to go anywhere to get the battery. It will be shipped right to your front door in as little as a day.
2. eBay Motors
Another place to find cheap auto parts, including batteries, is through eBay Motors. Premium brands sell on eBay, along with lower-dollar options. There's even a car battery section, making it easier to search for your particular model.
You just have to be careful who you are buying from. Not all sellers on eBay are considered reputable, which is why you need to watch reviews carefully. Additionally, you may need to wait a while for the battery to arrive, especially if it's being shipped from far away.
3. Facebook Marketplace
If someone has a battery they want to get rid of, they will often turn to Facebook Marketplace. Businesses are also known for selling overstock inventory on Facebook. Either way, you are sure to get a great deal.
You can search for the exact battery and choose between retailers that require local pickup or shipping. Again, just make sure you look into the seller to determine their reliability, ensuring you don't get ripped off.
4. Local Auto Parts Store Website
Earlier in this article, I touched on many auto parts stores that could be available in your area. Depending on where you live, you will notice different store options. However, there's one thing that all of these auto parts retailers offer.
You have the choice to shop online. If you want to visit the store, you can choose in-store pickup. Otherwise, these retailers also offer the option to ship to your home. The biggest benefit to shopping online, aside from not having to go anywhere, is that you can often find special promo codes to get a lower price.
Still, you want to check the terms and conditions for each retailer. To get free shipping, you may need to place a minimum total. Additionally, you will need to head to the store if you want to get your return core charge refunded back to you.
Conclusion
There are many stores where you can find cheap car batteries, and an online auto parts store such as Amazon, Walmart, Advance Auto Parts, or CostCo is probably the best place to find cheap but still high quality car batteries.
But remember, there are many factors to consider when purchasing a car battery. Auto part stores that offer the cheapest prices may not always have the best quality products, so it is important to do your research to find a store that offers both good prices and high quality batteries.
Learn more: