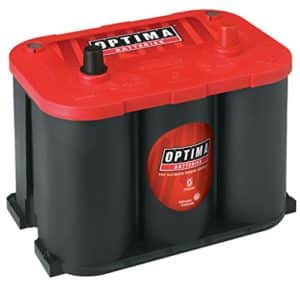 Modern cars are getting more and more advanced with a lot of parts that require a lot of electric power.
That's why a good car battery is one of the most important parts of a modern car. A car battery may seem like a simple part, but that's totally wrong. Choosing the right battery can save you a lot of time and money.
Because the importance of a good battery, I do recommend to spend your money wisely and buy a quality car battery.
If you want to learn a bit more before purchasing a car battery, check our buyer's guide at the bottom of the article. Scroll down or click here.
Always make sure the battery fits your car before purchase.
Optima D35 YellowTop – Best Performance
The YellowTop is even better than the Optima Redtop battery. Optima is probably the best car battery brand on the market. That's why I decided to rank this car battery at #1 on this list. A small battery that gives a very high power output with a great quality. 
The top series battery from the probably best battery manufacturer in the world. With these batteries, you will not get disappointed. A very long lifetime which you can save pretty fast from buying cheap car batteries once a year. This one is the best car battery for cold weather.
Type: AGM

Voltage: 12 volt

Weight: 36.4

Negative Terminal Location: Top Right Front

Size, Inches: 9.4 x 6.8 x 7.7

Crank Ampere: 620

Amp Hour: 48
Optima 34R RedTop – Best Car Battery for the money
Optima batteries, do I have to say more? Probably the best and most known batteries on the market and the best car battery brand. With these batteries, your car will start in all weathers. 
The redtop batteries are often enough for the most cars on the market. It's small in size and can be fitted to both small and mid-sized cars. This is an AGM battery and you can mount it in which direction you like.
Type: AGM
Voltage: 

12 volt

Weight

: 37.9

Negative Terminal Location:

 

Top Right Front

Size, Inches: 

10″ x 6.9″ x 7.8″

Crank Ampere:

 

800

Amp Hour:

 

50
If you are looking for a high-performing battery with the size of the batteries mentioned before, this should be your choice. Also, this is a high-quality AGM battery which makes it totally maintenance free.  A perfect mid-sized car battery with high power.
Diehard batteries have certain unique features, such as 20 times more efficient vibration protection system which protects the battery life as well as the performance. Moreover, the diehard battery has two times the cycle life which can improve the efficiency and increase the life of the battery in comparison to the conventionally used lead-acid batteries.

Type: AGM
Voltage: 

12 volt

Weight

: 44.5

Negative Terminal Location:

 

Top Left Front

Size, Inches: 

11.6″ x 7.1″ x 13.1″

Crank Ampere:

 

775

Amp Hour:

 

55
A perfect battery if you are looking for a larger battery than the ACDB24R. This is also an AGM battery with a really high power output. With this battery, you will get performance to start the most cars on the market.
It is not only charged receptively but also has a high cycling capability. It can ensure that the application of the battery in your vehicle is improved. It also has the AGM or absorbed glass mat design which can protect the battery from any leakage or spillage.
Type: AGM
Amp Hour: 80
Crank Ampere: 1020
Size, Inches: 12.4″ x 6.9″ x 7.5″
Weight: 51.6
Negative Terminal Location: Top Left Front
Voltage: 12 volt
ACDelco ACDB24R​ AGM – Small in size
The ACDelco ACDB24R is a small battery that is best fit for smaller cars. A pure high-quality AGM battery that is absolutely maintenance free.
This battery offers several features which make it stand out among others. There is a gas regulation valve provided in it based on the recombinant technology. The cycle life of the battery due to this is improved three folds compared to other traditional vehicle batteries that are found in the conventional vehicle applications.
Type: AGM
Amp Hour: 45
Crank Ampere: 390
Size, Inches: 8.8″ x 9.3″ x 4.8″
Negative Terminal Location: Top Right Front
Weight: 37.9
Voltage: 12 volt
Things to consider before buying a car battery
For most batteries, an average lifespan is of four to five years. However, it depends on the use as well as maintenance. The latest battery designs require minimum maintenance. Here are some of the things that you should consider while buying a battery for your vehicle.
Freshness
It is good to make sure that your battery is fresh. you can do that by checking the code of the battery which indicates the month and the year of the manufacture of your battery. Make sure you don't buy a battery that was manufactured more than six months ago.
Warranties
Different companies offer different warranties for their batteries. Choosing a battery that has a longer warranty time period and offers a free replacement can save you from a lot of trouble. It is also considered as a sign of promise for quality that a company makes to their customers.
Check the battery life
If you are looking for a replacement of your old battery with a new one, it is a good idea to get the battery life of your older battery tested. Sometimes your old battery may only need a quick maintenance to function properly. If that is the case, the specialist will let you know whether or not you should buy a new battery.
Customer reviews and experience
You should take into consideration the reviews that are left by the customers online about the battery life and their experience with it. All the batteries are bound to receive positive as well as negative feedback. Therefore, you should look into both types of reviews to see if you should go for a particular company or not.
Maintenance
This is another factor that can help you choose the right battery for you. While some batteries require a regular maintenance, there are certain latest designs that are maintenance free. This means that you will not have to go through the regular hassle of keeping your battery maintained, and it will take care of itself.
Power of the battery
The power of your battery should fulfil the requirement of power that you have for your vehicle. this power measure is known as the cold cranking amps. Furthermore, you should also take into consideration the reserve capacity of a battery.
Car Battery FAQ
Q: What size of the battery should I choose?
A: The simplest answer to this is: Check what size of the battery that is fitted in your car now. The most batteries are located under the hood, but some can also be fitted in the trunk or under a seat. Check your repair manual or call your authorized dealer to get a fast answer.
Measure the size: Height, width and length. Also, check if you can find the "Ah" number on the battery.  Often you can fit a little larger battery then the battery fitted from factory, just measure and check if there is enough room.
I do not recommend to fit a smaller battery than the factory battery, because it may not have enough capacity and make strange problems with your car.
Q: How do I know if the battery fits my car?
A: If you are following one of the links to Amazon from this article, you can see a top bar at Amazon's website where you can choose your car model. But to be 100% it fits. Always check the length, height, width and Ah before ordering a battery.
Also, check the battery terminals. They can have different sizes and be mirrored ( Terminals placed on different sides of the battery ).
Asian cars do often have smaller battery terminals than Europe/America.
Q: What are AGM battery and which are the benefits?
A: AGM is a shortening of Absorbent Glass Mat. The sulfuric acid is absorbed by a fine fibreglass mat, which is making the battery spill-proof.
The benefits of the AGM battery is Maintenance free ( Do not have to fill it ), Higher Performance, Faster Charging time, Vibrations resistance, stands up well to cold temperatures.
As you see, there are many benefits with an AGM battery. The less positive thing with an AGM battery is often that the price is higher and it's more sensitive to over-charging. AGM batteries are perfect in cold weathers.
Q: What are Ah and Peak A?
A: Ah is the measurements of the battery in ideal conditions, fully charged. Ah = Ampere Hour. It is the measurement of how many amperes it can put out in one hour full-charged.
Peak A is the measurement of how much Ampere the battery can put out under short times and high-loads.
Q: How to charge my battery the best way?
A: Slow charging with a smart car battery charger is the best way. If you have a smart car battery charger, it will handle it for you. If you want to learn more about this, check our article "How to charge a car battery the best way". If you want to find the best car battery charger for your car, check out our review article: Car battery chargers.
Q: What is the expected lifetime of a battery?
A: Normally with a good quality battery, the lifetime is around 5 years. I have seen car batteries that have been working over 10 years. The most important part to higher your batteries lifetime is to not let it stand with a low amount of charge. Especially if you are living in a cold country. One night of low temperatures and low charge can kill the battery instantly.
Also, many low-cost batteries have lifetimes of around 2 years. If you are adding the cost of a car battery that has a lifetime of 10 years, the high priced battery is actually cheaper.
Q: My car is draining out the battery of my car, how to fix it?
A: This is a complex question and I'm going to write an article exactly of how to diagnose this later. The short answer is to check you DTC codes and check all door locks and switches. Door locks and switches are a very common problem with battery drainage. If the switch is faulty and the car thinks the door is open but it's closed, it will lighten up lights and give power to other control units in your car. You can check your trouble codes with an OBD2 scanner, if you are interested in one, you can check it out here: OBD2 scanner tools
Q: Do I have to fill an AGM battery with battery-water?
A: No, The AGM battery is maintenance free and sealed. What you can do is to clean up the battery terminals once a year to make sure the terminals have a good connection. Maintenance charging a battery is always good and may give your car battery a longer lifetime.
Q: Can I safely jump start my old battery?
A: There is always a risk of jump-starting a car. New Jump starters do often have both wrong-polarity protection and overvoltage protection so the risk is very low if you are using the right tools. If you want to read more about jump starters you can check out our other article Battery Jump Starters.
Jump starting with jumper cables is a risk of wrong-polarity, but the overvoltage risk is not there.
Q: How to replace my battery?
A: First you have to locate your battery. The most common location is under the hood, but on some cars, the battery is located in the trunk or under a seat. Check your repair manual to locate your battery.
Make sure you have the Anti-theft radio code as it may be gone within the battery replacement. I do always connect a car battery charger under the battery replacement to prevent any data loss or radio code loss. To find a good car battery charger, check out our post: Best car battery chargers
Always lift the negative battery terminal first, to prevent any sparks ( Which can make the battery explode if it's leaking ) and connect the positive first on the new battery. Always use protection glasses and gloves when you are replacing a car battery. I have seen one exploded when my colleague replaced a battery, so be very careful.
Q: How can I tell if my old battery is bad?
A: If you have tried to charge your battery several times, but it still sounds tired when you are trying to charge your battery, your battery is probably bad. There are several good battery testers on the market that will tell you if it's time to replace your battery or not. One of those is the Cartman 12V Car Battery & Alternator Tester.
Q: Why should I remove the negative terminal first?
A: By removing the negative terminal first you will prevent any sparks. If you get a spark and your battery is leaking gas, the battery can explode and cause serious damage. Always use protection glasses and gloves when you are replacing a car battery. I have seen one exploded when my colleague replaced a battery, so be very careful.
Q: Is the temperature outside affecting the lifetime of a car battery?
A: Yes the temperature is a factor of the lifetime of the battery. Especially if your car battery is low in charge often. Car batteries in cold countries do often have a shorter lifetime than batteries in hot countries. Cold weather requires a lot more from the car battery
If you have other questions about car batteries, comment at the bottom of the article.
Conclusion
Choosing the right car battery is not a very simple task. I hope you have learned how to find the right battery for your car. I also hope that you understand the importance of a good high-quality battery in your car. Never buy cheap car batteries, it will only cause a headache for you and it will probably get more expensive in the long run.
If you have further questions, comment down below with your questions and I'll answer them as soon as possible.
If you have other car questions that you want answers for. We have a free service where we answer all car questions for free. You can register and ask us for free at our homepage.
If you liked this article, check out our other free car articles on our homepage. A recommended article of other tools that I recommend, you should see Recommended tools for car owners.