Duracell might be a top name in household batteries, but many people don't know that the company also makes automotive batteries. So, who makes Duracell car batteries, and are they worth your money?
In this guide, I talk about the manufacturer of Duracell car batteries and show you what options you have to choose from. I also look at the pros and cons of these car batteries and discuss if they are a good investment. At the end of our article, you will get answers to some of your top car battery questions.
Who Makes Duracell Car Batteries?
The automotive lineup of Duracell car batteries was originally created by Philip Rogers Mallory and Samuel Ruben. This partnership resulted in the company Duracell International, a leader in mercury cells and alkaline manganese batteries.
Duracell might be best known for household batteries, but that hasn't stopped the company from offering car batteries. However, Duracell doesn't manufacture the car batteries. Instead, East Penn Manufacturing Company, Inc. has been responsible for creating the automotive lineup since 2009, but the company has been a leader overall during the past sixty years.
East Penn now boasts more than 515 different product designs. Other than creating Duracell batteries, the manufacturer also makes batteries for Deka and several additional top brands. 
Additionally, East Penn now operates out of a 520-acre battery manufacturing complex located in Pennsylvania. Just a short distance from the main location, East Penn also owns and operates a wire, cable and battery accessory plant, along with a distribution center complex. Beyond that, there's a newer facility meant for expansion in Corydon, Iowa.
Duracell Car Battery Types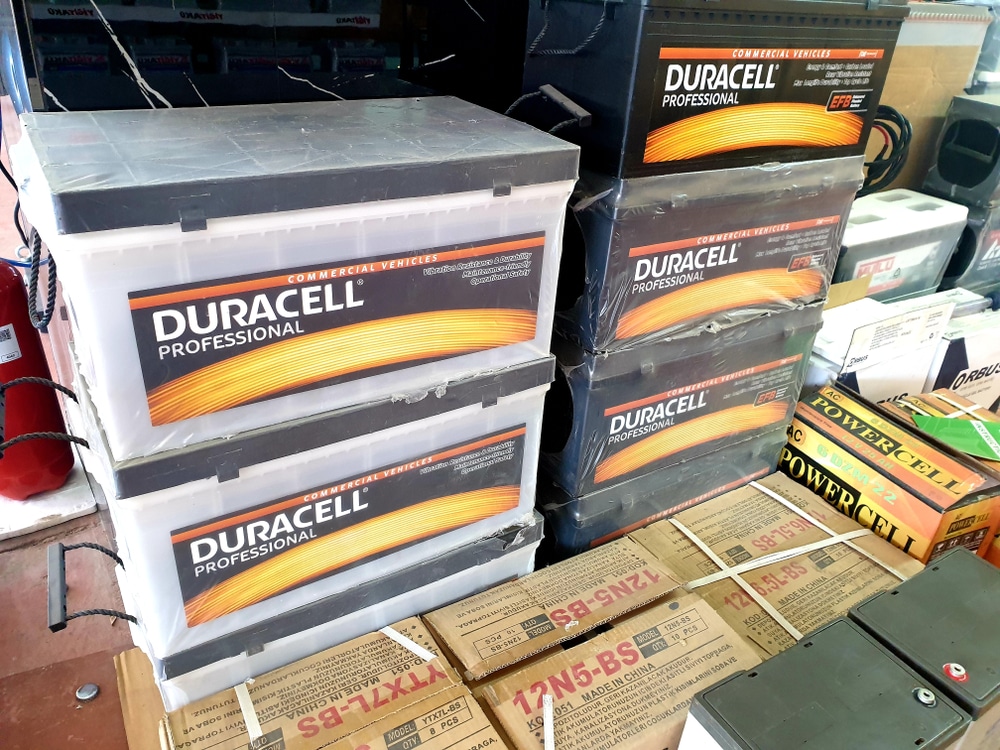 1. Starter
The Duracell Starter battery is considered the entry-level option. It's a reliable battery for a lower price, perfect for any driver on a budget. When it comes to everything you need to start and run your passenger car, there's no reason to spend more if you don't need to.
With the unique four-chamber design, you don't have to worry about leakage, even if there are a lot of vibrations. With the central venting system, there's also plenty of safety built right in. This lineup consists of 12 varying sizes, giving you a capacity from 44 Ah to 95 Ah.
2. Advanced
The Duracell Advanced battery extends the life slightly and still provides reliable power for your automobile. Most customers find this to be the perfect balance between value and performance.
With the Advanced lineup, you get a double lid that offers even more safety. Even if you turn your battery upside down, the acid should remain in place. Additionally, the cold-cranking amps are upgraded over the previous models. Choose a variety from 40 Ah to 110 Ah, which offers a larger range compared to the Standard models.
3. Extreme EFB
The EFB stands for Enhanced Flooded Battery. It's meant to be used with cars that have a start/stop system, but not the brake energy regeneration. For this reason, you will find it in a lot of cars that are considered environmentally friendly.
With this battery, there's twice as much cycle resistance when compared with standard automotive batteries. It also comes with a double lid design to prevent acid leakage. Choose from eight models ranging from 38 Ah to 85 Ah, which shows it isn't meant for anything too big.
4. Extreme AGM
The AGM battery means Absorbent Glass Mat. It's best used in a car with the start/stop system and brake energy regeneration, offering environmentally friendly models a solid option. You will find this battery often used in bigger cars with complex equipment. 
The Extreme AGM offers three times the cycle resistance of standard batteries. Plus, the electrolytes are bonded together with glass nonwoven materials to create low internal resistance and higher starting powers. These are available from 60 Ah to 105 Ah, proving that high-power models can easily rely on the AGM design.
RELATED: AGM vs. GEL Battery: Differences (& Which is Better?)
Duracell Battery Pros
1. Wide Selection
As outlined by the four different models we touched on, there's a battery for every application. Whether you drive a small compact car or you have a heavy-duty truck, you should be able to find the automotive battery for your power needs. Plus, Duracell makes batteries for many other types of vehicles, from commercial trucks to your backyard lawnmower battery. 
Additionally, the Duracell car batteries are available at Sam's Club, making it convenient to pick up a replacement while you are shopping. You can also find them online and at several other in-store retailers.
2. Good Warranty Length
The Duracell Starter battery comes with a warranty that lasts up to three years. This is a great warranty length, considering the lower cost. Several other companies only offer a two-year warranty, so the extra year is a huge selling feature.
However, you can pay a little more and get extra protection. The Advanced batteries have a four-year warranty, while the Extreme lineup offers up to five, depending on what size you need.
3. Reasonable Costs
In some cases, the Duracell battery can be a little more expensive than the competition. However, when you look at both brands' specifications, you will probably find that the Duracell lineup is superior.
So, how can we say that the cost is reasonable if we also tell you the price is higher? When you look at how many years and miles you are going to get out of the battery, you find it can be a better value than some of the cheap car batteries. As long as you can put up the money initially, it will pay off later.
RELATED: How Much Does It Cost to Replace a Car Battery?
Duracell Battery Cons
1. Issues Charging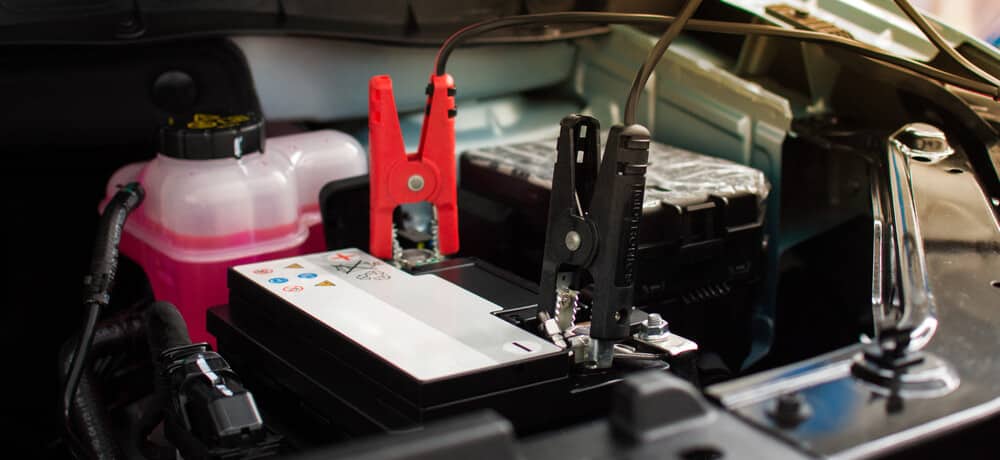 Some customers have struggled to keep the Duracell batteries charging properly. There can be issues either way, with the batteries undercharging or overcharging.
If your car has a bad alternator, this could lead to some problems. Otherwise, you could be looking at a simple manufacturer defect that would be covered by the warranty. 
2. Deep Discharge Failure
When a battery is excessively discharged, its life of it is naturally shortened. For this reason, it's important to ensure that the battery remains charged, which we just discussed can be a problem. 
After deep discharges, the battery suffers from strong cyclization. All of these problems work together to shorten the battery's life.
Duracell Car Battery Review: Are They Any Good?
Duracell has been a trusted name in battery power for many decades, so it's fair to assume that the automotive batteries will be just as reliable. Yes, some of the Duracell batteries can be a little more expensive, but with the exceptional specs and lengthy warranty protection, you really can't go wrong.
Speaking of the warranty, there have been some known defects with the Duracell lineup. However, all of these defects are covered by the warranty, so you won't be out anything.
To be safe, if you can afford to purchase one of the better Duracell options, we recommend it. The Starter lineup can only be recommended if you are on a very tight budget and don't have any other options.
RELATED: 7 Best Car Batteries
FAQs
Is a Duracell Car Battery a Good Battery?
Duracell automotive batteries are some of the most reliable on the market. You can easily find a battery to fit your vehicle size and power needs, with so many to choose from. However, some of the Duracell batteries cost more but come with a lengthy warranty that provides plenty of protection. 
Who are Duracell Car Batteries Made By?
East Penn Manufacturing is the company that makes Duracell car batteries. This company has been manufacturing the Duracell lineup since 2009. In addition to Duracell batteries, East Penn also creates Deka batteries, along with several other brands. 
How Many Years Does a Duracell Car Battery Last?
The average Duracell car battery should last three to five years. Automotive battery life does depend on a good manufacturer, but it is also just as important how you take care of the battery. If you don't charge the battery regularly, it is going to die prematurely, requiring regular replacements. 
Are Duracell or Interstate Batteries Better?
There's very little difference between Duracell and Interstate batteries. Both have a variety of models to choose from, can be found at a local retailer, and boast of a long life. The one you choose will likely come down to your personal preference and where it's easy to buy from. 
Are Any Car Batteries Made in the United States?
The majority of major automotive battery brands are now mainly in the United States. Johnson Controls is one of the major manufacturers, with some locations in the U.S. Exide Technologies is further headquartered in Georgia, while East Penn manufactures in Pennsylvania. These three companies handle the majority of car battery production in America. 
How Good are Duracell AGM Batteries?
The Duracell AGM battery provides a sealed design to ensure there's no leakage. Additionally, this Duracell type can provide longer life, along with superior cold-cranking amps and a high reserve capacity. If that's not enough, there's a long warranty for your peace of mind. 
Conclusion: Duracell Car Batteries
Duracell automotive batteries are made by East Penn Manufacturing Company. They can be found at Sam's Club, along with several other smaller retailers. While some of the batteries can be expensive, the quality is among the best, and there's a wide selection to choose from. 
If you want to choose a reliable automotive battery, you might consider looking at one of the brands best known by Americans. Even though this battery is meant to be used in the car, Duracell has proven itself to be a leader in the auto industry as well. Made in the United States, Duracell batteries provide the reliability and performance you are looking for.
With several different lineups to choose from, it's easy to get an automotive battery that fits your vehicle needs. You can find some options that are better suited for a budget, while others are meant to provide a long life but cost more. It's important to shop around to determine what will work best for you.
Learn more: