Long gone are the days when you have to drive to the neighborhood auto parts stores. With the rise of the internet, a multitude of online auto parts stores has sprung up to choose from. Having your car components shipped right to your home makes any job easier, and in many cases, the prices are also better. However, you need to be careful to choose a reputable company that won't rip you off.
The two most obvious online car parts stores are Advanced Auto Parts and AutoZone. However, you can also find good deals at Rock Auto, Buy Auto Parts, CarParts.com, and IA Auto. If you are looking for something particular, you might try FCP Euro or Summit Racing Equipment, but eBay and Amazon are also options.
Depending on your needs, it's simple to find a top-rated online retailer to supply your auto parts. I look at each option in-depth, helping you find the appropriate fit for your car maintenance and repair needs.
10 Best Online Auto Parts Stores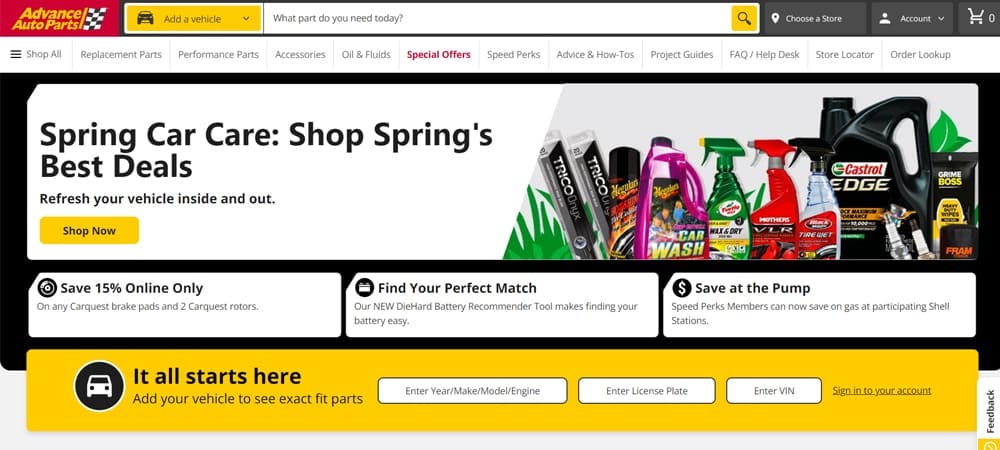 Chances are, you've visited a physical Advance Auto Parts location over the years. With the easy-to-use online platform, you don't have to make that trip anymore, but you can still count on reliable service and superior parts. Depending on how close the stores are to you, it's possible to get same-day delivery on some parts.
The company also supplies a fantastic loyalty program. If you plan to purchase a lot of car parts and accessories, you want to take advantage of the perk. If you are working on multiple cars, you can use the Pro app to scan the VIN and gain access to all available parts for your application. It's a huge time-saving function if you are a professional mechanic.
Advance Auto often runs regular deals, allowing you to save more on an online order. Look for special promo codes that appear on the top banner of the website. Choose free pickup from your local store or opt for free delivery to your home on a $35 order. 
---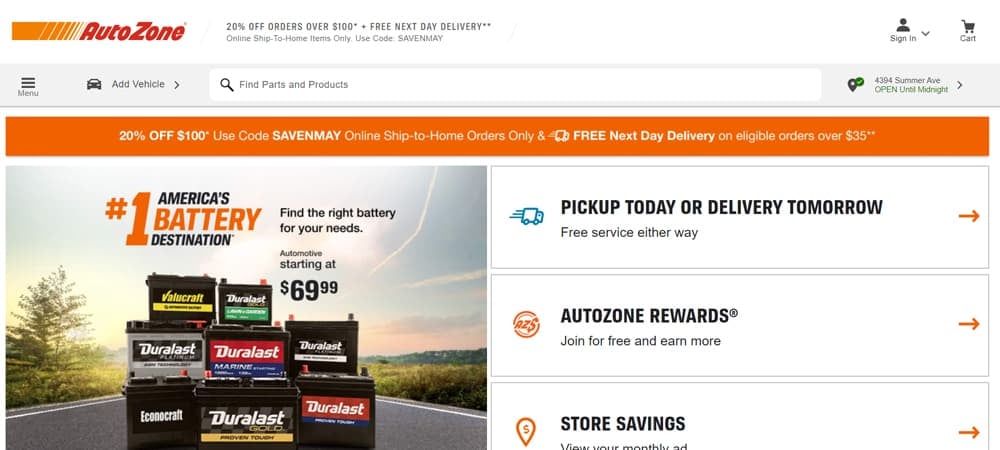 AutoZone is another local retailer you might be familiar with, but this company started in 1979 as the Auto Shack. As with Advance Auto, you can access a multitude of products online or on the app. Many of the products are available for next-day delivery, and you will be rewarded for your purchase. Look forward to getting $20 rewards every time you make five qualifying purchases.
Of course, the stores offer far more services than you can find online. Whether you need to have the Check Engine Light diagnosed or an alternator tested, the helpful staff at your local store will always be willing to help. You can also rent a tool from the store if you don't have what you need for the repair.
As long as you have a $35 order, you can get next-day shipping for free. Otherwise, expect to pay $6.99 for the order. You can also choose free in-store pickup if you prefer. Again, make sure you check the top banner on the website for special promotions that will save you even more money.
---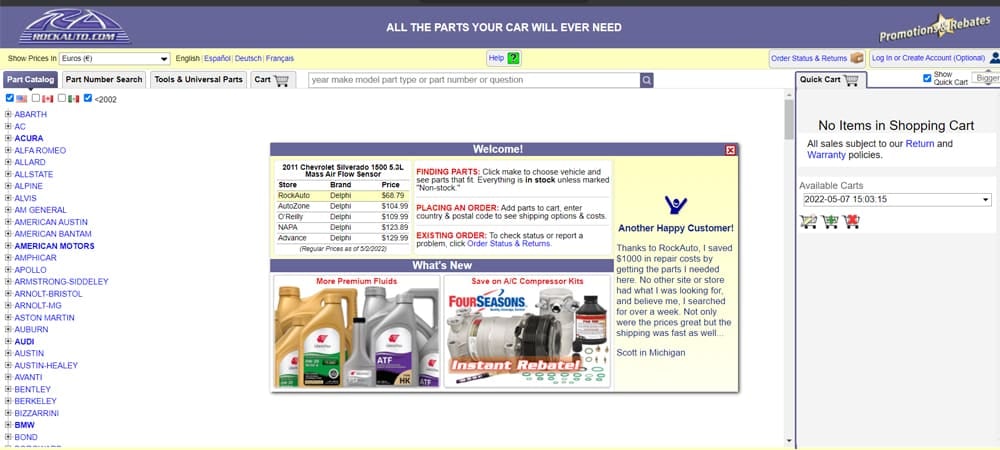 You may not have heard about Rock Auto because it's not as popular as the other two, but that doesn't mean you should overlook them. As a company that's been around since 1999, Rock Auto has plenty to offer. You won't find physical locations for this supplier, they are only located online. By not having brick-and-mortar stores, their prices can often be lower.
The website is a little basic, but you will be able to quickly find what you are looking for by using the search bar. Search by car model, type or the part number. You can even find parts for most trucks. There's also a tab for promotions and rewards on the right-hand side that you will want to explore.
Now for the downsides. Rock Auto doesn't offer free shipping. Your charge will be calculated based on what you order. Plus, return shipping isn't covered if there's a problem with your order. You also can't contact Rock Auto by phone, and some people have complained about the customer service. If the low price is worth these inconveniences, then you might want to give it a try.
---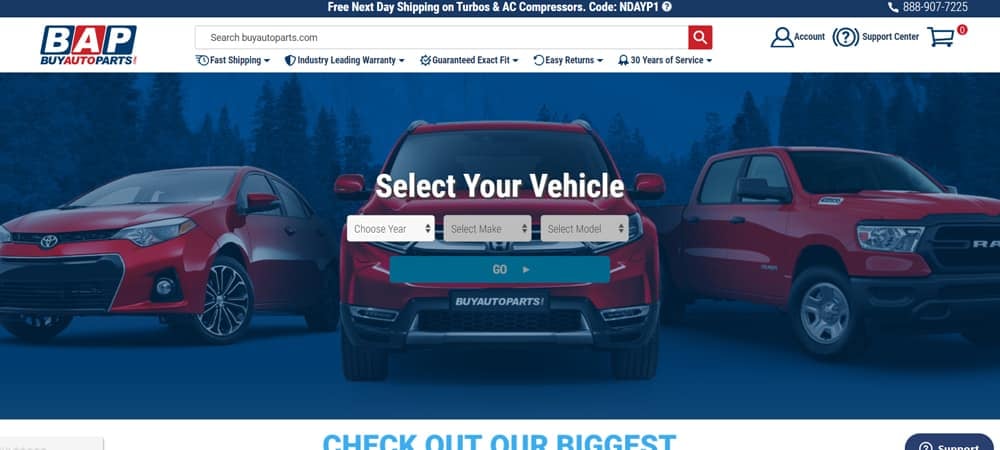 BuyAutoParts.com might be newer to the scene, but there's plenty to love about this online retailer. You can easily find a variety of OEM parts and aftermarket components for most car models, and many of them have a 1-year warranty. However, you can also opt for a longer warranty, sometimes a lifetime. There's an extra fee for this service, but it might be well worth it.
Customer service is where this retailer excels. You can contact the customer service team via phone, live chat or email. One of the professionals will also help you find the right part if you are having trouble searching it out. If you accidentally purchase the wrong part, take advantage of the 60-day free returns, which aren't offered by most retailers. There's also a free membership program to use if you are a professional mechanic working on a variety of cars.
Shipping is free with all $99 orders. Plus, the company has warehouses across the country, helping ensure that your order arrives quickly.
---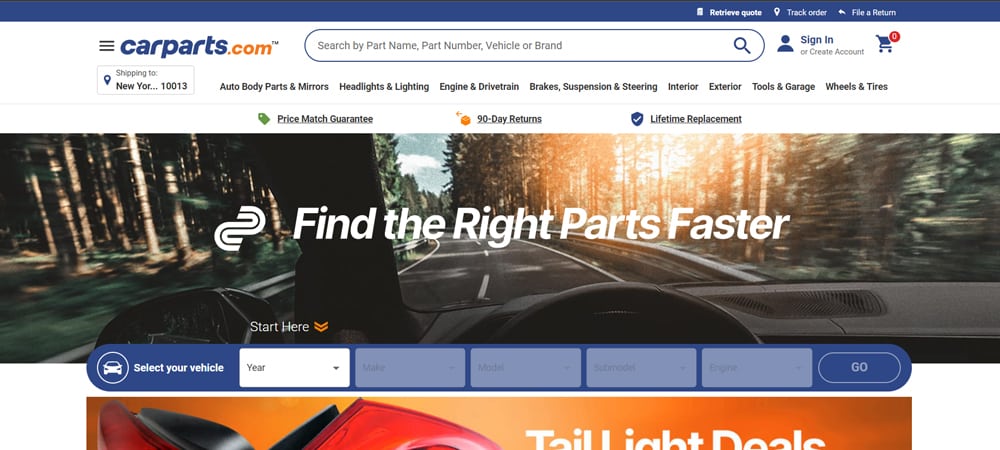 This online retailer boasts of having more than one million car parts for sale. You will find most parts you need like motor oil, wiper blades, air filters, and more vehicle-specific parts. While it is an online store, there are many fulfillment centers around the country to ensure speedy delivery of what you need. Plus, the site is easy to use, allowing you to find the parts needed without spending a lot of excess time. Enter the information about your car to search by brand or browse by car part number.
The company also offers a 90-day return policy. If you purchased the wrong product or didn't need it, you can get your money back. However, the part can't be used unless there is a defect or manufacturing error.
CarParts.com only offers free shipping on select parts. Otherwise, you will need to pay a calculated shipping price based on what you order. However, you can get special discounts by signing up for the company's newsletter and checking online discount code sites.
---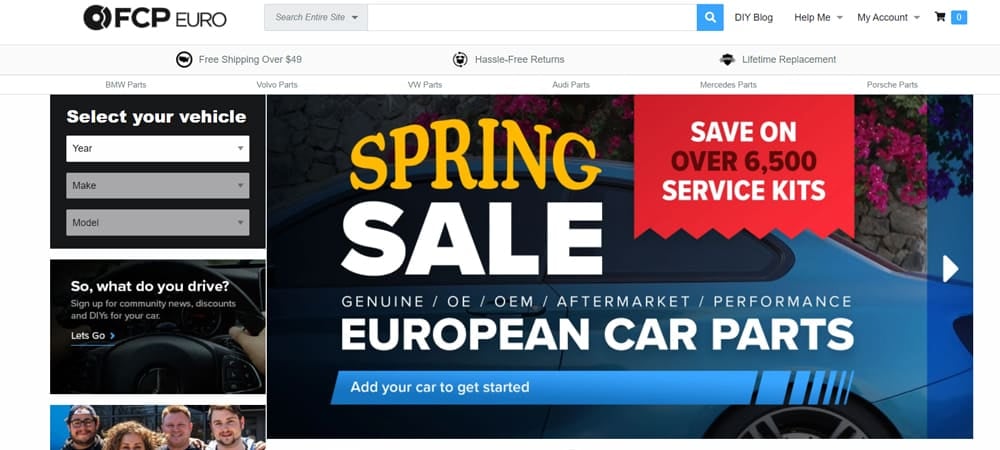 If you drive a Volvo, Audi, Mercedes, BMW, or other European vehicles, you want to shop with FCP Euro. This online retailer specializes in European car parts, and it started as a brick-and-mortar location. Now, the company focuses solely on offering car parts online, helping to keep the prices lower.
FCP Euro offers a lifetime replacement guarantee that you won't find elsewhere. If you purchase a product from FCP Euro and it fails, you can have it replaced for free. This even applies to maintenance items, such as brake pads. The company also offers a 90-day return policy that gives you a full refund. However, you will need to pay for the return shipping unless the mistake was caused by the provider.
All orders over $49 will ship for free, but this only applies to economy shipping. If you need it faster, choose one of the expedited shipping options for a fee. Customer service is reportedly a step above the rest, with regular compliments given by clients. You can even find some of the team members discussing car parts on various forums.
---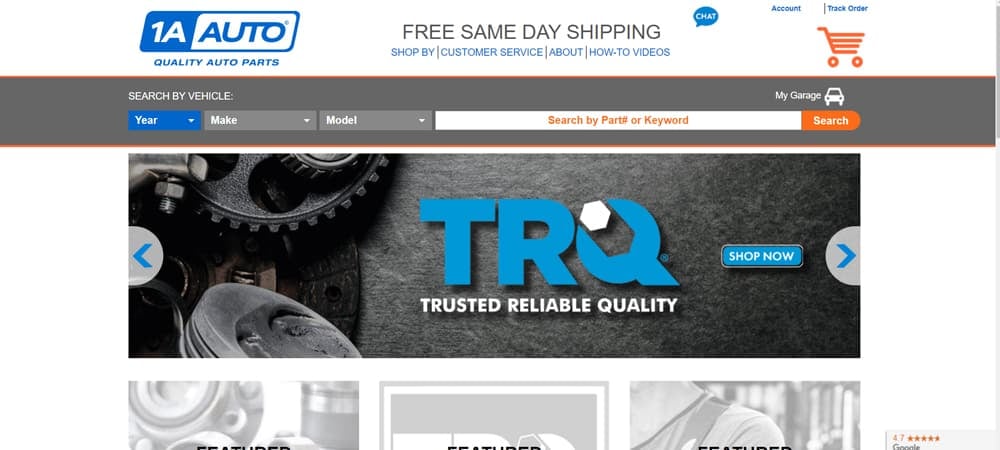 The chances are that you have seen installation videos by 1A Auto. The company is a leader in providing hands-on information to get maintenance and repair done faster. However, this company is also known for providing high-quality auto parts for a variety of makes and models. The website is simple to use, making it easy to find exactly what you are looking for.
There's a nice selection between OEM and aftermarket parts, allowing you to make the best decision for your needs. Plus, customer service is available through a quick phone call or email. There's even a 60-day guarantee on all parts sold, ensuring you can return it as long as it wasn't used. If the part isn't compatible with your car, even though 1A Auto said it was, the shipping on the return will also be covered.
Shipping is always free, saving you a lot of money on smaller orders. Plus, the company ships most items the same day, as long as they are ordered before 2 pm EST. If you need the parts faster, just opt for Next Day or 2nd Day Air instead for a small charge.
---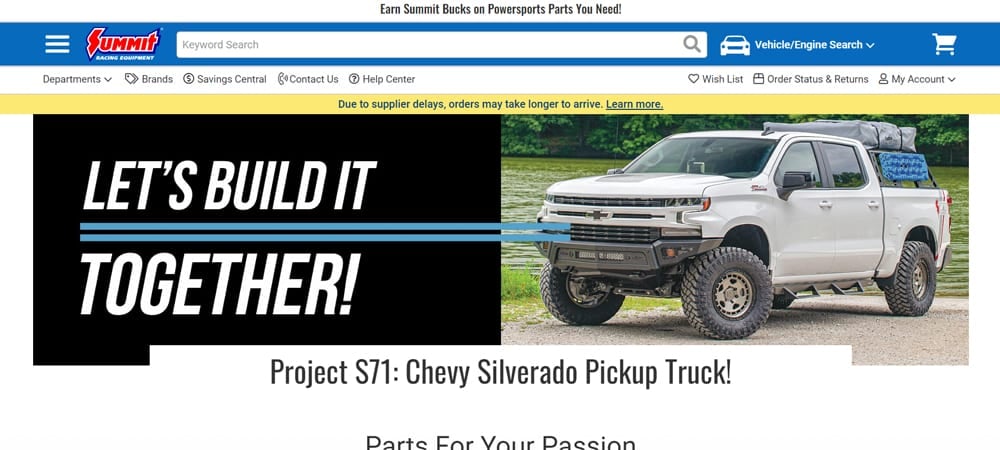 If you are in need of parts for your high-performance vehicle, Summit is the place to go. While the company is located in Arlington, Texas, you can get your parts shipped anywhere in the world. Plus, the website is simple to navigate, allowing you to find parts based on your vehicle type or part number.
If you shop on the app, there are special discounts sometimes available. The company also makes it simple to get connected. You can call, email, text or chat with a representative. They also offer the option to connect through Facebook Messenger, which is a unique option.
Shipping is free on orders over $99. If you purchase something lower than that, you will be responsible for the $11.99 shipping fee. There are also expedited shipping options if you need your parts sooner.
---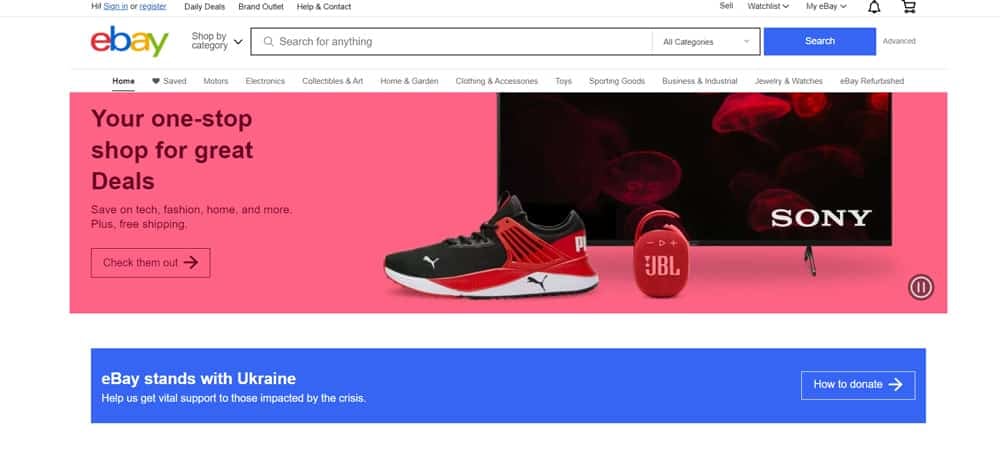 You can get just about everything you want on eBay, including auto parts. With countless suppliers selling auto parts on eBay, you get your pick of where to buy from. You can find anything, from the smallest parts, such as brake pads, to the largest or most unique components for any repair. You can also check the compatibility with your vehicle to ensure it's a good fit.
The search filter on eBay is advanced, allowing you to narrow down the parts to suppliers near you for faster delivery. If the part is big and bulky, you might even choose to buy from a supplier that allows for local pickup to save on shipping costs.
When shopping on eBay, you must exercise more caution. Research the vendor's history to ensure they aren't ripping people off. You also want to make a note of the shipping and return policies of each vendor, as they aren't uniform. Sometimes, it is smarter to pay more for a product that comes with free shipping, but you will have to do the math to figure that out.
---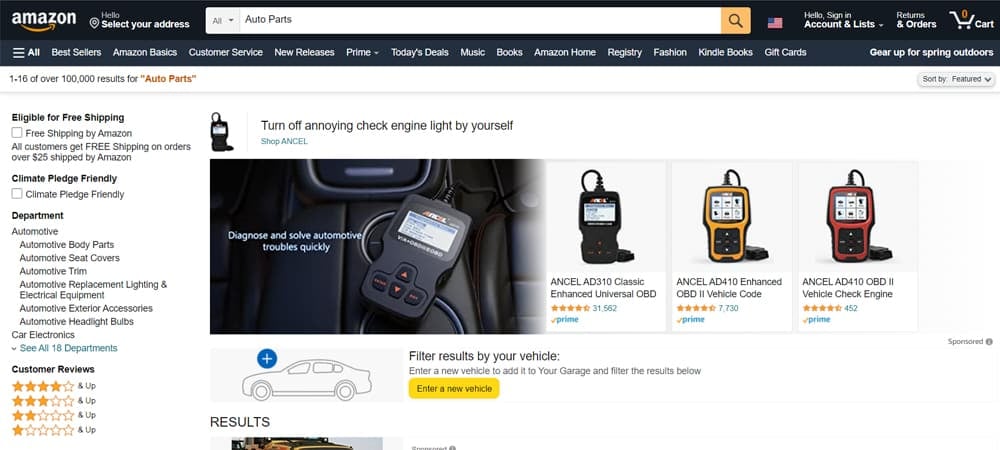 Amazon is another site that sells just about everything you could ever think of. If you haven't thought about using the online retailer for auto parts, you are missing out. Plus, if you are an Amazon Prime member, you can get free 2-day shipping on qualifying parts.
With Amazon Garage, you enter the car you own. From here, Amazon will quickly weed out any parts that aren't compatible with your vehicle. This search feature saves you a lot of time, since you won't be looking at components that aren't meant for your car. Plus, Amazon has a pretty generous return policy as long as the products are sold by them.
On the other hand, you could be purchasing from an unreliable vendor. You want to do your research before buying from a third party, as you won't get much help from Amazon if there is a problem.
---
Choosing the Online Auto Parts Store for Your Needs
If you are hoping to get the auto parts in your hand today, consider shopping with Advanced Auto Parts or AutoZone and picking up the order at your local store. Otherwise, there are tons of choices to have the products shipped right to your home or shop.
Rock Auto, Buy Auto Parts and CarParts.com all have an extensive inventory of parts for reasonable prices. You may prefer to use 1A Auto, especially if you've been watching their free installation videos. However, if you drive a German car, FCP Euro might be a better option. On the other hand, high-performance and racing vehicles benefit from the parts sold at Summit Racing Equipment.
If you are already used to shopping on eBay or Amazon, these platforms also have a lot to offer. Browse all of the available options to see where you can find the best deal with the most comprehensive shipping policy for a quick fix.