The winter season can be beautiful. The landscape changes to a blistering white color. But, driving during this season is a disaster in waiting.
Firstly, the roads become slippery, making braking hard. Then you have to deal with foggy conditions that hinder visibility. Most drivers will check their batteries to ensure that the car will start in the morning, but very few take steps to replace their wipers. Factory-made wipers are designed to work under normal climatic conditions, but extreme winters will leave your windshield partially cleared.
Before you get caught up in an accident, you may want to change your factory wipers for winter ones. So we have reviewed the best winter wiper blades
Remember to choose the correct windshield wiper model and size for your vehicle. Learn more here.
Disclaimer – This article may contain affiliate links, this means that at no cost to you, we may receive a small commission for qualifying purchases.
The Best Winter Wiper Blades
When it comes to winter seasons, you need wipers that are sturdy enough to wipe off the snow from your windshield without breaking. The Aero blades are made from high-quality materials that ensure you have a very strong curve that clears everything from your windshield. In addition, the blades have passed through QC testing which is a guarantee that you are dealing with a premium product.
Most of the wiper blades are made from rubber. However, the Aero blades are constructed from a specially formulated rubber blend that contributes to their durability. The end result is a smooth swipe action. The manufacturers have been in the industry for decades and this means you will find a winter wiper suitable for your car. Installation is easy as they fit well into your wiper arms.
Key Features
Made from specially designed rubber blend
Aerodynamic design reduces noise, drag, and wind lift
Blades have undergone QC testing
Curved design
Pros
Long-lasting
Provide a smooth curve
Suitable for most cars
---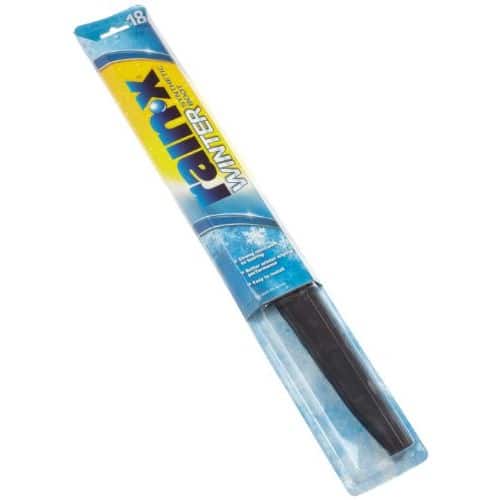 This premium blade packs both quality and functionality. One of the reasons that most factory-made blades are unable to hold snow and frost is that they are filled with many small nooks and crevices. Rain-X has solved this by having the frame mechanism hidden inside the wiper body. This eliminates the need to scrape snow from the blades.
The rubber blades have been reinforced with graphite coating and this makes them both sturdy and long-lasting. You also enjoy enhanced wiper stability as the rubber encased substructure is also embedded in the rubber blades.
Key Features
Non-expose of metal components prevents snow buildup
Specially blended graphite coating ensures a smooth wipe
Comes with preinstalled small j-hook adapter, large j-hook, multi-adapter side pin
Pros
All-weather wipers for extreme conditions
Easy to install
Prevents snow buildup on wipers
RELATED: Symptoms of a Bad Windshield Wiper Motor
---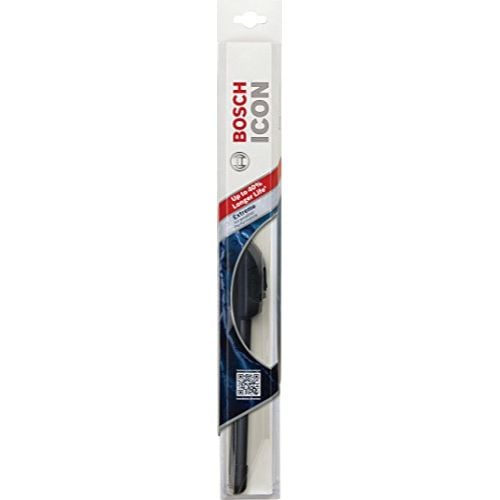 Bosch makes it on our list because they have a reputation for building quality products. This particular model is a premium wiper that is priced higher than others. Value is delivered through specially designed fx dual rubber blades that are known to resist both ozone and heat deterioration. The manufacturers claim that the Bosch Icon blades will last 40% longer than conventional blades. If you observe the length of time you will be using the blades then it makes up for the high price.
When it comes to installation you should have an easy time changing your wipers. Firstly, the blades use an especially tension spring technology that ensures that the blades maintain a perfect curvature during wipes. This feature ensures maximum visibility.
Key Features
Easy installation courtesy of hook adapter
Patented beam design for maximum visibility
The uniform downward force is delivered through the asymmetric spoiler
Pros
Lasts 40% longer than other blades
Holds firmly to screen even under high speeds
Easy to install
---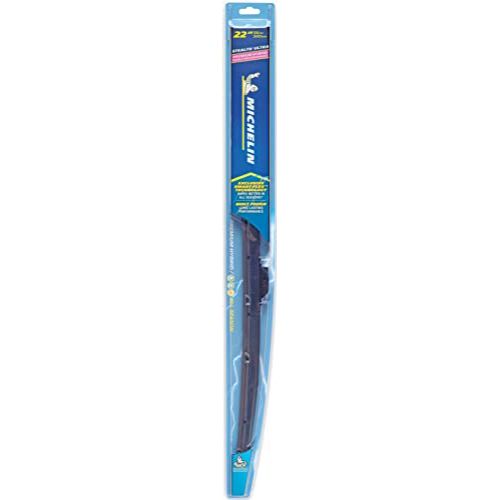 While there is nothing stealthy about the wipers, they are made by a reputable brand so you should expect high-quality materials being used in the construction. To protect the blades from accumulating snow, the framework is encased. Installation is easy due to a convenient universal connector system. This means you can use it in a variety of cars. The rubber blades are constructed in such a way that they will last a lifetime.
To enhance a smooth wipe during snowy conditions the wipers are designed with independent suspension rail that you connect with the wiper tips. Michelin has tested the product through 300,000 wipes cycles this means you are getting a product that has been tested for durability.
Key Features
For quick replacement, you have EZ-Lok connector system
Independent suspension offers the ability to adjust windshield shape
Patented smart hinge
Tested to withstand more than 300,000 wipes
Pros
The covered framework that does not hide snow
Long-lasting and durable wiper blades
Smooth and clear wipes
---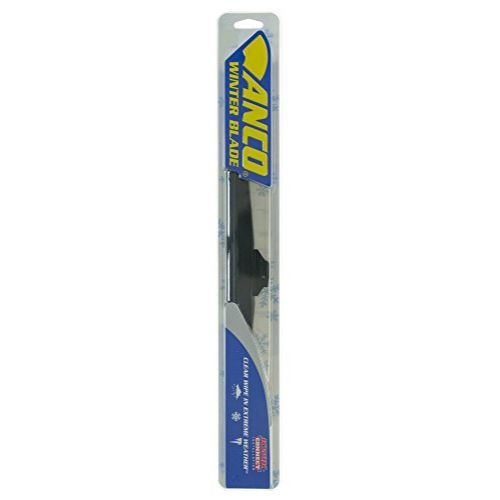 The blades for the ANCO are suitable for winter conditions because they are made from DuraKlear exclusive rubber. This ensures that you have a clear wipe at all weather conditions. The rubber will retain its qualities even under extreme cold seasons. The frame – made from heavy-duty rubber – is sturdy enough to push large snow amounts.
The best part about the ANCO blades is that they are available in multiple lengths. This means that you can use them for a variety of cars. Installation is easy as it uses the innovative KwikConnect Installation system. Using the technique, all you need is to hear a click to confirm that the wiper blades are in place.
Key Features
Made from DuraKlear exclusive rubber compound
A Heavy-duty frame that can withstand extremely cold conditions
KwitConnect Installation System
Pros
Easy to install
Available in different lengths
Flexibility during cold conditions
---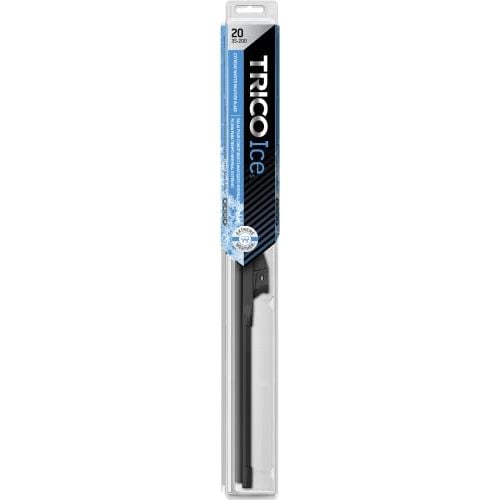 Do not underestimate this winter wiper blade due to the low price. Most of the blades we have reviewed are reasonably priced but the Trico offers Teflon infused blades that do a great job of cleaning your windshield.
The wiper blade is made from components that do not freeze easily. The blades are also flexible enough to access most parts of the windshield while offering a clean swipe. Trico has used a HighGlide Treated material that ensures that the blades due not squeak during wipes. The Trico blades are suitable for all weather conditions.
Key Features
Sleek styling that offers unrivaled winter performance
Teflon infused blades
Availability of adapters for easy connection
Pros
Availability in a variety of sizes
Flexible design
Armored shields prevent the accumulation of snow
---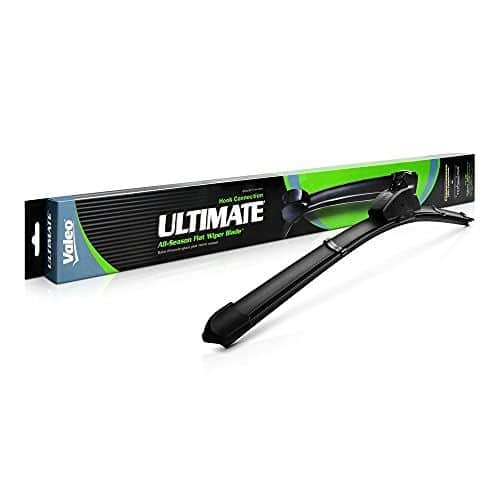 The blades offer an innovative aerodynamic design that is vital for reducing drag and lifting of the blades. This model comes with 22-inch blades that have been constructed with Tec3 technology. This kind of rubber is great for winter conditions as it remains undisturbed and still. This reduces snow accumulation on your windshield while enhancing visibility.
To eliminate vibrations, the manufacturers designed a frameless blade that is flat. The blade scores 1,500 points in regards to quite wiping. Installation of the blade is easy because it does not require an adaptor for connections. The blades are available in a variety of lengths from 16 to 28 inches. These is all-weather blades meaning you do not need to switch during winter or summer.
Key Features
Improved aerodynamics lead to increased performance
Infused Tec3 advanced rubber technology
Blade to windshield pressure is at 1,500 points
Pros
Easy to install as it requires no adapter
Advanced Tec3 rubber technology
Offers a clean swipe
---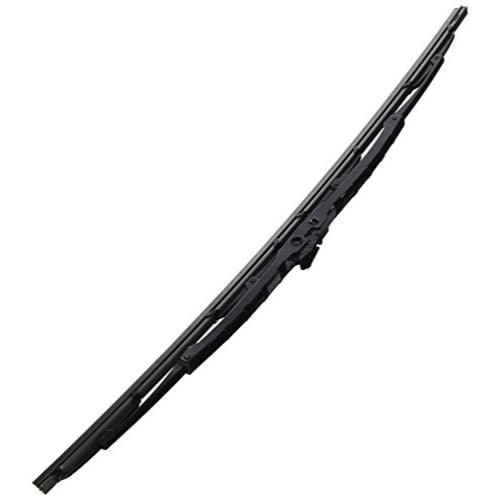 If you are looking for something more durable then the Motorcraft WW2201P is your ideal choice. It is made from durable metal with an advanced rubber coating. This ensures that your blades are well protected against corrosion. The rubber is not there only for protection but also works well to reduce wiper noise.
The Motorcraft blade can be used for both winter and summer conditions. It is durable and comes with color-coding to inform you when the blades need replacement. The outer coating of the blade is black but with increased wear, it will change to a yellow color. This feature on the blades is activated through contact with UV light.
The wiper blades are made from innovative DuoTec+ Technology. One of the reasons your blades wear out fast is due to sunlight. With specialized materials being used, you are guaranteed that you will use your blades for years. In addition, the unique motion produced by the blades ensures that snow is cleared off your screen fast. This enhances visibility and ensures your windshield is clear at all times.
Key Features
Uses innovative DuoTec+ Technology
Changes color due to wear from black to yellow
Advanced rubber coating for protection from corrosion
Pros
Corrosion-free
Durable blades
Clean wipe
---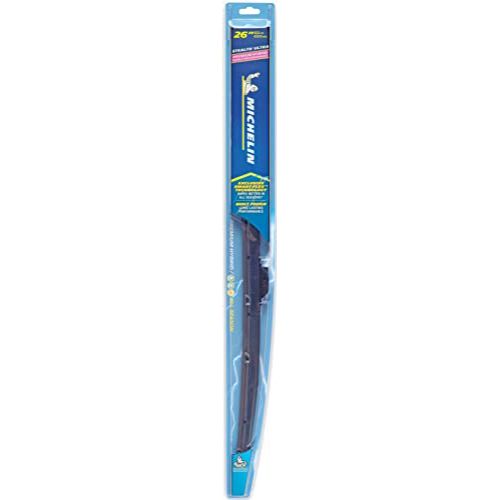 The Michelin Stealth Ultra is already reviewed earlier in the article, but this is another type of the same model. These 19-inch wiper blades combine class and high-quality materials to produce clean swipe. You connect the blade through a specially engineered EZ bolt that fits with most car connectors. Michelin has used an innovative, patented hybrid flex design that ensures that snow does not get into the blades and prevents a smooth swipe. The blades also do not have spaces for the accumulation of dirt.
The smart hinge joint ensures that the connector gripes the blade tightly. This ensures that maximum pressure is applied on the windshield hence ensuring a clean windshield. The outer casing is made from a hard material that ensures that debris do not attach to your blades.
The blades are slightly curved and this makes the blades highly flexible. The SmartFlex suspension is suitable for any type of harsh weather that you may encounter. One of the benefits of using the Michelin wipers is that the frame is coated with powder to ensure that it is corrosion free. The blades are eco-friendly and perform well even at high speeds.
Key Features
Smart hinge joints secure blades to the windshield
Suspension ensures blades independence to adjust to the windshield
Independent tests have shown that blades can handle more than 300,000 wipes
Pros
EZ bolt makes it easy to install
Eco-friendly
Ensures you have a clean swipe
---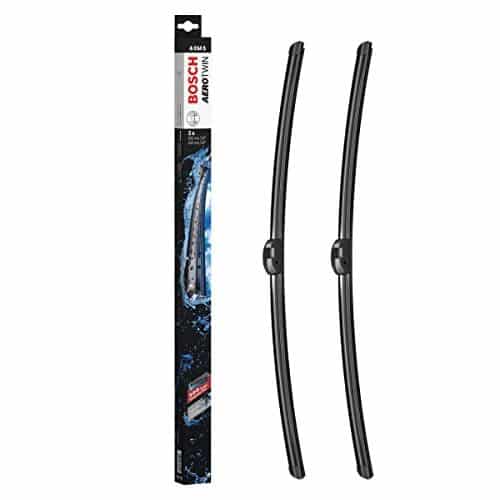 To provide you with a good wiping experience, these blades by Bosch come with uniform pressure points that have been strategically located on the precision tension. The blades are sturdy enough to withstand harsh weather as they are made from durable steel. Snow is known to destroy the connection blades arms and that is why Bosch has included a weather shield connector system.
The blades are made from double rubber that is strong enough to handle snow while protecting your windshield from damage. The blades will also remain stable even under harsh windy conditions or you are driving under high speeds. It is estimated that the blades will last up to 20 percent longer due to the double rubber engineering. Many people assume that the blades are heavy due to the steel construction but the fact that they are long contributing to lightweight wipers.
The Bosch blades have been constructed with aerodynamics in mind. This means that you do not have to stop and clear your windshield during blistering winds. You can use the blades for a variety of cars including Toyota, Honda, Hyundai, Mazda, Jeep among others.
Key Features
Made from durable steel
Clears even the smallest droplets
Aerodynamic frame design
Pros
Durable double rubber engineering
The aerodynamic design offers stability during harsh winds
Suitable for most vehicles
---
How to Select the Best Winter Wiper Blades
Winter wiper blades work wonders during harsh winters. They are made to be sturdy enough to keep going even when your windscreen is loaded with snow. However, selecting the right blades can be confusing as what is being marketed fails to function as intended. If you are in the market searching for winter blades, take note of the following factors.
Covered Framework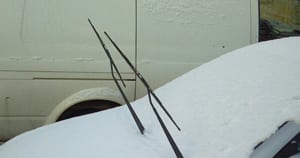 A closer observation of all-weather blades will reveal that you can see the suspension mechanism and places where the wiper rubber blades attach to the arm. The problem with this kind of blades is that they accumulate snow in the crevices. This means that you need to physically remove the snow before driving off. With a covered framework, there are no open spaces for the snow to hide. This ensures that you have a clean swipe that does not leave any snow on the windshield.
Water repellant blades
Winter blades tend to have an extra coat that is water repellant. Most use silicone. Water repellant abilities cause the bending of water droplets. This leads to the water having a larger surface area which can easily be wiped off by the wiper blades.
Attachments
You need to carefully examine the attachment mechanism to ensure that it will fit on your car's windshield. Most of the premium products in the market will have one fit all mechanism. This means they can fit on almost all car models.
Select blades that are all weather, meaning you can use them during the winter season and summer without changing them. If you find that your car is covered in ice, you can first try to remove the ice with an anti-freeze solution before turning on the wipers.
Budget
There are various wiper blade brands in the market. In this regard, you have premium products from reputable manufacturers that double up in functionality and quality. Have a budget range when searching for wipers. The most expensive blades do not necessarily offer superior performance.
Replacing wiper Blades
Wiper blades are not meant to last a lifetime. They wear out with continued use. You can replace the wipers yourself or take your car to the auto repair shop. Replacing worn-out wipers is a simple DIY task because the wipers come with unlocking and lock mechanisms. Problems arise when you have complex wiper blades that have screws on them. This will necessitate you to use a screwdriver.
When replacing your wipers you first need to identify the right type for your car otherwise you may find yourself with loose fitting wipers that leave wet spots. More advanced wipers come with color coatings that change as the wiper wears out. You will know it is time to get new wipers when they start making a squeaking sound or when they leave wet spots after a wipe. While changing your wipers also ensure that you change your windshield liquid. This should be monitored more frequently as many motorists forget to refill it after use. The liquid may be of no use during harsh winters. Instead, you can use low freeze liquid that does not solidify during freezing temperatures. Most of the auto repair shops will tell you to replace your blades after every six months but this is unnecessary unless the blades are completely worn out.
Wiper degradation
Poor visibility of the roads is a major cause of road accidents. The problem is that wipers start wearing out gradually and it is difficult to identify worn-out blades immediately. If the rubber on the blades continues to deteriorate, the metal component of the wiper blades will damage your windshield. This will be evidenced by numerous scratches.
Most of the time you will only be required to change the rubber blades but there times the whole wiper system is damaged. Check your manufacturer manual for the right wiper size. Sometimes you will find that manufacturers are producing fewer replacement inserts. This means you are forced to purchase a complete unit. This may require some time to fix and if you are not familiar with such kind of replacements you may need a technician for it.
Wiper Blade FAQ
What is the purpose of winter blades?
Winter blades are constructed in such a way that they are sturdy enough to withstand extreme snowy conditions without breaking. They also keep your windshield free of snow hence boosting your visibility. What differentiates the winter blades from the all-weather ones is that they do not have crevices to hold snow.  They come with a covered framework.
How do I choose the right winter blades for my car?
 Most of the winter blades can be used in most cars. First, check your car manual for the right blade size. If you do not have this, consult your car dealership or mechanic. You can also use a measuring tape to get the right size from your existing blades.
Are beam wipers better than the winter blades?
The beam wipers are designed for cars with curved windshields. The beam adjusts to conform with the curvature of the windshield. This gives you ensures that the windshield is cleaned across its entire length. Windshields cleaned with the beam wipers are cleaner than those done with the winter blades. However, the winter blades are designed to be sturdy enough to clear out snow without breaking.
Why do my wipers squeak during operation?
If you notice that your blades are making a squeaking sound whenever you are cleaning the windshield then it is a sign that the blades are worn out. Wiper blades are made from rubber, which wears out with continued usage. It could also be caused by the hardening of graphite or silicone in the blade due to exposure to excessive sunlight.
Should I lift up my wiper blades during winter?
There are some people who actually do this on the basis that it prevents the wipers from sticking to the windshield during winter. Alternatively, you can use some anti-freeze compound on your windshield before you turn on the wipers.  
Why are my winter wipers sticking to the windshield?
If you find that your winter wipers are stuck, pour some water over them. This helps to thaw the ice. Next, clean the wiper ends with some alcohol. You can also upgrade your wiper fluid by using one that has an anti-freezing agent.
Conclusion
Winter wiper blades are manufactured to help you navigate the roads during winter conditions. They are sturdy enough to handle windy conditions without breaking. In addition, the wipers do not have gaps where snow can hide. It has been challenging selecting a winner because most wiper manufacturers have winter wiper blades. However, the Rain-X Latitude Wiper Blade wins this round as the best winter wiper blades. The blades are made from high-quality materials that can withstand harsh climatic conditions. The frame mechanisms are hidden inside the frame body.
Resource:
How to choose the right wiper blade – WikiHow
Was this article helpful?