When the cold weather hits, the last thing you want is to have wiper blades that can't handle the conditions. Cold weather is notorious for breaking wiper blades, and winter-specific wiper blades typically hold up better, last longer, and perform better than other wiper blades.
But you don't want to find out you got the wrong wiper blades with the first winter storm, and that's why we came up with this guide to highlight ten of the best winter wiper blades on the market today.
Not only that, but we developed a comprehensive buyer's guide that will walk you through everything you need to know to get the perfect winter wiper blades for your vehicle the first time.
10 Best Winter Wiper Blades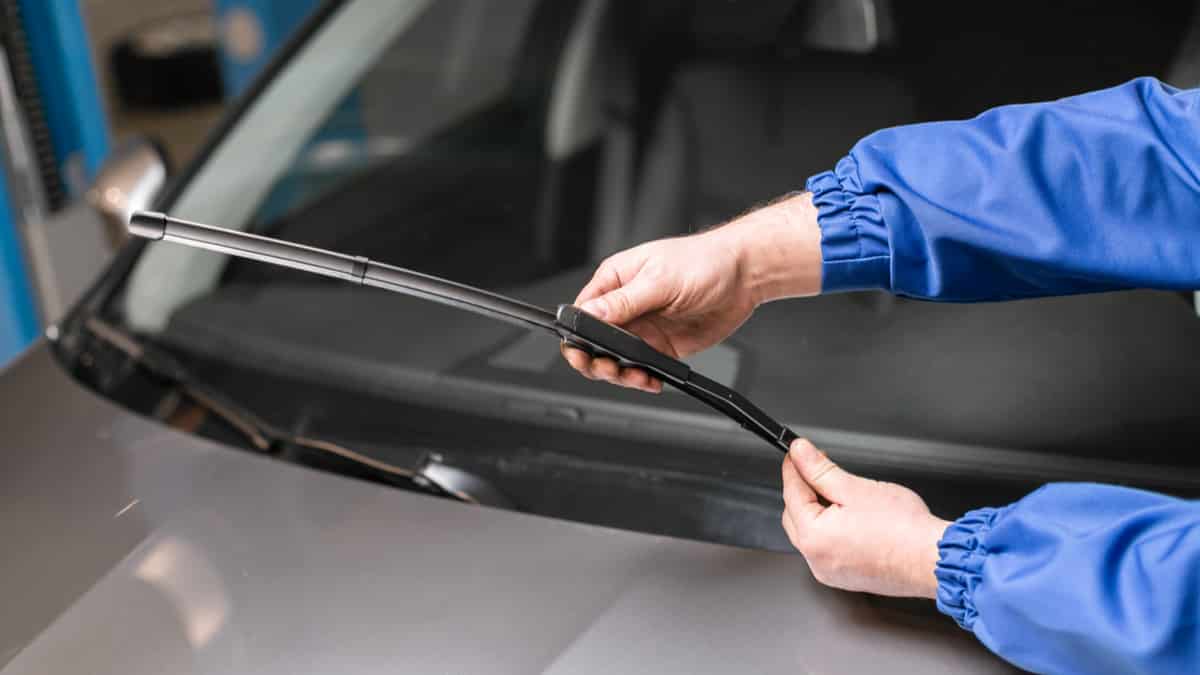 We know you're busy, and if you just want to get some great winter wiper blades on order and move on your with day these are the best of the best. There are some great reviews and wiper blade options for you here.
1. Rain X Latitude – Best Winter Wiper Blades Overall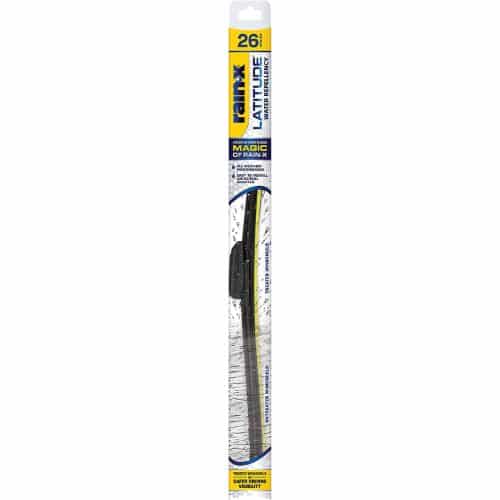 If you're looking for the best combination of price and performance, you're not going to top the Rain X Latitude wiper blades. Compared to some of the premium choices they don't cost a ton, but they still perform like the best of the best.
They actively repel water when it's raining, and they provide streak-free cleaning with each wipe. But not only do the Rain X Latitude wipers do great in the rain, but they do an outstanding job of clearing snow, ice, sleet, and any other type of inclement weather nature can throw at you.
Add in that Rain X is one of the top brands in the industry and the Latitude wiper blades are one of their longest-lasting options, and it's clearly a great deal. Our only complaint with these wiper blades is that they're not winter-weather-specific blades.
That's not a huge deal, and they are a great option if you want blades you can keep on your vehicle year-round, but it is possible to find winter-specific wiper blades that perform a little better in the ice and snow.
Pros
A great mix of price and performance
Outstanding brand
It does a great job repelling water
They last a long time
Phenomenal all-weather performance
Cons
Not winter weather specific
---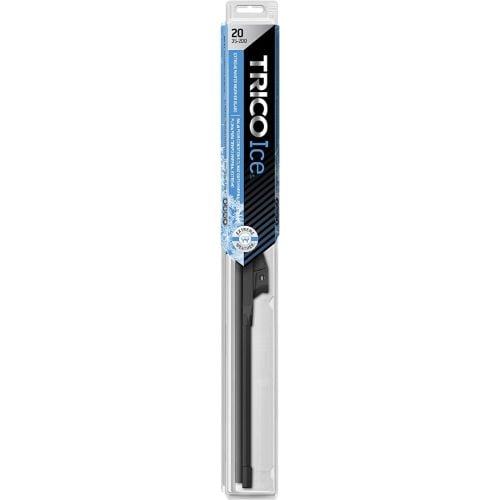 Outstanding winter-specific performance and a great price make the Trico Ice wiper blades an exceptional option for your vehicle. Trico built every part of the Ice wiper blades to handle the colder winter weather, and they do a phenomenal job.
Throughout the entire wiper blade, Trico uses armor to shield the different components from the cold. The blade itself is less likely to freeze and tear, and all the components are less likely to crack when the cold weather hits.
Another perk of the Trico Ice wiper blades is how easy they are to install. They feature a one-click design to put them in place, and their universal fitment ensures you can put them on just about any vehicle.
But while the Trico Ice wiper blades are among the best winter wiper blades available and you don't have to spend a ton to get them, they're not perfect.
For starters, they're not water-repellant. While this doesn't matter for snow and sleet, for typical rain they don't perform quite as well as many other brands. And while they have no problem pushing snow and ice off the windshield, they don't provide the same streak-free level performance during normal conditions.
They work well enough, but you might find yourself wanting to swap out the blades when things start to warm up. But because of how simple they are to take on and off that's really not a huge deal!
Pros
Affordably priced
Winter weather-specific design
Very easy to install
Durable design
Cons
Not water-repellant
Not the smoothest performance
---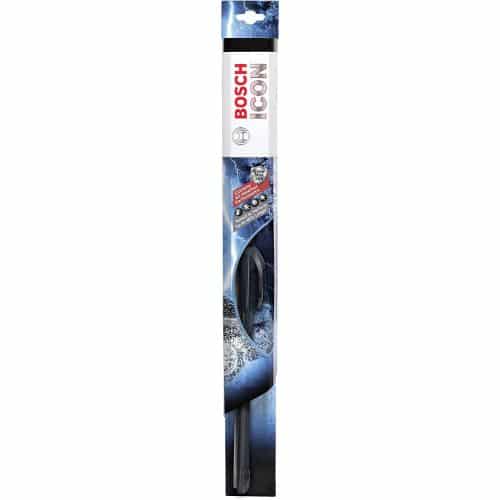 There's no doubt that if you're willing to spend a little more then the Bosch ICON wiper blades give you even superior performance. They're phenomenal all-weather wiper blades that easily cut through and clean water, ice, snow, sleet, and anything else the world throws at them.
The Bosch ICON does great no matter how cold the weather gets or how fast you drive, which is exactly what you want from your wiper blades. But what really sets the Bosch ICON apart from other wiper blades is how long they last while delivering this top-notch performance.
The Bosch ICON wiper blades last about 40 percent longer than the competition, giving you far more time with outstanding results. Not only that, but it's the quality of results throughout the entire lifespan of the wiper blades.
Some wiper blades promise to last a long time, but the quality of blades decreases over time until you have to replace them. With the Bosch ICON you get streak-free results for longer so you don't feel like you can't see as well, even if it's not quite time to replace the blades.
Pros
It does extremely well at high speeds
Very long-lasting option
It does great in extreme weather
Great in all weather conditions
---
4. Trico Exact Fit – Best Rear Winter Wiper Blades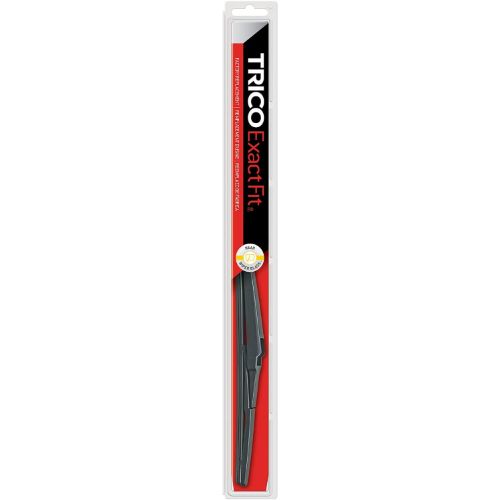 While a lot of people pay attention to the wiper blade in the front of their vehicle, one area that many owners overlook is the rear wiper blade. For a rear wiper blade, you need a different size and style, and the Trico Exact Fit gives you exactly what you need.
Even better, Trico offers them for an affordable price and they are extremely easy to install. And with tons of rear wiper blade options, there's a very good chance they'll have the rear wiper blade your vehicle needs.
These Trico Exact Fit wiper blades excel in all weather conditions, and they do a great job of avoiding tearing in colder weather. You won't find wiper blades for the front of your vehicle from this selection, but when you're shopping for a rear wiper blade the Trico Exact Fit is as good as it gets.
Pros
Affordably priced option
Tons of rear wiper blade options
Very easy to install
Cons
It only offers rear wiper blades
---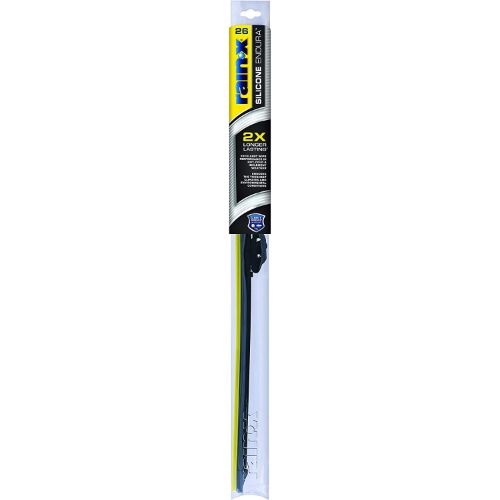 The Rain X Silica Endura is the second Rain X wiper blade to make our list, and as one of the top wiper blade companies in the world, it's not surprising that they have two choices in the top five.
These Silica Endura wiper blades last an extremely long time, and the silicone blade can handle extreme temperature swings. They perform well at temperatures up to 194 degrees Fahrenheit, and for the colder weather, they can handle temperatures all the way down to -20 degrees Fahrenheit!
They don't dry out and crack and do a great job with all types of weather. They constantly repel water and have no problem moving ice and snow out of the way.
The silicone design helps deliver consistent results day after day and month after month, which is why the Silica Endura made our list. But despite the amazing results, the reason the Rain X Silica Endura fell to the middle of our list all comes down to the price.
They're among the most expensive wiper blades on our list, and not getting them for a great price is a big part of why they shouldn't be your first choice.
Pros
Easy to install
Very long-lasting
Outstanding all-weather performance
It repels water
Consistent results
---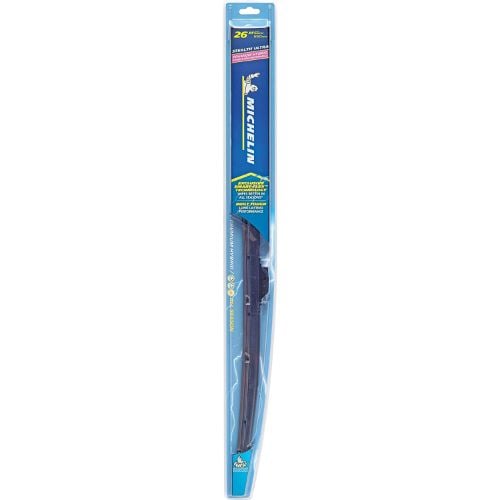 The Michelin Stealth Ultra isn't the top choice on our list, but it's another great option that provides a great mix of price and quality. The blades use a silicone design that adds to the overall durability and makes them a bit more water-repellant.
Another winter advantage with the Michelin Stealth Ultra blades is their smart hinge cover that helps keep ice and snow out of the blade. This keeps things moving smoothly even when severe weather hits.
The blades are easy to install and they can last up to 300,000 wipes, which is far longer than many other brands. However, while the Michelin Stealth Ultra comes from a reliable brand, but the truth is that there aren't a ton of size options at your disposal.
If they have a Michelin Stealth Ultra that fits your vehicle, it's a great choice, but if they don't, you'll need to go with another option from our list.
Pros
A great mix of price and quality
Water-repellent design
Outstanding winter performance
Easy to install
Cons
Not a ton of size options
---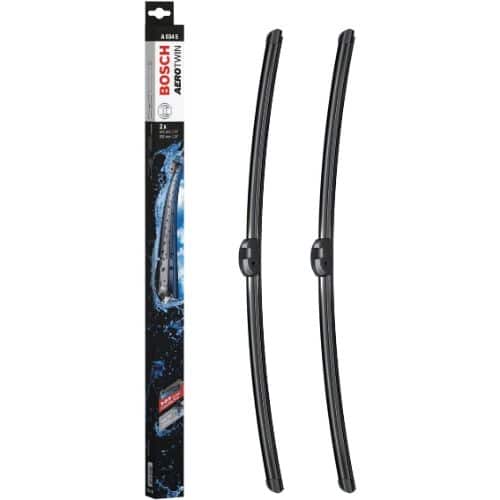 These Bosch Aerotwin wiper blades are another high-quality wiper blade option that doesn't have a ton of size options available. But if you can find a Bosch Aerotwin wiper blade that fits your vehicle, there are tons of perks.
They're extremely effective at clearing off water, snow, and ice, and the metal torsion spring design gives a flush fitment against the windshield of pretty much any vehicle. The torsion spring design helps it deliver consistent results wipe after wipe.
They do great in all types of weather conditions and last a long time, but you have to be ready to spend a bit more on them. These wiper blades deliver outstanding results and last a long time, but you're also paying more for the additional performance.
Between the higher price tag and the limited selection we couldn't justify putting the Bosch Aerotwin wiper blades any higher on our list despite the high-quality results.
Pros
Extremely effective
Very long-lasting
Consistently outstanding results
Great in all weather conditions
Cons
Very expensive
Not many size options
---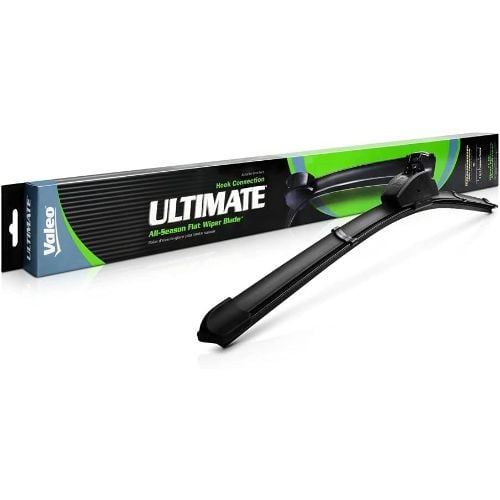 The Valeo Frameless Ultimate wiper blades excel in two different areas – performance and appearance. They can easily handle snow, ice, water, sludge, and sleet to keep the windshield clear.
Another perk is that they're available at a great price considering the quality of the wiper blades you're getting. They're easy to install in moments and the universal fitment style and the built-in wear indicators let you know when it's time to get new wiper blades on order.
But while there's a lot to love about these wiper blades, they're far from perfect. First, they're not winter-specific. They can handle the colder weather, but winter-specific wiper blades will outperform them when things get cold.
Finally, they don't last nearly as long as many other wiper blade options. The built-in wear indicators are nice, but it'll really only highlight how quickly these wiper blades wear down.
Pros
Outstanding all-weather performance
A great mix of price and quality
Easy to install
It has built-in wear indicators
Cons
Not winter specific
Not the longest lasting
---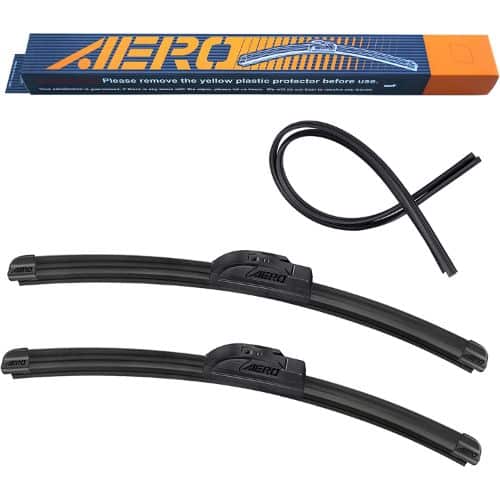 These Aero All-Season Beam wiper blades are another all-season wiper blade option that can deliver quality results in colder weather. They're genuine all-season wiper blades that whisk away rain, sleet, snow, and ice with ease, and they're extremely easy to install.
Another perk of the Aero All-Season Beam wiper blades is how long they last. They're very durable, even when the weather starts to get cold. These are all great things for the Aero All-Season Beam wiper blades, but it's still not enough to elevate them any higher on our list.
The primary reason for this is that they can leave minimal streaking after a few months, which is less than ideal for wiper blades. Moreover, they're not winter-specific wiper blades. They can remove ice and snow, but they don't do quite as well as other options.
Still, if you're looking at winter wiper blades for your vehicle you could do far worse than the Aero All-Season Beam.
Pros
A great mix of price and performance
All-season wiper blades
Easy to install
Long-lasting design
Cons
They can leave minimal streaking
Not winter specific
---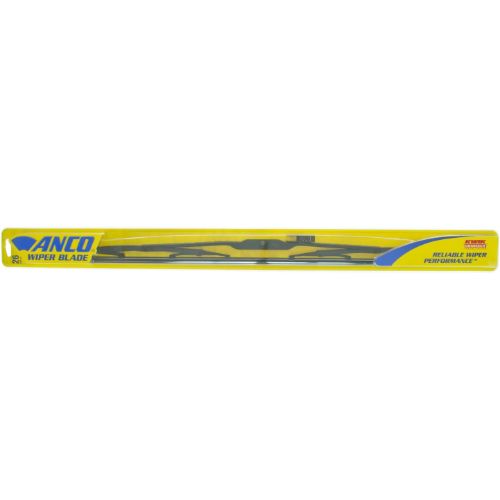 The Anco Series 31 is the last wiper blade option on our list, but that doesn't mean you shouldn't consider them. They're one of the most affordable wiper blade options on the market, and that's a big deal if you're on a tight budget.
There are tons of size options available for you to pick from, and they're extremely easy to install once you get them. However, while they're an affordable choice that will get the job done, there are a few reasons it only made it as the last selection on our list.
First, they don't last very long compared to the other options. Next, they're not winter-specific wiper blades. They do fine in winter weather, but there are definitely wiper blades that do better in the winter.
Finally, while they'll do fine, they don't deliver quite the same level of consistent results that other wiper blades give.
Pros
Very affordable option
Tons of size options are available
Easy to install
Cons
Not the longest lasting
Not winter specific
Not the most consistent results
---
Winter Wiper Blades Buyer's Guide
With so many great wiper blade options out there it can be tough to pick out just one for your vehicle. It's an important decision, and it's why we came up with this buyer's guide that will walk you through everything you need to know to get the perfect winter wipers for your vehicle.
Why Getting the Right Wiper Blades Matters
If you go to any automotive store or even a store with a small automotive section, you're likely to see a ton of different wiper blade options at your disposal. They're in various sizes, use different materials, and have a multitude of technologies inside them.
This is why some wiper blades fail sooner than others and why some can tackle heavier elements like snow and ice so much better than others.
Some of the technologies that make such a big difference are "armor" that insulates the plastic mechanisms from the colder weather, silicone blades that can handle larger temperature swings, and even water-repellant lubricants that help water bead up on your windshield!
All the different wiper blades might look the same to you, but there are a lot of differences that affect their performance and how long they'll last. You want to be able to see when you're driving down the road and you don't want damaged blades the first time a winter storm comes into town!
Taking the time to figure out exactly what each blade offers and what you need for your area will go a long way in ensuring you don't have any problems with the wiper blades on your vehicle.
Measuring Your Wiper Blades
The last thing you want when purchasing new wiper blades is to get the wrong size. The wiper blades should cover as much of the window as possible without reaching over the edge, and that's exactly what the manufacturer kept in mind with the stock wiper blades.
You can look up the original length of the wiper blades in the owner's manual, at a dealership, or even online. But if you're struggling to find the information anywhere and you like the current length of the wiper blades on your vehicle you can always measure them!
Simply remove the old blade and use a measuring tape or a similar device to figure out how long it is. The first numbers of any wiper blade part number tell you the length of the blade, so match that number with the right length to get the right sized wiper blades for your vehicle.
How Long Should Wiper Blades Last
When you look at various wiper blades one thing the manufacturer highlights is how many wipes it lasts. While this can be a little frustrating since we don't count how many wipes our wiper blades go through, it truly highlights how long a wiper blade will last.
That's because how long a wiper blade will last depends on how much you use it. If you live in an area with a lot of rain and constantly use the wiper blades, it'll wear out much faster.
Not only that, but temperature swings play a big role too. As the temperature drops, it puts extra stress on the wiper blades causing them to wear out faster.
Still, even with all this in mind, there's no reason the right wiper blades can't last at least two years if you care for them properly.
Ensuring Your Wiper Blades Fit
Getting the right-sized wiper blades for your vehicle is a big part of the process, but even if you get the right-sized wiper blades, you still might have trouble getting them on your vehicle.
That's because you need to mount them to the wiper arms on the windshield. Most vehicles use one of a few simple designs like a hook to install them. As long as your vehicle uses one of these designs a universal wiper blade should do the trick for you.
However, not every vehicle has this universal design on the wiper arms, so you need to take the time to look at the connection mechanism on your vehicle and compare it to what's on the wiper blades. If they match, they'll work!
But you might wonder how you can ensure the connections will work with your vehicle if you order online. That's where Amazon really excels. All you need to do is put in your vehicle's information on the screen with the wiper blades on Amazon's website and they'll tell you if the blades will work with your vehicle!
This gives you peace of mind before you place an order that you're getting the right part and won't have any problems when it comes in. Each of the options on our list has this feature with Amazon, so you don't have to worry about getting a part that won't fit!
How to Tell If You Need New Wiper Blades
While you might think you want new wiper blades for your vehicle, how do you know when you need them? There are a few different ways you can tell if it's time to replace your wiper blades, and we highlighted five of them for you here.
1. Cracked or Failing Rubber
The most common way a windshield wiper starts to fail is with the rubber. The rubber is a soft material that won't damage the windshield, but it also makes it the most likely component to wind up with damage.
Inspect the wiper for cracks and see if the entirety of the rubber is still contacting the plastic portion of the wiper blade. If it's not, or if there are cracks along the rubber, it's time to replace them!
2. Streaks on the Windshield
It's the wiper blade's job to clear off debris and moisture from the windshield, and when it's doing its job properly, it leaves a perfectly clear and clean windshield. However, as the wiper blade gets older the rubber can start to have small indents and bumps along the rubber.
Often it's too small for you to notice when you look at it, but the results will show up on the windshield. However, if your wiper blades are starting to leave streaks on the windshield we highly recommend trying to clean them before replacing them.
Sometimes all you need to do to get the wipers back into pristine condition is to run a rag or cloth along the blade to get any debris off and they go back to working like new!
3. Bent Wipers
While this isn't the most likely way for a wiper blade to fail, it's certainly possible and if it happens you'll need to replace it. Sometimes high winds or other factors can lead to the plastic on the wiper blades bending.
If this happens they won't be able to push the rubber part of the blade evenly across the entire windshield. This is a rare occurrence, but you increase the likelihood if you put the windshield wipers up during a storm with high winds.
4. Chatting or Squeaking
While you might hear some noise when you turn on the wipers, it shouldn't be all that loud. If the wiper blades sound noisier than normal, it means that the rubber isn't making proper contact with the windshield.
The plastic could be contacting the windshield, or the wiper could be "skipping" across the windshield. Either way, you won't get the clear windshield you want, and if the plastic is contacting the windshield it can damage it over time.
5. Blades Won't Stay Flush With the Windshield
There are a ton of reasons this could happen to your wiper blades, but if you notice that a portion of the blade never contacts a specific area it's time to replace them.
The problem could be with the rubber on the blade, the tension method behind the blade, or with the plastic itself. In the end, it really doesn't matter. You need your wiper blades to clean off every portion of your windshield, and if they're leaving a gap that's a problem!
Budget vs Premium Wipecr Blades
Some people claim there's not much difference between budget and premium wiper blades, but that's not the truth. Premium wiper blades contain various technologies that improve the performance and longevity of the blade.
One of the first technologies premium blades use is to push the entire length of the blade against the windshield with consistent and even pressure. This ensures that you get a streak-free wipe each time.
Next, premium blades use improved materials to make the blade itself. Silicone is what most companies use in their premium blades instead of organic rubber, and these silicone blades last longer and actively repel water.
Finally, premium blades often incorporate technologies that actively protect different components from extreme weather conditions. This is a big deal if you live in an area where the weather gets significantly colder.
Because of the extra longevity premium wiper blades give you it's often a better long-term financial investment to get premium wiper blades compared to budget wiper blades that cost less initially but wear out a lot quicker.
Frequently Asked Questions
When you're looking for new wiper blades, it's only normal to have a few questions. We understand and it's why we decided to answer some of the most frequently asked questions for you here.
Do Winter Wiper Blades Make a Difference?
Yes! Winter wiper blades make use of a more durable rubber that resists freezing during the winter weather, and often the different plastic components come with a little more protection so they don't freeze either.
Should You Put Your Wiper Blades Up in the Snow?
While there's some debate, most wiper blade manufacturers recommend you put up the blades before a winter storm. This helps protect the soft rubber blades and ensure they won't freeze on the windshield. However, during high wind conditions it can end up damaging the plastic components.
How Long Should Wiper Blades Last?
It really depends on how often you use your wiper blades, but typically wiper blades should last anywhere between 1 and 3 years. Of course, properly caring for your wiper blades or not using them as often can ensure they last even longer.
How Often Should You Clean Wiper Blades?
Once again this depends on the conditions and how dirty your wiper blades get, but ideally you should clean your wiper blades once a month. Simply lift and wipe down the wiper blades to clean them!
Are Silicone Wiper Blades Better Than Rubber?
Most wiper blade experts agree that silicone wiper blades outperform conventional rubber ones. Silicone wiper blades handle a wider range of temperatures better and tend to last longer than rubber wiper blades.
Final Thoughts
Don't wait until the first bad storm hits to realize you need new wiper blades. Do yourself a favor and prepare your vehicle for inclement weather before it lands on your vehicle's windshield.
Any of the wiper blades on our list will do an outstanding job of keeping your windshield clear while you're driving down the road, so it's not something you want to put off any longer than you can!