Do you own a car with a high-mileage engine? Are you tired of oil sludge and want to let your high-mileage engine live for many more years?
A high mileage engine oil is the answer to the questions above. As a high mileage motor engine owner, you should opt for high mileage engine oils. They will help your engine stay lubricated and work smoothly for a longer time.
With high mileage engine oils, you can increase the engine's lifespan and enhance its performance. In this article, let's examine some of the best motor oils for high mileage engines.
The 6 Best Motor Oils for High Mileage Engines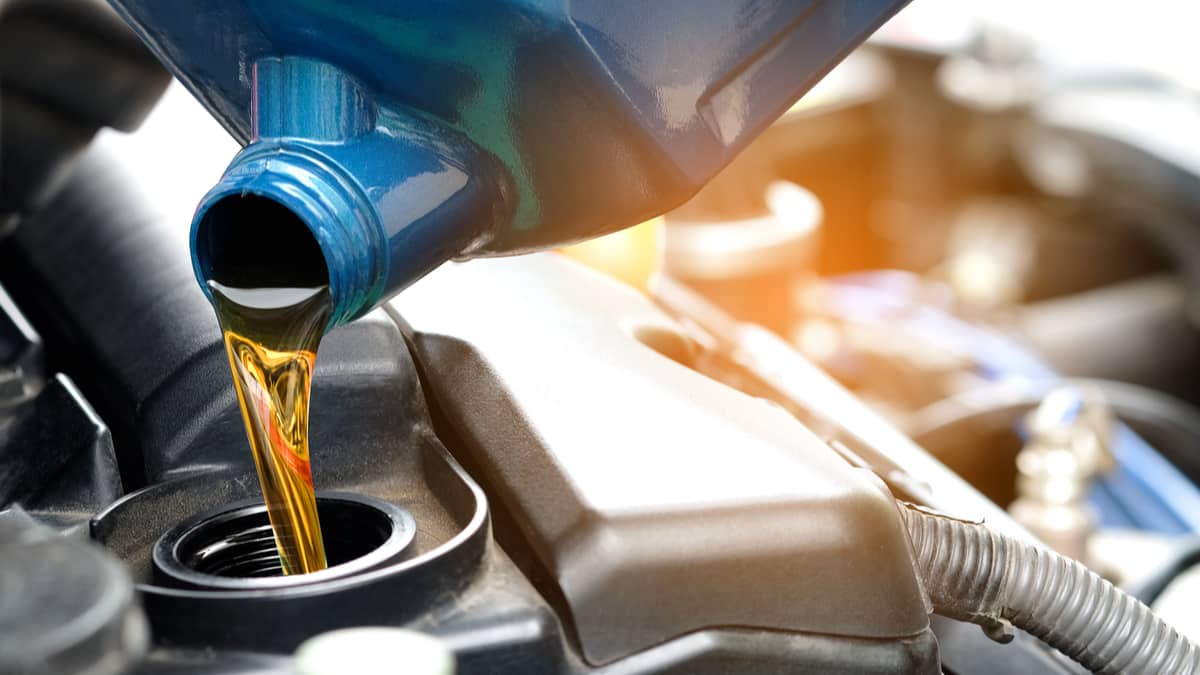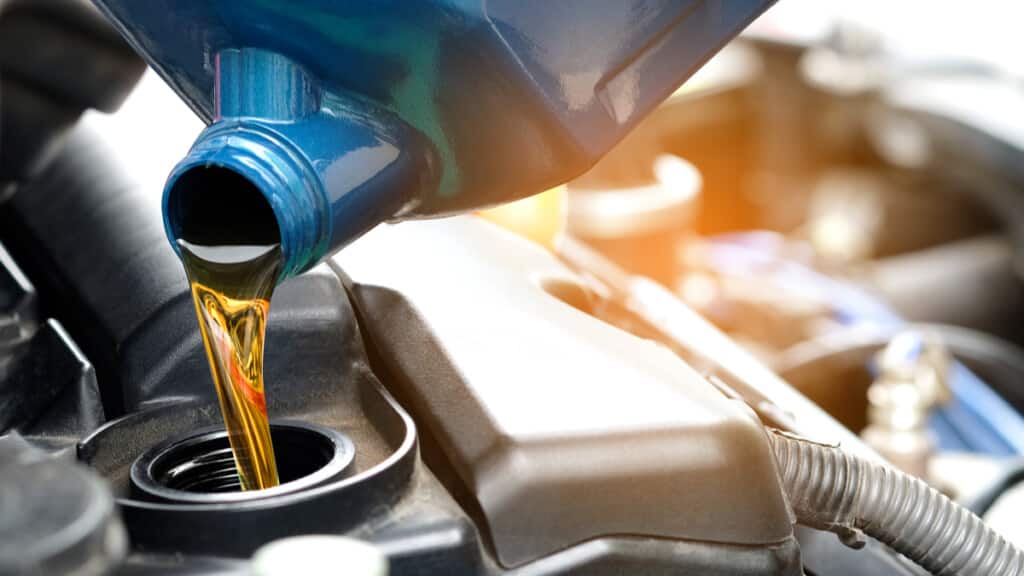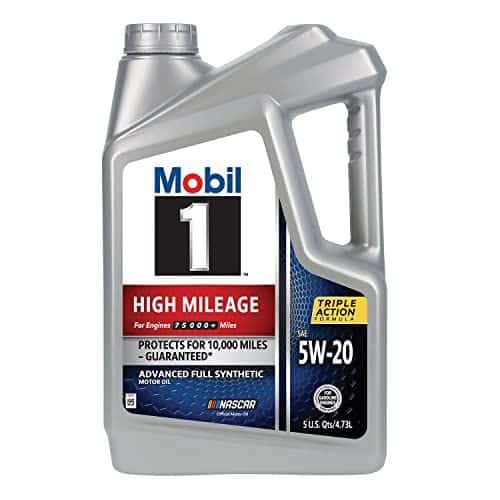 Most people have heard about the brand Mobil 1, which is one of the largest oil manufacturers.
The Mobil 1 High Mileage Full Synthetic Motor Oil is perfect for outperforming its competitors. The wear protection provided by this oil is the best among all Mobil products. So is the extreme lubrication and prevention of gap formation in components.
This motor oil is ideal for removing sludge and other deposits from the engine. It removes all the components generally left by conventional oils. As a result, it increases the life and performance of your vehicle's engine.
Another excellent thing about this motor oil is the seal conditioners' strength. Therefore, you will never see your engine in as perfect a condition as with this high mileage oil.
Pros
Prevents leaks and deposits
Provides the best lubrication possible and prevents gap formation
Best wear protection among all Mobil products
Provides complete resistance to high pressure and temperature.
Will work efficiently even at low temperatures.
Allows engines to run efficiently
---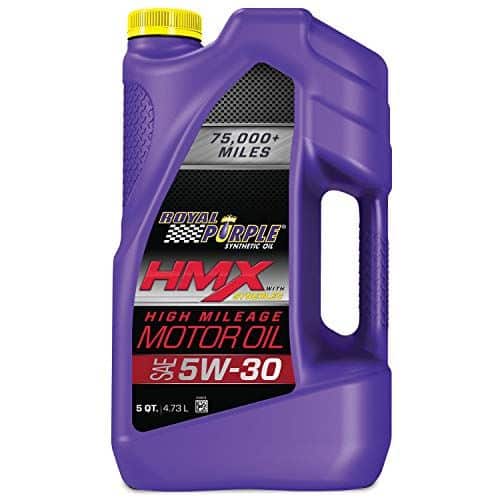 When you start using the Royal Purple Synthetic Motor Oil for high mileage engines, you will never go back on your choice. The performance and reliability of this motor oil are unforgettable and irreplaceable.
It is undoubtedly one of the best motor oils for high mileage engines in the market. The oil ensures safety, longevity, wear-resistance, and functionality boost for just about any high mileage engine.
This particular product is made through an amalgamation of engineers and scientists to provide extremely high performance. The Royal Purple motor oil is perfect for a maximum of 75,000 miles.
With supreme anti-oxidant composition, you do not have to worry about your engine clogging due to oil sludge. This motor oil is also perfect for providing drain intervals and anti-wear properties.
Due to the formula's anti-corrosion properties, the older your engine, the better performance you will feel with the oil. It is excellent for increasing an engine's lifespan.
Pros
Increases engine efficiency
Protects both old and new engines from wear, corrosion, and sludge
Reduces engine deposits to provide maximum performance
Great for engines with a maximum mileage of 75,000
Provides wonderful low-temperature resistance
Cons
Quite expensive for many people
---
RELATED: What Does SAE Stand for in Motor Oil?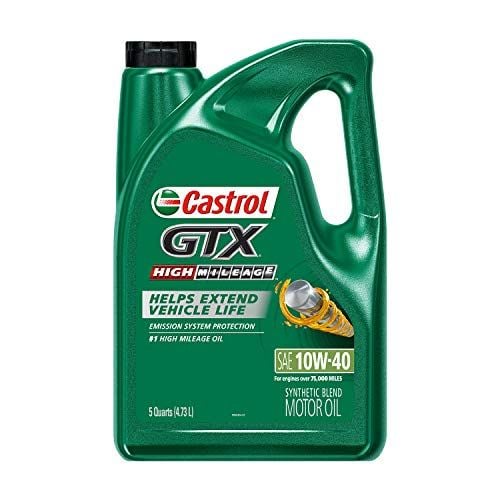 Most people associate high mileage engines and their maintenance with loads of money. However, with the right information and products, that's not always the case. With this Castrol High-Mileage Synthetic Blend Motor Oil, you get the best possible performance at a low price.
Castrol is the manufacturer of some of the top world-class motor oils. They are famous for their high performance and reliability.
This high-mileage motor oil is no exception. It comes with all the necessary elements that can enhance engine performance without additional elements.
This high mileage motor oil is perfect for engines with over 75,000 miles of speed. By including a robust dispensary system, this oil ensures the prevention of sludge production.
The seal conditioners help in reducing oil leakage within the engine. The oil complies with the ACEA and API standards to offer burn-off protection at par or even better than most premium products.
Since this oil is perfect for corrosion resistance, it is great for both old and new engines. Using it with Bosch engines will give you the best performance.
Pros
Meets API and ACEA standards for preventing oil burn-off
Includes viscosity-index boosters
Hight quality dispersant
It contains titanium friction modifiers.
It comes with supreme sludge prevention and oil leakage protection.
Cons
Some bottles reported to be leaking during delivery
Not as high performance as the mobil 1 or royal purple
---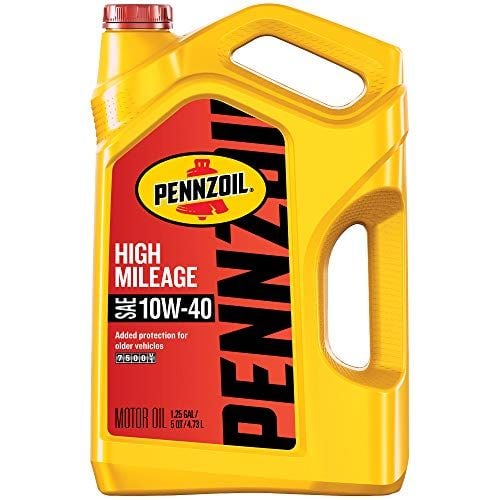 If you're looking for a quality yet affordable product, the Pennzoil 10W-40 High Mileage Motor Oil is the right option for you. This oil will help you get agility back into your worn-down engine through its several unique, innovative components.
The oil is specially designed for restoring old high mileage engines. It helps bring back performance, healing cracks, reducing wear, and stopping leakage within the machine.
One great thing about this high mileage oil is its long intervals. This feature allows the engine's internals to be completely clean. If your motor vehicle has over 75,000 miles, it will love Pennzoil High Mileage Motor Oil.
It works flawlessly for old cars by providing extra strength to the engines. Not only does it heal the damage done to the machine throughout the many miles covered, but it also prepares it for new-like performance.
This product also has LSPI protection, saving most modern turbocharged engines. This motor oil is a must-have to increase the engine's performance, safety, and longevity.
Pros
A perfect blend for protecting old engines
Unsurpassed wear protection and rejuvenation
Great LSPI protection
It comes with a 10w30 viscosity.
Seal protection
Cons
The oil doesn't have AMP SN Plus certification.
---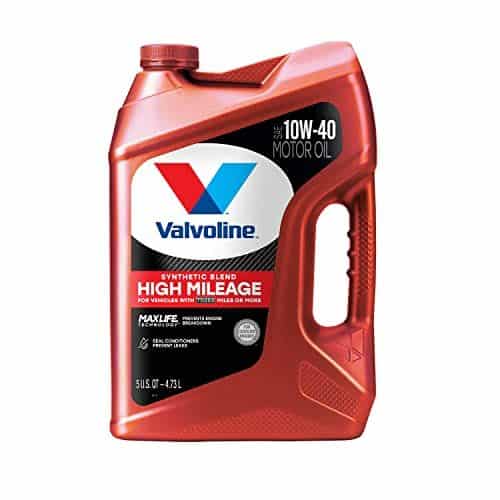 There's a reason why we've chosen the Valvoline High Mileage Motor Oil in our list. The performance you get with this motor oil is very similar to all the extra nutrition supplement a senior person takes.
It helps increase the engine's lifespan, rejuvenate worn-down components, and lubricate the machine correctly. This potent formula ensures nothing but the best performance by utilizing all the recent innovations and technologies.
The seal conditioners present in this oil prevents oil leaks. Its high anti-oxidant value also helps prevent sludge production from increasing the engine's performance.
The engine allows extra wear protection and uses the Maxlife Technology to increase the engine's durability.
It is perfect for engines over the mileage of at least 75,000 miles. The extra cleaning agents, novel friction modifiers, and anti-wear additives provide the best protection. Using this oil with other Valvoline products will give you incredible results.
Pros
Extra wear protection for high-performance engines
Rich anti-oxidants prevent sludge production and engine blockages.
It comes with rust inhibitors.
The synthetic blend allows the motor to cover at least 75,000 miles.
MaxLife Technology increases engine durability.
Cons
The container is not optimum.
---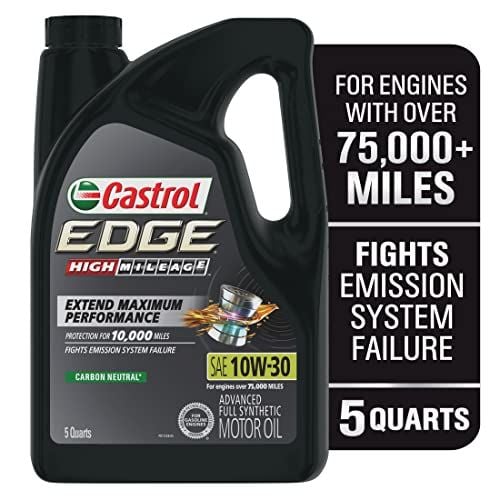 Spotting a second product on our list from Castrol shouldn't come as a surprise due to its reputation. Instead of a budget product, this one is a high-quality mid-range product nothing short of fantastic.
This Castrol Edge High Mileage Ful Synthetic Motor Oil is used to prevent situations when your vehicle's engine gets too week to operate. It will keep the engine in good health for as long as required and possible.
The supreme anti-oxidants and seal conditioners prevent all kinds of leakages and blockages in your engine. It contains the production of any power-robbing burns, leaks, and deposits. The best about this product is its ability to boost fuel efficiency in the engine.
These oils are used to increase an old engine's lifespan since it employs extra fluid titanium technology. It is perfect for reducing film breakdown and increasing overall engine and film strength.
Pros
Maximizes fuel efficiency
Boosts film and engine strength through the extra flow of fluid titanium technology.
Thermal protection against too high temperatures
Prevents adverse leaks, build-up, and wear down
Perfect for both short-term and long-term usage.
Cons
It might break down at too low temperatures.
---
High Mileage Oil Buyer's Guide
Every engine has had a different life and has various oil requirements. Therefore, there is hardly any product perfect for all high mileage engines out there. However, choosing the right oil is imperative to ensure better engine performance and life.
We have come up with a buyer's guide to help you make the best purchasing decision. Below is a list of some things you must consider before investing in a high mileage motor oil.
Motor Oil Types
The type of motor oil you use influences engine performance. All high mileage oils are made for older engines. However, the way each oil type lubricates and protects the engine is very different. There are three types of motor oils:
Conventional Oil
Conventional oil or mineral oil is made of organic substances and is extracted from the ground. Therefore, there are little to no additives to the final product. They're generally cheaper but have a low tolerance to high temperatures and can burn off quickly.
Synthetic Oil
Man-made oils containing numerous chemicals and additives are called synthetic oils. They are very versatile and high-performance. Even though they are expensive, they are made to be compatible with most pressure and temperature conditions.
Semi-Synthetic Oil
These oils are a mix of conventional or mineral oil and synthetic oils. They generally have shared advantages. Therefore, they might have better heat tolerance and have very few chemical additions. They come in several viscosity ratings, adding variety and options into the market.
Motor Age
Each high mileage oil has a different capacity for the motor age it can support. You must check the miles credited to your vehicle and see the oil best suited for its requirements. While some high mileage motor oils are suitable for engines under 75,000 miles, some work best for engines older than that.
The higher the mileage of the engine, the more worn out it is expected to be. Therefore, while choosing the oil, you should see if it can rejuvenate and maintain the cracks and leaks your engine might have faced during its lifetime.
Weather Conditions
Where you live affects your vehicle in many more ways than you can imagine. The external temperature and pressure conditions will change the way the engine is ignited. Therefore, the state the engine is in will be impacted by weather conditions.
If you live in a low-temperature area, it is best to get motor oils that can sustain high-performance at low temperatures.
With high-temperature, you should look for extremely high-temperature sustainability in the oil because the engine doesn't only tackle internal but also external heat.
Recommended Viscosity
Viscosity plays a vital role while choosing motor oil, especially so while choosing high mileage motor oils. Density changes the way the fluid flows through the cylinders. Therefore, it influences heat generation in gear sets, cylinders, and bearings.
Viscosity also affects the engine's overall fuel efficiency. It also changes engine smoothness at various temperature ranges.
Before buying motor oil, it is best to check the viscosity recommendation of your engine. Each engine manufacturer knows the requirements of their product better than anyone else. Sticking to the mentioned recommendation will help you yield the best results out of your investment.
Level of Protection
While dealing with high mileage engines, it is crucial to check the protection level provided by the oil you're going to use. While some oils only provide excellent lubrication, others have the capability of protecting against wear. However, when using oil for high mileage engines, you require much more than just lubrication.
With good quality engine oils, you get sludge production prevention, leakage prevention, and corrosion resistance. Some oils can also heal cracks and damages inside the engine. It is best to invest in such motor oils since they are excellent for improving the engine's longevity.
Lubrication
As the oil's lubrication capacity increases, so do the engine's performance. Good high mileage motor oils have the capacity to lubricate the oil so well that they repair pre-dried engines and heals cracks. It is the best way to increase an engine's lifespan.
With adequate lubrication, you can prevent gaps from occurring within the components. It also enhances the functional smoothness within the engine.
Additives
Additives are a way of enhancing the performance and quality of synthetic oils. Additives are also an excellent source of providing all the extra features you require your high mileage motor oil to serve. Some commonly used additives are as follows:
Detergents: They help in removing the deposits accumulated over the engine to prevent clogging and improving efficiency.
Viscosity-index improvers: If your vehicle doesn't require too thin an oil, these additives prevent the oil from getting too thin as the temperature rises.
Dispersants: Dispersants don't allow particles to stick together. Therefore, the better and more powerful the dispersants, the fewer chances of sludge formation are there in the oil.
Summing Up
As your engine gets older, it will require extra care. There is nothing better than switching to high mileage oils that can protect your engine.
These oils repair the engine and help increase the engine's lifespan while improving performance. The best way to choose the right engine oil is to do some homework and check out some products.
You must check your engine's requirements and select the oil that can address the issues you have been facing with your engine. You can use this article as a reference point to buy the best motor oil for high mileage engine.