The introduction of the internet has shortened the time it takes to find a used car.
Today, all you have to do is log on to a popular website that sells cars and you will find a suitable model. You can then contact a courier to have the car delivered. With online websites, you don't have the pressure of a salesperson.
You can easily compare prices and models from different websites until you find a suitable car. However, not all websites are legitimate, as some may be loaded with crooks.
Best Places to Buy Used Cars in the USA
This website offers both old and new cars. The page layouts are kept simple and have easily accessible buttons. You can select your ideal car by body type, colour, model and age. The cars are displayed with information, e.g. whether they belong to a dealer or private owner.
If it is from a dealer, you will be taken to their website where you can then choose the financing method. The website is popular and this gives it credibility.
This website has become very popular in the USA. It offers some of the best search tools that allow you to narrow down a specific model. Advanced filters allow you to narrow your search to features such as fuel economy, color and mileage. You can search for a car with more individual specifications like satellite navigation, Bluetooth, or keyless entry.
Autotrader.com is one of the best legitimate online platforms for selling cars in the USA.
RELATED: Questions to ask before buying a used car
3. Facebook Marketplace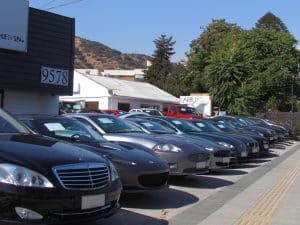 Facebook has evolved from a special place where you can find old college friends to a powerful marketing tool. Car sellers like the platform because it offers affordable prices and you can limit your marketing campaign to specific geographic locations or groups. You can also personalize your ads as you wish.
Facebook marketing campaigns also benefit greatly from referrals. People share or like a popular car seller that they like and recommend it to family and friends.
If you are a person who prefers classic cars, then hemmings.com has the right classic car model for you. The website is comprehensive, complete with an informative blog, and a spare parts collection. Once you have decided on a classic car, you will receive information about the date of manufacture, financing, warranty, seller, and price.
The website also sells collector's books, clothing, and wall calendars. You can also find information about classic car auctions in your area.
RELATED: Using a Car Broker to Buy a Car – Tips & Information
This innovative mobile app, accessible for both Android and iPhone users, has made it onto our list. Not only does the website allow good mobile browsing, but you can also find all the information you need about the car, and the layout of the dealer's website is simple and clean.
You can also get information about car variations.
6. Craigslist
There are so many products sold on craigslist that the number of scams and frauds is on the rise. The best thing about selling your car on craigslist is that it is free. You can customize your ad and add as many photos as you like. The disadvantage of craigslist is the number of con artists.
The site enhances your search results by combining them with others like eBay, CarsDirect and Autotrader. With this feature, you have rich search results that make it easy for you to find what you are looking for. The website has an interactive blog where you can find many product descriptions and purchase instructions.
You can narrow down the car models by make and specifications. In addition, you can save your search results at any time and retrieve them later.
RELATED: How to Buy a Car Without a Title
Many people prefer not to negotiate. It can be tiring to haggle with a seller about the price. But if you are the kind of person who likes to negotiate, CarGurus.com is the ideal car website for you. To strengthen your negotiating power, the website first provides you with information about the dealer's reputation and the market value of the car. This will give you a solid basis when it comes to your negotiating power.
The search results can be limited to your search area or to cities near you.
9. Carvana
With their innovative 360-degree car vending machines, they have taken the art of viewing cars to another level. With the 360-degree view, you can analyse the car in detail and identify possible defects. Carvana mainly serves Atlanta.
This is another website that uses virtual reality when buying a car. In this case, you can use a pair of VR headsets and use the RelayCars app to check the vehicles on display. This provides a 3D image of the interior of a car. You can also take virtual drives through the app.
11. eBay Motors
eBay is still preferred by many buyers of used cars. You can find cars from private owners. Before you choose a specific model, you need to compare previous prices offered for similar models. eBay has an advanced search feature that allows you to expand your search results.
Conclusion
People buy used cars for various reasons. For one thing, you can get a car model that you have always wanted, but you can't afford it when it is new. In this case, you can buy it four years later at an affordable price. The maintenance costs for old cars are higher than for new cars.
A proper inspection is necessary to detect dents and hidden damage to the car. The cost of car insurance is higher for old cars, which makes monthly payments easier. The disadvantage of buying an old car is that some models contain old electronics and functions.
New car models always have some updated electronics and security features. Added to this is the smell that comes with a new car. The Internet has introduced a number of car websites that make it easy to view old cars for sale.
There are even special websites that are tailored to a specific niche such as trucks or vintage cars. The websites offer finance/leasing conditions, and you can pay through a variety of methods.