Winter is a joyful season, but it may not be the same for your car. The hail, ice, and snowstorm can significantly damage your vehicle. Especially for people who don't own a garage or a carport, protecting the car from these weather elements becomes challenging.
What's the most affordable and effective solution to this problem? You guessed it right! A car cover is a light investment towards your vehicle that can save you ample repair money. However, because of the variety of car covers, selecting one is a bewildering job.
We've put together a list of 10 fantastic car covers that can fit your car as well as your budget. Let's not wait for the snow to fall again and dig into the reviews!
The 10 Best Car Covers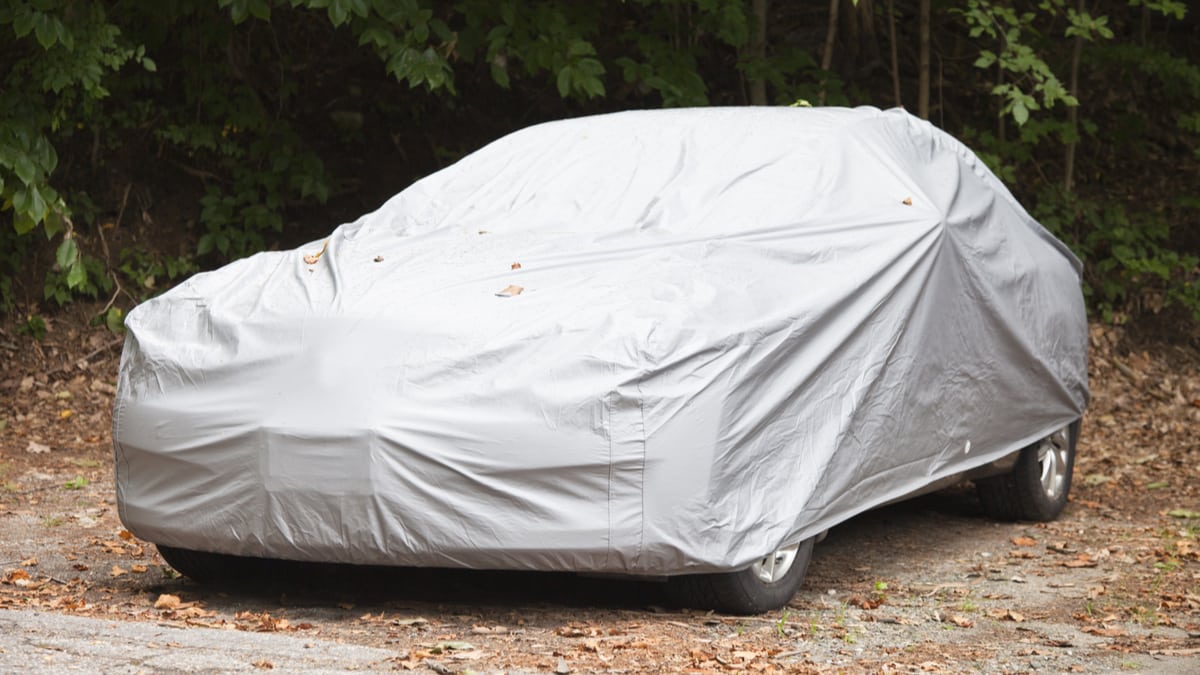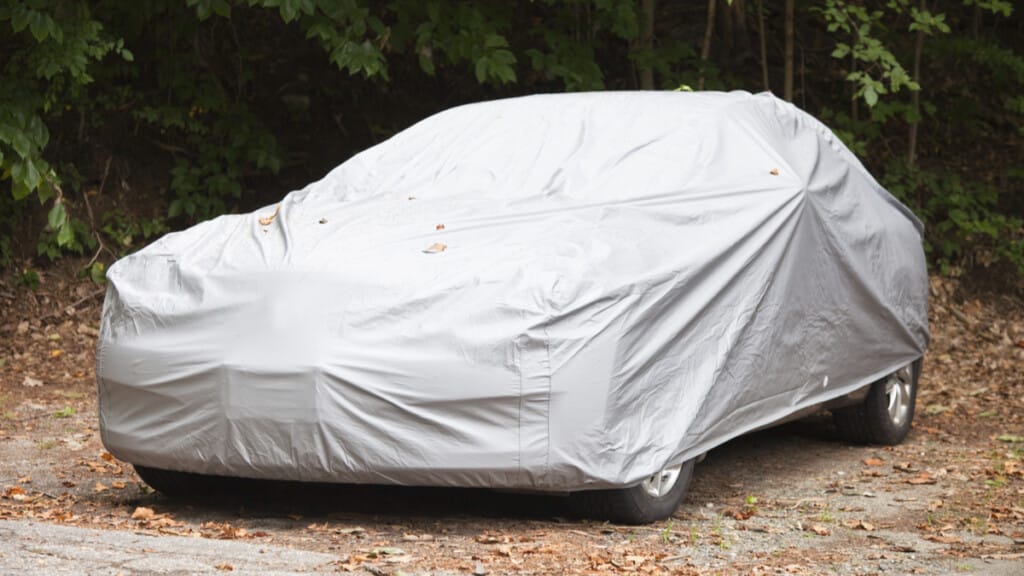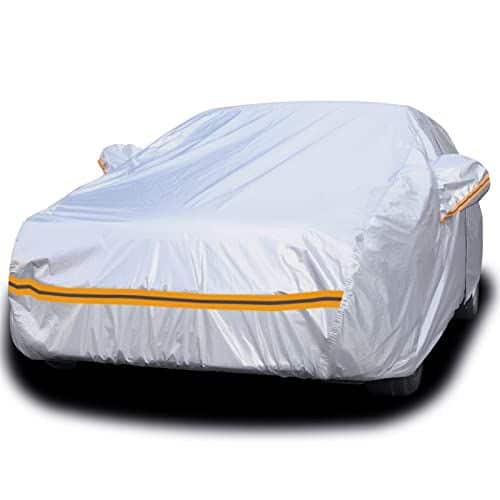 The six layers of this Autsop Car Cover will be a sufficient guard against dust, rain, hail, ice, snow, and even sun. This car cover comes in as many as 13 different sizes. We can vouch for this padded car cover and its brilliant protection against hail.
The layers provide UV protection and are 1005 waterproof. It's incredibly thick nature can withstand heavy hail situations. No matter what the weather throws, this car cover can tackle everything like a pro.
One of the potential downsides of this material is that it gets a bit heavy. Especially after snow, you might face a bit of difficulty getting this cover off your car. This Autsop Car Cover also features a zipper on the driver's side.
The zipper makes it easy to set and take the cover off. The bright strips on the front and side of the cover prevent chances of collisions in the dark.
Pros
13 different sizing options
4-season car protection
Anti-flammable fabric
Easy to install the cover
Cons
The material is a bit heavy
---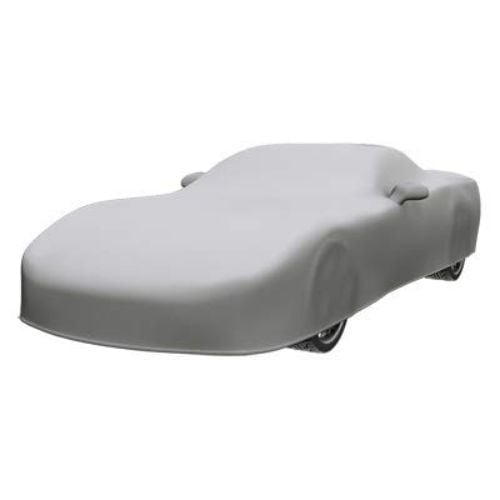 The CoverMaster Gold Sheild Car Cover is for those who are looking for the absolute best product. Having a high-price and outstanding features, this is the ultimate premium pick for us. This car cover features three thick layers to offer a watertight fit.
The inner layer of the CoverMaster is a soft fleece that effectively protects your car's paint. Its mid-layer is to offer proper air circulation within the cover and stop oxidation. What we love about the CoverMaster is that it offers car covers in a custom fit.
You can buy CoverMaster car covers for cars such as Toyota 4Runner, Dodge Challenger, Corvette, Ford Mustang, and many others. A versatile and flexible sizing option like this allows buyers to have a more accurate fit for their cars.
It's rare for car covers, but this manufacturer is offering a lifetime warranty on this one. By and large, this product does not have any deal-breaker cons.
Pros
Plenty of freebies
Lifetime warranty
Micro-porous film to prevent oxidation
Protects car well in extreme weather
---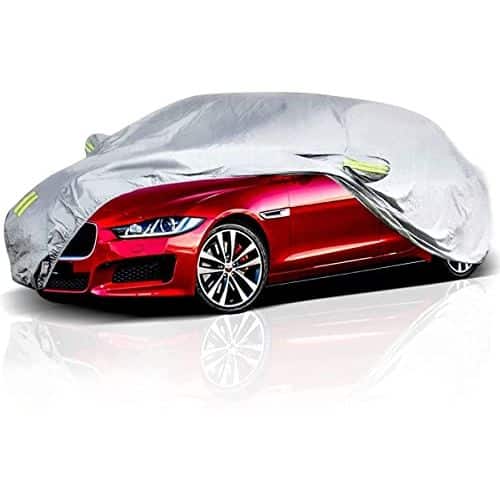 Are you running on a tight budget? In that case, check out this budget-friendly product on our list. This car cover is for sedans and comes in different varieties of sizes. Mold and mildew will be entirely out of the scene once you start using this car cover.
It allows the car to remain dry and retain its original color and sheen. One benefit of this product is that it is 100% windproof and dustproof. Additionally, you can even use it when your car is parked in the garage for a long time.
Like many other covers, this cover too has fluorescent strips. The high-density polyester fabric will last for years to come. The size ranges from 173" to 210".
Pros
Extremely reasonable pricing
Hazard warning from four reflective straps
Efficiently protects the vehicle.
Cons
Might have quality issues
Thin material
RELATED: How to Prevent Rust on your Car during the Winter
---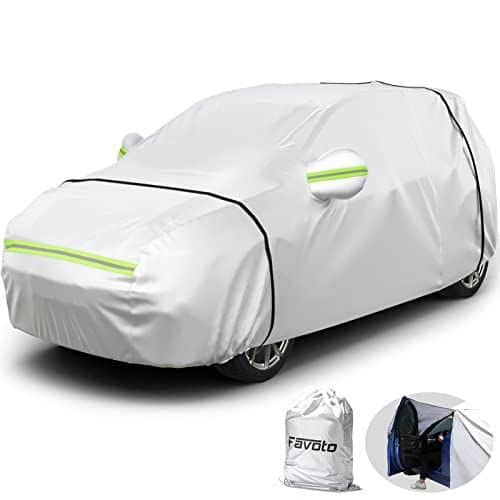 If you want to do right by your car every winter season, consider buying this Favoto SUV Car cover. This cover offers protection from all kinds of elements that can harm the car. Besides, being waterproof, this car can fit a range of SUV car models.
With the help of its 5-layer construction, this cover protects the vehicles from fading and extreme weather conditions. Moreover, the zippers on the driver's side enhance the ease of using this product.
The elasticized trims make sure that the cover hugs the car well. Also, this car has short ties that will keep the cover in the right position. Many people worry that a rough cover can potentially harm their car's paint. However, there will be no such problem with this cover.
The manufacturer also provides a storage bag. This bag makes it easy for the users to safely store the cover. Thanks to the night reflectors, others cant spot the vehicle even in the dark and avoid clashes.
Pros
Features an easy entry design
Tearproof multi-layered fabric
Includes night reflection strips
Apt for heavy-duty use
---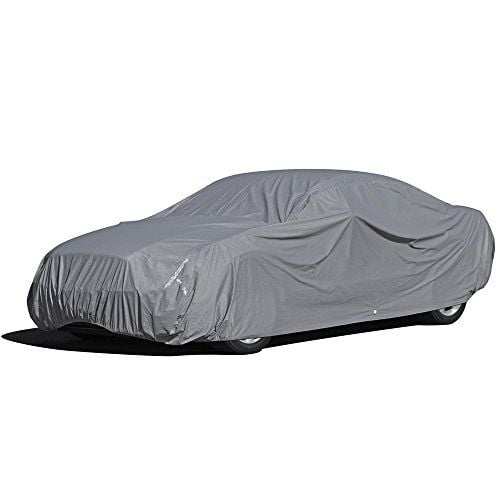 The OxGord Executive Storm-Prood Car Cover will become your car's savior for the upcoming winter season. With 7-layers of protection, we don't see any situation from which this cover can't protect your vehicle. After a single use of this product, it'll feel like a valuable investment.
This mid-ranged car cover holds mostly positive reviews. Currently, the cover is available in four different sizes. The XXL size fits cars as long as 216 inches in length. Whether you own a sedan or an SUV, we are sure that this OxGord cover has the perfect size for you.
This cover has three layers of polypropylene material that have reinforced grommets. The structure also includes tie-down to deliver a first-class experience.
For some users, this car cover might feel a bit on the expensive side. Besides, the thin material also made us doubtful of its longevity and protection level.
Pros
In-built grommets for better fit and protection
It comes with a storage bag
100% waterproof
Protects cars from a range of conditions
Cons
A tad costly
May not withstand heavy-duty use
RELATED: How to Prepare Your Car for Long-Term Storage
---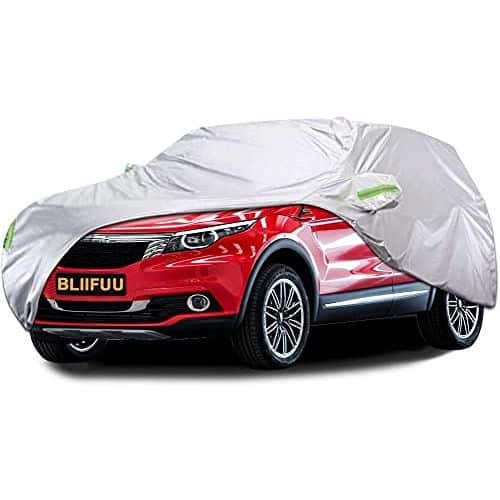 Having dimensions of 190 (L) x 75 (W) x 72 (H) inches, this BLIIFUU Car Cover is a perfect buy for SUV owners. Since the cover is dustproof, waterproof, and windproof, it is excellent for protecting your car in all seasons. You must know that this cover also offers UV protection.
The material of the cover is resistant to elemental damage and scratches. Its 190T polyester construction makes it more durable and long-lasting. It is thicker and robust than most average car covers in the market. Along with being soft on your car, it is also tear-resistant.
Not only for the winters, but its temperature-resistant silver resistance can also handle the scorching summer heat. To prevent the cover from slipping, the manufacturer has incorporated elastic hems and strips in the design.
The cover also has six right fluorescent strips. These strips serve as a safety warning and make your car visible in low-light. We want to highlight that these strips may be efficient, but they do not have the best endurance.
Pros
190T thick polyester fabric
Long-lasting and durable make
Fluorescent light strips for nighttime
Protects the car all year long
Cons
Poor strap-reflector quality
---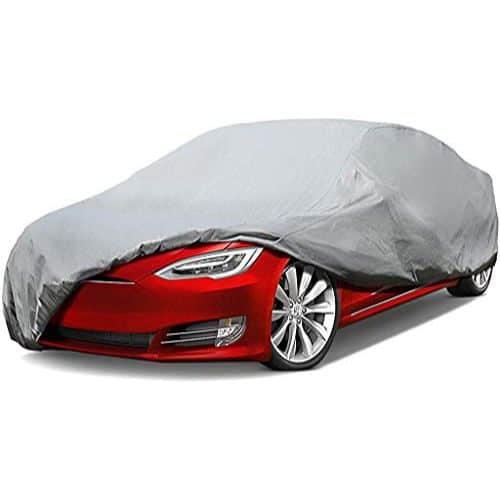 If you are looking for a soft cover for your car, which also offers stunning protection, look at this product. With seven layers of protection, this cover will not leave your car alone in any season to damage itself. This Leader Accessories car cover ensures nothing but the best.
Among the seven layers, there are four layers of unique polypropylene material, a thick layer of cotton, and two heavy-duty UV layers. This layering ensures that the car cover stands firm in all temperatures and weather situations.
Being windproof, this car cover also proves itself to be effective against intense storms. Besides, it is a cost-efficient solution for protecting your four-wheelers. Also, it has one the tightest hems that we spotted in this list of car covers.
We wished that the ties and the elastic hems were a bit more sturdy. Other than that, this car cover delivers outstanding all-rounder protection for your precious vehicles.
Pros
It comes with antenna patches
7-layer protection
Adjustable windproof straps
Elastic hem for a snuggly fit
Cons
Ties are not durable
Elastic hems tend to loosen up
---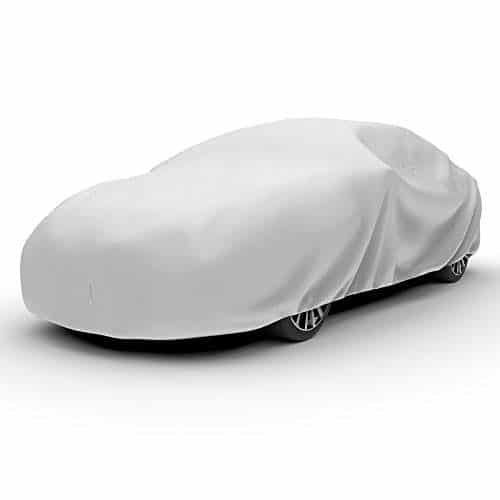 The Budge B-2 Car Cover is one of the most affordable and popular options across eCommerce sites. This product features essential single-layer protection against debris and dust. Since the product is lightweight, one person can easily manage to put this cover on the car.
The Budge B-2 car cover claims that it is suitable for both outdoor and indoor use. Having a polypropylene construction makes this cover pretty breathable. The breathable material does not promote the growth of mildew or mold.
The best part of this car cover is that it is available in plenty of sizes. It can fit cars from 157 inches to 264 inches long. SUV-owners shall not be disappointed as this cover can also fit cars from 162 inches to 228 inches in length.
Along with the cover, you will also receive an antenna patch and a storage bag. However, we are not very sure that this cover can handle extreme situations or not.
Pros
Affordable
It comes with a two-year warranty.
Fully elastic hems
A wide array of sizes
---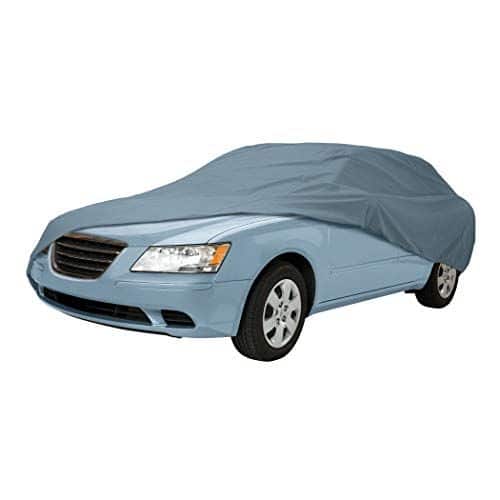 This Classic Accessories OverDrive Polypro cover is the best fit for sedans ranging from 175 to 210-inches long in size. The soft material does not scratch your car's paint. The elastic hem and tie-down grommets ensure a custom and tight fit.
The cover offers protection from scratches, sun damage, all kinds of weather, dirt, etc. You must also know that the fabric is breathable and water-repellant to discourage mold and mildew growth.
With the Classic Accessories OverDrive PolyPro, you will get an antenna patch and a storage bag. You will also be contented to know that the car cover comes with a two-year limited warranty period.
However, some reviews say that the car cover is not very significant for rainy weather. It's best if you cautiously used this product during rain. As a final observation, this low-budget product has all the bells and whistles of a premium cover.
Pros
Apt for budget buyers
Soft and durable fabric
It fits a variety of cars.
Includes a convenient storage bag
Cons
Not very suitable for rain
---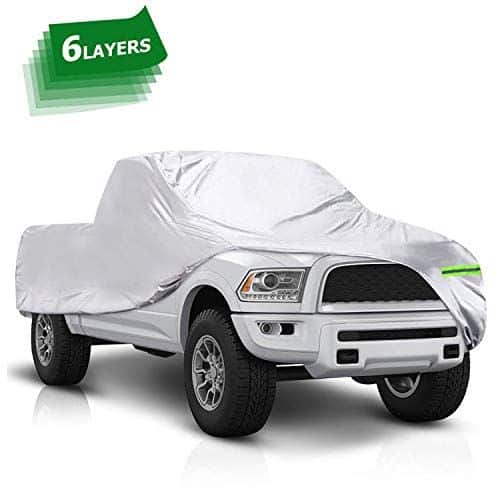 As the name suggests, this car cover is suitable for car trucks and pickup trucks. It measures 20.5 (L) x 6.6 (W) x 5.7 (H) feet long. The TONBUX Truck Car Cover has an inverted-V design and a fit compatible with a wide range of vehicles.
The six protection layers ensure that your car comes out looking brand new even after an intense winter season. You can rely on the dense and breathable material to offer complete safety for your four-wheelers.
The Truck Car Cover is dustproof and waterproof. Within its layers, there is an aluminum film for UV protection. This UV protection ensures that the car's paint remains vibrant and shiny. The underside cotton material does not scratch your vehicle and hugs it firmly.
One of the shortcomings of this car cover is that the zipper will jam between uses.
Pros
Universal sizing
Durable buckles and straps
100% dustproof and waterproof
Free replacement policy
Double-stitched elastic hem
---
Car Covers –Buyer's Guide
Buying a car cover does not end with knowing the top-rated products. You must also acquaint yourself with all the necessary features and factors.
Right now, you have ten attractive options, and you have to pick one of them. This buying guide will help you to prioritize the features based on your requirements.
Material
Most of the car covers are typically heavy materials that make them impactful and water-resistant. Though you're looking for a cover for snow protection, it's wise to pick up something that also offers UV protection.
The outer material of the cover should be waterproof and dustproof as well. Besides, don't forget to check the breathability of the fabric. Breathable material enhances air circulation and prevents mold growth.
It is also essential to buy a cover with a soft fleece or cotton inner fabric. The soft material will be gentle with the car's paint and won't scratch it easily.
Type
There are numerous types of car covers that you can find in the market. The most common car covers are the generic fit designed to fit a wide array of four-wheeler models. Then comes the custom fit, which is the best out of the entire bunch.
Custom covers ensure an airtight grip that does not let dust or debris inside. There are also options like portable, inflatable, and umbrella car covers. If you are choosing an umbrella cover, make that they have a high-quality and durable construction.
The inflatable ones offer excellent coverage, but they have a tedious installation and usage process. Finally, the portable car covers are light and ideal for light protection. It is best if you don't buy portable covers for intense weather.
Other Features
When you're buying a car cover for hail, ice, and snow protection, you might want to consider some extra features. A car cover with fluorescent strips can help you spot the vehicle in the dark as well.
You can also look for car covers that have tie-downs and grommets for better protection. Moreover, a car cover is incomplete if it does not have elastic bands. It is also a good idea to buy a product that comes with a convenient storage bag and an antenna patch.
Endnotes
The perfect car cover will protect your car no matter what comes. These covers can help you reduce insurance claims and repair costs. In the list of best car covers, you'll be able to find the perfect one regardless of your requirements and budget.
Hopefully, you are equipped with all the essential information that you would require for car cover shopping!