Are you afraid of your car being stolen? Do you always want to stay updated about your car's whereabouts? Vehicles are valuable, and you wouldn't want a street burglar stealing yours. Getting the best GPS trackers for cars will help you track your vehicle and its maintenance records.
With its intuitive software, portable design, and a myriad of features, a tracker is undoubtedly a worthy investment. Moreover, you can also use most of these trackers to track the location of your loved ones.
In this article, you will get a list of the ten best GPS trackers for cars. Go ahead and choose the most perfect option for your vehicle!
Do you want to go to the best options straight away? Here are our top 3 picks among the ten best options.
Disclaimer – This article may contain affiliate links, this means that at no cost to you, we may receive a small commission for qualifying purchases.
Best Overall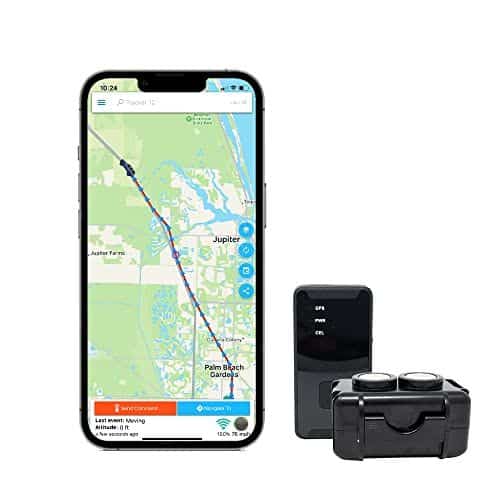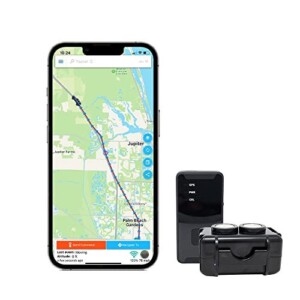 Optimus 2.0
Portable GPS tracker with inbuilt battery. A great mix of performance and price.
---
Premium Choice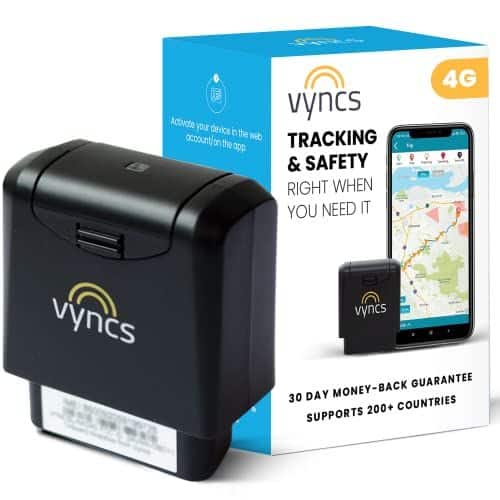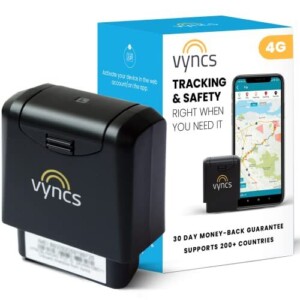 Vyncs 4G LTE
A high-quality GPS tracker for vehicles that's plugged into the OBD port.
---
The 10 Best GPS Trackers for Cars
1. Optimus 2.0 – Portable GPS Tracker with Battery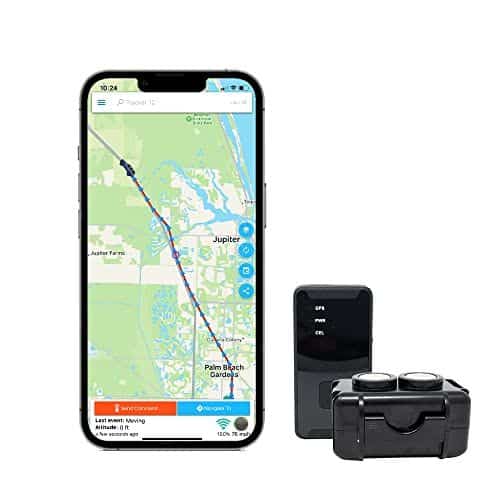 Do you want to track your spouse, kids, or elderly without letting them know? Well, your best spy tracker is here. The Optimus 2.0 is one of the best GPS trackers for cars as it provides all the location details you would need discreetly.
What makes it stand out is the magnetic case of the tracker. First, you need not plug it in the OBD port like the other trackers. This feature allows sneaky use. Secondly, you can hide this tiny tracker just about anywhere in your car. The magnets do a great job of keeping it on place.
It is the best tracker to give you live details like location, geofence, driving statistics, route, etc. Therefore, you can ensure your close ones are safe or even spy on someone if you wish. Now you can rest assured to find your car even if it gets stolen.
The tracker does not require installation and has a battery life of up to 2 weeks!
Pros
You can customize updates to every 10 seconds
Battery operation allows discreet use and spying
The prolonged battery life of 2 weeks
Reports about driving along with location tracking
Comes with a waterproof magnetic case
Cons
Requires recharging sometimes because it is not permanently installed in your cars electric system.
---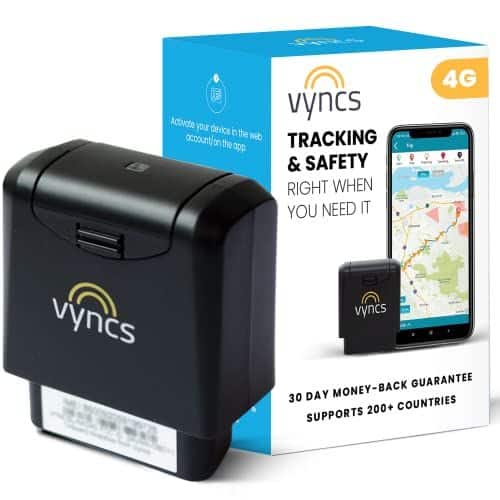 Do you want a GPS tracker that lets you keep your car location and health in check? The Vyncs GPS tracker is among the best GPS trackers for cars as it comes without any monthly subscriptions.
The device will start working once you plug it in the OBD-ll port of your car. Plus, it will send you hourly updates even when the ignition is off, unlike any other device. You can track the live location and route along with keeping a regular check on the car's health.
Another super-amazing feature of this device is that it can work flawlessly in over 200 countries. Plus, you can also access its 24/7 car help services in the US, Canada, and Puerto Rico.
That is not all. The Vyncs app also lets you locate your or your loved one's phone. The user has to just download the iOS or Android app to avail this feature.
Pros
Provides hourly updates even when the ignition is off
Does not need any monthly subscriptions
Car statistics along with tracking details
Locate your and your loved one's phone
24/7 service assistant with upgrade
Works in over 200 countries
Cons
Updates data every 3 minutes without upgrades
---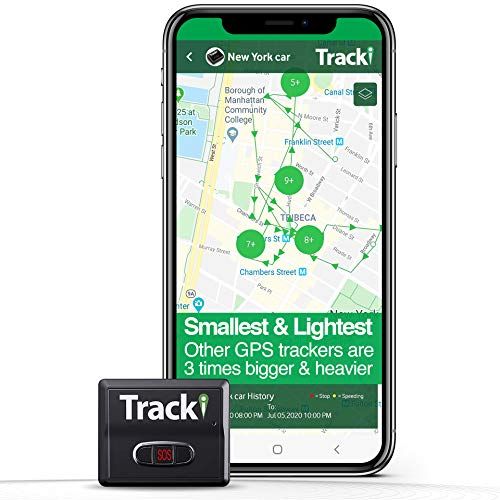 Tracki real-time tracker lets you enjoy all the premium features of the best GPS trackers for cars at budget-friendly prices. The device is lightweight, compact, and comes with a magnet. So, you can use it to track your vehicle, close ones, or even a pet.
The device gives you details of live location, geofence activity, car speed, and other statistics. You can track all these things from the app and also locate the device by sending a beep. Tracki comes with multiple attachments like a keychain, belt clip, magnet, etc., with the tracker, for ease of use.
Another exemplary service of Tracki is that you get a free tracker, in case you lose it. Plus, it also has an SOS panic button that will alert your device with the Tracki app. So, you can ensure your close ones are always safe.
That said, you must ensure that the device is on GPS setting instead of Wi-Fi. Otherwise, it will only show the home location.
Pros
Lifetime warranty
Comes with an SOS button
Multiple attachments for ease of use
Rechargeable battery works for up to 30 days without tracking
Works worldwide
---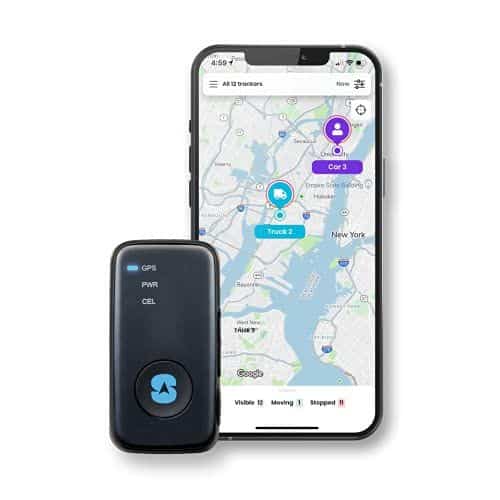 If you are looking for the fastest GPS tracker, the Spytec GPS GL300 is perfect. It offers varying subscription plans where you can enjoy location updates every 5-60 seconds. You can track your vehicle or close ones via its iOS and android app.
It is easy to set up—you need to install its application on your smart device or pc, and start tracking. The intuitive software of Spytec GL300 offers real-time data like location alert, follow-mode feature, boundaries, and historical reports. The tracker gives you an accurate location, with 15 feet.
What's more? The Spytec GPS tracker is lightweight and only one-inch thick. Therefore, you can place it discreetly, in any corner of your car. What makes it one of the best GPS trackers for vehicles is its excellent speed. The device processes data in .256ms, which is 5x faster than others.
The best part—all the tracked information is encrypted. So, you need not worry about the protection of your data.
Pros
Encrypted information ensures privacy
Offers follow-mode
Cloud platform integration prevents delays
The prolonged battery life of 2.5 weeks
24×7 customer service
Cons
Relatively expensive monthly plans
---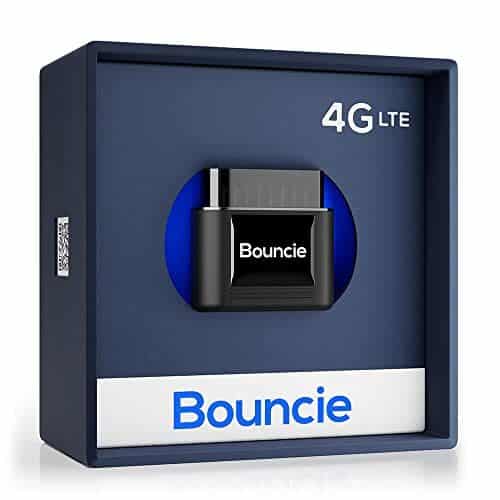 Are you looking for a GPS tracker that also gives real-time vehicle performance insights? Bounci is among the best trackers for cars as it sends you tracking and car performance notifications.
It is a fast tracker, delivering you the latest updates every 15 seconds. With Bounci, you can track the live location, entry or exit in your specified location, and trip history. The device lets you access this history with ease on your preferred smart device or computer.
The GPS tracker is also your on-road assistance. It will give you information regarding battery, fuel checks, speed bands, and more. Further, the device will notify the nearby services whenever you are in difficult situations. These include flat tires, low fuel, and battery, lock-out, etc.
That is not all. Bounci is a small, undetectable device that also gives you information regarding the renewal of essential documents. You can manage the due dates for your license, car registration, insurance, and more.
Pros
Budget-friendly monthly service
Easy to setup
Provides vehicle health information
Accident and roadside assistance
Cons
Comparatively expensive device
Does not work when the ignition is off
---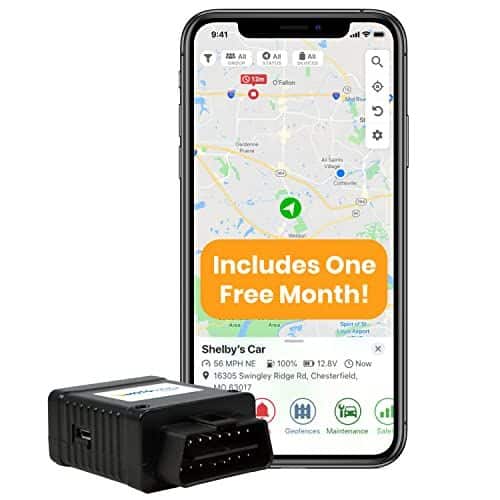 If you are looking for a tracking device precisely to track teens or the elderly, MOTOsafety is for you. It allows you to keep track of your vehicle location along with multiple driving insights. The best thing is you get all of this at a reasonable monthly rate.
The multi-featured tracker lets you find your car and updates every 60 seconds. Furthermore, you can also track the car location throughout and check the same by replaying the history. The device also lets you set boundaries and gives an alert when the car enters or exits.
What makes it one of the best GPS trackers for cars is its safety alerts. You can track your kids or parents' driving habits through information like harsh braking, over speeding, rapid starts, etc.
MOTOsafety GPS Car tracker is easy to setup. You need to plug the device in the OBDll port of your car and install the free MOTOsafety app. Make sure to let the settings sync for some time while you drive.
Pros
Helps monitor driving
Reasonable monthly plan
Setting up curfew hours and boundaries
Route replay
Cons
It May take time to sync initially
---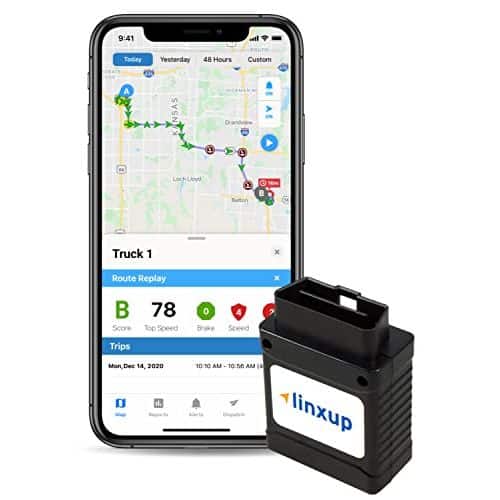 If you want to track the activities of your fleet of vehicles, the Linxup GPS Tracker is the best option. It is an OBD tracker that works with a monthly subscription fee, similar to other trackers. The best thing about this device is it lets you track different vehicles' activities in one place.
You can keep a check on the miles, speed, safety, stops, geofencing, and much more. Plus, if you upgrade to an add-on, you can assign jobs to your employees through the app itself. You can also set maintenance alerts for all your vehicles.
While most other OBS trackers do not work when the ignition is off, Linxup does. It provides you updates after every hour, even when the car is turned off. So, you can track a vehicle even if it is lost or stolen. You will get regular updates every minute otherwise.
Pros
30-day money-back guarantee
Provides vehicle maintenance alerts along with vehicle insights
Hourly updates even when the ignition is off
Cons
Canceling the subscription when not required can be tricky
---
8. CARLOCK – 2nd Gen AdvanceReal-Timeme 3G Car Tracker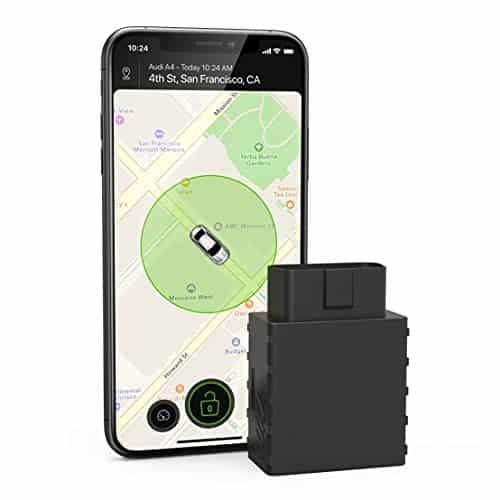 With the rising theft cases, you can never be precautious enough about your vehicle. Still, if you have CARLOCK, the OBD tracker can alert you. You will get a notification if anyone other than you or a trusted person starts the car, removes the device, or even tows it away.
Once you download the app, you can adjust the settings as required and save the authorized people's details. The app lets you track the location, driving insight (speed, braking, etc.) and sends alerts about car health.
So, whether your car is lost or stolen, you can easily find it. Moreover, you can easily track the whereabouts and driving habits of your kids as well as the elderly. You get all of this with an affordable monthly plan, which is lower than most other devices.
Pros
Reasonable monthly plan
Available in about 100 countries
Sends notifications of suspicious activities
Location monitoring along with car health and insights
Cons
The initial integration and syncing may be time-taking
---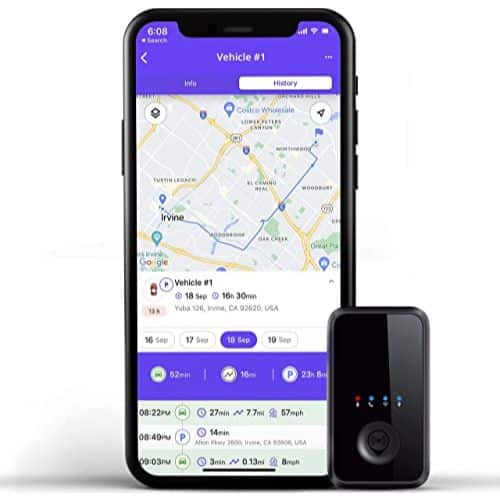 The best part about the PrimeTracking GPS tracker is its multiple applications. It does not need to be plugged in, which is why you can place the device virtually anywhere. Be it the backpack of your kid or the collar of your pet; this lightweight device is perfect for tracking.
You can get real-time location and track as the device moves along with the person or the car. Additionally, it lets you set geofence to detect when someone enters or exits a boundary. You can also learn all about the vehicle insights and speeding habits of a person.
Now you can always stay stress-free about the protection of your car as well as loved ones. The device offers an unlimited range and works for over two weeks with a fully-charged battery. Best of all, you can get alerts and notifications every 10 seconds.
Pros
Budget-friendly price
Does not require a port connection
Plenty of applications
SOS button
Battery life up to over two weeks
Updates data every 10 seconds
Cons
Subscription price may be higher than others
---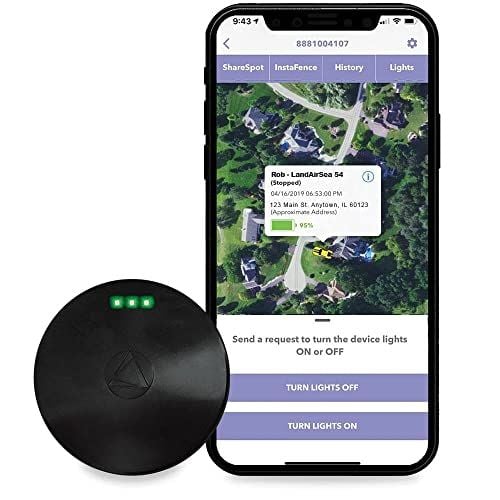 The LandAirSea 54 GPS Tracker is a compact device that you can place at any location of your wish. Its battery lasts up to 1-2 weeks and does not require to be plugged into a port. Therefore, you can use the device to spy on anyone you wish.
What makes the LandAirSea 54 one of the best GPS trackers for cars is its durability and resistance. It is built with weatherproof materials and can withstand rain, snow, heat, etc. If you want to use the device discreetly, you can turn off its LED lights right from your smartphone or pc.
The tracker lets you keep a check on the live location along with giving geofencing and vehicle speed updates. Besides, once you start a monthly plan, you can upgrade the update frequency from 3 to 60 seconds.
The device gives you all that, along with a location accuracy of about 6 inches. Additionally, with the satellite map, you can get to the exact location without much difficulty.
Pros
Waterproof device
Robust built-in magnet
The battery can last up to 1-2 weeks
Updates frequency from 3-60 seconds
Cons
High monthly subscription cost
---
GPS Trackers for Cars – Buyer's Guide
Have you chosen one of the best GPS trackers for cars? Your work may not be over just yet. To pick the most feasible option, you need to consider a few factors before making your final decision. Here are a few things to look for in a GPS tracker for cars.
Features Offered
The first essential thing that you must ensure is the features offered by the device. These can include the basic location tracking and geofencing, start and stop alerts, suspicious activity, etc. Most machines also offer driving insights, which is a plus point. Overall, the more, the better.
Available Services and Add-ons
Apart from the primary features, many trackers offer extra services like emergency car repair, towing, fuel, SOS button, etc. Plus, some devices may offer add-ons like distributing distance-related work through the app.
Battery or Plug-in
Another essential thing you need to choose is whether you want a battery-operated tracker or a plug-in one. It entirely depends upon whether you want the device for spying and discreet tracking or standard tracking of close ones. While battery-operated has more applications, it eventually requires regular charging.
Subscription Plans
Another significant aspect of a GPS tracker for cars is its subscription plan range. While most devices may offer budget-friendly plans, some may be too expensive that even outlast the device cost.
Summing Up
A GPS tracker for cars is downright useful for multiple aspects. From finding your car in case of a robbery to keeping a check on close ones, its benefits are endless. Additionally, it allows you to track the health of your car or another vehicle, sending you timely alerts.
That said, some devices can be costly without being of much use. Therefore, you must always consider factors like subscription cost, features, extra-services, etc., while buying the best GPS trackers for cars.
In this article, you got 10 of the top-most options offering unique advantages. So, go ahead and choose the best one according to your needs, to keep your car and close ones safe!