Due to the high rates of accidents in our country, vehicles have started incorporating safety features that can prevent drivers from taking their eyes off the road. One of the features that are commonly used in cars is head-up displays (HUDs).
This is both a safety and a tech feature that can minimize distractions while driving. It displays every information that you need.
Instead of relying on dials in your car, you should get a head-up display for your car, which offers a convenient solution. While some of the new car models come with an in-built HUD, you can still modernize an old car with an affordable head-up display.
The market offers high-end HUD products which display all the relevant information onto your windshield. You can project GPS interfaces and speed on the device for you to remain in control while driving. Since finding the best HUD for your car can be challenging, we will review some of them to help you choose one that is perfect for your car.
Our discussion also includes a buying guide to help you know the crucial things you should be looking for as you search for the best HUD for Cars. Find out more!
The Best Head Up Displays
---
1. Timprove T600 Head Up Display – Editor Choice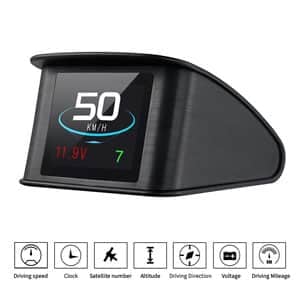 You will love the exclusive design of this head-up display. It features a unique display on the front part and a rocker switcher at the back. Unlike head-up displays that project information onto the windshield, this relies on an LCD. You can use this gadget on any car with ease as it rests on the dashboard of your vehicle at eye level.
It is a universally compatible HUD which is easy to set up. The HD screen display has all the relevant data you need while driving. For instance, you can monitor how long you drive and tell the time from the screen. It also displays your driving direction and speed. This gadget enhances safety since you can set a warning alarm that tells you when you go beyond the speed limit.
The manufacturer also includes a photocell that can detect both nighttime and daytime. When you are driving at night, the display dims so that it does not appear too bright. It self-adjusts its brightness according to the surrounding light conditions.
This HUD has language settings that you can customize based on what you understand. Most users are also impressed by the matte appearance of this head-up display since it minimizes glare-related problems giving you a clear vision as you drive. It guarantees the safety of your passengers. You can use the display to conduct a brake performance test before you start driving.
Features
HD screen
LCD
Speeding and voltage alarm
What we liked
It is compact and has an excellent display design
Automatic insertion
It can detect daytime and night time
---
2. Arpenkin X5 OBD2 Head Up Display
Do you drive long distances a lot? Then you need a head-up display that can project crucial trip data. Arpenkin can display fuel consumption, mileage, and the speed of your vehicle so that nothing gets you off guard.
It is designed to ensure that you drive comfortably with minimal worries. The gadget can prevent any glare from developing on the windshield so that you don't strain your eyes as you drive. Its display can also adjust the brightness to increase visibility in different conditions. Unfortunately, some users have trouble viewing this HUD during the day. It is, therefore, ideal for nighttime driving.
You can use this device in an OBD2 enabled car and enjoy its versatility. It facilitates safe driving thanks to the inclusion of handy alarms which prevent you from over-speeding. The alarms can also inform you when your battery voltage drops.
The device shuts off when you switch off the engine of your vehicle, thus preserving the car battery. Your package contains everything you need to set up and run the HUD. There is a manual that contains crucial installation instructions, a mounting pad, cable, and a reflecting film.
Features
Automatic shut down
Compatible with OBD2 enabled vehicles
Customizable alarms
What we liked
It is pocket-friendly
It has well-organized display information
---
3. Kivic 2nd Generation Head Up Display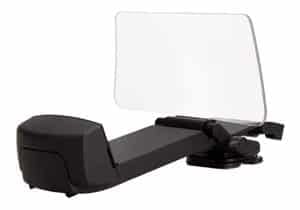 Do you often get distracted as you try to check the dials on your dashboard? You can prevent this by installing a gadget such as Kivic HUD. This allows you to view statics like time and speed easily as you still focus on the road. Thanks to the inclusion of an instructional manual, you can easily use this device even if you are new to HUDS.
Feel free to connect the gadget to your iPhone or smartphone since it is compatible with both. Installing Kivic allows you to check incoming calls and messages as you drive. When you get a call, you can use a Bluetooth earpiece or use speaker mode. Since all the display details come from your smartphone, you won't have to depend on OBD2 connection. You also get access to different driving apps.
Your package includes the device which has the display engine, locking lever and a combiner. You also get a light sensor and a power USB. The locking lever enables you to adjust the device as you please so that you get a good view of your display.
Unlike head-up displays that come with a complicated installation process, Kivic has an easy set-up. Once you plug it in, you can download the app to display any information you want. The device also works with GPS, making it easy for you to look at traffic conditions during commutes. The display remains bright during the day and night.
Features
Offers screencasting support
Excellent display size
Automatic adjusting of screen brightness
What we liked
It has a solid design
The gadget does not need OBD2
Reasonable price
---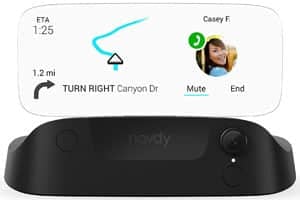 This is a dashboard-mounted HUD which can display data on a glass screen. It gives you the chance to link it with your smartphone for enhanced functionality. Such compatibility allows you to look at Google maps for directions or even receive calls without fiddling with your smartphone.
If you love playing music on the go, try accessing your music apps using this head-up display. Though the display has some high tech features, you can still use it to access some of the primary data such as your car's fuel level, RPM and distance covered.
The screen also adjusts its brightness based on the current light conditions. The producer tries to give you all the connectivity you require for convenient and comfortable driving. Navdy works well with OBD2 equipped vehicles. You can connect it with your phone via Bluetooth.
Features
Smartphone compatibility
GPS display design
What we liked
It has a responsive and accurate software
Simple installation
---
5. LeaningTech Original Head Up Display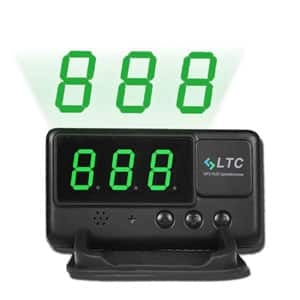 Are you in search of a simple to use head-up display? You should consider LearningTech. This is a simple yet effective head-up display that you can fit on any car. It comes with a plug-up-play setup which lets you set the gadget into the vehicle's cigarette lighter.
The gadget can display information on your windshield and allow you to get access to figures such as your driving time and mileage. The display features a green color, which is easy on your eyes, preventing fatigue and eye strain. Since it adjusts its brightness depending on how bright it is, you can always drive as you use it comfortably.
Feel free to utilize the speed alarm that comes with this head-up display to help you drive within the recommended limits. It comes with a universal design that makes it compatible with both conventional cars and trucks.
The producer tries to simplify the set up so that you don't have to deal with any complicated wiring. Most uses also like a unique feature that comes with this gadget. It contains a fatigue driving alarm feature that enhances safety. Setting this alarm makes it easy for you to monitor how many hours you have been driving so that you can take breaks during your road trip to avoid driving while exhausted.
Features
It is a universal head-up display
Makes use of GPS technology
Green display
What we liked
The speed and fatigue alarms work effectively
Gives you value for your money
You can install it with ease
---
6. Autolover A8 Car Head-Up Display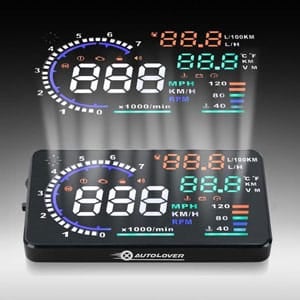 If you have some experience in setting up head-up displays, then you will not find this complicated. Though this display has a different set-up compared to plug and play gadgets, you get installation guides to help you set it up.
Autolover is designed to work with vehicles that are enabled with OBD2. It can pick up any fault codes automatically and save you constant garage trips. With this head-up display, you can keep an eye on crucial details regarding your vehicle's mileage, water temperature, as well as battery voltage. Such information is available since the gadget consists of a trip meter, speedometer, and coolant temperature.
It is also equipped with some additional features like anti-fatigue reminders and speeding alarms. You can also set up a reminder to shift the gear. If you are driving in an unfamiliar place, you will find this head-up display quite useful since it helps you drive safely and gives you proper guidance without letting your eyes off the road. You will also like the attractive design of this display. It makes your car look flashy even when you are not using the latest model in the market.
Features
Weight: 9.6 ounces
Built-in reminders
Works with OBD2 equipped cars
What we liked
Has a beautiful design
Comes with installation guides
The device has handy features
---
7. Sherox 3.5″ OBD Head Up Display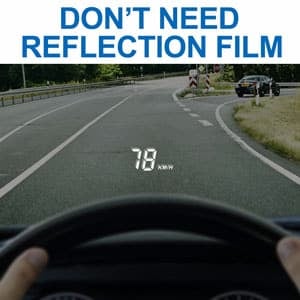 The problem with some of the head-up displays is that they clutter data making it hard for a driver to find what they are looking for easily. Sherox tries to correct this by displaying crucial data in an organized manner so that you can focus on the road and find what you need with ease. It also sticks to primary details without going too deep.
Its projector is also made for windscreen glass, meaning you will not have to install a reflection film beforehand. Sherox is a simple head-up display that is compatible with EUOBD, and OBD2 enabled vehicles, thus increasing versatility. You cannot use this head-up display if you are driving an older model.
This device can display all the essential data you need while driving. You also get at least three alarms that can make you a better driver. You can tell when your car overheats or if the voltage drops. The third alarm prevents you from driving past the recommended limits since it goes off if you do.
Customers also recommend this head-up display due to its bright screen. It is not only easy to read but also comes with a good brightness level depending on the surrounding conditions. The device also makes use of nano-technology to prevent double reflections. Shutting down your engine triggers this head-up display to turn off. Since you don't have to do it manually, an automatic shutdown protects your car battery from draining.
Features
Weight: 6.7 ounces
Nano-technology
Works with modern cars
What we liked
The bright display adjusts automatically
It is simple to use and affordable
Well organized display
---
8. Hudway Universal Head-Up Display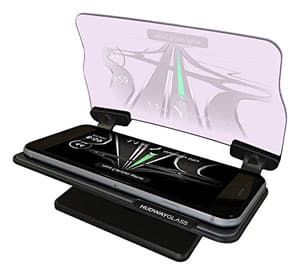 Transform your smartphone into an incredible display by using Hudway. The mirroring capabilities of Hudway is what makes it one of the best head-up displays in the market. Since it is compatible with most of the smartphones, it allows you to conduct different functions conveniently without getting distracted as you drive.
Hudway can display information such as music, phone calls, RPMs, and navigation. Connecting this device with your smartphone allows you to operate everything from one point as you drive. You can easily connect the device within a few seconds and start enjoying its functionalities.
Make use of adhesive backing provided for you to mount this display on your dashboard tightly. The kit comes with two mounts including a bendable and a slim one. You need to decide the right mounting that can fit the dashboard of your car during the installation.
It also comes with excellent visibility and brightness. The transparent glass gives you a clear vision of the road ahead as the display projects information at eye-level. Regardless of the time, you can drive with the help of Hudway comfortably.
Features
Bright glass
Mirroring abilities
It adjusts the brightness automatically
What we liked
It is compatible with different smartphones
You can install it easily
---
9. Iteq Windshield Head Up Display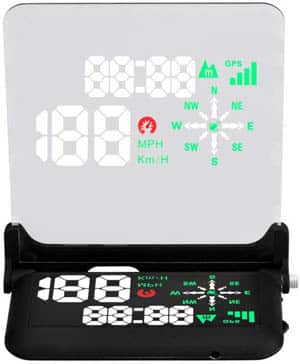 If you want to view all the relevant details that can help you drive with ease, you need to connect your car with this head-up display through the EUOPD or OBD 2 port. This means that Iteq can only work with vehicles that use this mechanism.
Unlike conventional HUD gadgets, this one comes with an additional remote for extra control. It has a multi-color display which is large enough to offer maximum clarity while driving. Using Iteq gives you information regarding your car's speed, mileage measurements, the direction of travel as well as altitude.
Like most of the models, Iteq has automatic brightness adjustment capabilities. This feature comes in handy, especially to drivers who take long trips during the night. In such conditions, you can still use the head-up display without straining your eyes since it dims its brightness in low light conditions.
The head-up display can warn you if you are over speeding or have low battery since it includes useful alarms. The alarm also sounds in cases of high temperature or engine failure.
Users also like the impressive glass panel design that makes this display stand out from other brands. Installing it is as smooth as plugging the gadget into your lighter and start using it. You also get a three-month guarantee during your purchase for you to test the effectiveness of the head-up display.
Features
It is a universal HUD
Plug and play set-up
It only works on OBD2, and EUOPD enabled vehicles
What we liked
It comes with a money-back guarantee
The LED display is easy to read
Has a unique design
---
10. Garmin Head Up Display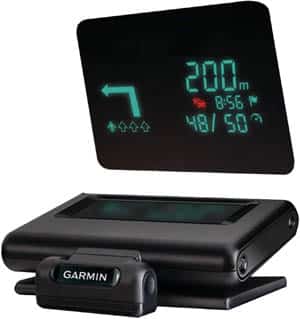 Sometimes, relying on your phone's navigation map while driving can prevent you from concentrating as you drive. Garmin head-up display gives you a better solution since it makes it easy for you to project all the details you need from your phone to the gadget so that you don't face down at any moment.
You get to connect Garmin with your phone through Bluetooth. It also comes with a USB port, which makes it easy for you to charge your phone during the connection. This is a small and lightweight gadget that can project information on a transparent film or a reflector lens. It comes with an extra film that lets you attach the head-up display on your car's windshield.
Unfortunately, this device is only designed to display navigation information. Though you gain access to GPS maps, you may not be able to find details regarding how fast you are driving or how much fuel the vehicle consumes after covering a specific distance.
It, however, supports map apps for both Android and iPhone devices. Since Garmin is relatively compact, you can move it more from one car to another. It may lack some of the features that most of the head-up displays have, but it works relatively well.
Features
Bluetooth connectivity
Displays navigation details
USB port
What we liked
It is simple to use
Compact design
---
How can you find the best HUD for your car?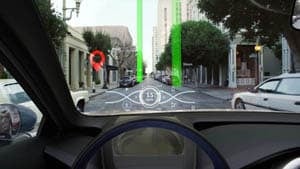 Though the reviews above give you details regarding how each head-up display differs from the other, our discussion would not be complete if we don't guide you on how to find the best gadget. For you to choose the right head-up display, you have to know the most crucial features that a good one should have. Some of the elements that you need to consider include:
Display
A head-up display is not good if you are struggling to read the display. During shopping, ensure you get one that has a bright display. You should also be able to adjust the brightness easily if it does not do this automatically. If you are not certain about the brightness of a head-up display, try to evaluate the display quality by going through other customers' reviews. Some of them leave photos that can show you how bright a head-up display is.
Connectivity
The best HUDs allow smartphone connectivity via Bluetooth. Choosing such can help you gain access to your navigation apps with ease. They may also display other relevant information that you need. If you a frequent driver, get a HUD that you can also use as your car phone so that you make calls and receive texts easily. This feature minimizes accidents that come from driving while using the phone.
Regardless of the device you pick, you should ensure that it is compatible with your car. While some of the head-up displays are universal, others are only compatible with vehicles that use the OBD system.
Data
HUDs display different forms of data. You should, therefore, choose the best gadget depending on what data you want to project on the screen. Devices that connect to your vehicle's OBD system can give you a lot of data, including diagnostic codes and fuel consumption. The rest of the devices focus on displaying simple details. Getting one that has a simple display does not necessarily mean that it is inferior since it may be less cluttered, making it easy to view compared to one that displays a lot of information.
Conclusion
Every driver can make their work easy by using a head-up display. This gadget makes a big difference while driving since it can help you prevent fatigue, speeding, and allow you to focus on the road. It can guarantee your safety and boost your overall driving experience.
If your car does not a built-in HUD, you can easily install any of the head-up displays we have discussed above. The best HUD for your car is one that is reliable and simple to use. Compare the brands above and choose one that is within your budget.
Resource
How to install a HUD to your car – SlashGear