If you have a larger family, it can be difficult to find enough space in today's vehicles to be comfortable. You need room for all of your family members, as well as the cargo. With a little research, you can choose from the best large family cars and ensure your needs are met.
We've put together the top cars for large families, highlighting a variety of brands for every budget. We also talk about what to look for in a new family car and reveal answers to your top-asked questions.
For large family cars, we recommend the 2023 Jeep Grand Cherokee L, the Cadillac Escalade and the Kia Carnival. You may also enjoy the Land Rover Range Rover, Chrysler Pacifica, Jeep Wagoneer, Hyundai Palisade, Ford Expedition, Kia Telluride or Honda Odyssey. For an EV option, consider the Rivian R1S.
1. Jeep Grand Cherokee L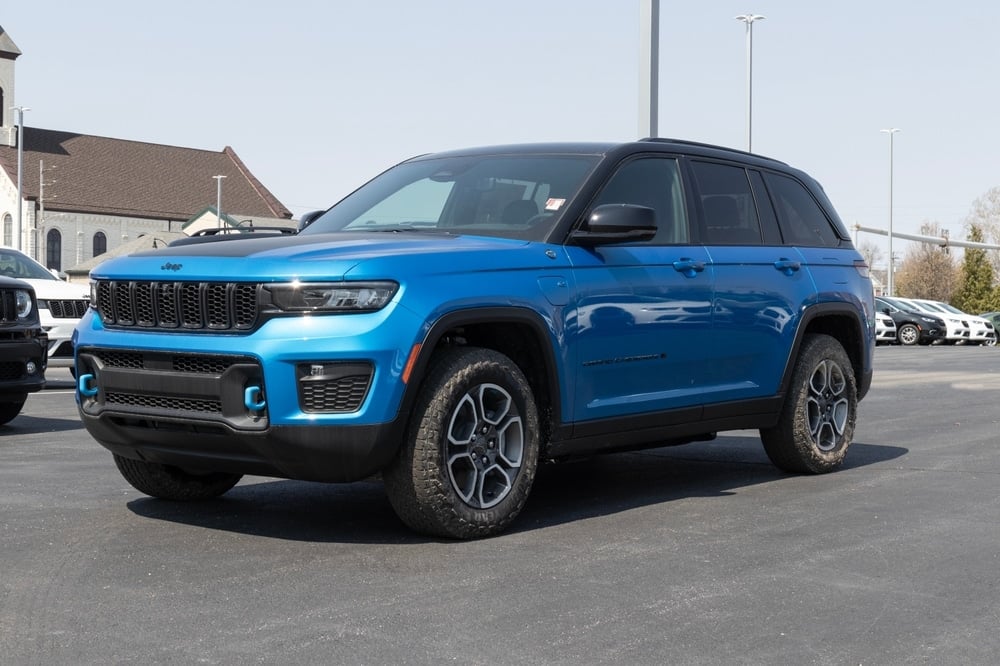 The Grand Cherokee L is a newer version of the fan-favorite Grand Cherokee. Starting prices are just over $40,000 and there is 30.3" of third-row legroom, making it comfortable even for taller occupants. Choose from two configuration options – either captain's chairs in the second row for six passengers or a second-row bench seat for seven-passenger occupancy.
There are also some powertrain options, ensuring you get exactly what you want. The base V6 engine puts out 293 horsepower, but there's an optional V8 that outputs 357 horsepower.
2. Cadillac Escalade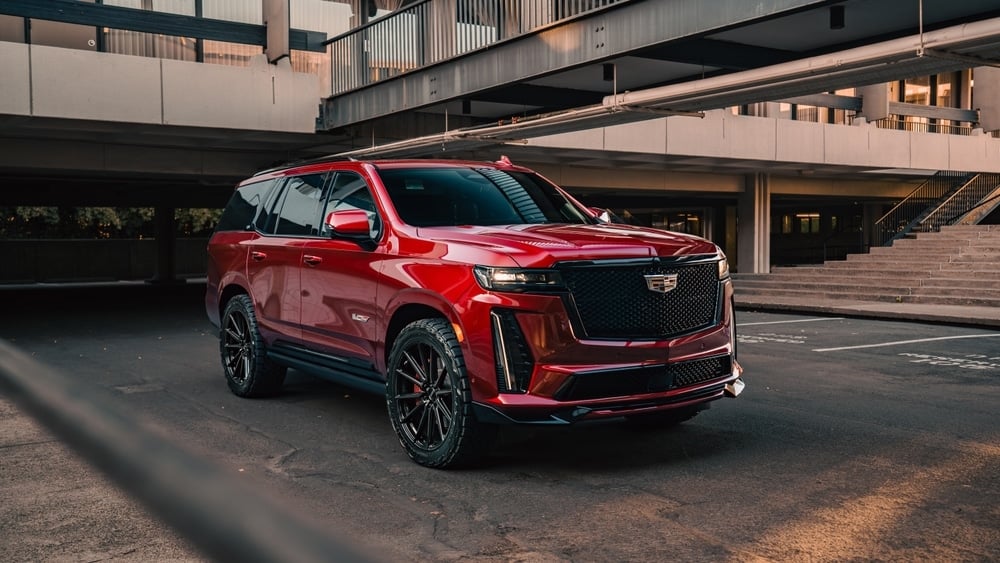 The Cadillac Escalade has been a luxury SUV that's been popular for large families for many years. This model is slightly more expensive than others, with an MSRP just above $80k. However, with 34.9" of third-row legroom, there's nothing worth complaining about. Not only that, but you can upgrade to an eight-passenger configuration for even more seating area.
There are also three engine options. You can take advantage of the 420-horsepower V8, 277-horsepower diesel motor or the mind-blowing 682-horsepower supercharged V8.
3. Kia Carnival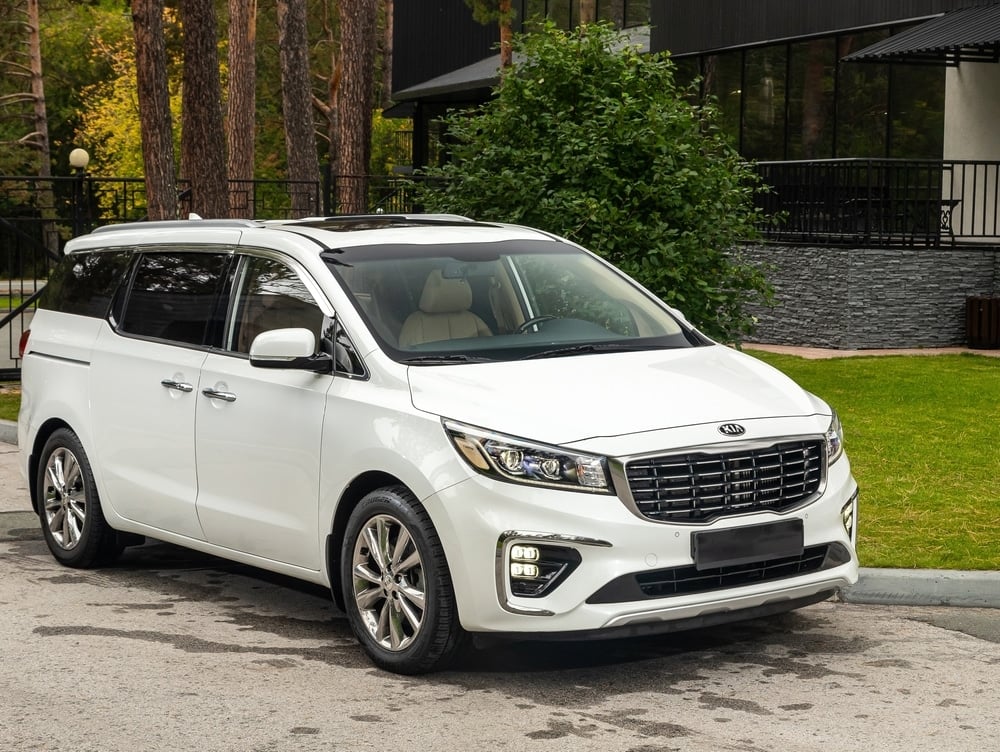 Minivans may not be as popular these days, but Kia offers a model that blows away the competition. Power-sliding doors make getting in and out easier than expected, which is helpful if you have smaller children. The cabin can also hold seven or eight people, depending on how you configure it. Inside this $33k minivan, there's also 35.6" of third-row legroom.
While there aren't a lot of powertrain options, you can choose some luxury features without breaking the bank. We love the heated and ventilated lounge seats that fully recline or the power footrests that make longer trips even better.
4. Land Rover Range Rover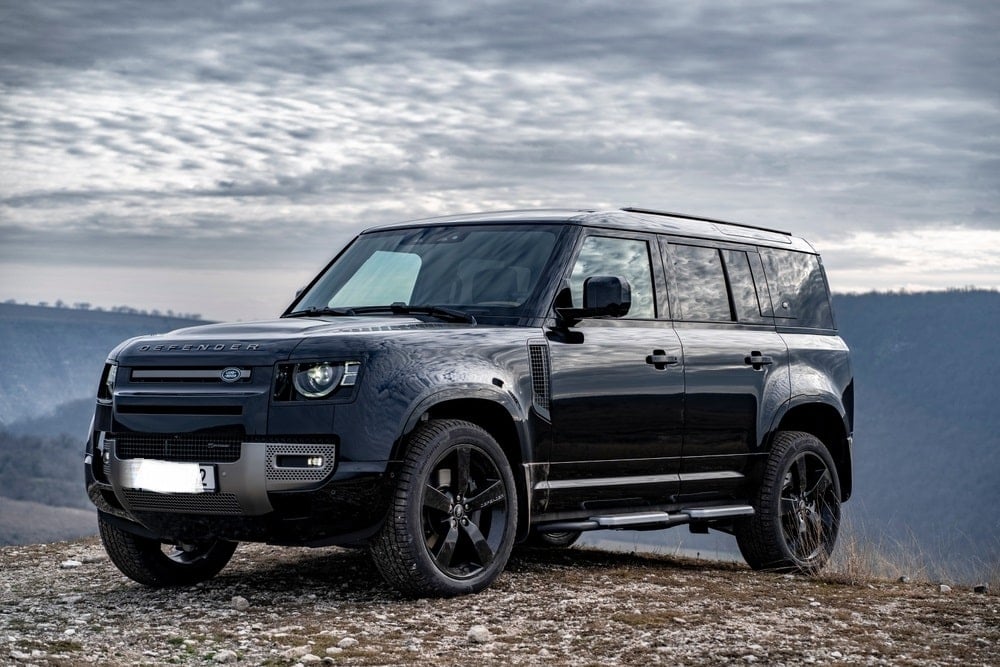 On the pricier side of the spectrum, there's this Land Rover to choose from. It has a starting price over $100k but does offer 34" of third-row legroom. Additionally, there's no luxury sacrificed in the making of this SUV, so you get everything you deserve.
While the four-person configuration with a fold-out tray table and mini fridge seems like a dream come true, it probably won't be ideal for a larger family. Thankfully, Land Rover also offers this model with a five- or seven-passenger configuration. If you choose the third row, there are tip-and-slide seats for better access.
5. Chrysler Pacifica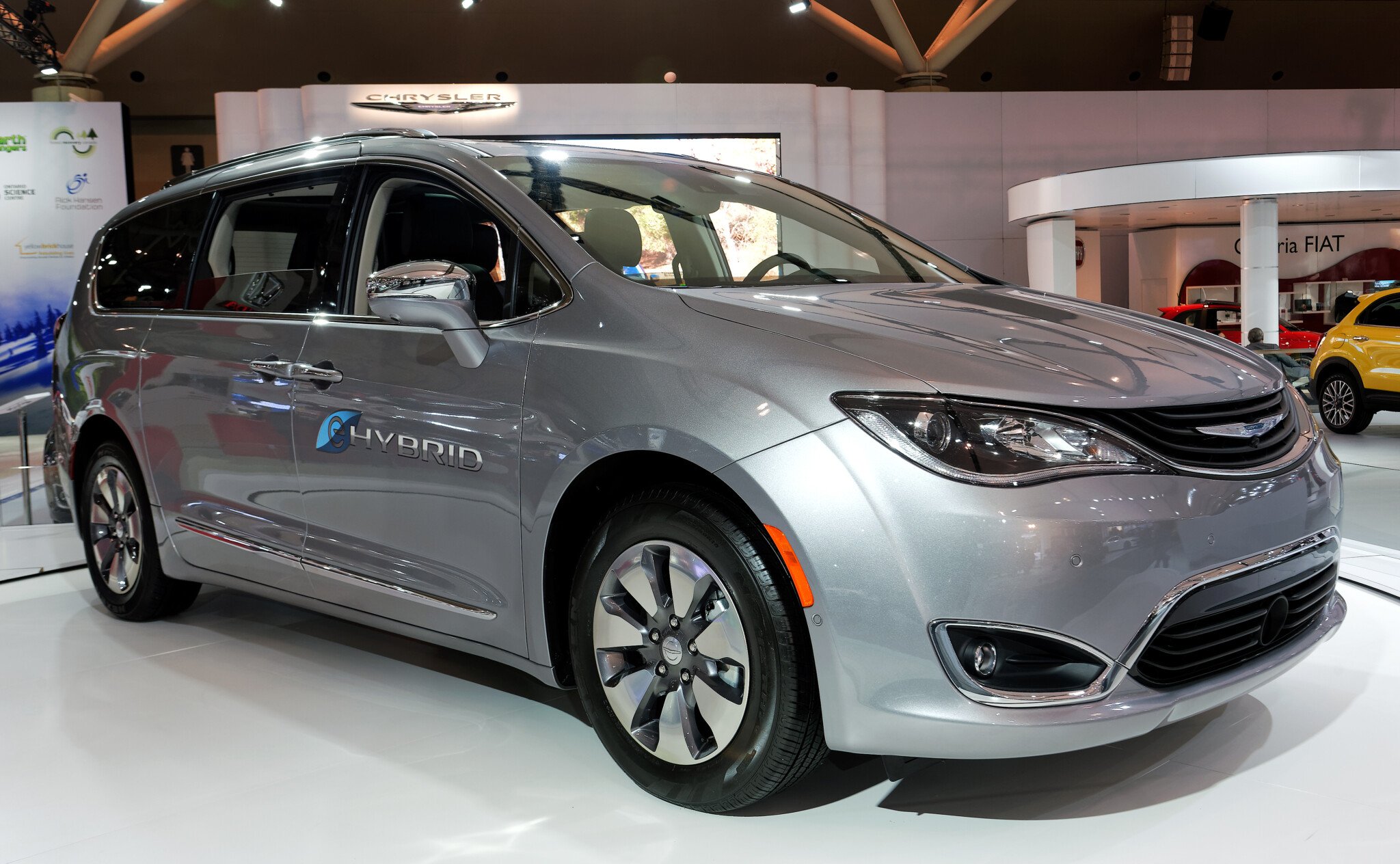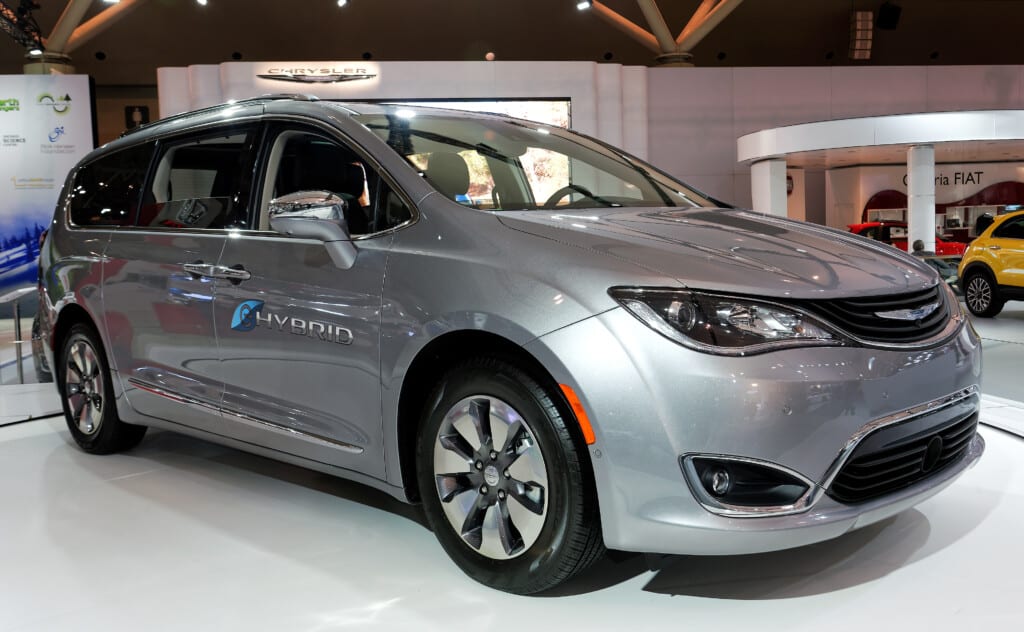 The Chrysler Pacifica offers something unique among minivans. This $37k minivan has standard all-wheel drive, which is perfect for getting around town when the roads are snowy. On top of that, it provides 36.5" of third-row legroom.
While every model includes a 287-horsepower V6 engine, you do get to choose the layout. Seven-passenger seating might be enough for most families, or there's an eight-passenger option.
6. Jeep Wagoneer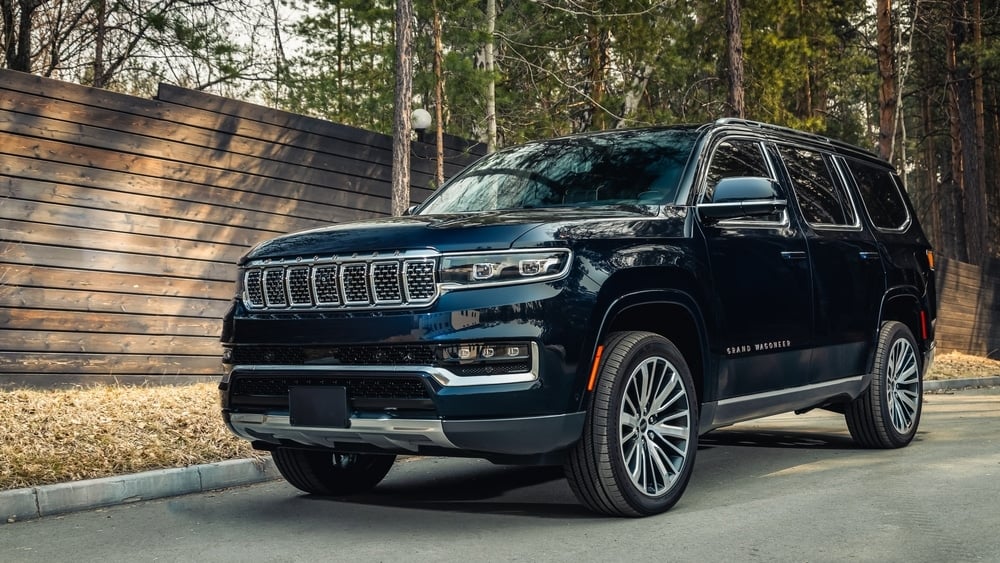 This blast from the past has returned and it looks great. Plus, it has room for the whole family with 36.6" of third-row legroom. For just about $59k, you can get behind the wheel of this large SUV.
All of the base models include a 392-horsepower mild-hybrid configuration. Otherwise, choose the available 420-horsepower inline-six. What's most impressive is the 10,000-pound towing capacity while maintaining the ability to seat seven or eight people.
7. Hyundai Palisade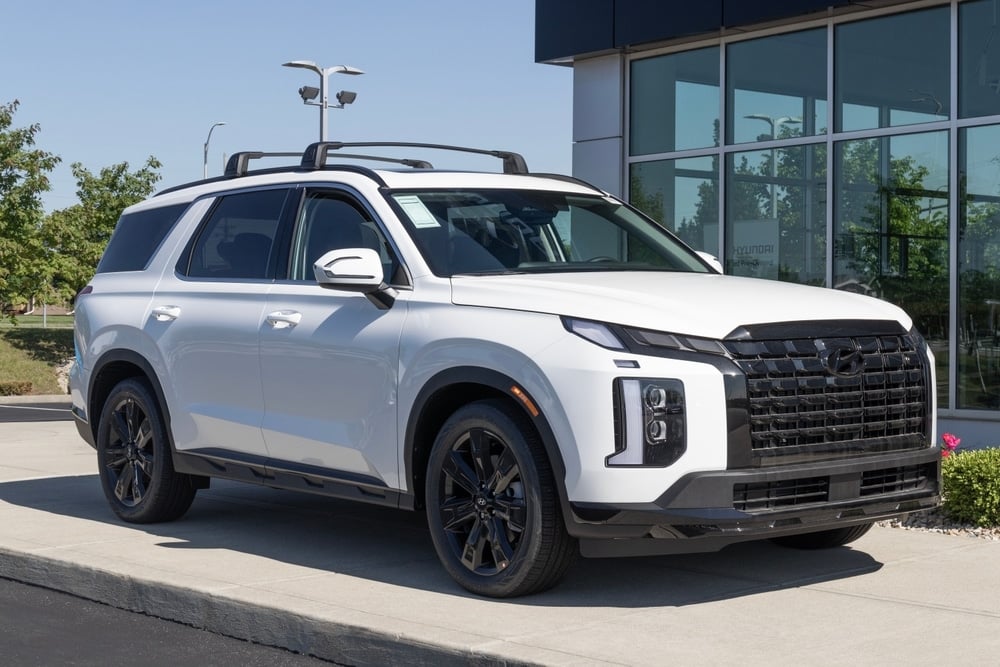 The Palisade is one of the top people movers and only costs around $35k. It contains 31.4" of third-row legroom and is outfitted with a 291-horsepower V6.
If you need to seat eight, choose the second-row bench seat. Otherwise, you want the captain's chairs, which reduce capacity to seven.
8. Ford Expedition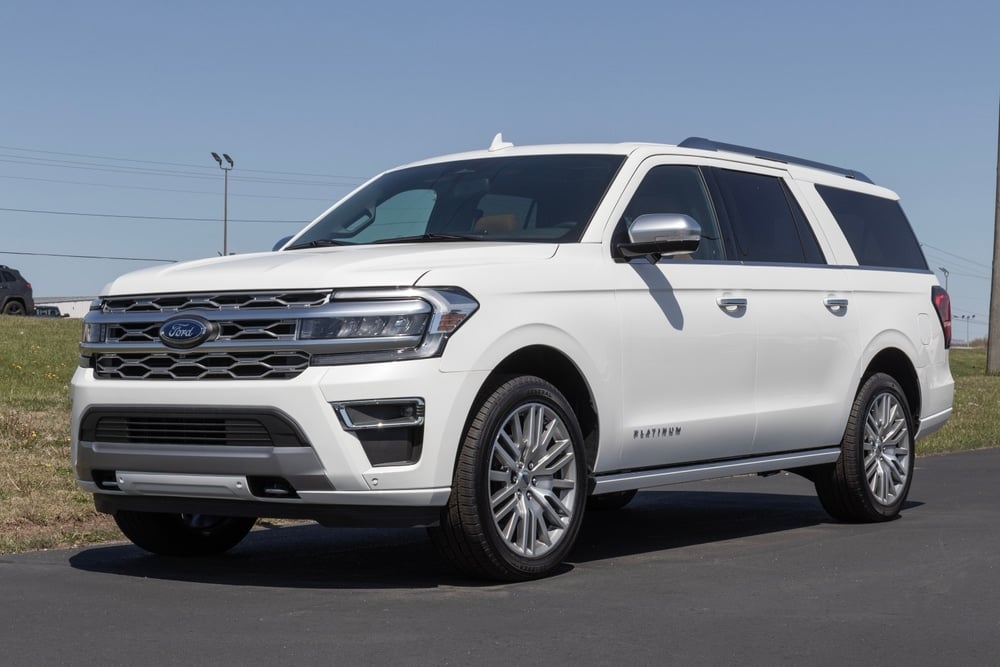 Over the years, the Expedition never fails to provide for the large family. It's been around for so long it's become a staple on America's roads. At just around $55k, you can enjoy 36.1" of third-row legroom. It's also quite fuel-efficient for how big it is, with a rating of up to 17/23 mpg city/highway.
There are three V6 engines to pick from, ranging from 380 to 440 horsepower. While there are three-row options holding up to eight people, you can also choose an Expedition with only two rows that hold five.
9. Kia Telluride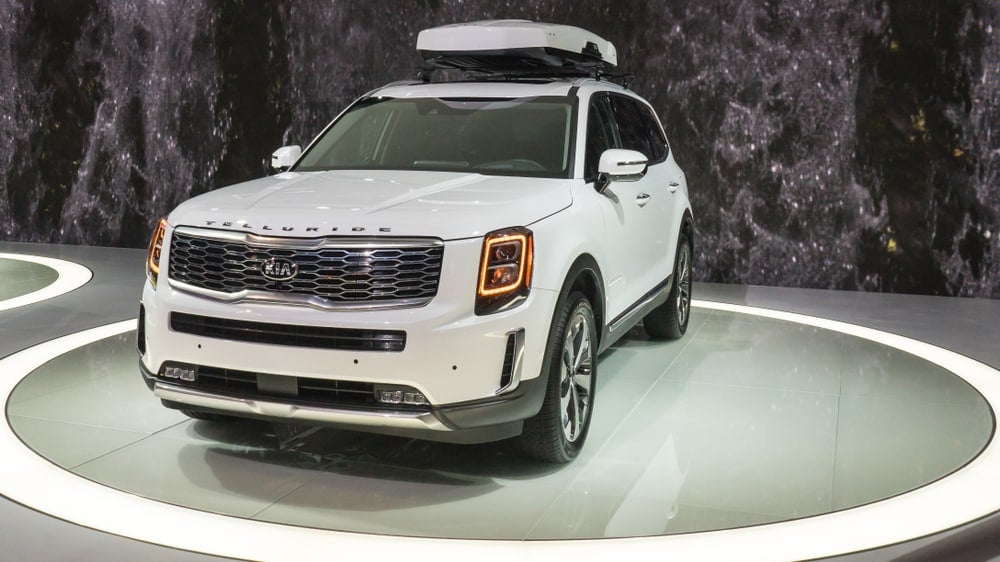 The Kia Telluride is comparable to the Hyundai Palisade and starts at around $35,000. It also offers 31.4" of third-row legroom and has won several awards. There may be some updated features included with the Telluride that aren't as accessible in the Palisade.
You can also choose from seven- or eight-passenger configurations, depending on the needs of your family. Either way, customers have fallen in love with the ride and technology equipment.
10. Honda Odyssey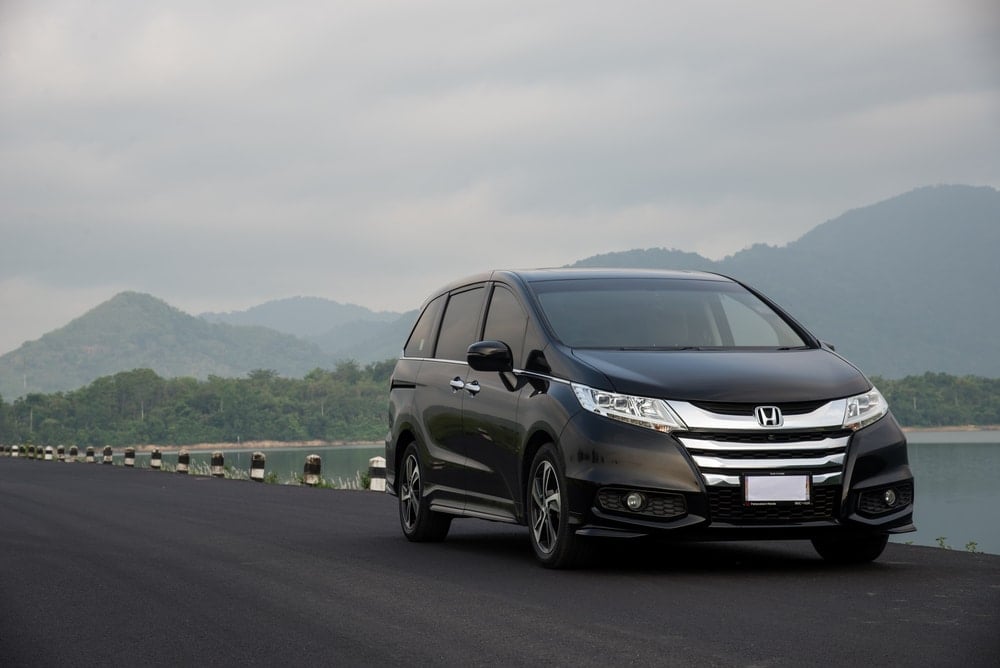 One final minivan to make our list is the Honda Odyssey. It provides 38.1" of third-row legroom and starts at about $37,000. Every minivan comes with a 280-horsepower 3.5L V6 engine that provides ample acceleration.
The Odyssey has space to hold up to eight people. Plus, there are tilt second-row seats that allow for better configuration.
11. Rivian R1S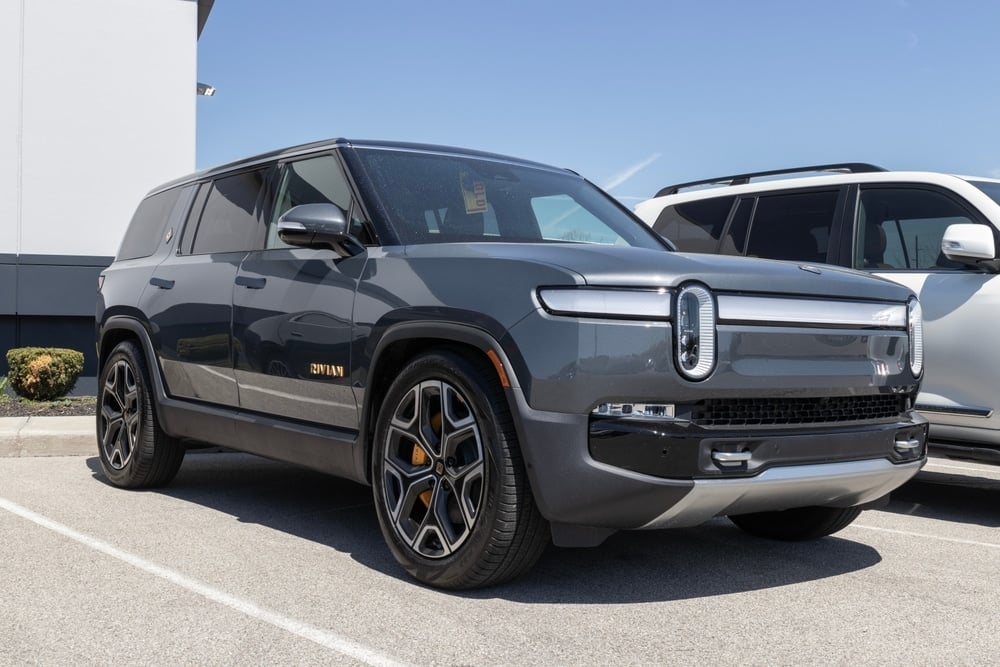 We couldn't end the list without an EV option. While there aren't many options for large families, the Rivian R1S is quite impressive. For just $78k, you can enjoy 32.8" of third-row legroom in this model. It also pumps out 835 horsepower from the electric motor, giving it a 0-60 mph time of three seconds.
With the ability to go 321 miles between charges, you and the family can enjoy a road trip. It also offers 14.9" of ground clearance and it can go through three feet of water, making it great for exploring mild off-road paths.
What Should I Look For in a Family Car?
If you are looking for a high-quality, reliable family car, there are some serious considerations to think about. You can't simply choose the one that looks the best and expect that you will be happy. Instead, it's important to think about the safety, value, driving experience, reliability, comfort and capacity.
Let's look at these points closer.
Safety
Safety is going to be your top concern when looking for a vehicle to haul your family in. Thankfully, today's vehicles are safer than they've ever been before. With advanced safety equipment, there's a lot less to worry about.
You can research the cars on the IIHS website. Not only does the Insurance Institute for Highway Safety (IIHS) award the safest models with top honors, but you can also find out how each performed in crash tests. This information should provide peace of mind as you load up your most precious cargo.
Value
We all want to find a deal, but the value looks at more than the price tag. After all, anyone can buy a cheap car, but is it going to last through the long haul? When evaluating the value of a vehicle, there are several factors to look at, including the following:
Insurance premium
Maintenance and repair expenses
Resale value
Sites, such as Edmunds, help you see the cost of ownership on most cars. This is an important figure to research before making a decision.
Driving Experience
The next factor has to do with how enjoyable it is to be in the vehicle. You want a responsive vehicle, but this aspect means more than the steering and braking.
It also has to do with what's included for your entertainment and enjoyment. Evaluate the models based on what technology is included and make sure it fits your needs.
Reliability
It's difficult to determine the reliability of a brand-new vehicle. However, there are some ways to judge how well it's going to perform. You can start by looking at models from the same generation.
Typically, if a vehicle is a few years into the generation, most of the bugs have been worked out. The opposite is true with the first model of a generation, with these often experiencing the biggest issues. Of course, there are some reliable car brands that tend to exceed expectations on most model years.
Comfort
Large family cars need to be comfortable, especially during longer trips. That's why legroom is so important. The seats should be spacious and supportive, which is even more critical if adults are going to be riding in the back.
Additionally, some comfort features aren't thought about. For example, if you live in an area with cold winters, you will want remote start, heated seats and a heated steering wheel for more comfort.
Capacity
When it comes to capacity, the first factor is how many people can fit. Even if you have a seven-person family, you may prefer an eight-passenger vehicle for extra space or to carry a friend for the ride. You also need to consider the cargo area and make sure it will be large enough for you. When you don't have a full cabin of people, you may be able to fold down some seats for more space.
If you plan to use child safety seats, make sure there is adequate space and enough support for the little ones. You also want to examine how easy it is to get to those seats since you will be loading and unloading the kids. 
What car is best for a family of 8?
There are several models worth considering. We recommend the Cadillac Escalade and the Chrysler Pacifica. You should also look into the Jeep Wagoneer, Hyundai Palisade, Ford Expedition, Kia Telluride and Honda Odyssey.
What car can fit 7 adults?
There are several great options available for three-row seating. Check out the Jeep Grand Cherokee L, the Cadillac Escalade and the Kia Carnival. Otherwise, you may prefer the Land Rover Range Rover, Chrysler Pacifica, Jeep Wagoneer, Hyundai Palisade, Ford Expedition, Kia Telluride or Honda Odyssey. For an EV option, consider the Rivian R1S.
What is the safest car to drive with a child?
The IIHS has awarded the Hyundai Palisade, Kia Telluride, Jeep Grand Cherokee L, Rivian R1S and Honda Odyssey as a Top Safety Pick+. This designation is the highest offered by the IIHS, proving that these models are a great choice if safety is your number one concern.
What car can hold 12 people?
Consider looking at the Ford Transit Passenger Wagon, which has room for 12 people. There are several configurations to choose from, allowing for varying wheelbase options and roof heights. Chevy, Mercedes-Benz, RAM and GMC also make vans that would accommodate a larger family.
Conclusion
With a large family, you have several factors pressing on you when choosing a vehicle to buy. You want to get a great value, but never at the sacrifice of safety and quality. Plus, you want the features that keep your family happy.
Our list provides a great balance of budget-friendly to luxury models. There's also a variety of powertrain and seating configurations available, ensuring you get everything that matters to you and your busy family.