Proper maintenance of your vehicle can make it look as good as you bought it even after a long time.
While some people apply a coat of wax after some months, others prefer using ceramic coating since it provides long-lasting results.
If you want to raise the value of your vehicle, you should use this type of coating which protects its exterior. 
Cleaning the car may not be enough to keep it sparkling and free of any blemishes. Using ceramic coating can help you protect the vehicle from environmental hazards. It simplifies the process of washing the car and prevents you from repeated applications.
These coatings are a liquid polymer which you apply on the surface of your car. It chemically bonds on the paint of your car, adding a new layer of protection.
If you want to save money, you need to choose an ideal ceramic coating for your car. We can help out by discussing some of the best ceramic coatings for cars as well as guide you on crucial factors you should take into consideration during purchase.
If you are looking for the best ceramic coating, check out these products:
The Best Ceramic Coating for Cars in 2022
1. Avalon King Armor IX DIY Ceramic Coating KIT
Are you a daily driver, in search of the best ceramic coating for your car? You should consider choosing this brand. This is also suitable for weekend warriors looking for high-quality coating. Unlike water down versions, Avalon King Armor is a high-quality ceramic coating that can last for long. While cheap coatings can last for 1 year, Avalon King can last up to 5 years. It gives your car a professional look thanks to the use of innovative nanotechnology.
Nanotechnology
Microfiber Rug
Hydrophobic properties
2. Migliore Strata Ceramic Coating
Do you spend excess time washing your car? You can reduce this by coating it with Migliore Strata. This is a glossy coating that protects your vehicle from water-induced damage. It also provides UV resistance, thus helping the paint on your car last longer.
The protective coating has been designed to keep your vehicle safe from salt, debris, droppings of birds, and even rain. It also protects your car from chemical detriments due to the inclusion of ceramic particles in it. This ceramic coating also has a self-cleaning effect, which makes the application process straightforward. It is a user-friendly coating that offers excellent performance as expected. You don't have to be skilled for you to learn how to use this coating.
Rich and glossy ceramic particles
Self-cleaning mechanism
3. CarPro Cquartz Ceramic Coating
With this ceramic coating, you don't require any complicated machine for you to polish your car. It comes with a fast action formula that simplifies the application process. CarPro Cquartz has a high level of purity, making it superior among other ceramic coatings. This coating makes your car resistant to different forms of damage, such as fluctuating temperatures and wash-induced stains.
It is a high-quality coating that is popular among professionals. You can use it to protect your car's original paint from chipping easily. It forms a hardened layer on the surface, which is enough to make it scratch resistant.
Fast action formula
70% Quartz
Nano-fiber
4. Color N Drive Car Ceramic Coating Kit
Your car should never lose its glow regardless of how old it may be. You can gain this with the help of Color N. Drive ceramic coating. It is a unique paint sealant that adds a flawless aesthetic value to your car. You will love the shiny gloss finish that this ceramic coating adds to the exterior of your vehicle.
Apart from that, this ceramic coating protects the paint from scratches, stone chips, and iron powder. Sometimes, intense UV light can make the original color of your car to start fading. Color N. Drive can prevent this from happening due to the use of nanotechnology. This ensures that your vehicle remains in top notch condition for at least 5 years without the need for intense maintenance.
9h nanotechnology
Coated sponge
5. Nasiol ZR53 Ultimate Car Ceramic Coating
Car maintenance can be expensive and time-consuming, you can, however, save on costs by choosing the best ceramic coating. This brand stands out since it is designed to form a chemical bond with different types of car paints. With a single coat, you can protect the surface for more than three years.
It is formulated using nanotechnology, making the coating water repellent. The manufacturers also design this ceramic coating using a multi-layer technology which adds the flexibility of the layer beneath the paint job. Thanks to the two-layer coating mechanism, it can form more than one layer with different elasticities. While the top layer is hardened, the bottom one remains flexible, thus offering maximum resistance against external factors.
Nanoscale coating
9H water repellent veneer
Two-layer coating system
6. Ethos ceramic wax Ceramic Coating
Many professionals believe that this is slickest and glossiest ceramic wax in the market. It outshines its competitors due to the use of silica infusion technology in its design. The technology is known to be behind the clarity and shine of the coating. It also offers excellent protection compared to other similar brands out there.
You can easily install the product or even wipe it off if you apply too much of it on a surface. The ceramic coating also has hydrophobic properties that make car maintenance an easy process. You can easily clean your vehicle since the ceramic wax makes debris and water spots slide off easily. The intense UV rays can affect the appearance of your car if you are used to parking in open grounds. Ensure you apply this coating before taking such actions to protect your car from its effect.
30% silica
Water repellent layer
7. Sonax 236941 Ceramic Coating CC36
Your car requires tender love and measures that can enhance its durability. Sonax ceramic coating can help you cater to the specific needs of your vehicle in different ways. This flexible coating has been designed to display a profound glass effect giving your vehicle a classic look due to its perpetual shine. Sonax also keeps at bay environmental influences that can diminish the shine of your car such as street pollution, road salt as well as tar.
This is different from the traditional ceramic coating that we are used to. It is a two-stage coating that provides flexible covering. While most of the ceramic coatings are applied a few months apart, you can apply Sonax once a year. It offers your car a sleek look and deep gloss.
Aerosol system
Suede microfiber
8. Gyeon Quartz Ceramic Coating
If you have ever used ceramic coating before, then you probably know that the main challenge in the application is the prep work. Though most ceramic coatings offer similar services, they can translate to different results depending on how you use them. Prepping can be time-consuming, and some experienced users look for one that has less prepping.
Gyeon Quartz is what you should consider in this case.
It delivers a silky surface that most car owners yearn for. The package comes with three coating solutions. It offers at least two base layers for the car paint and a third solution which forms the top layer. Together, the layers provide your car with better protection against contaminants compared to basic ceramic coatings.
Two-part coating mechanism
A detailed manual included in the kit
Self- cleaning mechanism
9. Hocossy 9H Ceramic Coating
We all have different budgets, and the market tries to accommodate every consumer. If you need a reasonably priced ceramic coating that does not compromise on quality, you should focus on Hocossy 9H. This is a bit cheaper than most of the brands out there.
The kit contains the coating solution, cloth, and a sponge for smooth application. Use the sponge to apply a few drops in the car's paint. During application, the ceramic coating forms a 9H hardness layer which prevents the surface from scratches.
9H hardness
2-12 pH tolerance
The kit has enough tools for usage
10. Aneil Ceramic Coating
Does your car look dull? You can improve its appearance and protect the paint by using this ceramic coating. The coating protects the paint job from corrosion, stone chips as well as strong UV rays. Aneil makes use of 9H hardness technology. It also contains Nano-particles such as polysiloxane that makes it scratch resistant and fingerprint resistant.
You get about 30 ml of this solution, which is adequate for an entire car. The kit is also equipped with accessories such as a sponge and microfiber cloth for application. Even a first timer can use this ceramic coating without needing any help. Once you have applied it on the car, give it about 12 hours for it to dry completely.
Nano-materials
Anti-corrosion effect
Glossy coating
A buyer's guide to choosing the best ceramic coating for cars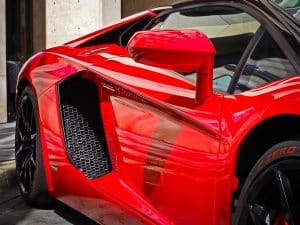 Though ceramic coatings are crucial, you cannot use them in every car. This means that before you purchase one, you should consider all the relevant factors to avoid unnecessary expenses. If you want to find the best ceramic coating, the following factors should guide you.
The Age of the car
How long have you had the car? Prolonged washing can make the paint of the car thin over time. If your car is still new, you should look for the best ceramic coating to make it appear classy for longer.
If you want to resell an older model, using a ceramic coating on it is not wise since the color of the paint has weakened with time. Coating such a car may be a waste of resources.
Frequency
Frequent cleaning of cars is not everyone's favorite task. If you don't enjoy this task but cannot tolerate a dirty car, you need to get the best ceramic coating which makes the car's surface self-cleaning as it gets into contact with water.
A ceramic coating can, therefore, reduce the frequency of cleaning your car and minimize the effort that you put in the process.
Weather
Consider your location before choosing the best ceramic coating. If you stay in an area which has frequent sun, purchasing a ceramic coating makes sense.
Vehicles that are frequently exposed to the sun are susceptible to intense UV rays, which can affect the paint. Getting a good ceramic coating can help you minimize the oxidation of the paint. If you stay in cold regions that don't experience frequent sun, you may not necessarily need a ceramic coating.
Car usage
Do you use your car every day or occasionally? If you are a frequent user, you should consider investing in ceramic coating since your car is more exposed to external elements compared to a person that uses their vehicle occasionally.
The Price
The market is full of numerous models, and brands that come with varying price tags. Choosing the right ceramic coating for your car can be challenging. Try to compare the features of each brand so that you can choose one that gives you value for your funds. You should also compare the different prices of brands so that you pick one that is within your budget. Avoid going for the cheapest or most expensive brand out there.
Final thoughts
A lot of car owners are now switching from waxing to ceramic coating due to their overall quality and ease of application. If you need a better car maintenance solution, you should apply a ceramic coating on your car. Though most brands are advertised to offer the best services, focusing on your specific needs can help you find one that will not disappoint.
Using this coating can help the paint on your car pop with gloss since a good one should boost its reflective properties. Go through the reviews above to help you identify one that ideal for you. Once you have found the one, you should learn how to care for the new coating for it to serve you as expected. Caring for the coating can help you maximize its longevity and performance. All the best!
Resources: 
How to Apply Ceramic Coating to a car
Was this article helpful?