Do you share the ethics of an environmentalist? Did you know you could minimize the carbon footprint of your vehicle?
Yes, your car or bike releases toxic gases into the environment, but your catalytic converter reduces the impact. You need the best catalytic converter cleaners to ensure the flawless functioning of your vehicle's converter.
Over time, the catalytic converter falls prey to dirt, oil, and other build-ups. As a result, it may perform poorly, and your vehicle will end up failing the emissions test. Alternatively, you may repeatedly see the check engine light that does not go away no matter what.
The good news is, you need not replace the catalytic converter with a new one. Here are the 8 best catalytic converter cleaners to get the cat working as well as new!
The 8 Best Catalytic Converter Cleaners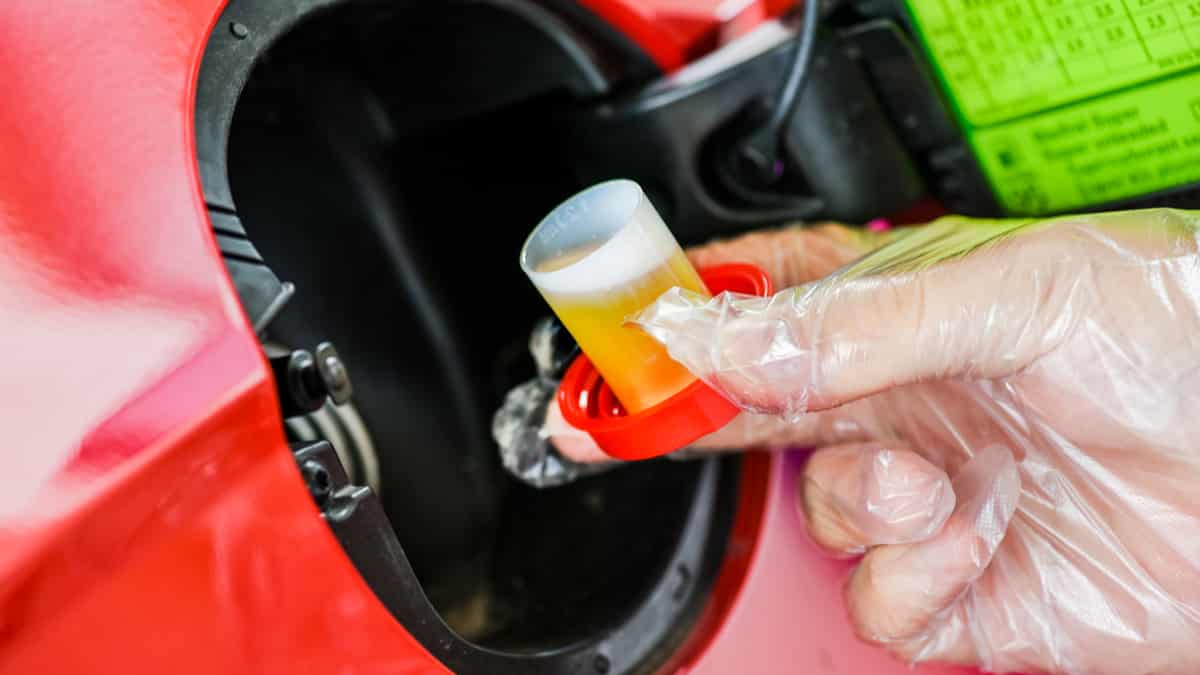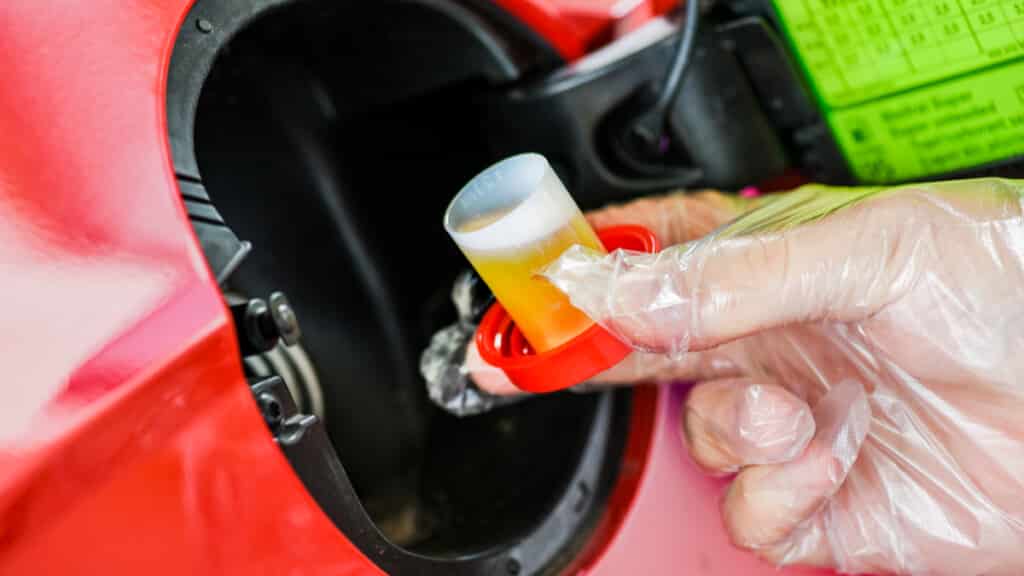 1. AUTOPROFI OXICAT – Best Catalytic Converter Cleaner Overall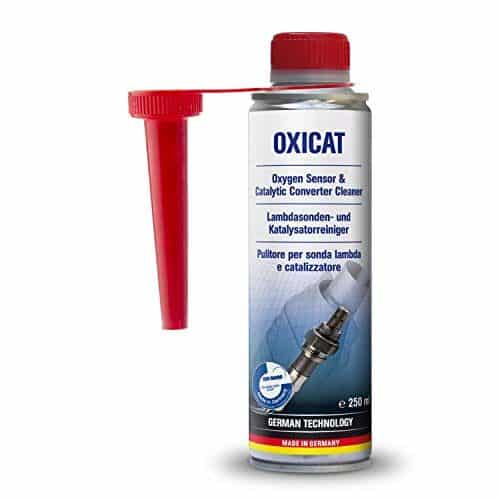 While other cleaners tend to have all-round cleaning efficiency, the OXICAT is specially engineered for cleaning catalytic converters and oxygen sensors. The fluid minimizes emissions to help your vehicles meet the latest environmental standards and pass the emission test.
With regular use of the OXICAT oxygen sensor and catalytic converter, you can keep the exhaust system of your vehicle clean. It helps prevent the accumulation of harmful residues and gases by dissolving these particles throughout the system.
If your mechanic tells you that you may need to get the catalytic converter changed, try this OXICAT cleaner first. The complete process of changing a converter is relatively expensive. Use this catalytic converter cleaner to prevent engine check light from appearing and pass the emissions test with ease.
One thing that you must remember while using OXICAT is that it will work only when the catalytic converter reaches its standard temperature. Therefore, if the cat is damaged, broken, or fully-clogged, the cleaner will not be useful.
Pros
Regular usage of this cleaner ensures maximum efficiency of your fuel system
TUV verified
Effective for all types of gasoline and diesel vehicles
Cons
Not an all-round cleaner for the fuel system
---
2. Cataclean 120007 Complete Engine and Exhaust System Cleaner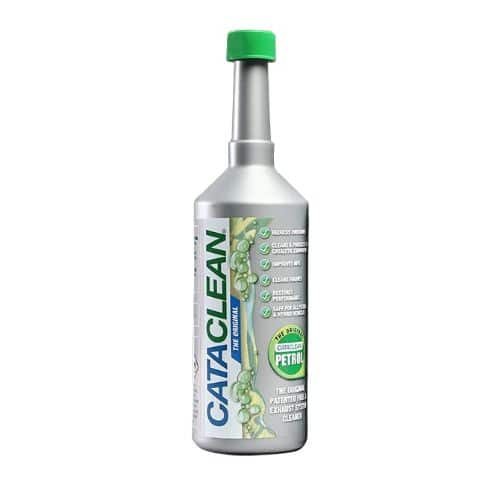 If you are looking for a quality catalytic converter cleaner, the Cataclean 120007 is an excellent option. Though its price is slightly at the higher end, it is a highly-effective cleaner for your entire car system.
Cataclean reduces the carbon footprint of your car by up to 50%, which is a considerable effect. It does so by eliminating the deposit on catalytic converters, cylinder heads, oxygen sensors, and even fuel injectors. Thus, it is one solution for all your engine-related issues, and therefore, among the best catalytic converter cleaners.
Does your vehicle face issues such as power reduction, use of extra fuel for a short distance, and rough idle? With Cataclean by your side, you can enjoy improved engine performance, fuel efficiency, and reduced harmful emissions.
Another fantastic thing about Cataclean is that it is legal in over 50 states. Furthermore, it complies with VOC and OTC regulations and meets the Federal low sulfur content requirements.
Pros
Safe for diesel, gasoline, and hybrid engines
Reduces emissions by 50%
Improves the all-round performance of vehicle engine, including catalytic converters
Complies with several regulations
Cons
Not compatible with 2-stroke, oil, or gas mix engines
---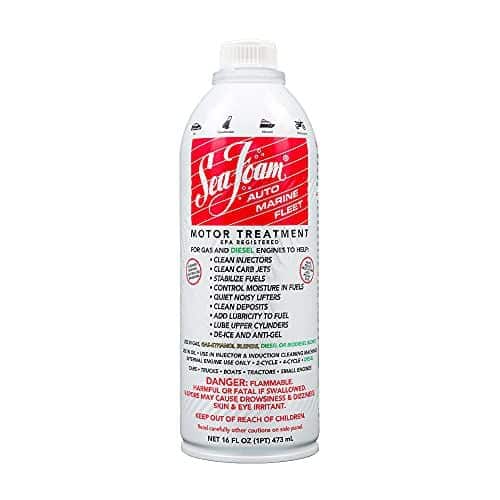 If you want a budget-friendly option to get your catalytic converter working smoothly, Sea Foam is a great option. In business from 1942, the cleaner is trusted by professionals and vehicle owners alike.
Sea Foam cleans multiple parts of your engine system, including carburetor passageways, fuel injectors, and more. It removes the harmful deposits and residues that increase emissions and slows engines. Furthermore, it also lubricates the upper cylinders.
Another highlight of this cleaner is that it is also an effective fuel stabilizer. Sea Foam can extend the efficiency of your vehicle fuel by preventing evaporation and preserving vapors. Additionally, it also eliminates build-up and varnish formation.
What makes this one of the best catalytic converter cleaners is that it offers all these functions at minimum prices. Sea Foam is compatible with gas and diesel fuel systems as well as crankcase oil, allowing you to clean your entire vehicle system.
Pros
Cleans carburetor passageways by removing deposits
Stabilizes fuels by preventing evaporation
Reasonably priced
EPA registered
Cons
One cleaner does not provide overall treatment
---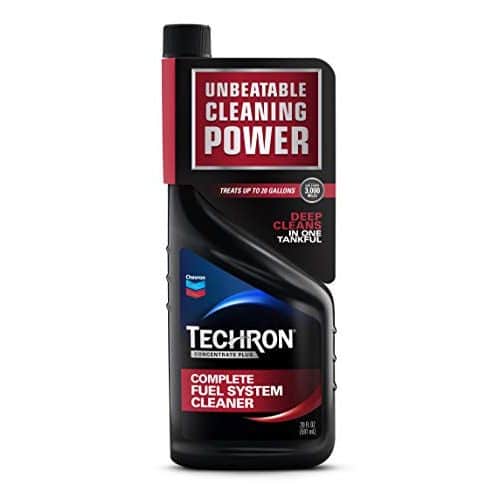 One of the prominent brands recognized globally, Chevron offers the best fuel system cleaner out there. It uses additive technology to get your engine working with maximum efficiency, minimizing emissions and leading to overall better performance.
Gasoline and other fuels contain hydrocarbons that travel through your vehicle's fuel system. With time, these carbon deposits build up on catalytic converters, motors, and engines, increasing your car emissions. The Chevron Techron Concentrate Plus Fuel System completely removes these deposits and ensures that these particles do not accumulate in the future.
What's more? The fuel that you load your tank with is not used up efficiently if your engine has a lot of build-ups. Techron Concentrate Plus keeps all the engine parts clean to ensure maximum utilization of the fuel. Even if you own a car with modern engines, this will work perfectly well.
Pros
Minimizes emissions and increases engine efficiency
Maximizes fuel economy
Compatible with all types of engines.
Value for money
Cons
May require a high quantity for the perfect results
---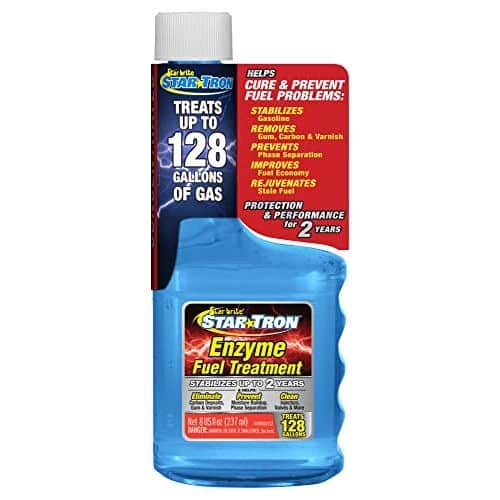 If you wish to get a multipurpose cleaner, the Star Tron Enzyme Fuel Treatment Concentrate is the right choice. It not only helps reduce emissions by cleaning up your fuel system but also stabilizes the fuel.
If your vehicle is left unoperated for some time, its engines may get jammed due to the residue build-up. The deposit may also happen if you have not treated your engines for a long time, which results in carbon and soot accumulation.
The Star Tron Enzyme Fuel Treatment Concentrate uses unique enzyme technology to treat gums and varnish deposits. As a result, not only will the emissions reduce, but also the engines will run flawlessly.
The cleaner also disperses water into submicron-sized droplets and prevents phase separation. Moreover, it stabilizes fuel by reducing evaporation and helps it rejuvenate. Thus, your vehicle's fuel will work for a longer time.
Pros
Cleans catalytic converter, valves, injectors, and carburetors
Compatible with all types of small and big vehicle engines
Disperses water to prevent phase separation
Stabilizes fuel for up to 2 years
Cons
Faulty product delivery at times
---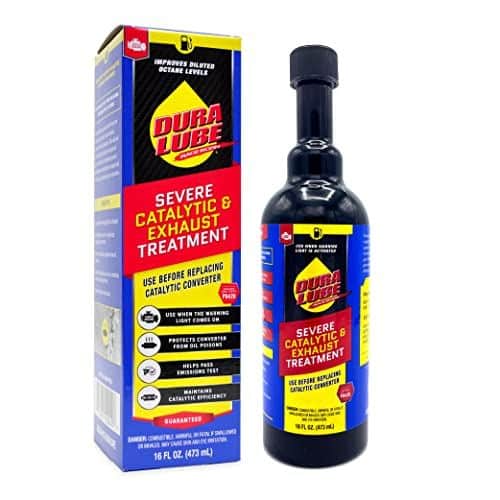 If you are looking for a mid-ranged yet effective cleaner, DURA LUBE catalytic cleaner is a great choice. It helps to keep your catalytic converter safe from oil poisons. These include residues and soot that accumulate on the cat and increase emissions.
That is not all. The DURA LUBE Severe Catalytic Cleaner also reduces the retention of zinc and phosphorus at the catalyst inlet. These residues lead to blockage and lower the performance of your converter.
DURA LUBE Catalytic Cleaner prevents and resolves the OBD error code that reflects the malfunction of your vehicle's converter.
What makes it one of the best catalytic converter cleaners is the longevity of this solution. One bottle of DURA LUBE cleaner will last up to 5000 miles, that is, 3 months. Moreover, it is a universal fit for all types of engines. Thus, you can use it for diesel, petrol, and other ethanol fuels.
Pros
Increases fuel efficiency and prevents deposit build-up
Reduces tailpipe emissions
Saves catalytic from phosphorus and zinc retention
Lasts for up to 5000 miles
Cons
May not work for every car
---
Do you want your vehicle to pass the emissions test without any issues? The CRC Guaranteed to Pass Emissions System Cleaner is just designed for that purpose. Many states require your vehicle to clear the emissions test, which may fail due to excessive deposit on the catalytic converter.
The CRC Guaranteed to Pass cleaner is engineered to minimize carbon oxide, hydrocarbon, and nitrogen oxide emissions. It consists of strong detergent additives that are efficient in removing these deposits from the fuel system of vehicles.
The cleaner is helpful for both types of emission analysis methods—tailpipe exhaust and OBD II plug-in. Furthermore, using this cleaner will make your vehicle function flawlessly. It will improve engine performance and ensure a smooth start, fast acceleration, and better airflow.
You need to empty the 16 oz bottle into the 16-gallon tan and use-up the fuel and cleaner. Next, refill the tank before testing.
Pros
Reduces emissions to a considerable extent by removing build-up
Improves the overall vehicle performance, including MPG, acceleration, airflow, etc.
Works effectively up to 3000 miles
Compatible with all types of gasoline and ethanol-mix fuels
Cons
You only get a refund after you send them the repair receipt
---
8. STA-BIL 360 Protection Ethanol Treatment And Fuel Stabilizer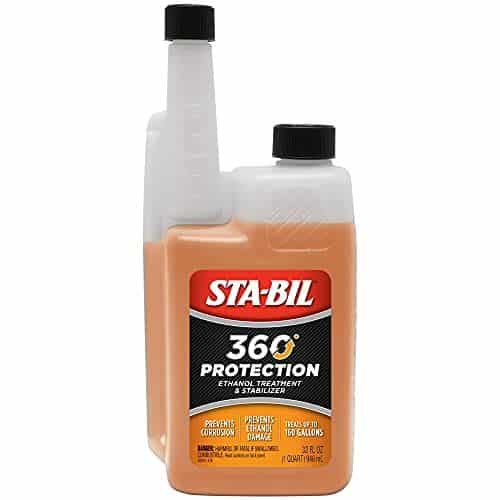 When you use ethanol-blended fuels, your vehicle may release a large amount of toxic gases if not treated regularly. The STA-BIL 360 Protection saves your vehicles from ethanol-related damages. Thus, it increases the overall efficiency of your vehicle engine and fuel.
STA-BIL works as a cleaner to remove carbon build-up, varnish, and gum from the catalytic converter, valves, and other parts. These deposits can reduce fuel efficiency, resulting in the requirement of more fuel for short distances.
Thus, this multipurpose treatment fluid cleans the fuel system, including chambers, injectors, and passageways, and ensures excellent working. As a result, your vehicle fuel burns efficiently without emitting too much gas.
That is not all. STA-BIL 360 Protection Treatment also ensures that your fuel stays fresh and stabilized for up to 12 months. So, if you have to leave your vehicle standing for months, make sure to add this liquid. Your engine will work smoothly even after a prolonged storage period.
Pros
Removes gum, varnish, and other deposits from the fuel system
Saves your engine from corrosion
Stabilizes fuel for higher efficiency
Value for money
Cons
Fuel system may require high volumes of this cleaner for effective results
---
Catalytic Converter Cleaner – Buyer's Guide
Catalytic converter cleaners are nothing less than magical solutions for your vehicles. They can significantly lower the carbon footprint of the engine and ensure its smooth working.
Though most cleaning solutions work efficiently, you must consider a few things while buying. Here are a few things to look for in the best catalytic converter cleaners.
You can learn how to use these products in our other guide: How to clean a catalytic converter without removing it.
Compatibility
The first feature that you need to ensure in a cleaning fluid is its compatibility with your vehicle engine. Believe it or not, some of these cleaners may not work for all types of engines.
If you have a gasoline car or bike, you need not worry, as most catalytic converter cleaners will work. On the contrary, if you have a vehicle with a modern, hybrid engine or a diesel-powered vehicle, you need to check the compatibility.
What you must note here is that most quality cleaners are compatible with all types of engines. So, if you choose a good catalytic converter cleaner, it will certainly work for your vehicle.
Cleaning Range
You are looking for a cleaner to treat your catalytic converter. However, most solutions out there offer an all-round clean up. They clean the entire exhaust system, including carburetors, oxygen sensors, valves, passageways, and more.
All the parts of the fuel system are interconnected. Even if one part does not function well, the entire operation can get ruined. Choosing a cleaning solution that covers the whole exhaust system will ensure the perfect working of your vehicle engine.
It will minimize the emissions to great extents as carbon deposits are found throughout the system. Moreover, the mileage, fuel efficiency, and overall performance of your vehicle will also improve.
Bottle Capacity
You may find catalytic converter bottles of different sizes and capacities. Though it may vary according to the brand and type of cleaner, most fuel tanks require a whole bottle. One thing you must note here is that once you break the seal, its contents will not be efficient for long.
Therefore, the wisest option would be to get a bottle of around 10-20 ounces for an average tank of 16 gallons. In addition, you may see plenty of multipack options in this line.
Since you may need a catalytic converter cleaner for maintaining your vehicle regularly, getting a multipack is highly recommended. They are comparatively economical, and you can use the small bottles one at a time.
Cleaning Efficiency
The size and number of bottles that you will need also depend on the cleaning efficiency of the solution. The best catalytic converter cleaners will not require you to add a lot of this solution to clean the fuel system.
Most cleaner bottles come with detailed directions printed on the pack. It will also specify the amount of cleaning fluid that you will need. While purchasing, make sure to compare different options and choose the most efficient one in terms of performance and efficacy.
Price
Another significant factor that you must consider while buying a catalytic converter cleaner is its price. Yes, most of the options are quite reasonably priced, within the range of $5-$15. However, you must still be cautious about it as your sole purpose of choosing a cleaner is due to the cost.
When your vehicle fails the emission test, or you see the engine-check light, the problem most likely lies in the catalytic converter. In case you opt for replacing this converter, it will cost you about $2000 at the least.
Therefore, choosing a catalytic converter cleaner is the optimum solution. However, compare the prices and features while purchasing. More so, as you will need to use it regularly to keep your vehicle engines in good condition.
Endnote
Well-performing catalytic converters are not just essential but downright necessary to curb the emissions of your vehicle. However, they may often end up performing poorly due to the carbon deposit.
Using an efficient catalytic converter cleaner can help you solve this problem every single time. They are reasonable, effective in minimizing emissions and also improve the overall performance of your vehicle. That said, they might not work on a clogged catalytic converter. In this article, you get the 8 best catalytic converter cleaners. So, choose the best catalytic converter cleaner for your vehicle engine to ensure its flawless performance!
Do catalytic converter cleaners actually work?
Yes, they do work well in most cases. However, if your catalytic converter is damaged or too clogged, it may actually not work for you. If it is slightly clogged, it will do wonders to your catalytic converter.
Can a clogged catalytic converter be cleaned?
Yes, a clogged catalytic converter can be cleaned if it is not too clogged with some additives. A too clogged catalytic converter will need to get replaced.
What happens if you don't fix catalytic converter?
If you just keep driving your car with a bad catalytic converter, it will probably stop running after a while because the exhaust needs somewhere to go. The backpressure can damage other parts of your engine, though, so it is not recommended.
Can I put Cataclean in full tank?
Yes, you can put Cataclean in a full tank. Just calculate the right amount you need and make sure there is enough room in the tank for the Cataclean product.