Is your car running a little sluggish? Are the black fumes from the exhaust worrying you? Perhaps it is time you check your carburetor.
If your vehicle runs with a carburetor instead of fuel injectors, then the build-up of dirt and contaminants might be causing your car to act wonky.
So, make sure your carburetor is in good shape and squeaky clean. Cleaning is a significant step towards ensuring the best performance of your car and engine.
Carburetor cleaners can be your best buddy when it comes to maintaining your car. These products come in a convenient spray and dipping cans. If you're unsure of what cleaner to choose for your vehicle, then here is a list of the ten best carburetor cleaners.
If you're running on a tight schedule and want to get to the best of the best quickly, then here are the top picks for the best carburetor cleaners.
Disclaimer – This article may contain affiliate links, this means that at no cost to you, we may receive a small commission for qualifying purchases.
Best Overall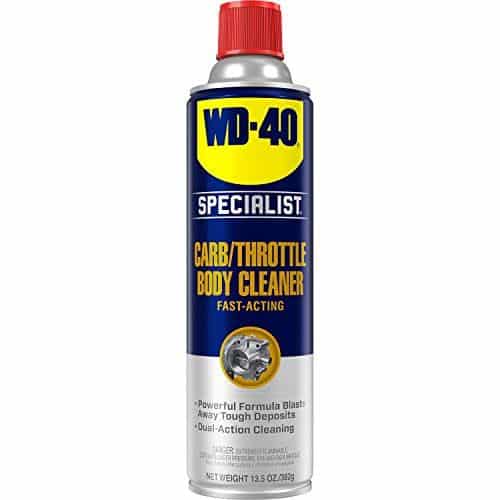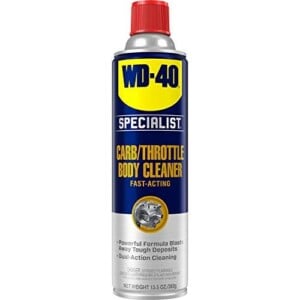 WD-40 300134
Very effective carburetor cleaner with a great mix of affordability and performance.
---
Parts Cleaner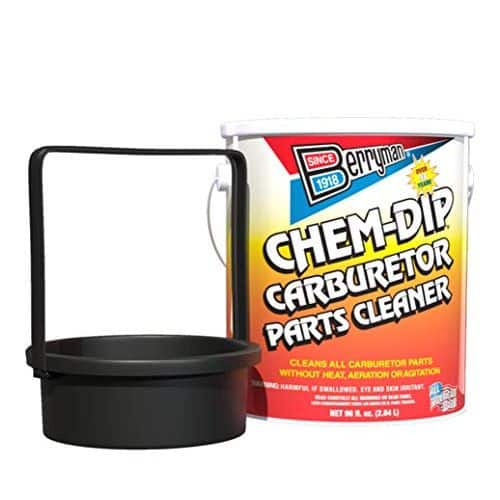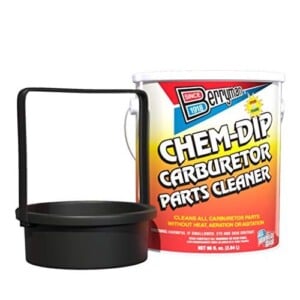 Berryman 0996
Good choice for professional use in workshops or if you frequently clean carburetors.
---
The 10 Best Carburetor Cleaners
Check out our list of ten fantastic carburetor cleaners! Don't forget to go through the pros and cons of each product. Regardless of your budget and requirements, you'll surely find the perfect product on this list.
1. WD-40 300134 – Best Carburetor Cleaner Overall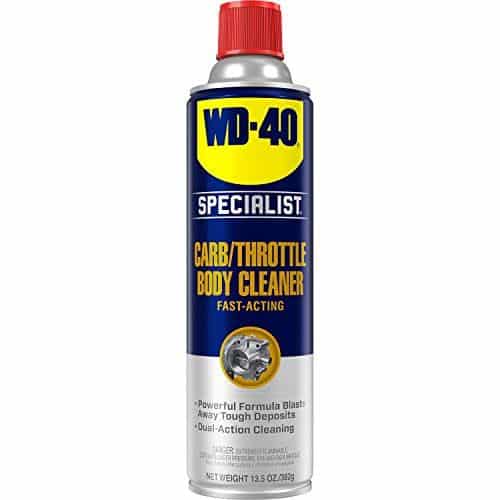 The WD-40 Specialist Carburetor and Throttle body cleaner are among the best choices for a squeaky clean and contaminants free carb.
The build-up of dirt, debris, and other elements can cause your carburetor to clog up. If neglected further, the dirt can damage your engine. The cleaner makes sure to attack stubborn deposits and dirt. This cleaner effectively gets rids of all the dirt.
The spray pressure makes cleanup easy and practical. It takes care of the plastic and rubber parts safe and prevents any damage.
With this cleaner, the engine's performance is always on top, and that it drives smoothly without stalling randomly. You can not only use this cleaner for your car's carburetor but also on your motorbikes, lawnmowers, tractors, trucks, and boats too.
The gum, grime, and fuel varnish build-up are easily cleaned off to make sure your vehicle runs like a champ. The best part is that this cleaner is easily affordable and highly effective.
Pros
Multipurpose and can be used for various vehicles
Removes tough and hardened dirt and grime
Doesn't trigger oxygen sensors
Enhanced performance at high RMPs
Contains a spray tube
Cons
May need additional cleaning tools for better cleaning
---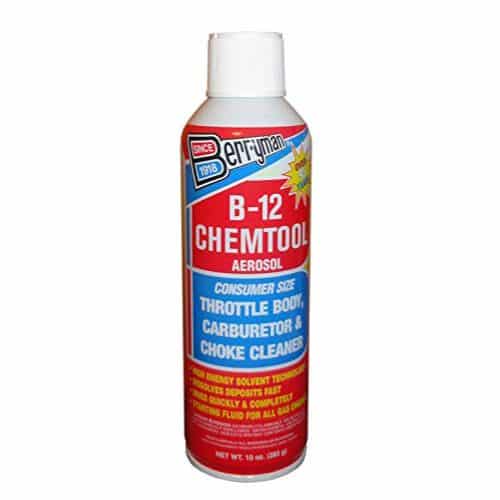 If you're looking for a strong and highly effective cleaner that doesn't cost a lot, then Berryman Chemtool cleaner is your best friend.
It dissolves the hard dirt and grime, and other deposits quickly to help you enjoy an idle and stalling free driving experience.
The cleaner is also highly productive towards improving your acceleration and comes in different packages. You can choose the size and package according to your needs. With HEST technology, the ineffective and diluted carriers like kerosene and mineral spirits are cut down.
You can also use the cleaner to clean other parts like the valve and throttle body, the distributor shaft, etc. It is safe to use around the oxygen sensor and catalytic converter.
Pros
Includes strong solvents that remove tough dirt
Comes in various sizes
Value for money
Is available in different packs
Cons
Not VOC compliant in many states
Highly flammable
---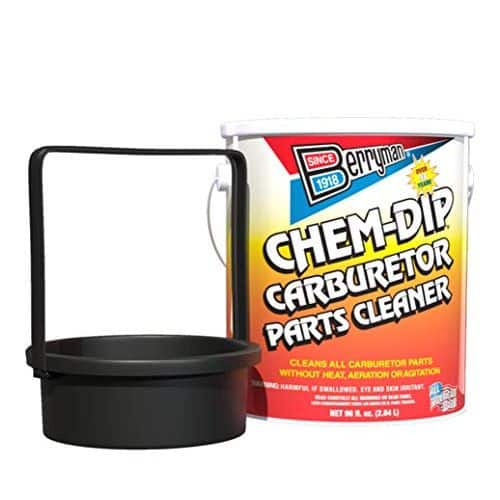 Do you want one carburetor cleaner that is apt for all heavy-duty purposes? Then Berryman has the perfect cleaner for you. The cleaner comes in a big container and even contains along with it a pail and a basket.
It is one of the most effective cleaners that deliver fantastic results in a short time. You won't have to wait for the product to do this magic. It will get sludge, fuel varnish, and deposits free carburetor in no time.
The good news is that it can be used on all metals and alloys and doesn't damage the plastic, rubber, and painted parts. Indeed, it is an all-round product and one of the best cleaners out there for carburetors.
Pros
It is volatile organic compound compliant in all states
Best for cleaning several carburetors and parts
It is affordable
Cons
Not fit for you if you only need to clean your carburetor a few times a year
Not eco-friendly
---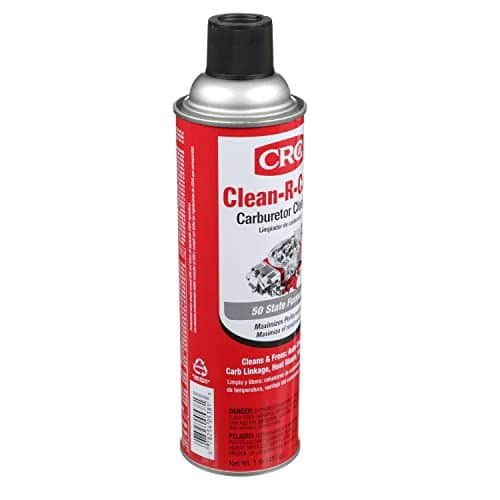 It is a multipurpose cleaning formula that not only cleans your carburetor but also cleans other components as well. It is a general-purpose cleaner and works like magic on non-painted surfaces, valves, EGRs, tools, machinery, and more.
The CRC Carburetor cleaner is conveniently available in all states. You must know that it is compatible with multiple vehicle types. This cleaner carries a design that can maximize your vehicle's performance and accelerations. All in all, it makes a potent cleaning formula.
The build-up of grime and harsh contaminants can cause your exhaust to fume black smoke. Many times, your carburetor might even smell funky and foul. To prevent that from happening, it is essential to clean carburetors at least twice a year to avoid any unwanted deposits or build-up.
Pros
VOC compliant in all states
Multipurpose
You can use it for various vehicles and machinery.
Cons
Not very durable
Not eco-friendly
---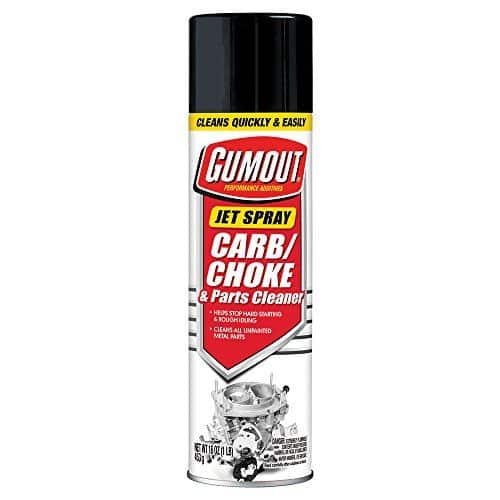 This Gumout carburetor cleaner comes in handy and convenient aerosol soiree cans. That makes cleaning up a lot easier than soaking. Though the product is of high-quality, it is surprisingly very affordable and gives value to your money.
However, this is a chlorinated cleaning spray. So if you prefer a non-chlorinated one, this one is not for you. It is also highly flammable and should be used with proper precautions.
The cleaner also reduces heat friction, lubricates the upper cylinders, and, best of all, prevents the new build-up of unwanted deposits and grime. As it dries off quickly, cleaning choked valves and throttles along with the carburetors doesn't take up much time.
With this high-quality cleanup, this product will remove all residue preventing your car from driving well efficiently. This product improves your car's drivability and helps you make sure your vehicle is not running lean.
Pros
Prevents further development of deposits
Dries off quickly
Budget-friendly
Cons
Not safe for all alloys
Extremely flammable
---
CRC Carb cleaner aerosol can is one of the most economical and budget-friendly cleaners available. It is compliant with the Volatile organic compound requirements and is also US EPA compliant, and is available in all the states.
It is incredibly effective on lawnmowers, carburetors of various vehicles, and heavy machinery, chain saws, and more. This excellent product enhances the performance of your engine and gives you a better drive experience.
The cleaner also makes sure that your car doesn't suddenly idle or stalls and dies because of the excess build-up of rigid elements and deposits. The choked valves and throttle bodies, too, can easily be cleaned off their dirty residue with this multipurpose cleaner.
Pros
It does not negatively affect the oxygen sensors and catalytic converters.
Right quality product and highly effective
Warranty available
Cons
Not safe for painted surface
Not very durable
---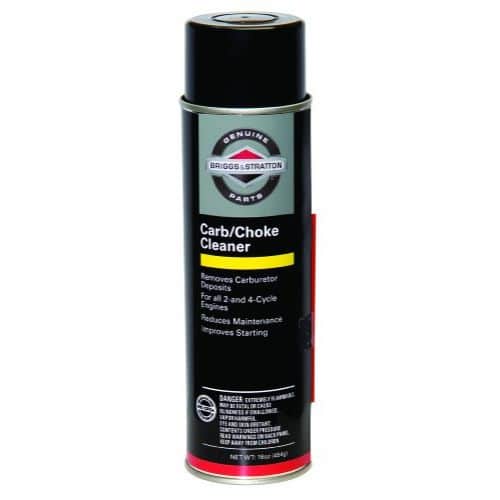 If your car is giving you trouble while starting and becoming harder and harder to have a smooth start, then your carburetor may be the culprit.
Excess build-up of gum, grime, dirt, debris, fuel varnish, and various hard deposits can decrease the carburetor's functionality and performance. Since the carburetor is tasked with keeping the balance of fuel and air and providing it to the engine, any clogs or blocks in the carburetor can directly affect your drivability.
To get your vehicle back to its peak performance and to altogether remove hard starts from your days, a carburetor cleaner is a must.
In particular, Briggs and Stratton carb cleaner is a formula that speedily dissolves the carburetor deposits and reduces the downtime heavily. You get smooth and clean starts, and the cleaning relieves the possibility of the car sputtering and stalling while running.
Pros
Warranty is available on request.
Customer support also available.
Useful for cleaning residue and hard deposits
Cons
Not very affordable in comparison
Extremely inflammable
---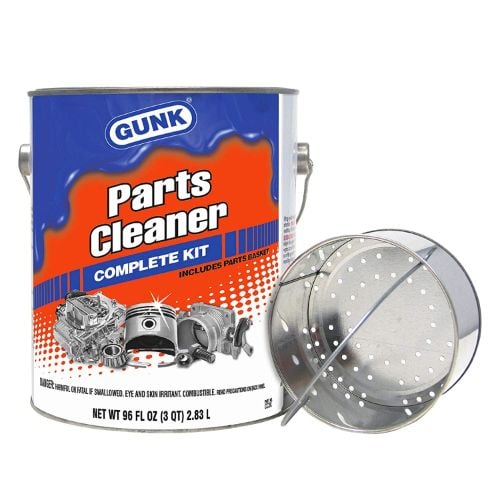 Gunk's effective cleaner comes with a dripping basket that makes it convenient to use both for small parts and extensive use. This Gunk carb cleaner is highly compatible if you work around several cars and use the cleaner to clean several carburetors and components.
It is an eco-friendly product that makes it even more appealing. The non-corrosive and non-chlorinated formula makes it one of the best choices for cleaning carburetors and other metal parts.
The formula works with speed and does not harm the color. The brightener with the cleaner makes sure to leave behind a sheer and shiny appearance. Your carb will look brand new after you're done cleaning with this carburetor cleaner.
Pros
Non- corrosive
Noon chlorinated
No ozone depleters are included in the formula.
Includes a dripping basket
---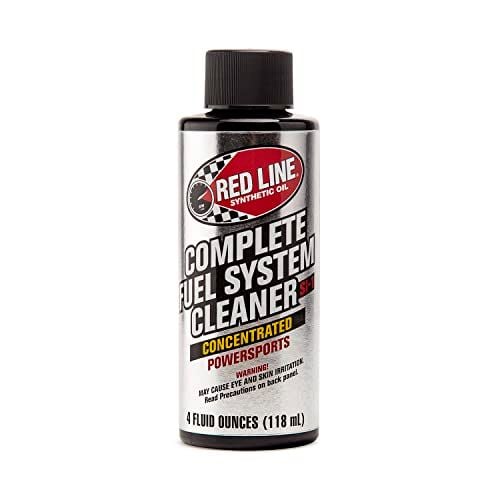 As your carburetor is tasked with mixing air and fuel proportionately and delivering it to the engine for proper functionality and performance, it takes the brunt of the dirt too.
The accumulation of various elements and the drying out of the carburetor, caused by the gas intake, can be harmful. It can lead to the carburetor either flooding with fuel and becoming a bust, or it can lead to your vehicle stalling and making starts harder.
That is why it becomes essential to use carburetors to properly and effectively clean your carb parts and other components that might get stuck and clogged. The removal of dirt, deposits, and gum will not only improve your vehicle's performance but also prevent the accumulation of deposits again.
The Red Line fuel system cleaner is ideal for motorcycles and carburetors of other vehicles. It also goes well with fuel gas and race fuel and is very useful for improving fuel economy.
Pros
Concentrated and strong cleaner
It is compatible with oxygen sensors and catalytic converters.
Effective in cleaning deposits
Cons
Mostly compatible with motorcycles and bikes
Not very useful for cars and tractors or trucks
---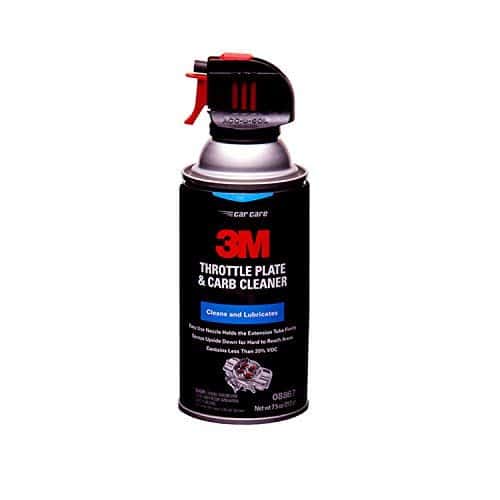 If you are looking for a cleaner that not only intensely and effectively cleans your carb but also lubricates it well, then this one's for you. The 3M throttle plate and carb cleaner removes the build-up of gum, residue, oil deposit, and fuel varnish, as well as increasing the fuel economy of your vehicle.
The unique nozzle spray makes it even more convenient than regular aerosol spray to effectively target the parts full of grime and gum. You can use it when the product is upside down. The cleaner helps to fix fuel issues and improves the overall performance of your vehicle as well.
It is a heavy solvent formula but is low on VOCs. It is best to be careful and avoid spraying it on painted surfaces, By and large, this is a convenient solution to the grease and grime of your carb.
Pros
Come swift, a specially designed nozzle for targeted spraying.
Highly affordable
Low on VOCs
Cons
High acetone concentrations
Causes damage to painted surfaces and nonmetals
---
Carburetor Cleaner Buyer's Guide
Carburetor cleaners are a must to have for ensuring that your vehicle stays in top shape and has peak performance. Often, in classic and old cars, the majority of the issues originate from the carburetor.
The carb mostly faces problems when it is clogged with grimes, dirt, deposits, and hard residue that essentially interfere with the fuel and air passage. That is why a carburetor cleaner becomes a necessity. It's not something you have to do very frequently.
A couple or more times a year is perfect. But cleaning the carburetor properly works towards increasing your vehicle's drivability and acceleration. To give your carburetor the best cleanup, it is essential to know what to look for when choosing a clever for your vehicle.
Ease of Use
Carburetor cleaners come in various sizes, packages, weights, and shapes. Some even come with additional tools and attachments like drip backsets, extra nozzles, spray tubes, and more.
The cleaner's application is the essential step, so making sure that the product is easy to apply is essential. It helps you make sure that the product reaches all corners and dips and removes the dirt and grime from tight spaces.
Usually, aerosol spray cans and cleaners with designed nozzles are very easy to apply and use, and the pressure for their spray also helps drive away from the tough dirt. Others come in big containers and are more useful for multiple carburetors.
So, make sure you are comfortable with the cleaner's application type before you settle on one.
Price
It is the most significant determinant when buying anything, not only carburetor cleaner. It is a must to be sure that the product you are speeding on meets all your requirements, expectations and fits the bill.
While carburetor cleaners are mostly very affordable and come in budget-friendly packages, if you are looking for long term and multipurpose uses, then it might cost you a little more.
Types
Carburetor cleaners come in various types of solutions. Some are chlorinated, and others non-chlorinated.
Many of them are low on volatile organic compounds, but many can include them in high amounts as well, which makes the product extremely flammable.
The type of solvents and solution also impact cleaning hard residue and deposits, so it is crucial to select the one that meets your requirements.
Corrosivity
Highly corrosive cleaners can damage the painted parts and even alloys and nonmetallic components. Non-corrosive cleaners are preferred over corrosive ones as they are more environmentally friendly too.
Wrap Up
Old and classic cars have carburetors that make sure your engine is getting the right fuel and air mixture. The carburetor also determines if that combustion process is carried out successfully.
With these ten best carburetor cleaners, buying the best one ensures your vehicle's health becomes easy. One has to note that it is crucial always to handle highly flammable substances like carburetor cleaners with extreme care and precautions.