Mercedes-Benz is known as one of the top luxury automakers in the world. However, are Mercedes-Benz good cars and are they reliable?
Mercedes Benz are considered good cars if you are looking for luxury and comfort. They aren't considered the best or the worst when it comes to reliability, but usually sit in the middle of the rankings. However, it can be expensive to repair a Mercedes, which is something to consider before buying one.
In this guide, I look at everything Mercedes does well and evaluate where there could be an improvement. I also judge the best and worst models, so you are better informed.
Are Mercedes-Benz Good Cars?
1. Safety
Most of the Mercedes-Benz vehicles have either received a perfect five-star safety rating from the NHTSA or were highly rated by the IIHS. All models are well-built with customer safety in mind.
Newer Mercedes are filled with advanced safety technology, giving you more peace of mind. Whether you choose a model with the PreSafe technology or DISTRONIC PLUS, you know that your drive is protected.
2. Engine
Mercedes-Benz has created a variety of durable engines. The automaker has released gasoline, diesel, hybrid and electric powertrains.
With any type, Mercedes has proven itself to be a leader in high-performing engines. Plus, many of the engines will last more than 200,000 miles with regular maintenance and care.
RELATED: How Long Do Cars Last? (& How Many Miles?)
3. Rust and Body
Some Mercedes-Benz models are susceptible to rust. Most of the complaints come from models from the 1990s and early 2000s.
It appears that Mercedes-Benz used thinner steel during these years while trying to cut costs. The company also used different paint compositions that provided less protection.
4. Features and Technology
Since the beginning, Mercedes-Benz has been a leader in technology. Even decades ago, Mercedes was releasing new products that other companies didn't have.
Today, the luxury cabins are filled with advanced safety technology, as well as everything needed for comfort and entertainment. Some of the top features include the Mercedes-Benz User Experience (MBUX) and E-ACTIVE Body Control.
5. Performance
Even the cheapest Mercedes-Benz vehicle provides plenty of performance and excitement. The German automaker is known for providing tons of power and acceleration when behind the wheel.
If you are looking for something with even more fun, consider the AMG lineup. These are specifically tuned for high-performance.
6. Affordability
You can't find a new Mercedes-Benz for much less than $35,000. Many models can cost more than $100,000, depending on the trim level and features chosen.
For this reason, the Mercedes brand isn't known as a low-dollar option. Still, you get what you pay for, with each vehicle filled with the latest luxuries and comforts.
7. Cost of Ownership
When you look at the insurance costs, fuel costs, and depreciation of the Mercedes-Benz lineup, you see that the cost of ownership might be higher than you expect. However, this is true about most luxury brands.
What makes this brand most expensive is the cost to repair and maintain. Ie will cover more about that in the next section.
8. Repair & Maintenance Costs
Mercedes-Benz parts are expensive to buy. It's difficult to replace almost any part on a budget. Additionally, you might need to pay for a special technician that works on Mercedes vehicles, depending on the trouble you are having.
For these reasons, Mercedes-Benz might be one of the most expensive to repair and maintain. If you put money aside with this in mind, it might not bother you.
RELATED: 20 Most & Least Expensive Cars to Maintain
Are Mercedes-Benz Reliable?
Mercedes-Benz vehicles are considered extremely reliable from a mechanic standpoint. Many of the high-performing engines can last more than 200,000 miles, especially when properly taken care of. However, these engines are also expensive to work on and maintain.
With the repair costs involved, top publications rank the Mercedes-Benz in the middle of the listings. Still, many of the models rank higher than the comparable BMW vehicles, which is one of the Mercedes's top competitors.
Mercedes-Benz History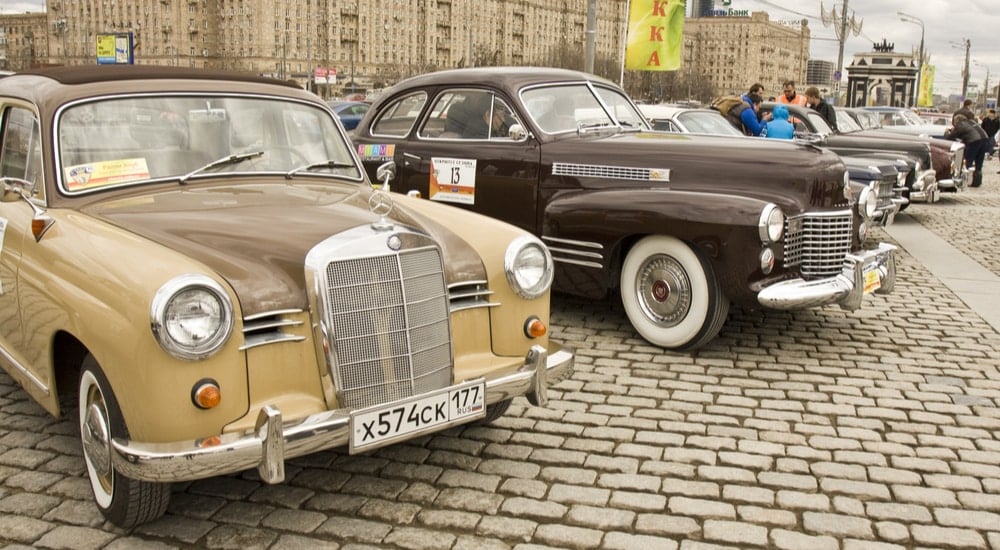 Mercedes-Benz has been around since 1886, when Karl Benz, Wilhelm Maybach, and Gottlieb Daimler started creating the first gas-powered car. It didn't take long before the company was offering stagecoach conversions under the name Daimler Motoren Gesellschaft. It wasn't for another 25 years until the name Mercedes-Benz was penned when a merger occurred between Benz's and Daimler's companies.
Mercedes vehicles were first imported to America in 1952, but Mercedes-Benz USA wasn't founded until 1965. Since then, the company has become a leader in luxury car models in the country. Today, there's a wide variety of cars and SUVs for customers to choose from.
What are the Common Mercedes-Benz Problems?
1. Leaking Transmission
Mercedes-Benz vehicles have sophisticated transmissions that are more advanced than many other brands. The unique connector and valve body might make the transmission better, but there's also a flaw.
In some cases, transmission fluid can leak from these parts. When the fluid leaks, there are also issues shifting smoothly.
2. Check Engine Light
Not all Mercedes-Benz vehicles suffer from the Check Engine Light situation, but it's been prevalent on a few models. The most common model is the E350.
In many cases, the Check Engine Light comes on because of a faulty camshaft adjuster solenoid. Engine issues with the Mercedes lineup aren't easy to fix, and they aren't inexepensive, either.
3. Corrosion/Rust
Most cars will rust given enough time, but there are many years of the Mercedes lineup that rusted prematurely. In most cases, the rust was first seen in the front bumpers, behind the license plate, and by the fenders.
Mercedes used lighter steel for some of the car models. It also shifted its paint composition, which might have led to the problems.
Most Reliable Mercedes-Benz Models
2008 Mercedes-Benz E Class
This E Class model is considered one of the most luxurious ever created. The four-door sedan offers a sporty feel and superior performance.
Plus, it ranked well in safety ratings. It's a great model to drive if you want to gain more attention on your daily drive to work.
2015 Mercedes-Benz GLK-Class
2015 was the final year for the GLK-Class until it was renamed the GLC Class. This beautiful SUV comes with all-wheel drive for superior traction and it's known for its maneuverability.
With the 302-horsepower V6 engine, you also get the power you are hoping for. On top of that, the cabin is outfitted with every luxury imaginable, especially when equipped with the Premium Package.
2010 Mercedes-Benz C-Class
For this model year, the C-Class included a panoramic glass sunroof and a classy cabin. It also has a 12-speaker sound system as part of the standard technology, so every note is perfect.
More importantly, the C-Class has the latest safety features, including Agility Control. With this system, all shock from the road is perfectly dampened for an exciting ride.
Least Reliable Mercedes-Benz Models
2006 Mercedes-Benz E350
The 2006 Mercedes-Benz E350 is a comfortable and spacious vehicle with solid acceleration, but there are a ton of complaints about the reliability. A quick look with the NHTSA shows how defective this model actually is.
Not only are there issues with the fuel system, but several owners have needed to replace it all, including the seals, lines, pump and tank. There have also been complaints about brake failure, making this one model to avoid completely.
2007 Mercedes-Benz S550
From the surface, one would think that the 2007 S550 is the model to own. It contains big seats, speedy acceleration and a quiet cabin. It even pumps out 382 horsepower from the V8 engine to get it to 60 mph in just over five seconds.
However, there are many issues with the electronics, and Mercedes-Benz never recalled it. For this reason, it is one of the most unreliable among Mercedes enthusiasts. The S550 might also go into limp mode unexpectedly because the Engine Control Unit (ECU) goes bad. Sadly, it costs more than $2,000 to replace this vital part.
Is Mercedes-Benz A Good Car To Buy Used?
On many levels, it is wise to choose a used Mercedes-Benz vehicle. The company knows how to make a high-performing vehicle that provides every luxury and tech feature you could ever want. You will be comfortable and enjoy the ride in most used Mercedes models. Plus, you can get a majority of them for far less than it costs to buy the model new.
On the other hand, you must be prepared to pay for the expensive maintenance and repair bills. If something breaks, you are going to be paying a lot out of pocket, especially if you need a certified Mercedes technician. Additionally, you might deal with corrosion or rust on your luxury vehicle, which nobody wants to look at. If you are going to purchase a used Mercedes, do your research first and inspect the body carefully for signs of rust. Don't forget to look behind the license plate.