Maintaining the right tire pressure is crucial if you want to avoid potential road accidents.
In addition, it boosts your fuel economy. Modern vehicles have sensors in the wheels that inform the driver whenever any of the tires are deflated. This is captured by the PCM and displayed on your dashboard.
No need to worry if your car lacks some of these modern gadgets, a good TPMS tool will do. It is paramount that all your vehicle tires are inflated with the same pressure rate to ensure uneven wearing out of the tires.
The Best TPMS Reset Tools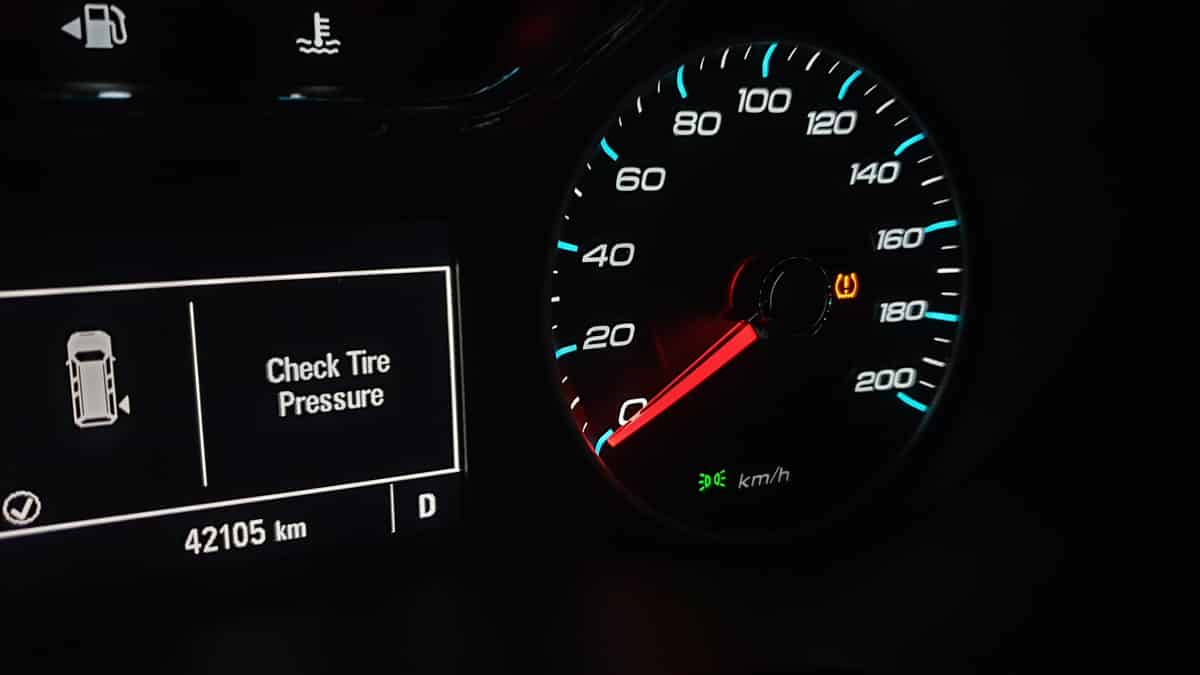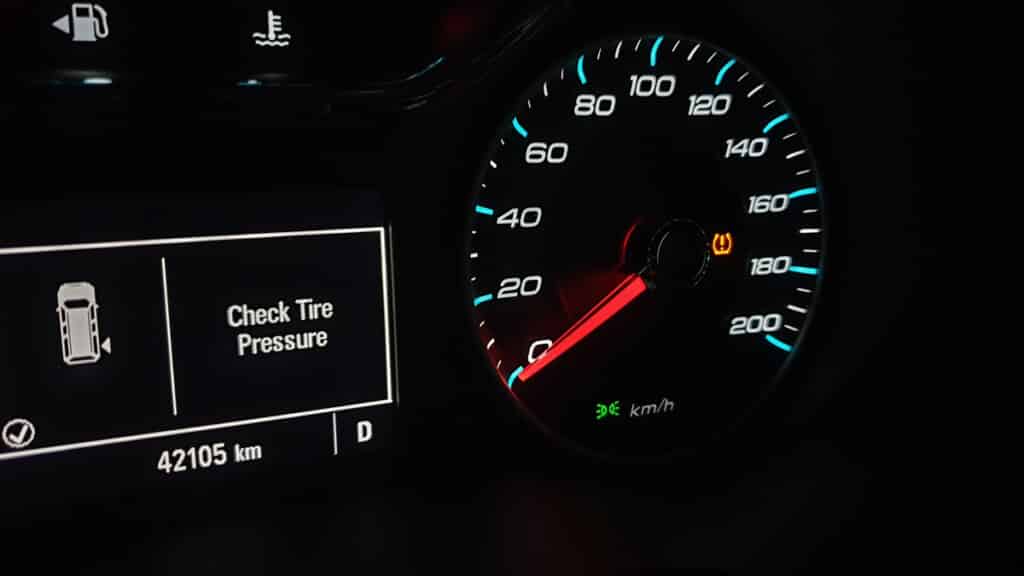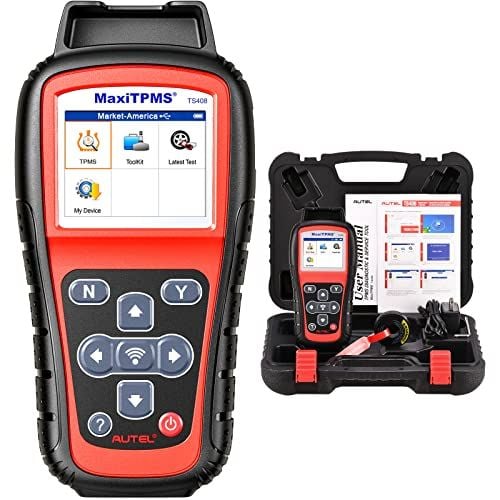 This is a user-friendly TPMS tool that helps you identify faulty sensors with ease. It comes with an intuitive graphical display that offers instructions on how to operate. This makes it hard to get lost while operating the tool. In the display, you will be asked for information about the car's model year, and make. This information will then be used in triggering sensors in each wheel. When you press the signal/to activate button, you will be able to get information concerning the battery level, sensor ID, tire pressure, and temperature.
Autel has gone a step further in helping their customers make the most from the device. They offer excellent customer service through their toll-free number that is available 24/7. You can also contact them through email and live chats. The device does not support OBD functions meaning you cannot get a diagnosis on your trouble codes. The device extends to most vehicles that require sensor activation.
The device will activate all frequency, magnetic, and tire deflation triggered sensors. In addition, the tool comes with a special key fob testing that saves you the hassle for taking your car to the dealership just to get the right key frequency.
Key Features
Free software updates
Compatibility with TPMS enabled vehicles
Activates TPMS sensors
Pros
Intuitive graphic display
Free telephone, live chats and email support
Easy to use and learn
---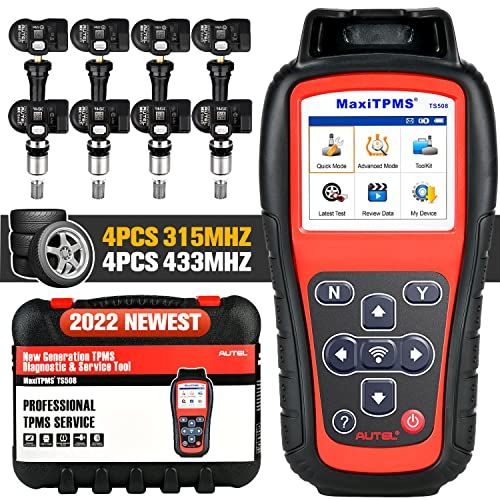 If you are tired of trying to figure out your TPMS system, the Autel is easy to use the tool. It offers the user both basic and advanced functions. If you want fast tire pressure information like program sensor, scan sensor, relearn procedures you will find all of them at your figure tips. It is convenient because all you need for the programmed sensor is to choose any of the three programming methods – copy by manual input, copy by activation, or auto-create from 1 to 16.
The MaxiTPMS is ideal for those technicians who diagnose fleets. This is because through a single button you can program up to 16 sensors. This eradicates the need for an individual tool for each car. It works for most Asian, European and US cars.
The MaxiTPMS saves you a lot of time as you can easily activate the quick and advanced mode. The MX sensors are developed in such a way that they are 100% ID clone which means you do not need any relearn. It is a tool for novices and experts. You can read all sensors while activating the MX sensors at the Quick mode. In-depth diagnostic of the TPMS system and OBD II relearns can be done on the Advanced Mode.
Key Features
Compatible with most car models from Asia, Europe, and US
User-friendly interface
Known to activate all sensors
Pros
Easy to learn
Comes in basic and advanced mode
Saves you time as you can program up to six sensors
---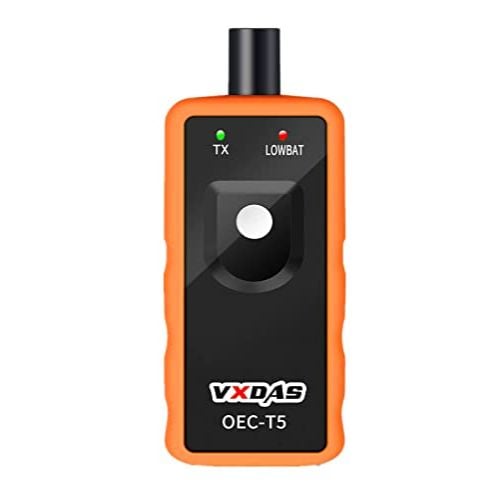 The reason this makes it to the third place of our list is the simplicity it offers. With just a click of the button, you can begin testing your car pressure. If you are new to TPMS tools then this is the right model, to begin with. Operation is through a simple three-step process. Firstly, you set the device at Learn mode then place it near the sidewall where the valve stem is. Once you press the learn button, the sensors will be reprogrammed.
The TPMS tool is compatible with most GM cars but you can still use it for an Audi, Ford, Honda, BMW, Mazda, Mitsubishi, Subaru, Renault, and Toyota. This is because the device is compatible with all tires having 315 and 433 MHz TPMS. The downside is that the device does not work with trucks.
When using the device ensure that the sensor re-learn procedure is carried out after remote control door replacement, tire rotations, and tire pressure sensor replacement. Relearning is done by first placing the car at parking then through dashboard settings choose the TMPS to relearn mode when using cruise. The TPMS will flash twice after you hear the car horn. This is the indication that the learning mode has been entered.
Key Features
Uses 9V battery
Available for most GM cars but not recommended for trucks
Easy to learn and use
Pros
Does not require constant charging
Affordable
Fast operation
---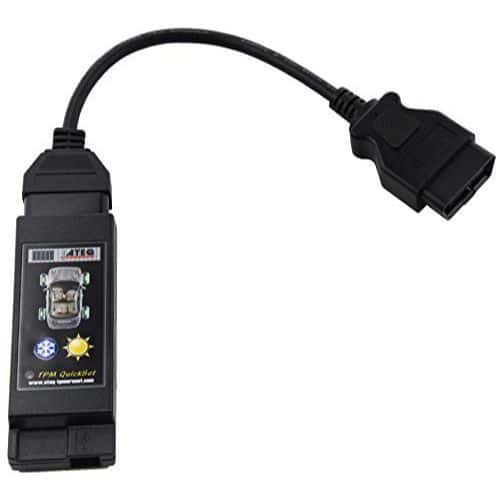 What stands out with this device is the large 3.5-inch screen that makes it easy to navigate through the various device features. The ATEQ QuickSet TPMS tool is dust, oil, water, and dirt resistant. This means you no longer need to worry about spills. You can use the tool to reset the TMPS lights after replacing a dead sensor or changing tires.
You can use the device to perform relearn procedures through the OBD II module. ATEQ QuickSet TPMS tool is Bluetooth enabled meaning you can perform lots of wireless transactions. In addition, you have a large storage space of 2 GIG SD card. This means you can store tons of vehicle history data. A USB port enables you to transfer data and update device software. If the Bluetooth connection fails, you can still continue operating the device through RJ45 cable. Lastly, you also get a battery charger.
The ATEQ enables you to transfer the TPMS sensor ID to the vehicles onboard computer. Worried about differing tire pressure during winter or summer, no need to worry as the device keeps to set of wheels per vehicle.
Key Features
Works to reset TPMS lights from most import vehicles
Enables transfer of new TPMS sensor IDs to the ECM
Stores two sets of wheels – winter and summer
Pros
Worldwide customer support
Fully compatible with PC
Let's you easily switch between summer and winter tires
---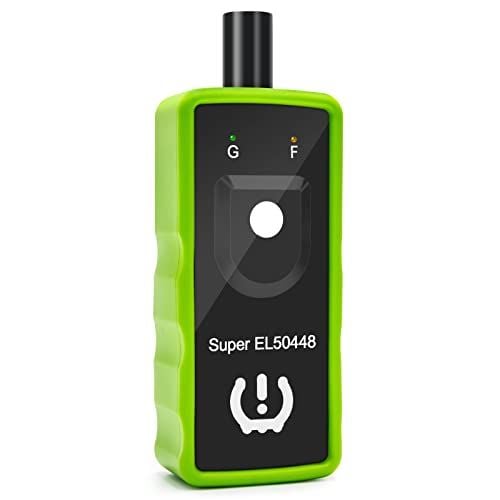 This tool is suited for GM and Ford cars. Integration is through 315 and 433 MHz tire measuring sensors. Through a single press button, you can activate each sensor. It also works well for removing tire pressure alarm, exchanging tires, and replacement of the tire pressure sensor. The tool is affordable yet simple to use.
When using the tool to activate the tire sensor, ensure that your car is on learning mode. Just like the other TPMS tools, hold it against the sidewall where you can see the valve system. While holding it against the sidewall depress the learn button. The device comes with a 9V battery so it is wise to ensure that the battery is not depleted before using it. You can use the device with some trucks as long as they are not the heavy-duty ones.
Key Features
2 in 1 relearn function
Works with most GM and Ford vehicles
Activates each tire sensor with a single click of a button
Pros
User-friendly
Covers a variety of cars
Long-lasting battery
---
---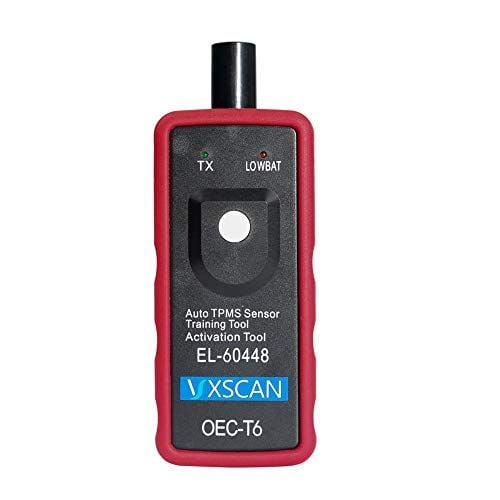 This is another affordable tool that you can use to activate your TPMS sensors. All this is done at a click of a button making it easy to use for novices. Once activated, you can also reprogram the sensors. Operating the device is easy, firstly you need to put your car on learning mode. Place the tool near the tire's valve and then press the learn button. This will automatically reprogram the sensors. To move to the next tire, wait for the horn to go on. Repeat the procedure for all tires.
The VXSCAN is compatible with most Ford car models from the year 2007. It also works with GM cars from 2010 to 2013. Other cars covered by the device include BMW, AUDI, Honda, Mitsubishi, Mazda, Renault, Nissan, Toyota, and Subaru.
Key Features
Program tires in 3-easy steps
Reprogramming of sensors is through a single click of a button
Simple design
Pros
Affordable and easy to use the device
Long-lasting 9V battery
Easy to use interface
---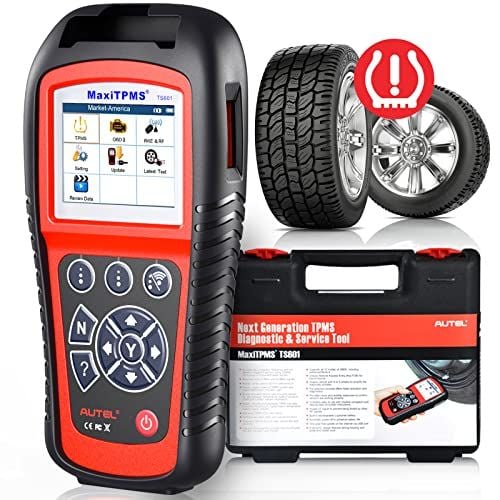 Another Autel makes it on our list due to the company's reputation for producing first-class products. This device has all the functionalities you will find in a typical TPMS device with the addition of being an OBD II code reader. In this regard, it will help you clear any TPMS codes thus turning off the TPMS light. The Autel TS601 display has all the crucial information that you will require. You can view live OBD II data and even perform smog tests if you want your car to pass those emission tests.
The device comes in a handy toolbox with the instruction manual. In the manual you will learn how to relearn ECU, activate sensors, read and clear TPMS codes among others. The device works well with most brands in the market both foreign and domestic. If you own a busy auto shop then you need to put this device on top of your list. The only drawback to the device is that it might not be compatible with TPMS sensors that are not made by Autel. In addition, some beginners may find the device a bit complicated to start with.
Key Features
Activates tire deflation sensors through a 125 Hz frequency
Ability to receive both 315MHz and 433MHz signals
Clears TPMS codes and can even perform smog tests
Pros
Offers OBD II functionalities
Software is upgradable
Compatible with most car models
---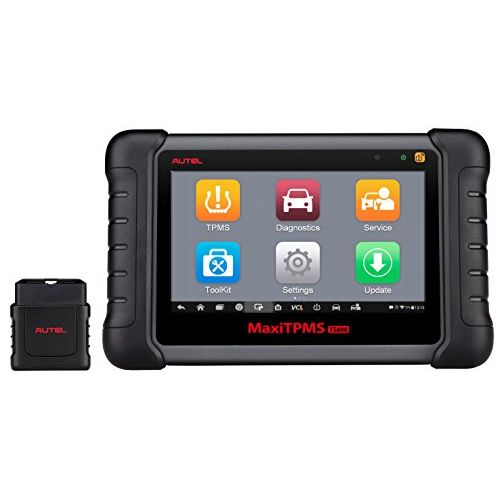 This tool has combined most of the functions of the previous Autel TPMS devices. It comes with a large, high-resolution screen. In addition, it also comes with advanced functions. The tool can read your OBD II systems codes like ABS, ECU, SRS, or EPB. The beauty of this is that you can reset your check engine light without the need for a separate device. The tool comes in a handy toolbox that protects the device from destruction. You also get a manual to help you figure out the device.
Like most of the Autel devices, it is compatible with most cars that have Autel manufactured TPMS sensors. This is a great tool for professional auto technicians but beginners may find it too complex. Many technicians prefer it as it can support up to 10 OBD 2 modes. The tablet-like device comes with a one year warranty and the ability to download free software updates.
Key Features
Offers mini Bluetooth wireless connectivity
Compatible with most car models from 1996
Ability to diagnose OBD II system services like SRS, ABS, EPB, and OLS
Pros
Tablet design for ease of use
Includes most OBD service functions
Free software updates
Factors to consider when purchasing Best TPMS Tool
It is challenging finding the right TPMS tool. For one, you need to be familiar with lots of electronic details. If engineering is not your thing, you may find yourself with a device that is not compatible with your vehicle. This buying guide will save you lots of time in research and poor device choices.

Types of TPMS Tools
Direct TPMS Systems: mostly cars from the European or Asian market use these TPMS systems because they get information from the TPMS sensors that are inside the tire. The sensors have information concerning the tire pressure and temperature. The information is sent to the ECM through UHF radio frequencies – 315 MHz or 434 MHz. In rare circumstances, you may find an antenna located on each tire.
Indirect TPMS systems: In this instance, the tire pressure is recorded through the anti-lock braking system. When one of the car tires is running low on pressure it will run at a different speed than the rest of the tires. This information is captured by the ABS and transmitted to the onboard computer system. Overall, the main difference in the two systems is that you do not have TPMS sensors in the tires in indirect TPMS systems.
Alerts and reminders
When searching for a TPMS tool you need something that will give you alerts whenever there is a problem with over-inflation or overheating. These kinds of tools also let you maintain separate tire pressures for winter and summer. These reminders are great whenever you have a tire change as they will inform you in case something was not replaced to the original condition.
Types of sensors
External Sensors: Your TMPS tool needs to handle the tire sensors. External sensors are located on the outside of the wheel, specifically in the valve stem. However, there are problems to have as they are easily destroyed by weather elements, can be stolen, and they do not give the most accurate reading. People only install them in their cars because you do not need to remove your car wheels when installing them.
Internal sensors: These sensors require you to remove the tire from the wheel. They are installed on the wheel or the tire's inner liner. They are the best for making accurate recordings because they are well protected from external elements. Another great advantage of these sensors is that they are effective for detecting axle end fires.
Universal sensors: You can replace your factory-made sensors with a pair of universal sensors. These allow you to program new sensors during replacement. All the information in the old sensor will be recorded in the TMPS tool and you can reload the information to your new one through a process of ID cloning. The benefit of this is that the car will not detect any sensor change.
TPMS Battery Sensor
Most of the TPMS devices in the market use a 9V battery. While checking for the right device you need to consider the lifespan of the battery. Most are marketed to last 5 to 7 years – the longer the better. You should also inquire whether the battery is rechargeable or non-rechargeable.
Customer support
It is imperative that you be able to reach the device manufacturers in case of shortcomings with the device. Some of the reputable companies offer 24/7 toll-free numbers and responsive emails. Getting excellent customer care services ensures that you can reach out for support if the device starts malfunctioning.
Ease of use
Not all persons using TPMS tools are familiar with electronics. In this regard, you want a device that is not complicating your life. You can search on the ease of use from various electronic forums. Some of the best TPMS tools will come with step-by-step instructions on how to use the device.
Compatibility
This tends to be a challenge because not all TPMS devices are universal. Some work with particular car models like GM cars and would not be suitable for Japanese models. Some devices can be used on light trucks while some are not recommended on heavy-duty trucks. Knowing which device works with a particular model really helps.
TPMS Reset Tool FAQ
When do I have to relearn the TPMS sensors?
When you replace your car wheels, the internal pressure monitoring system for your tires has to relearn the location of each wheel sensor. In the absence of an automatic way to do this, you will need a TPMS tool.
How do I reset the TPMS for my car?
If you have a reset button – You will need to check for the reset button located underneath the steering wheel. Press this button and hold it for a few seconds. You should notice that the low-pressure light will blink three times. Once you release the button, turn on the ignition and let the car's engine run for the next 20 minutes. This is essential for the re-calibration of the wheel sensors. Switch off the ignition and it will have reset itself. If your car dont have a button you may need to use TPMS reset tools.
Do TPMS sensors malfunction?
The sensors – like any electrical component – are subject to malfunction. However, having faulty TPMS sensors does not mean that you cannot drive your car. But, you need to ensure that your car tire pressure is okay. What you will miss is a warning if the tire pressure goes down. It is recommended that you perform a sensor change with your next tire change. For most cars, this tends to be after 5 to 7 years. Alternatively, change them after going for more than 60,000 miles.
Do the TPMS sensors use batteries?
Future developments are in place to develop sensors that do not require batteries but at the moment most of the tire sensors are powered by 3-volt batteries or 1.25-volt nickel-metal hydride batteries.
How often should I replace my TPMS sensors?
The batteries in use in the TPMS sensors are either lithium or nickel-metal hydride manufactured. The batteries are molded into the sensor meaning you will need to replace the sensor when replacing the battery. Most of the batteries will last you five to six years.
Is it mandatory to replace the sensors when replacing tires?
It will depend on how won't out the sensors are. Instead of replacing the sensors every time during a service change, what most repair shops do is maintaining them. They will replace the retaining nut, valve core, and valve stem core and then check that all the systems are working. If everything is okay, there is no need to change the sensors.
Conclusion
Having a TPMS tool ensures that your sensors are functioning well. If your tires are not well deflated then the likelihood of accidents is high. We have reviewed some of the best TPMS tools in the market and searching for a winner has not been easy. But, we have a winner – the VXDAS EL-50448 Auto TPMS Tool. The tool offers all the functions required in a TPMS tool that will still remain easy to use. It is also compatible with most car models.