If you do any online research, you've heard a lot of opinions about Snap-On vs. Blue Point tools. Some people claim they are the same – even from the same manufacturer – while others talk about a myriad of differences. So, who is right?
In this article, I evaluate the basics of both the Snap-On and Blue Point tools. I also point out what makes each brand different. After looking at these differences, you should be able to pick the better option for your needs.
Blue Point vs. Snap-On Differences
Blue Point and Snap-On provide a multitude of options, but with different purposes. The material used, the quality you can count on, and the price are all going to be different between Snap-on vs. Blue Point. Choosing the right one requires that you look at your individual needs.
Here are the key differences between Snap-On and Blue Point tools:
1. Manufacturer
Snap-On obviously creates the tools with its name on them. However, Blue Point tools are distributed by Snap-On. With some of the tools, Snap-On also creates them. Even when the Blue Point tools are created by other manufacturers, the same specifications provided by Snap-On are used.
You will never see the Snap-On name on Blue Point tools, even if they are identical. Still, you can take advantage of the same manufacturer warranty with either tool.
2. Quality
It's impossible to compare with the same level of quality as Snap-On tools. These are some of the most durable and well-built tools on the market.
While Blue Point is owned by Snap-On, the quality isn't comparable. Blue Point tools can be made by other manufacturers, even when the specs are the same. Keep in mind that two tools with identical specs might have different levels of quality if one was produced by Snap-On, and the other was not.
Still, no one complains about Blue Point tools on a basic level. For household and home garage use, the Blue Point tool is going to provide all the functions you need.
3. Materials
Snap-On tools are constructed from wood, rubber, plastic, and metal. Each material is paired to its function. Metal is used in many of the tools for its durability and heavy-duty design.
Blue Point may use materials of lower quality. You will find a lot of carbon spring steel, cobalt chrome, and other materials to suit the application. However, when comparing apples to apples, you can assume that the Snap-On tool will be built with stronger, more durable materials.
4. Use
The Snap-On lineup of tools is meant for automotive professionals. Most mechanics have a cabinet full of Snap-On tools, but they can also be found in the construction and aviation field. The Snap-On lineup is smaller and more compact, ensuring that mechanics can get into tighter spots with ease.
Blue Point tools are meant for the at-home enthusiast or hobbyist. They are designed for light-duty work and aren't normally found in a professional setting.
5. Cost
Blue Point tools are the lower-cost option between the two. You will spend more with Snap-On tools.
However, the quality of Snap-On makes the price a better investment, especially if you are using the tools professionally. Both tool lineups contain the same warranty coverage, so you aren't paying any more for that protection.
Snap-On Tools Basics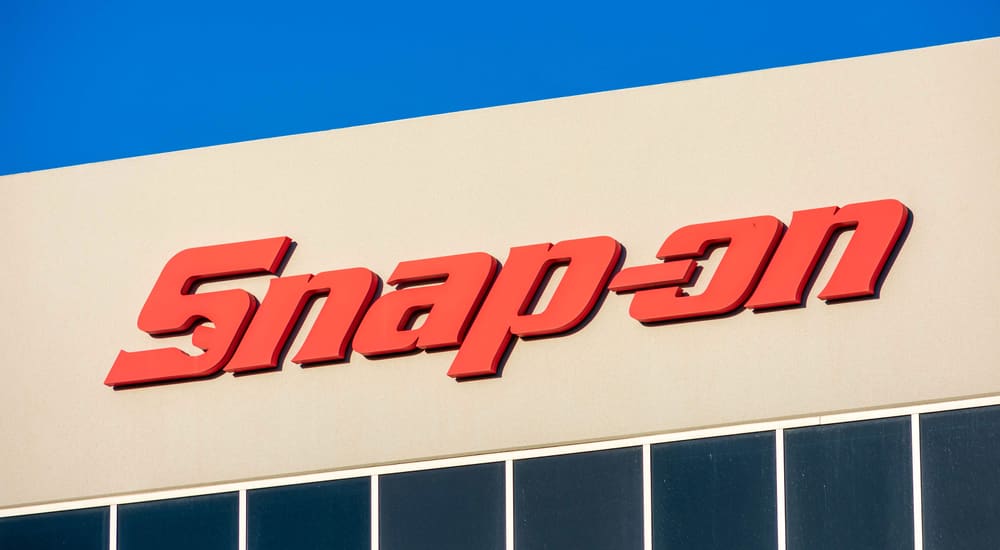 Snap-On is known for producing high-quality tools and equipment for use in a professional setting. While the tools are common in the automotive field, you will also find them in marine applications, for aviation, and on the railroad. Most enthusiasts boast that these tools are some of the highest quality you can find.
All Snap-On tools are made in the United States. The company has manufacturing plants in Tennessee, Wisconsin and North Carolina. The company's tire changers and wheel balancers are made in Arkansas, while all torque products are made in California. There is also a plant in Iowa that makes all of the tool storage cabinets.
This manufacturer also offers a lifetime warranty for as long as you own the tool. However, diagnostic equipment, meters and power tools only have a 1-year warranty. The biggest downside to Snap-On tools is the price. These tools will often cost more than any other brand, but you shouldn't need to replace them any time soon.
Blue Point Tools Basics
Snap-On is the manufacturer of Blue Point tools. It's the lower-end spectrum when compared with Snap-On. All of the tools are still built to the same specs, but the finish is different. Blue-point uses several other manufacturers to create the tools, meaning they might be produced outside of the United States.
You will not find the Snap-On name with these tools, because they aren't built to the same quality level. Still, all of the tools are sturdy and get common jobs done with ease. A few of the tools are considered to be bulkier, so they aren't as focused on pleasing the professional. Instead, you would want to use them for basic operations.
Above all, the Blue Point tools cost less than Snap-On, but you are giving up some of the quality that the brand is known for. Still, you get the same lifetime warranty unless you purchase a product covered by the 1-year warranty.
Choosing Between Snap-On and Blue Point
While Snap-On and Blue Point both come from the same company, each lineup is meant for a different type of worker. You won't get the same quality level from the two lineups. Snap-On tools are considered the highest-quality options for busy mechanics. They are slimmer and more comfortable to hold during a long day of work. However, you are going to spend far more on Snap-On tools than you would Blue Point.
If you need to save a little money, or you don't use the tools in a professional shop, you might prefer the Blue Point tools. They are cheaper, but still offer the same warranty protection. You won't get the same durable quality, but the tools will work better than expected in your at-home garage. You don't need to worry about a tool breaking or failing to operate as intended. Keep in mind that some of the tools might be a little bulkier, and aren't always designed for tight spaces.
To determine which option is best for you, it's important to evaluate your needs. Are you looking to do professional work, or do you need to perform a regular tune-up occasionally? Additionally, you want to examine your budget. If you can afford to splurge on the best tools and you think you will use them, why wouldn't you want Snap-On? However, if you only plan to use the tools occasionally and your budget is limited, you will likely be just as happy with Blue Point.
Frequently Asked Questions
What company makes Blue Point tools?
Blue Point Tools are manufactured by Snap-on Tools, Inc. Blue-Point and Snap-on Wrench Company merged to become Snap-on Tools, Inc. Blue Point is the lower priced brand of Snap-on tools if you want to save a little money, but still want high quality.
Does snap-on warranty blue point tools?
Yes. Blue Point hand tools also have a lifetime warranty – the same as snap-on hand tools. However, Blue Point power tools and electrical products usually have a one-year warranty. Check with the manufacturer for the specific product before purchase.
What country are blue-point tools made in?
Blue Point Tools are primarily manufactured in Milwaukee, USA by Snap-on Tools Inc. However, you will find some Blue Point tools that are manufactured overseas, so you will want to check this before purchasing if this concerns you.
Is Blue-Point as good as Snap-on?
No. Snap-On tools are usually higher quality and more durable than Blue-point tools, but Blue-point tools are definitely the cheaper choice. Still, Blue Point tools are very good when you consider the price compared to the quality.
Is Blue-Point lifetime warranty?
Yes. Blue-point hand tools have a lifetime warranty, but if you're looking for air tools or power tools, you'll get a 1-year warranty in most cases. You must check the warranty for the specific product before purchase.
Conclusion
Both Blue-Point and Snap-On are great tools, but it depends on what you need and what you're looking for. Blue-Point Tools can be a very good choice if you are not a professional mechanic, but are still looking for high-quality tools.
However, if you are a professional technician and want very reliable and high-performance tools that will last for years to come, it may be worth spending a little more money on the Snap-On tools.
Learn more: