While there are a lot of things we think about when it comes to maintaining our vehicles, but one thing you shouldn't overlook is your tires. Not only do they give you the traction you need to keep moving, but when you need to stop on a dime, your tires are what take your vehicle from 60 to 0.
It's an important part of your vehicle, but they're also one of the more expensive parts, so you don't want to learn through trial and error. That's why we came up with this guide to highlight the ten best tire brands you have to pick from.
Not only that, but our buyer's guide will walk you through everything you need to know about tires to help you find the perfect tire for your vehicle.
Disclaimer – This article may contain affiliate links, this means that at no cost to you, we may receive a small commission for qualifying purchases.
10 Best Tire Brands
We know you're busy and ready to get some tires on order, which is why we wanted to dive right into the reviews for you here! If you're not confident in what you're looking for, we recommend jumping down to the buyer's guide before going through all the reviews.
1. Yokohama – Best Tire Brand Overall

If you're looking for an outstanding combination of price and quality and price, then you're not going to top what Yokohama gives you. They deliver outstanding results in every aspect, and they don't cost a ton compared to most premium brands.
Yokohama first started creating tires in 1917, and since then they've developed a well-earned reputation for producing high-quality tires. Yokohama especially thrives in all-terrain and pure off-road tires, but they do have lines for performance and all-season tires too.
No matter what tire option you choose, Yokohama stands behind all of its tires, which is why they have some of the best treadwear warranties in the industry. They're not cutting costs at the expense of the tire, they're producing a great tire through a consistent process which is why they more than earn the top spot here.
---
2. Goodyear – Affordable Choice

When you're thinking about budget tires, a big name like Goodyear likely isn't the first company that comes to mind. But when you look at their wide range of tires, they have tons of lower-budget options for you to pick from.
And the advantage of going with a lower-end Goodyear tire compared to any other budget tire is two-fold. First, you're going with a reliable brand you can trust. They produce reliable tires, and if you have any issues with them, they'll stand behind their product.
Second, they simpler perform better than other low-end tire options. They give you plenty of traction and stopping power, so you're not sacrificing safety by saving a few bucks.
Keep in mind that not every Goodyear tire is a great budget option, as they produce plenty of higher-end and more expensive tires. And with that in mind, don't expect a budget Goodyear tire to perform as well as a Michelin or even the more expensive tires that Goodyear makes. But compared to other tires in the same price range, this is as good as it gets.
---
3. Michelin – Premium Choice

If you're looking for the best tire brand in the world and you don't care about how much you're spending, you want Michelin tires. They're easily the most expensive tires on the market today, but they also have tons of advantages compared to other tire brands.
They offer better traction, shorter stopping distances, and a reduced risk of hydroplaning or losing control of your vehicle in adverse driving conditions. They don't always have the best treadwear ratings, but that's because they prioritize performance above all else.
And while some people think of Michelin as an American company, the truth is that the company is French, and they make their tires all over the world.
---

Continental is another top-notch tire brand, no matter what tire selection of theirs you go with. The first tire rolled out of their Hannover, Germany factory in 1871, and they've focused on producing high-quality tires ever since.
Today Continental still makes most of their tires in Germany, but if you're in the American market they make their tires in an American-based factory.
But no matter where they make their tires Continental offers a wide range of tire options. Whether you're looking for quality tires with higher treadwear ratings or performance tires that can stop on a dime, Continental has some great options for you.
They're not at the top of our list, but they're a near miss and an outstanding bang for your buck.
---

Cooper Tires is a part of the Goodyear Tire and Rubber Company, but that's an extremely recent addition. The acquisition came in 2021, and we've yet to see any impact on tire quality or production at this point.
They make tires for cars, trucks, and SUVs, giving you an option for your vehicle no matter what type of vehicle you drive. They make all-season, all-terrain, and genuine off-road tires, giving you tons of options to pick from.
But simply having a great selection isn't enough to make this list, they need to make high-quality tires too. And in that regard, Cooper Tires delivers. They have manufacturing facilities all over the world, but most of their American tires come from American manufacturing facilities.
However, it is worth noting that they have facilities in Europe and Asia too, including a facility in China where they make truck tires. Still, we haven't seen any quality issues on any of their tires, so there's that doesn't seem to be a major concern no matter where they make the tires.
---

Quick, what tire company makes more tires than any other? If you said Goodyear or Michelin, you're wrong. Bridgestone is the single largest tire manufacturer in the world. It's a Japanese-owned company that produces tons of tires.
They have a massive selection to choose from, and there's a reason they sell more tires than any other brand. They offer an outstanding combination of price and quality with their tires, and if you want premium tires, they offer those too.
While Bridgestone is a Japanese company and still produces many of their tires there, today they have manufacturing plants all over the world, including the United States, Australia, Brazil, and China.
We'd love to put Bridgestone in the top half of our list, but the truth is you really must do your research with Bridgestone tires. While most of them are great, they do have a few lines that are lower priced, but the quality suffers as a result.
---

Few tire companies have a history quite as extensive as Pirelli. Giovanni Battista Pirelli originally formed the company in 1872, and they remained their own Italian tire company until 1988.
In 1988 the Armstrong Rubber Company, an American-based company, acquired the brand. From there the Armstrong Rubber Company started to consolidate many of the subsidiary companies Pirelli had, opting to focus solely on tires. By 2010 the transformation was complete, and Pirelli remains a tire-only company to this day.
But in 2015 the Armstrong Rubber Company sold the company to ChemChina, and today they have a majority share in the company.
Pirelli makes tons of different tire options and has facilities all over the world including Mexico, the United States, Europe, and China. They make high-quality tires, but the performance isn't quite where we'd like it to be for the price.
You could do far worse than Pirelli tires, but we'd recommend going with an option a little farther up the list.
---

Firestone is another massive tire company, but did you know they actually fall under Bridgestone? In 1900 Firestone formed as an American tire company, but 88 years later they merged with Bridgestone, forming one of the largest tire companies in the world.
Unlike many other tire brands, if you have a Firestone tire you know they made it in the United States, you just don't know at which plant. That's because while Bridgestone makes tires in China, they label them as "Fuzion" tires, not Firestone tires.
Firestone remains a higher-quality tire brand, which gives you a lot of confidence when you get one that you're getting a quality tire. Whether you're looking for an all-season tire that will last a long time or a genuine off-road tire, Firestone has an option for you – and they're all high-quality.
---

General Tire is another tire company with its roots in the United States. William F. O'Neil and Winfred E. Frouse originally formed the company in 1915 in Akron, Ohio as the General Tire and Rubber Company.
They remained their own company until 1987, at which time Continental AG acquired the brand for their US market. They remain a high-quality tire brand that manufactures its tires in the United States, but they're just a step behind other tire companies.
They're still a great tire brand that you can rely on, but you'll get a better tire for the same amount of money if you go with another brand. Finally, while General Tires has a pretty decent selection, it's not quite as large as many other major brands.
---

BF Goodrich used to be its own American tire company, but in 1990 Michelin Tires cobbled them up. Now they fall under the French tire auto manufacturer, but they still make some great quality tires.
While they can't quite compete with Michelin tires in performance, they do far better in their price. It's fair to consider BF Goodrich tires as the cheaper Michelins, but because of how high Michelin has set the bar with their tires, that doesn't mean you're not getting great tires.
BF Goodrich makes their tires in the United States of America, which helps ensure a more stringent quality control process for their tires.
Compared to other comparably priced tire brands out there BF Goodrich does great, but when you compare them to the best of the best, they do fall a little short. They're a great tire brand, but we do think you should consider shopping a little bit farther up the list.
---
Tire Buyer's Guide
With so many different tire brands out there, it can be challenging trying to narrow it down to just one. But to help you make your decision you really need to know what you're looking at with each tire.
That's why we came up with this buyer's guide to walk you through everything you need to know about tires to help you pick out the perfect tires from the right brand for your vehicle.
Checking Your Vehicle's Tire Size
Before you go out and order any tires you need to ensure you're ordering the right tire size in the first place. You can go look at the sidewall of your current tires for the size, but if at any point anyone put the wrong size tire on your vehicle you're simply going with another tire that's not right.
Instead, we recommend looking in the door frame of your car. Depending on what you drive the sticker will either be on the driver's or passenger's front door. Not only will this sticker tell you the right tire size, but it will also tell you the correct tire pressure for those tires.
If the sticker isn't there, or you can't read it anymore, you can also check the owner's manual for your vehicle. Finally, if you don't have the owner's manual and you can't find the sticker on your vehicle, we recommend reaching out to a dealership.
Dealerships replace tires on vehicles all the time, and if you tell them what you drive, they should be able to tell you what size tire your vehicle needs.
Understanding Tire Sizes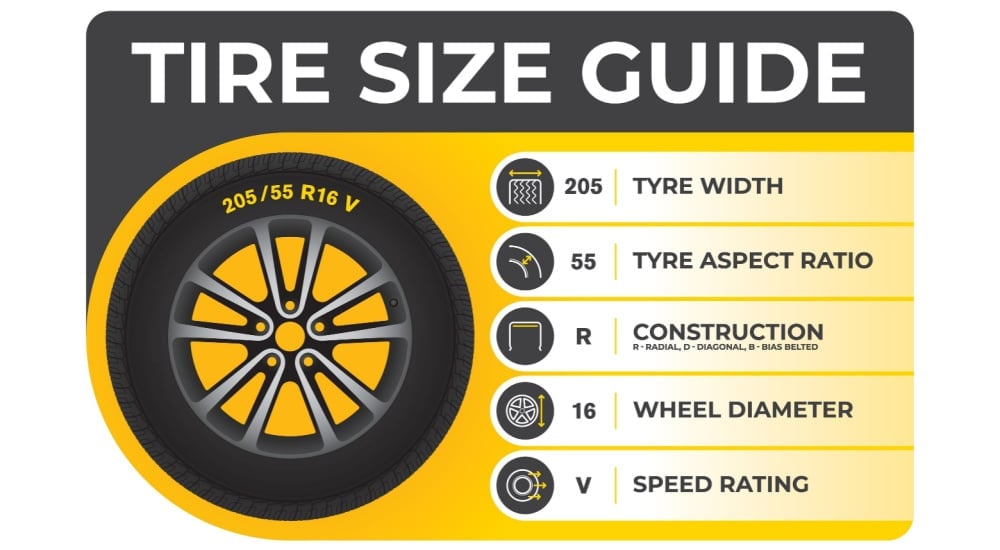 Knowing your vehicle's tire size is one thing, knowing what those numbers actually mean is something else entirely. Each tire size comes with three different numbers and a letter marking in the front.
For instance, the tire size could be P245/65R17, LT255/70R18, or something similar. The first letter combination in the tire size refers to the tire's load rating. Most passenger vehicles require a tire with a "P" rating, for passenger vehicle.
However, if you drive a larger vehicle like a ½-ton pickup truck, you might need tires with a higher load rating. A tire with an "LT" load rating stands for "light truck" and it's all most passenger trucks need.
The next number, either "245" or "255" in our examples above, refers to the tire's width in millimeters. For most vehicles you can change the width of the tire a little, but keep in mind this will also change the aspect ratio of the tire, and you need to ensure that there's still plenty of room inside the wheel well when turning the vehicle.
The next number in the tire size is the aspect ratio. This number is a percentage comparing the height of the tire's sidewall to the tire's width. The sidewall height only measures the tire from the top of the rim to the top of the tire.
If the number is 65, it means the sidewall height is 65 percent of the size of the width of the tire. The "R" in the tire size tells you it's a radial tire. While there are some bias-ply tires out there, most modern tires for passenger vehicles use a radial design.
Finally, the last two numbers tell you the wheel diameter, also known as the rim size. You need to get this number exactly right, otherwise, you won't be able to mount the tire on the rim.
Can You Use the Wrong Tire Size?
The truth here is that it depends. And without a little more automotive knowledge, we don't recommend it. Still, the important thing to check is that there's enough room inside the wheel well.
This means there's plenty of space when you turn the wheel all the way in either direction and that there's enough space for the tire to move up and down with the vehicle's suspension. If you know there's enough clearance you shouldn't have any major problems with small changes in the tire size.
However, you cannot change the wheel size without replacing the rims, and if you do all that you need to adjust the speedometer too. It's really best to stick with the manufacturer-recommended tire sizes for your vehicle unless you really know what you're doing.
Breaking Down Tire Ratings
Whenever you're shopping for specific tires you need to take a look at the UTQG tire ratings. This rating consists of three different ratings that tell you quite a bit about the tires
The first three numbers are the treadwear rating. The higher the number the longer the tires should last for you. For extremely long-lasting tires look for tires with a treadwear rating of about 800, while most tires will have a treadwear rating between 500 and 700. Meanwhile, performance tires might only have a treadwear rating between 200 and 300.
The second UTQG rating is the traction rating. There are four potential ratings here – AA, A, B, or C. The highest possible rating is an AA. The higher the traction rating on the tire, the better.
The final UTQG rating is the temperature rating. While you might think that temperature ratings indicate how well the tires can handle different temperature environments, the truth is that it's an indication of how well they handle higher speeds.
As you drive faster, there's more friction between the tire and the road, and all this friction creates heat. If you want the tire to keep handling well, you need a tire with a higher temperature rating. There are three possible UTQG temperature ratings, A, B, or C.
Tires with a C temperature rating can handle speeds between 85 and 100 miles per hour, tires with a B temperature rating can handle speeds between 100 and 115 miles per hour, while tires with an A temperature rating can handle speeds over 115 miles per hour.
How Long Should Tires Last?
This really depends on the tires you go with. By far the best way to help you figure out how long the tires you're looking at will last is to look at the treadwear rating. This is a three-digit number, but if you "add" an extra two zeros to the end of it, then you should have a pretty good idea of how many miles the tire should last.
For instance, if a tire has a 500 treadwear rating, it should last around 50,000 miles. Meanwhile, if a tire has an 830 treadwear rating, it should last about 83,000 miles. This is far from an exact science, but it's a great general rule of thumb to follow.
While you can look at the manufacturer's treadwear warranty, that only tells you so much. This is especially true if the tire will get you close to the treadwear warranty. At that point, it's a lot of work to use the warranty, and it typically won't cover much anyway.
Finally, no matter how much tread is on the tires you should replace them after ten years. That's because the rubber reacts with sunlight, and over time the tires will dry rot from the inside out.
Inspecting Your Vehicles Tires
How do you know you need new tires in the first place? Well, you should inspect your tires every few months to ensure they're still in good working order. When you're inspecting the tires, there are a few things you should look for.
First, start by inspecting the sidewall. If you see signs of dry rot, it's time to replace the tire. This is true even if the dry rot doesn't seem that serious because tires dry rot from the inside out. So, if you're seeing dry rot on the outside of the tire, it's a safe bet that it's much worse on the inside.
You also want to check for any gouges missing from the sidewall. If you see wire in any of the gouges, you need to replace the tire. Small cuts and scrapes that don't show any wire shouldn't be a problem though.
Next, check the age of the tire. What you're looking for is a four-digit number with a box around it. The number should look something like "2217". The first two numbers tell you the week the manufacturer produced the tire, while the last two numbers tell you the year. If the tire is older than ten years, it's time to replace it.
Once you determine that the sidewall is in good shape, it's time to move onto the tread. The minimum tread depth for tires is 2/32″. To check simply use a penny. Stick Lincoln's head straight down in between the tread. If you can't see the top of his head, it's time for new tires.
Getting the Most Out of Your Vehicle's Tires
When you purchase new tires, you want them to last. And while getting the right tires is a critical part of this, no matter what tires you go with you need to do a few things to get them to last as long as they should. Below we've highlighted four different things you should do to ensure they last as long as possible after they're on your vehicle.
1. Inflating Your Tires
While there are a lot of rumors out there about why you should under or overinflate your tires, the truth is that if you want to get the most out of your tires, you need to keep them at the right tire pressure. You can find the right tire pressure either in the owner's manual or the sticker on the driver or passenger side door frame.
From there check the tire pressure every 3,000 miles or after any significant changes in weather as this can cause the tire pressure to drop. Driving around with low tire pressure for an extended amount of time will increase the amount of friction on the road, which will cause the tread to wear out faster than it should.
2. Rotating Your Tires
While you might think that all the tires on your vehicle will wear evenly, the truth is that they wear differently depending on where they're at on your vehicle. That's why you should take the time to rotate your tires at least once every 10,000 miles.
We recommend rotating your tires with every oil change, so if you complete an oil change more often than that you can complete more frequent rotations. The key is rotating the tires at a consistent interval that way they get a chance to sit at each position on your vehicle for the same amount of time.
3. Keeping Up With Alignments
One thing that you might not think about when trying to make your tires last is the alignment of your vehicle. You need to keep all the tires pointing the same way when you're driving, otherwise one will drag a bit while you're driving.
A slight drag might not seem like much, but it will cause two problems. First, it increases the amount of friction which will cause the tire to wear out faster than it should. Second, it will cause the tires to wear unevenly.
4. Use Balanced Tires
While this really falls on the shop you use to install your tires to begin with, if you don't have correctly balanced tires, they won't wear the way they should.
A reputable tire shop will balance the tires when they install them, but you should still have them check the balance during the rotation process. As the tread wears down, it can throw off the balance, and a quick check will rule out any potential problems here.
How Do Treadwear Warranties Work?
Some people view treadwear warranties as the most useless warranty on the market. And if you don't know all about them beforehand, it can certainly feel that way when you try to use it. There are a few factors that go into treadwear warranties, and if you're trying to collect on a treadwear warranty, you'll need a few things.
First, the tire company wants to know that you maintained the tires the way you should. This means you need to keep track of all the times you rotated the tires, preferably with receipts. Next, you need to ensure you keep the tires properly inflated, and that your vehicle has a proper alignment.
Even after you do all this, you need to know that treadwear warranties are prorated warranties. For instance, if your tire has a 50,000-mile treadwear warranty but they run out of tread after 40,000 miles, you got 80 percent out of the tire's life.
When the tire company goes to put new tires on your vehicle, you'll still have to pay for 80 percent of the tire. If you need to use a treadwear warranty it can be quite a bit of work, and you're only going to get a discount on the next tires.
That's why it's a better idea to look at treadwear ratings when you're trying to figure out how long a tire should last. These ratings come from an independent tester, giving you a pretty good idea of how long the tread should last.
Finally, keep in mind that both treadwear warranties and treadwear ratings don't last as long if you have different-sized front and rear tires. You can't rotate the tires properly then, so you should cut the treadwear ratings and warranties in half if this is the case with your vehicle.
Final Thoughts
The next time your vehicle needs tires, don't settle for anything but the best. Because while you might be able to save a few bucks by going with some knockoff tires that didn't make our list, you'll only end up replacing them sooner and they won't give you the traction or stopping power you want.
If you're lucky, that's the end of it, but if you're unlucky, you won't be able to stop your vehicle on time and you'll get into an accident. With any of the tires on our list you'll get everything you need from your tires, so don't settle for anything less!
Learn more: