Are you looking to enhance the abilities of your high-performance car? In that case, the first thing you should consider is a performance tire. A bad performance tire will be dangerous when you are trying to touch high speeds on highways.
But, why should you invest in a performance tire? The answer is simple – better traction, enhances cornering ability, and it complements high speed. If you find the extensive range of performance tires to be mind-boggling, you've landed in the right place.
This article digs into a list of the eight best performance tires for both summer tires and all-season tires. There's also a buyer's guide to help you understand all the features. Let's see what characteristics make these performance tires so unique and worthy of your time and money!
Disclaimer – This article may contain affiliate links, this means that at no cost to you, we may receive a small commission for qualifying purchases.
Are you in a hurry to grab the best performance tires? Check out our top three picks!
Best Overall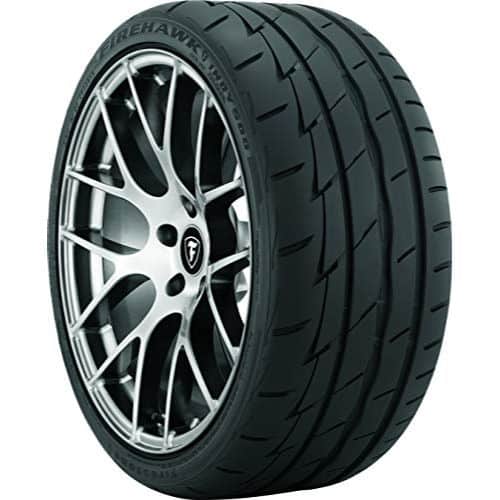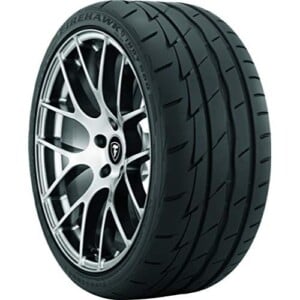 Firestone Firehawk
A very high-performance tire with great grip on dry roads and on tracks.
---
Premium Choice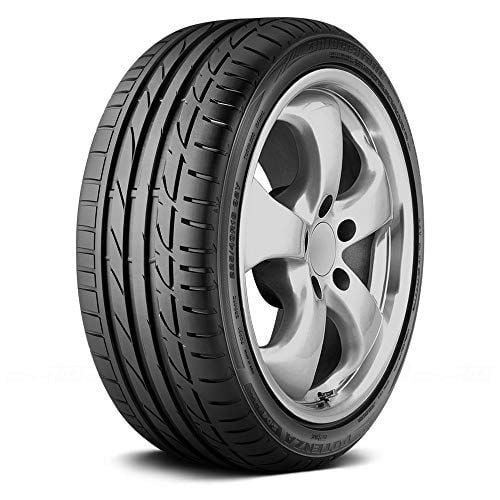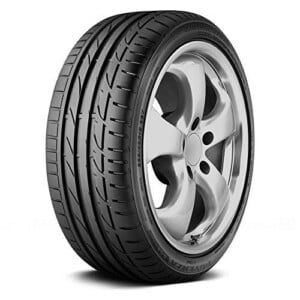 Bridgestone Potenza
Top-notch performance tire for those who want the best on the market.
---
Top 10 Best Performance Tires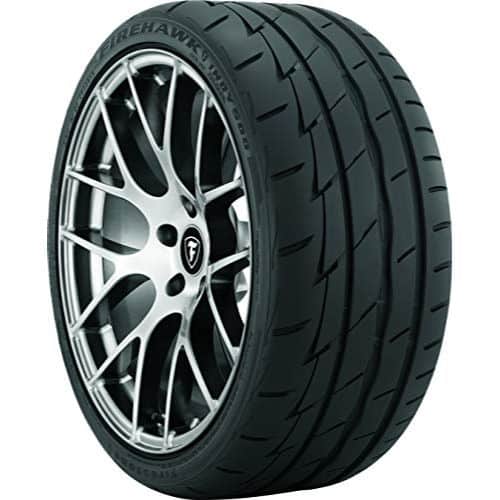 There are different kinds of performance tires, but a high-performance type is one of the most versatile. If you own a high-performance car, this Firestone Firehawk Indy should be on your wish list. Despite belonging to the mid-budget category, this one offers both quality and value.
The Long Link Carbon compound molded treads are silica-enhanced. It includes a wide shoulder block that delivers an asymmetric tread design. Such a pattern is capable of aggressive cornering and handling. Most drivers will appreciate this design, especially on dry roads.
The internal structure of this tire has a polyester casing. This casing hides under highly-tensile, twin, steel belts. The manufacturer has reinforced them with nylon to make the tires more responsive, stable, and enduring.
The circumferential groove adopts the classic Pulse Groove Technology. This technology enables the tires to have a better water evacuation. There are additional grooves that limit the tire's stopping distance on wet courses.
A significant drawback of buying the Firestone Firehawk Indy is that it does not offer a tread life warranty. Due to the lack of warranty, it is challenging to determine the tire's lifespan.
Pros
Superb handling in dry roads
Reliable cornering at high speed
Combination of affordability and quality
Aids high-speed driving
Cons
No tread life warranty
Less maximum weight capacity
---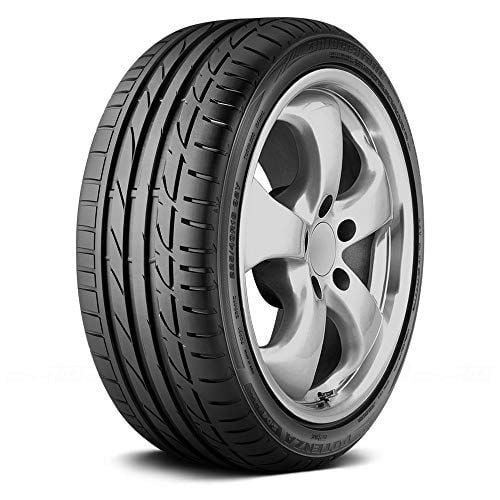 Before you add any other performance tire to your cart, take a look at the Bridgestone Potenza. Are you looking to improve your car's abilities? In that case, this Bridgestone Potenza is precisely what you should consider. You can expect top-notch performance from these tires.
It's important to note that these tires are equally reliable on dry and wet surfaces. The tread design is asymmetric with circumferential ribs, broad outboard shoulders, and interlocking blocks. This type of structure enables better steering response and more stability for high speed.
These tires can ace hydroplaning resistance, all thanks to the wide circumferential ribs. The rib also contributes towards minimizing noise and enhance the wear quality. The unique intermediate ribs have a high-angled tread block. This structure has longitudinal stiffness.
We recommend this tire for high-performance sports cars, coupes, and sedans.
Though the tire has exceptional abilities, all buyers may not agree with the price tag. Additionally, the manufacturer skips the tread life warranty on this tire.
Pros
Delivers a comfortable and convenient ride experience
Enhanced treadwear lifespan
Exceptional hydroplaning resistance
Features a lightweight design to achieve high speed
Cons
Premium pricing may not suit everyone.
No tread life warranty
---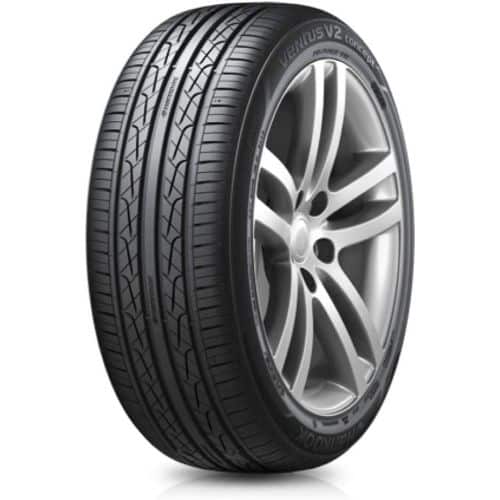 The Hankook Ventus V2 Concept 2 can be the perfect performance tire without burning a hole in your pocket. If you own an exotic and extravagant supercar, this stylish tire will not look out of place. All automotive enthusiasts agree that this budget tire is one of the best in its category.
In terms of traction and grip, the V2 Concept 2 can compete with any premium offering. Moreover, you can trust the tire to be great on dry roads. Because of the tiny price tag, the manufacturer seemingly compromises on the responsiveness.
The manufacturer also needs to improve the braking distance. On the brighter side, buyers will have a 45,000-mile tread life warranty on this tire. Considering that it is a low-budget option, that kind of warranty is surprising.
Also, the grip and traction are marvelous during harsh cornering. We also love how the Hankook Ventus V2 Concept 2 feels so plus and quiet. This performance is a right away bang for the buck!
Pros
Fantastic traction and grip while cornering
Quiet and smooth rider experience
Robust treadwear warranty for 45,000-mile
Apt for buyers on a budget
Cons
Average responsiveness
Braking needs improvement
RELATED: Run-Flat Tires – Pros, Cons and Information
---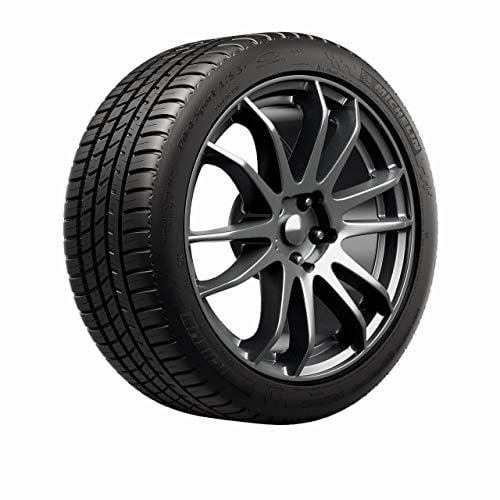 Michelin is one of the leading names in the automotive industry that has a vast user base. This French company offers an unparalleled steering feel. You'll have a positive experience with his ultra-high performance, all-season tire.
The tires respond to the input blazingly quick. We have to appreciate how Michelin designed this tire to sync with the driver's on-road habits. If you like to speed while driving on the highway, this tire can help you with that.
Braking and cornering happen to be the specialties of this Michelin tire. Traction and grip will be the least of your worries when using the Pilot Sport A/S 3+. Besides, the tire also has high-speed stability.
These tires won't compromise performance in rainy weather. Braking and traction on wet surfaces are quite effortless with this tire. Moreover, you can also use them for light snow conditions.
Most importantly, the 45,000-mile tread life warranty is a desirable addition. All in all, the Michelin Pilot Sport A/S 3+ is a game-changer.
Pros
Offers the best responsiveness in its category
Braking, traction, and grip are excellent.
Exceptional 45,000-mile treadwear warranty
Reliable on light snow conditions
Cons
Falls in the expensive category
---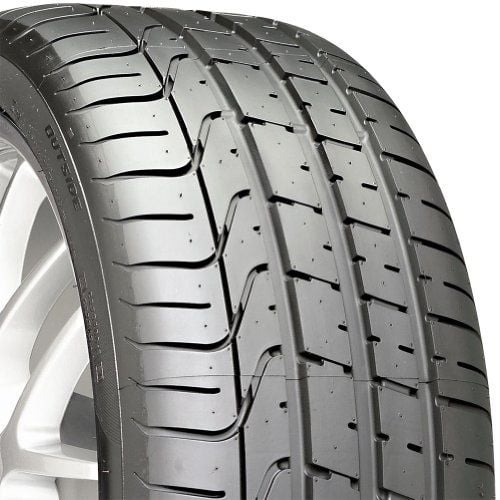 Pirelli is a famous Italian brand that enjoys a broad user base owing to its P Zero range. The P Zero All-Season plus tires will certainly not disappoint you in most departments. Like the Michelin Sport A/S 3+, this Pirelli tire also has a pretty good steering feel and responsiveness.
The manufacturer designed this product to be reactive to the driver's input. It maintains good communication with the driver at all times. P Zero All Season Plus is also a potential choice for driving at wet pavements. You must know the winter traction is not that great.
Generally, the high performance tires are not that great with noise and comfort. However, this one is far from being noisy and very comfy. What's more, these tires also have a marvelous 50,000-mile warranty.
We appreciate the asymmetric tread design on this performance tire. Its nano-composites let the tires have a better grip than its rivals. Pirelli also takes care of water drainage with the Y-shape tread pattern.
Pros
Sharp responsiveness
It comes with a 50,000-mile warranty.
Tread life is beyond expectations.
Comfortable and quiet despite being a high-performance tire
Cons
Braking and traction on wet surfaces need improvement.
RELATED: 10 Best Tire Shines
---
The BFGoodrich g-Force Comp-2 A/S Plus is one of the most budget-friendly performance tires out there. This tire manages to deliver a better performance in winter conditions better than its predecessors.
Responsiveness is a crucial benefit of buying this tire. Drivers will feel a lot of control and comfort with the steering wheel.
These tires offer traction and grip in the best possible way for all kinds of surfaces. This type of responsiveness and traction make this tire an ideal choice for all roads.
The rigid and large tread blocks help to optimize the tire for a dry grip. Moreover, these tires follow an Equal Tension Containment System for better high-speed traction.
However, the tire is not at its very best when it comes to ice and snow. If you are looking for snow traction, you have to look further.
On a positive note, this tire is noise-free and plush on highways. Additionally, the manufacturer is also offering an extended 45,000-mile treadwear warranty on these tires. This BF Goodrich tire is the ultimate blend of look and functionality.
Pros
long 45,000-mile warranty
best in class handling ability
carries a reasonable price tag
comfortable and smooth experience
Cons
Struggles to deliver on ice and snow
---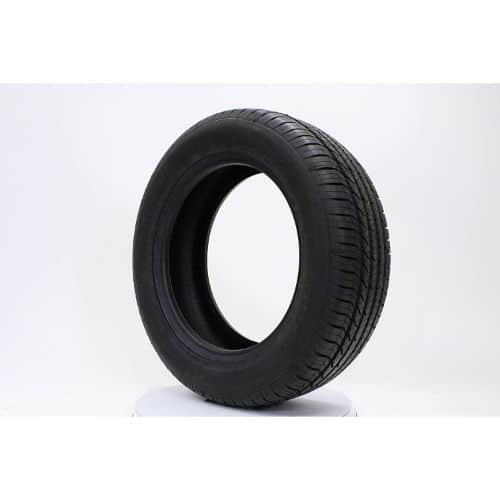 The best decision Goodyear took for this performance tire is to include RaceWrap Construction Technology. Why? It is because NASCAR uses the same technology for their Eagle Race tires. This technology has a polyester cord encapsulation at a slight angle. It wraps around the structure and ends beneath the steel belts.
Owing to this unique technology, the Eagle Sport has the best responsiveness amongst competitors. This tire can communicate with the drivers pretty well. Besides, its stiff design dispenses high-speed stability.
Over dry pavement, the grip and traction are beyond expectations. Plus, this tire also handles hydroplaning resistance for rain conditions, just like we expected. However, Goodyear needs to work on improving snow traction for this tire.
When it comes to comfort, the Goodyear does not stop to impress. Note that the tires are a bit noisy at high speeds. The best part about buying this tire is the 50,000-mile treadwear warranty. We highly recommend that you get this Goodyear tire for your next vehicle upgrade. These are probably the best performance tires for daily driving.
Pros
High level of traction and grip
Great 50,000-mile treadwear warranty
Hydroplaning resistance is impressive.
Great responsiveness
Cons
Unsuitable for snowy weather
---
---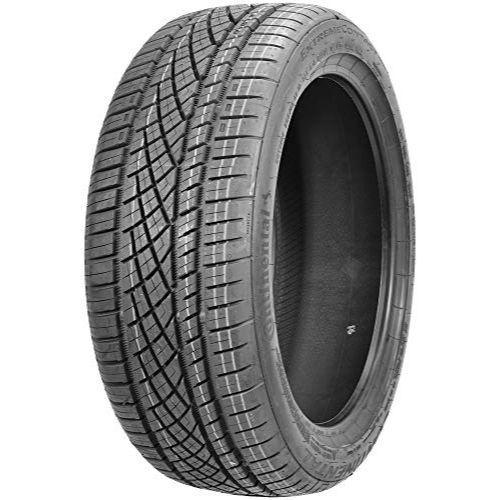 The Continental tire is a fantastic option for all those searching for an ultra-high-performance all-season tire for all weathers. All automotive owners know that a tire that is great on wet courses is a rarity. However, driving on wet surfaces will become much safer with this tire.
This tire aims to provide consistent and reliable traction and grip during rainy weather. On top of that, the brakes are exceedingly noteworthy at all times. Control is another benefit that buyers can expect to achieve with this tire.
This all-season Continental ExtremeContact DWS06 works well for driving in light snow conditions. This Continental tire also employs unique tread indicators. These indicators will alert you when the tire is unable to handle snow driving any longer.
Surprisingly, cornering on dry surfaces is not a problem with the DWS06. Along with good responsiveness, this tire also excels in traction and grip. The tires are giving stiff competition to its rivals when it comes to speed stability.
With a 50,000-mile warranty, we don't see any reason to drop a performance tire like this!
Pros
Traction and grip is reliable on dry tarmac
Satisfactory performance on light snow
Crisp and responsive steering
50,000-mile treadwear warranty
Cons
Noisy operation on the highway
---
Performance Tires – Buyer's Guide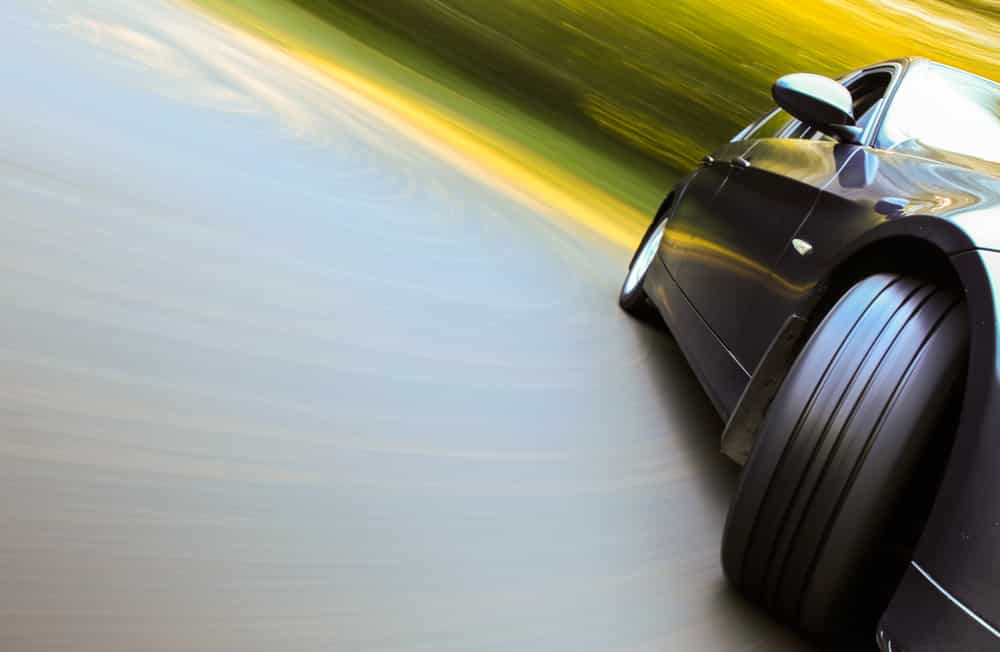 To aid your search for the best performance tire, we've rounded up some critical considerations. Buying the best performance tire does not end with just exploring the list of best. If this is your first time purchasing performance tires, this buying guide will be even more insightful.
Performance
Though most performance tires claim to be all-season, they are not good with all types of surfaces. When it comes to performance, it is better to consider personal requirements. If you live in a region with heavy snowfall, you should look for tires with enhanced snow traction.
Additionally, the tire you pick should be able to deliver a comfortable and noise-free experience. Many performance tires tend to be very noisy, especially at high speeds. The tread design is one of the significant components that relate to noise.
Construction
You must not forget to consider the construction of your new performance tires. These tires use a low-rubber and stick compound for their structure. This material enhances stiffness levels and heat resistance in the tire.
The tire must be elastic and consist of intricate patterns. This feature will improve their ability to hold on to dry and wet roads. Especially during the rainy season, you should have a performance tire with shallow treads. A shallow pattern is better at handling and acceleration.
Type
Performance tires are not as simple as they sound. There are three different types of tires that you can buy – ultra-high-performance tires, high-performance tires, and grand touring summer tires. Each this tire has a specific purpose and application.
For example, the high-performance tires promote fuel efficiency and more traction on wet and dry surfaces. On the other hand, ultra-high-performance tires prioritize traction, response, handling, and cornering.
If you own a luxury sports car and looking for all-season traction, grand touring summer tires are the best bet. Though all these tires have plenty of benefits, they also come with a few drawbacks.
Tread Life
The tread life is one of the most significant attributes of a performance tire. Unfortunately, performance tires are not the best when it comes to tread life. Most premium tires may not offer you a tread life warranty for this reason.
However, if you are looking for tires for heavy-duty usage, it's better to stick with a warranty. All though, no warranty does not mean that performance tires compromise on their features or abilities.
Fuel Efficiency
Tires that have low rolling resistance can save more fuel. Low rolling tires do not take plenty of force to stop, start, or accelerate your vehicle. You can determine the rolling resistance by the contact patch size. The contact patch is the flat portion that bears the weight of your car.
The round and small contact patch in the performance tire can save more fuel. As a result, you can achieve fuel efficiency with performance tires.
Bottom Line
Now you have all the information you need to buy the best performance tire confidently. The list of the best performance tires above only includes the best performers. All the tires and brands have made sure to offer the best features to justify their price tags.
If you ask us, the Firestone Firehawk Indy is the ultimate performance tire. Along with being a mid-budget option, it has all the features to compete with premium offerings. However, if you are looking for something more budget-oriented, you can go for the Hankook Ventus V2 Concept 2.
With these great wheels, driving your car will be less stressful and more enjoyable! 
What is the best performance tire?
Bridgestone Potenza is the performance tire you should choose if you have a great budget and want a really high-performance summer tire.
What is the best high performance all season tire?
Goodyear Eagle Sport All-Season is a really high performance all-season tire if you are looking for a mix between performance and comfort.
What are high performance tires?
High performance tires are tires that can handle great speeds and have good quality and grip. Often it is referred to a little bit more expensive tires that are of superior quality.
Do I need high performance tires?
If you are often driving pretty fast on highways or on curvy roads, it is recommended to have high performance tires. It is a valuation of the money vs. if you drive fast.