There is no harm in pursuing your hobbies when you are just a child and there is certainly no harm indulging in your favorite hobby when you have grown old.
People judge and they never stop. You just shouldn't be fazed by any judgment. Do what you love to do even if it is racing toy RC cars for fun. Yes, RC cars!
They are still a big thing even though they have been around for a long time now. In fact, they have become bigger and better with professional tournaments being held across the globe throughout the year.
This is the perfect time to rekindle your RC car hobby if you have been out of the game for a while. But before you do anything you need to refresh your equipment.
You need to buy the latest RC car. There are a lot of things to consider before you buy one like what type of RC car is best for you? Which one is the fastest? Which is the most stylish looking?
Disclaimer – This article may contain affiliate links, this means that at no cost to you, we may receive a small commission for qualifying purchases.
The 9 Best RC Cars in 2023
1. Redcat Racing Lightning RC Car
1:10 4WD Drift Car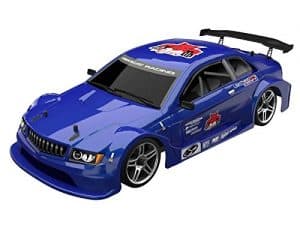 If you are looking for a furiously brilliant RC car to restart your hobby then the Redcat Racing Lightning Pro is made for you. This car has a brushless electric motor, which means there is immense power going to its wheels. You can race on a straight track or go drifting with your friends and you won't feel your car lagging behind. The remarkable design of the car gives it great aerodynamic capabilities. Its 1/10 scale size makes it a perfect car for both adults and kids. They can enjoy the Lightning Pro in an all-blue livery or in a red finish.

This RC car has a fascinating body made of polycarbonate, forward and reverse transmission gears for effective movement and it comes with an efficient 7.4V 3500mAH Li-Po battery and charger. What makes it a class above other RC cars is its break-neck (by RC standards) top speed of 40 mph! The 2.4 GHz radio transmission system ensures you are able to guide and control the Lightning Pro effortlessly without any hindrances from other remote controls.

The manufacturer has also provided aluminum capped oil filled shocks on all four wheels. The suspension is adjustable and robust so that your car is stable at top speeds. Perhaps, the best thing about it is that it is Ready To Run (RTR) straight out of the box.
What impressed us:
Very high top speed
Exquisite design
Decent battery life
Key features:
Ready To Run
Stable ride at high speeds
2. Traxxas XO-1 Supercar RC Car
1:7 Professional AWD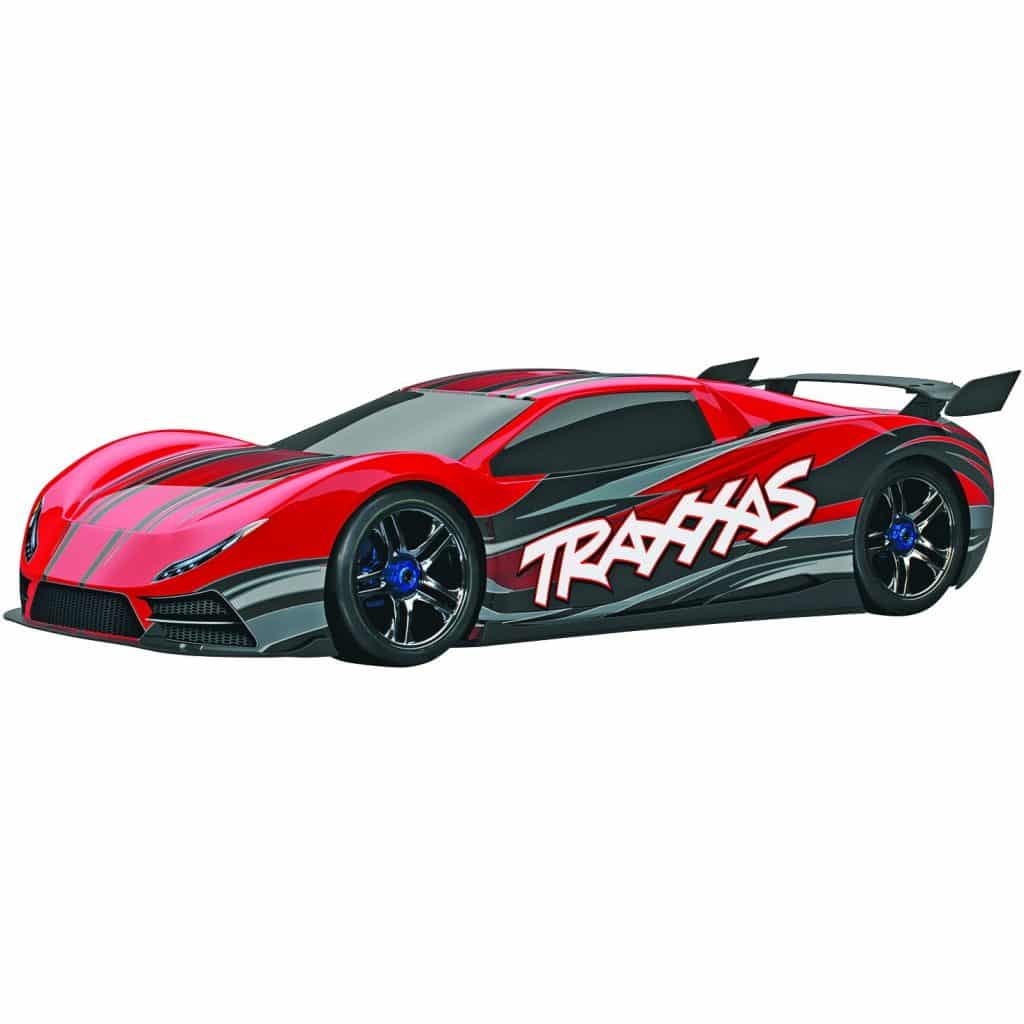 The Traxxas XO-1 Supercar is where it gets serious. It is built for anyone who is daring and willing to handle an electric RC car, that can reach speeds touching 100 mph in a matter of seconds. In short, the XO-1 is a perfect and complete RC racecar. It is fast, relentless, and unmerciful. It is also the most expensive and fastest RC car on our list period.
Most RC cars are found in 1/10 scale or 1/12 scale models but the XO-1 is a mighty 1/7 scale RC car. It is built for those who are looking to go professional. Certainly, nothing that would be suitable for kids.
How are speeds of 100 mph possible? Well, there are several contributing factors like the unique aerodynamic shape that helps create enough downforce to keep the car stuck to the ground. The extremely flat bottom of the car lets air pass smoothly reducing drag and facilitating insanely high speeds. If it weren't for the design the supercar would have easily lifted in the air before gaining any speed. The XO-1 in one word is, dangerous. You can obliterate the car in a nano-second if you make one wrong move while accelerating. Therefore, we recommend you only put your hands on it if you are an experienced campaigner.
What impressed us:
Insane top speed
Impressive aerodynamics
Key features:
1/7 scale model
Large rechargeable battery pack
3. Traxxas Rustler RC Car
1:10 2WD Stadium Truck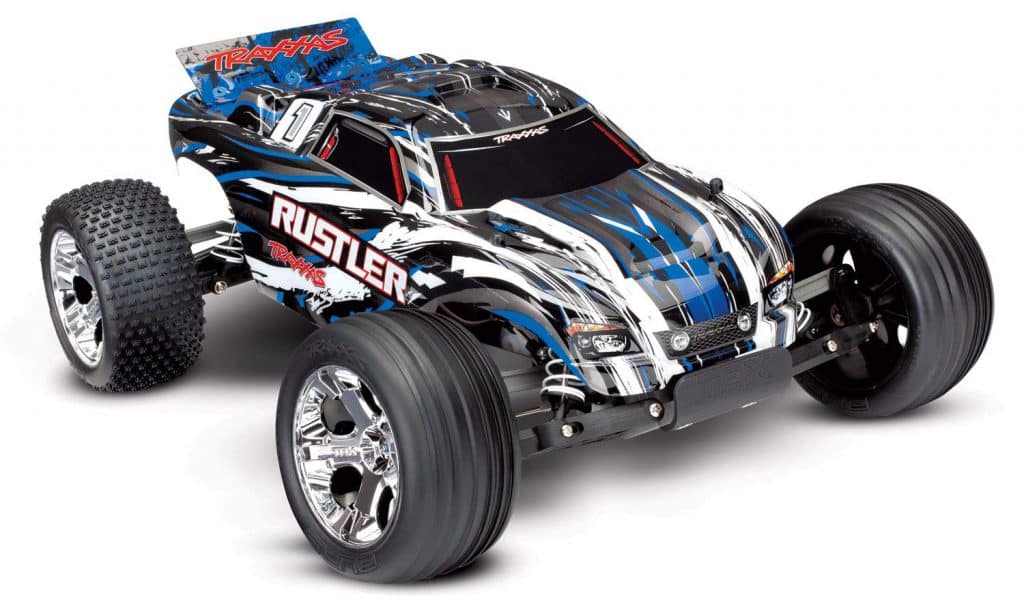 We know by now that Traxxas is a company that makes RC vehicles for true professionals and people who would like to go big. They have small-sized brushed vehicles for beginners and intermediates and then they have relentless brushless motors. No matter what you decide to buy from Traxxas it is bound to be of top quality and durable. One such car is their entry-level Traxxas Rustler Truggy.
There are only praises about this car since Traxxas has put all their heart and soul into this car. The Rustler is a wide-body Truggy. This means that it is a mix between, the best of both worlds, a truck, and a buggy. Such a design helps keep the center of gravity low while also allowing you to reap the benefits of the truck body style. Not only can you attempt both low and high jumps you can rest assured that your car will land softly back on the ground without losing stability.
The base model can touch speeds of up to 35 mph, which is pretty decent for an RC car. And in the event you break or damage anything there are spare parts available so you can change faulty parts whenever you like. The RC car is rear-wheel drive so you can even try to drift with it if you are good enough, but you can be assured that this car will never fail on any kind of surface you drive on.
What impressed us:
Cheap car with good design
Great entry-level RC vehicle
Key features:
Decent top speed
Not too expensive
4. Traxxas Mustang GT RC Car
1:10 AWD Race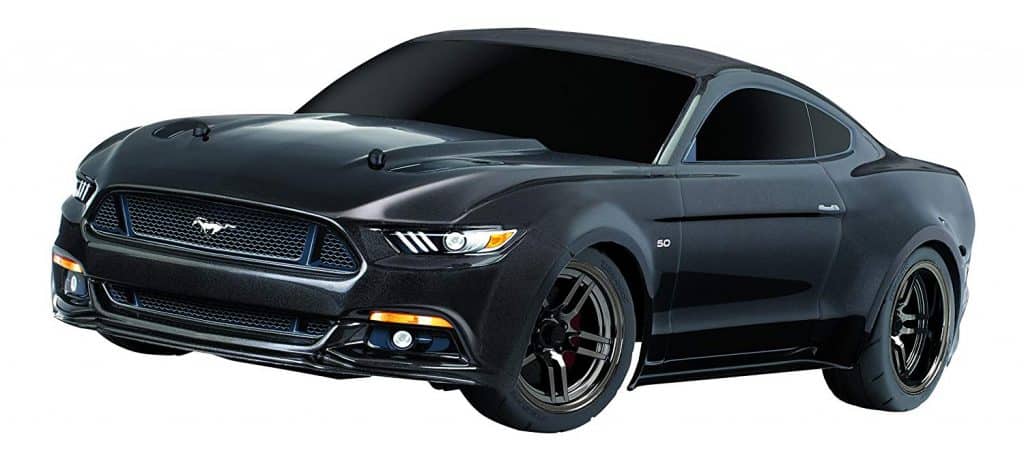 There is something for everybody in our list, which means if you are a Mustang GT enthusiast you are not going to be disappointed. The well-known RC company Traxxas has built a Mustang GT look alike which not only looks the same but it performs like a beast as well. If you can't afford a Mustang in real life, your best shot is with this RC car as it is also officially licensed by Ford.
The RC car has 4-wheel drive and relentless acceleration. The aerodynamics are better than the full-size car since the ground clearance is only 0.3 inches! With such low ground clearance, you can reach insane top speeds in a matter of seconds. The RC car does 30 mph when conditions are favorable and it keeps all the electronics safe inside as the ESC is waterproof and so is the receiver box. Take it out in damp conditions and your friends will be deeply impressed by its all-weather performance.
The 2.4 GHz radios system ensures quick response and long-range signal strength. The rubber tires are made for concrete so while you cannot take this car off-road you can have equal amounts of fun driving it on flat surfaces.
What impressed us:
1/10 scale model looks exactly like the real thing
Waterproof components
Key features:
Official licensing form Ford
Built for concrete and flat surfaces
5. QUN FENG RC Lamborghini Veneno RC Car
1:24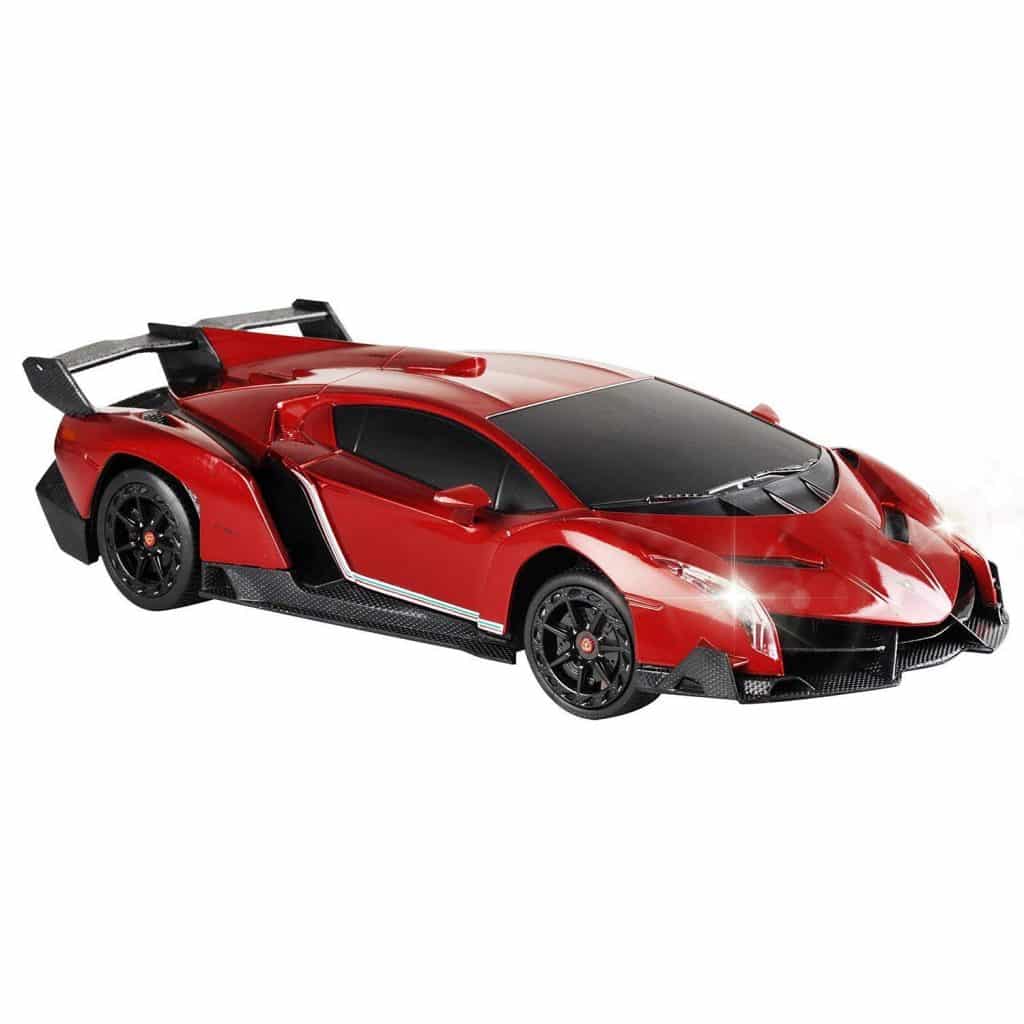 If you are looking for a cheap option for your kids then the QUN FENG Lamborghini Veneno replica RC car is a great option for you. Whether it is someone's birthday or it is welcome home gift you are looking for, the Lamborghini Veneno suits every occasion. Any boy would be excited to have one and for the right reasons. The car is designed to look like an expensive race car. If nothing, this car can impress just by its looks. It doesn't have to be very fast or have great suspension. This car is built for kids to have fun and it is cheap!
The RC car has a top speed of 10 mph so it is certainly not for those looking to compete at tournaments. Since it is a licensed Lamborghini model the attention to detail is phenomenal.
What impressed us:
Looks exactly like the real car
Extremely cheap
Key features:
Licensed by Lamborghini
10 mph top speed
6. Everest-10 Rock Crawler RC Car
1:10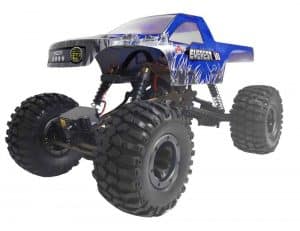 Are you looking for a truck that is insurmountable in terms of its off-road capabilities? Are you into monster trucks? If the answer to these questions is yes then you have come to the right place. The Everest-10 rock crawler does exactly what it is supposed to; it conquers rocks and hilly terrain without breaking a sweat. In terms of design, there is not much to adore since there is no cockpit. The top is basically just a piece of plastic shaped like a monster truck made to hide the inner mechanics.
The real gold is hidden under where all the mechanics lie.
At first glance, you would notice the huge tires. These are made from non-slip material so the truck doesn't lose traction when climbing steep hills. The wheels are connected with shocks via a strong frame made of metal. The extremely rigid frame makes the ride stable and reduces shaking. The Everest-10 does not move that fast, after all, rock crawling is all about control and not about who climbs faster. That doesn't mean that a powerful motor is absent.
What impressed us:
A true monster truck like appearance
Upmarket suspension
Key features:
Powerful motor
Decent battery life
7. Hosim ZK-01 RC Car
1:12 2WD All Terrain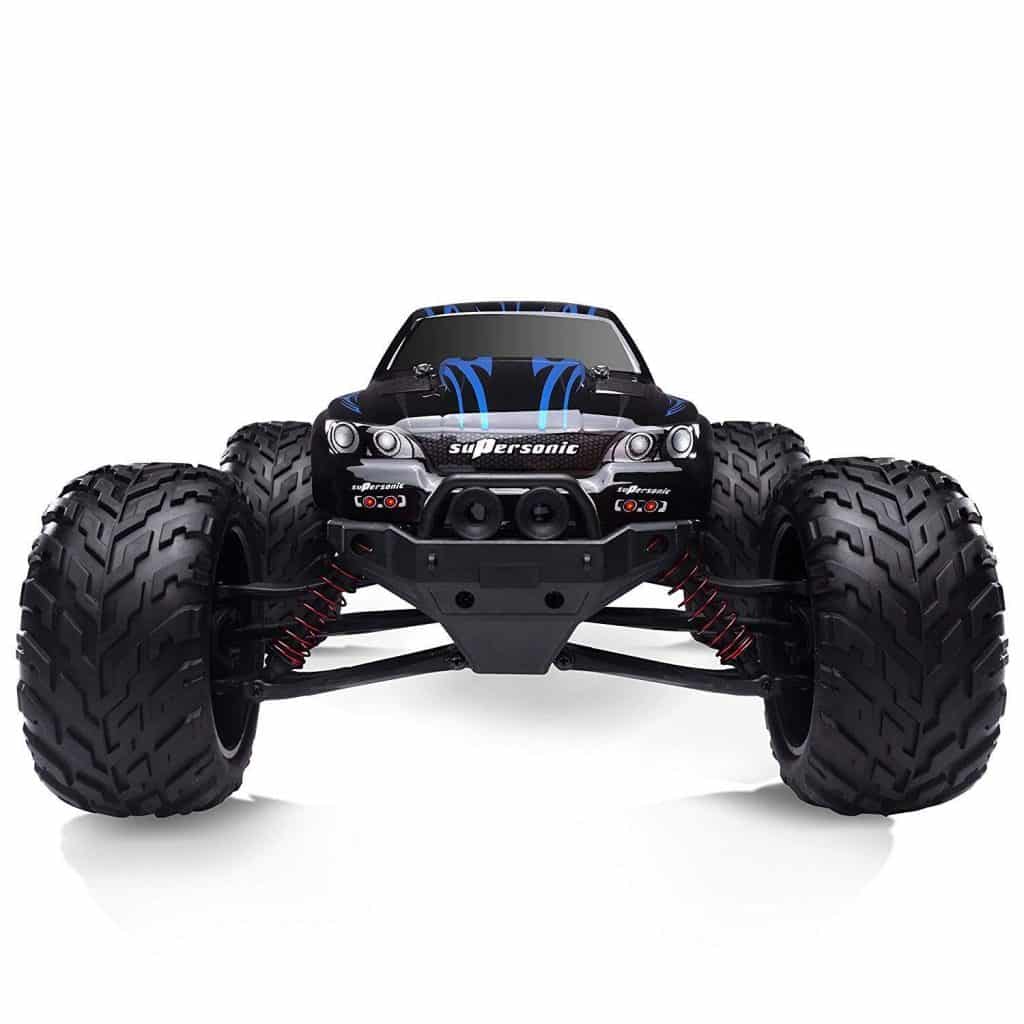 The Hosim ZK-01 is a 'wide-stance' all-terrain RC car. We emphasized wide-stance since there are not many RC cars in the market. The wide-stance allows the car to have a low center of gravity while assisting maneuverability. The ZK-01 is extremely cheap and one of the best budget RC cars around. Most other RCs are priced way higher while having the same features.
There are many things to admire, but considering the low price, it is admirable that this RC car has a top speed of 33 mph. The four big off-road tires provide exceptional grip on all kinds of surfaces. You get a 2.4 GHz remote controller with the car that lets you control it from around 260 feet away. While the Hosim ZK-01 is not made for professional tournaments it is a great option for the casual RC racer. That is primarily because the battery is not that great. You only get a good 15 minutes out of it before it has to be recharged.
What impressed us:
Competitive price
Impressive range
Key features:
33 mph top speed
Wide-stance for added stability
8. HBX Rampage RC Car
1:18 Small All-Terrain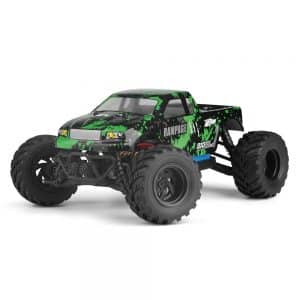 If you are looking for a small-sized RC truck for your children then the HBX Rampage truck is made just for you. It's 1:18 scale body is small enough for kids to handle and it can operate easily in crowded places. However, do not be fooled by its size since this small truck has a strong RC380 motor and 4WD capability to edge past the competition. The Rampage truck has all the necessary mechanical parts needed to make an RC truck versatile. It has classic ball bearings, solid gear differential, and independent suspension to make it a fun drive. You can operate the Rampage from about 280 feet away. This extended range allows your kid to have fun while staying at a safe distance.
The Rampage RC truck is waterproof and it has a large battery pack. The 7.4V 650 mAh battery runs for a decent amount of time before you need to recharge it. You can even remove the battery from the vehicle to replace it with a new one. Your machine becomes ageless if you keep it well maintained.
What impressed us:
Small size but powerful machine
Impressive top speed
The ability to function in all kinds of terrain
Key features:
Rechargeable and replaceable battery
Waterproof construction
9. Epoch Air RC Car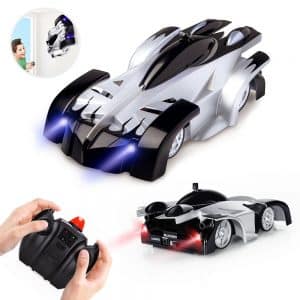 Diversity is strength and that is exactly what we are looking at with the Epoch Air RC car. Cars drive on the ground because gravity doesn't allow them to go anywhere else. What if we tell you, you can break these bounds and drive on the walls and even on the roof? How? Epoch Air is your answer.
This car is really the car of the future with a design that really depicts the imagination we have for a futuristic car. The exterior design has nothing to do with sticking the car to the roof. The Epoch Air actually has a suction set underneath the floor of the vehicle that creates a vacuum when activated. The result is that the car is able to stick to the roof without falling. That's not all as the controller can allow the car to move in every direction. It is truly a versatile car that is built for kids. All the important pointers that are important in a professional RC car are missing in the Epoch Air so it is true that if you are looking for a professional car then this is not one for you.
What impressed us:
Can drive on the walls and roof
Relatively cheap
Key features:
Ready to Run
Performs 360 spins
10. NQD RC Car
4WD Off-road Rock Crawler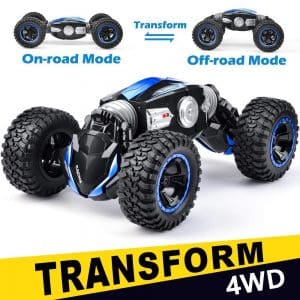 NQD has made quite a few great RC cars that deserve applause. The company makes great strides when it comes to innovation. As a result of their hard work, they have built a new kind of RC car. The NQD RC car has the best of both worlds. It can switch between being an on-road car to becoming an off-road car all in a matter of seconds.
The great thing about this car is that you can drive it both ways. There is no one correct side. You can just press a button and the car will switch over and start running. That is all thanks to its bionic spine that can bend any which way. The 2.4 GHz remote controller allows you to control the vehicle from 260 feet away which makes it versatile. To top that off, the car has been given the 4WD capability for maximum off-road fun.
The NQD RC car is equipped with a 4.8V 700 mAh rechargeable battery that lasts decently long so you can continue with your off-road adventures.
What impressed us:
The 2-way driving function is wonderful
New design
Cheap and affordable
Key features:
The car can transform seamlessly
Bionic spine makes the back flexible
Ready to run
Things to consider before buying your RC car
There are literally many factors to consider before purchasing your very own RC car. You have to look at the many different features, the impressive parts, and the price. We can make the decision easier for you by telling you about the main things that are important about an RC car. With our help, you will be able to narrow down your choices.
Type of Car
RCs can either be on-road or off-road types. They can be trucks, buggies and even be replicas. You need to figure out where you will be driving your RC car more before you buy one. If you intend to drive the car on different terrains then you are good to buy an off-road RC car otherwise an on-road car would suffice. You can even work with a car that can transform between being an on-road and off-road car. The type of crowd you are looking to impress should also be kept under consideration since a replica would be impressive when you are showing off with your friends but it won't perform well in a professional arena.
Scale
The scale of an RC vehicle is compared with life-size vehicles and so for comparison, they are rated on a ratio scale. For example a 1:10 scale car would be quite big since it would only be ten times smaller than a full-sized car. The smaller the scale the better it is for you in terms of maintenance costs. There are some RC cars that are large sized like 1:5 or even 1:4 but these cars require more maintenance and it is like you own another car.
Speed
You need to decide whether you want an RC truck or buggy simply to pass time or if you want to drive one professionally. Based on your idea, you can pick an RC car that matches your needs. The faster it is the more difficult it will be to control it however you will do better in competitions. You don't need a quick RC vehicle for casual fun. Simply anything would do.
Battery Life
It's all fun and games until the battery runs out, which is why it is integral for an RC car to have a long-lasting battery. Manufacturers put different kinds of batteries in their RCs. Some even put two batteries inside to improve the run-time. In any case, you won't be able to get more than 40 minutes out of a battery-operated RC car.
Price
Perhaps the price is the most influencing factor. You can compromise on anything but when it comes to price you do not have a choice. So, before you go on to browse ten best RC cars keep in mind your budget so you can make a wise decision. RC cars are usually priced from $50 – $1000. The more expensive it is the better the features will be. In our list, you will find RC cars that belong to each price bracket. A wide range of cars can help you better weigh the features that come with them. It is only after you compare the various features can you really understand how the price is the main deciding factor. Furthermore, it is for you to decide your budget. You don't want to make up your mind about an RC car and then end up being disappointed when you finally see its price.
Resources: