Looking to unwind and just have fun with your family and friends?
Well, there is probably nothing better than racing some RC vehicles to pass some quality time. Some people say that radio-controlled cars are toys for kids but that is a debatable notion since adults equally enjoy racing them.
There are tournaments held each year where professional RC car racers partake and compete with each other. Since they are professionals though, they usually make their own RC trucks or buggies, or they just buy the best product on the market.
Of course, we do not expect you to start building RC cars from scratch, which is why we have prepared this handy list of top 10 best RC trucks and buggies you can buy from the market right now.
You can choose any RC car from our list and start your very own journey to become a professional RC car racer or you could just get one to impress your friends.
There are many things to consider before you purchase your RC truck such as the brand, price, and user feedback. No matter what your budget there is one RC truck or buggy on our list for everyone.
The Best RC Truck & Buggy in 2022
1. NQD RC Truck – Best Budget RC truck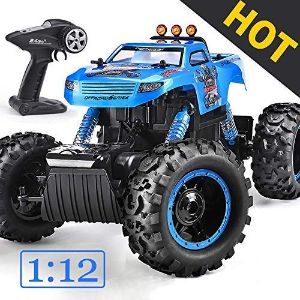 This remote control truck by NQD is built on a 1:12 scale, which makes it pretty large when compared to other RC trucks in our list. The large size of the NQD truck enables it to conquer sandy terrains, muddy slopes, and even grass. You will find that it is easily maneuverable and it can perform difficult turns with extreme ease.
Furthermore, the NQD truck is electric-powered so you have zero lag when you twist the throttle and the truck accelerates immediately. Gas-powered RC trucks have a slight lag that proves to be the difference if the truck gets stuck somewhere. Electric trucks have constant power delivery which makes them much more effective. The truck has to have great battery life in order to perform at optimal levels for longer periods of time. The NQD RC truck has just that, all thanks to its 6.0V 800mAh rechargeable battery.
In terms of design, the NQD truck has some of the best features you will find in an RC car. It has non-slip tires, shock absorbers, powerful motors, increased ride height, and low-weight ABS plastic on the body. Its powerful motors allow the truck to cruise to speeds of up to 30 mph+ and allow it to climb surfaces with a 45-degree incline. The truck's 2.4 GHz radio system is one of the best in the business.
What impressed us:
– Great battery life
– Easy maneuverability on all kinds of tricky terrains
– The ongoing sale makes it cheaper than the competition
Key Features:
– Large size makes it a great RC vehicle for both adults and children
– 2.4 GHz radio system to reduce interference
---
2. SPESXFUN RC Truck – Best RC Truck For Kids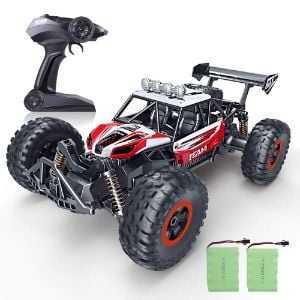 The cool-looking SPESXFUN RC truck should be part of any RC car collection. This truck comes complete with four shock absorbers one for each tire, a sporty spoiler, non-slip tread tires, a roll cage, and bucket seats. In short, all the small details you would see in a full-scale off-road track can be seen in the SPESXFUN truck. A 2.4 GHz radio system is also installed on this truck to give you a remarkable uninterrupted experience while racing. Usually, an inferior radio system interferes with other RC cars and does not allow you to send accurate commands to the receiver.
The SPESXFUN truck is built on a 1/16 scale model which makes it pretty huge and look realistic. The manufacturer has also installed two powerful motors that propel the truck to speeds of up to 25 km/h, which gives you an edge over other RC racers. Furthermore, while other RC makers use only plastic in their models, SPESXFUN has used a mix of both high-quality plastic and metal to provide rigidity and style to the exterior design.
Perhaps the best thing about this truck is that it can house two battery packs, so you can race your truck seamlessly without stopping every few minutes. The twin battery packs can power your truck for 20-30 minutes which means you can have lots of fun from just one full charge. When it is time to charge you can use the user-friendly USB charger that can be plugged anywhere.
The controller is ergonomically built. Its infrared ability allows you to control the truck easily, whether it is moving the truck forward, backward, left or right.
What impressed us:
– Impeccable design built using high-quality materials
– Unbeatable price
– Infrared controller
Key Features:
– 1/16 scale model
– 2.4 GHz advanced radio system
---
3. Hosim Large Size RC Truck – Best Features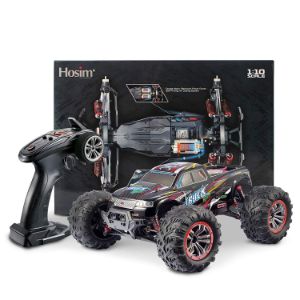 The Hosim RC truck is one of the best-selling RC trucks in the market right now and there is a good reason for that. This truck looks really cool thanks to the graffiti style livery on it. It is available in two popular base colors blue and black. The manufacturers have coupled the small body with large tires that give this truck a monster truck feel. The plastic body makes this truck practically weightless. All the weight is actually in the mechanical parts such as the four shock absorbers, the axle, and the wheels. The wheels are quite huge with a nice tread pattern to allow the truck to conquer any kind of terrain. The sweet combo of big tires and two powerful motors give this truck unbelievable speed. You can outgun anyone with the 30 mph top speed on this RC vehicle. This is especially great considering the fact that this truck is built on a 1:10 scale. That is pretty huge! But we are not complaining.
The greatest thing about this truck is that it is waterproof. It is IPX4 level certified which means you can drive it through small puddles without worrying about damage. Hosim has also given this truck 4×4 drive capability which is pretty rare in entry-level and even in some intermediate-level RC trucks.
What impressed us:
– Rigid chassis made of steel built to withstand impact from tough terrain
– Impressive top speed
– Reliable after-sales service
Key Features:
– 30-Day money-back guarantee
– 4-wheel drive
-Solid construction

---
4. LAEGENDARY Monster RC Truck – Best Battery Performance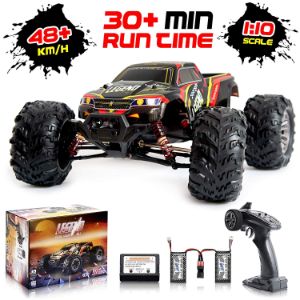 LAEGENDARY's monster truck looks really aggressive on the first glance and it is no stranger to relentless performance. This truck is built on a 1:10 scale which makes it one of the larger trucks on our list. This beast of a truck has a simplistic design but the color theme gives it a very sporty appearance. LAEGENDARY has put two 7.4V 1600 mAh rechargeable batteries in this truck which can power it for 30-35 minutes. These batteries give life to the two powerful motors situated on each axle. The two motors work in tandem with each other to give explosive 4-wheel drive power to the truck. And there is no need to worry about water splashing on the batteries or getting into the electronics as this RC truck is IPX4 certified waterproof. It comes completely assembled from the factory so it is practically ready to run.
The 2.4 GHz radio controller sends infrared signals to controls the car effortlessly. You can switch between two driving modes: low-speed mode for beginners and children and a high-speed mode for when you are racing and driving in a large area.
Perhaps the most impressive thing about LAEGENDARY is that they donate money to the needy for food through the Share The Meal program on each purchase. So, not only do you get to enjoy with your new RC truck but you do something good in the background.
What impressed us:
– The company donates money to charity
– Great quality product
Key Features:
– 4WD capability
– Very high top speed
– Dual battery packs

---
5. BBM Hobby HBX Rampage All-Terrain RC Truck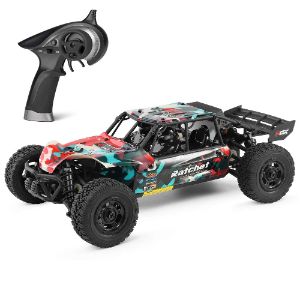 If you are looking for a small sized RC truck for your children then the HBX Rampage truck is made just for you. It's 1:18 scale body is small enough for kids to handle and it can operate easily in crowded places. However, do not be fooled by its size since this small truck has a strong RC380 motor and 4WD capability to edge past the competition. The Rampage truck has all the necessary mechanical parts needed to make an RC truck versatile. It has classic ball bearings, solid gear differential, and independent suspension to make it a fun drive. You can operate the Rampage from about 280 feet away. This extended range allows your kid to have fun while staying at a safe distance.
The Rampage RC truck is waterproof and it has a large battery pack. The 7.4V 650 mAh battery runs for a decent amount of time before you need to recharge it. You can even remove the battery from the vehicle to replace it with a new one. Your machine becomes ageless if you keep it well maintained.
What impressed us:
– Small size but powerful machine
– Impressive top speed
– The ability to function in all kinds of terrain
Key Features:
– Rechargeable and replaceable battery
– Waterproof construction

---
6. BBM Hobby Off-Road RC Buggy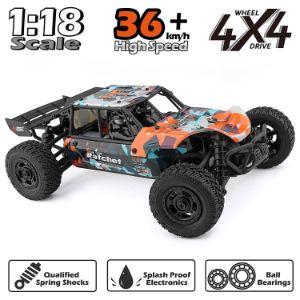 If RC trucks are not your thing then you can have a look at some sleek RC buggies such as this buggy by BBM Hobby. The off-road-ready to run buggy by BBM Hobby comes in a large size. We saw that their Rampage truck, which is also part of our list, is smaller at 1:18 scale but this buggy is quite big at a 1:12 scale. This means you get to have more fun as an adult.
This buggy has a roll-cage, a dummy cockpit, a metal differential, ball bearings, a minimal exterior and even four lights for night time racing. You get four rugged tires on the buggy that have a complex tread pattern necessary for tough surfaces. The BBM buggy can run on sand, grass, mud and even on stones. It is IPX5 certified which means it has a higher water resistance than any other car on our list. It is certainly a plus point if most of your driving is on damp surfaces.
As for the battery, the manufacturer has installed two 3.7V 1500 mAh batteries inside that allow you to run the buggy for a long time. What's more, you get a 30-day money back guarantee so you can rest assured if something goes wrong you can get your money back.
What impressed us:
– The use of metal in the construction
– Powerful motor
– Unbeatable price
Key Features:
– Manufacturer's warranty
– Large battery
– Waterproof
---
7. Redcat Racing Piranha XTR-10 RC Buggy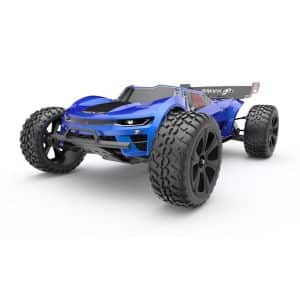 The Piranha XTR-10 by Redcat Racing is a remarkable buggy or as they call it, a 'truggy'. It has been given the name truggy since its design makes it look both like a truck as well as a buggy. At first look, this buggy looks like a Chevrolet Camaro. It has an uncanny resemblance with the famous car however this buggy has certainly no affiliation with the car company. This maxed-out buggy comes complete with a spoiler, four large tires, and individual suspension. The Piranha is built on a 1:10 scale so it is huge and probably not a great option for kids whereas adults would thoroughly enjoy its power and capabilities.
The Piranha is made entirely from plastic which means you would have to be a bit careful when taking it through rough terrain. Other than that the buggy is fully capable. It has a 7.2V 2000 mAh inside it.
What impressed us:
– Sporty appearance
– Huge battery inside to make it last longer
Key features:
– Oil-filled shock absorbers
– 540 RC motor

---
8. DeXop RC Buggy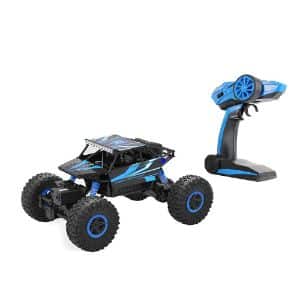 What's better than a driving a remote-controlled buggy? Well, driving a buggy with a camera on top of it of course! If you remember the Home Alone 3 movie you must be familiar with the scenes where the kid uses his RC buggy to outsmart the thieves trying to break into his house. You can do the same with this buggy! DeXop has designed this RC keeping in mind that it is not meant for racing rather it is just built for you to enjoy. But that doesn't mean DeXop has not used advanced mechanical features in its buggy. You get individual shock absorbers, 4WD capability, and quick top speed.
When it comes to its recording capability, this buggy has a camera that can record video in 720p HD quality and it is connected with your phone through Wi-Fi. You can watch the direct feed on your phone while you are driving this RC. Moreover, you can use your mobile phone as a makeshift controller in case you lose the original controller. The RC buggy has a 6V 500 mAh battery inside which lets you play around for approximately 15 minutes before the next recharge is needed. A standard recharge requires 120-150 minutes on average.
What impressed us:
– HD mount camera
– Wi-Fi capability
Key Features:
– Advanced mechanical components
– Pretty cheap
---
9. Kezz Racing Dune RC Buggy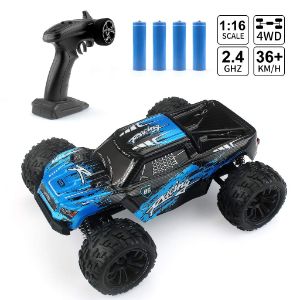 Kezz Racing has come up with a brilliant RC dune buggy. Their RC buggy ahs 4×4 drive capability which means not only can the buggy tread on grass, it can run on sand, mud and even gravel. The independent shock absorbers allow for a smooth ride, the powerful RC390 motor provides seamless acceleration and the tires provide excellent grip on all kinds of terrain.
The buggy also has proper ball-bearings to reduce the amount of wear and tear on the chassis. Not only is the ride smooth, but the maneuverability is impeccable. Furthermore, the buggy can reach speeds more than 28 mph which is really impressive. To top it off, the Kezz Racing buggy is IPX5 waterproof certified so you can take it practically anywhere without fear of damages to the internal electronics. If your fashion driving the buggy at night you will find that the 6 lamps provided come in handy and make the buggy look sporty.
The 30-day money-back warranty is something that not many manufacturers provide so it is obviously a plus point.
What impressed us:
– IPX5 certified unlike other buggies that are IPX4 certified
– Cheap considering the features
– Excellent after-care services
Key Features:
– 4×4 drive capability
– ball-bearings an oil-filled shocks

---
10. Traxxas Off-Road RC Buggy
The Traxxas Bandit buggy has a unique design. You won't find many buggies with this design even though it is very practical. The Bandit has a mighty Titan 12-turn motor that allows the buggy to reach speeds of up to 35 mph. That is a pretty impressive feature to have when you are racing on tough terrains. Not only that, you get a waterproof interface which, needless to say, protects the electronics from damage. The Bandit has a metal-gear Magnum 2272 transmission and a torque-controlled slipper clutch so you know there will be seamless shifting and a stable drive. Moreover, you won't have to waste any money on upgrades since all the early upgrades can be found in this buggy.
When it comes to the styling there is no doubting the Traxxas ProGraphix body. The aggressive body has been painted and packed in such a way that no damage comes to the internal electronics. The rear tires have more grip and are thicker than the front tires. This is done to enhance grip while also making the RC buggy more agile.
What impressed us:
– Unique design and advanced mechanical features
– Powerful motor and great top speed
Key Features:
– Advanced transmission and clutch
– Intelligently designed to withstand the abuse

---
What to consider before buying an RC truck or buggy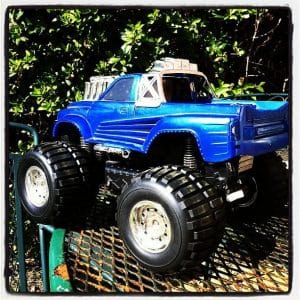 There are so many different things to consider before buying an RC car that buying one can be a tedious task. It is not easy to choose one when there are literally thousands available in the market. The best way to shortlist is to learn about the different factors that make or break the case in favor of an RC.
Type of Car
RCs can either be on-road or off-road types. You need to figure out where you will be driving your RC car more before you buy one. If you intend to drive the car on different terrains then you are good to buy an off-road RC car otherwise an on-road car would suffice.
Scale
RC vehicles are compared to life-size vehicles and so for comparison they are rated on a ratio scale. For example a 1:10 scale car would be quite big since it would only be ten times smaller than a full-sized car. The smaller the scale the better it is for you in terms of maintenance costs. There are some RC cars that are large sized like 1:5 or even 1:4 but these cars require more maintenance and it is like you own another car.
Speed
You need to decide whether you want an RC truck or buggy simply to pass time or if you want to drive one professionally. Based on your idea, you can pick an RC car that matches your needs. The faster it is the more difficult it will be to control it however you will do better in competitions. You don't need a quick RC vehicle for casual fun. Simply anything would do.
Battery Life
It's all fun and games until the battery runs out, which is why it is integral for an RC car to have a long-lasting battery. Manufacturers put different kinds of batteries in their RCs. Some even put two batteries inside to improve the run-time. In any case, you won't be able to get more than 40 minutes out of a battery-operated RC car.
Price
Perhaps the price is the most influencing factor. You can compromise on anything but when it comes to price you do not have a choice. So, before you go on to browse ten best RC trucks or buggies keep in mind your budget so you can make a wise decision. RC cars are usually priced from $50 – $250. The more expensive it is the better the features will be.
How to drive an RC Truck video:
Resources:
RC Cars for beginners – Hobbyhelp