Oil leaks are an inevitable problem associated with car engines. You will most likely face it sometime, no matter how much you maintain your vehicle. Moreover, oil leaks are a widespread issue that most cars suffer from, more or less.
Oil leakages are a nuisance and can be a time-consuming thing to repair once it happens. The perfect way to handle this issue if you have an older car is to ensure that it does not happen. You can take the help of oil additives to stop leakages from occurring in your vehicle.
In your search for the best oil stop leak additives, this article would immensely help you. The guide contains reviews about the 8 best oil stop leak additives you could buy for your car. Read the guide to find out more about these additives and how they could help you prevent oil leakage problems.
Top 8 Best Engine Oil Stop Leak Additives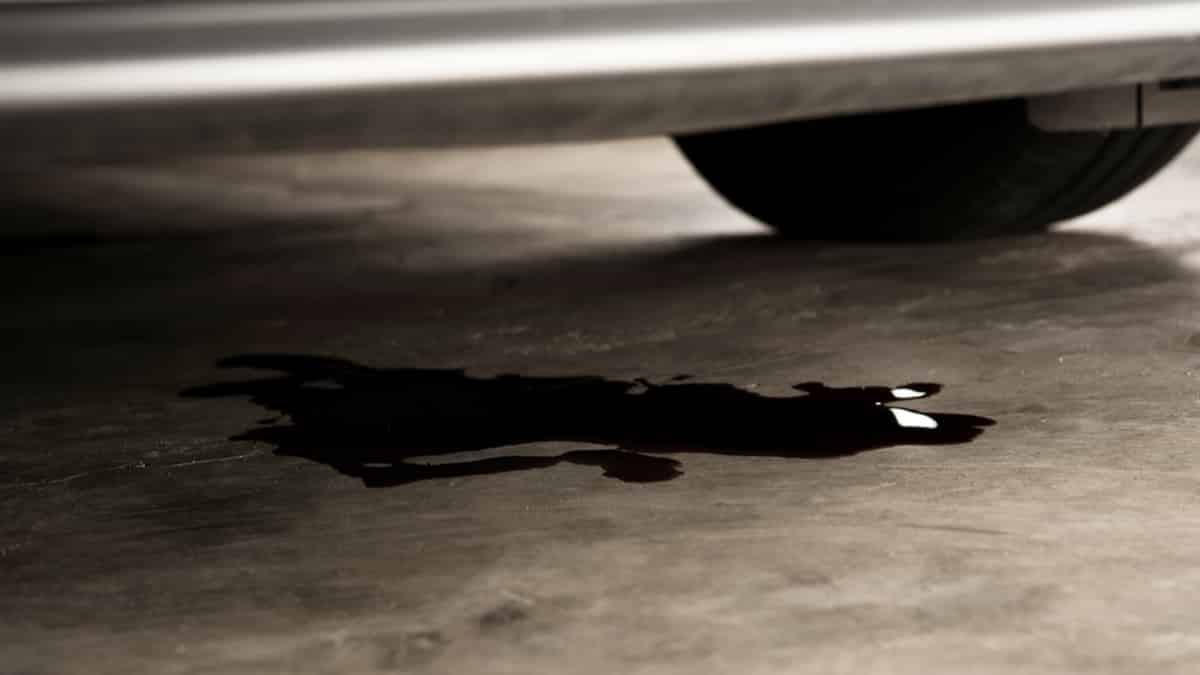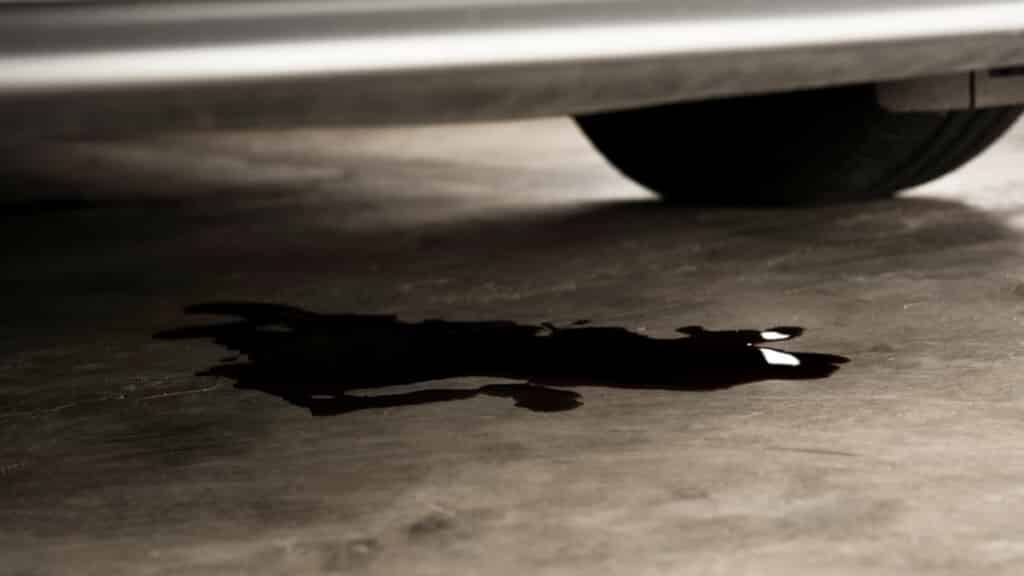 1. Lucas Oil 10278 – Best Oil Stop Leak Additive Overall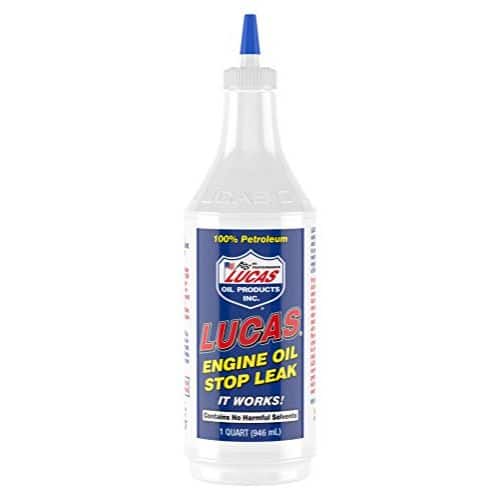 Lucas is a well-known global brand and is known for its versatility and performance. The Lucas Oil Engine Oil helps in preventing corrosion and is compatible with all types of vehicles. You can use the oil additive with petroleum, semi-synthetic and synthetic oils. The oil additive can rejuvenate all the seals without damaging or corroding the engine.
With the Lucas engine oil additive, the oil pressure is raised, which also reduces engine noise. Your engine will operate very quietly, which is the demand of most customers. The 32-ounce unit will sustain for a long time, and you can get the best out of this. Moreover, this is a very versatile product, so it does more than just stopping oil leakages.
It enhances your engine's performance, and you will see a significant change after adding the oil additive. If you are in search of an oil additive that does not cost much but performs well, then the Lucas Oil Engine Oil is your best choice.
Pros
Easy application
Prevents damage and corrosion
Reduces engine noise
Affordable option
Cons
Leaks may not stop completely
---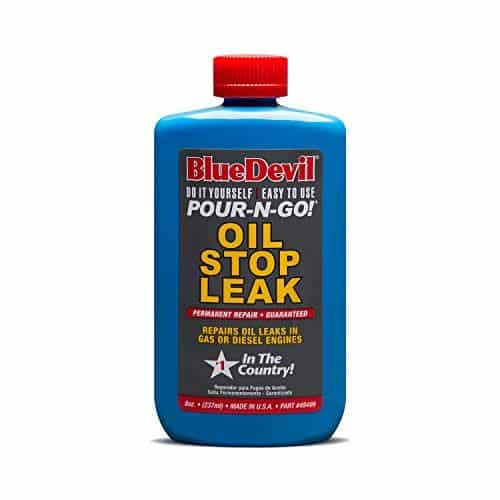 The BlueDevil Oil Stop Leak is the premium pick in this list due to its high-price and amazing performance results that it delivers. If there are no budget issues and want to choose one of the best oil stop leak additives that are high-performing, then BlueDevil is the brand you can choose.
The BlueDevil additive is a permanent solution to oil leakage issues. The application of the additive is very easy, and it is also safe for users. This additive can work well in both gasoline and diesel engines, which makes it highly versatile. There will be no compromise with the vehicle's safety and engine health with this additive.
BlueDevil has been operating in this field for years and brings new and innovative products to its customers. The formula used in this product is highly efficient and does not harm the engine in any manner. Despite being the most high-priced product on this list, the additive is budget-friendly. There will also not be any clogging once you use the additive for your engine leaks.
Pros
The engine is not harmed
Permanent results
Safe
---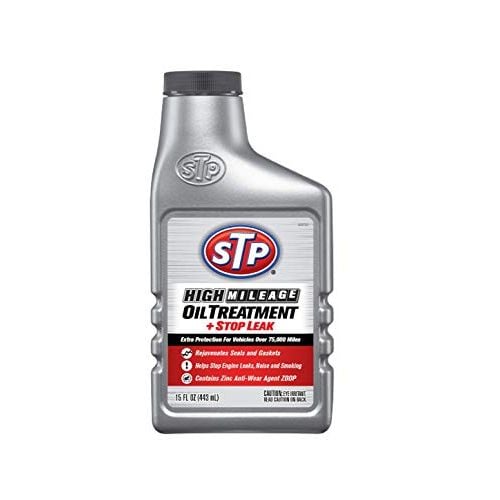 The STP HIGH Mileage oil treatment is one of the most budget-friendly options here. Despite the low price, the performance is exceptional and is a highly recommended product. This product is great if you have minor leaks. This additive works well in older engines where there are minor oil stains and leaks.
With the STP, you can also stop tiny oil leakages into car cylinders from the piston rings. This, in turn, prevents smoking and manages the performance of the engine. If the instructions to use the additive are followed properly, you will find it very efficient. The right amount of oil needs to be added for it to work properly.
STP is the perfect additive that you can use for high mileage motors. However, it can be hard to use the additive for reconditioning seals in newer cars or very big leakages. In case you are on a very tight budget, this additive can help prevent leakages for a short time before you go for proper maintenance.
Pros
Works great for engines with high mileage
Stops smoking in older cars
Budget-friendly
Cons
Wrong application can dilute the oil
Not as strong in reconditioning seals as its competitors
---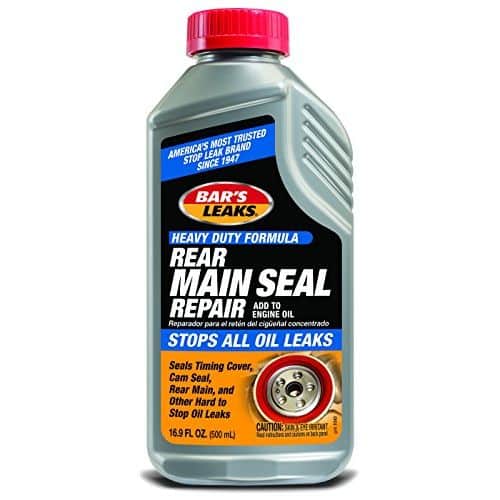 One of the most efficient products in this list is the Bar's Leaks oil stop leak additive. This additive is used for those seals that are difficult to repair. The additive application is very easy, and you do not have to be professional to use it. This is a very easy solution to all your oil leakage problems.
Not only will the rear main seal be repaired, but the additive will also take care of any other leakages. The best thing about this additive is its affordability. Users do not have to worry about their budget in looking for a practical option to seal their leakages. The additive can be used with all types of oil, ranging from high mileage to synthetic to conventional.
Bar's Leaks is a very user-friendly additive with a short activation time. This means once you add the oil stop leak additive to the oil, the performance can be determined within a matter of few hours. Additionally, the additive does not contain any harmful chemicals that might wear down or damage the engine in the long-run.
Pros
Problematic seals can be sealed easily
Short activation time
Dry seals are rejuvenated
Cons
May not perform well in older engines
---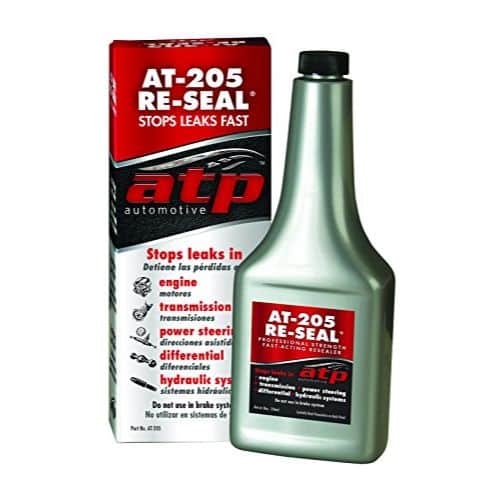 Another great option in the best oil stop leaks additives category is the ATP automotive re-seal stops leaks. ATP is also a renowned company for oil stop leak additives and is mostly recommended due to its amazing performance. The additive performs exactly what it is formulated for, preventing corrosion, leakages, and rust.
The additive's activation time is very fast, and you can see the leakages stop in a few hours of applying this product. All the seals that were open earlier will get re-sealed without any issues. Engines that are equipped with rubber seals and gaskets will be rejuvenated by applying this additive.
The additive also helps rejuvenate hydraulic systems, transmission, and power steering. With a unit of 6-quarts, the additive has high longevity since it is required in small amounts. You can use the additive with power steering fluids, gear oil, conventional and synthetic oils. Due to the absence of Petroleum Distillates, the additive does not wear down the seals.
Pros
Rubber seals are revitalized easily
Engine-friendly
Can work with most types of engine oils
---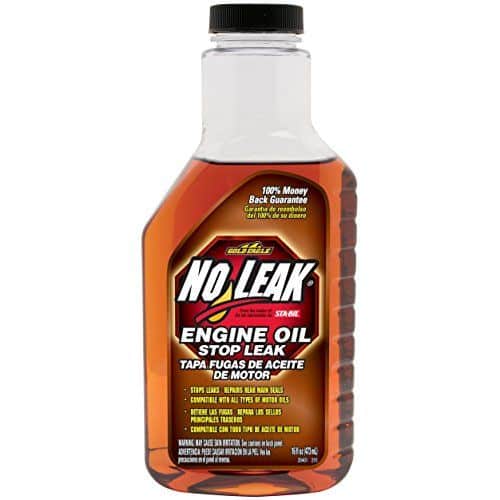 NO LEAK is an oil stop leak additive that is compatible with all vehicles and engine types. The efficiency of the product is what attracts the customers. This engine oil stop leak helps in softening, conditioning, and swelling the rubber seals present in the engine. The formula of the additive is very versatile and safe.
No Leak comes under the Gold Eagle company known for its premium quality, high-performing products. The preservative bottle design is also not innovative and modern that appeals to the crowd. Due to the clear bottle, you can see the amount of additive present in the bottle.
The No Leak additive works quickly and efficiently without damaging your engine in any way. You do not have to use a large quantity of the additive for it to work properly. A small amount is enough to seal the leakages and ensure that the engine runs smoothly.
Pros
Engine smoke is stopped with the additive
Compatible with several engine oils
It helps to recondition hard seals
---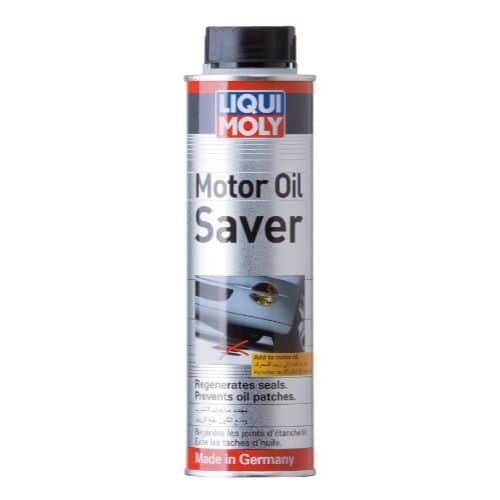 The Liqui Moly motor oil saver is a product that you can blindly use for internal leaks. If there are any bad seals present inside the motor lead, it could cause high smoke emission. This can be stopped with the Liqui Moly oil saver. Mostly in such scenarios, you might see blue smoke emit from your car's exhaust.
The motor oil saver is used for many high-end vehicles and helps accentuate their engines' performance efficiently. Using this oil saver, you can keep the inside of any vehicle very healthy. However, some people may not like the product since it does not seal external leakages.
Even with this slight drawback, this product is highly recommended due to its high ability to tackle inside issues. In case you are losing or burning oil very frequently, this oil saver can save you from making a costly trip to your mechanic.
Pros
Slows or stops consumption of engine oil
Car runs much cleaner when the additive is used
High-quality
Cons
Compatibility problems
External leaks may not stop with this product
---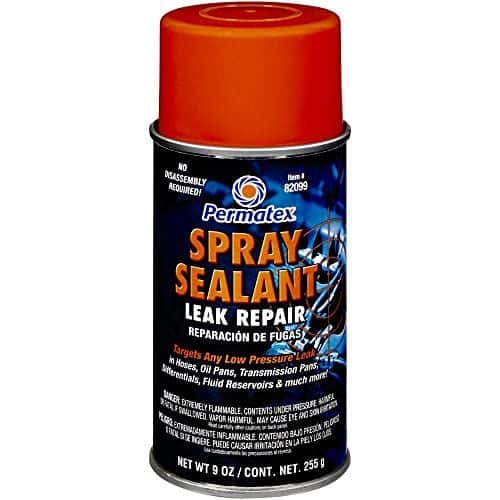 Most of the oil stop leak additives in this list come in fluid form and seal large leakages. However, the Permatex Spray Sealant is an innovative product that helps seal your vehicle's small exterior leakages. Since this is a spray, you can put a coating of the sealant over the leaking area, and the barrier is created.
The Permatex not a long-term solution, but it is great for emergency satiations. If you are mid-way and face small external leakages, then this product will save you from further oil waste until you reach any mechanic. This emergency fix is very beneficial for people who travel long roads using their vehicles.
The most amazing feature of this spray sealant is that it can be used on different surfaces. You can use this sealant when you have a long way to go before you find a mechanic and need an emergency solution to the leakage to not extensive damage. Ensure that the vehicle surface is cleaned properly before you apply the coating so that it sticks nicely.
Pros
Perfect for emergencies
Easy application
Can work on several surfaces
Cons
Not a long-term solution
May not work sometimes
---
Oil Stop Leak Additives – Buyer's Guide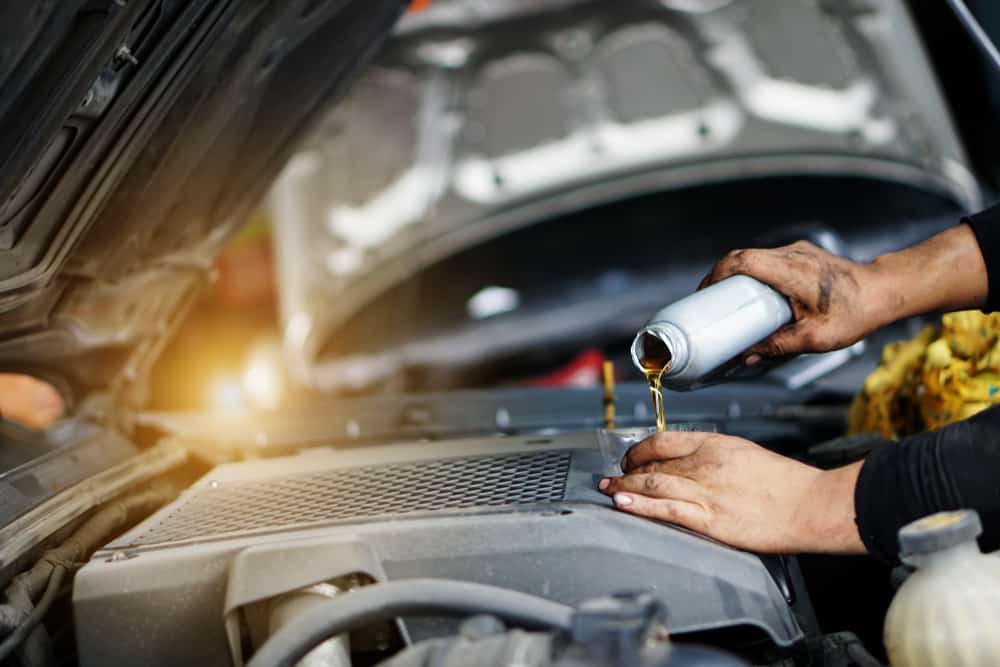 Oil stop leak additives are a good addition to your car maintenance since they can prevent sudden oil leakages. You will not have to go through the trouble of taking your vehicle to the mechanic while you are planning to go somewhere urgent. It would save a lot of time, and with a good oil stop leak additive, you would not have to face frequent oil leakages.
Though most of the oil stop leak additives may work properly, there are some considerations that you need to look for. Below mentioned are essential factors that should be considered when buying the best oil stop leak additives.
Compatibility
The primary thing that has to be determined when choosing an oil stop leak additive is where they are compatible with the car you are using. Not all additives work well with all vehicle types.
There is some formula that may not work at all with diesel engines, while there are some that are not compatible with synthetic oils. You will also find some additives that are compatible with all types of vehicles and motor oils.
When choosing the additive, the package itself will hold information about which vehicle or oil you can use the additive with. The guide contains a combination of specific and all-compatible additives.
Efficiency
The amount of additive you will be using for your vehicle will determine whether the product you have bought is cost-efficient. You need to know how much additive you need to use and the amount of time it will last.
If you need to use many additives with your engine oil at frequent periods, it is not an efficient solution. Even if the price of the additive is low, it will not be cost-effective for you.
A good additive is required in small amounts and can revitalize the seals for a long period. This would save a lot of money, and these additives are the ones that can be called efficient.
Activation
Every additive has a different activation period, and you need to ensure that they mix well with the engine oil. Once you add the required amount of additive to the engine oil, it will take a few hours to activate.
You can only fix the leaks successfully if you give adequate time to the oil stop leak additive to mix with the engine oil and get activated. However, the specified amount may not always be enough to fully activate the additive.
Sometimes you need to let the solution run for about 100 miles or more to activate to its extent. Without optimum activation, the additive will not work the way it is supposed to, and the leaks will not be fixed properly.
Petroleum Distillates
A very well-known chemical, Petroleum Distillates, is used for gasket revitalization. They can be quite costly and have a bad effect on your engines. When choosing any oil stop leak additive, you need to check if it contains Petroleum Distillates.
It is better to avoid additives with this chemical since it can harm the engine system in the long run. Make sure to check for any other harmful chemicals that may have an adverse effect on the car's engine.
Always go for formulas that have no long-term effects and would not wear out your engine. The wrong chemical would do more harm than good for your engine.
Price
The price of the additive is a major concern for many people. Additives come in different price ranges, and the variations are due to the brand and the formula of the additives. Even though the price is an important component, you need to see if the additive you are going for would be good for your vehicle.
All products that fall in the lower price range are not bad, while not all expensive products will be good. It all boils down to the efficiency of the additives that you are looking at.
In the guide, you will find the best oil stop leak additives belonging to different price ranges, helping you choose.
Endnote
Efficient oil stop leak additives are necessary since they help prevent oil leaks and keep your engine rejuvenated for the long-term. With the right additive and proper application, you do not have to worry about your engine malfunctioning frequently and facing leakages.
Along with using additives, you also need to keep your oil clean so that the engine does not wear down. Only additives alone would not be able to keep your oil from leaking if you do not pay attention to maintenance at all.
Like regularly used cars, unused cars also face the same issue, maybe at a greater magnitude. That is why you need to always have scheduled maintenance for your cars and make sure that you change oil at proper intervals.
With proper care and using the best oil stop leak additives, your vehicle will run smoothly without any issues. Learn about the 8 best oil stop leak additives mentioned in the guide and choose the one suitable for your vehicle!
Stop Oil Leak Additive FAQ
Do Oil Stop Leak additives work?
Yes, Oil Stop Leak Additives work more or less. If you have extreme oil leaks, they will not work, but in most cases of small to medium engine oil leaks, they will work just fine.
Can Oil Stop Leak damage my engine?
Yes, it can happen that important parts in your car engine will get clogged using a stop oil leak additive. This is why we recommend repairing the problem instead in most situations. However, this depends on what additive you are using also.
What is the best engine oil stop leak additive?
If you consider the price versus efficiency, we strongly recommend getting the Lucas Oil 10278 Engine Oil Stop Leak. It is proved to work really well with few cases of damaging engines.
Does Lucas Engine Oil Stop Leak work?
Yes, Lucas Engine Oil Stop Leak work very well every time we have tried it. It works well for small and medium-sized oil leaks, but you should not expect it to repair substantial oil leaks.