There are always some vehicles that we crave to have in the United States that we simply can't have. One of these vehicles is the Suzuki Jimny, which is highly coveted among enthusiasts, but we aren't allowed to have it.
To fully understand what's going on, I must first evaluate the history of the Suzuki Jimny and examine what makes it so great. After that, I will outline why you can't get it and show you some alternatives.
Why is the Suzuki Jimny not available in the USA?
The Suzuki Jimny is not available in the USA because there is no Suzuki dealership network in the United States. The automaker hasn't had a network here since 2013, so it's difficult to sell any cars. Furthermore, the vehicles may not live up to our country's stringent safety and emissions standards.
1. No Dealer Network
The number one reason that we don't have the Suzuki Jimny is that there's no one to sell it here. With no network of dealerships, it would be difficult to get the vehicle.
The United States has not had any Suzuki dealerships since 2013. The company could partner with someone to sell their vehicles here, although that's unlikely. However, Suzuki has worked with Mitsubishi, and Toyota recently purchased part of the company, so there's still hope.
2. Doesn't Meet Standards
The United States has tougher criteria than many other countries when it comes to the vehicles allowed on its roads. Some people state that the Suzuki Jimny wouldn't be able to pass our stringent guidelines, but that simply doesn't make a lot of sense. For example, if you evaluate the New Car Assessment Programme (NCAP) out of Europe, you see how ridiculous this is. The 2018 Jeep Wrangler earned 1 out of 5 stars in this evaluation, while the Jimny earned 3.
It's also possible that the Jimny could pass our emissions tests, even though that's labeled as another reason it's not here. Europe continues to tighten up its regulations as well, but the Jimny is still being sold. However, the future of the model is up for question, as it is on the verge of failing.
Brief Suzuki Jimny History
The Suzuki Jimny has been around since 1970. The compact off-road vehicle isn't new to the market. It's always been a small 4WD vehicle meant for adventure. With the body-on-frame construction, two-speed 4WD transfer case, along with solid axles in the front and rear, you know it's meant to get a lot done.
This model has gone through four generations. Through September 2018, there were nearly three million total units sold.
The United States never got the Jimny. However, we did have a similar vehicle for a short time. The Suzuki Samurai was released in 1985. It was even a top-seller at first. However, in 1988, Consumer Reports released an article discussing the rollover risk of the SUV.
Not only did this slow down sales of the Samurai dramatically, but it did permanent damage to the Suzuki name. The company never regained trust, even though the automaker received a settlement from Consumer Reports because of the article. In 2013, Suzuki left the North American market completely.
What's to Love About the Suzuki Jimny?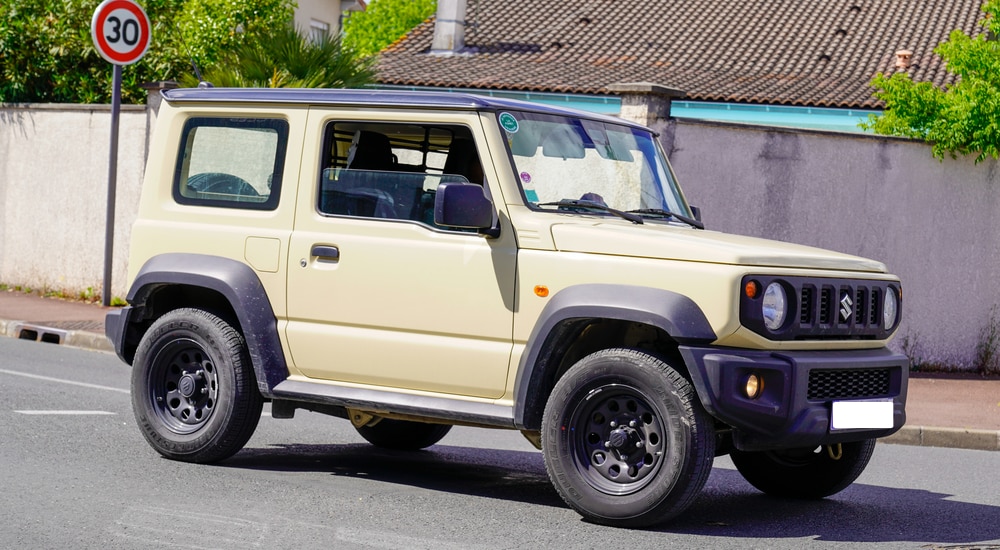 The 4th generation Jimny is a favorite among off-road enthusiasts and automotive journalists. It's achieved this success for numerous reasons. For starters, it remains a true 4WD vehicle. The suspension and solid axles mean it's ready to tear up the trails. Sure, the Jimny isn't made for comfort, but it does what it is supposed to, and it does it well.
The new models contain a 101-horsepower 1.5-liter engine. While this isn't going to win any road races, it provides all of the power needed off-road. It also comes with a five-speed manual transmission for complete control. You also don't need a powerful engine when the vehicle weighs less than 2,400 pounds.
The Jimny doesn't ride like a truck or large SUV at all. Instead, it's like being behind the wheel of an elevated rally car. The interior is also similar to the minimalistic design that you would expect. You don't even get a center armrest, but no one seems to mind.
Still, Suzuki doesn't hold back any of the features that you want. Many models include power locks, power windows, USB ports, Bluetooth connectivity, air conditioning and even cruise control. There's also plenty of cargo space to hold all of your gear for an adventure.
Alternatives to Suzuki Jimny
1. Buy a Used Samurai
The best alternative is to invest in a used Suzuki Samurai. It was very popular during the mid-1980s and had a lot to offer discerning off-road drivers.
Where this car is similar to the Jimny is the body-on-frame construction. It also contains solid axles, plus a 2-speed transfer case. If you want to head off-road, you should have a good time. Just keep in mind that they are much harder to find after the bad review came out in 1988. A lot fewer consumers purchased the SUV after that report, leading to its demise.
Some people speculate that this one issue led to the end of Suzuki North America. The company was never to recover its reputation, and we lost all of the models in 2013. Suzuki did try to regain its integrity, and even fought a lawsuit that was eventually settled out of court in 2010. After all of this chaos, it's unlikely that Suzuki is ever jumping back into the U.S. market without a lot of consideration first.
2. Choose Another Brand
If you don't want to purchase a used car, there are plenty of new off-road vehicles to consider. Why not look at the new Ford Bronco or Ford Bronco Sport? Both of these are back from the grave, and enthusiasts can't get enough.
There's also the iconic Jeep Wrangler to consider. You can even equip a Toyota SUV with the TRD equipment to make it better off-road if you need a dual-purpose vehicle. The options are limitless.
3. Import It
Importing a vehicle can be costly and labor-intensive. For this reason alone, I can't recommend this option, but still want you to know that it exists. To import a vehicle, Suzuki would need to make a model that could meet all of the United States safety and emissions regulations. You would need to prove to the government that the SUV isn't a rollover risk, and that the engine is compliant with our environmental standards. It's unlikely you would get past this step.
However, if you were able to move on, you would then have a lot of money to pay. You would need to cover the costs of all of the inspections, modifications and transportation. In the end, you would end up paying far more than what it would cost to purchase several new vehicles. Even after all of the money is spent, you might be denied the chance to ship it over in the end.
The cheapest way to have them imported would be to convince Suzuki to open up new dealerships. Considering its history here, I don't foresee this happening any time soon.