Are you starting to notice rust spots on your vehicle? As vehicles age, it's a common problem, and many owners have simply resigned themselves to the fact that there's nothing they can do about it.
That's simply not the case. While rust is inevitable, letting it spread isn't. With any of these rust converters and inhibitors you can easily treat rusted out spots without sanding anything down, and you can keep it from getting any worse!
Not only did we highlight ten great options you can use on your vehicle, but we also came up with a comprehensive buyer's guide that will break down everything you need to know about selecting and using your rust converter. If you're tired of dealing with rust on your vehicle, you've come to the right place.
Top 10 Best Rust Converters and Inhibitors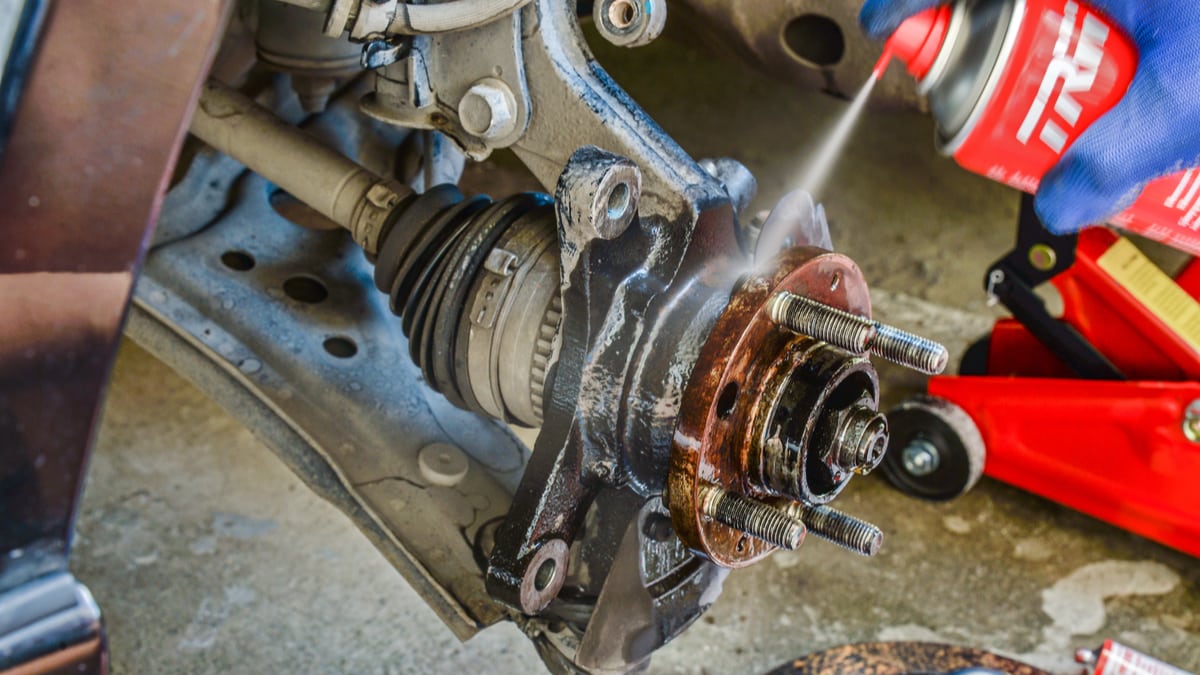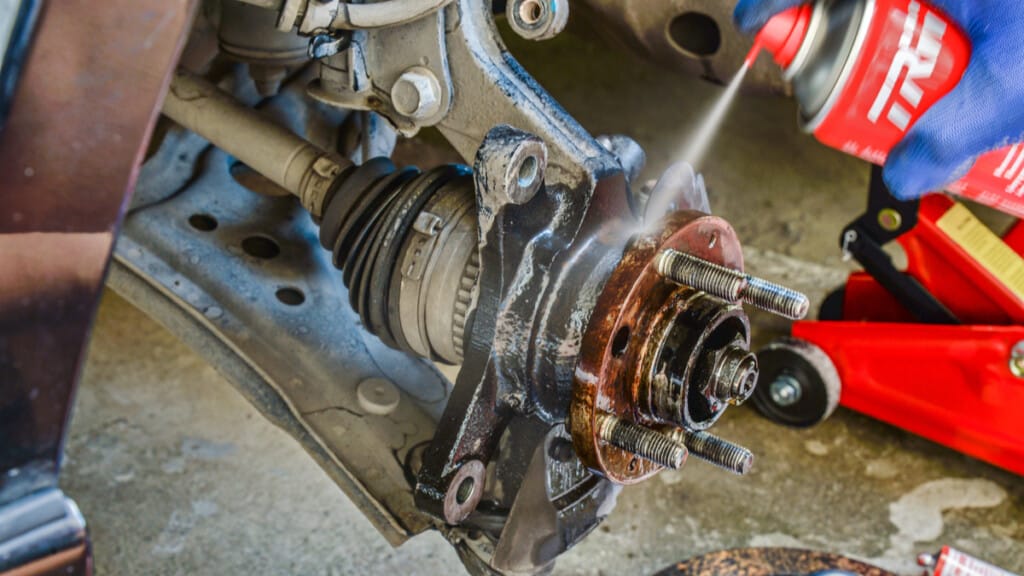 1. VHT SP229 – Best Rust Converter Overall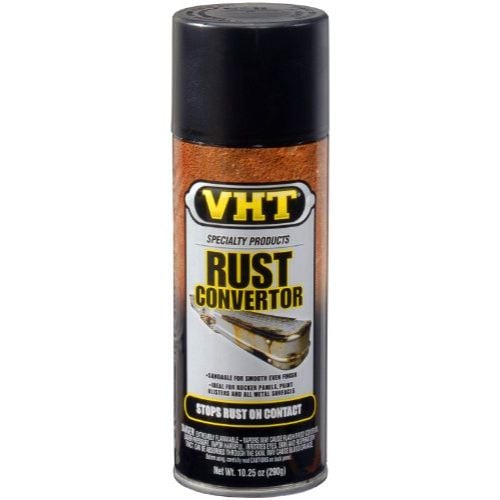 If you're looking for the best combination of price and performance, then it's really hard to top what the VHT SP229 has to offer. It's a little more expensive per ounce compared to some of the other options on our list, but unless you're dealing with a lot of automotive rust, this is the perfect size for most projects.
That means you're getting everything you need with a top-notch product, but you don't need to spend near as much as some of the other top-end products on our list. VHT SP229 is extremely easy to use and it gives you a smooth flat finish you can paint on top of if you want.
Even better for automotive purposes, it works on metal, body filler, and fiberglass, effectively covering any component on your vehicle that might rust.
Finally, while it is a bit more expensive per ounce, if you do have a larger project and love this rust converter, and who wouldn't, they do allow you to purchase it in bulk. This lowers the cost per ounce some, but there are lower-cost options out there.
Still, this is a premium product that delivers premium results, and since you don't have to purchase a ton for your smaller automobile, you still don't need to break the bank to get it.
Pros
A great mix of price and performance
You can buy in bulk
Very easy to use
Provides a smooth flat finish
Works on metal, body filler, and fiberglass
---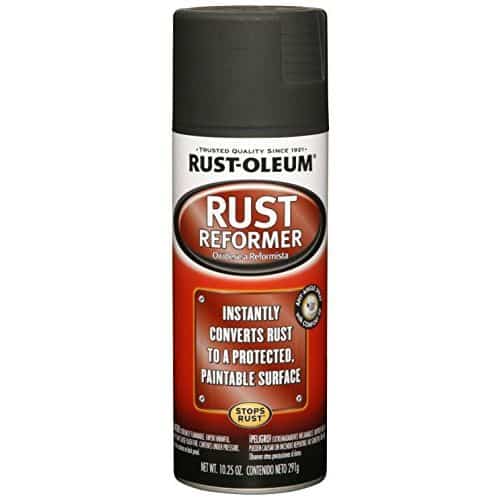 If you're looking for a product to help you tackle some rust without the need to spend a ton, then the Rust-Oleum Rust Reformer Spray is exactly what you want. Not only is it available for a great price, but it's also super easy to use and it's effective.
It doesn't just cover the rust but neutralizes it too, and it turns into a black finish that is perfect to paint over. The best part of this product is that it works instantly, ending your vehicle's rust problem in a matter of seconds.
Our only real complaint with this product is that you have to spray it on. That's not a problem for most projects, but if you have a small area of rust and want a finer application method, a spray can easily overspray and cover more.
Once again this isn't always a problem, but it is if you only want to cover a very small or very precise area. Still, at this price point we're really just finding a reason to nit-pick because this is a high-quality product at a phenomenal price.
Pros
Very easy to use
Super effective formula
Very affordable option
Provides an easy to paint over surface
Works instantly
---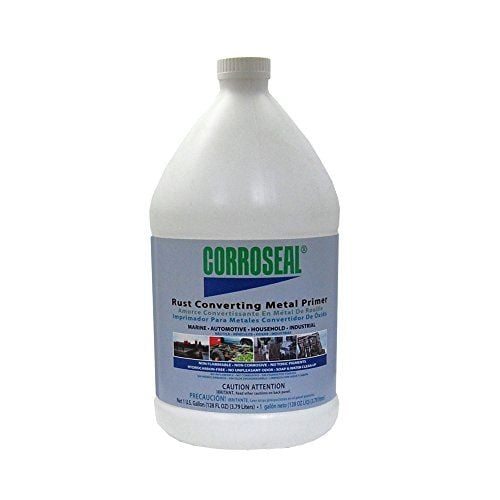 The Corroseal Water-Based Rust Converter clearly isn't the lowest-priced option on our list, but when you look at everything it does, the quality of results, and how much you're getting, it's not a bad deal.
The smallest size you can get is a full gallon, which is enough to cover a 200 to 250-square-foot room, let alone a single automobile. This means it'll easily cover whatever rust problems your vehicle has now and in the future.
It does an outstanding job of inhibiting and covering up rust, and it's one of the safest formulas on the market. It's water-based which means fewer harmful chemicals, and it's both non-flammable and non-corrosive.
It also cleans up with just soap and water, so if you do get it somewhere you shouldn't it's pretty easy to clean up. However, since you have to purchase an entire gallon of it, you are spending a lot more compared to other options on our list, and it's probably for more product than you need.
Furthermore, you'll still need a brush, roller, or spray gun to use it, and you'll need something to pour the product into to even access it. It's easy to use, but it does take a little more prep work compared to some of the aerosol options on our list.
Pros
It paints, primes, and converts in one step
A full gallon of product
It does an outstanding job
Non-flammable and non-corrosive
---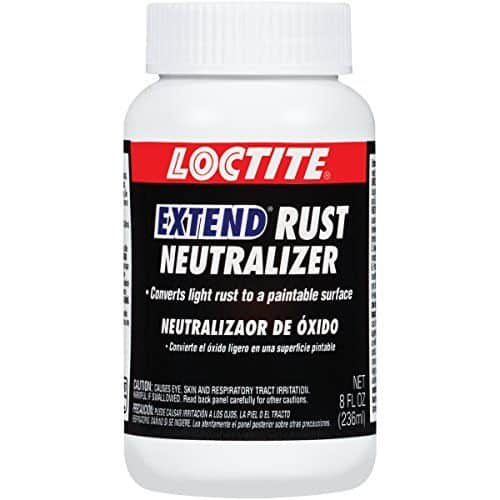 Work on your car enough and you're bound to pick up a product or two from Loctite. Their Extend Rust Neutralizer line isn't their most popular product, but it is one of their most effective, and it comes from a brand you can trust.
Furthermore, since Loctite knows that their target audience is people working on their vehicle, the 8-ounce size that this product comes in is a better choice than some of the larger options on our list. And since you're not purchasing as much, you're not spending nearly as much either.
It doesn't use a spray or aerosol application style, but it does come with an applicator that makes it very easy to apply to very precise areas. It does a great job and turns the surface into something that's easy to paint over too, which is nice for high visibility areas.
It's a product that works great for everything on your car, and it's available for an outstanding price. With everything that it has to offer it might be a challenge to see why it didn't crack our top three.
However, there are two reasons for this. First, it's not as easy to apply to larger areas, and you'll likely need to purchase more than one product. Second, it doesn't work as well on heavily rusted surfaces compared to some other options on our list.
Instead, Loctite Extend Rust Neutralizer is a better choice if you spot the rusting early and need something to keep it from spreading.
Pros
Affordably priced
It's a very reliable brand
Easy to apply to precise areas
Cons
It doesn't work on heavily rusted surfaces
Not easy to apply to larger areas
---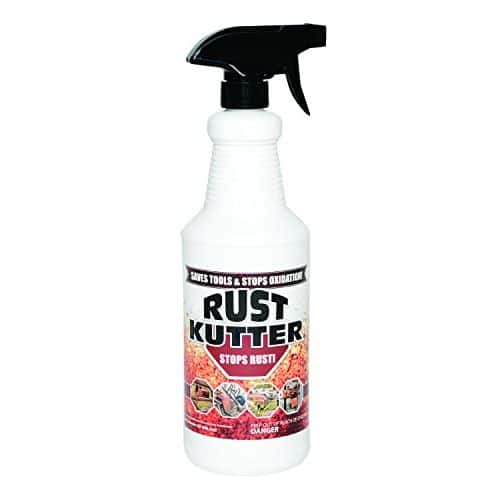 Rust Kutter has one unique factor that helps set it apart from every other product on our list, it comes in a spray bottle. You can spray to apply other options, but they're in an aerosol container.
Having it in a typical spray bottle allows you to spray it onto an area if that's how you want to apply it, but you can always pop the top off and use a brush or roller to use it too. This gives you a little extra versatility that other options don't offer. Sure you can pour some of the larger options into a spray bottle, but then it's on you to track one down – Rust Kutter comes with everything you need.
Of course none of this would matter if Rust Kutter wasn't an effective product, but it does an outstanding job neutralizing and covering rust for you. Even better, a little product goes a long way, so a single bottle should be more than enough to cover any rust problems you're having with your vehicle.
However, the tradeoff with Rust Kutter is the price. It's not super expensive compared to some of the gallon container options on our list, but it is more expensive per ounce. But to get one of the best rust inhibitors on the market that can tackle every portion of your project, it's well worth a look.
Pros
Very easy to apply
It comes in a spray bottle
Super effective formula
A little product covers a large area
---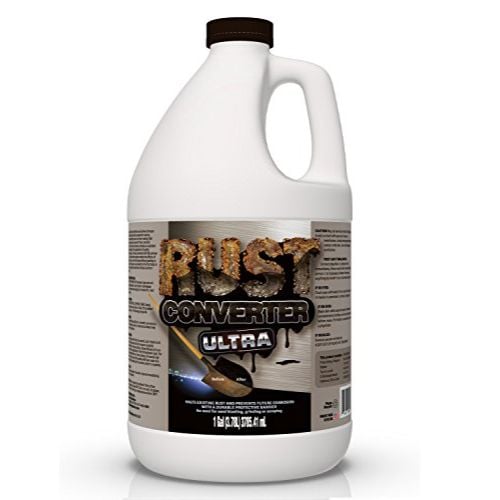 If you're dealing with a larger amount of rust or if it's a more severe rust problem, the FDC Rust Converter Ultra might be just what you need. It comes in a gallon container so you get a lot of product, in fact far more than you'll likely need.
That's because each gallon can cover a total of 500 square feet, which is more than enough to cover your entire car or truck! But what really sets this rust converter apart from the rest of the products is how well it handles severe rust.
It's also easy to break down for small projects, and it is easy to scale up for larger tasks. Furthermore, the manufacturers make Rust Converter Ultra right in the United States, allowing you to support local jobs.
However, it is a slightly more expensive option since you have to purchase an entire gallon of the stuff, and you'll still need some sort of brush or roller to apply it. It's a great deal, but if you only have one small project getting Rust Converter Ultra is probably a little overkill.
Pros
It comes with a lot of product
Made in the USA
Great for small areas and large projects
Cons
More expensive option
You need a brush or roller to apply it
---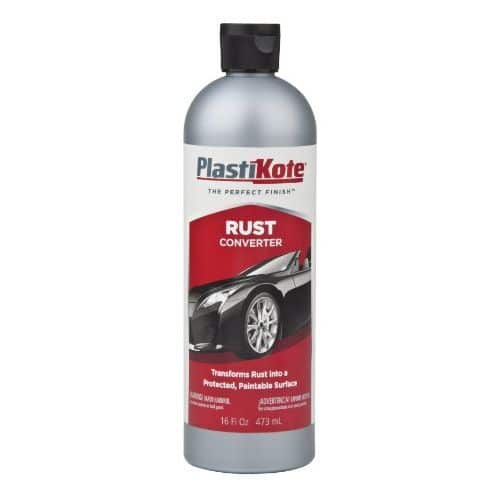 For the environmentally conscious, there's no better choice for your vehicle's rust problems than the PlastiKote 624 Rust Converter. It uses a non-toxic and non-flammable formula, but more importantly, there are no hazardous chemicals in the entire formula.
It organically converts rust to a paintable surface, which is what you want in your rust inhibitor and converter. Of course, nobody wants an environmentally friendly product if it doesn't do a great job.
Luckily PlastiKote 624 Rust Converter does do a great job, giving you both a great-looking vehicle and a product you can be proud to use.
However, it did fall down our list for a reason, and for PlastiKote 624 Rust Converter it has almost everything to do with the price. It's a more expensive option per ounce, and you're not even getting a ton of product.
Using environmentally friendly materials often costs more, and unfortunately, PlastiKote 624 Rust Converter is no exception. So while we'd love to put it higher up on our list, there are simply far more affordable products you can use to get the same results.
Pros
Very easy to apply
Non-toxic, non-flammable, and environmentally safe
It does a great job
---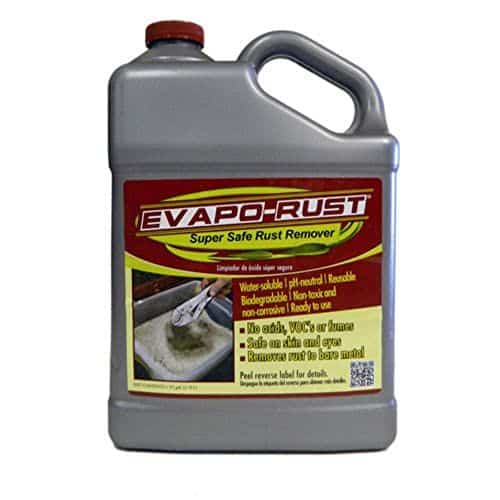 If you're working at an automotive restoration shop or you need a lot more product for some other reason, then Evapo-Rust ER012 is an excellent choice. It comes with a full gallon of product, but it's available for a price comparable to the 16-ounce options.
This makes it one of the most affordable cost-per-ounce products on our list, which is no small feat. It's also easy to use, and it uses a non-toxic and water-based formula that reduces the risk of you damaging other components if it gets on them.
Still, even at this phenomenal cost per ounce, we couldn't put it any higher up on our list, and it has everything to do with how effective it is. It will clear up smaller rust problems, but for others, it can require a second coat or not completely fix the problem.
And when you're trying to fix more severe rust problems, that's simply a deal-breaker. But if you're only touching up smaller areas, then Evapo-Rust ER012 is perfectly fine and can save you a ton of cash.
Pros
More affordable per ounce
Easy to use
It comes with a ton of product
Non-toxic and water-based solution
Cons
Not as effective as more expensive options
---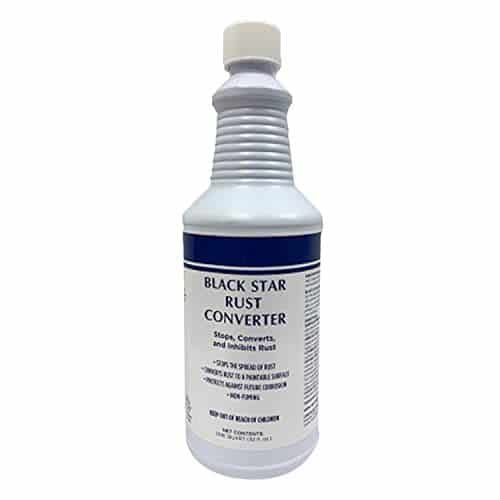 There are more expensive options, then there's the MRO Chem Black Star Rust Converter. This stuff costs as much for a quart that other products give you a gallon for, and if you go for the 2-gallon option you're spending more than three times as much.
However, you are getting a top-notch product, which certainly helps justify the higher cost. It instantly turns rust in a polymer resin coating that lasts a long time and is easy to paint over, which is great in high visibility areas of your vehicle.
It's also super easy to apply, making it easier to finish the job with the exact results you're looking for. Finally, it works on fiberglass, body filler, metal, and just about any other surface on your vehicle, allowing you to use one product to fix rust problems anywhere on your vehicle.
So sure you're spending a lot more than any other option on our list, but you're also going to love the results which makes it far easier to justify the higher price tag.
Pros
You can purchase in bulk
Easy to paint over
Very easy to apply
Safe on all types of surfaces
---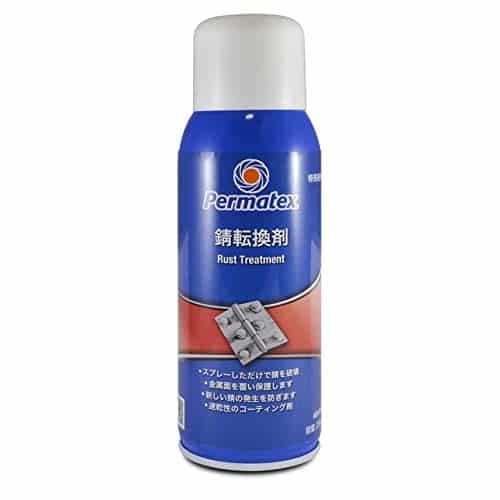 Permatex 81849 Rust Treatment might be the last product on our list, but that doesn't mean it's not worth checking out. For starters, it's an affordably priced product, which is a huge deal if you don't have the largest budget.
Not only that, but you can brush it or spray it onto an area, which lets you decide if you want a faster application process or a more precise one. It's also an automotive-specific rust treatment product, and that means it works great on metal, fiberglass, and body filler, just about anything that rusts on a vehicle.
Moreover, it both treats the rust and acts as a primer, so if you are looking to paint over the affected area, it's ready to go right after Permatex 81849 Rust Treatment dries – typically after 24 hours.
But while there's a ton to love with this product, it did fall to the bottom of our list for a reason. First, it's not great for larger projects simply because it comes in a smaller container size. But more important, it's not as effective as the options further up the list.
While it can handle smaller spots of rust, if the rust gets a little more severe then it's going to take a little more Permatex 81849 Rust Treatment to tackle the problem and fix it for you.
Pros
Affordably priced
You can brush or spray it on a surface
Both treats rust and acts as a primer
Works with fiberglass and body filler too
Cons
It's not as effective as other products
Not great for larger projects
---
Rust Converter Buyers Guide
With so many great rust converters and inhibitors, it's only natural to have a few questions about what you need and which option is the right one for you.
We completely understand, and it's why we came up with this comprehensive guide to walk you through everything you need to know to get the perfect product for your vehicle the first time.
Why You Need To Treat Rust Right Away
When you see a little spot of rust on your vehicle, it's not something you'll want to ignore. The problem with rust is that once you have a little, it doesn't take long to get a lot.
Rust spreads, and if the conditions are right, it spreads quickly. Even worse, while the products on our list work to stop the spread of rust and even eliminate it entirely, eventually rust will eat through entire components. And once it rusts through entirely, these inhibitors and converts can help.
So, if you do see a little rust on your vehicle, it's in your best interest to treat the area right away to prevent more expensive problems in the future.
How Much Rust Can a Rust Converter Help With?
If your vehicle has some rust, it's only natural to wonder if a rust converter can do the trick or if it's time to replace the component. The key factor you need to consider is far the rust has gone through the surface.
Large areas of surface rust are perfectly fine for a rust converter, and as long as it's surface rust they can fix the problem for you. The problem arises when it's no longer surface rust and it's gone a bit deeper and ate through more of the material.
Rust converters can only convert rust from the area that's still there, they're not going to rebuild any components. That's really the key factor to consider when trying to determine if a rust converter will work for your job.
If you could sand off the rust and repaint the surface a rust converter will work, but if sanding off the rust would result in a structurally deficient component, then it's not the way to go.
How Much Do You Need?
You don't want to purchase more than you need, but you also don't want to get halfway through the job and realize you didn't get enough. We completely understand, and that's why we wanted to give you a little guidance and clarification here.
In short, as long as you're working on an automotive project, you shouldn't need more than 10 ounces of product for your job. That's more than enough rust converter to cover an entire exhaust system, and it's unlikely that you need it for an entire exhaust system.
If you are completing a larger project you can purchase up to 20-ounces, but it's probably going to be a little more than you need.
Do You Need To Paint Over It?
Absolutely not! One of the primary advantages of going with a rust converter is that after you treat the area you can be completely done if you want. Of course just because you can be done doesn't mean you have to be done.
Most of the rust converters on our list also act as a primer, so if you're looking to paint over them, then they're ready to go as soon as you're done.
Finally, keep in mind that most of the products on our list dry black. This means if you're treating your vehicle in a visible area, it's not going to dry clear or match the color of your vehicle. It will dry black, and there's a good chance it'll be pretty noticeable.
However, since most of the time rust occurs on components underneath your vehicle, the black appearance that they give off usually isn't too big of a deal, and there's no real reason you need to paint over it.
RELATED: How to Get Paint off a Car (5 Ways)
Aerosol vs Liquid
When you're looking at purchasing a rust converter, one of the first decisions you'll need to make is whether you want an aerosol or a liquid. While they both do a great job of converting rust, there are definitely pros and cons to each option.
The advantage to going with an aerosol product all has to do with how easy it is to apply. All you need to do is point the can at the area and spray. You can quickly cover a large area, and you can go back for a second or third coat in a matter of seconds.
Furthermore, aerosol cans allow you to apply in harder-to-reach spaces since you can spray to the area instead of needing to physically reach it. Since rust can creep into all kinds of nooks and crannies, this is a pretty big advantage.
However, if you're looking for a precise application like you often need in high-visibility areas on your vehicle, aerosol cans might not be the way to go. They're notorious for "over-spray" which can discolor some of the surrounding areas that weren't dealing with rust in the first place!
This is where liquid rust converters thrive. Since you get to pick the applicator, you can apply it as precisely as you need to without any sort of overspray.
However, if you're trying to apply it in hard-to-reach places, you'll need to invest in some sort of sprayer to get the job done. Finally, most liquid rust converters cost less per ounce than aerosol cans.
This means if you run an automotive restoration shop or simply have a lot of rust you need to deal with, a liquid option can be the more cost-effective choice.
Water-Based vs Oil-Based Rust Converters
Another decision you'll need to make when picking out a rust converter is whether you want a water-based or oil-based product. There's no wrong answer, but there are key differences between the two options.
Water-based options are generally more environmentally friendly, and they don't typically stain and discolor other components if they get on them. However, they typically don't act as a primer, so if you do plan on painting the surface they're not always the best choice.
Oil-based rust converters, on the other hand, do a great job covering a surface and acting as a primer. They're very easy to use, but they're generally not as environmentally friendly, and you need to be very careful about what they get on.
There's no wrong choice here, just know what you're getting and what you need before making a decision!
Sanding Down vs Rust Converters
The traditional repair when you see rust is to sand down the affected area, prime it, then paint it. It's an extremely effective repair process, and if you do it correctly it keeps rust from coming back any time soon.
However, there's no doubt that it's a labor-intensive task, and the more times you sand something down, the less product you have to work with. Eventually when you're sanding, you're going to sand right through it!
That's why we prefer using a rust converter. You'll need to pull off any excess paint flaking, but you can skip the entire sanding process. The rust converter can help save some of the affected areas, and it reduces the chances of an area completely rusting through.
It's also a lot less labor-intensive, which means you get the job done quicker and can move on to the next thing! Finally, if you get the right rust converter it also primes for you. It does two steps with one easy application, which is a real win-win.
There's nothing wrong with the traditional repair if that's the way you want to go, but there's no doubt that rust converters make it easier and are just as effective at stopping the spread of rust.
Basic PPE and Application Precautions
It doesn't matter if you go with a water-based environmentally friendly product or with a flammable aerosol, when you're applying a rust converter you want to wear the proper protective equipment.
This means always wearing gloves and ensuring that you don't inhale any vapors. Because while these products do a great job at getting rust off your vehicle, they wreak havoc on your skin and respiratory system.
Even if you don't think that it's causing a problem right now, they can lead to long-term damage in the future. If you don't believe us, just check out the Safety Data Sheets (SDS) that are available for each product. They'll break down all the potential causes for concern, and you can mitigate them by using the proper protective equipment.
Final Thoughts
If you're starting to notice rust spots on your vehicle, don't ignore them or resign yourself to a rusted vehicle. Treat it early and you won't even have to worry about sanding anything down or putting in a ton of elbow grease.
Just don't put it off too long, because rust does spread, and the longer you wait, the more likely it'll start to rust completely through components, leaving you with unsightly holes you have to deal with.