There's just something about riding around on two wheels that brings fun and excitement to your life. Whether you're looking to introduce your kids to the world of riding for the first time, or if you're trying to upgrade them to the next level, this list will give you everything you need to get the perfect motorcycle.
We've broken things down by the type of motorcycle and by the best ages to get them each option. So, whether you're looking for a gas-powered motorcycle or the best option for your seven-year-old, we've got you covered here.
Not only that, but we also came up with a comprehensive buyer's guide to walk you through everything you need to know to get your kid the perfect bike the first time!
10 Best Motorcycles for Kids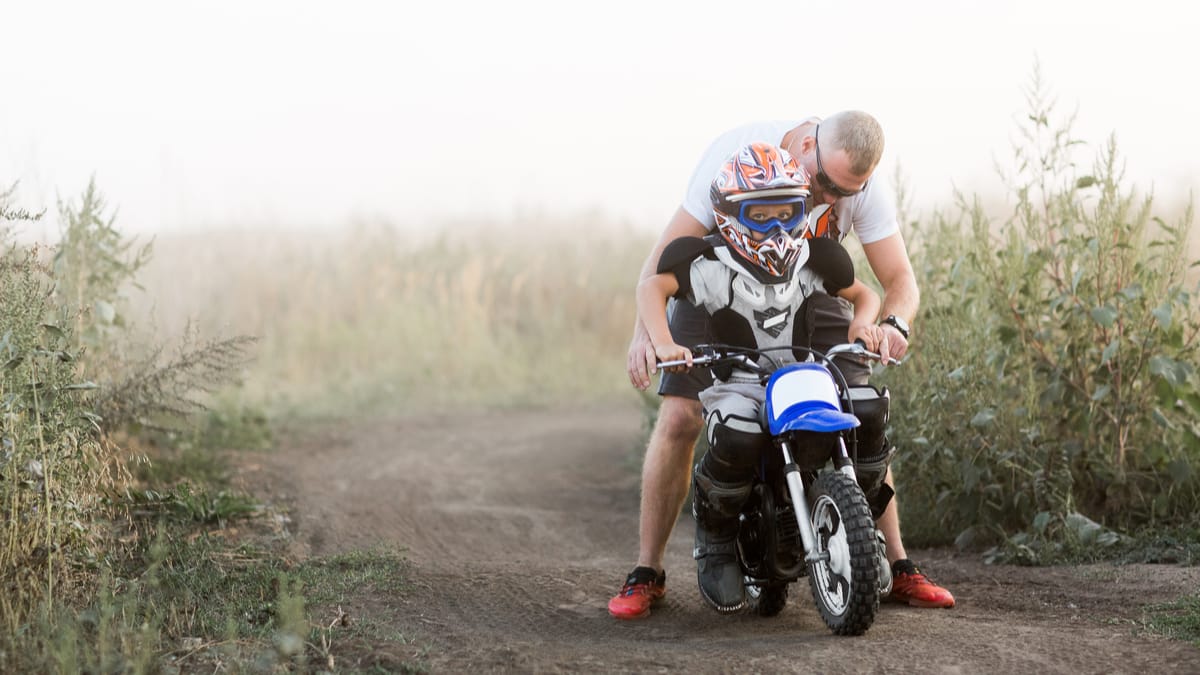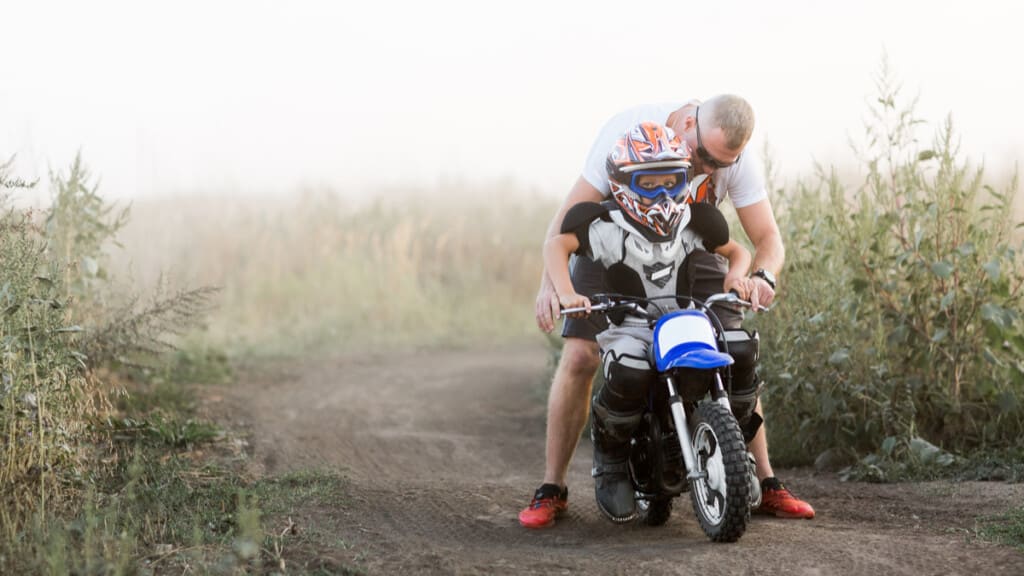 1. Costzon – Best Motorcycle For Kids Overall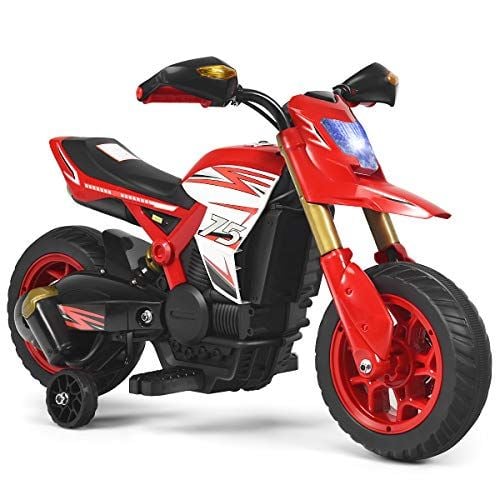 Recommended Age Range: 3 to 7
Top Speed: 1.8 mph
Type of Bike: 6-volt battery powered
If you're shopping for your kid's first motorcycle, then the Costzon Kids Ride On Motorcycle is an outstanding choice to put them on the right track. It's a battery-powered bike, and that makes it really easy for your kids to pick up while multiplying the fun.
The anti-slip tires give you the best possible traction, and it helps this bike handle a wide array of terrains. While its top speed is a bit slow at 1.8 miles per hour, that's perfect for little riders still trying to learn how to steer and keep their balance.
The bike itself comes with tons of advanced features like working LED headlights, and one of the parent's favorite features is how easy it is to charge. While some battery-powered bikes make it a pain to access the charging port, the Costzon Kids Ride On Motorcycle puts the port in easy reach.
Our only real complaint is that this motorcycle only has one operating range. While it's perfect for smaller children, it does prevent them from being able to "age up" with the same bike. There's no way to up the top speed, so it's only a matter of time until your child is looking for the next motorcycle they can ride.
Pros
Battery-powered bike
Super easy to use
Anti-slip tires give you better traction
Working LED headlight
Easy to charge
Cons
Lower top speed – no "older kid mode"
---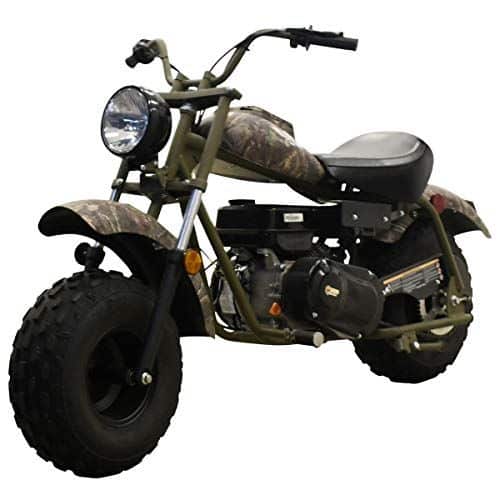 Recommended Age Range: 16+
Top Speed: 24 mph
Type of Bike: 196CC 4-stroke trail bike
While our top choice might be for smaller children, our premium choice is anything but. This is the bike you want for your teenagers, even if that's because secretly you just want to ride it yourself.
It uses the most powerful engine out of any on our list, but that doesn't necessarily translate to the highest top speeds. That's because this is a 4-stroke engine instead of a 2-stroke, and that gives you more torque for off-road situations and extra durability.
Even still, the top speed is 24 miles per hour, which is still plenty fast for most riders. But if you do want to go faster you can tweak the governor and likely reach speeds closer to 35 miles per hour. And if you want to go faster, this bike is pretty easy to customize so you can play around with it and get it going even faster!
This bike comes pre-assembled, which makes it easier to put together when you do get it. The best perk of this bike might be the fact that your child, or yourself, will never outgrow it. So, sure it's more expensive upfront, but if you take care of it properly you can easily ride this bike for the next twenty to forty years.
Pros
Outstanding trail bike
Super durable design
You never grow out of it!
Easy to customize
Pre-assembled
Cons
Very expensive option
Lower top-speed for a 196cc bike
---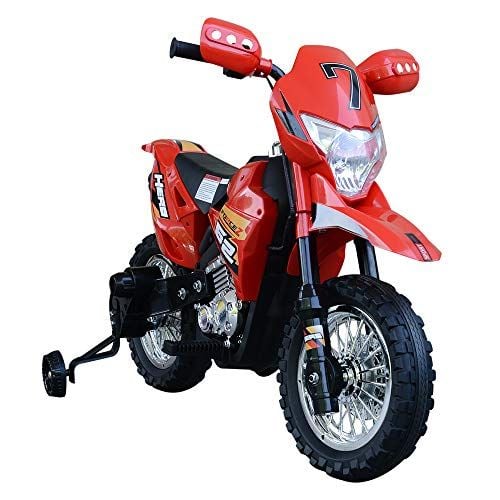 Recommended Age Range: 3 to 7
Top Speed: 3.7 mph
Type of Bike: 6-volt battery powered
Most of the time when you're shopping for a motorcycle for your child, you're looking for something that uses batteries to move them. If that's the case for you, then you really want to take a good look at the Aosom Kids Motorcycle Dirt Bike.
Unlike our top choice, this motorcycle has a top speed of 3.7 miles per hour. While that's not fast enough to be unsafe, it is fast enough to make it a bit more challenging for first-time riders to learn. Because of this, we recommend the Aosom Kids Motorcycle Dirt Bike for kids that already have some experience.
If that sounds like your kid, then they're sure to love this bike. Awesome went above and beyond to try and make this feel like a real bike. The controls are on the handles, the headlights are super bright, and they even have music on the bike!
Finally, there are two different color options that you can choose from with this motorcycle, and that lets you get the perfect bike for your child. The only real drawback to this battery-powered motorcycle is that it's slightly more expensive, and that's the only reason it's not occupying our top spot.
Pros
Higher top-speed for kids
Very realistic design
Working headlights and music
Two-color options available
---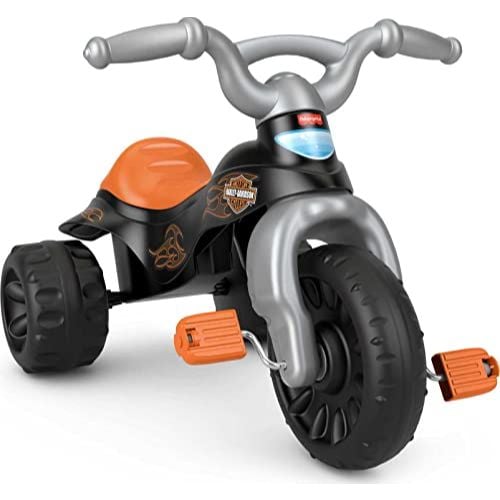 Recommended Age Range: 2 to 5
Top Speed: N/A
Type of Bike: Pedal trike
If you're not quite ready to put your child behind the wheel of a battery-powered motorcycle, then the Fisher-Price Tough Trike is what you want. There are five different designs you can choose from, and that lets you get the exact pedaled motorcycle that your child will love the most.
The advantages of going with a pedaled motorcycle as your child's first option are numerous. First, it allows them to learn at their own pace. They don't fly around while they're still trying to figure things out, making them one of the safest options.
Not only that, but it helps your kid work on their balance while building their leg strength as they pedal. Pedal-powered motorcycles are a great choice, and they also have the advantage of being really gentle on your budget due to their affordable pricing.
The Fisher-Price Tough Trike is a super durable and super safe option that your child can learn to ride on. Another feature that this bike offers that your child will love is the storage space under the seat. Kids love to pack things away and having the ability to put things under the seat of their new ride is sure to be something that they enjoy.
We do wish that you could get the seat a little closer to the pedals though. Because while the manufacturer recommended age starts at 2, many children can't reach the pedals until a little while after that.
Pros
Learn at their own pace
Easy to use
Durable construction
Very safe
Storage space under the seat
Cons
Tough for smaller children to reach pedals
---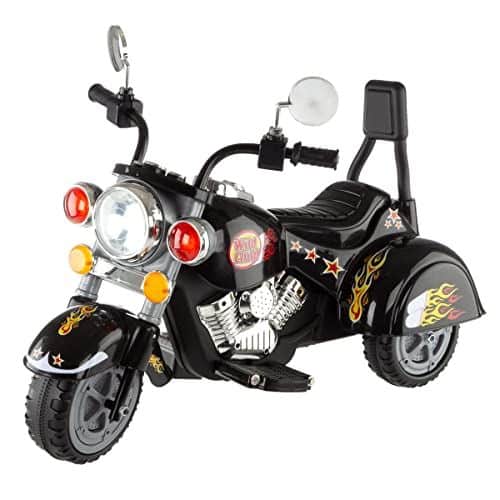 Recommended Age Range: 2 to 5
Top Speed: 3 mph
Type of Bike: 6-volt battery powered
Little ones have unique requirements for their first motorcycles, and the Lil' Rider Wild Child recognizes all of that and built the perfect bike for smaller children. This motorcycle works great both indoors and outdoors, so you can set it up to where it fits best in your life.
You don't have to spend a ton to bring this motorcycle home either, which is always nice in a world of rising costs. But while it's not a super-expensive motorcycle option, it still has plenty of top-notch features that will let your child have tons of fun with a premium-level toy.
The headlights work for a super-authentic feel, and the motorcycle has both forward and reverse functions. This makes it easier for them to navigate, and it helps them learn about how to get out of sticky situations without your help!
Still, while there is a ton to love about this motorcycle, it's not perfect. The most notable complaint that we have is that your child will quickly outgrow it due to its smaller size. While it's the smaller size that makes it great for younger kids, we all know that kids grow up quick.
The second complaint is that it doesn't get the best traction on uneven surfaces. So, if you plan on using this motorcycle outside, you need to ensure that you have a level surface that it can move around.
Pros
Works great inside and outside
Affordably priced
Working headlights
Both forward and reverse functions
Cons
Not the best traction on uneven surfaces
Smaller design – kids outgrow it quickly
---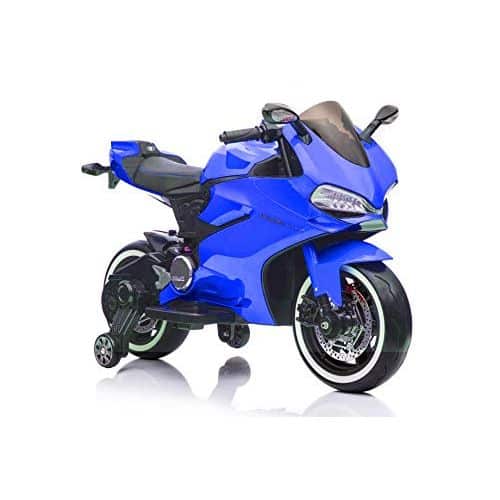 Recommended Age Range: 3 to 8
Top Speed: 4 mph
Type of Bike: 12-volt battery powered
Whether you're getting your child their first motorcycle or upgrading them to something with a little more power now that they're older, the FRP 12V Kids Motorcycle is an outstanding choice. The 4 miles per hour top speed gives your child a little more excitement, but it's still slow enough to keep them safe.
This is definitely more of an outside toy, and that's why it uses EVA foam rubber tires that give it better traction on uneven surfaces and grass. It's not an off-road monster, but it's more than powerful enough to tackle most backyards.
But what really sets this battery-powered motorcycle apart from the pack is all the premium features that it offers. It has completely functional headlights, and it has Bluetooth features. This allows you to set up your child's favorite songs every time they get behind the wheel.
You can use a USB, microSD, Android device, or an Apple device to get their songs playing. It's a truly premium feature that will have your kid clambering to get back behind the wheel and jam out while they drive.
However, premium features come with a premium price, and that's no different with the FRP 12V Kids Motorcycle. While a good portion of the cost comes down to the more powerful batteries, there's no doubt that some of the price comes from the super cool features that it has.
Pros
Slightly higher top speed
Bluetooth enabled
Working headlights
EVA foam rubber tires for better traction
Cons
More expensive battery-powered bike
---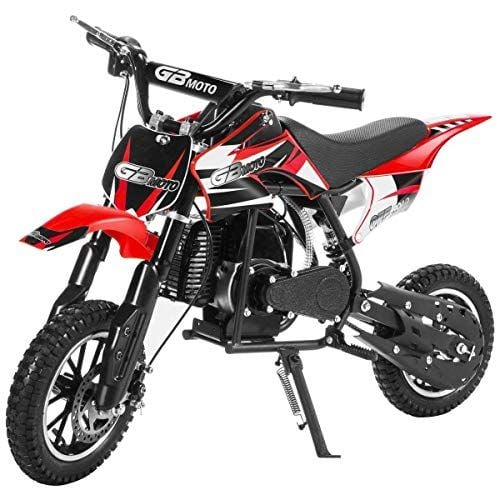 Recommended Age Range: 8+
Top Speed: 35 mph
Type of Bike: 49CC 2-stroke engine
Eight is a fun year for kids, and it's also a fun time to upgrade their motorcycle. The Superior GBMoto is the fastest motorcycle on our list, and it's not all that close. This 2-stroke motorcycle can reach speeds up to 35 miles per hour, and that's no small feat.
However, while it's a blast to ride a motorcycle at these higher speeds if your child doesn't have the experience its speeds that can lead to injuries. But if they're ready for this dirt bike, then it's really one of the best choices out there.
It's a gas-powered motorcycle, but it's available for a super affordable price considering all that it offers. For a bike this fast you need great brakes, and the Superior GBMoto delivers. It has large disc brakes on both the front and rear wheel, and those wheels give you plenty of traction for off-roading.
If your child can handle this dirt bike, it's bound to be their favorite ride for years to come. It's precisely what they need to foster a love of motorcycle riding for years to come.
Pros
Higher top speed
Very affordable for what you get
Very effective disc brakes
Large wheels provide plenty of traction
---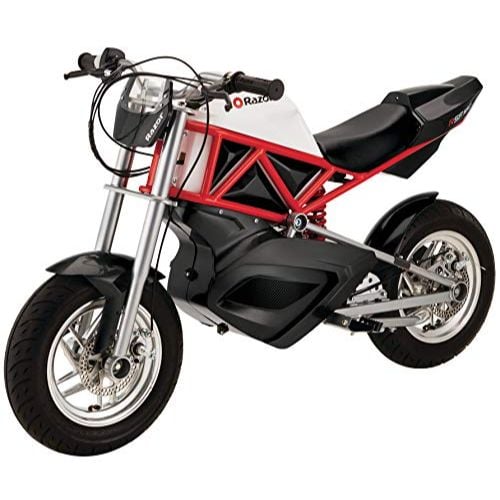 Recommended Age Range: 13 to 16
Top Speed: 14 mph
Type of Bike: 24-volt battery powered
Getting off-road is a right of passage for many kids, and with the Razor Dirt Rocket they can do just that. The 14 miles per hour top speed isn't blazing fast, but it's more than enough for them to head out and enjoy themselves.
The Razor Dirt Rocket uses tires that are perfect for off-roading, and the lightweight design is manageable for them if they do need to pick it up after a wreck. This bike is extremely durable, and it's available for an even better price.
This bike is the perfect way to introduce your new teenager to the joys of traveling off-road, all while doing it at a pace and a level that's perfect for them. Our only real complaint with this battery-powered dirt bike is the longevity between charges.
Even from a fully charged state, this bike only lasts about 30-minutes before you need to let it charge again. This means the bike can only travel about 7 miles before you need to charge it again. While that's a decent distance, we'd like it if we could travel a bit farther, and longer, before needing to wait for it to charge again.
Pros
14 mph top speed
Tires are perfect for off-roading
Lightweight design
Super durable product
Affordably priced
Cons
Only 30-minute ride time between charges
---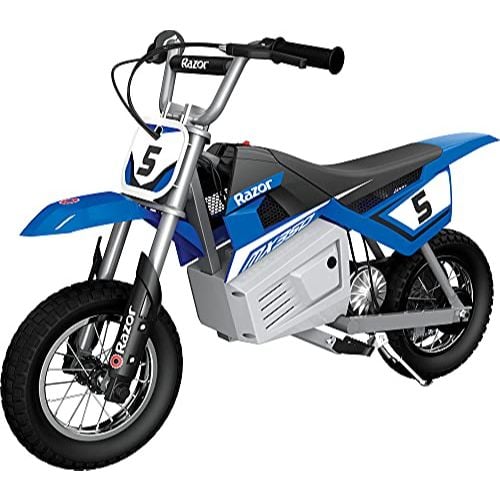 Recommended Age Range: 16+
Top Speed: 17 mph
Type of Bike: 36-volt battery powered
A 16-year-old might not be a kid for too much longer, but they're not quite an adult yet. And if they're pining for an electric street bike, then it's hard to find a better option than the Razor RSF650 Electric Street Bike.
With a top speed of 17 miles per hour, it gives them enough speed to have some fun, but not too much to let their teenage inhibitions get them into trouble. This bike uses street tires for some of the best traction around, but you can always swap them out to something more off-road worthy if that's what they're after.
The grips and handlebars are completely adjustable, which lets this bike fit teenagers across a wide range of heights. Add in the hidden storage compartments and it becomes something your child can use to get from place to place with ease, all while bringing along anything they need.
Just keep in mind that this street bike only lasts about 50 minutes between charges, so if they're trying to travel more than 15 miles at a time, this bike isn't going to get them there. This bike will give your teenager a lot of freedom, but not so much that they get into trouble.
Pros
17 mph top speed
Adjustable handlebar and grips
Hidden storage compartments
Uses street tires
Cons
Only 50 minutes of use between charges
---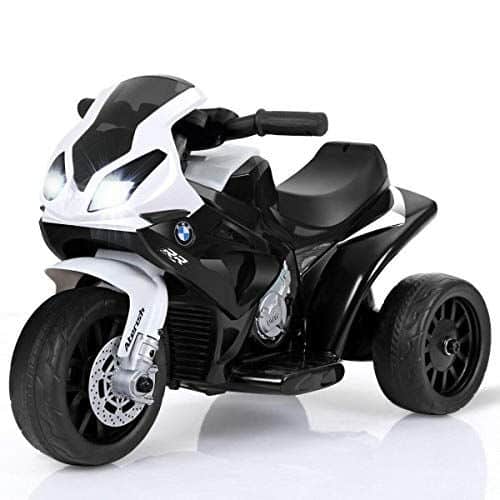 Recommended Age Range: 1 to 3
Top Speed: 1.8 mph
Type of Bike: 6-volt battery powered
While this Costzon Kids Ride-On Motorcycle bears the same name as our top choice, it's not the same bike. And while this bike didn't earn a specific "best of" accolade, we couldn't round up our list without including it.
That's because there are a lot of things that Costzon did right with this ride-on motorcycle, and you'll want to check it out if you're looking for your first motorcycle for your child. It's the only motorcycle on our list that works for kids as young as one, which is a great selling point all by itself.
It uses slower speeds that are safe for small children, and it's available for an extremely affordable price. Whether you want your child to ride around the house or get some fresh air outside, this ride-on motorcycle can handle it all.
Still, while we love this option for smaller kids, it didn't earn a top-accolade for a reason. First, kids quickly outgrow it. While it starts working for kids as young as one, most will outgrow it shortly after their third birthday.
Second, you only get about 40-minutes of use between charges. That's often enough for younger kids, but if your child really loves riding around on it, then they're going to be a bit disappointed by how much time it needs to spend on the charger.
Pros
Affordably priced
Lower top speeds
Works great indoors and outdoors
Great for small children
Cons
Kids quickly outgrow it
Only 40 minutes of use between charges
---
Motorbike Buyer's Guide
We know that there's a lot to picking out the right motorcycle for your kid, and that's why we took the time to answer some of the most common questions here. We'll walk you through everything you need to know to get the perfect motorcycle for your kid the first time.
Always Check the Age Requirements
The first thing you want to look at when you're picking out a motorcycle for your child is the manufacturer's age recommendations. While these age recommendations aren't necessarily set in stone, they're a great place to look to give you an idea if the motorcycle you're looking at is right for your child.
If your child is on the lower end of the age recommendation, they'll typically have room to grow into the motorcycle, which means they won't age out of it as quickly. However, if you go with a motorcycle while your child is on the lower end of the age recommendation, you run the risk of them not being able to comfortably use it right away.
This can act as a major deterrent for your child since they can start associating the motorcycle with frustration. Not only can this lead to them not wanting to ride right now, but it can lead them to not wanting to ride when they're completely ready for it.
Meanwhile, if you go with a motorcycle when your child is at the top of the age recommendation, there are a couple more risks you run. Not only will your child likely outgrow the toy shortly, but they might get bored with it.
Because of this, we always recommend trying to get a motorcycle for your child when your child is right in the middle of the recommended ages. This means they're more than ready to use it, but they shouldn't outgrow it any time soon and they shouldn't get bored with it.
Of course, you know your child best, so if you think they're ready for a larger bike or need something a little smaller, go ahead and trust your gut!
Size Up Your Kid
Most manufacturer age recommendations go off the average height of a child, and they have less to do with your child's ability to master the process of riding and driving the motorcycle. That's why when you're looking at the age recommendations, it's super important to keep the height of your child in mind.
If they're tall or small for their age, then the age recommendations might be a little bit off. The last thing you want is to get a motorcycle that your child doesn't fit on, so make an honest assessment about the height of your child and go from there.
Safety First!
Just because they're traveling at lower speeds (usually) doesn't mean that they can't get hurt or that you don't need to put any safety gear on them. No matter what they're riding, a helmet is an absolute necessity.
Your child's brain is their most fragile organ, and the most important. A helmet is a super easy way to help protect it. With so many different helmet designs out there it's never been easier to get a helmet that your child will love too!
If your child is riding a faster motorcycle or is simply super clumsy, consider adding additional safety gear as well. Knee pads and elbow pads can save your child from a ton of pain and injuries.
Finally, if you're child is riding a two-wheeled motorcycle that travels at higher speeds, it's always best to wear both long pants and long sleeves when riding. We completely understand that this can make them hot and uncomfortable, but it's better to be a bit uncomfortable than lose a bunch of skin because they're not wearing what they should.
Also, keep in mind that while they should wear long pants, they shouldn't be loose fitting – especially with the gas and chain-powered bikes. Moving parts can grab onto loose clothing, and that can lead to a serious injury all on its own.
Don't take safety for granted. While your kid might be a bit hot, it's exactly what they need to stay safe. Just ensure that they have plenty of access to water and that they're drinking plenty of it, so they don't suffer from any overheating or dehydration issues!
It's Alright to Look at the Price
While you don't necessarily want to go with the least expensive option just to save a few bucks, that doesn't mean you can't go with the lower-priced option if you need to. Your kids will love their new motorcycle, even if it isn't the most expensive one out there.
Having a lower-priced motorcycle is better than having no motorcycle, so don't write them off completely if you can't afford the most expensive one. Instead, take an honest look at your budget and get what you can afford – and don't feel guilty about it!
Keep In Mind Their Ability
You might think that you don't want to get a bike that your child gets bored with, and while that's true, it's more important not to get a bike that has too much for them. This is especially true as your child gets a bit older and the bikes have more capabilities.
This is especially true for bikes like the Superior GBMoto that we recommended. That's because these bikes can go fast. If your child's not ready for that, then it's really easy for them to get hurt.
Just keep in mind that with bikes like that you can govern them, and this helps slow them down while your child figures out how to handle it. Because while your child might get a bit bored with a slower bike, they're sure to lose interest if they suffer a serious injury because they were riding a bike they couldn't handle.
Battery Life Is Huge
With battery-powered motorcycles, you want to take a hard look at how long it takes them to recharge and how much you get out of each charge. Because even if it's the best battery-powered motorcycle in the world, if they can only ride it for a few minutes before it needs to spend hours on the charger, your child is going to have trouble getting into it.
Instead, you'll find that they're getting frustrated with it since it never works as long as they want it to. A longer battery life is a huge selling point, as is a shorter charging time.
Accessories Matter
It might not be the first thing you look at when you're picking out a motorcycle for your child, but there's a good chance that it's the first thing your child is going to notice. So, don't look past things like headlights and the radio.
Before your kid even gets moving for the first time, they're going to check these things out, and the more it feels like a "real" motorcycle, the more likely they are to enjoy it and get excited about getting behind the wheel.
While the performance specs certainly matter too, don't look past the things that just might be your kid's favorite part.
Final Thoughts
The most important part of getting your kid into riding is to give them a motorcycle to ride! So, while there are tons of great options on our list, you shouldn't stress out too much about getting the wrong one.
As long as your child fits on the motorcycle, they're sure to love it and want more. Don't overthink it, your kids are going to love their new motorcycle, so go ahead and get one on order sooner rather than later!