Everyone knows that they're supposed to change their oil every few thousand miles, but one fluid that often gets overlooked is the antifreeze. However, while it might be an overlooked fluid, it's a huge part of keeping your vehicle in good working order.
But another thing you might not know is that not any antifreeze will work in your vehicle. There are some universal options, but even those come with caveats.
There's quite a bit to it, and that's why we came up with this guide. Not only did we track down ten of the best antifreeze options for different vehicles, but we also came up with a comprehensive buyer's guide to walk you through everything you need to know about coolant changes.
From what you need to do to it right to a guide on how to pick out the perfect antifreeze for your vehicle, we've covered it all for you.
Important note: Never open a coolant reservoir cap or a radiator cap if the engine is hot. System pressure will launch hot coolant into the air and can lead to severe burns. Also, ensure you get the right coolant type for your engine type. Check your owner's manual for more information.
Disclaimer – This article may contain affiliate links, this means that at no cost to you, we may receive a small commission for qualifying purchases.
10 Best Engine Coolants and Antifreeze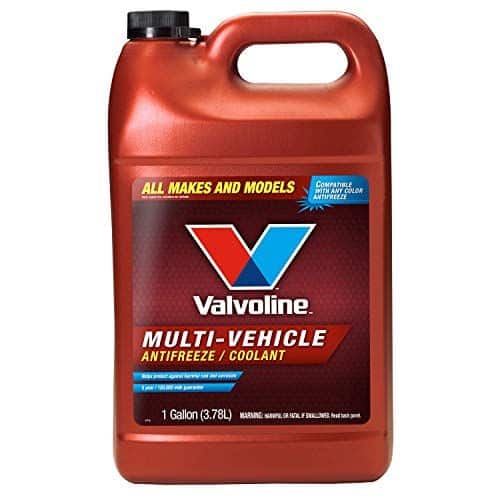 Type: Concentrate
For: Universal
Replacement frequency: 5 years/150,000 miles
Sure, there are tons of different coolant options out there, but if you're completing a full coolant flush and just want something that will work regardless of what you drive, then Valvoline's multi-vehicle antifreeze is an outstanding choice.
It lasts just as long as OEM replacement fluids, and it provides just as much protection. It lubricates and protects gaskets in addition to keeping your engine from overheating, giving it even more properties to love.
It does come in a concentrated formula which means that you'll need to take the time to mix it yourself, but this allows you to tailor the mixture to exactly what you need. Furthermore, it's more affordable than buying a pre-mixed option that doesn't last nearly as long.
So, if you want just one type of coolant for all of your vehicles, this is it – just don't mix it with whatever coolant is already in there!
Pros
Works on almost any vehicles
Lubricates and protects gaskets and seals
It lasts a long time
You get to decide the mixture percentage
Cons
You need to mix it yourself
---
---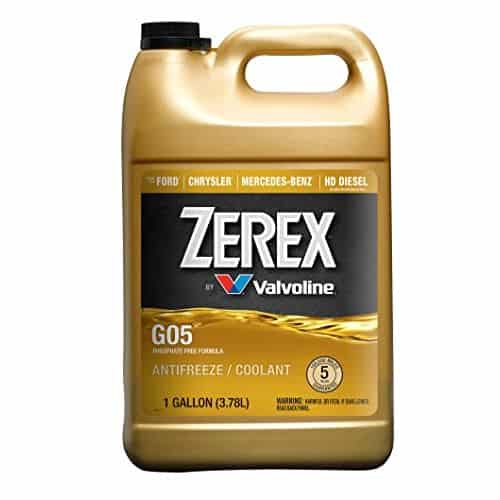 Type: Concentrate or ready-to-use
For: 1997 – 2016 Mercedes Benz; 2002 – 2012 Chrysler, Dodge, and Jeep; 2003 -2012 Ford SUV/truck; 2004 -2001 Ford passenger car; 1996 – 2001 SAAB, Fiat, Alpha Romero; pre-1996 Toyota, Nissan, Honda, Mazda, Hyundai, Kia, Mitsubishi, Acura, Infiniti, Audi, Jaguar, Porsche, Volkswagen, and Landrover
Replacement Frequency: 5 years/150,000 miles
If you're driving a larger diesel vehicle, or if you're completing maintenance on a piece of diesel construction equipment, then you want an antifreeze that can handle those heavy-duty applications. That's exactly what you get with Valvoline's Zerex G05.
It's an affordably priced product that comes in both concentrate and ready-to-use formulas, giving you a little more versatility to get what you want. You can order the concentrate for your full flushes but also have a ready-to-use option on hand for when you just need to top things off.
And while this is our recommended choice for diesel vehicles, there are plenty of gasoline vehicles it works on too.
However, this is not a universal coolant, so double-check with the extensive listing above to see if your vehicle matches. If it does, it's a great choice, but if it doesn't, you'll need to go with something else.
Pros
Works on tons of vehicles – both diesel and gas
More affordably priced
Both concentrate and ready-to-use options available
---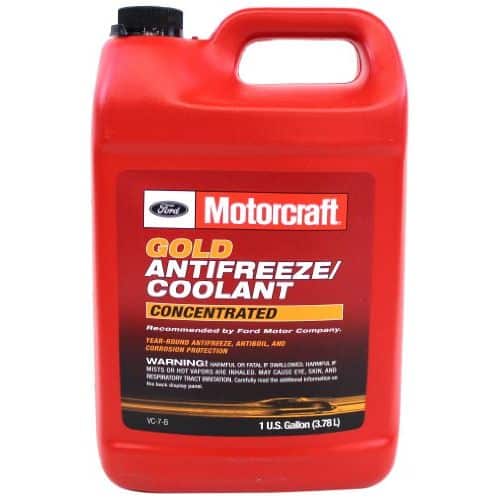 Type: Concentrate
For: Fords
Replacement Frequency: Vehicle specific
If you drive a Ford and want an OEM replacement fluid, then what you want is Ford Motorcraft Gold. It's the recommended replacement coolant for any Ford vehicle, and it's very effective at cooling and protecting various components in these vehicles.
It typically lasts 5 years or 150,000 miles, but in some Ford vehicles, it will actually last even longer. Like most OEM products, it's a smidge more expensive upfront but compared to ready-to-use options it's still a lower overall cost.
And as a concentrate you get to control the exact water to antifreeze mixture to match your environment and driving conditions. Since it's an OEM product, if you're only topping off instead of flushing the system, this is the coolant that came in your Ford, and it's what they're going to use at the dealership.
Finally, if your vehicle is still under warranty, this is the coolant you need to use to avoid voiding it. If you drive a Ford, you're not going to find a better antifreeze mixture than this.
Pros
OEM coolant for Ford vehicles
Very effective mixture
It lasts a long time
Cons
More expensive upfront
It only works with Ford vehicles
---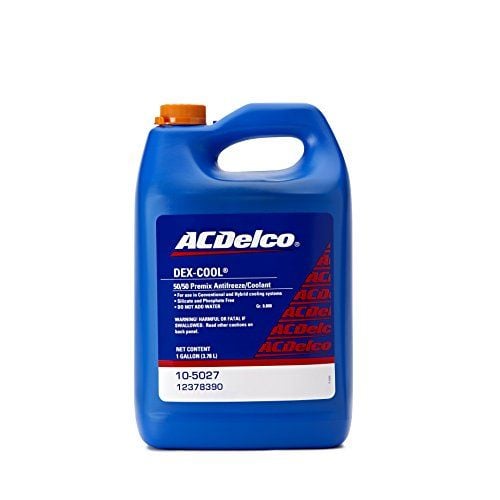 Type: Ready-to-use
For: GM vehicles
Replacement Frequency: 5 years/150,000 miles
While Ford makes their own products with Motorcraft, if you drive a vehicle by GM their OEM parts come from ACDelco. GM vehicles use a proprietary antifreeze called Dex-Cool, and it's what you need to keep everything running smoothly.
This ACDelco Dex-Cool is super easy to use as it comes in a ready-to-use formula, so all you need to do is pop off the cap to the reservoir and put the new coolant in. This is true whether you're topping off or flushing the whole system!
Dex-Cool from ACDelco lasts either 5 years or 150,000 miles guaranteed, so it's not a service you need to complete all that often. Still, since it's an OEM replacement part and a ready-to-use product, it's no surprise that it is a slightly more expensive choice.
Furthermore, Dex-Cool only works in GM vehicles, so if you drive anything else this isn't something you want to put in it
Pros
OEM coolant for GM vehicles
Very easy to use
It lasts a long time
Cons
It doesn't go as far as concentrate options
It only works for GM vehicles
---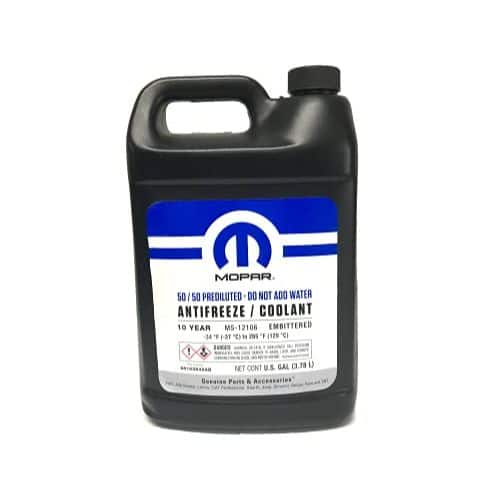 Type: Ready-to-use
For: Dodge, Fiat, Ram, and Chrysler
Replacement Frequency: 10 year/150,000 miles
We've already covered Ford and GM, so it only makes sense that we include an option for Dodge too. But while Mopar is the OEM replacement option for Dodges, it's also the OEM option for Fiat, Ram, and Chrysler. If you drive any of those vehicles and want an OEM antifreeze, Mopar is the way to go.
What's even better with Mopar coolant is that while it has the same mileage limit as other types of antifreeze at 150,000 miles, it can last up to ten years! This makes it more likely that you'll actually meet the mileage limits before you end up replacing it.
The formula itself does a great job of keeping your engine cool, and it has plenty of protective properties. It's a slightly more expensive option, but it is a ready-to-use formula which means all you need to do is pour it in!
But while that makes it easier to use, it does mean that you'll need to order more of it to fill up your entire system, and that drives the cost up a bit too.
Pros
It lasts a super long time – up to 10 years!
OEM replacement for Dodge, Ram, Fiat, and Chrysler vehicles
Very effective formula
Easy to use
Cons
More expensive option
Pre-mixed doesn't go as far as concentrate
---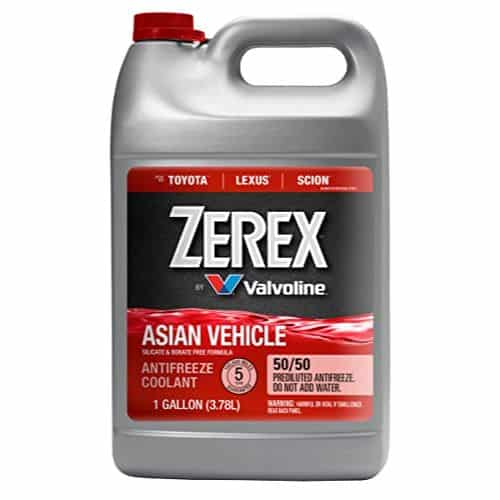 Type: Ready-to-use
For: Toyota, Honda, Acura, Mitsubishi, Subaru, Daewoo, Lexus, Kia, Nissan, Infiniti, Suzuki, Daihatsu, Scion, Mazda, Hyundai, and Isuzu
Replacement Frequency: 5 year/150,000 miles
We covered all the domestic vehicles so far, but those aren't the only ones out there. If you drive a vehicle that comes from an Asian manufacturer, then this Valvoline Zerex Red formula has you covered. It specifically works for vehicles that come from that part of the world, and that makes it an excellent option for a large lineup of vehicles.
It's also available for an affordable price, although it does come in a ready-to-use bottle which means you'll likely end up ordering more of it. It provides the same level of protection as OEM options for these vehicles too!
However, this is a formula specifically for vehicles from those markets, so it's not a true universal option that you can use for whatever vehicle you have or that comes into your shop. Finally, since it's not the OEM replacement part, it's not something you'll want to top off with either unless it was used during the last coolant flush.
Pros
Affordably priced
Works for lots of vehicle manufacturers
Provides long-lasting protection
Easy to use
Cons
Only works for Asian market vehicle manufacturers
---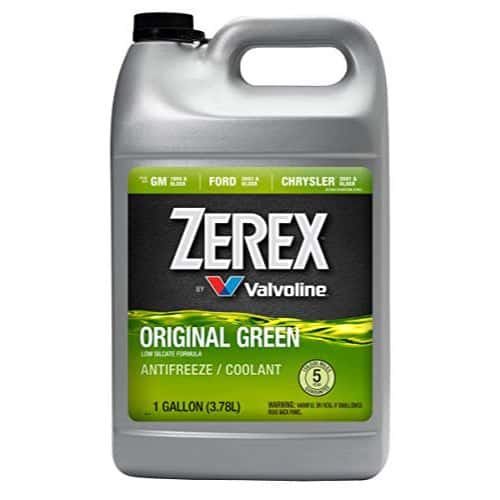 Type: Concentrate
For: Pre 1996 GM, pre-2001 Chrysler, pre-2001 Fords
Replacement frequency: 5 years/150,000 miles
Generally speaking, older vehicles have very similar coolant systems. It wasn't until more modern years that each manufacturer tweaked their system and started requiring their own antifreeze to prevent problems from cropping up.
That's why for older GM, Ford, and Chrysler (read Dodge too!) vehicles, the same antifreeze works for them all. Valvoline makes a product called Zerex Original Green for all these vehicles, and it's really a great product.
Not only is it a more affordably priced option for these vehicles, but it also comes in a concentrate which means it lasts far longer and you can customize the mixture to exactly what you need! Furthermore, while it does a great job cooling your vehicle, it also lubricates various gaskets and seals, protecting your engine in the process.
So, while it only works for older vehicles, it's a great product for those vehicles, and you won't have to spend as much on coolant flushes and top-offs compared to the newer vehicles with more intricate cooling systems.
Pros
You get to decide the mixture percentage
More affordably priced
Lubricates and protects gaskets and seals
It lasts a long time
Cons
It only works for select older vehicles
You need to mix it yourself
---
8. Shell Rotella ELC – Best Extended Life Option (Diesels)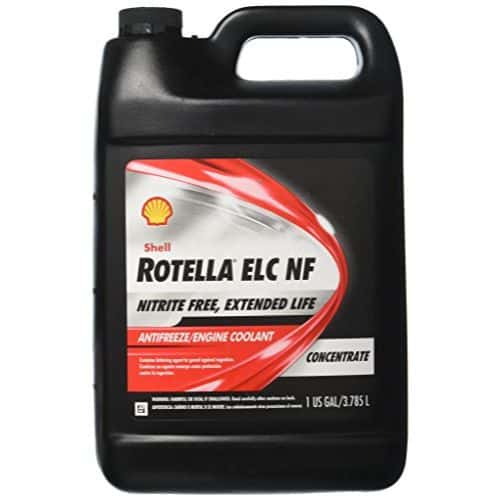 Type: Concentrate
For: Heavy-duty vehicles
Replacement Frequency: 6 years/600,000 miles or 12,000 hours
When you're on the job site you use your vehicles a lot. So, the last thing you want is another maintenance interval that's constantly cropping up and keeping your vehicle from work.
That's where an option like Shell's Rotella ELC really stands out from the rest. It only works for heavy-duty vehicles, but it can last for a full six years or 600,000 miles, and for vehicles that sit and idle for a while, it can last a full 12,000 hours of use.
Sure, it's a little more expensive upfront compared to other coolant options, but since it lasts so much longer than other options, it's still a great value. You don't need to add any other additives to this antifreeze, but you do need to mix it before putting it in your vehicle.
It's a heavy-duty antifreeze for heavy-duty vehicles, and if that sounds like something you need, it's hard to find a better value than this.
Pros
It lasts a very long time
Easy to use – doesn't require any extra additives
Provides outstanding levels of protection
Cons
It only works for heavy-duty vehicles
Slightly more expensive upfront
---
Type: Concentrate or ready-to-use
For: GM vehicles
Replacement Frequency: 5 year/150,000 miles
While Zerek Dex-Cool didn't earn it's own "best of" nod, we didn't feel right including all the best antifreeze options out there and not having it on our list. It's an affordably priced antifreeze option that works great for GM vehicles, and it lasts just as long as the OEM option.
Additionally, you can get it in both a concentrate or a ready-to-use bottle, which gives you even more versatility depending on your level of expertise and the job you're completing. It has additional additives that help protect your engine too!
Sure, it's not the OEM replacement fluid for GM vehicles, but if your vehicle is no longer under warranty, you're completing a full flush, and you want to save a few bucks with a top-notch coolant, there's absolutely nothing wrong with Valvoline's Zerex Dex-Cool.
Pros
Affordably priced
You can get either concentrate or ready to use
It lasts a long time
Uses additives for additional protection
Cons
Not an OEM replacement fluid
---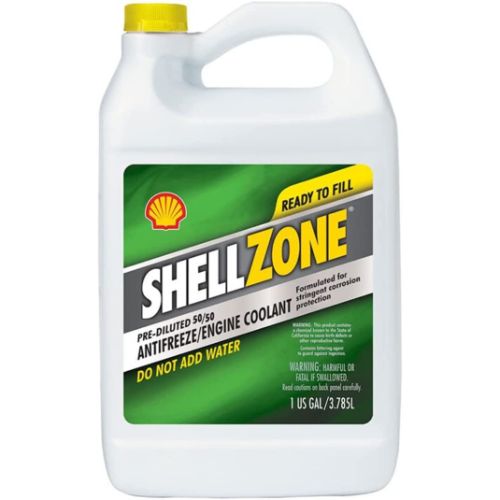 Type: Ready-to-use
For: Universal
Replacement Frequency: 5 years/150,000 miles
If you work at an automotive shop or just have a couple of different vehicles, then purchasing in bulk might be the way to go. Unlike other automotive fluids that have a shorter shelf life, you can easily store unopened coolant for years without any adverse side effects.
This is a ready-to-use formula, so you don't need to mix anything, all you need to do is drain the old fluid and pour this one in!
This set of ShellZone Antifreeze comes in six different 1-gallon jugs (If available), so you don't need to open more than you need, and it saves you money compared to if you purchase each bottle individually.
Furthermore, it's another universal coolant, so as long as you don't mix it with another type you can use it for any vehicle in your fleet! It lasts just as long as OEM fluids and provides excellent protection.
Still, even when you purchase this ready-to-use fluid in bulk, it's more expensive than concentrates, and you have to spend more upfront.
Pros
All you need to do is add it!
Works on any vehicle
It lasts a long time
Cons
More expensive than concentrates
Purchasing in bulk is more expensive upfront
---
Antifreeze Buyer's Guide
There are quite a few things you need to know about antifreeze. With so many important tidbits out there, we wanted to dedicate a section to inform you about everything you need to know about selecting your next antifreeze, topping things off, and even full-blown coolant flushes.
That's exactly what we did here, and we'll have you checking, ordering, mixing, and topping off your own coolant in no time!
Ready-to-Use vs. Concentrate
When you're shopping for coolant, you have the option of a concentrate or a ready-to-use antifreeze. There's really no wrong choice, but there are pretty important differences that you need to be aware of.
Ready-to-use formulas are just what they sound like, they're ready to use right out of the bottle. This makes them the easiest option to use. When you compare the cost per ounce of product compared to concentrate options they typically cost less, but it's a bit misleading.
That's because you mix concentrate options with distilled water, which doubles the amount of coolant you have without adding hardly anything to the overall cost.
Moreover, while most ready-to-use mixes come in a 50/50 mix, if you're looking for a little more protection, you can always up that mixture to 60/40 or something similar.
Of course, you'll need to mix it yourself, but it's really not a big deal as long as you have a container available to mix everything in.
Mixing Concentrate
If you do opt for the concentrate over the ready-to-use antifreeze, then you'll need to mix it yourself. While this isn't a huge deal, it's important that you do it the right way to prevent future problems from affecting your vehicle.
First, you always need to use distilled water when mixing. This is not the same as purified or filtered water. Distilled water doesn't have any additives in it, and that's exactly what you need when mixing it with antifreeze.
Tap water, filter water, spring water, and just about any other type of water out there will attract rust if you add it to antifreeze and pour it into your vehicle. Over time this rust will start to wear down seals and other components in your vehicle's cooling system.
Eventually, this will lead to gaskets and seals failing, and it can lead to even more expensive components breaking down as well. Distilled water only costs a dollar or two per gallon at your local grocery store, so don't skimp out on this very important step!
Next, you need to decide what mixture you want to go with. You really have three options here. If you live in a mild area, you can go with a 40 percent antifreeze and 60 percent water mixture. But keep in mind that even if you live in a milder area, if you drive a higher performance vehicle you'll still need a higher percentage of antifreeze.
That's because not only does antifreeze keep your cooling system from freezing, but it also keeps things from boiling over at higher temperatures.
The most common type of mixture people use is a 50/50 mix. This is more than enough for most conditions and most vehicles, and it's the easiest to mix since it's equal parts of coolant and water. 50/50 mixtures are what most ready-to-use types of antifreeze use.
The final option you have is actually the ideal choice. That's 60 percent antifreeze and 40 percent water. This mixture gives you the lowest possible freezing point and the highest possible boiling point, making it an ideal choice for the highest-end cars and the most extreme environments.
If you want the best possible results for your vehicle, consider a 60/40 mixture.
Tips for Topping Off Antifreeze
We've all been there, you look into the engine bay and notice you're a little low on antifreeze. While you might want to track down where the antifreeze went, it doesn't mean that you need to drain out the rest and flush the entire system.
It's perfectly alright to top off the system – as long as you do it the right way. First, you need to use the exact same antifreeze that is already in your system. Mixing different antifreeze brands can lead to congealing, gelling, or other disastrous results.
Second, always ensure that you either use a ready-to-use option or that you mix concentrate to the appropriate amount. While you might think that adding a little antifreeze or a little water to the system won't make much of a difference, if you do this enough times it can lower the final boiling point or raise the freezing point to a point it can lead to disastrous results.
Does the Color of Antifreeze Matter?
The answer to this question is that it kind of matters. While some sites will swear up and down that certain colors mean different things, it's really up to the manufacturer to decide what color they want to make their antifreeze.
So, a red Motorcraft antifreeze might mean one thing, but a red Valvoline antifreeze could mean something completely different. Still, because they can mean different things, and because you shouldn't mix different antifreeze types, the color of your antifreeze is a useful tool.
It typically gives you a great indication of what antifreeze is already in your vehicle, especially if you know the color of the OEM antifreeze for that vehicle. If the color matches the OEM color, there's a pretty good chance that's what's in there.
But of course, if you're not sure you shouldn't mix it, and you're better off completely flushing the system and putting new antifreeze in there. While it might be a little more expensive now, mixing the wrong types of antifreeze together can lead to even more expensive repairs.
RELATED: Can you Mix Different Types of Coolant? (Which Types?)
Can You Run Straight Antifreeze?
If 60/40 is better than 50/50, then even more antifreeze must be better right? While we understand the thinking, the truth is that it's completely wrong.
Pure antifreeze actually freezes at a temperature close to 9 degrees Fahrenheit, which is about 45 degrees higher than if you simply mix it 50/50. Technically pure antifreeze does a have slightly higher boiling point than a 50/50 mixture, but it's not by much.
Pure antifreeze can start boiling at 256 degrees Fahrenheit, while a 50/50 mixture boils around 223 degrees Fahrenheit. Both numbers are more than enough to handle the operating temperature of your vehicle.
However, even some of the warmer climates in the world will go through a cold spell that temporarily dips below 9 degrees Fahrenheit, and if that happens, you'll end up with a frozen solid cooling system, busted seals, and shattered components!
Not to mention that distilled water is far less expensive than straight antifreeze, so there's really no reason not to mix it. You'll get better performance and a lower cost!
RELATED: Can You Use Water Instead of Coolant? (Why You Shouldn't)
How To Tell If You Need New Coolant
While you can always go with the service interval and stick with that if you want, you might be able to save yourself a few bucks if your vehicle isn't under warranty anymore. That's because many vehicle manufacturers want you to change the coolant more often than you should.
The reasoning is pretty simple, it sends you back to their dealership for more service, and they use their own OEM fluids, making them even more money.
Fortunately for you, testing your coolant is one of the easiest things you can do. All you need is a coolant tester, and it's a tool that you can usually get from Amazon for less than five bucks.
All you do is open up the coolant reservoir, suck up a small amount of coolant, and see what the freezing point is! We recommend at least -37 Celsius (-35 Fahrenheit). That also translates to boil over protection up to 129 Celsius (265 Fahrenheit). But you know your system and your driving conditions, so you can make that own determination for yourself.
If the coolant tests below your desired protection level, it's time to flush the system and replace the coolant! If it's still in an acceptable range, then you're good to keep driving – just ensure that you test it every few thousand miles to ensure it's still good to go.
Finally, always wash out your coolant tester after using it and hang it in a cool place to dry so you'll get accurate results next time!
How Long Does Unused Coolant Last?
Whether you're topping off the fluid or completing a full coolant flush, there's a pretty good chance you're going to have some leftover coolant? That naturally leads to the question, how long can you store unused coolant?
Well, compared to other automotive fluids, unused coolant lasts quite a long time. As long as you keep the unused coolant in the original container, close the container, and store it in a cool and dry place, it should easily last three to four years.
Moreover, if the coolant is completely unopened, it has an indefinite shelf life. This means you don't need to worry about having unused coolant as long as it's unopened. Whether it's five years or ten years between your next coolant flush, that unopened container will work just fine when the time comes!
An Interesting Antifreeze Fact
Alright, we admit it, this one really won't help you with anything when it comes to picking out the perfect antifreeze. But did you know that antifreeze is actually sweet? That's right, in fact, it's so sweet that it was a major concern that people would mix it into drinks to poison people.
Because of this, the United States government mandated that all antifreeze manufacturers add an extreme bitterant to the fluid. This gives it a telltale taste that no one likes and reduces the chances of someone slipping it into someone else's drink without them noticing!
Final Thoughts
Antifreeze is extremely important for your vehicle, and it's not something that you want to take for granted! So, if you're unsure when the last time you got your antifreeze changed was, go ahead and get a coolant tester and see if it's time.
If it is, then flush the system with the right choice for your vehicle from our list, it'll help keep expensive repairs from popping up and keep your vehicle in good running order!
Was this article helpful?