Following the introduction of the Euro 6 carbon emissions directive in the UK and Europe, an unexpected race to downsize engines began among car manufacturers. They began to downsize the larger engines and include smaller engines in their model ranges. However, this change was made on several other continents, including the USA.
Throughout this whole race of engine downsizing, four-cylinder engines became increasingly popular with automakers. From family cars to sports cars, 4-cylinder engines have become the most important element in the engine range.
Such cars with four-cylinder engines have excellent performance characteristics. Usually, you do not get too much luxury and comfort from these cars. The fuel consumption of these cars is the highest and has been carefully planned.
The Best 4 Cylinder Car Engines
1. AUDI S3 2.0-Liter 4-Cylinder Engines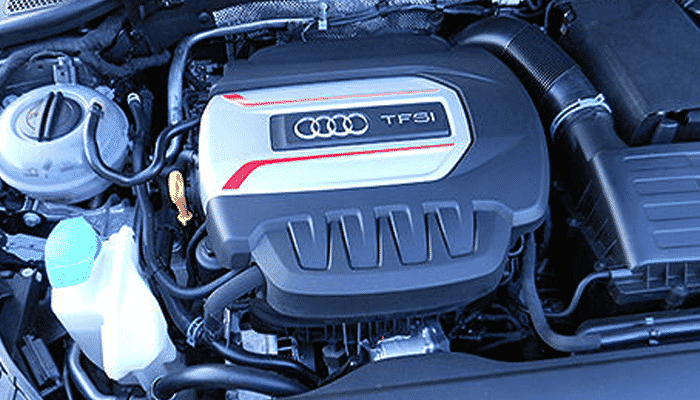 It is a bitter reality that Audi, as a subsidiary of the German car manufacturer VW, uses VW engines, and that they do not have a specific engine family name like Mazda or Ford. They simply fit the engine sizes and the number of cylinders.
For diesel engines, they have TDi engines, and for petrol engines, they have TFSi engines. The most powerful are the four-cylinder TDi engines with 2.0-liter turbocharger and 292 hp output, which achieve 62 miles per hour and a top speed of 155 miles per hour in just 4.6 seconds.
In the Audi S3 models, these engines are economical at 25 miles per gallon and they are superbly crafted sports saloons.
2. MAZDA 3 SkyActiv Engines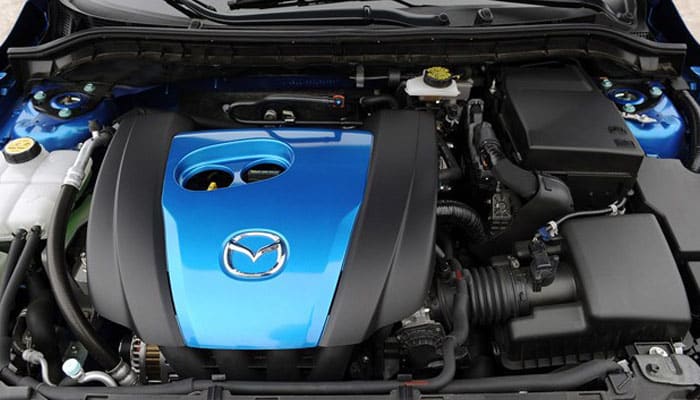 Mazda is more active in the family car sector and makes a major contribution to this segment. The most exclusive thing in the Mazda vehicles is that they have introduced Mazda Skyactiv engines; these units are the top-rated four-cylinder engines with an exclusive performance and efficiency in Mazda 3 engines.
The Mazda 3 models are the living examples of this engine family. These engines produce 184 hp and take almost seven seconds to reach the 60 mph mark.
These engines are available in a variety of models and power ratings, with a fuel consumption range from 30 miles per gallon to 47 miles per gallon.
3. FORD FOCUS ST EcoBoost Engines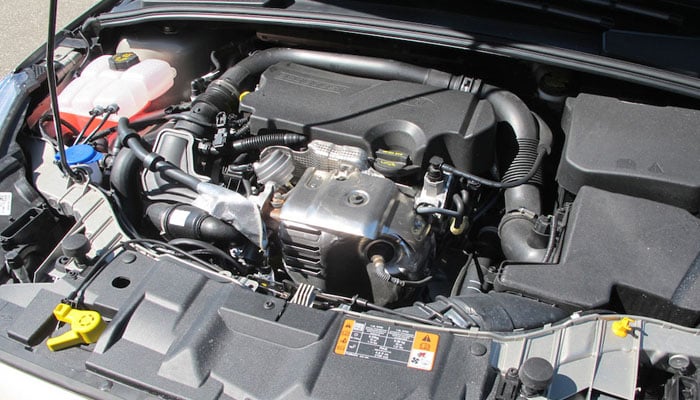 In the current British new car market, the Ford Focus is one of the most attractive versions of small family cars. These hatchback vehicles were among the top 10 British hatchback family cars, and have excellent sales figures.
The Focus hatchback saloons are the among the family vehicles that can easily carry five passengers. The Focus ST is one of the models equipped with Ford's most efficient four-cylinder EcoBoost engines.
Ford engines range from 2.0-litre EcoBoost turbocharged engines to 2.0-litre EcoBoost engines that deliver 252 bhp and a powerful 270 lb-ft of torque, capable of reaching 62 miles per hour in just 6 seconds. In Ford Focus ST models, this engine has a top speed of 150 miles per hour, which is an excellent top speed.
4. KIA SOUL 2.0-Liter Engine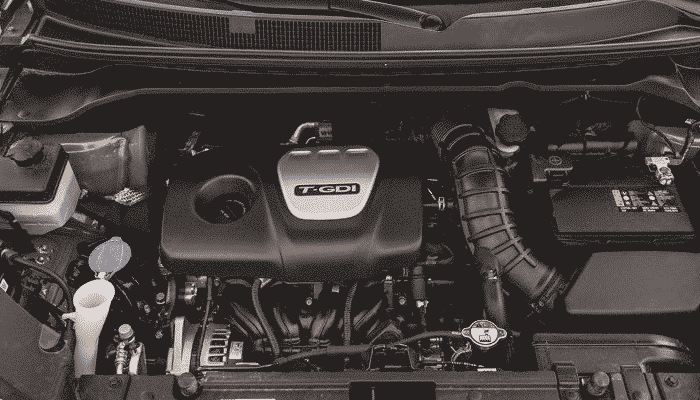 KIA Soul is a Korean offering; it is an SUV with all the features and qualities of a hatchback to provide extra fuel economy and an excellent blend of performance in a family drive.
A range of 4-cylinder engines is available for the KIA Soul. The best-tested version of these 4-cylinder engines is a 2.0-liter version with 201 hp. This engine delivers a mountain of torque almost equal to the amount of horsepower.
With this engine, the Soul has an acceleration time of 6.5 seconds to go from 0 to 62 miles per hour, but the top speed is also no less than that of an Audi of the same class.
Fuel consumption is stated as an average of 30 miles per gallon, which is far better than a number of cars in this category.
5. PORSCHE 718 BOXSTER Engines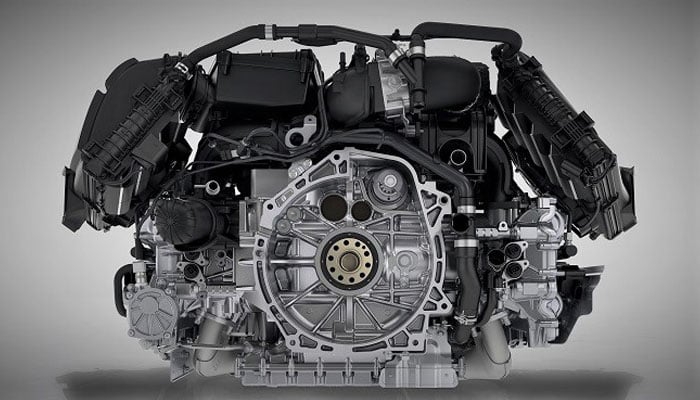 Porsche is a well-known sober sports car, and uses the four-stroke engine. The Porsche 718 Boxster engines are simply excellent four-cylinder engines. They are based on the 2.0-liter turbo versions and are available in various power ratings.
The Boxster is one of the most spectacular machines and takes just under five seconds to break through the 62 mph barrier. It has an average fuel consumption of 26 miles per hour in a full sports car.
6. CHEVROLET CAMARO 4-Cyl Engine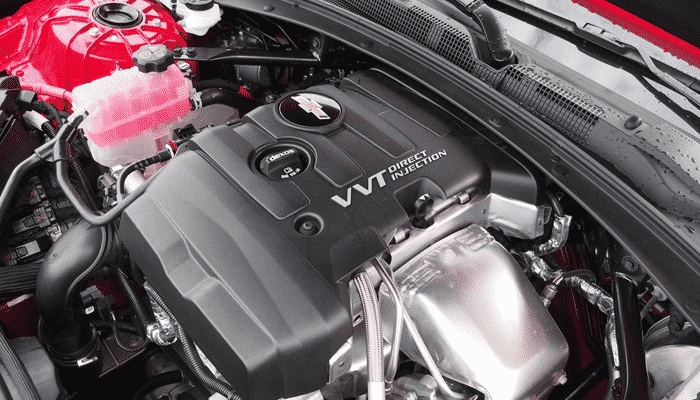 The Camaro is one of the most inspiring muscle cars, and is in direct competition with the Ford Mustang. It is one of the oldest living muscle cars in the world. The Camaro is offered with the best smaller engines in the world.
The basic version starts with the four-cylinder 2.0 litre 4-cylinder in-line engines. These engines are able to produce a rich torque of almost 300 lb-ft and power of 275bhp.
The Camaro takes just over 5 seconds to reach 62 miles per hour. It has an excellent fuel economy of 27 miles per gallon.
7. SUBARU BRZ 2.0 Engine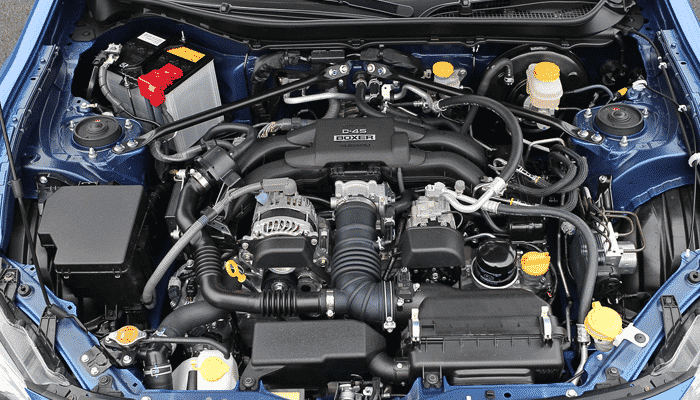 The Japanese car manufacturer Subaru produces the vehicles of the BRZ family, and these vehicles are equipped with the most powerful boxer engines. These engines are 4-cylinder units and have a displacement of 2.0 liters, putting them at the top of the BRZ models.
Subaru BRZ also has a sibling that looks like an identical twin; everything – including most of the features – is almost exactly the same, except for the nameplate. Guess what it is? It's the Toyota 86.
On the performance side, it's way behind the BRZ models. The BRZ models are popular in the European markets, but the 86 models are very rare. The 4-cylinder engine of the BRZ is a powerful unit that cranks 205 hp and transfers all the power to the manual gearbox.
It is not an in-line engine, but a flat boxer engine. On the other hand, there are also automatic transmissions, and if you choose automatic transmissions, 5 hp of power is lost from the system due to mechanical losses of the automatic system.
The BRZ is more efficient and useful with a manual transmission. It takes 6.2 seconds to reach the benchmark of 62 miles per hour. It has a combined fuel consumption of 28 miles per gallon and on the highway, the BRZ remains a muscular and sturdy sports coupe.
In city traffic, it lacks a little bit of driving pleasure, but overall, it is simply a great vehicle that can be driven with a 4-cylinder boxer engine.
8. ACURA TLX 4-Cyl Engines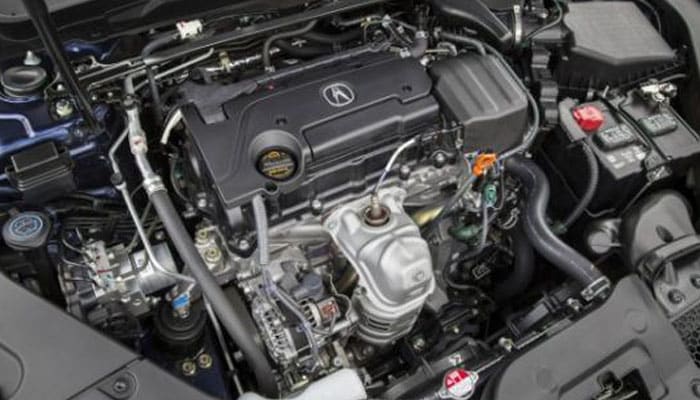 The Acura TLX is another luxury model under the Honda platform, and in several markets, it is more famous than the Civic models. The TLX offers something for family drivers, and the 4-cylinder TLX starts with a four-cylinder 2.4-liter engine. It takes 6.8 seconds to reach a speed of 62 miles per hour.
In addition, this Honda model is relatively less fuel-efficient compared to the previous 4-cylinder models, and is also slightly slower, but still manages to achieve a fuel saving of 29 miles per gallon, and on the driving side, with this excellent engine, the TLX has a well-balanced and sweet steering system and a great infotainment system.
9. FORD MUSTANG EcoBoost Engines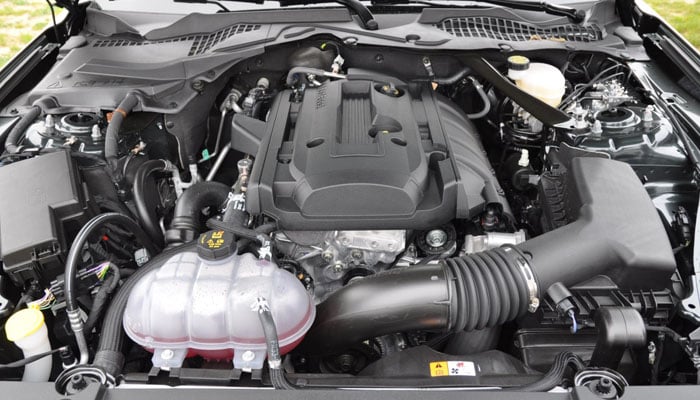 Ford says that the Mustang with EcoBoost engines will boost the economy, and also confirms that EcoBoost is the lightest powertrain in the entire Mustang range.
The 2.3-liter four-cylinder engines are capable of producing 310 hp and deliver an excellent 320 lb-ft of torque. The four-cylinder engines also offer excellent fuel economy, with the automaker confirming an average speed of 28 miles per gallon.
To reach 62 miles per hour, this engine takes 5.8 seconds. The Mustang's EcoBoost engines are in fact pretty decent engines and make the Mustang a decent sports coupe.
10. ALFA ROMEO 4C cylinder engines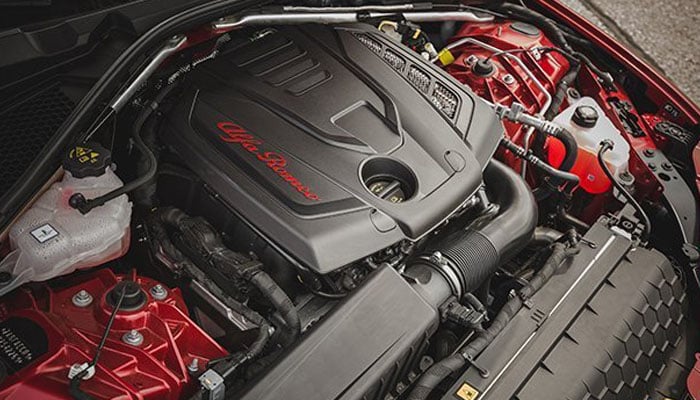 Alfa Romeo is one of the most famous Italian brands known for producing luxury sports cars, from the family saloon to the hatchback, with each model being powered by some excellent engines. The 4C is one of the examples available in the UK, equipped with the 4-cylinder engines.
The vehicle is equipped with a four-cylinder engine with 1.75-liter displacement. It is a turbocharged version of the 4-cylinder engines used in the Alfa Romeo models. In the 4C models, Alfa Romeo delivers 237 bhp and a rich 258 lb-ft of torque with all this beefy power.
The 4C needs 4.2 seconds to accelerate from standstill to 62 miles per hour, and the car can reach a top speed of 160 miles per hour, which is more than expected for an engine with a displacement of less than 2.0 liters.
The 4C has an excellent fuel economy, averaging 30 miles per gallon. On the highway, the 4C is even more fuel-efficient and accelerates even faster. Despite its excellent performance, this two-seater model, with its two seats, has no cargo space. Luxury is completely missing in this light sports car.