The Scat Pack trim levels offered by Dodge have a lot to offer enthusiasts. Before you invest in one of these performance vehicles, you want to know more about the Scat Pack engine and what the trims offer.
In this guide, we look closer at the engine specs of the Scat Pack and other features it offers. We also look at the Widebody Package and discuss the pricing.
At the end of our article, we will discuss the differences between the Scat Pack Challenger vs. Charger, as well as the Hellcat vs. Scat Pack models, just in case you are looking to find a new sports car for your needs.
What Is A Dodge Scat Pack?
The Scat Pack provides a more powerful engine than most of the other Dodge trims. It's available with both the Dodge Charger and Challenger models, and the name means "get lost." Along with the added power, there are further upgrades that don't come with the other trim levels. 
Let's take a look at the engine specs for a scat pack trim for the Dodge Charger and Challenger.
Dodge Scat Pack Engine Specs
When it comes to the Charger and Challenger specs, you will find a variety of engines to choose from. The Scat Pack models have a more powerful engine than the trims below it.
Both the Challenger and Charger scat pack will include a potent Hemi V8 engine. This 6.4-liter motor pumps out 485 horsepower. The Charger Scat Pack can hit 60 mph in 4.3 seconds with a top speed of 187 mph, while the Challenger is rated for 4.2 seconds and 174 mph.
RELATED: What Does Trim Mean on a Car?
Additional Dodge Scat Pack Features
1. Exterior Upgrades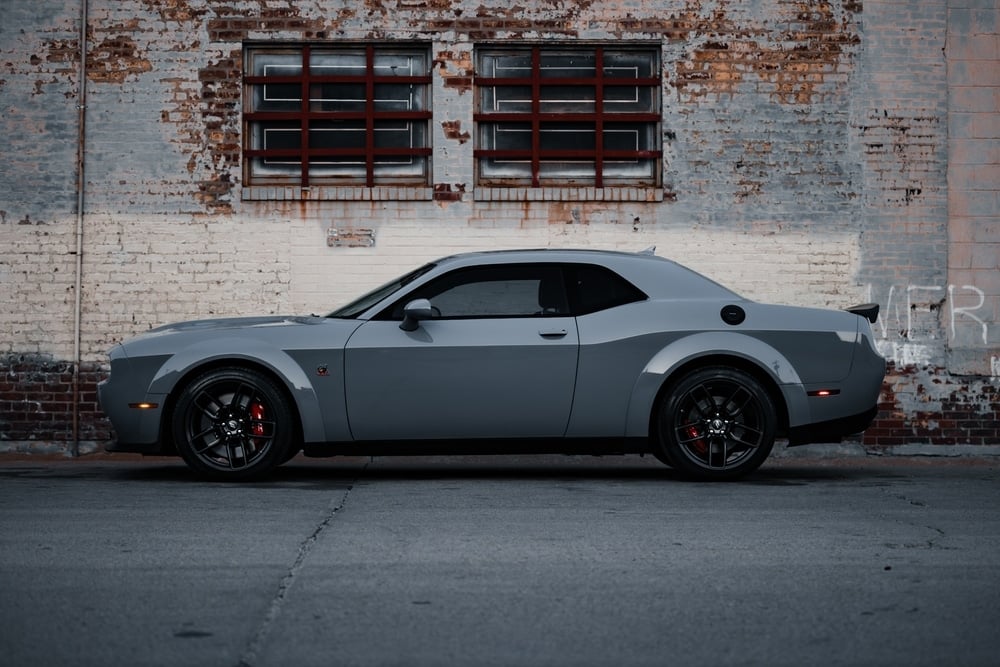 With the Scat Pack performance comes a host of other upgrades to the appearance. It's clear to see that you are looking at a Scat Pack car simply by the appearance of it.
It receives a unique grille design and a special deck lid. Plus, it has 392 HEMI® fender badges. With the iconic bee stripe, it features a classic appeal that is sure to speak to any muscle car enthusiast. Plus, the shaker hood, complete with the Mopar® cold air intake, is also an available add-on.
READ MORE: How Much Horsepower Does a Cold Air Intake Add?
2. Performance Suspension
Both the Charger and the Challenger are going to feature special suspension upgrades with the Scat Pack model. For the ultimate ride, you can enjoy the high-performance suspension along with an upgraded differential.
These cars also include larger Brembo high-performance brakes. On top of that, you get Launch Control and SRT drive modes for even more control.
3. Interior Comfort
Performance isn't all that can be expected with the Scat Pack model. You also gain more comfort features inside the vehicle.
With both models, you get driver's seat memory settings and heated front seats, along with a heated steering wheel. However, the Challenger also includes a premium Alpine stereo system and a larger touch screen display.
What is the Scat Pack Widebody?
With the Scat Pack model, you can also choose a Widebody package. This add-on provides even more enjoyment for a little extra money.
It comes with 20" wheels covered in Pirelli® tires for additional grip and ride comfort. The front springs are also 27 percent stiffer than those of the regular Scat Pack. Aside from that, the Widebody models include retuned shocks and a larger rear sway bar. To help it stand out in a crowd, it includes fender flares, guaranteed to turn heads.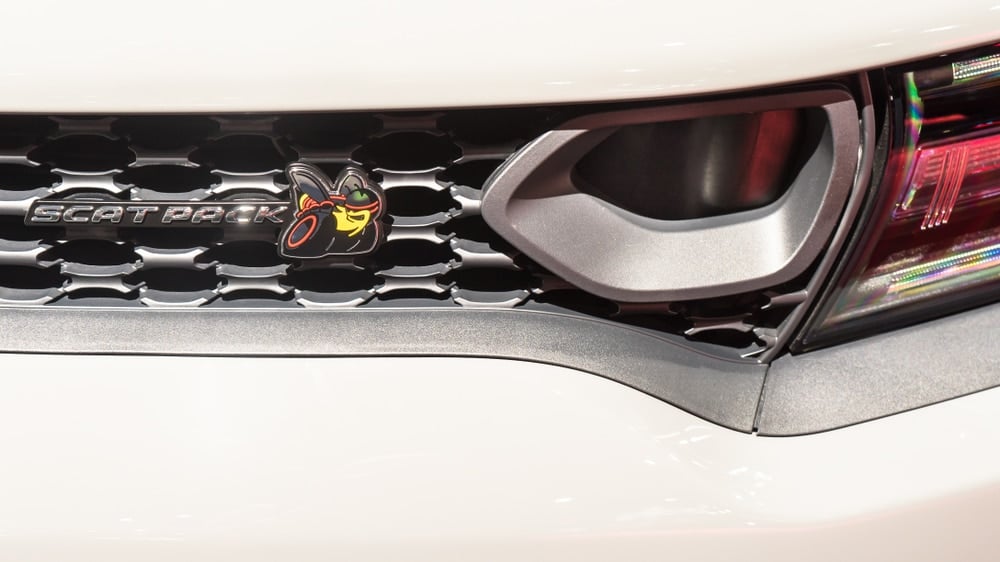 How Much is a Dodge Scat Pack Trim?
The Scat Pack is available for both the Charger and the Challenger. The Dodge Challenger has a lower starting price, but this MSRP doesn't include any additional features you would want to include.
For the 2022 Dodge Scat Pack models, here are the starting prices.
Challenger Scat Pack: $45,845
Charger Scat Pack: $46,620
Challenger Scat Pack Widebody Package: $51,050
Charger Scat Pack Widebody Package: $55,070
In addition to this MSRP and the feature you add, the dealer can also add further fees. There are also sales tax fees in some areas, destination fees and other charges you might incur.
Aside from that, you could find some pre-owned Scat Pack models in your area. If you choose a pre-owned model, you will have less to spend while you still get to enjoy many of the same performance and comfort benefits.
Dodge Scat Pack Challenger vs. Charger
There are more similarities between the Dodge Challenger and Charger than there are differences. We've covered the similarities in design, power and features. So far, the only major differences we've looked at were the prices, which weren't even that much different from one another.
So, what else sets these two popular performance models apart from one another? They can both be found in the sports car segment, but the Charger is a sedan model, while the Challenger is a coupe. The Dodge Charger comes with four doors and the Challenger only has two.
If you want a performance-focused model with room to hold people comfortably, you'll probably prefer the Charger. However, if back seat space isn't a big deal to you, the Challenger will be a top choice. Still, the Challenger isn't as small in the back as you may think it would be. Additionally, they both feature a nice trunk space and are sure to impress your friends.
RELATED: 30 Types of Cars – Vehicle Body Styles Explained
Dodge Scat Pack vs. Hellcat
If the Scat Pack doesn't seem to have enough power for you, there's another option worth considering. Both the Charger and the Challenger offer the Hellcat model, which is a huge step up in performance and price.
Starting with the Charger SRT Hellcat. You are looking at an MSRP of $77,000. However, this four-door sports car now comes with a supercharged V8 that pumps out 717 horsepower. It also comes standard with the Widebody style, so you won't have to pay extra for this.
While the Scat Pack Charger comes with better brakes and suspension, the Hellcat goes a step further. It includes even bigger Brembo brakes and an SRT-tuned Bilstein suspension. Plus, inside the car, you gain access to Laguna leather upholstery, heated back seats, ventilated front seats, rear cross traffic alert and blind spot monitoring.
The Hellcat Challenger comes with many of the same features as the Charger, with a few exceptions. In this car, there's also an open-air intake included and a heavy-duty differential. However, the leather seating that was standard with the Charger is now an option.
On the bright side, the Dodge Challenger has a few options that are even more powerful than the Hellcat, which the Charger can't provide. As an example, you might prefer to use the Challenger SRT Hellcat Redeye model. This heart-pounding sports car features the same engine, but it's tuned to provide 797 horsepower instead.
If that's not enough, consider the Challenger SRT Hellcat Super Stock. The name alone makes it sound as unforgettable as it truly is. This Hellcat is rated for 807 horsepower, which is unlike anything you've probably ever experienced. It also comes equipped with drag race tires that are actually street-legal.
If you have further questions about the different Charger and Challenger options, it's best to speak with a local dealership. Additionally, you can head to Dodge's website and download the detailed specs for all of the trim levels.
FAQs
Is A Scat Pack an SRT?
No, a Scat Pack is not an SRT. The Dodge Scat Pack featured a 6.4-liter V8 engine that produced 485 horsepower. The SRT Hellcat comes with a 6.2-liter V8 engine that produces 717 or 797 horsepower.
Is A Scat Pack Faster Than An RT?
The Scat Pack Engine is more powerful than the Dodge R/T. The Dodge Challenger R/T comes with a 5.7-liter V8 engine that produces 375 horsepower. The Scat pack trim has a 6.4 liter V8 engine with 485 horsepower.
How Much HP Can a Scat Pack Make?
The Scat pack trim has a 6.4-liter V8 engine with 485 horsepower stock. It's a very large engine so it definitely has the potential to produce a lot more power. It can easily make over 500 horsepower with some easy modifications.
Is a Dodge Hellcat or Scat Pack Faster?
The Dodge Hellcat is more powerful and faster than a Scat Pack Trim. The Hellcat comes with a 717 or 797 horsepower engine, while the Scat Pack trim comes with a 485 horsepower engine. This is also a very powerful engine, but not as powerful as the Hellcat.
Conclusion
A Scat Pack is a trim level for the Dodge Challenger and Charger car models. The Scat Pack Trim consists of a more powerful engine, better suspension, and various cosmetic upgrades.
The Scat pack trim is perfect for anyone who wants a Dodge with that extra bit of power. With its powerful engine and sleek design, the Scat Pack is sure to turn heads whether you're driving around town or speeding down the highway. So, if you're looking for a fast and fun Dodge, the Scat Pack Trim is definitely worth considering.
Learn more: