Summer is the best time to go on a picnic with your family. It is also the perfect opportunity to get yourself a trailer if you don't already have one.
The thing about trailers is that they come in different shapes and sizes and they can be attached to your vehicle but attaching a trailer with your car can be dangerous. This is because when you apply brakes on your car the brakes have to stop both the car and the trailer.
The added mass makes it hard for the brakes to work properly and the result is an increased chance of accidents. Fortunately, modern technology has made it safer for you to hook a trailer to your car. Brake controllers have made it possible for your trailer brakes to activate with your car brakes making your ride safer for the road.
Trailer brake controllers have different types so you can choose the one best for you. We will make the choosing part easier for you.
You can use our dedicated list to choose the best brake controller from the top 10 best brake controllers of 2022. 
The Best Trailer Brake Controllers in 2022
1. Tekonsha 90195 P3 Trailer Brake Controller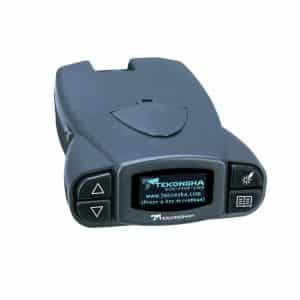 The Tekonsha 90195 P3 comes first in our list due to a number of reasons. First, it is the most user-friendly and functional electric brake out there. Second, it is one of the best-rated trailer brakes in the market right now. And third, it gives the best value for money. If you select the P3 you are really getting what you pay for. The build quality and functionality of this electric brake are second to none. Although this brake controller is a bit expensive, the cost is justifiable keeping in mind the repair cost you would incur if you were in an accident.
The Tekonsha P3 uses a cutting edge proportional system with various braking options. You have electric over hydraulic, electric, and boost operations to work with. Each setting lets you customize your trailer braking to your tastes. There is a large and clear digital display which displays all of the information and settings while also allowing you to check for issues. To top everything off, there is a manufacturer warranty to protect your investment
What impressed us:
Incredibly user-friendly
Attractive design
Large digital display
Key features:
-Built-in boost feature
-Proportional brake controller
---
2. Reese Towpower Brakeman IV Trailer Brake Controller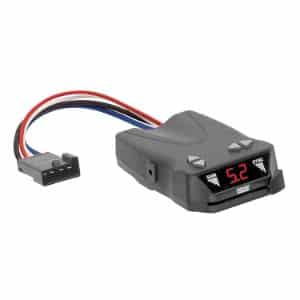 Second-up in our list is the Reese Towpower Brakeman IV. This brake controller has a time-delayed system as opposed to a proportional system. This machine has features like a nice clear digital display, sync setting, and brake overload setting. Furthermore, there are 8 different braking patterns as well as internal short circuit protection. You can easily mount this brake controller to your car as it uses 12-volt power.
The good thing about the Brakeman IV is that it is extremely cheap and within the reach of an average person. It is very user-friendly in that it is basic in terms of functionality. You can easily operate it and install it in your vehicle.
What impressed us:
-Extremely cheap
-Easy to use
Key features:
-Plug and play functionality
-Bright digital screen
-Works on a 12-volt system

RELATED: Four Pin Trailer Wiring Install – Wiring Diagram & Info
---
3. Tekonsha 90160 Primus Trailer Brake Controller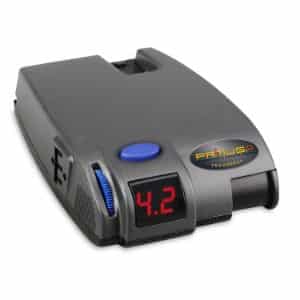 Tekonsha makes some incredible electric brake controllers hence you will see that there is more than one product of theirs mentioned in our list. The second Tekonsha product on our list is the 90160 Primus. If you compare the two Tekonsha products on our list you will find that the Primus is a bit cheaper and thus it has fewer features. For example, it has a small digital screen and it only controls 1-3 axles.
However, there is no compromise on build quality. Although the machine is small and compact it has been built with the most robust materials. Not only will it take less space on your dash it will last for a long time. The brake controller comes with the relevant wiring and ports for easy installation. You can adjust the brake settings using a knob and turn on the boost option using a dedicated button. it still has the same quality build construction as well as a small and compact form factor which will allow you to install it on your vehicle dashboard without it consuming a lot of space. Moreover, you can make multiple brake adjustments with this unit as it has a knob that allows you to do so.
What impressed us:
-Boost brake option
-Compact size
Key features:
-LED screen
-Plug and play
-Only 1.25 pounds
---
4. Curt 51110 Venturer Trailer Brake Controller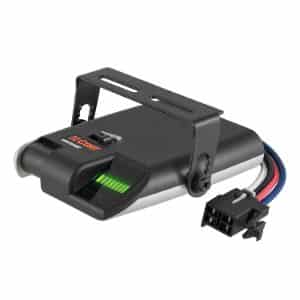 The Curt 51110 Venturer is a state of the art brake controller that has an attractive design. The Venturer is one of the few brake controllers to feature a dedicated LED display. The Venturer has five light bars that light up the harder you press the brake. These lights show you the power of the brake applied on the trailer end. This brake controller is a 3 axle unit which means it can control 6 brakes at once.
The Venturer comes with a complete installation kit and a manual that guides you with the installation procedure. The entire procedure is pretty easy to follow and we could go as far as saying that it is more of a plug and play item. The best thing is that Curt has issued a low price for the Venturer making it highly affordable. When compared to other top of the line brake controllers the Curt 51110 Venturer fairs better in overall ease of use and features even though it is a time-delayed unit.
What impressed us:
-Cost-effective model
-Small size
Key features:
-Plug and play
-Bright bar display
RELATED: 9 Best Bike Racks for Cars
---
5. Tekonsha 90885 Prodigy P2 Trailer Brake Controller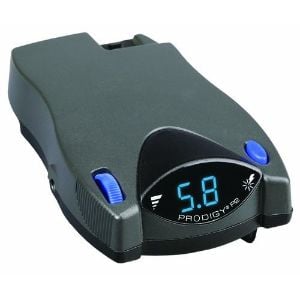 The Tekonsha 90885 Prodigy P2 is an upscale version of the regular Prodigy brake controller. This model has the ability to control braking on 4 axles. To facilitate the user there is a large LCD display where you can check for errors, sync the brakes, and hover between the various brake settings. The display is also capable of showing you the diagnostics from your car such as the deceleration rate, the voltage from the car, etc.
A dedicated knob lets you shift between the different brake settings. One great thing about his brake controller is that it can work both as an electric and as a hydraulic brake system. So it doesn't matter what your trailer specifications are, this brake controller is sure to work. Tekonsha has also provided a built-in boost feature in this trailer brake controller so you can turn it on with the press of a button and increase the braking power considerably. Moreover, the Prodigy P2 can test and inform you about any irregularities in the trailer's brake pads so you can get them changed at the earliest.
What impressed us:
-The superior build quality
-Ability to monitor various aspects of the vehicle as well as the trailer
Key features:
-Monitors trailer brake pads
-Boost feature
-Synchronized braking
---
6. Curt 51140 TriFlex Trailer Brake Controller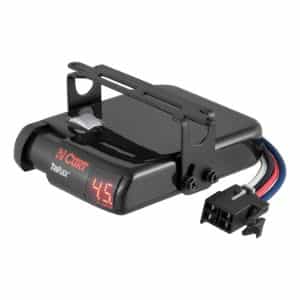 The second Curt product on our list is a bit versatile in that it has a number of must-have features at a very affordable price. The Curt 51140 TriFlex, as it is called, is a trailer brake controller that is extremely user-friendly and easy to install in your vehicle. This is especially a good choice for people who are not technically savvy or mechanically sound.
The TriFlex comes with a kit complete with a manual telling you exactly how to install it. The Curt TriFlex has the ability to control 4 axles and it has an accelerometer that constantly adjusts the brakes with the running speed of the trailer. All such information is displayed in the small digital screen. Here you can view the brake setting you have chosen. All in all, this is an exceptional trailer brake controller for its price.
What impressed us:
-The versatility of the brake controller
-Easy to install
Key features:
-Controls 4 axles and 8 brakes
-Proportional braking system
-Compact design
-Plug and play
---
7. Draw-Tite 20191 I-Stop Trailer Brake Controller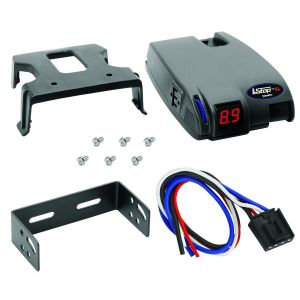 The Draw-Tite I-Stop is a great model for those who are looking for a user-friendly device that is easy to install and easy to operate. This is a top of the line proportional brake controller that has a built-in accelerometer. The accelerometer constantly measures the speed of the trailer and that of the car and matches them together. The device does this by signaling the brakes on the trailer to depress. Such a brake controller comes in handy when the trailer is weighty. Moreover, given that the I-Stop controls the brakes on 3 axles, you have the ability to apply the brakes on either 2 brakes or 6 brakes. The need depends on the power of braking required.
The I-Stop has an LED display that shows you the relevant information such as the brake setting, the speed of the trailer and the number of brakes applied on the trailer. The display is intelligently built such that you can see it during the day as well as in the night. The Draw-Tite I-Stop is affordable and is built of high-quality materials so you won't need a replacement very soon. But even if you do, the item is pretty cheap.
What impressed us:
-Accelerometer technology
-Great design
Key features:
-Proportional brake technology
-LED display

---
8. Hopkins 47297 Insight Trailer Brake Controller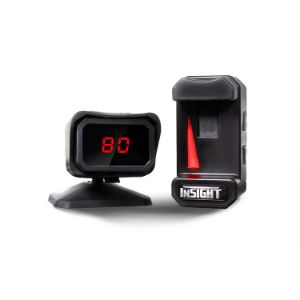 Don't be fooled by the name of this company. Hopkins sure sounds like a company that would make cooking utensils but we assure you this Hopkins makes excellent brake controllers unparalleled by anyone else. The Hopkins Insight is a small-sized trailer brake controller that can fit anywhere in your vehicle. The controller comes with its own mountings and screws basically the complete hardware needed for installation and a manual to teach you how to install it. The Insight is a proportional braking unit, which means the device uses an accelerometer to judge and match the speeds of the car and the trailer. It works in such a way that you are always safe when braking with a heavyweight trailer. You don't need to apply the trailer brakes yourself, in fact, the device does that for you.
The Hopkins Insight controls the brakes on four axles, which means the brake controller can apply up to 8 trailer brakes at a time. If you want to switch between brake settings you can do so with the push of a button. Although, there are limited features on this brake controller it works well in almost every situation.
What impressed us:
-The cheap price
-Small compact size
Key features:
-Controls brakes on 4 axles
-Plug and play
-The electrical proportional braking system
---
9. Hayes 81760 Engage Trailer Brake Controller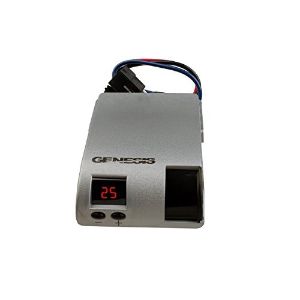 Hayes amazes with their Engage trailer brake controller. This device uses a time-delayed electric braking system that is even covered by a lifetime warranty by the manufacturer. What else does one want?! If the company trusts its product so much that they are giving you a lifetime warranty for it then you can imagine the quality and functionality of the product. The Hayes Engage applies the trailer brakes based on how much you depress the brake pedal.
The deeper you press the harder the brakes will be applied. You can, of course, adjust the power ramp time from the settings in the device. This setting will increase or decrease the time delay based on your needs. If you cannot buy the Brakeman IV by Reese Towpower then this is a good alternative for you to consider.
What impressed us:
-Attractive design
-Works well with all kinds of trailers
Key features:
-Lifetime warranty
-Fully customizable settings
-Time-delay braking technology
---
10. Draw-Tite 5504 Activator Trailer Brake Controller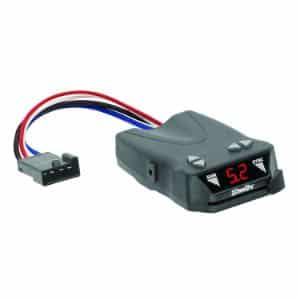 The last trailer brake controller on our list is from Draw-Tite. This one is called the Activator and for good measure as it activates the trailer brakes with accuracy and efficiency. This electric brake controller sends signals to the trailer brakes when they need to be activated keeping you safe on the road. The Activator has all the basic and necessary features required in a brake controller. It is dependable and long-lasting as well so you don't have to worry about replacements.
The entire package comes in an extremely affordable price that beats its competition by a mile. Moreover, the Activator by Draw-Tite can control braking in 4 axles, which means the device can apply up to 8 brakes at a time. The device has a number of brake settings that you can change based on your requirements.
What impressed us:
-The cheap price
-Complete kit with manual for easy installation
Key features:
-Controls braking in 4 axles
-Intuitive design
-Plug and play
---
Trailer Brake Controller Buying Guide

Before we delve into the thought of buying a trailer brake controller we need to learn about the different types of brake controllers on the market and their types.
Types of Brake Controllers
Essentially there are two types of brake controllers in the market. You can choose between both a proportional brake controller and a time delayed brake controller. The two different trailer controllers differ in their functionality and use. If the best trailer brake controller for you is one with a proportional system or time delayed system that depends on you and your needs. So without wasting time any further, let's talk about the two types in detail.
Proportional Brake Controller
A proportional brake controller is usually electrical in nature, meaning the braking is controlled by an electric circuit. The system uses an accelerometer that senses when the towing vehicle is decelerating and replicates the braking for the trailer. Since the sensor works so efficiently the braking is accurate and there is no tugging by the trailer. You can slam the vehicle brakes as hard as you like and the trailer brakes will stop the trailer with the exact same urgency.
One of the few reasons why the proportional braking controller is better is that it makes it easier for you to apply emergency brakes without worrying about the trailer slamming into your vehicle's rear. This system also improves the life of the brake pads in both the trailer and the tow vehicle. However, such great facilities come at a cost. You not only have to pay more for a proportional brake system but you need to work hard to install it.
Time-Delayed Brake Controller
Time delayed brake controller is more hydraulic in nature. The system judges the intensity with which you press the brakes in the tow vehicle and then sends a signal to the trailer's brakes to depress. There is a certain time lag in between when you press the vehicle's brakes and when the trailer's brakes are depressed. The good thing is you can adjust the time delay from the device allowing you to have full control over the trailer's brakes. However, the downside is that there will always be a lag which is not good in emergency situations. That is why these devices are simpler to install and they are extremely cheap as compared to proportional braking controllers.
How to install a brake controller
The installation of an electric brake controller is often very simple. To make it easier for you, here is a video of how you can do it:
Types of Trailer Brakes
After talking about the different brake controllers we need to talk about the type of trailer brakes found in the market. In general, the type of trailer brake should not have any effect on the braking ability of your trailer. There are two types of trailer brakes:
Hydraulic Brake
The hydraulic braking system is found in cars and trailers of all sizes. This system is pretty effective in its operation which is why it is more expensive. The hydraulic system uses the concept of compression and pressure to depress the brakes in a trailer.
Electric Brakes
The concept of electric brakes is more modern. You will find more vehicles and trailers having the electric system. This system works well with both time delayed and proportional braking systems as it is more responsive and it is also cheaper to produce.
Number of Axles
Before you buy a brake controller you need to know the specifications of your trailer. Trailers come with 1-2, 1-3, and 1-4 axles. Usually, in the market, you will find trailers with either three axles or four axles. Each axle has a couple of brakes, which means a three axle trailer setup will have 6 brakes. Consequently, the four-axle system will have 8 brakes. In general, the more brakes you have the better it is for your safety, so you would always be better off with a four axle trailer. However, in order to activate all 8 trailer brakes, you would need a brake controller that works with four axles. Buying a brake controller that only works with two axles will only be a waste of money.
Display
The brake controllers in our list have various different displays. Some have a regular digital display, some have an LCD display while others have LED displays. It doesn't matter which type of display you have. The only thing that matters is that you are able to see everything clearly both during the day and during the night. The display should also be able to show you the different brake settings, so you don't get confused while you are driving. As a rule of thumb, you should go for a trailer brake controller that has an LED display since that is the latest technology and it lasts longer than any other kind of display.
Setting Options
The setting options will let you determine the number of brakes you can apply at a time. Each brake controller has different setting options. Some have 5 and some have 7. The more setting options you have the better it is as you can customize the brakes to your specific needs. You can also switch between hydraulic and electric brakes using some brake controllers. So, look for the one that has the most options.
Price
No argument about purchasing a brake controller can end without discussing its price. Price, in most cases, is the deciding factor. Your budget, in the end, decides whether you can buy a certain brake controller or not. Therefore, it is best to scan the market for the average price first before you set your budget. In general, the more expensive the product the better it is in terms of functionality and features.
Resources:
How to wire a brake controller

Was this article helpful?