When the time comes to have your car's brakes replaced, you can visit almost any auto repair shop to get the job done. However, if you need the cheapest place to get brakes done, it's important to be a little more selective. So, which are the cheapest places to get brakes done?
Jiffy Lube, Midas, and Pep Boys all offer cheap rates for brake repair or replacement. You may also take advantage of specials at Firestone Complete Auto Care shops. If all else fails, shop around the local repair shops to see which reputable provider offers a good rate.
In this guide, I evaluate the top five options and give you an estimate on pricing. I also look at the average cost of brake replacement jobs and discuss how to find the right location for your needs. At the end of this guide, all of your top brake job questions will be answered.
Here is some more detailed information on the cheapest places to get brakes done: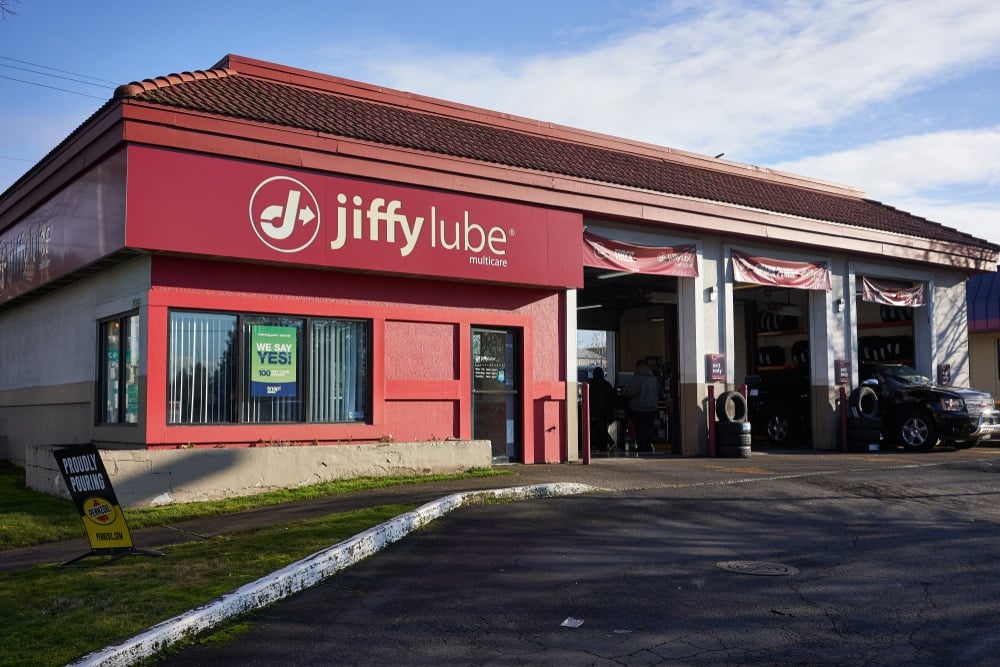 The prices at Jiffy Lube vary based on where you live, what vehicle you drive, and what needs to be done. However, brake pad replacement for each axle tends to be around $300. However, you can often take advantage of some limited-time promotions that are offered on the website.
Overall, Jiffy Lube tends to be slightly cheaper than Pep Boys, and most locations have good reviews. If you need to get rotors put on too, you will naturally spend more.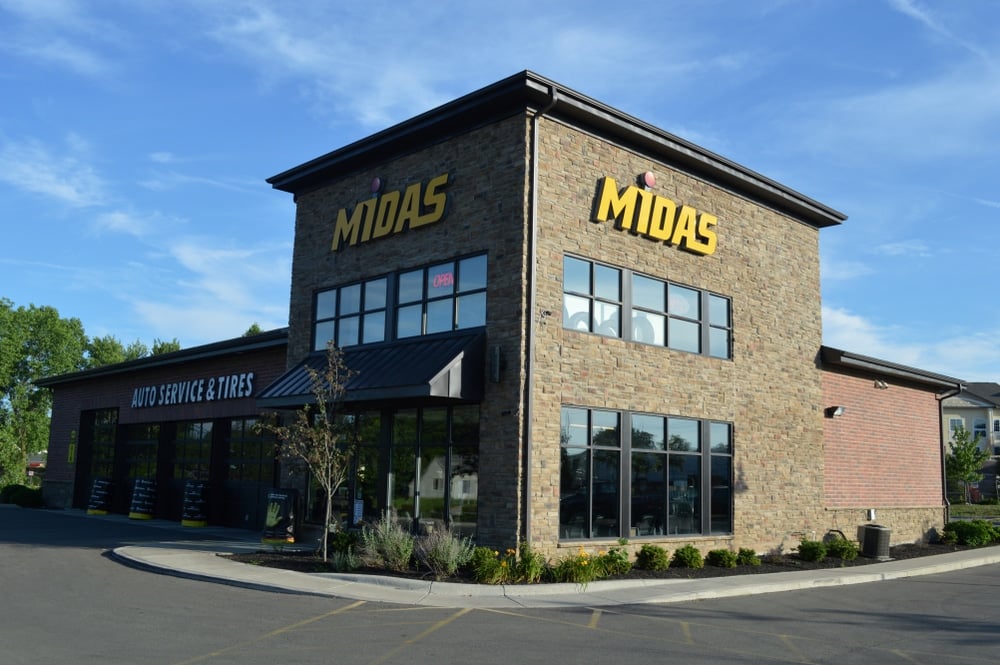 On average, Midas also charges around $300 for a front or rear brake pad replacement. Again, this cost varies based on what car you are driving and where you live. The best part about Midas is that you can get an online quote before you commit to any service. Simply enter your contact information and vehicle details on the website to get a quote sent to you.
It's also important that you don't simply settle for this estimate. Check online at what special offers are available to see if more money can be saved.
RELATED: How Much Does a Front Brake Job Cost? (Rotors, Pads & Additional Parts)
Professional technicians are also available at Pep Boys. For a standard brake service, you might spend $350 per axle, but the service includes an inspection and lifetime warranty on the parts. If you pay a little more for the Premium Service, you can get the brake fluid changed as well.
Because Pep Boys is also an auto parts retailer, you may have a wider selection of pads and rotors to choose from. You can cut costs by choosing a cheaper brake pad or by upgrading to ceramic if you are concerned about performance. However, high-performance brake pads are going to increase the costs.
Firestone might be the cheapest option available, but there aren't as many locations as some of our other choices. With the standard brake service, you get Wagner brake pads, resurfacing of the rotors, and a complete inspection. They also provide a lifetime warranty on the brake pads, as well as a 12-month/12,000-mile warranty on the labor.
Through Firestone, you may only spend $250 per axle. Additionally, the site often offers coupons and discounts. If you aren't in a hurry, it could pay to wait for a deal to come around.
5. Local Repair Shop
Any of these nationwide options can be one of the cheapest places to get brakes done, but you don't want to overlook your local auto repair choices. Sadly, I can't provide you with an estimate of the costs, as it will depend on what's available near you. However, a few phone calls should be all that's needed to get a repair estimate.
Make sure you also look at the reviews of the local shops before you choose one. You don't want to pick a mechanic based on price alone. It's also wise to talk to some of your trusted family and friends to see where they take their vehicle. Of course, don't forget to ask for any discounts or specials, especially if you have used the shop before.
RELATED: Average Brake Rotor Replacement Cost (Front & Rear)
Cost of a Complete Brake Job
The cost of a brake job is going to depend on what parts are needed and what type of vehicle you drive. Additionally, labor rates vary by where you live, with dramatic differences between urban and rural environments.
Typically, you can spend about $150 per axle for the brake pads. When labor is added to this, you could pay $250 or more. With these costs in mind, a four-wheel brake job could run $500 or more.
If you need to have the rotors replaced, you could spend another $100 per axle for parts, along with another hour or so of labor. For this reason, it's fair to expect the bill to go up $200 or more per axle.
The good news is that rotors don't usually need to be changed every time the pads get replaced. You may need brake pads between 25,000 and 75,000 miles, depending on how you drive. On the other hand, most brake rotors last 50,000 miles or more.
These prices are generalized for a standard passenger vehicle. If you drive a truck or large SUV, you are going to have bigger brakes and the cost will rise accordingly. Additionally, if you choose high-performance brakes, prices can also rise. There's also the option to use OEM ("Original Equipment Manufacturer) brakes and equipment. If you prefer this route or you have the brakes replaced at the dealership, you can expect the costs won't be cheap.
READ MORE: OEM vs. Aftermarket Parts: Differences (& Which is Better?)
How to Choose a Place for a Cheap Brake Job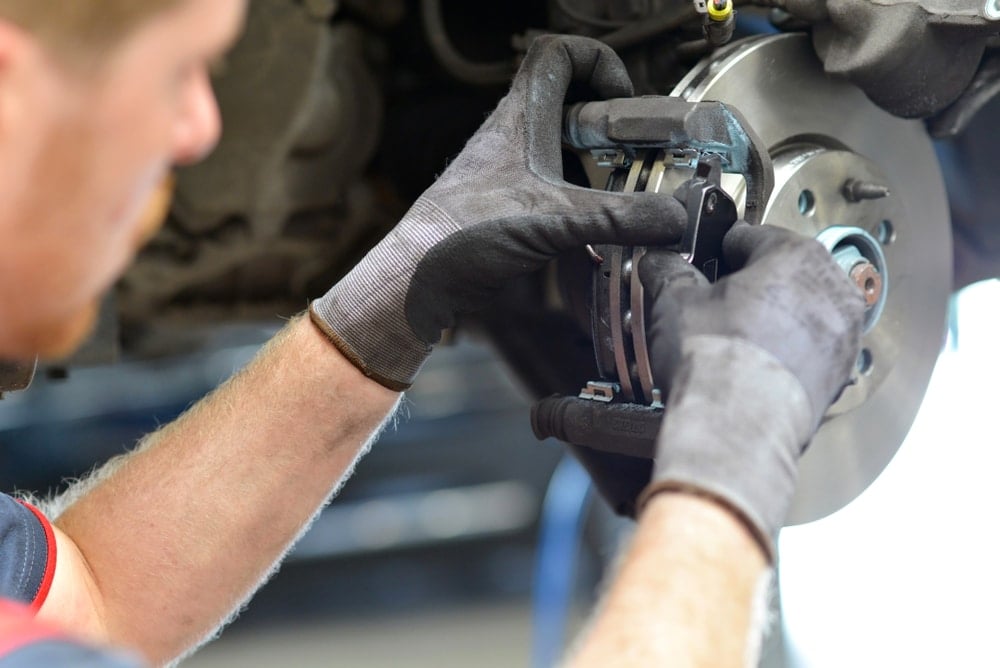 1. Compare Estimates
To get the best rate, you need a few minutes to call around and see what's offered. You can reach out to the companies I suggested and add in a few local options, too.
If one of the providers is overly expensive or cheap, you can take this as a sign that something isn't right. You want an option that's middle of the road, but don't just focus on price alone.
2. Read Reviews
Other customers can tell you a lot about the service you can expect. You can find reviews online and through multiple platforms. If you plan to use a chain, don't look at generic reviews. Instead, you want to evaluate the reviews that correspond with your provider.
If you notice a rogue bad review, keep in mind that some people complain about silly things. Read through plenty of good and bad reviews to get an adequate feel for the company. Additionally, you can ask your friends and family for their experiences.
3. Research Parts
When it comes time for brake pad replacement, you have a lot of options when choosing the parts. The brand you choose can have a lot to do with the price spent.
If you prefer OEM brake pads or you want something high-performance, you can expect to spend a lot more. On the other hand, if you prefer aftermarket brake pads with a lower cost, you want to research the company and make sure you are getting a decent replacement.
RELATED: 5 Symptoms of Worn Brake Pads (& Replacement Cost)
4. Look for Coupons
There are plenty of places to find discounts and coupons for car repair, including brake service. I like to start by looking at the company's website. If you can't find anything there, give a call and ask what's available. If they need business, they may throw a discount at you.
Go beyond the company website to find coupons. Groupon is a popular option for getting low-cost automotive repair in many major cities. 
How Much Does a Normal Brake Job Cost?
If you need to have the brake pads replaced, you could spend an average of $200 to $400 per axle. Any additional services, such as rotor replacement or brake fluid flushes, could add to the total cost. Additionally, you can save money if you replace the brake pads yourself. 
Does Walmart Offer Cheap Brake Jobs?
Walmart provides a multitude of auto repair and maintenance services. In most cases, these services are priced lower than in other locations. However, Walmart doesn't currently offer brake pad replacement or any brake services, so you will have to find somewhere else to go. 
Does Costco Offer Cheap Brake Jobs?
Costco is a great place to save money, especially on tires and batteries. However, Costco doesn't currently provide brake services to customers. Instead, you have to visit a different auto repair shop when your brakes need to be replaced. 
How Long Does a Brake Job Take?
With the right tools and expertise, a technician might spend thirty minutes to an hour replacing brake pads on one axle. If other services are required, this time could jump up dramatically. Additionally, you must factor in the time you spend waiting for customers that have appointments before you. 
Can You Drive on Grinding Brakes?
It's possible to drive your car with grinding brakes, but it's not wise. As the brakes become more worn, your stopping time increases. Because you aren't prepared for this, you may get into an accident. Instead of risking your life, pay the cheap fee to have the brakes replaced. It's cheaper than replacing a car after it is totaled. 
Are My Brakes Covered By a Warranty?
After your brakes are replaced, there should be a warranty on the parts and labor. The amount of warranty length you receive depends on what brakes you choose and where you have them replaced. If the brakes fail prematurely, it's wise to get information on warranty replacement and save some money. 
Conclusion
If you are short on money, you want to find ways to save money on your regular auto repair services. Finding the cheapest place to get your brakes done can help you keep more cash in your pocket. We've outlined a few locations that might help you save money, but the costs will vary based on your car type and where you live.
The cheapest places to get brakes done include:
Jiffy Lube
Midas
Pep Boys
Firestone Complete Auto Care
Local Repair Shops
The best way to save on brake replacement is to perform the job yourself. If you have the tools and expertise, consider swapping the pads on your own; you'll only be responsible for the cost of the parts. Here's a video on how you can do it yourself:
Learn more: