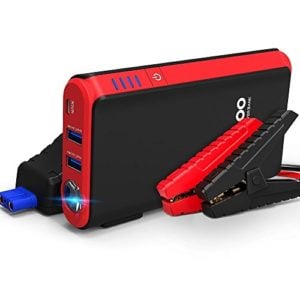 We all know how it feels when you are on your way to your work or the airport, and you realise that your car battery is dead.
The only thing you can do now is to find a stranger or call a friend that can jump-start your car.
But, with these new portable battery jump starters, you never have to do that again. You can store one in your house or in your car to easily get access to it when you really need it.
These Jump starters are really small with a lot of power, actually insane! With a portable jump starter at home or stored in your car you don't have to call a friend or ask a stranger to help you start your car anymore. With over 10 years in the branch I have tested the most of the portable battery jump starters and I will list what I think is the best for the value and the most powerful jump starters.
I can approve that all of these jump starters are good for home-usage and even professional usage. First, you will find a list of the rankings of our jump starters. Down below you will find the reviews and in the bottom, you will find some information.
If you want to learn a bit more about Jump starters before purchasing one, check out our FAQ and Buyer's Guide section in the bottom of the article. Scroll down or
click here
.
Best Jump Starter 2019
1. Beatit BT-D11 800 A – Best Portable Jump Starter
The Beatit 800A is on the top of our list of the best car battery jump starters to buy. With the massive 800A capacity, you can start diesel engines up to 5.5 L and petrol engines up to 7.0 litres. It's a very popular jump starter and one of Amazon's best selling jump starters also.
In terms of battery backup and power bank, the Beatit 800A is considered to be the most amazing jump starter out there in the market. The charging capabilities of the Beatit 800A is also a lot faster in comparison to the other options available in the market.
Another great feature of the Beatit 800A 18000mAh jump starter is the alligator clamps that are attached to it. These provide a computer backed protection system within the jump starter that prevents overcharging and similar issues which can damage the battery of your car. This jump starter further houses a smart LED light which can be used as an emergency flashlight in case you need it. The compact design further allows it to be placed in the glove compartment of your car.
Main Functions
Reverse polarity protection
800A capacity
Flashlight with SOS signal
The jump starter has a smart computerized chip which can effectively assess and monitor the current.
Temperature range between 60 degrees to -25 degrees.
Overload protection
Spark-proof technology.
LED screen
High-end protection for any mistakes made with this device
This jump starter is really compact and you can store it in your glove box which is a perfect place to store your jump starter. The Beatit 800A uses two USB ports, which you can use to charge your phone or other devices if you need emergency charging. That's why it's perfect to store this in your glove box inside your car.
The charging time of the jump starter is really fast and you can fully charge it in 5 hours by using the included charge cable.
Moreover, this jump starter can ignite an eight-cylinder engine vehicle which has a capacity of 4L diesel or 5.5L gasoline. It can be used for jump-starting a variety of vehicles, including bikes, cars, boats, and others.. for smaller engines, it can provide as many as twenty jumps starts due to its powerful lithium-ion battery.
Pros
A good power bank for charging devices
Great warranty (2 years)
Great safety functions like overcharging & wrong polarity protection
Inbuilt flashlight
Small & Easy to handle & store
USB charging ports for electronic devices, and 12V vehicle charger and wall.
Very Powerful in terms of boosting capabilities. When fully charged it can boost your vehicle for up to 30 times.
Fast rapid charging. Charging it overnight will get you going and save up on your precious time.
It is very user-friendly and provides maximum protection and an enjoyable experience.
Cons
Although the jump starter is capable of charging certain electronic devices, it is not equipped for charging some cameras and laptops.
The smart charging port offers 5 volts and 2.1A DC output. However, it is not known whether or not it uses a computerized chip to monitor the current that is being drawn.
Video Review:
2. DBPower DJS50 600A Lithium Ion Jump Starter – Best Mini Jump Starter
The DBPower 600A is an excellent choice if you have a smaller engine/car. It is a high-quality jump starter but it's missing some peak amperes to jump-start big engines. The manufacturer claims that it can jump-start up to 6.5 L Petrol engines and 5.7 L Diesel engines. So it's possible but I still recommend to get an 800A jump starter if you have a larger engine over 4 litres. It is also one of Amazon's best selling jump starter.
The overall finish of the jump starter is really good and you can choose to get the jump starter in two different colours, red or yellow. You get the outstanding 3 years warranty with this jump starter, it's telling us that this jump starter is of high quality.
The powerful battery ensures that you are able to start your vehicle multiple times whenever the battery dies. It also gives you an option for charging your electronic devices such as your tablet or smartphones.
Main Functions
LCD Screen & Inbuilt Compass
600A capacity
3 years warranty
LED Flashlight
Smart & Normal USB charging ports
Overcharging protection
Wrong polarity protection
Also, this jump starter uses two USB ports and an emergency flashlight with SOS blinking.  You will even get an included compass with this one. A Led screen which you can choose the USB output voltage between 12v, 16v and 19v. This one is one of the best Lithium Ion Jump starters on the market! Over-charging and wrong-polarity connections is not a problem with this jump starter either. It uses a smart protect-monitored system.
Pros
Large screen LCD for display
Very small sized and compact
Equipped with a cigarette and wall charger
It contains a long lasting big battery based on lithium ion. The battery capacity is of 18 thousand mAh
This jumper starter gives a variety of charging ports to charge various devices including your laptop.
A cable is provided for micro USB to connect android phones
Promising quality is ensured for the mesh folding protection case
There are two computerized USB output ports, each with an output of 2.4A.
A colour choice is available in red and yellow.
Cons
The user manual for this product is not in detail and only touches the basics
The leads of the jump cable are shorter.
There is no connection cable given for the iPhones.
Video Review:
3. Tacklife T8 800A Lithium ion Jump starter – A lot of functions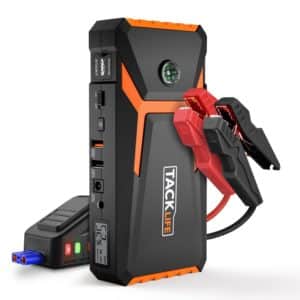 The Tacklife T8 800A is a small and efficient jump starter. This jump starters can start up to 5 L diesel engines and 6.2 L petrol engines. But if you have a bigger engine over 6L I recommend you to get a 1000A jump starter instead. It's mostly because all engines are cranking with different resistance and you really want your car to start when the dead-battery accident is coming.
With the new update of this jump starter, you can now get a strong 12V/10A DC output female cigarette lighter adapter so you can run heavy-duty electrics like compressors, car vacuum cleaners etc directly from this device. Also in this jump starter, you will get two USB ports to charge phones and other devices.
Main Functions
800 A capacity
Extended standby time
Reverse polarity connection protection
Overcharging protection
Dual USB smart charging ports
Bright LED flashlight
Built-in compass
12 months standby
The jump starter comes with a nice soft-rubber surface and it smells quality. The manufacturer claims that it should be fire-resistant. This jump starter is a really good starter for the price and I would highly recommend this if you are not having a large engine.
Pros
Great capacity
Long standby time (long time before rechargings)
Great safety function like overcharging, wrong polarity protection
Great functions like LED flashlight and compass
Small & Compact
USB charging ports for mobile charging
Power switch
Cons
Some reports of defective units on delivery, ours worked just fine thought.
Video Review:
4. Gooloo GP80 Quick Charger 500 A – Lightweight & Small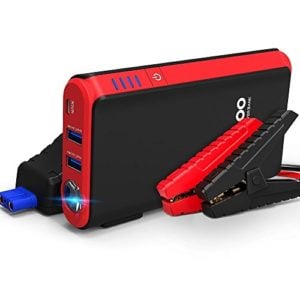 If you are looking for a really small jump starter for a really good price, the Gooloo Quick charger In&Out should be your choice. The jump starter is only rated at 450 Peak A when fully charged, so if you have any engine over 2 litres you should consider getting a larger jump starter. The manufacturer is rating it to start petrol engines with 4.5 L and 2.5 Diesel engines. With the small size, it can be perfect to have it to start other vehicles like dirt bikes, ATV's etc.
This starter is small, compact and an economical alternative to the other pricey stuff in the market. You will get 12 months warranty for this jump starter. It's also equipped with USB ports for electronic devices. There are variations of output, which allows you to charge different USB electronic devices as well as the equipment of your vehicle.
Main Functions
Dual USB ports
500A capacity
12 months warranty
Overcharging & wrong polarity protection
Bright LED Light
Charging indicators
The product also houses state of the art safety technology system preinstalled in it to protect the user from accidents and damage. The compact product entirely contains more than five essential safety features that ensure that your vehicle and you are protected. These include voltage protection, reverse polarity protection, overload protection, overcurrent protection and overcharging protection.
A preinstalled feature of a bright LED flashlight is available within the product which can come in handy in case of an emergency and outdoor adventures. It contains three different types of LED light, including the SOS light, and strobe light.
Pros
Small sized & easy to carry
Good warranty
Great safety functions
Bright LED Light
Charging indicators shows the battery level
Dual USB charging ports to use it as a power bank
Good price
Cons
Pretty weak and does not suit larger engines
The quality could be higher
Finally, we have come to the jump starter at the last place on this list. But don't judge the rank. The Vetomile Jump starter is of a breathing quality at a low price and produces a massive 800A with this small size. You can start the most cars with this jump starter and the manufacturer spec it to 6.5 L petrol engines and 3.0 L diesel engines. This jump starter is absolutely the best car battery jump starter for the money in my opinion.
The charging time is around 6 hours for a full charge and with a full charge, you can start vehicles up to 30 times. The jump starter does not have all the fancy functions like other jump starters can have, but it does what it's made for. To start the engines.
Main Functions
800A capacity
Dual USB ports
4 LED charging indicators
Overcharging & wrong polarity protection
Power button for longer standby time
Unlike other jump starters, this one has an exclusive capacity of as much as 21000mAh auto battery. Given its small size, it is also highly portable. It also has a power charging feature which provides the USB ports for you to connect your devices including the smartphones and other electronics for rapid charging
You'll get an inbuilt 3 mode flash-light and also here, two USB ports. A battery indicator will tell you when it's time to charge your jump starter.
Pros
Can jump start large engines
Dual USB porta for mobile charging
LED charging indicators
Great safety functions
Pretty compact and lightweight
Great standby time
Cons
The quality feels cheap when you are holding it
A bit overrated in our opinion
If you are going to jump-start big engines a normal jump starter may not be enough. This jump starter will do the work and it makes a massive 170A Peak. You can choose some different types of this jump starter.
This jump starter is perfect for workshops that have to jump-start several cars a day. It comes with a 12V DC output to run air compressors or vacuum cleaners. Works well with big Ford or Chevrolet engines over 6 litres with diesel.
It's equipped with a voltmeter to check the current voltage in the starter. The size of this jump starter is pretty big and heavy and it's not necessary for the most types of vehicles.
Main Functions
1700A capacity
DC 12v outlet port
Voltmeter
Heavy duty cables
This should absolutely be your choice if you are looking for the strongest jump starter and are not afraid to have a larger jump starter pack.
Pros
Extremely high capacity
Very good quality
Voltmeter to see charging level
DC 12v Input & output
Great oversized jumper cables
Cons
Pretty heavy, hard to carry
Does not have USB ports as the other jump starters
Jump-N-Carry JNC660 1700 Peak Amp 12V Jump Starter
Our Video Review: Best Jump Starter Youtube

Things to consider before buying a Jump Starter
A jump starter isn't something that you buy too often. Yet it is something that you may need to buy at some point in your life. Therefore, a thought through a decision on this buy can be beneficial in the long run. Before you get into buying the right jump starter for yourself, there are certain things that you must consider:
The size matters
The size of your jump starter is something that you can be concerned about. Surprisingly the jump starts that are similar in function and efficiency may greatly vary in size. Usually, it is preferred to have a smaller sized jump starter for their compact design, lightweight, and portability. They are also easily adjusted in the glove box of your vehicle.
Safety and prevention
Latest jump starters are equipped with brilliant multi-level safety and prevention technology which can prevent you as well as your vehicle from detrimental damage. These safety levels and prevention measures are enabled with the smart approach of the CPU in these jump starters, where it is able to detect whenever something is wrong. Even if you mistakenly connect the wrong cables it will automatically set off an alarm.
Warranty
Different companies and manufacturers have different warranties to offer for their jump starters. Whenever you will buy a new jump starter, in almost all cases it will come with a warranty. However, the duration of the warranty and the terms and conditions may be different for each company. Therefore, it is important that you carefully read the warranty terms before you make a purchase on this one. You should also ensure that you will be easily able to replace it or get it fixed in case there is a need to claim the warranty.
Always review
Reviewing a product before buying it is one of the most effective ways of making a smart decision for your purchase. When we say review, we don't mean the paid reviews, but the reviews that are shared by the previous customers of that product. Through these reviews, the customers effectively share their experience with their previous purchases. However, you should be careful as to not fall into the trap of a biased judgment based on the review. You should expect to read both the negative as well as positive reviews for each product no matter how good a product is. Therefore, it is important for you to study both sides of the story before ending up with a wise decision.
The Price
The price of the product you are interested in buying can vary greatly, especially when it comes to the jump starters. You can get a cost-effective deal if you are willing to compromise in terms of capacity, capabilities, and features. However, it is recommended to not compromise in terms of quality when looking at an economical deal. You may be happy with a flashlight feature and other such accessories, but not with a bad quality product with the shorter warranty period.
Jump Starter FAQ
Q: I have jumper cables, why do I need a jump starter?
A: The problem with jumper cables, is that you have to find a person with a car that can help you. With a jump starter, you can store it in your glove box and reach it fast when you are needing it. Also with jumper cables, you can connect wrong-polarity and destroy a lot of electrical parts inside your car. All jump starters in this guide use a protection for wrong-polarity and other protections. Only this can save you thousands of dollars and save you from bad situations.
The best way to start your dead battery if you have the time is to use a car battery charger instead, but often you want to start your car as soon as possible. If you want a car battery charger instead, check out our article Best automotive battery chargers.
Q: How often do I have to charge the jump starter?
A: It depends on which jump starter you choose. Most manufacturers recommend to charge it every 30 days to be sure that you always have full power when you are needing it. I can recommend you the same, charge it each month and you will be sure that your car will start when you need it the most.
Q: How long does it take to charge the jump starter?
A: It depends on what jump starter you choose. A general rule is around 5 hours for a full charge, but if your jump starter only has to charge 50% it's fully charged in a few hours.
Q: How do I connect the jump starter to my car?
A: First, you have to find the car battery of your car. The most normal location is under the hood, but it can also be fitted in your trunk or under the driver seat. Check your repair manual to find your battery location. When you have found your battery you must search for the + and – signs on the battery. Put the red clamp on the "+" battery terminal and the black clamp on the "-" battery terminal. If you find a problem with your battery, you can find our battery reviews here. Auto Batteries
Q: How many times can I start my car with one full charge?
A: It depends on which jump starter you choose and how big your engine is. For a general answer, I would say around 10-15 starts is achievable with one full charge.
Q: I have a medium 2.5 l petrol engine, which jump starter should I choose?
A: Normally I say if you have an engine around 2.5 L gas choose a jump starter around 800 A Peak. I will list some general suggestions of engine litres down below. The jump starter you need depends on your engine also, how high your compression is etc. But this list is good for a general rule:
1.0 – 2.5 Diesel= 400 – 600 A
1.0 – 3.5 Petrol = 400 – 600 A
2.5 – 5.5 Diesel = 800 A
2.5 – 6.5 Petrol = 800 A
5.5 L + Diesel = 800A +
6.5L + Petrol = 800A +
Q: My engine light is ON after I jump started my car, what to do?
Your engine light can often go ON after a jump start, it's mainly caused by the low battery voltage before. The best way to remove the engine light is to reset it with an OBD2 scanner. If you want to find the best OBD2 scanner tools, check out our article: Diagnostic scanners. It is not recommended to remove the battery cable to reset the light, as it may not always work and you will reset more functions by doing that.
Summary:
All the jump starters in this list are working well and that's why we only listed five of them, to ensure that all jump starters in our list have a high quality.
You do not have to spend thousands of dollars on a good jump starter, you can often get a better one than you need for a low amount of money.
Have you used any of these jump starters yourself and want to write a review for us? Comment down below! If you have any other automotive related questions, check out our other articles or send us a question on our homepage.
I hope you liked this small review guide and I'm sure you won't get disappointed if you are buying one of these jump starters and you will be amazed at how strong these small power tools are