Connecting with fellow car enthusiasts can often prove invaluable, whether you're looking to share ideas, seek solutions to common problems, or engage in automotive discussions. This is where car forums, a treasure trove of information and community advice, come into play. But which ones are worth your time?
We've sifted through the myriad of options to present you with a list of the top 16 car forums, in our opinion. Each of these forums offers a unique blend of guidance, suggestions, and a supportive community to turn to when encountering automotive challenges. Let's take a look!
1. Mechanic Base Community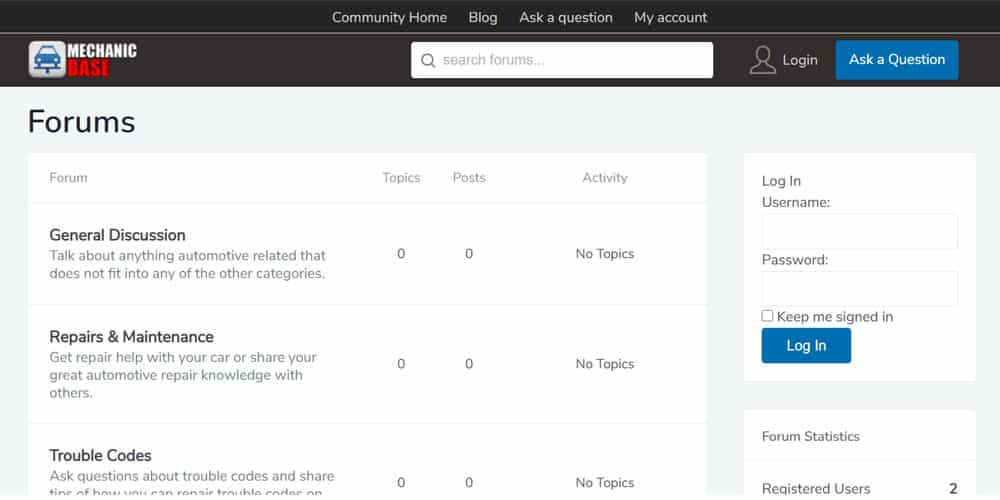 Sitting at number one on our list is our very own recently relaunched Mechanic Base forum. We may be a bit biased in ranking ourselves first, but we genuinely believe in the value and diversity of knowledge within our community that we can reach in the future with your help.
Our forum is a hub for enthusiasts and experts across all car brands, providing a platform to post queries, share insights, and discuss everything automotive. Whether you drive a Ford or a Ferrari, you'll find a welcoming community ready to assist with any questions or challenges you may encounter.
While we're proud of the environment we've cultivated, we encourage readers to explore and decide for themselves the uniqueness and benefits of being part of the Mechanic Base community.
2. Car Talk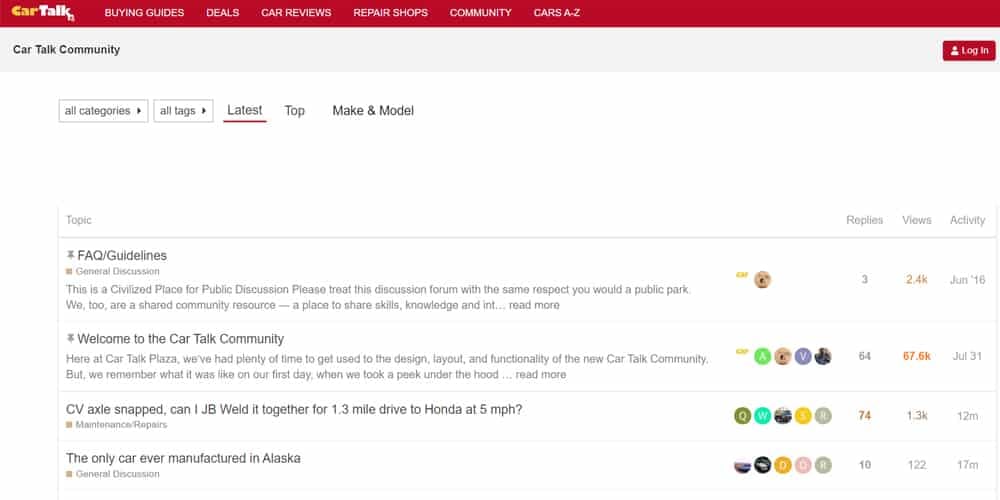 The Car Talk Community is designed for drivers of any make and model. It's a very active group of people that respond quickly to concerns. Whether you want to post and ask a question or search through previous posts to see what's been said, you can get a lot of concerns answered.
The website offers more than just a forum. There's also a section for car reviews and another area for buying guides. You can even find some mechanical answers if you are hoping to work on your own car.
Visit the Car Talk Community to participate in the discussion.
3. Bimmerforums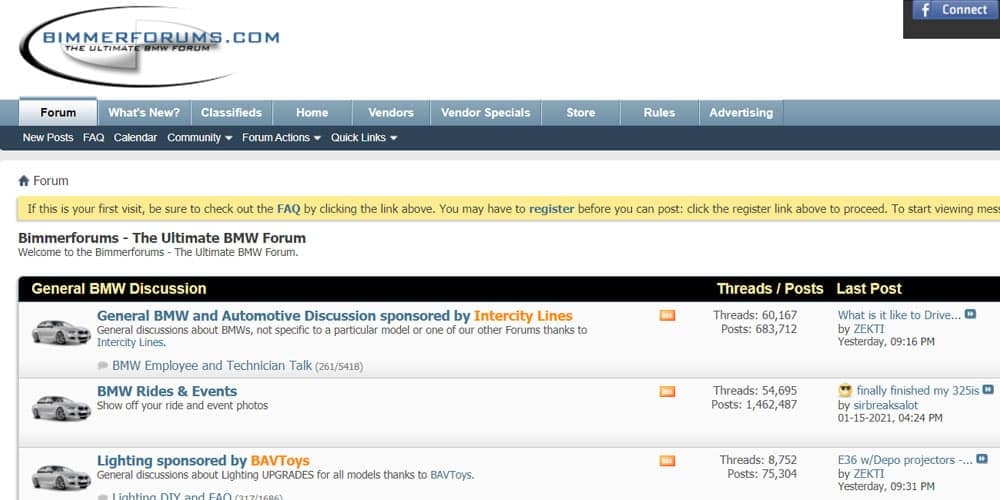 There's no greater resource for BMW owners than Bimmerforums. Everything you could want to know about beemers is found right here, with more than 500,000 members participating.
It doesn't matter if you drive a brand-new BMW or have restored a classic, there are plenty of enthusiasts to connect with. Learn more about motorsports, forced induction and the latest aftermarket upgrades in one spot. There's also a section dedicated to MINI if those are the cars you care most about.
Visit the Bimmerforums to connect with your tribe.
4. Automotive Forums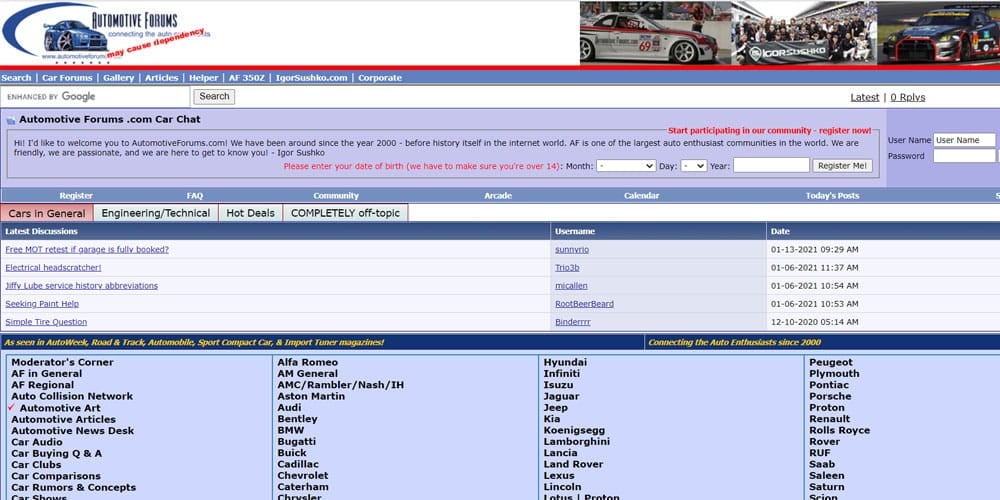 Another auto community you can join without any affiliation to a particular brand is Automotive Forums. The forum claims to have nearly a million members, meaning there's someone to answer any question.
The fun thing about this site is that it's not just related to cars. You can talk about anything in the automotive field, even your favorite car movies. Post a new thread and see what response you get.
Connect with Automotive Forums to find other gearheads like you.
5. Nissan Club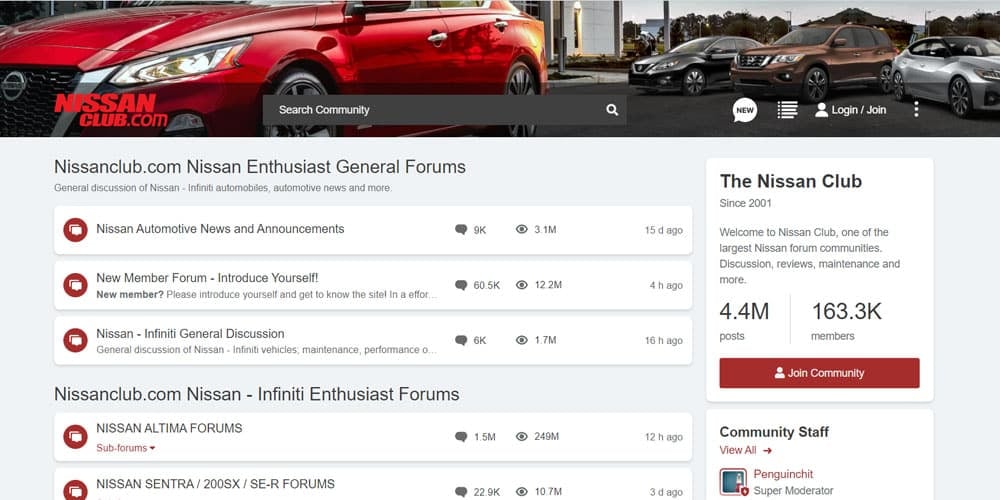 There are nearly 200,000 members visiting the Nissan Club to talk about things only these owners would understand. A quick glance reveals just about every mechanical problem being talked about, helping you find the answers you need the most.
There are also sections designed for classified and special interests. You can even search based on the model you own.
Visit the Nissan Club to find others driving the same car as you.
6. VWVortex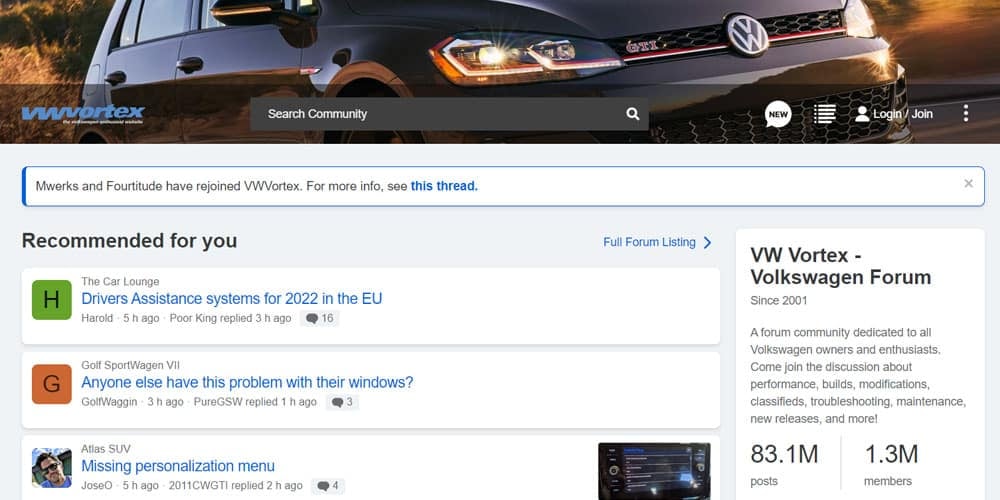 There are nearly 1.5 million members of VWVortex, providing it's a popular forum. It's been around since 2001, so it's considered one of the first automotive forums still running.
Before you consider modifying your Volkswagen or upgrading to a new model, you may want to see what others have to say. This forum also has boards for Lamborghini and Audi, so be sure to check them out if you own one of these models.
Explore VWVortex to get help with your Volkswagen.
7. CarForums.com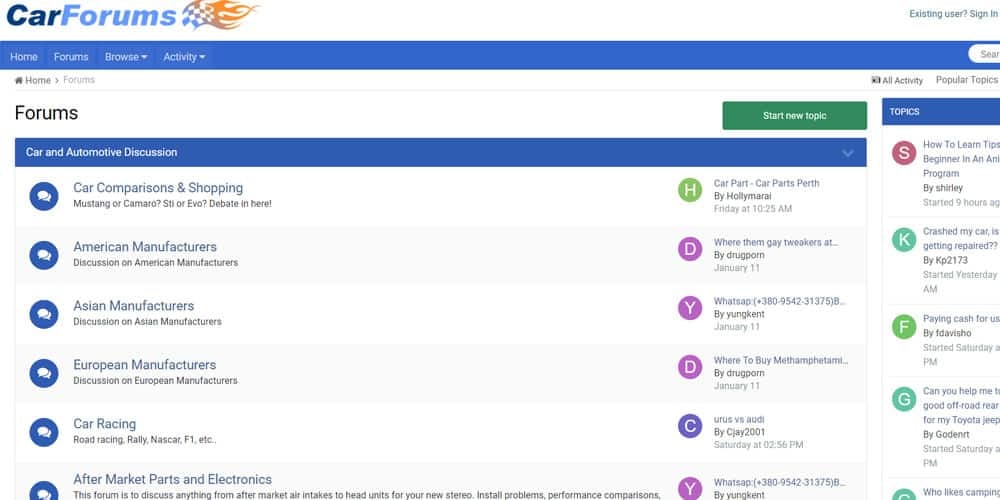 If you want to talk about cars in general, Car Forums offers you a place to visit. There are lot of discussions going on related to new car models, mechanical issues and aftermarket accessories.
Just be wary that there are also tons of other discussions going on at the same time. It seems that the boards aren't moderated very well. If you don't mind digging through a bunch of spam, you can find some true treasures on this site.
Visit CarForums.com to see what you can discover.
8. Edmunds
You've come to trust Edmunds for a lot of information. After all, the site provides fabulous car reviews, with every detail available about new models. It also offers a chance to buy and sell in your local area and gives you buying guides.
What you may not have known is that Edmunds also runs a forum. It's designed for car owners of all sorts. You can learn more about your car, get advice about maintenance or learn more about auto insurance. While you connect with other car owners, you can offer some guidance related to problems you've dealt with. Share your upgrade tips, opinions on particular car models and show how to fix certain problems. The possibilities are limitless.
Head to Edmunds and join in on the discussion.
9. Hybrid Cars Forums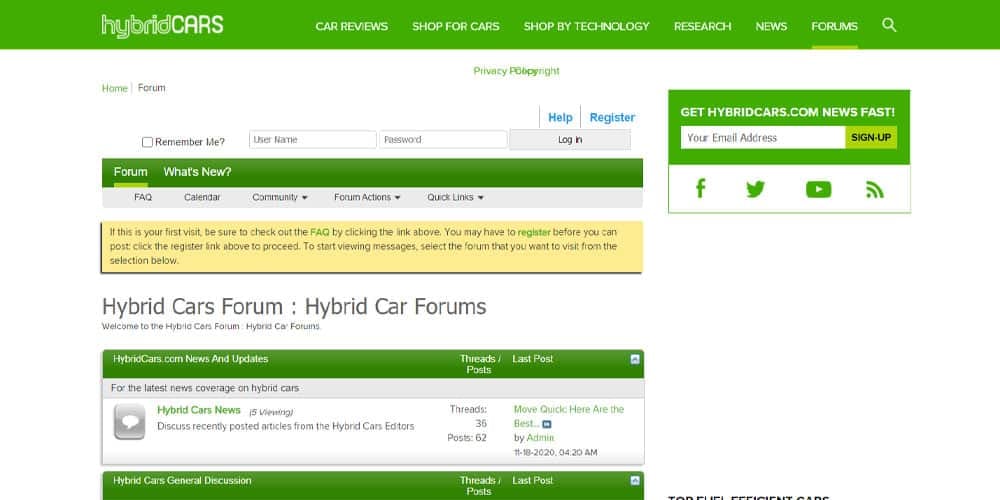 If you have an interest in hybrid cars, you want a place that's dedicated to you. While Hybrid Cars Forum isn't overly popular yet, there's room for it to grow. It's set up well and simple to navigate. You could get in while it's growing and become a pillar of the community.
The great news about this hybrid board is that it's not related to one manufacturer in particular. You can be a member and enjoy any hybrid brand.
See what you can offer at the Hybrid Cars Forums.
10. Ford F150 Forum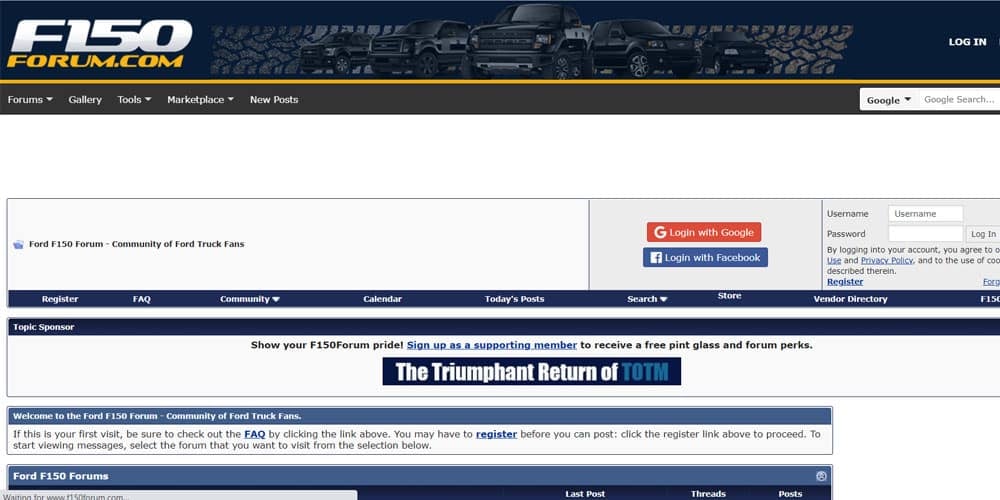 The Ford F150 Forum is about to hit 400,000 members, making it one of the most popular truck sites around. If you own a Ford truck, you can find answers to questions you didn't even know you had.
Find out about the best aftermarket kits or learn about off-roading from other members. There are also sections dedicated to maintenance and repairs. Before you buy a new or used F-150, you may also want to see what others think about those models in the forum.
Get ready to participate with other truck owners on the Ford F150 Forum.
11. Kia Forums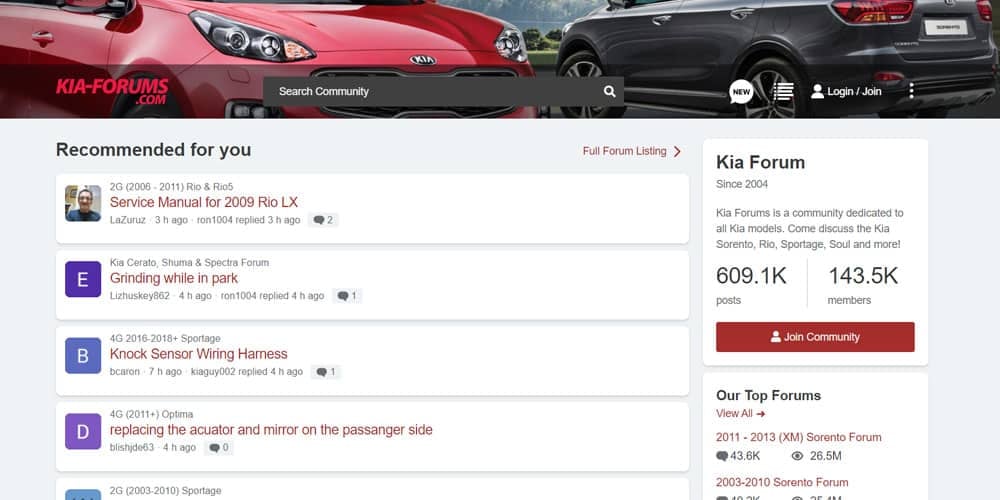 Kia Forums is going to hit 200,000 members very soon, so you may as well get in on the action. There are threads dedicated solely to the Sportage, Sorento and Rio.
You can also find help with mechanical problems, such as a malfunctioning air conditioner or defective push-button start. Post your concerns or read through existing threads to learn more about this model.
The Kia Forums are waiting for your input.
12. Corvette Forum
With more than half of a million members, there's a Corvette forum to discuss anything, no matter how old your Chevy is. Jump into the discussions about performance, forced induction, racing, parts, repairs and more.
Even though there are so many people participating in this forum, you'll find that the members are close, like family. More than just car life is going to be discussed. You may even be able to find a good deal on a used Corvette if you are ready to add to your collection.
See what's going on with the Corvette Forum.
13. Toyota Nation
Toyota owners need a place to go too. That's why the Toyota Nation forum is so exciting. With more than 500,000 members, this forum is extremely active. It makes sense so many people would be looking for Toyota's help, considering it's the best-selling brand in the world.
You can find information for particular models, such as the Camry, RAV4, Tundra, or Prius. There's also a section known as the workshop where you can get more information on repairs or aftermarket parts. Reference the information from others before you buy your next Toyota, so you won't be disappointed.
Offer some of your knowledge on Toyota Nation.
14. The Nissan Club
Nissan is another popular brand, so it's great to see this forum consisting of nearly 200,000 members. There's helpful information for every model, including the Altima, 350Z, Pathfinder, Titan and more. You can learn about models before you buy them or figure out how to fix what you have.
Aside from that, there's a lot you can offer the group as a Nissan owner. Share how you have worked through a problem or give advice on the latest aftermarket part you've installed. The feedback will be appreciated.
Get started at The Nissan Club.
15. Autotalk
Autotalk is a website, but it also includes a forum section. It's the final generalized resource in our list, making it easy to find basic automotive advice. There's actually more involved than just cars. You can also find guidance for your motorcycle too.
There are only 14,000 members now, but you could help grow those numbers by participating in the conversation. Reference particular car models to connect with others that drive what you have or start a basic discussion about cars in general.
Explore what's going on at Autotalk.
16. MBWorld
Whether you own a Mercedes-Benz or you just like to talk about them, MBWorld has an active forum you can join. Discuss popular models, such as the AMG lineup, GLB, S-Class and more.
There's a separate section for vendors, so you can find everything you need. There's also a place to discuss classic vehicles or get mechanical advice. If you are ready to sell your Mercedes or you are looking to get a used model, you may be able to connect with another buyer or seller with ease.
See what's waiting for you at MBWorld.
FAQs
Which is the biggest car forum?
VWVortex may be one of the largest and most active, with 1.5 million members. It's been around for a couple of decades, so it's well-established. However, there are also some others with a good membership base, such as Automotive Forums, Toyota Nation and the Ford F150 Forum.
What is the best Audi forum?
Surprisingly, you can get a lot of good information about Audi models from VWVortex. However, there are a couple of forums dedicated solely to Audi owners. Audi World has more than 400,000 members, while Audizine has slightly more. You could use both if you are in need of high-quality information. 
What is the best Chevrolet forum?
If you are looking for a generic Chevy forum, you may try GMAuthority or Chevyforum.org. Otherwise, you may prefer to look for a forum based on the model you drive. There are special forums for Corvette, Silverado, Camaro and Equinox models. You can find one based on your model for tailored advice.
What is the best Dodge forum?
Dodge Talk has nearly 300,000 members and provides information on a variety of models. If you have questions or concerns about a particular model, you may also try to find a forum dedicated solely to it. For example, the RAM Forum is a popular option for truck owners wanting more advice. 
What is the best Toyota forum?
Toyota Nation has more than 500,000 members, making it one of the largest online car communities. You can get information for any model on this forum or search out another one based on what you drive. For example, you may prefer Tacoma World, Toyota Corolla Forum or something similar.
Conclusion
Car forums provide a lot of useful information, especially if you are trying to fix something on your vehicle. Even as professional mechanics, we trust the information given by other owners versus random websites online. It's also helpful to have the opportunity to ask questions back and forth.
Whether you are looking to buy a vehicle or you want to install some aftermarket equipment, there's a forum to help you out. Choose a generic site that offers guidance on a multitude of brands and search out one designed specifically for your make and model. Just remember to be a good community member and give more than you receive. As a car owner, you have plenty of experience that others will find useful.