When you're looking to rent a car in the United States, it's a big decision. Rental cars are generally a more expensive option, and the last thing you want is to go with a budget company that will leave you stranded on the side of the street or overcharge you for an old lemon.
With so many different companies out there, it can be hard to sort through all the noise, which is why we did exactly that for you here. If you're looking for the best car rental company in the United States, these are the top ten you'll want to consider.
10 Best Car Rental Companies in the US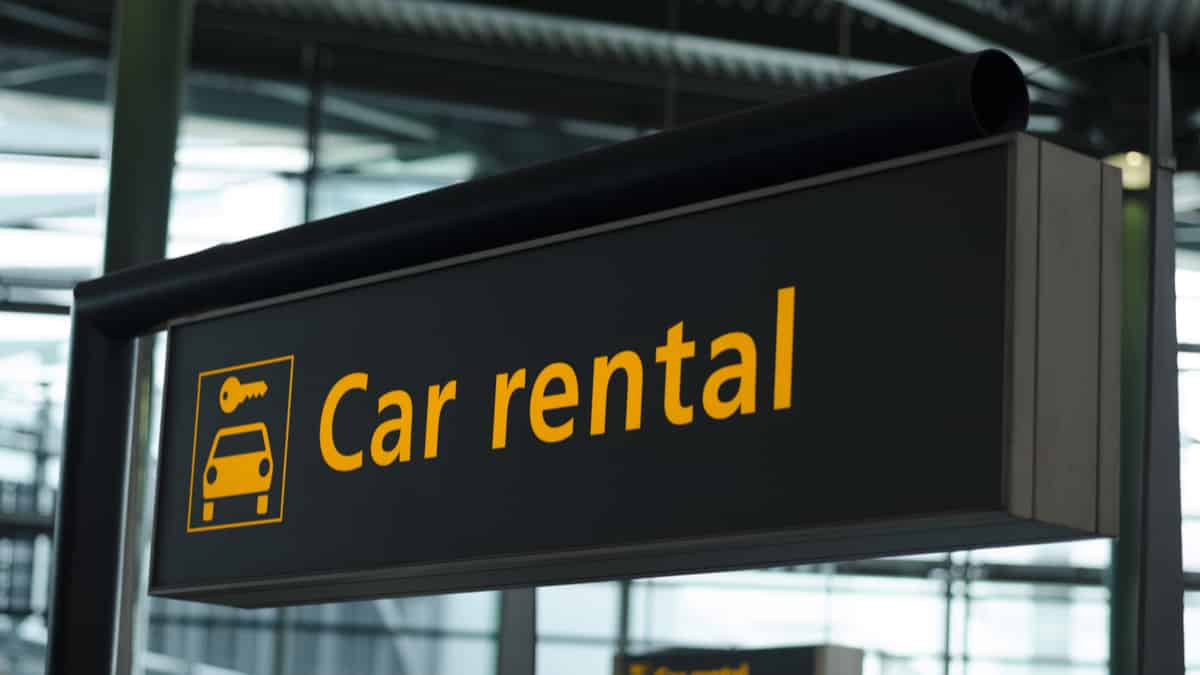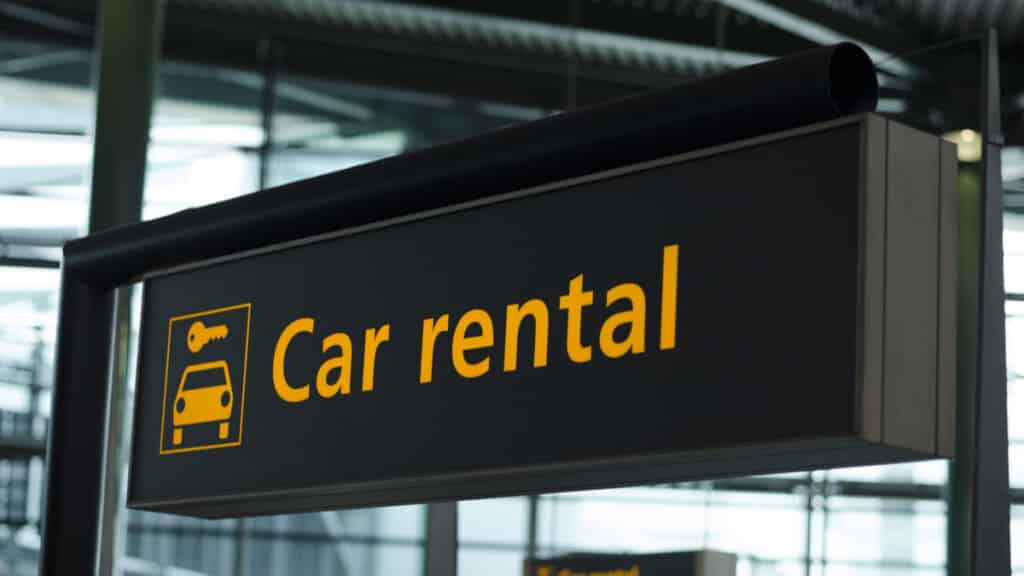 While we plan on giving you some tips to get the best possible deal, we wanted to dive right into some of the best rental car companies in the US for you first. So, check out the top ten, then keep reading to see how you can get the best deals on your next rental car!
1. Enterprise – Best Car Rental Company Overall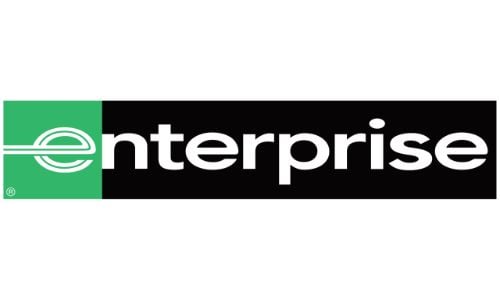 Enterprise owns over 40 percent of the rental car industry in the United States, easily making it the largest rental car company you have to choose from.
Not only does their large size allow them to offer some of the most competitive rates in the industry, but it also means they have over 4,000 locations, making finding a pickup and drop-off location near you as easy as possible, and that's why we see it as the best car rental company.
They work with any driver over the age of 21, although they do have exceptions in some areas for drivers younger than that if their vehicle is in the shop.
Just keep in mind that if you're under the age of 25 Enterprise does charge an additional fee. However, this is pretty standard across the entire industry, and Enterprise's affordable rates and policies have them on top of the industry.
They also offer discounts for select groups like military members, veterans, and government employees. Add in their rewards program and the ability to upgrade to the next class of vehicle for free at some locations and it's not hard to see why they're at the top of this list and the largest company.
Enterprise offers multiple insurance and coverage options when renting a vehicle with them. That way even if your regular car insurance doesn't cover rental vehicles you don't need to worry.
Furthermore, Enterprise does a great job working with your insurance company if you have rental car coverage on your policy, and they do their best to help ensure you don't need to come out of pocket when you're renting with them.
Finally, while Enterprise has plenty of rental car options, they even have options for you to rent moving trucks and vans, and they do a great job with one-way car rentals. With so many great options there's no reason to look anywhere else when you're trying to rent a vehicle.
---
2. Thrifty – Best Budget Car Rental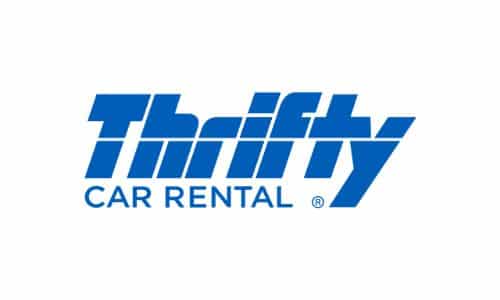 If you are looking for the best car rental company with low rental rates, Thrifty is a great choice. Thrifty is another subsidiary of Hertz, and as the name implies, they're all about budget rental cars. With Thrifty you don't have to hunt for deals to get a great rate, and they offer some of the most affordable rental cars in the industry.
However, if you're a younger driver you can see those savings go right out the window. Because while Thrifty rents to any drivers 20 years or older, if you're between the age of 20 and 25, they access a young driver's fee to your rental.
For drivers between 20 and 24, they charge a fee between $29 and $45 per day. Not only that, but they charge $13.50 per day if you are 25, making them one of the only car rental companies in the industry that assess a young driver fee to drivers that are 25.
And for 18- to 19-year-olds in Michigan and New York they charge a whopping $52 per day young driver fee that sends their rental rates through the roof. That fee is so high that it's actually higher than their per-day rates in many areas!
Still, if you're over 25, Thrifty has some outstanding deals and it's hard to find a more affordable car rental company. Thrifty also has a rewards program called "Blue Chip Rewards," and it's a pretty simple system to use.
It's free to sign up, and just by signing up you get access to discounted rates, and you can get quicker reservations, pickups, and drop-offs. You also don't have to go to the counter, letting you get on the road and to your destination faster than ever.
But even with so many great perks, the real drawback to Thrifty is that they don't have a ton of locations. Because of this, it can be a pain trying to find somewhere to pick up and drop off your vehicles, which can quickly lead to you going with another company.
But if you can find a Thrifty location near you, they offer some of the best car rental rates out there.
---
3. Dollar – Best for Younger Drivers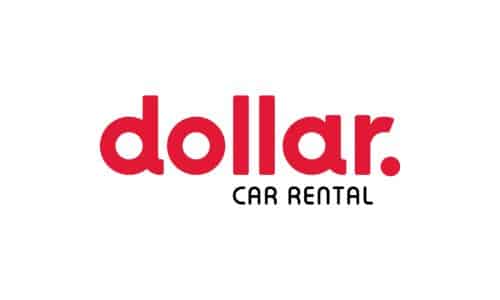 Dollar Car Rental is definitely one of the smaller car rental companies in the United States, and there's no doubt that they're more of a "low-budget" company. There's nothing wrong with that though, and it allows you to get some of the best rates in the industry when you're renting.
Lower rates are clearly the top perk with Dollar, and it's a refreshing change of pace that you don't have to hunt for deals to get the best possible rate. And while they only handle about 3 percent of the rental car industry in the US, they do have over 250 locations for you to choose from.
That means you should be able to find a pickup and drop-off location at least somewhere near you. Another perk that Dollar offers is that they rent to 20-year-olds in every state, which is a full year younger than most other rental car companies.
They do rent to 18-year-olds in New York and Michigan, but that's only because the law requires it there. But the real top perk for young drivers is their young renter fee. While every company has this fee in some capacity, with Dollar, it's one of the lowest fees in the industry and it's, therefore the best car rental company for young drivers.
While they don't openly publish the rate it's about $20, and it's only a one-time fee. Since just about every other company out there charges this fee per day, this can mean that you save hundreds of dollars on your overall rental.
Dollar also has an excellent and easy-to-use loyalty program that gives you priority customer service, faster reservations, pickups, and drop-offs, and the ability to earn free rental days. If you're on a tight budget or a young driver, it's really hard to beat the rates that Dollar Car Rental offers.
It's also worth noting that Dollar Car Rental falls under Hertz and is a sister company to Thrifty. This gives you a larger company backing without having to pay the higher prices!
---
4. Hertz – Best for Luxury Vehicles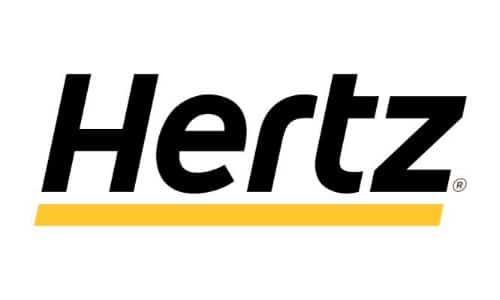 While Hertz might not be the most affordable rental car company, they command the second-largest rental car market in the United States for a reason. They focus a little more on the luxury side of the car rental market, and as such, they don't always have the best deals on the compact and other lower-budget options.
Still, they offer a few perks that you can't get with other companies, and it's why they own about 15 percent of the rental car industry in the United States. The first perk they have is that they have a ton of locations.
They don't have quite as many as Enterprise, but with over 2,000 locations in the United States, it's not like they're not around.
Another advantage they offer is that while most rental car industries have their minimum rental age set at 21, Hertz lowers that age to 20. However, in Michigan and New York that age is 18, and in Alabama and Nebraska the minimum age is 19.
And while they still charge a fee for drivers under the age of 25, they charge $19 a day which is lower than what most other companies charge. While $6 a day in savings might not sound like much, if you have your rental for a few weeks, those savings add up.
If you're under 25 you're also restricted to the following vehicle categories when renting: compact/midsize, full-size/standard, and SUV/minivan.
Hertz does offer a rewards program, but it's not quite as straightforward and easy to understand as some of the competition.
The basic reward level is free and all you need to do is sign up. You get to add an additional driver to your rental for free at this level and you can check in with your mobile device and pick up and drop off without visiting the service counter.
The next level up kicks in after you get ten rentals or spend $2,000 with the company. At this level, you get a wider selection of vehicles, and if they have upgrades available, they'll let you use them.
The final level of their rewards program kicks in after 15 rentals or you spend $3,000. This gets you guaranteed upgrades, the widest possible selection, and a dedicated customer service lane to use.
No matter what level rewards program you have, they all help you earn points and get perks like free vehicle rentals and upgrades.
RELATED: How Much Does it Cost to Rent a Car for a Week?
---
5. Sixt – Up and Coming Choice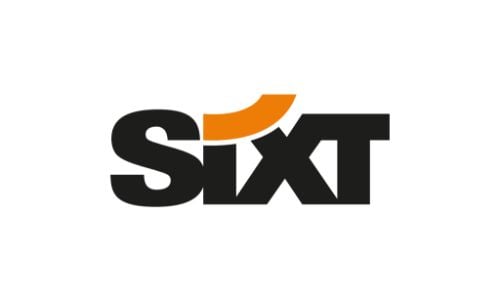 Sixt might not be the largest car rental company in the United States, but they're certainly an expanding one. Sixt started out as a car rental company in Germany, and in 2011 they entered the US market.
Today they have over 100 locations in the United States, but they're only present in 18 states. That means there's a good chance that they're not available near you. But if they do have a location near you, then you'll want to consider them, and as they continue to expand, there's a good chance they're a company you'll want to keep an eye on.
Sixt does offer a rewards program, and while it's a bit complicated, the more you use it the more perks you get. Even better, since Sixt has locations all around the globe, it means you can keep using your rewards card and earning more perks even if you're a frequent international traveler.
Sixt does restrict drivers to people over the age of 21, except for their New York locations where they rent to anyone over the age of 18. Like many other companies, Sixt does charge a fee for those under the age of 25, but it's a variable fee that depends on the type of vehicle you're renting and your current location.
A unique feature that Sixt offers is its Sixt+ program. They've named it a "car subscription service," and we think that's a pretty good name for it. You pay a $199 enrollment fee, then you get exclusive rates to rent a vehicle on a continuous 30-day basis.
Every 30 days you can switch cars if you want, or you can keep going with the one you have. It's an excellent choice for those that don't have the cash for an upfront down payment on a lease or those that need a different type of vehicle from month to month.
You can go from an SUV to a compact and back, and everything but your fuel comes in the price. You can also pause the subscription for up to 3-months, so if you need a break, they can do that for you too. It's certainly a unique service worth considering depending on your needs.
---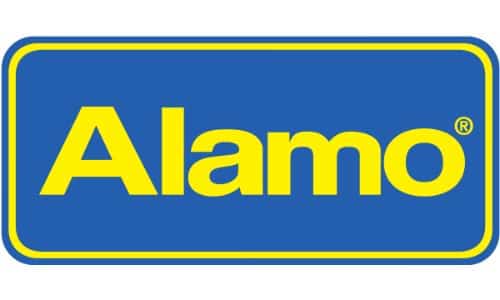 While Alamo isn't nearly as large as Enterprise, meaning fewer locations, it's certainly not a small company. They have 247 locations across the United States and make up about seven percent of the rental car company market share in the United States.
They're calling card is their affordable upfront rates and the ability to tack on further discounts and deals. Not only are their regular rates affordable, but they offer a rewards program that gives you 5 percent off every rental car purchase you make with them simply by signing up.
Moreover, they offer additional discounts for military members, and they have deals for both last-minute rentals and for booking far enough out in advance. So, whether you're a planner that has everything ready to go months in advance or a procrastinator that gets everything done at the last minute, Alamo has deals ready to go for you.
Another popular option they have is a free class upgrade for your rental car at participating locations. You can go in and request the next car size up, and if they have it available, they'll typically work with you!
To rent at Alamo, you have to be at least 21 years old unless you live in Michigan or New York where the minimum age is 18.
However, if you're under the age of 25, Alamo does add on an additional $25 per day charge, and they'll restrict the type of vehicles you can rent from them. It's pretty standard across the industry, but that doesn't make it any less frustrating if you have to pay extra or you can't rent a vehicle at all from them.
Still, Alamo has a ton of vehicle options for you to choose from, and if they have a location near you, chances are they'll have vehicles for a rate that you can't match anywhere else.
---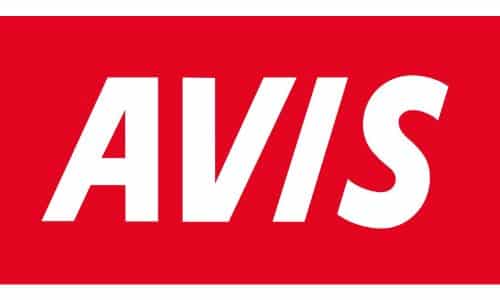 Avis owns about ten percent of the market share in the United States, and with over 1,500 locations there's a good chance that there's an AVIS location near you. This makes them the third-largest car rental company in the United States, but even with those perks, it fell down to seventh on our list.
The reason for this is pretty simple, the rental rates are a bit higher with AVIS than they are with other brands. They do have a great rewards program though, and that earns you lots of free rental days. Furthermore, they have deals where you can get up to 30 percent off your rental.
They don't take rentals for those under the age of 21 unless you're in New York or Michigan where you can rent at 18. But their young driver fees are astronomical compared to other companies. For drivers 21 to 24, the fee ranges from $28 to $35 per day.
In New York, they slap on an $84 per day charge for drivers 18 to 20, and in Michigan that fee is $41 a day. When you add this on top of their already higher rates there's a good chance another company has a better deal for you.
One perk that AVIS does offer is their long-term rental options. They offer significant discounts for these vehicles, and you can get into rental terms as long as 11 months.
If you do decide to go with AVIS for your rental car, be sure to check out this deals page to make use of any discounts that they might have for you. But we highly recommend shopping around to see if you can't find another car rental company that's offering better rates.
---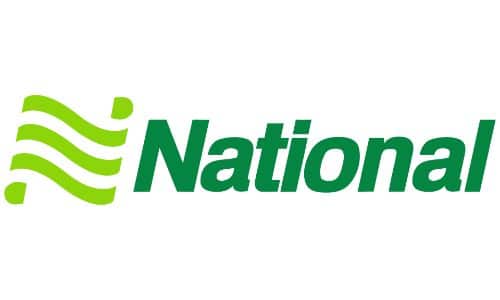 National Car Rental doesn't offer nearly as many locations as Enterprise, Hertz, or even AVIS, but with 314 locations throughout the United States, it's not like they're not around.
They're the fourth largest rental car company in the United States, and they have tons of vehicles for you to choose from. They also offer competitive rates, and their rewards program is one of the easiest to understand and use in the entire industry.
Seven rentals earn you a free rental day, and you can pick any midsize car above from the "Emerald Aisle" and only pay the midsize rate. As a final perk, you get access to "Emerald Checkout," which speeds up the entire checkout process and lets you get on with your day.
If you travel internationally, National Car Rental has locations all around the globe that lets you accumulate rewards points and stick with one company that you trust.
Like most car rental companies you have to be at least 21 years old to rent from them, the only exception to this is in Michigan and New York where they legally have to rent to those 18 and older.
While their young driver fees do vary depending on the location and type of vehicle, they average out to about $25 per day, which is right at the industry standard.
Finally, one of the top perks of going with National Rental Car is that they have an outstanding mobile app that lets you pick out your vehicle and get on the road faster than ever. No more waiting at the counter or wondering what kind of vehicle you're going to get. Just download the mobile app, take control, and get on the road!
---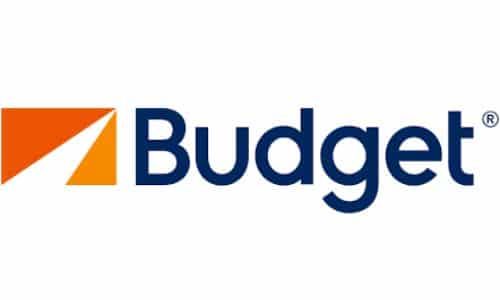 While Budget might be their name, don't let it fool you, it's not a true "budget" rental car company, but that's not a bad thing. They don't have the lowest rates out there compared to true "budget" rental car companies, but they do provide a pretty nice mix of affordability and quality.
It's really a niche market trying to combine affordable with newer vehicles, but it's one that Budget does well. It's because of this that Budget Car Rentals has over 1,400 locations in the United States, making it one of the easier companies to find a location with.
And while you do have to be over 21 years old to rent a vehicle from Budget, they offer a few useful exceptions for those in a pinch.
Most notably, if you have rental car coverage in your insurance policy with Allstate, American Family, Bristol-Myers Squibb, CCRG Claims, Progressive, State Farm, or Travelers and your vehicle is in the shop as part of an insurance claim, Budget will rent to you as long as you're 18 or older.
They also rent to those over 18 in both Michigan and New York since they're required to by law. But no matter where you rent if you're under 25 they charge an underage surcharge. That fee is $27 unless you're in Michigan or New York where the fee can be higher.
Moreover, if you're under 25 you can only rent from these car groups: economy, compact, intermediate/midsize, standard, full-size, premium, intermediate/midsize SUV, standard SUV, and convertibles.
This is far more categories than most companies offer for drivers under 25, but it's still not their full lineup.
Finally, Budget Rental Cars offers a rewards program, but it's one of the more complicated programs. However, you can pair it with airlines, hotels, and other partners to help you earn points faster even if you're not renting a ton of vehicles.
READ MORE: Economy Vs. Compact Car Differences (& Which is better?)
---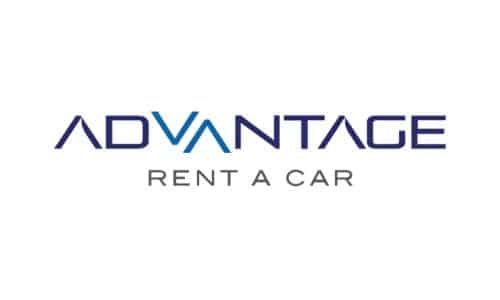 Advantage Rent-a-Car might be the final addition to our list, but that doesn't mean it's not worth checking out. Even still it did fall to the bottom for a reason, and let's highlight those reasons first.
The first problem is that there simply aren't many locations. In fact, there are currently only six different locations you can pick up from and they're all airport locations.
Those locations are:
ATL – Hartsfield-Jackson Atlanta International Airport
BNA – Nashville International Airport
DFW – Dallas/Fort Worth International Airport
LAS – Harry Reid International Airport (Paradise, Nevada)
MCO – Orlando International Airport
MIA – Miami International Airport
It's not many locations to pick from, which might rule out this company for your right away. Second, they don't have the best rates out there. While they're not unreasonably high rates, you can find lower rates out there with different companies.
Finally, while every other company on our list offers a loyalty program, Advantage doesn't. They used to offer a program known as "Expressway," but that program no longer exists.
But Advantage did make the list for a reason. The first reason is that their vehicle fleet is newer. So, while you're paying a little more for your rental, you're also getting a newer vehicle out of it.
You also can't rent a car from Advantage Rent-a-Car until you are 21 years old, and since they don't have any locations in New York or Michigan there is no exception to this rule.
It's a smaller company with newer vehicles though, and considering the type of vehicle you get, the rates are pretty competitive, which is why Advantage Rent-a-Car made our list despite all the other drawbacks that come with it.
---
Car Rental Company Guide
Now that you have a better idea about some of the top rental car companies in the United States, it's time to figure out what you can do to save some money.
Keep reading and follow as many of these tips as possible to try and keep some of your hard earned money in your pocket the next time you need to rent a car in the United States.
Shop Around
Once you've had a good experience with a car rental company it's easy to just keep going back to the same one over and over again. But over time rates change, and chances are even if you're racking up rewards points if you're not getting the best rate each time, you're spending more in the end.
Each of the car rental companies on our list has an excellent reputation for taking care of their customers, so there's no reason you can't jump ship to another company if they're offering you a better rate.
We highly recommend getting at least three quotes from different rental car companies every time you go to make a reservation. The more quotes you get, the less you'll likely end up paying in the end!
Look For Discounts
So many different companies offer tons of different discounts for you to consider. Military and government discounts are the most common, but there are also discounts for students, first-time renters, and so much more.
So, go to their site and see what kind of discounts they offer. Our personal favorite is the first-time renter discount, as sometimes they go up to 30 percent! And since we don't feel the need to stick with the same company each time we rent a vehicle, that means you can save up to 30 percent multiple times when you're renting a vehicle.
Avoid the Airport
Look we get it, the airport is an extremely convenient way to pick up your rental car. The problem is that the rental car companies know this and often jack up the rate.
Moreover, sometimes it's not even their fault! That's because often even to get the business in the airport, the airport charges them a fee for every car they rent. Of course, the company passes this fee right onto you, so you end up spending more.
If you can avoid picking up your rental car from the airport, we highly recommend it. However, if you're getting your vehicle from the airport and you're keeping it for a longer time, check out rental car locations in the nearby area.
While they can't reimburse you for fees you've already paid, often they'll close and open the rental for you there, and this often results in lower fees and taxes throughout your entire rental, saving you some money.
Get the Rewards Program
Wait, we're telling you to jump from company to company and sign up for their rewards program? Isn't that contradictory advice? Well, not really.
Sometimes simply signing up for the rewards program gives you an instant discount, even if you never plan on renting from the same company again. And of course, if you do go back to that company because they keep offering the best rates you can collect some points too.
So, sign up for the rewards programs, and when you're ready to make a reservation, comb through your email. A lot of times they'll send you promotional discount codes you can use to get even more off your next rental!
Ask for a Free Upgrade
This is one of those things where the worst thing they can do is say no. But the truth is that if they have the vehicle on the lot and no one has it reserved, there's a good chance they'll upgrade you to it.
Giving you a free upgrade is a way they try to build loyalty to their brand and keep you coming back the next time you rent a vehicle from them. Now don't expect to go from a compact to a luxury convertible but going from a compact to a midsize isn't outside the realm of possibility.
Being a part of the company's loyalty program is often a great way to increase your chance of success in this department too. Just keep in mind that they don't have to upgrade you, so don't give them a hard time if they aren't willing to do it for you.
But if it all works out you might just find yourself in a nicer vehicle without having to spend any extra money!
Consider Your Insurance
There are two parts to this heading, and we'll highlight both of them for you here. The first is if your vehicle is in an accident. If your insurance policy includes rental car coverage, use it!
Reach out to your insurance company to see what they cover and what you need to do to use your coverage, there's no reason to pay more than you have to if you already have this protection.
The second is the insurance for the rental car itself. Sometimes your insurance policy will cover you in your rental car, other times it won't, and you'll need to purchase additional coverage from the rental car company.
Just know what you need that way you're not driving around without insurance thinking you're covered.
Try To Avoid a One-Way Fee
When you drop off a rental vehicle at a different location than where you picked it up from, the rental car company has to find a way to keep each location stocked with enough vehicles. That can create a logistical nightmare for the company, and in the worst-case scenarios, they might have to pay to transport vehicles from one location to another.
That's an expensive process, and it's not one they cover. Because of this if you drop off a rental vehicle at a different location, they're likely to charge you a one-way fee. The exact fee depends on the company, but they're typically a higher amount.
Tips if You're Under 25
There's no way around it, if you're under 25, it's much more challenging to rent a vehicle. While most places will rent to you if you're at least 21, they love tacking on additional fees to drive up the cost.
Even worse, they typically charge per day. So, when you're looking at that attractive rental rate online what you're not seeing is all the hidden fees they want to charge you. Sometimes this fee can reach an extra $45 a day. If your vehicle is in the shop for two weeks, that's an extra $630 on your rental.
You want to avoid this fee, and luckily there are a few different ways you can do it. The first way is to get a AAA membership and get a rental through Hertz.
AAA memberships start around $60, and since Hertz charges $19 a day for a young driver fee if you're renting for more than 3-days it's guaranteed savings – plus you get all the extra benefits of a AAA membership for the year.
Another way to go is to rent with a company that charges lower young driver fees. Dollar Car Rental typically only charges a one-time fee, which means if you're renting for any length of time, it's generally a more affordable option.
Finally, if you need a rental because of an insurance claim, check with your insurance company what your options are. Many rental companies, like Hertz and Enterprise, offer exceptions to their minimum age requirement if your vehicle is in the shop for an insurance claim.
Always Fill Back Up
You don't always get a rental vehicle with a full tank of fuel, but always fill the tank back up to the same point it was when you got it. Because if you don't the rental car company will charge you an arm and a leg to do it.
In fact, some rental car companies automatically charge you $9.99 per gallon if you return the vehicle with less fuel than it had when you got it. Of course, if you pick up the vehicle with half a tank, don't return it with a full tank because they're not going to credit anything to your account if you do.
Take the Time To Inspect Your Vehicle
When you go to pick up your rental vehicle, you just want to get on the road and get moving. We completely understand but take your time and walk around the vehicle and look for any damage.
If you spot anything, report it to the company and ensure that they document it. If you skip this crucial step, the car rental company can try to pin the damages on you.
Most of the time it's not a problem, but if you sign the form saying the vehicle is in pristine condition when you pick it up and it's not when you drop it off, they can legally charge you for the damages, and there's not too much you can do.
Car Rental FAQs
Which is the best car for rental?
To determine which car is best to rent for you, there are many things to consider. An economy or compact car is a great choice for most people. If you'll be driving in the city, a smaller car may be more practical than a larger model. If you're taking a road trip, consider a vehicle with good gas mileage. Considering the price, it's important to compare the cost of different rental companies to find the best deal.
Who is the largest rental car company?
The largest rental car company is Enterprise Rent-A-Car, with more than 600,000 cars in service. The company has more than 9,000 locations worldwide, including 419 airport locations in the United States alone.
Should I wash my rental car before returning it?
No, you do not need to clean the rental car before returning it. The car rental company will still clean the interior and exterior before giving it to the next customer. However, it might be a good idea to remove your trash, but if it's dusty, you don't need to clean it.
Do rental cars track you?
Yes, many rental cars have a GPS tracker inside the car in case something happens to it. It is done to secure their car to track the customer in case the car is not returned when it was supposed to.
Which Is The Best Car Rental Company?
There is no best car rental company for everyone, as it depends on your preferences. If you are looking for a good car rental company overall, Enterprise is a great choice. Thrifty is a great choice if you are looking for cheaper car rental, and Dollar is the best car rental company if you are a young driver.
Final Thoughts
Getting a rental car in the United States can seem like an overwhelming task, and with so many options out there it can be. But the good news is that since there are so many options you can find exactly what you want, whether that's a luxury vehicle or the lowest possible rate.
With any of the ten companies on our list here you can have a stress-free rental car experience. Whether your vehicle is in the shop or you're on vacation, any of these rental car companies make an outstanding choice!