If you are in the market for a new pickup, you've likely been exploring your options. All the terms, such as 4WD, ACC, PHEV and GVWR are all abbreviations that may confuse you. As you do your investigations, you may also come to various trim levels and wonder what the difference is. For example, what does XLT mean on a Ford truck?
In this guide, we look deeper at the Ford XLT meaning. We describe the available trim levels and packages available, plus we determine if any of it matters. By the end of our article, you'll know if the XLT Package is worth the cost and you will have answers to your toughest Ford truck questions.
What Does XLT Mean On A Ford Truck?
XLT is a trim level that's available with Ford trucks, both compact and full-size. It stands for "Extra Luxurious Truck," but the term has been around since 1970 when it was the top trim of a Ford F100. Today, XLT is one trim level above the base, so it's not as luxurious as it once was.
Today, the trim level is available on every truck model. There's also an XLT for the Bronco, Explorer and other vehicles.
Does The Ford Trim Level Matter?
All trim levels matter. When you choose a new truck, you want to be sure you get the features and equipment that are best for you. You don't want to pay for equipment you won't be using and you don't want to neglect to add those things you would utilize.
That's why it's important to carefully look through the trim levels of a truck before making a decision. On Ford's website, you can look at every trim to see what's included. You can also compare models side-by-side to see what one trim level offers that the others don't.
Should I Get The XLT Package?
Only you can answer that question. For the most part, the XL is considered the base model truck with all of the Ford lineups. These are going to have the bare minimum features and equipment. You can get the XL or the XLT for a great price, but you may prefer to upgrade to something better.
If you are looking for luxury features or you desire more advanced safety equipment, it may be best to go with a Lariat trim or higher. Additionally, there are some great packages available that add better appearance features, more off-road capability and extra technology. If the budget allows, you may prefer to add some of the packages as well. Generally, the packages group a bunch of add-ons together for a lower price than if you bought them separately. However, if all of the features in the package aren't beneficial to you, it may not be worth buying.
Ford Trim Level And Packages
Looking just at the trucks alone, we can narrow down what trim levels and packages are available for each. We will start with the smallest of the Ford pickups and work our way up.
1. Ford Maverick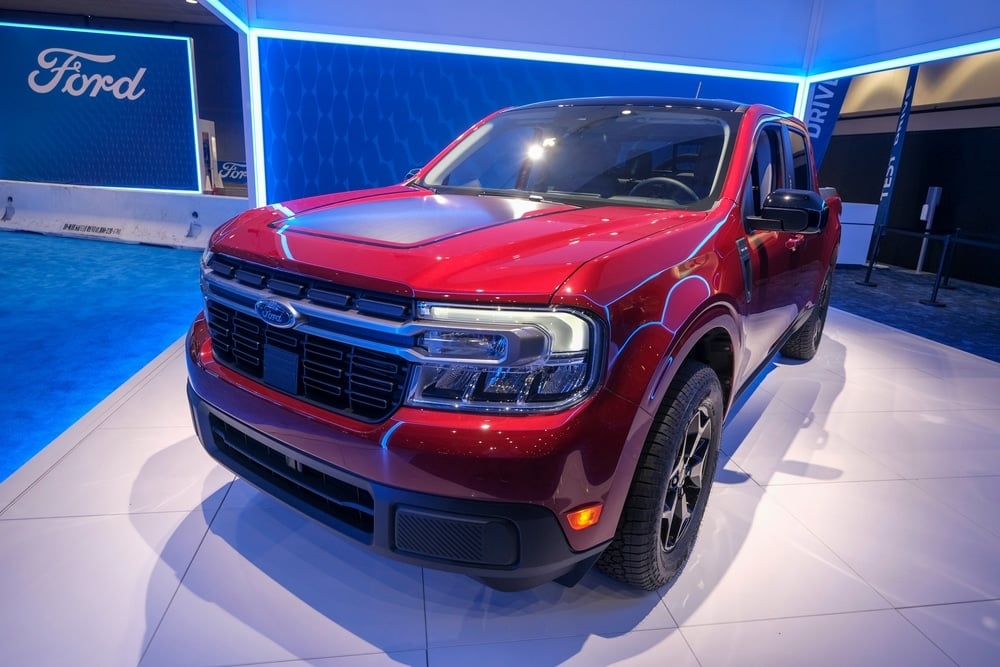 The newest Ford Maverick is available only as a Crew Cab with a 4-foot-6-inch bed. It comes with a hybrid powertrain but can be upgraded with an EcoBoost turbocharged engine. It also features three trim levels, which are the following:
The XLT trim is the mid-range option for the Maverick lineup. There are also some packages you can choose from, including the following:
Black Appearance package
Tremor Appearance package
4K Tow package
FX4 Off-Road package
Tremor Off-Road package
With the XLT trim level on a 2023 Maverick, you receive 17-inch wheels and an in-bed cargo compartment. It also includes a power-locking tailgate to secure your belongings better.
2. Ford Ranger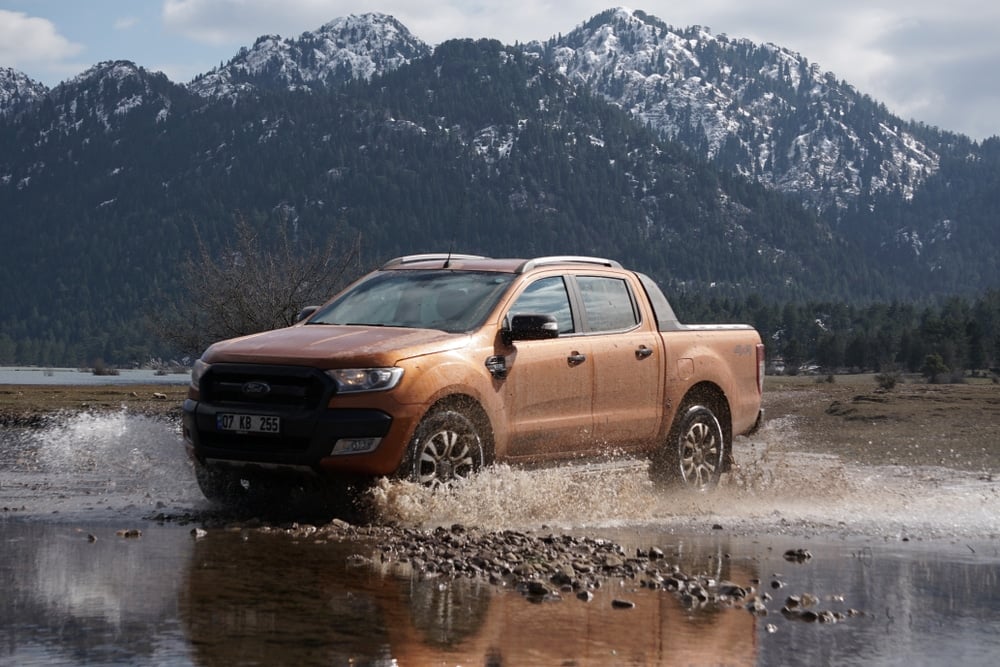 New Ranger models include the SuperCab body with a 6-foot bed or the SuperCrew with a 5-foot bed. They are all powered by a 270-horsepower turbocharged four-cylinder and come in the following trim levels:
Again, the XLT trim is the mid-range option for this lineup of Ford trucks. Additionally, you can choose these packages:
Chrome Appearance package
Sport package
Black package
STX Appearance package
STX Special Edition package
Splash package
FX2 package
FX4 package
Tremor package
Trailer Tow package
Bed Utility package
With the 2023 Ranger XLT model, you get an eight-inch touchscreen, satellite radio, Apple CarPlay, Android Auto and a six-speaker sound system. It also includes dual-zone automatic climate control, 17-inch wheels, fog lights and remote keyless entry. Standard safety features include rear-cross traffic alert, blind-spot monitoring, lane-keep assist, lane-departure warning and automatic high-beam headlights.
3. Ford F-150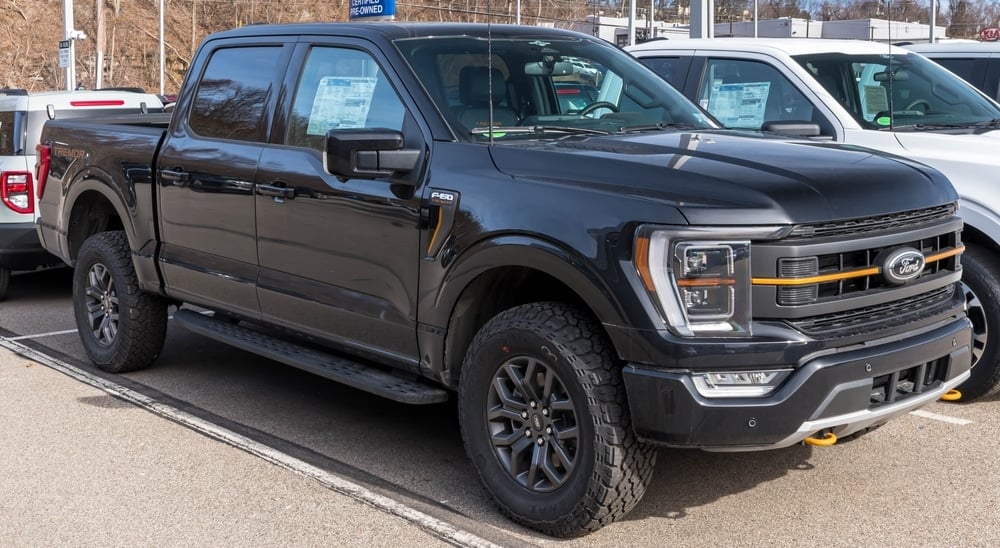 The new F-150 is available with several powertrain configurations, three cab configurations and three different bed sizes. Plus, there are eight trim levels, such as:
XL
XLT
Lariat
King Ranch
Platinum
Limited
Tremor
Raptor
As you can see, the XLT is just above the base model, with many more above it. For this reason, there's nothing luxurious about the newest XLT trim level. It provides a little more than what you would expect from a work truck. These are some packages that are also available.
XL Chrome Appearance package
XLT Chrome Appearance package
XLT Sport Appearance package
Lariat Sport Appearance package
STX Appearance package
King Ranch Chrome Appearance package
Black Appearance package
Bed Utility package
Snow Plow Prep package
Trailer Tow package
FX4 Off-Road package
Max Trailer Tow package
The 2023 F-150 XLT comes standard with voice recognition and alloy wheels on top of everything offered with the XL trim. Standard safety features also include reverse automatic emergency braking, driver-attention monitoring, lane-keep assist, lane-departure warning, rear cross-traffic alert and blind-spot monitoring.
4. Ford Super Duty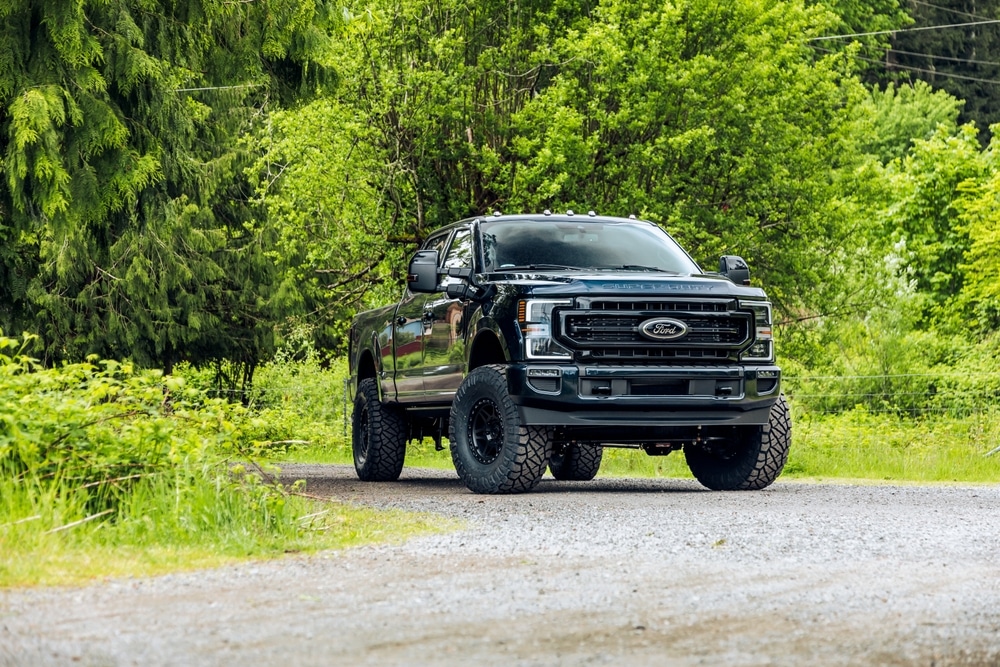 Even the Ford Super Duty has some similar trim levels. This heavy-duty pickup can be configured in the following models:
XL
XLT
Lariat
King Ranch
Platinum
Limited
The Ford Super Duty can be equipped with many of the same packages found on F-150 models. Contact your local dealership to find out what's available in your area.
The higher you go up on the spectrum, the more luxurious the features are. You can expect mostly base-level equipment in the XLT of a Super Duty truck. However, this model does include a 12-inch touchscreen, which is a big upgrade from the eight-inch that comes in the XL trim.
5. Ford F-150 Lightning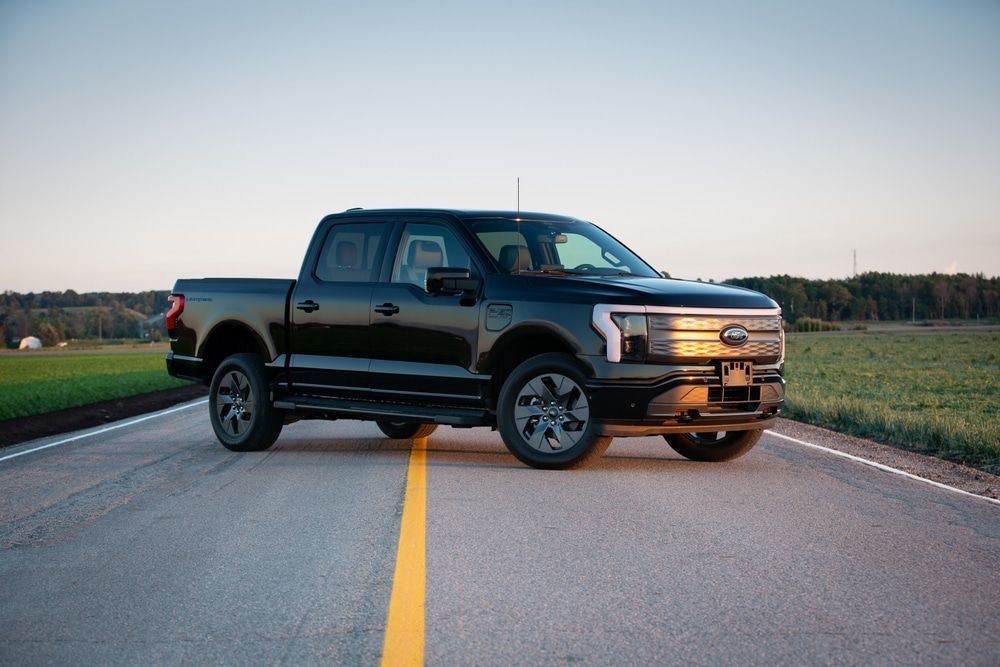 The Lightning model is Ford's electric truck. The Ford F-150 Lightning features an electric powertrain that offers up to 240 miles of driving range per single charge. It's still a capable truck, even though it doesn't have a gas- or diesel-powered engine. Plus, it's available in these four trim levels.
Again, the XLT trim sits just above the base model. There are two other trim levels on top of this one that provide more features and luxury. While there may not be as many packages, there are still a few to choose from, including the following:
Tow Technology package
Max Trailer Tow package
312A Equipment Group
511A Equipment Group
As an electric model, it may also qualify for the EV Federal Tax Credit, giving you more money back on your purchase. This rebate may provide enough of a cushion that you can upgrade to something even better than the XLT trim. 
What is the difference between an XL and an XLT on a Ford truck?
The Maverick, Ranger, F-150 and Super Duty all offer the XL and XLT trim. The XL is considered the barebones work truck. It doesn't feature a lot of special equipment or technology. The XLT is one step up from this truck, offering more convenience, safety and tech features for a better drive.
Is XLT better than XL?
The XLT trim is going to provide more features overall. Whether you are looking for convenience, luxury or technology, you will find more with the XLT trim than the XL because it is a step up. However, that level-up also costs more money, so it doesn't fit everyone's budget. 
What does STX stand for on Ford?
STX is referred to as Sports Truck Extreme or Sports Truck Extra. It isn't a trim level but an appearance package that's available with the Ranger, F-150 and Super Duty lineups. It adds some exterior design features that aren't part of the regular lineup. It was reintroduced back into the lineup in 2019. 
What does Ford FX4 stand for?
The "F" in the FX4 means "Ford." In the early 2000s, the "Off-Road Package" was the only 4×4 version of the Ford trucks. By 2002, the package was renamed to include an F before the X4. This package is designed to add design elements and off-road gear for a more adventurous truck. 
What is the STX package?
The STX package is designed to add some distinct styling elements to the Ford truck lineup. It adds bigger wheels, beefier tires and some high-tech interior features as well. Typically, the package adds another $995 to $2,585 to the total price of the Ford truck. 
What is the difference between XLT and FX4?
The XLT is a trim level offered by Ford. It can be chosen with the lineup of trucks and many of the SUVs. On the other hand, FX4 is a package that can be added to select trucks. It's designed to heighten the off-road experience with special equipment and features for creating new adventures. 
Conclusion
If you are in the market for a new Ford truck, you can't go wrong with any option. Ford trucks have been an American staple for many decades and the brand continues to blow away the competition. As mechanics, we regularly spend time working on Ford trucks and can see why enthusiasts continue to love them.
We do encourage you to research the various trim levels carefully. There are so many to choose from, each offering something a little different from the rest. You should be able to find a trim level that meets your technology, comfort and styling needs, even if it's not the XLT. If you are having trouble deciding, ask your local dealership to compare the options side-by-side. You could also test drive them all, just to get a feel for the differences.
Learn more: