With today's technology, there are so many more ways to enjoy driving in your car than ever before. One way to elevate your in-cabin experience is to stream tunes and movies to the head unit, but how is this done?
In this guide, I evaluate these top options. I also show you the alternate reasons why it's beneficial to have a high-definition head unit installed in your vehicle besides for playing video and music. 
How To Play Music From Phone To Car?
The most common way to play music from a phone to a car is to use an auxiliary (AUX) cable between the phone and the car stereo. If your car stereo is modern and equipped with Bluetooth, it's an even easier method.
Here is some more detailed information about the different methods to play music from a phone to your car:
1. AUX 3,5mm Cable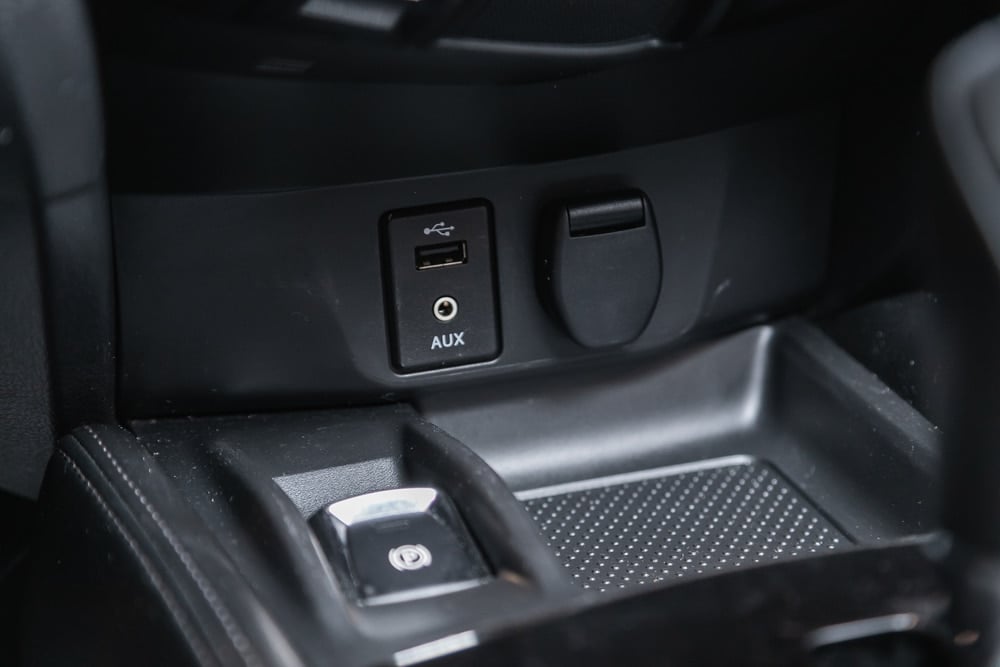 The most common way to stream music from a phone to a car is to use an AUX cord. This is a cable with a 3,5mm headphone jack on both ends. One end goes into the phone, and the other end goes into the AUX input of the car radio.
This is a more common method in older car models. If your car or phone doesn't have an AUX input, there are still a couple of methods you can try. Let's take a look at them.
2. Bluetooth
Today's smartphones all have a Bluetooth connection, making it easier to share multimedia. You only need to have a compatible head unit to make this connection worthwhile.
Pair your phone with the head unit's Bluetooth system. From here, you should be able to play music from your favorite apps, including Spotify, iTunes and more. If your car is not equipped with Bluetooth, it's often possible to install an aftermarket stereo with Bluetooth.
RELATED: How Much Does It Cost To Install A Car Stereo?
3. Android Auto or Apple CarPlay
Most of today's newest models come equipped with Apple CarPlay and Android Auto technology. With this advanced functionality, you can connect your phone to the head unit to stream music, but it's good for so much more. It also gives you access to your navigation system and text messaging.
To use the generic form of Apple CarPlay and Android Auto, you will need to use a cable for the connection. However, since 2020, some models have been offering support for wireless Apple CarPlay and Android Auto, giving you the connection without a cable.
Additionally, when you connect through these programs, you can also utilize your Siri or Google Assistant. These programs can revolutionize the way you enjoy a daily commute.
4. Bluetooth FM Transmitter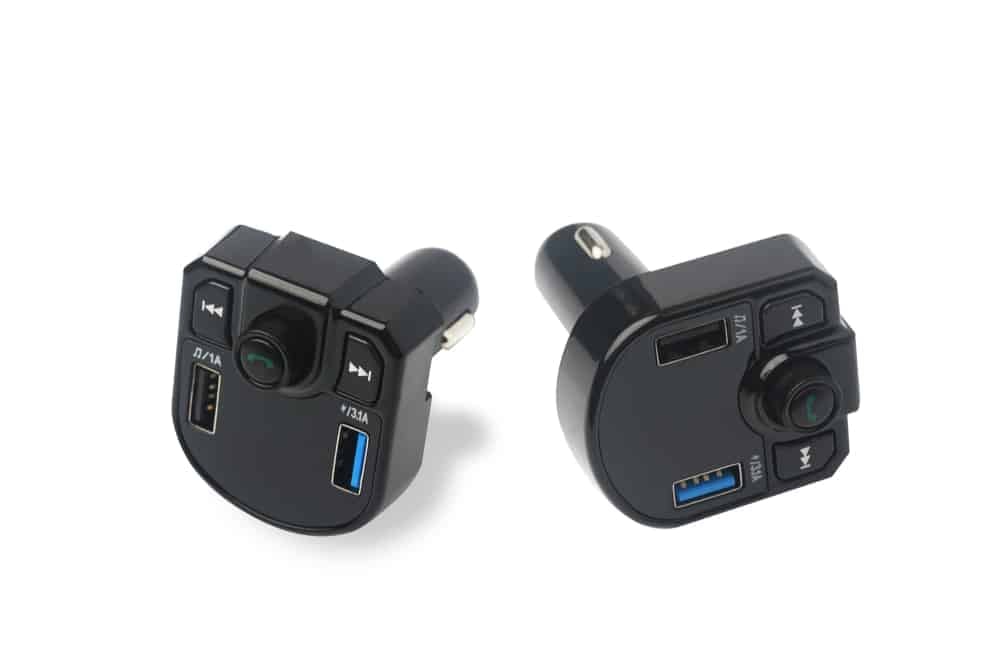 If your head unit doesn't have standard Bluetooth connectivity, you can still connect with this feature through your phone. All you need is a power outlet (cigarette lighter port) and an FM transmitter.
For a minimal amount of money, you can purchase a Bluetooth FM transmitter and plug it into the outlet. From here, you connect it to a radio station frequency on your head unit and connect your phone to the transmitter. Once connected, it operates the same way that it would if the stereo had Bluetooth connectivity.
5. SD or Memory Card
While you aren't technically streaming when you use this method, it will get music from your phone to your stereo system as long as the receiver has these connections. You can put your music on a compatible card that can be read by the stereo.
Some of the files may need to be reformatted for this to work. For this reason, most people no longer choose this method when there are so many others that are easier.
6. Cassette Adapter (Older Radios)
Does your vehicle still rock a cassette player? These haven't been installed for some time, but they can still be beneficial. You can purchase a really cheap cassette adapter that goes into the stereo just like a tape would.
On the other side of the audio cord, you connect to your phone. From here, you can stream audio from the phone through the cord to your stereo. Just do yourself a favor and take time to read reviews on the adapters. They don't all work as well as you would hope. Plus, the audio quality isn't going to compare to any of the other options.
How To Stream Video From Phone To Car?
To play videos from a phone to a car, you need a head unit that is compatible with playing videos. If it is compatible, you can use phone applications with screen mirroring and connect it via Bluetooth or USB, depending on the car model.
Here's more detailed information on how to stream videos from a phone to your car:
1. Applications
If you have a compatible head unit, there are several apps that can be used to help you stream video via Bluetooth. If you have an Android phone, you can mirror the screen with the "MirrorLink" or AndroidAuto function, found in your phone's settings. This will allow you to mirror the screen from your phone to the head unit.
If you have an iPhone, you can use the CarPlay application that allows you to stream video and music from your phone directly to the car's head unit. There are also many third-party programs that you can use at your own risk.
Android users can install the Andriod Auto Apps Downloader (AAAD) to gain access to the third-party apps that are needed. With these mirroring apps, you can project what's on your phone to the infotainment screen.
Do your own research when looking for apps compatible with your phone and car, and use the manufacturer's recommended app if available. Downloading the wrong software can carry viruses or other bad files.
2. USB Connection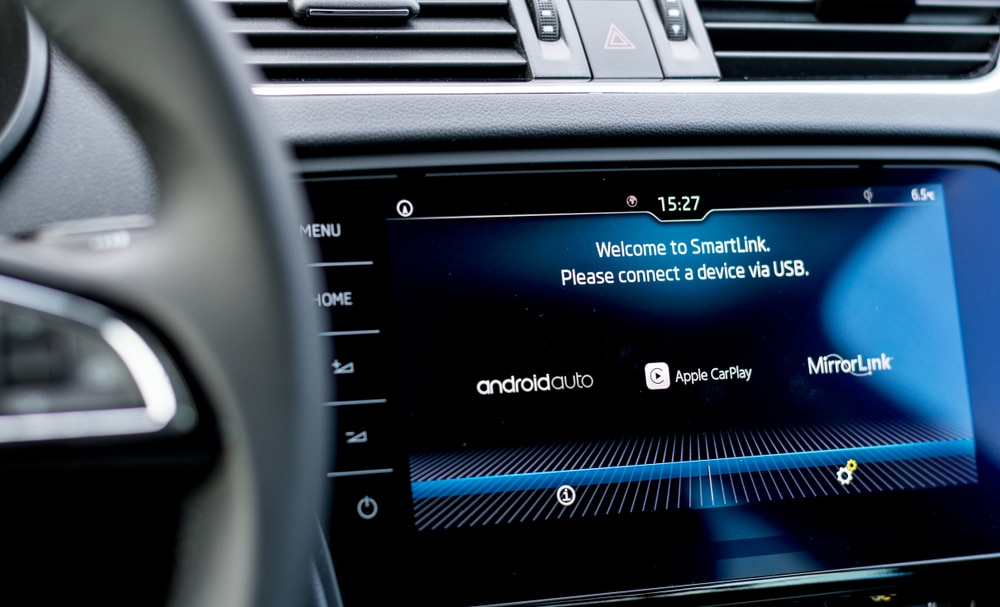 With the help of a USB cord, you can get your screen to share with the head unit, if the head unit is compatible with this. Before you do this, the media files must be converted into a particular format. You can use an AVI extension to make the files compatible.
Download an AVS video converter and switch the MP4 file on your phone. From here, you are ready to plug in the USB cord. You will need to switch over to the appropriate media source. In some vehicles, you'll only be able to play video this way if the car is in Park and the emergency brake is engaged.
Reasons to Have a Hi-Def Screen on Head Unit
1. Video Streaming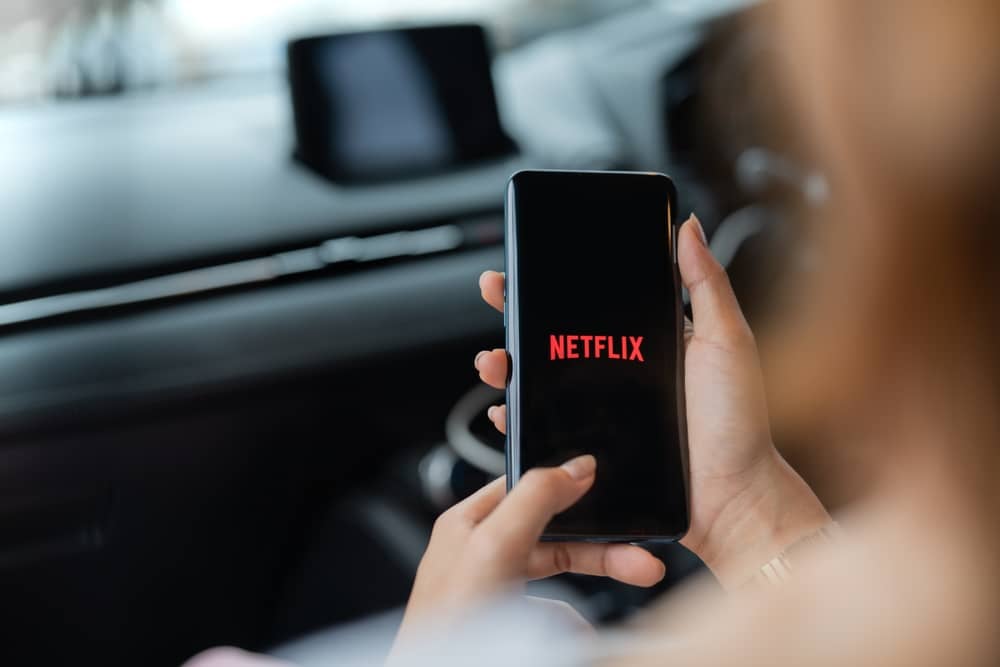 After reading through this guide, you might already know the top reason to upgrade your car's head unit. Having the ability to watch videos on a large, clearly-defined screen is valuable in many situations. For example, let's say you are taking a short break in your car and you just need to unwind for a few minutes. How great would it be to watch your favorite movies or catch up on a new TV show? This is also beneficial if you are taking lunch breaks in your car and are looking to escape work for a while.
Aside from that, the screen can be helpful during a long road trip. Some people prefer to put screens in the back of the car for viewing by the kids, and this is helpful to keep you from getting distracted. However, if your passenger wants to take part in the action too, a front screen is the best solution. Just keep your eyes on the road in the process.
2. Video Game Systems
Did you know that today's head units can also be compatible with popular video game systems? If the kids want to play their games while on the road, you can easily connect the controllers in the back to the screen in the front.
With this entertainment, you are less likely to hear, "Are we there yet?" In fact, the longest road trip can feel like a breeze if the kiddos are entertained. Aside from that, you can catch up on a little gameplay during your breaks.
It wasn't that long ago that drivers relied on GPS navigation screens that were separate from the stereo. While this was helpful, today's technology makes navigation better than ever. You can now see your directions on the large touchscreen display, ensuring you never miss a turn again. You also don't need to tie up your smartphone for navigation.
When the GPS system is on the touchscreen, there's another added benefit. The audio from the system plays through the car, giving you a bigger heads-up about what's to come. The only downside is that you can't use multiple systems at once in most cars. For this reason, you might have to choose between running the navigation or playing a movie for the kids.
4. Back-up Camera/Safety Technology
With all of the advanced safety technology available to you, it's imperative that you have a screen that maximizes the benefits. If you are using a backup camera, it's not going to do you any good if you can't make out what's on the screen. A small black-and-white screen probably isn't going to keep you as safe as you wish.
The same goes for those side-view cameras that show you what's happening next to the car when you go to switch lanes. You can't ask for much more than a high-definition screen that replicates real-world graphics.
FAQs
How can I play music from my phone in my car without Bluetooth?
To play music from your phone to your car without Bluetooth, you can use a 3.5mm AUX cable if your phone and car have this input and output. Otherwise, you can use a Bluetooth FM transmitter, SD card, or cassette adapter.
Can I use USB to play music in my car?
Yes. You can use USB to play music from your phone to your car in most cases. However, both your car's head unit and your phone must be compatible with streaming music via USB.
How do I mirror my phone screen to my car?
If you have an Android phone, you can use "MirrorLink" found in your phone settings, to mirror your phone screen to your car. If you have an iPhone, you can use the CarPlay application. However, your car's head unit must be compatible with these applications.
Can I watch Netflix on my car screen?
Yes. You can watch Netflix from your phone to your car using an application. For Android phones, you need to mirror the screen using "MirrorLink". With an iPhone, you can use their CarPlay app. However, your car's head unit must be compatible with this.
Conclusion
Now that you know how easy it is to play music or videos from your phone to the car, there's no excuse not to have an entertaining ride for your passengers! Whether you're stuck in traffic or on a long drive, playing music and videos from your phone is a great way to pass the time fast.
However, remember that if you are driving, you must keep your attention on the road and not on a movie on the screen. It can be very dangerous and in the worst case lead to serious accidents. But, streaming videos can be a great feature for passengers.
Learn more: