Most sunglasses are made to protect your eyes from ultraviolet light while helping you look cool.
Driving with glasses boosts your visibility when driving during the day and protects your eyes from Ultraviolet light.
Due to popular demand, driving glasses have evolved to incorporate various colors and styles.
Here is our list of the best sunglasses for driving.
Disclaimer – This article may contain affiliate links, this means that at no cost to you, we may receive a small commission for qualifying purchases.
The Best Driving Sunglasses in 2022
1. William Painter Aviator Driving Sunglasses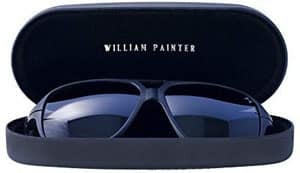 This has to be a new entrant in the sunglasses category. William Painter started the brand and it has grown to become a reputable brand in the luxury glasses category. If you have some spare cash for durable driving sunglasses then these glasses are an ideal choice. The William painter aviator driving sunglasses are made from titanium and this contributes to its high price.
The titanium material is both lightweight and durable. At the base, the manufacturers have added a layer of nylon. The coating is also made from titanium and this means you are protected from scratches. Besides, the lenses are polarized, protecting your eyes from both UVA and UVB rays. The manufacturers have marketed the lenses to offer 100% protection.
Key Features
Made from durable titanium with nylon coating
Due to the material used the sunglasses are expensive
To prevent scratches that lenses and frames are coated with titanium
Pros
Lightweight
Special coating to prevent scratches
Protection from UV light
2. Costa Del Mar Loreto Driving Sunglasses
Sunglasses With Polarized Lens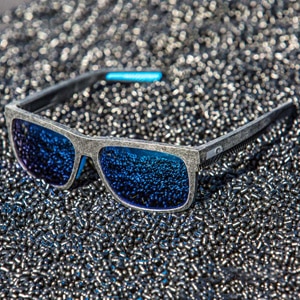 These sunglasses are ideal for someone who is interested in both fashion and function. You can wear these cool sunglasses while fishing or driving. The brand has carved a niche in the luxury sunglasses market and it is no surprise that you may spot one of your favorite celebrities adorning the sunglasses.
The downside is that while the brand is powerful the sunglasses are not that durable. Firstly, they are made from a component called Monel – which is an alloy in the same category as nickel. Monel is a great material when you are surfing as it protects your sunglasses from corrosion caused by the seawater but it makes for soft and lightweight sunglasses. If you have a big face you will find that the frame is a bit small meaning you are not completely protected from sunlight.
Key Features
Frame made from Monel making them resistant from seawater corrosion
An assortment of lenses made from either polycarbonate or glass
The frame is small hence not suitable for big-bodied people
Pros
An assortment of styles to choose from
Lens are polarized
Protection from seawater corrosion
3. Island Sol Rimless Driving Sunglasses
Rimless Driving Sunglasses

If you are looking for a more refined look then you can go for this pair of rimless driving sunglasses. The frame is high quality and this is reflected in the price. The best thing about this pair of sunglasses is that users have a wide choice to choose from. You can have them either polarized or non-polarized. Polarization offers protection to your eyes against the glare. The sunglasses are well crafted and this is reflected in the design. The frame is made from plastic which means it is lightweight while the lens is from poly-carbonate.
Key Features
Rimless, cool driving sunglasses
Premium frame made from plastic with polycarbonate lenses
UV protection
Pros
Classy sunglasses that compliment your style
Option for either polarized or non-polarized
Lightweight and durable
4. Persol P03152S Driving Sunglasses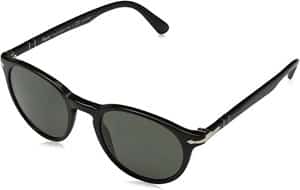 The sunglass manufacturer has sets of glasses for both athletes and pilots. You will also find some pop idols adorning these cool sunglasses. Firstly, Persol uses a different material on the frame than traditional sunglass makers. Cellulose acetate composite is hypoallergenic as it is derived from cotton. This makes the frame durable while at the same time being lightweight. The lens is unique as it is made from ground crystals. It resembles glass and this offers great optics. You also do not have to worry about UV light destroying your eyes as it filters this.
Key Features
Lenses made from ground crystal while framing from cellulose acetate composite
The sunglasses are not polarized
You have a wide variety of styles to choose from
Pros
Lightweight
Protection from UV light
Available from a wide range of options
5. BMW B6513 Aviator Driving Sunglasses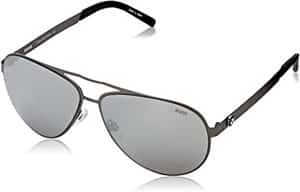 Yes, the sunglasses are named after the renowned car maker. If you are familiar with BMW then you know that they are known for excellence and high-performance cars. What better way to ride your coupe' than with a pair of BMW sunglasses. Firstly, the sunglasses stand out because of their durability. You should have then on for the next couple of years. Stainless steel has been used on the frames while the lens is made from polycarbonate. Stainless steel is one of the most durable materials for sunglasses.
Key Features
Made from stainless steel making the sunglasses heavy
You can use them for your prescription lenses
Lenses are not polarized
Pros
Durable
Affordable
Change lens for prescription ones
6. Maui Jim Wiki Wiki Driving Sunglasses
Sunglasses Made With Durable Titanium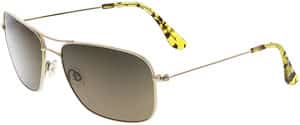 Firstly, you do not need to be familiar with spelling the name for these sunglasses to purchase them. The brand name Maui Jim is renowned for producing good quality sunglasses that are unisex. You can wear sunglasses as you do your shopping or when driving.
The lens is polarized, so you are protected from glare. You also get to choose from grey or bronze colors. But, it is the frame that make this sunglasses worth your money. They are made from titanium, which is known to be both lightweight and durable. However, this comes at the expense of the sunglasses being a bit pricier than the competition.
Key Features
The Frame is made from durable titanium with plastic lenses
One size for all
Lens available in both grey and bronze
Pros
Lightweight sunglasses
Made from durable titanium
Stylish design – can be worn casually or for driving
7. American Optical Original Driving Sunglasses
Sunglasses With Steel Frame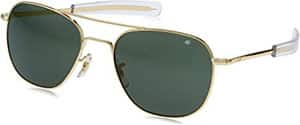 If you missed out on your childhood dream of becoming a pilot, do not worry, you can still have a feel of what flying is all about. These aviator sunglasses are popular with pilots. Firstly, the US Army endorses them. Pretty cool! But, this does not mean that they get short-changed when it comes to functionality.
The frame material is made of steel. This means they are durable as sunglasses can get. Secondly, you have glass lenses ideal for driving in bright weather conditions. Your eyes are protected from UV light but the lenses do little to protect you from glare. The lens is dark grey which is ideal for driving. You may be wondering since they are endorsed by the US army they must cost a lot. The glasses are reasonably priced and should set you less than $100.
Key Features
Glasses endorsed by the US Army
Made from a steel frame with a glass lens
Dark grey color lens
Pros
Protection from UV light
Durable sunglasses
Great for bright weather conditions
8. Santos De Cartier Driving Sunglasses
Sunglasses With Gold Trimmed Frames
If you are looking for something that oozes with class and comfort then look no further than this pair of sunglasses. Made by French fashion label Cartier, the Santos De Cartier sunglasses come with gold-trimmed frames that complement your style. You also have a leather padded nose for extra comfort. These are the kind of sunglasses that let you make a statement.
The lens material is glass with a brown color. This is great for driving. The lens is also faded which gives you a cool look while still enabling you to see ahead. The upper half of the lens is more faded to protect your eyes from UV light while the lower side enables you to view the dashboard clearly. These are the right sunglasses for that man who is concerned about class. The only downside is that the lenses are not polarized.
Key Features
Gold trimmed flames
Padded leather nose for extra comfort
Faded lenses to protect eyes from sunlight
Pros
Classy sunglasses
Brown color lens for enhanced visibility
Durable frames
9. Ray-Ban Flat Oval Driving Sunglasses
Sunglasses With Glass Lens
These Ray-Ban sunglasses feature oval lenses that ooze with style. You have a variety of lens colors to choose from – yellow, turquoise and grey. If you plan on using them for driving we recommend going with the grey color. The frame material is made from steel and this makes the glasses durable. The lens material is glass so you need to be careful how you handle the glasses.
The Ray-ban glasses will offer your eyes protection from UV light while helping you see the road ahead when driving. The frame is thin and this contributes to the sunglasses being lightweight. They also have a flash coating to reflect light hence offering you visibility during sunny weather conditions. The sunglasses are universal meaning they can be worn by both males and females.
Key Features
Variety of colors to choose from
Made from durable steel with glass lens
Flash coating to deflect glare
Pros
Lightweight sunglasses with a thin frame
Protection from UV light
Classy oval-shaped lenses
10. Ray Bans ORB4147 Driving Sunglasses
UV Protection Sunglasses
The sunglass manufacturer has built a reputation for quality shades. You will find Rockstars, Pop idols or outriders adorning various designs of Ray Bans sunglasses. This particular model is ideal for driving courtesy of its large lenses that protect your eyes from UV light.
The sunglasses are affordable due to lower grade plastic used for the frame. The lenses have mirrored and this is great for short rides. The lenses will keep your eyes from glare. However, the glasses are not polarized and this means they are not that effective in keeping away glare. The gradient at the top is darker than at the bottom.
Key Features
Made from low-grade plastic
Branded with the Ray-Bans logo
Protection from UV light
Pros
Affordable
Lightweight
Mirrored lenses for sunlight protection
What factors to consider when purchasing driving sunglasses
The reason you need driving sunglasses is to protect your eyes from glare and UV light. It is hard driving at night – especially with incoming cars blazing at full lights. It is at this time that you can lose control of the vehicle. Here are a few tips you need to keep in mind when you are purchasing driving sunglasses.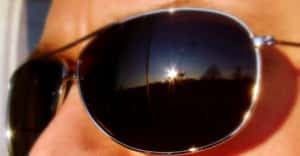 Frame material
The frame is the one that holds the lenses and is made from a variety of materials. When purchasing a frame ensure that it is made from materials that are both durable and lightweight. It should also offer comfort around your eyes and ears.
Plastic: Of all the materials used for sunglasses, plastic tends to be the most used. It is also the cheapest. Plastic sunglasses lightweight making them comfortable to wear but they are not durable. It is not uncommon to find that your cool pair of sunglasses is broken a few months after purchase.
Stainless steel: Glasses made from stainless steel are durable, affordable and hypoallergenic. But, the downside is that the glasses are heavier than the rest and can become uncomfortable on the eyes.
Aluminum: The other option for stainless steel is aluminum. These glasses are lighter, more expensive and still durable.
Titanium: Higher-end sunglasses are made from titanium. This offers a blend between the strong stainless steel and the lightweight characteristic of aluminum. Of all the materials mentioned titanium sunglasses tend to be the most expensive.
Polycarbonate: This material is used for constructing sunglasses because it is lightweight, durable, and affordable. However, it is not strong enough and is susceptible to breakages when bent. People prefer sunglasses made from polycarbonate because they are relatively cheap.
Other materials: Acetate has been used for making sunglasses instead of plastic because it is stronger but has the drawback of being less comfortable. It is also heavy, and this brings challenges when driving. Nylon has been used as a better option because it is lightweight while being flexible and durable. It is also cheap.
The new kid on the block is SR-91. The material is known for excellent optical clarity while remaining lightweight and durable. However, expect to spend more on the sunglasses.
Lens size
When looking for driving lenses you need to search for something that completely covers your eyes. This will keep your eyes protected from direct light. Driving glasses should not be fancy instead focus on functionality. Most of the lenses have a width of 60mm per lens. Most people will select sunglasses that are a bit oversized. This is okay as long as the lenses do not obstruct your peripheral vision. You should be able to look to your left, right, up and down easily.
Polarized lenses
When you are driving by the seaside or on wet roads you will notice that there is a lot of reflection from sunlight. This glare can prevent you from seeing clearly. Polarized lenses are not there to protect your eyes from UV but enable you to see over shiny surfaces. Too much polarization can prevent you from seeing clearly and so you need to find a balance.
UV light
UV light exists in two forms – ultraviolent bets rays and ultraviolent alpha rays. Most sunglass manufacturers advertise their products as providing 100% UV protection but this is not true. The visible light is okay for your eyes but it is the UV rays that are harmful. The most dangerous of the two is the UV beta rays which are found in abundance in snowy conditions. They are also strongest during strong summers. You should find sunglasses that protect your eyes for UV beta rays. Though none of the products in the market can offer 100% protection.
Lens coating
Lenses look bad when they develop scratches. Cheaper models are more susceptible to scratches due to the type of coating material uses. If there are too many scratches on your sunglasses then you are going to find it hard to see. If you can find sunglasses that have an anti-scratch coating the better. But, be prepared to pay extra. In this regard, you can add an anti-reflective coating to enhance visibility and block the light you do not want.
Lens Tint
Most of the sunglasses will be tinted. You can choose the color of the tint but this does not in any way affect visibility or enhance protection from UV. Some of the colors used for tint include blue, grey, green and brown. Experts have concluded that green or grey offers the least amount of distortions to the driver. When the sun is directly over the horizon then yellow/gold/amber offers the least distortions. However, the tint color is largely a matter of personal preference. Tints are classified on a scale of 0 to 4 with o being the lightest and 4 being the darkest. You should aim for a medium tint. All the sunglasses will have a tint number so it is easy to identify what you are looking for.
Driving Sunglasses FAQ
What is the best color for driving sunglasses?
Find lenses that provide a natural contrast to your surroundings. In this regard, copper, brown, or amber lenses are most preferred. If you can't find the above the other best option is to go for a grey color.
Is it necessary I get polarized lenses for my driving sunglasses?
When you are driving one of the most irritating things is incoming headlights or reflections from snowy/wet surfaces. To reduce these glare, lenses are adjusted to make them polarized. This means you do not strain a lot when you are driving. It also reduces the chances of the head-on collisions at night.
Can I just buy cheap sunglasses for driving?
The reason you purchase a pair of driving sunglasses is to protect your eyes from UV rays and glare. Long terms exposure can lead to poor eyesight. Whatever sunglasses you decide to purchase, they should offer you some level of protection.
What are the best driving sunglasses for your eyes?
When selecting driving sunglasses to ensure that they are polarized and large enough to protect your eyes from sunlight and glare. The color does play a factor so look for grey or amber colors.
How to identify the right glasses to block UV light?
When selecting sunglasses, look for one that blocks 99 to 100 percent of UVA and UVB rays. In this instance, you should look for a reading of over UV400
Conclusion
The search for the best sunglasses for driving has to be a difficult one but we have a clear winner. The William Painter Aviator stands out due to its durable frame made from titanium. The lens is polarized and this protects your eyes from UVA and UVB rays. The sunglasses are also great for shielding your eyes from glare both at night and during the day. However, the sunglasses are more expensive than the other sunglasses we reviewed. But, they are worth the cost.
Was this article helpful?