Just like people, cars come in all shapes and sizes. Each vehicle type has its own set of dimensions that make it unique from others. As you start car shopping, you may be curious about the average car length. Just how long is a car?
In this guide, we break down the dimensions of popular vehicles and give you the average. We also explain why it's important to know the length, show you how to find it for your car and answer some of your questions.
What is the Average Length Of A Car?
The average car length across all classes is around 14,7 feet or 4500 mm. Small cars are typically less than 14 feet long, while a small SUV and mid-size car run about the average. On the higher end of the spectrum, full-sized cars, pickup trucks and large SUVs all tend to be above average.
The shortest car currently is the FIAT 500 at 11.6 to 12 feet long. The longest vehicle in production is the Chevy Silverado HD/GMC Sierra HD, measuring 22.2 feet long. In comparison, the world's longest car measures more than 100 feet, but this isn't meant for everyday travel.
| Size Class | Model examples | Length (Feet) | Length (mm) |
| --- | --- | --- | --- |
| Mini Cars | Suzuki Alto | 10.5 | 3195 |
| Small Car | Kia Rio | 13.8 | 4215 |
| Mid-Sized | Audi A4 | 14.8 | 4620 |
| Full-Sized | Audi A6 | 15.7 | 4800 |
| Small SUV | Ford Escape | 14.4 | 4400 |
| Large SUV | Cadillac Escalade | 16.7 | 5110 |
| Small Pickup | Nissan Navara | 16.3 | 4981 |
| Large Pickup | Chevrolet Silverado | 18.4 | 5614 |
To further explain, let's look at a few popular segments and the averages among them.
Compact Cars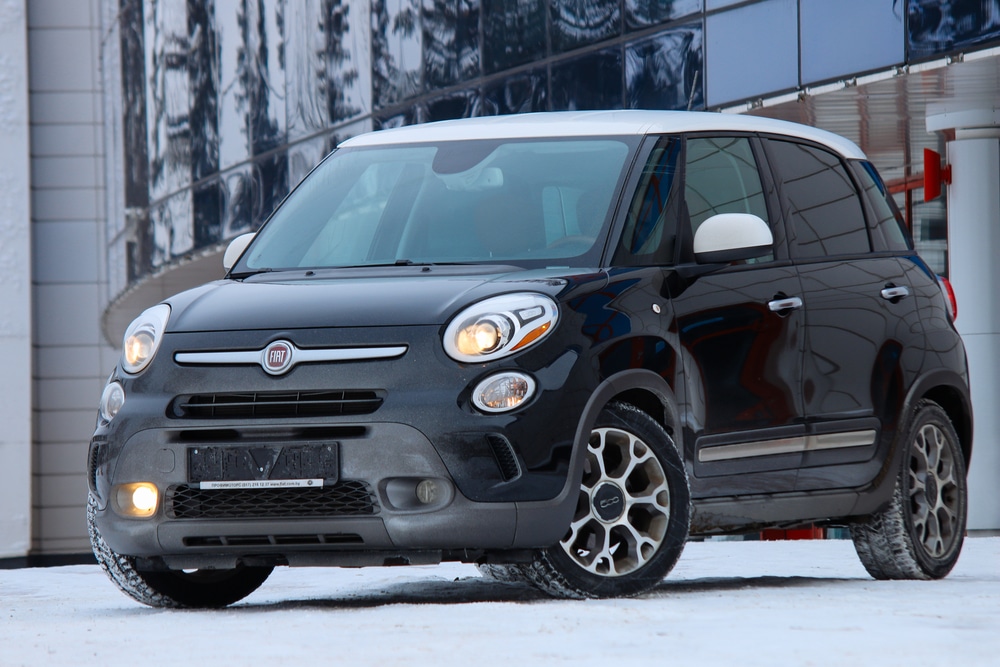 Subcompact and compact cars are designed to travel in urban areas with ease. Typically, these cars measure less than 14 feet long and have superior fuel economy numbers.
Here are a few examples.
FIAT 500: 11.6 to 12 feet
MINI Cooper Hatchback: 12.6 feet
Mitsubishi Mirage: 12.6 feet
Mazda Miata: 12.8 feet
Hyundai Venue: 13.2 feet
Kia Rio Hatchback: 13.3 feet
Chevrolet Bolt EV: 13.6 feet
Mid-Size to Full-Size Cars
The mid- and full-size car classes are going to fall right around the average length. Most of these will be between 14 and 16 feet, with some exceptions.
Here are a few popular models to consider.
Honda Civic: 14.9 to 15.3 feet
BMW 3-Series: 15.5 feet
Audi A4: 15.6 feet
Toyota Camry: 16 feet
Mazda Mazda6: 16 feet
Honda Accord: 16.3 feet
Minivans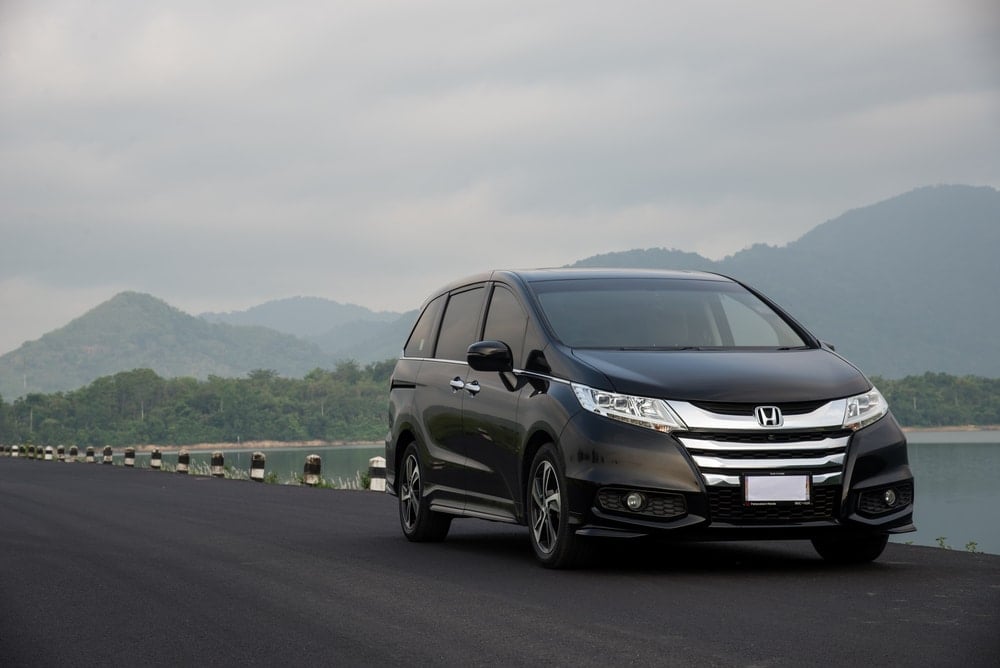 The minivan became most popular in the 1990s but dwindled with the release of more SUVs. Because minivans typically share a platform with cars, they are more fuel-efficient than the majority of SUVs but lack off-road and towing power.
Most minivans measure around 16 to 18 feet. Here are some examples.
Kia Carnival: 16.9 feet
Toyota Sienna: 17 feet
Chrysler Voyager: 17 feet
Honda Odyssey: 17.1 feet
Small SUVs/Crossovers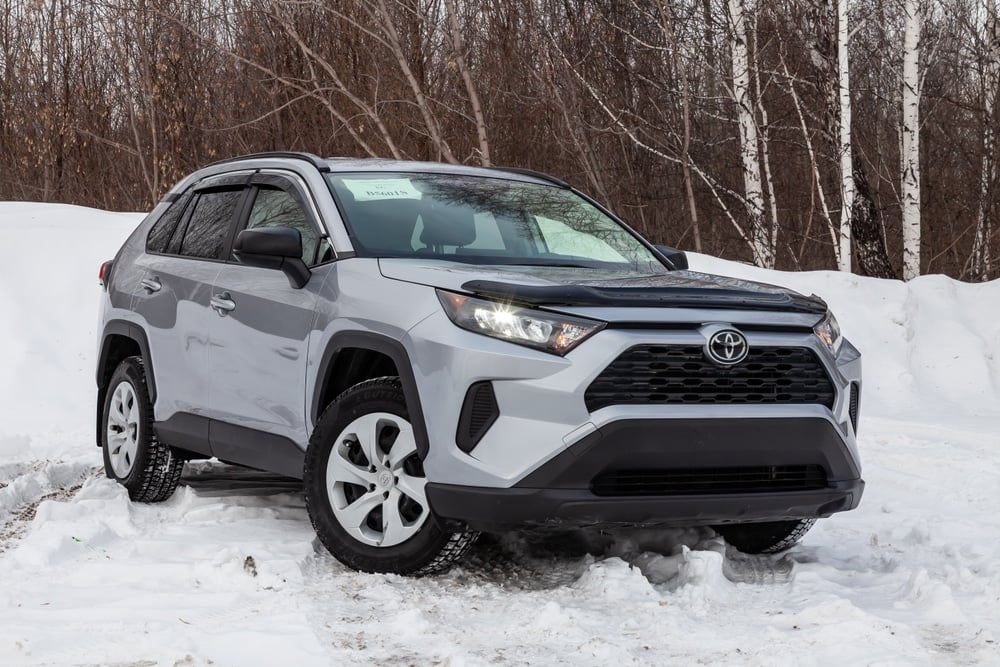 Compact crossovers and small SUVs are some of the most popular vehicles on the road today. On average, these vehicles measure 14 to 16 feet long.
Here are some examples.
Kia Soul: 13.8 feet
Jeep Renegade: 13.9 feet
Range Rover Evoque: 14.3 feet
Toyota RAV4: 15.1 feet
Honda CR-V: 15.4 feet
Large SUVs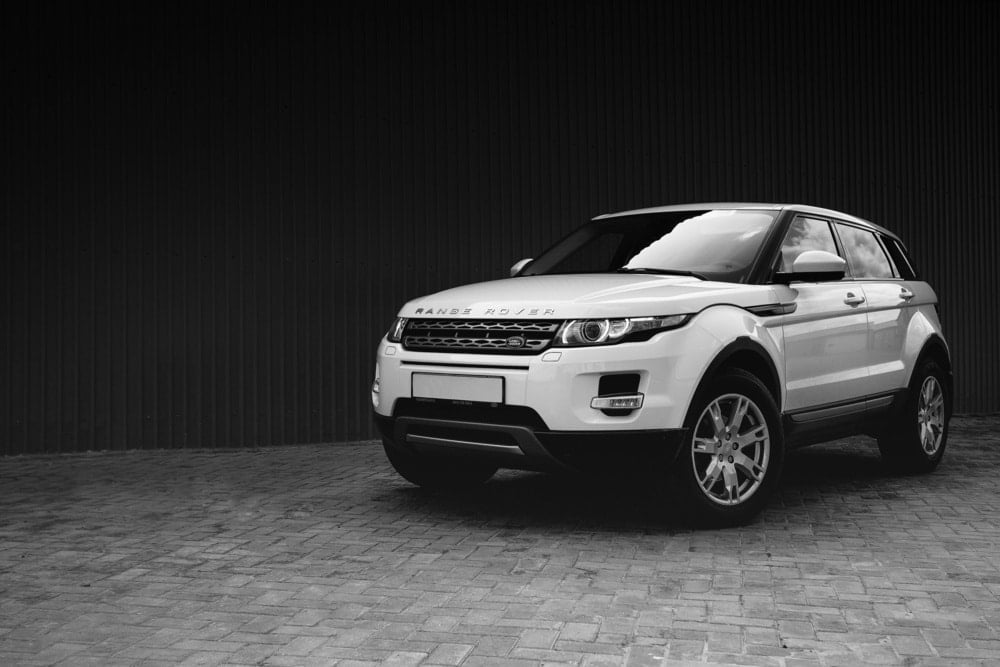 Larger SUVs are designed for bigger families and there's more space for cargo. They often share a platform with a truck, giving them more capability. On average, these SUVs measure between 16 to 18 feet.
Range Rover: 16.6 to 17.25 feet
Chevrolet Tahoe: 17.6 feet
Ford Explorer: 16.6 feet
Chevrolet Suburban: 18.8 feet
Toyota 4Runner: 15.85 to 15.9 feet
Pickup Trucks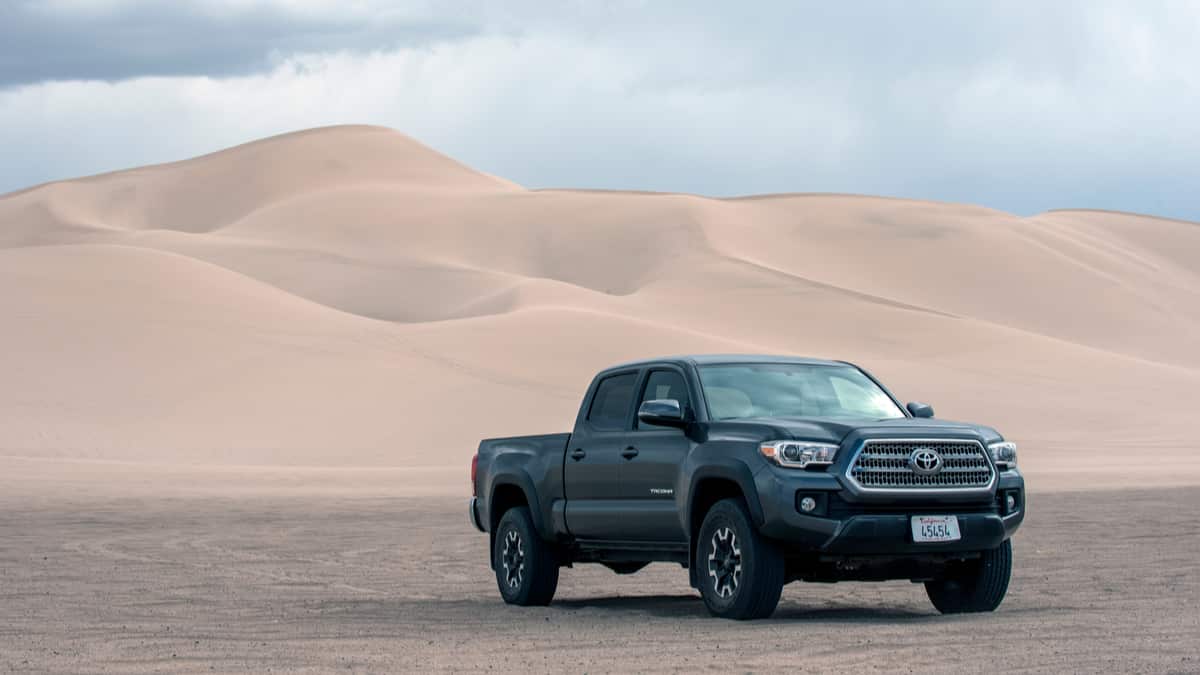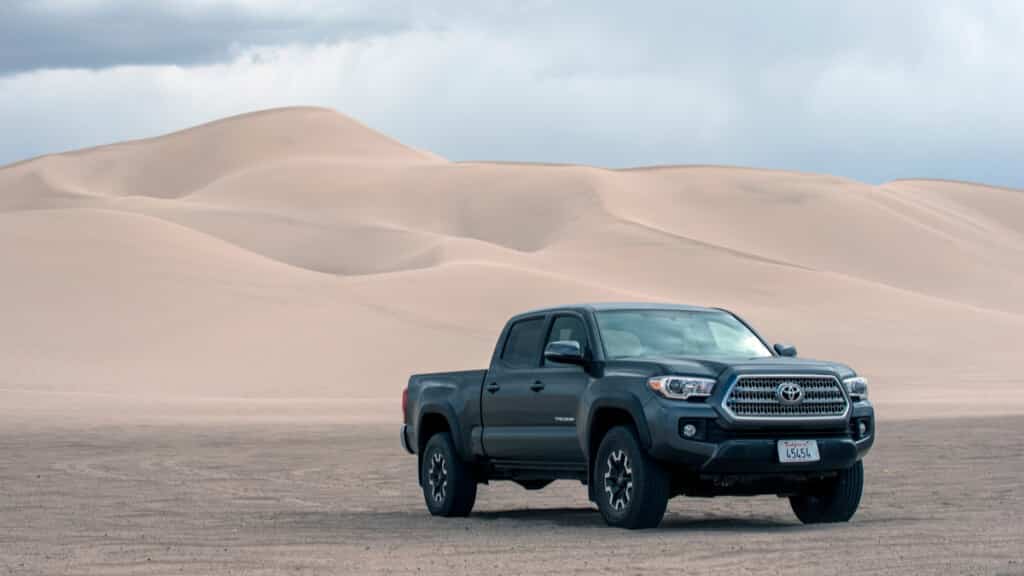 The great thing about pickup trucks is that they come in all sizes. You can find compact to heavy-duty trucks. Smaller trucks may be around 16 feet, while larger trucks can measure 18 feet or longer. Here are a few examples.
Hyundai Santa Cruz: 16.3 feet
Ford Maverick: 16.6 feet
Toyota Tacoma: 17.7 to 18.8 feet
Ford F-150: 17.4 to 20.1 feet
RAM 1500: 19.1 to 20.2 feet
Chevrolet Silverado HD: 18.5 to 22.2 feet
How Does the Length Affect a Car?
The length of the car isn't the only spec you should be concerned with, but it is important. If you are traveling in a congested, urban area, you want to know that the car will be small enough to maneuver. The same is true if you need to get into tight parking spaces.
Additionally, the length has a lot to do with how many passengers can fit comfortably and how much cargo room there is. The larger the vehicle, the higher the passenger volume is.
The length of the car can also affect fuel efficiency. The heavier a vehicle is, the more fuel it needs to get down the road.
How Do I Find Out the Length of My Car?
If you want to know the length of your car, there are several ways to get the information. You can use a VIN decoder, check an online auto parts store, ask a dealership or measure the vehicle. Here's more information on that.
1. VIN Decoder
There are several VIN Decoder tools online, many of which are free. If you enter the VIN of your vehicle into these searches, you can learn a lot about your car, including the measurements sometimes.
To find the VIN, look for the 17 characters on your dashboard, near the windshield or on the driver's side door jamb. It can also be found on important paperwork, such as your car title, registration and insurance card.
2. Online Auto Parts Store
Online auto parts stores also have similar look-up functions. If you are purchasing auto parts online, the website wants to be sure you are getting the right fit. Therefore, you can often punch in your VIN to narrow search results.
In the process, you can learn more about your vehicle too. Type in your VIN and see what information is available to you.
3. Ask The Dealership
The dealership can access all of your vehicle information. If you call or visit with your VIN, the professionals working there can type it into the computer and give you the specs.
Along with the length, you can also learn more about the engine and other mechanical equipment. Furthermore, you can get a printout of everything that came with the car from the factory.
4. Measure The Length
The most accurate way of checking the length might be to measure it yourself. If you've added any aftermarket components, the length could be different from what's on record.
Take a tape measure or yardstick and measure from front to back. Start from the furthest point in the front to the point that is the farthest away. 
What is the average length of an SUV?
On average, an SUV will measure 14 to 18 feet long. However, there are many different classifications of SUVs. The subcompact and compact crossovers are going to be the smallest, while the full-size SUVs will be the longest since many of them share platforms with trucks. 
What is the length of a midsize car?
Both mid and full-size cars are around the same length, measuring between 14 and 16 feet on average. Some popular models that fit into this classification include the Honda Civic and BMW 3-Series. While these cars sit lower than an SUV, they are often similar in length. 
What is the length of a compact car?
Compact cars are designed to navigate in tighter spaces, so they usually measure 14 feet or smaller. Some popular examples include the FIAT 500, measuring 11.6 to 12 feet, the MINI Cooper Hatchback, which measures 12.6 feet and the Mitsubishi Mirage, with measurements of 12.6 feet.
Are SUVs longer than sedans?
Compact and mid-size SUVs often have similar lengths to sedans. In fact, many of these SUVs share a platform with a comparable sedan. On the other hand, a full-size SUV can be much larger, with seating capacities of up to 9. Plus, there's additional cargo room, making these much longer than a sedan. 
What is the length of a midsize SUV?
The mid-size SUV tends to fall right between the compact and full-size classes. These often measure around 15 to 16 feet long, which is comparable to most sedans. In a mid-size SUV, there's usually room to hold five people while still allowing for a spacious cargo hold. 
What is the average length of a truck?
Trucks come in all sizes, with compact, mid-size, full-size and heavy-duty options available. Compact pickup trucks might only measure 16 feet long, while a heavy-duty truck can measure more than 20 feet long. The length is determined by the truck cab and bed measurements together. 
Conclusion
There are many specs that you concern yourself with, especially when buying a new or used car. However, the car length isn't normally one of them. Yet, if you travel in urban environments or you are concerned with fitting a vehicle into a garage, you should be looking at the length.
With a little research, you can find the length of any car. You also know the approximate measurements, based on the information we've provided, so you know what class of vehicle to shop for. When all else fails, don't be afraid to get out a tape measure to make sure the vehicle provides everything you need.
Sources: