Who doesn't love a great sound system? And one of the best upgrades you can make to just about any sound system is with an amplifier. But some amplifiers that promise outstanding sound quality or just pure loud sound completely miss the mark.
The last thing you want to do is spend a ton of time and money only to end up with a subpar sound system because you went with the wrong amplifier. It's a big decision, which is why we took the time to highlight ten outstanding choices for you here.
10 Best Car Amplifiers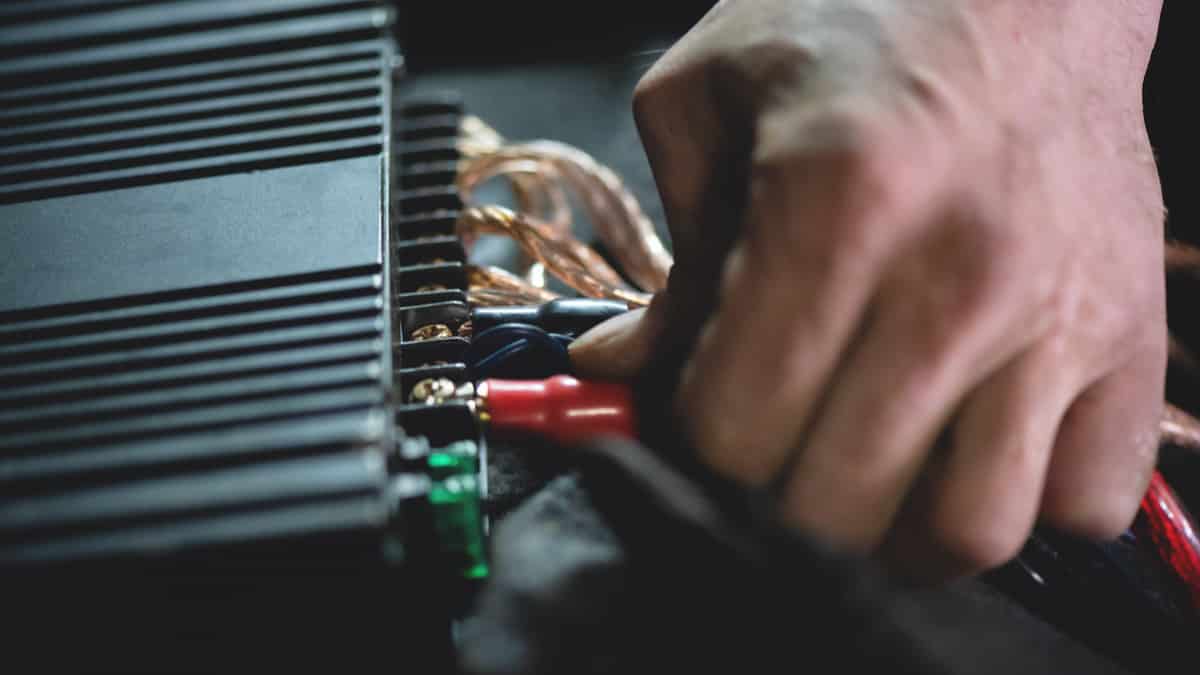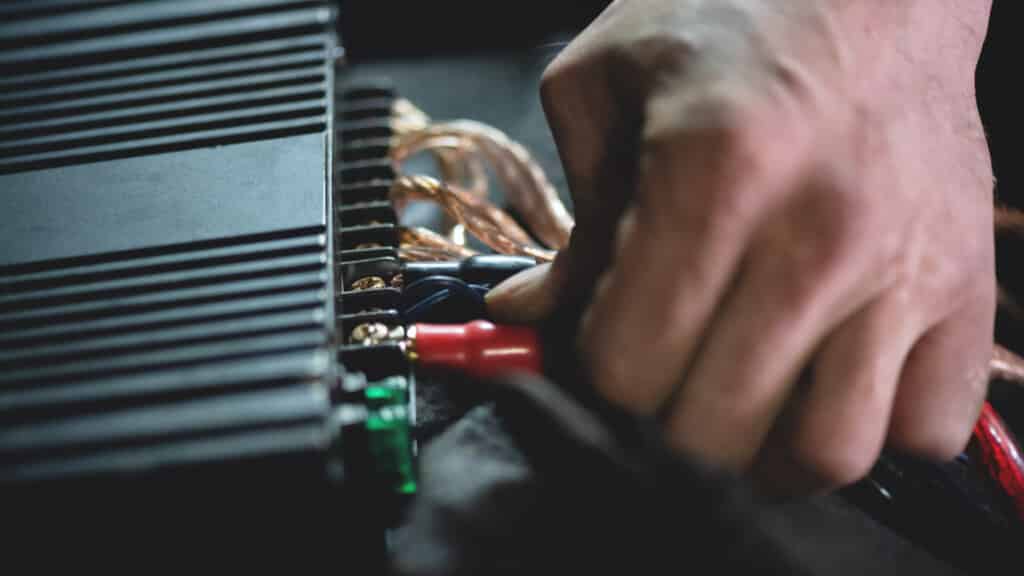 There are tons of amplifiers out there and we know you're busy. That's why we wanted to dive right into the reviews for you here. If you're unsure what you're looking at, do yourself a favor and jump to the buyer's guide before coming back to check out the reviews.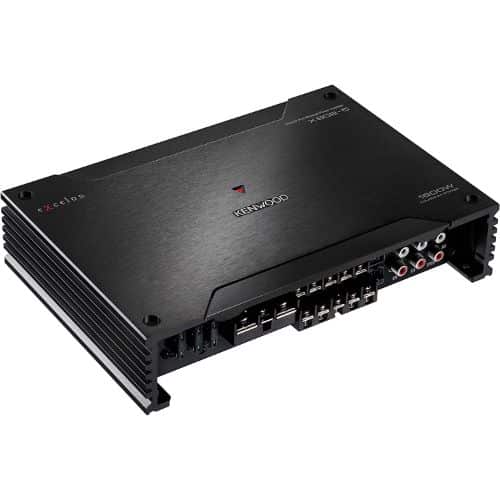 Maximum Wattage: 1600W
Number of Channels: 5
When you're in the market for a compact yet powerful amplifier for your car, the Kenwood X802-5 eXcelon is an outstanding choice. Not only do you get a powerful 1600-watt amplifier, but it also has five channels so you can set up whatever you want with it. It's a perfect choice if you are going to power several 6.5 or 6×9 speakers.
No matter what you drive, its compact size makes it easier to install, and the overall sound quality it produces is amazing too. Whether you're in a compact sedan or something a bit bigger, the Kenwood X802-5 eXcelon delivers everything you could want and then some.
But while this amplifier does an outstanding job, what really vaults it to the top of our list is how much it costs. It's not the lowest-priced amplifier out there, but it's far from the most expensive. With the sound quality you get out of it, it's easily the best bang for your buck out there.
Our only real complaint with this compact amplifier is how hot it gets with continual use. You'll want to mount it near an AC vent, and even then you might struggle with keeping it cool enough.
Just keep in mind you're not going to win any sound competitions with just this amplifier, but you're well on your way to setting up a killer sound system with it!
Pros
A great mix of price and quality
Easy to install
Great choice for 6.5″ or 6×9 speakers
Outstanding sound quality
Compact size
---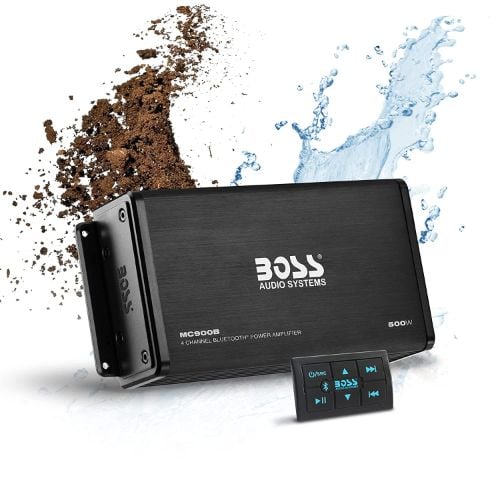 Maximum Wattage: 500W
Number of Channels: 4
Just because you want a great sound system in your car doesn't mean you want to spend a ton to get it. That's where the BOSS Audio Systems MC900B steps in. It's a more affordable amplifier for your vehicle, but you're not sacrificing quality to get it.
It's an extremely compact unit that you can install into cars of just about any size, and overall the installation process is as easy as it gets. It also has a ton of unique features like a Bluetooth remote that makes it easy to use and USB charging ports so you don't have to worry about all your favorite devices running out of power when you're trying to listen to music.
The BOSS audio system isn't the most powerful amp out there, but at this price point, you can't really expect it to be. It's perfect to power less powerful 6.5″ or 6×9 speakers. The bigger concern we have with the BOSS Audio Systems MC900B is its durability. You'll be able to get a few years of use out of it, but once it starts to hit the four or five-year point, it's not uncommon for them to start failing.
It's not a huge deal since you're not spending a ton on them, but it would be nice if you didn't have to worry about replacing it a few years from now.
Pros
Very affordably priced
It comes with a Bluetooth remote
Very compact unit
Easy to install
It has a USB charging port
Cons
Not very powerful
It doesn't last the longest
---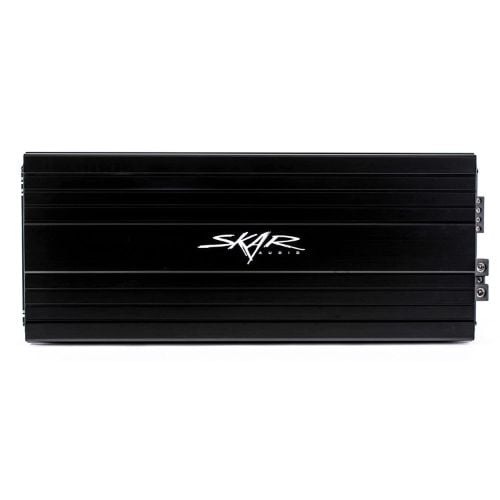 Maximum Wattage: 4700W
Number of Channels: 1
The Skar Audio SKv2-3500.1D is far from the most affordable amplifier you can purchase for your car, but there's no denying the outstanding sound quality that it gives you. It's a premium-level amplifier that delivers a ton of power too, really giving you the best of both worlds.
This amplifier is suitable for driving a subwoofer, due to the 1-channel set-up with a huge amount of power from this channel. However, there are also other choices with different amount of channels if you want to power smaller speakers.
It's also easy to install and has a compact design, so you shouldn't have any issues finding a place for it in your car no matter what you drive.
Skar has quite a few amplifier options for you to pick from, but this SKv2-3500.1D is exactly where you want to settle if you want the best possible sound quality and don't mind spending a bit more. However, if you don't want to spend quite as much, they have plenty of lower-end options that don't get quite as loud, but they're not nearly as expensive either.
Pros
Outstanding sound quality
Easy to install
Perfect for subwoofers
Very powerful amplifier
Compact design
---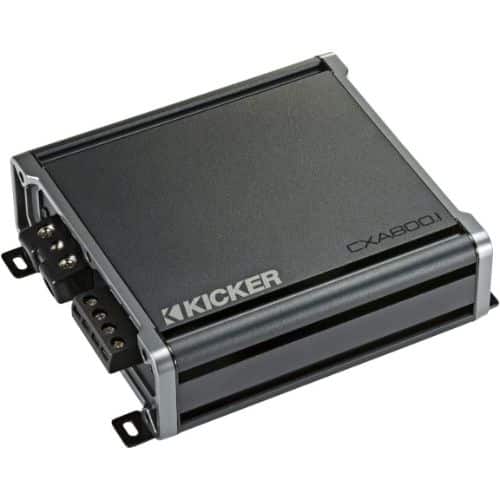 Maximum Wattage: 800W
Number of Channels: 1
Kicker is one of the biggest names in the automotive sound industry, and with products like their Kicker 46CXA8001, it's not hard to see why. This crisp amplifier is an outstanding mix of price and quality, and it just narrowly missed earning the top spot on our list.
It's a very versatile amplifier with a compact design that ensures you can find a spot for it in even the smallest vehicles, and it's one of the easiest automotive amplifiers you can install in your vehicle.
Moreover, since you're going with a Kicker amplifier, you know you're getting a great product every time simply because of the extreme pride and reliability Kicker puts into each of their amplifiers.
But while there are a ton of things to love about this amplifier, it did miss our top three for a reason. It all comes down to the level of sound this amplifier can produce. While it's a great bang for the buck and has outstanding sound quality, it's not the most powerful amplifier on the market.
Just know what you're getting and if you care more about sound quality than the noise level, this might be the perfect amplifier for your vehicle.
Pros
A great mix of price and quality
Very compact design
Great for subwoofers
Super easy to install
Very versatile amplifier
Cons
Not the most powerful amplifier
---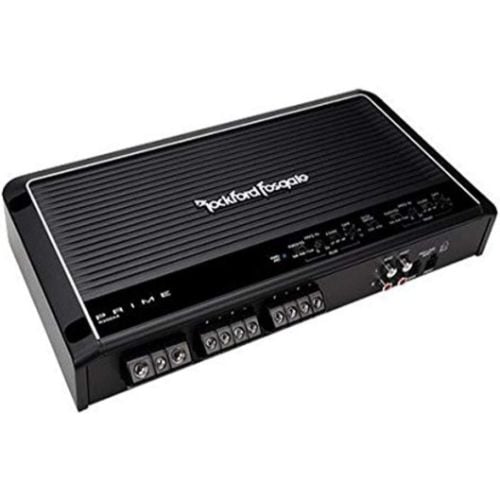 Maximum Wattage: 428W
Number of Channels: 4
Rockford is another massive name in the automotive sound system industry, and their Fosgate R300X4 is one of their best products. It's officially a 300 RMS wattage amplifier, but it has a maximum wattage of 428, so it delivers more power and sound than you would expect when you're ordering.
That's pretty much how Rockford does things, over-delivering on everything they produce. This is especially true considering the affordable price you can get this amplifier for.
The Fosgate R3000X4 has easy-to-access and use controls right on top of the amplifier, and the sound quality is superb. Add in the compact design that ensures you can put it in just about every vehicle and it's not hard to see how it made the list.
Still, it is in the middle of the list for a reason, and that all starts with the power level this amplifier produces. While it delivers more than 300 watts, it's still far from the most powerful option on our list. Not only that, but this amplifier gets extremely hot with use.
When you're picking a spot for this amplifier find somewhere near an AC vent to help cool it down even on the hottest summer days.
Pros
Slightly more affordable option
Easy to access top-mounted controls
Outstanding sound quality
Compact design
Cons
Not the most powerful option
It gets very hot
---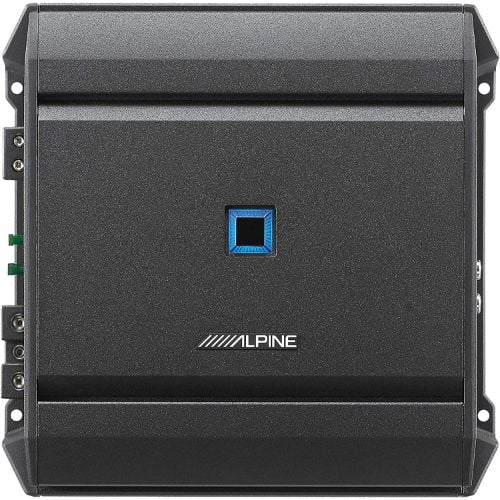 Maximum Wattage: 600W
Number of Channels: 4
Alpine is another great automotive soundtrack company, and the S-A60M S-Series is one of their best amplifiers. It's a compact amplifier that's easy to install, even in smaller vehicles. But despite the smaller size, this amplifier provides plenty of power.
Considering just how affordable the Alpine S-160M S-Series is, this outstanding combination of compact size and power is quite the feat. But even with that great combination, this amplifier couldn't climb up past sixth on our list for a reason.
First, this amplifier pulls a lot of power to operate. That means if you're installing this amplifier in your vehicle you'll want to consider upgrading the battery, and potentially the alternator, too. Otherwise, you might find you have a dead battery a bit more often as it struggles to keep up with everything.
Additionally, while no one can argue that the Alpine S-160M S-Series gets loud, it doesn't provide the same sound quality you can get with many other amplifiers. It's all about noise with the S-160M S-Series, and with that sound quality suffers a bit.
Pros
Slightly more affordable option
Powerful for its size
Very easy to install/compact size
Cons
Not the best sound quality
It pulls a lot of power
---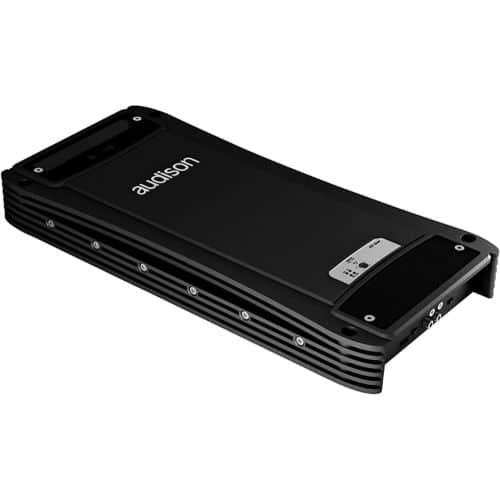 Maximum Wattage: 900W
Number of Channels: 2
This Audison AV Due sound amplifier is probably the best compact sound amplifier money can buy. The problem is that it's also one of the most expensive. It's far more expensive than our premium choice, and that costs quite a bit too.
Still, there's no denying the sound quality and power this amplifier provides. It's an awesome sound amplifier that provides show-quality results and can help you win competition after competition, but you're going to need to spend a mint to get it.
Its compact design makes it easy to install in most vehicles, but keep in mind it uses a 20-volt input so you might need to tweak a few things to get it to work in your car. It comes with a 2-channel setup for added versatility, and with 900 watts of power, it's one impressive amplifier.
If you can get past the sticker shock, this amplifier is worth considering. But most people in the market for a premium sound amplifier still won't want to spend quite this much.
Pros
Phenomenal sound quality
Very powerful amplifier
Great for powerful 6×9 speakers or subwoofers
Compact design and easy to install
---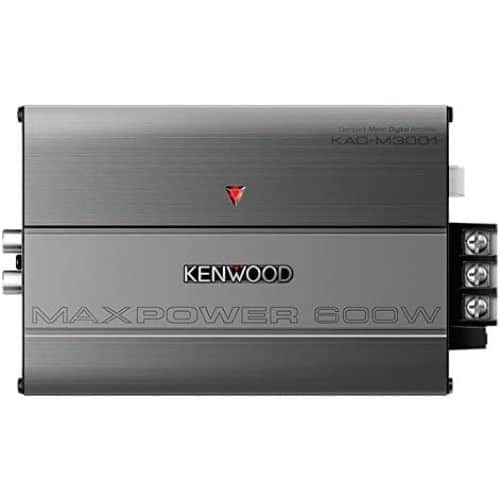 Maximum Wattage: 600W
Number of Channels: 1
Whether you're looking for a sound amplifier for your vehicle or your boat's subwoofer, the Kenwood KAC-M3001 is worth checking out. It's extremely versatile and handles moisture far better than most electronics – although you still won't want to submerge it or anything!
It comes with an auto-sensing signal that will turn it on when you're using it and turn it off when you're not, meaning you don't have to handle any remotes or worry about it draining your vehicle's battery if you forget to switch it off.
It's extremely compact and delivers pretty good sound quality, especially when you consider how affordable it is. This sound amplifier is all about its versatility and ease of use, so don't expect the most powerful system.
Still, at this price you're getting a great sound amplifier that you won't need to worry about replacing any time soon!
Pros
Great for both automotive and marine applications
Auto-sensing signal on and off
Great for bass speakers
Easy to install and compact size
More affordably priced
Cons
Not the most powerful amplifier
---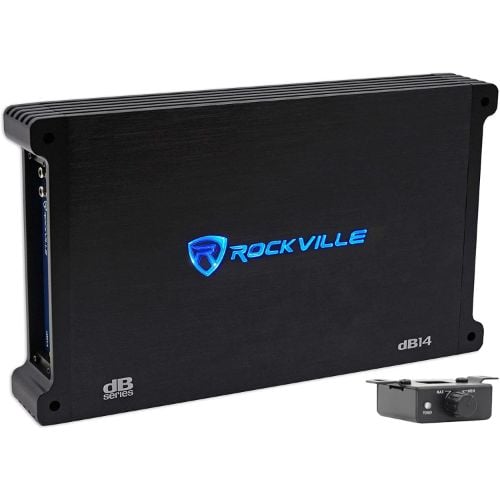 Maximum Wattage: 4000W
Number of Channels: 1
Rockville is a quite common name in the car audio business, and if you're in the market for a budget amplifier and want a ton of options, they're sure to have an option you're interested in. They're among the most affordable sound amplifiers out there, and they have tons of options with different wattage outputs for you to consider.
They're all easy to install, and compared to many other amplifiers they don't take up much space. However, while they're incredibly affordable, one of the most significant drawbacks of these amplifiers is their durability.
They can last for a few years, but with heavy use, they're not going to last forever. Considering their affordability it's not a huge deal, but you'll want to keep this in mind when making your purchase.
You'll also want to keep in mind that these amplifiers draw a lot of power, especially the ones with higher wattage outputs. If you want to keep driving without having to deal with a dead battery from time to time you might need to upgrade the battery or even the alternator to keep up with the powerful sound system you're installing.
Pros
More affordably priced
Easy to install
Can power huge subwoofers
Multiple power options are available
Cons
It draws a lot of power
They don't always last the longest
---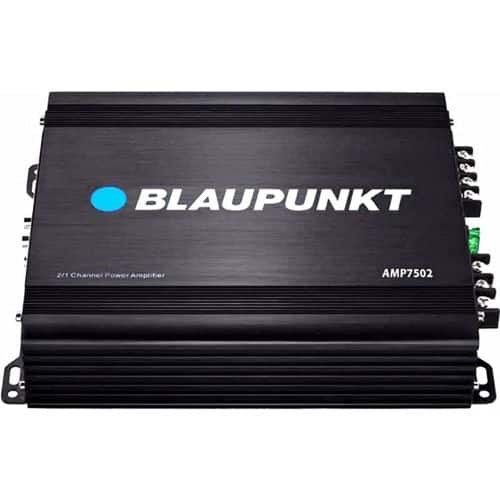 Maximum Wattage: 750W
Number of Channels: 2
The Blaupunkt AMP7502 is by far the least expensive amplifier on our list, so if you're looking for an extremely budget-friendly amplifier this might be it. But as an extreme budget-friendly option, the Blaupunkt AMP7502 does have a few drawbacks.
First, it doesn't produce the same sound quality that you get with many other options. Second, it's not quite as powerful as most of the other amplifiers on our list. This means it struggles with sound quality and power, which helps explain the lower price.
Finally, the Blaupunkt AMP7502 doesn't last quite as long as other amplifiers, typically only lasting a year or two before you need to replace it. Still, it is super affordable, and it's still easy to install and has an extremely compact size. You can do better than the Blaupunkt AMP7502, but not at this price point.
Pros
Extremely affordably priced
Easy to install
Great for 6×9 or smaller subwoofers
Compact size
Cons
Not the best sound quality
It doesn't last the longest
Not the most powerful
---
Amplifier Buyer's Guide
When you're looking to purchase and install your first amplifier there's a lot to look into. With so many different outstanding options out there it can all be a little overwhelming. It's a lot to understand, which is why we came up with this comprehensive buyer's guide that will walk you through everything you need to know.
From what to look for in an audio amplifier to some basic tips for setting it up when you get it, we've got you covered.
What to Look for in an Audio Amplifier
When you're shopping for an audio amplifier, there are quite a few factors you need to look into. It can be a little overwhelming at first, but that's why we broke it down into five easy-to-follow categories for you here.
Channels
The number of channels is very important when looking for a car amplifier. Typically you want one channel for each speaker, but it is also possible to bridge the output channels depending on the impedance of your speakers.
Usually, if you want a car amplifier for a subwoofer, you want a powerful one or two channel amplifier that can put out a huge amount of power.
If you are going to drive several 6.5″ or 6×9 speakers, a 4 or 5 channel amplifier is a better choice.
Distortion
All amplifiers produce some level of distortion, but it's up to you to decide if you want more distortion or more power when picking out an amplifier. To add more power without affecting distortion you need to get a larger class A amplifier, and at some point it simply becomes too large to be a practical solution.
You can go for a class B amplifier to get more sound, but then you increase the level of distortion. Class Ds provide the best combination of quality and distortion, but they often cost a bit more.
Power Output
How many watts do you need and what do all those different numbers mean? Most people don't need extremely powerful amplifiers, and an amplifier that pushes out 200 to 300 RMS is more than enough.
But there's a big difference between peak wattage and RMS, and if you're looking for the most reliable and useful specification, stick to RMS wattage. Peak wattage numbers are much higher, but they don't give you much to go on as far as actual performance levels.
Your Speakers
You need to match up the amplifier with the speakers already in your vehicle. Check the speaker sensitivity levels and wattage behind the speakers. You want the amplifier to provide more wattage than the speakers, and you need to ensure everything is compatible.
Inputs & Connections
It doesn't matter how great everything will sound if you can't hook it all up! Different amplifiers and different speakers use different types of connections, and getting them to all communicate with each other can be quite a challenge.
Do your homework on the amplifier and the speaker system in your vehicle to ensure everything is compatible before you place your order.
Further Specifications
A few other specifications you'll want to look at before purchasing your new amplifier are the Signal to Noise Ratio (S/N), crosstalk, and dynamic headroom. The S/N ratio tells you how loudly the amplifier will buzz when you're using it, and the bigger the number the better for sound quality.
Crosstalk lets you know how much of the signals will cross, creating undesirable sounds in the system. Once again, with crosstalk you want a higher number to reduce the number of undesirable noises in the system.
Finally, dynamic headroom refers to the ability of the amplifier to produce peak sounds for short amounts of time. Not every note in a song is the same level as others, and an amplifier that can hit these peak levels for a short amount of time is better than those that can't.
Different Class Amplifiers
When you're looking at purchasing an amplifier for your vehicle, one thing you'll want to look into is the class of amplifier you're getting. There are four different amplifier classes, and they all come with their own advantages and drawbacks.
To help you make an informed decision and get the best amplifier for your needs we've highlighted each class for you here.
Class A
Class A amplifiers are the most common type of amplifier out there, providing the best possible fidelity. That means the sound coming out of the speaker is exactly what it should be, but they're far from efficient.
Overall, class A amplifiers provide the best overall sound quality, but to generate much power they need to be much larger than many other amplifiers, making them impractical in many vehicles.
Class B
Class B amplifiers are a clear step down in terms of sound quality compared to class A amplifiers. But they are a little more efficient, so it's possible to get them in a more compact size. You'll just need to expect a bit more distortion if you go with a class B.
Class AB
Think of class AB as a hybrid between class A and class B amplifiers. They don't provide the same level of fidelity as class As, but they also don't give off as much distortion as class Bs.
Meanwhile, they're more efficient than class As but not quite as efficient as class Bs. They're the middle ground between the two, and for many people it's exactly what they're looking for!
Class D
Most new amplifiers you're going to look at are class D amplifiers. These amplifiers are newer to the market, and they provide an outstanding combination of sound efficiency and sound quality. They're the most efficient and compact sound amplifiers on the market today, making it easier to fit them into most vehicles.
Not only are they extremely efficient, but they still provide outstanding sound quality and power. They don't provide the same level of fidelity as a class A, but they perform better than both class B and class AB amplifiers.
Tips for Installing Your New Amplifier
Once you get your new amplifier, it's an exciting time. But it can quickly go from exciting to frustrating as you try to navigate the installation. To help keep you from blowing a gasket we've highlighted some essential tips you need to follow during the installation process.
Do Your Research
There are a lot of different specifications and compatibility concerns you need to look into whenever you're installing a new amplifier in your vehicle. The good news is that you're far from the first person to upgrade the sound system in your particular vehicle.
There are tons of forums where people walk you through the entire upgrade process, and it's a good idea to read through a few of them before installing your new amplifier. They'll give you all the specifications for your vehicle's current system, and they'll give you some tips and tricks that can make it go a lot smoother for you.
Read the Entire Guide
When you order a new amplifier, it's going to come with an installation guide. Do yourself a favor and read it from cover to cover. Keep it with you during the installation process, and most importantly, do what it says!
The amplifier's manufacturer knows exactly what the amplifier needs to run properly, and if you miss an important step or two it won't work the way it should. Even worse you might end up breaking the amplifier before you get a chance to use it and you might damage other electrical components in your vehicle along the way!
Give Yourself Enough Time
Even if you already know what you're doing installing an amplifier can take 3 to 4 hours to get everything set up correctly. If you're doing it for the first time, there's a good chance it's going to take you even longer.
For a first-time installation, you should give yourself about six hours to complete the job. While this might be a little too much time if you get the hang of it quickly, it's better to have too much time to complete the job than not enough!
Disconnect the Battery
Guides and forums will highlight this quite a bit, but it's so important we want to give you a clear reminder here. Before you start working on your vehicle's electrical system, do yourself a favor and disconnect the battery.
All it takes is one short or one spark to completely fry your new amplifier – and potentially more. Disconnecting the battery is by far the most important step during the installation process, and it's often one of the most overlooked.
Frequently Asked Questions
Sound systems for your vehicle can be a bit complicated, which naturally leads to several questions. We understand, and it's why we decided to answer some of the most frequently asked questions about amplifiers for you here.
Should Amplifiers Be More Powerful Than Speakers?
While many people think they need speakers that are more powerful than their amplifiers, this isn't the case. You want an amplifier with a higher RMS than the speakers to get clean power without clipping or other serious concerns.
Which Class Amplifier Is Most Efficient?
If you're looking to get the most out of your amplifier, you want a class D amplifier. These amplifiers are extremely efficient, compact, and provide a great mixture of quality and sound.
What Is the Most Used Audio Amplifier?
The most common type of audio amplifier is a class A amplifier. They're not an efficient design, but they produce outstanding sound quality. Just ensure you have enough space for one before ordering it!
What Does RMS Stand For?
RMS stands for "root mean square," which doesn't mean much until you dive into the science behind it. But in short, the RMS wattage is what you can realistically expect to consistently come out of the amplifier while the total wattage is what it can handle during peaks. 
Is It Worth Amplifying Car Speakers?
Yes! While you'll want to do your own research on your particular vehicle, most car speakers will notice a significant upgrade in quality and sound performance if you upgrade the amplifier.
Final Thoughts
There's a lot that goes into selecting and installing a new amplifier for your vehicle, but nothing quite beats the sound and feeling that you get when you're listening to the new system for the first time.
No matter what amplifier you go with from our list you're getting an outstanding choice that we're sure you're going to love for years to come! And as a final note, if you're stressing out about installing the amplifier after you purchase it, why not get exactly what you want and then take it to a sound shop for the installation process?
This gives you all the freedom you need to get the exact sound system you want without any of the installation headaches!