White cars are among the most popular car choice on the road today, so it's easy to pick one the next time you buy a vehicle. However, deciding on the appropriate rim color isn't always as simple. What color of rim is better for a white car, and how can you make your vehicle look its best?
In this guide, I look at the benefits of each color. I also talk about the option of painting your rims.
What Is The Best Rim Color for a White Car?
Several rim colors look good on white cars. Bronze or black are some nice choices, but you can also choose silver, gunmetal, copper or two-tone colors. If you really want to stand out on the road, consider the eye-catching style of red rims on your white car instead.
Here is a more detailed list of the best rim colors for a white car:
1. Bronze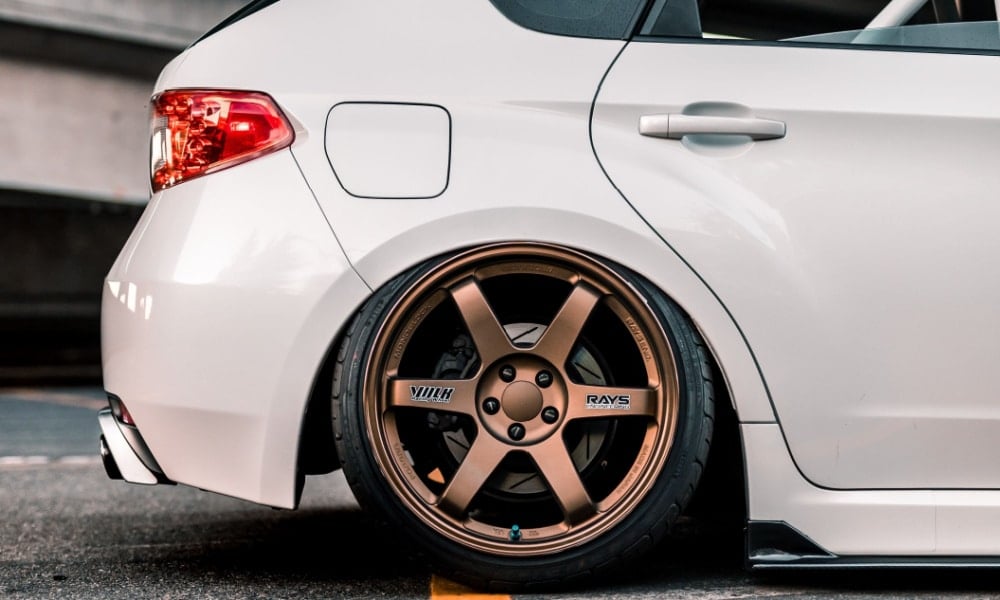 While bronze might not be a popular choice, it is still one of the most beautiful options available. What's great about it is that not many people are using it, so you can help your car stand out.
The bronze rim would look great on a white sedan. It can also be eye-catching on a coupe, such as the BMW M5 or Nissan GTR.
2. Black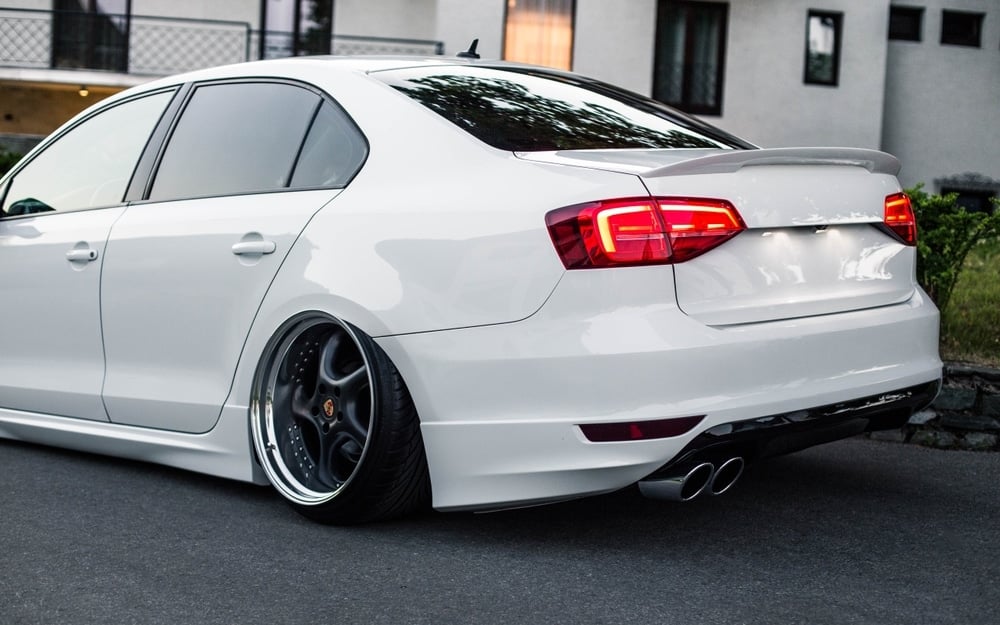 At first glance, you might think that black rims could be too bold for the white car. After second consideration, you see this makes a great choice, one that's very complementary.
Black rims help to give the car a stylish appeal. If you have a bold personality, you might as well match your car to it.
3. Gunmetal
You don't want to overlook the sleek style of gunmetal rims. These are known for strength yet are also extremely elegant.
This color also helps hide stains, keeping your vehicle looking its best. While gunmetal is a great choice on white coupes, it's also a top choice with black cars.
4. Silver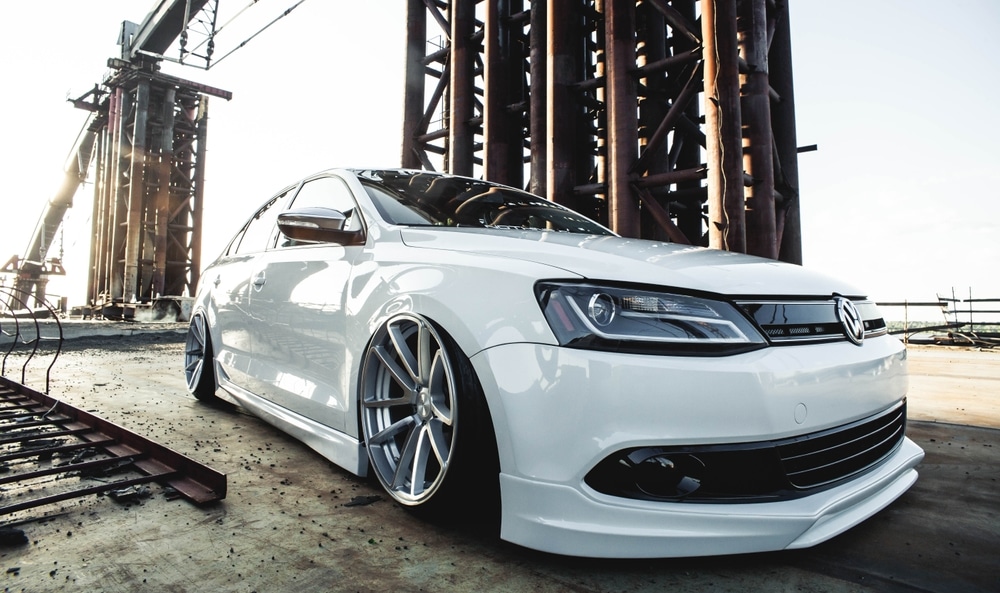 If you are on the fence about an appropriate color, rely on good-old silver rims. Because silver goes with everything, this is a no-brainer.
You may not even need to do anything, since many new cars can be equipped with silver rims from the factory. Save time and keep your car looking great.
5. Copper
Cars with copper rims aren't seen that frequently. However, you can't beat the unique appearance of the combination with a white car.
When you pair white and copper together, you are ready to turn heads. Let your vehicle express your unique level of class.
6. Two-Tone
These rims continue to become more and more popular. Some of the best choices include either silver with gunmetal, or silver with black.
However, you can kick things up a notch and add some color if you prefer. Why not look at using this next color for a little fun?
7. Red
If your white car seems boring, it's time to make a statement. Add some bright pops of color, starting with the rims.
We recommend red rims because it provides a sporty appearance. Your car will instantly look aggressive and fierce.
Can You Paint Car Rims?
If there is nothing wrong with the rims you have and you don't want to get rid of them, you might consider painting them. If you aren't versed in this work yourself, you should pay someone to do it for you. On average, you might spend $125-$300 to paint your car rims, which is much cheaper than buying new ones.
RELATED: How to Get Paint off a Car (5 Ways)
If you plan to tackle the job yourself, here are a few steps to follow:
Jack up the vehicle and place it on stands.
Remove the wheels.
Clean the rims and smooth out the surface. You need a wire brush to get off any rust, grime and contaminants. If there are stubborn areas, use steel wool and sandpaper to get them off.
Once the surface is clean, you must shield the tire rubber. Use painter's tape and a drop cloth to cover up the tire.
Put on protective gear while painting. Put on a face mask, old clothing and safety glasses to stay safe from any harm.
Spray the rims with primer paint first.
Evenly spray the wheels with your chosen color once the primer has completely dried.
After the color is complete, use a clear coat finish on the rims.
RELATED: How to Remove a Stuck Wheel on Your Car (5 Easy Steps)
When choosing spray paint for your rims, make sure it's compatible with the material. Not all spray paints are made to be used on steel, alloy or aluminum wheels.
Frequently Asked Questions
Do gold wheels look good on a white car?
Cars in simple, white colors are the rare ones that look good with gold wheels on. In fact, for years, this was one of the most desirable combos among car enthusiasts. The only problem might be if your car has a lot of chromed trims, as these two colors may clash. There are, however, two simple ways of solving this. One involves painting the chrome white using Plasti-Dip or something similar. The other is to choose gold wheels with a silver rim.
Do black rims make a car look better?
Black wheels will look great on every car, whatever its color might be. In most cases, they are available in gloss or matte finish, with both having an equally stunning effect. For some, black wheels may seem like an odd choice, as they might look similar to plain steelies. There is, however, a world of difference between the two. Black wheels will give the car a stealthy appearance and make its road presence more formidable.
What is the best rim color?
Choosing the best rim color comes down to your personal preferences and what you want to achieve. Still, some basic guidelines could help you choose the right combo for your car. White and black cars are the most grateful option, as almost all wheels look good on them, regardless of the color. Other cool colors include gold, gunmetal, and bronze. Or, if feeling extremely confident, you could choose red or blue wheels.
What color looks best on white?
In general, black wheels, either in gloss or matte finish, are the best-looking option for a white car. By fitting a set of black-painted alloys, you will give your ride a subtle yet eye-catching appearance. Alternatively, if you are aiming for a more sporty look, you could go for gloss white rims with bright-colored accents. Using the identical color for body decals, such as racing stripes or banners, will further accentuate the theme. Furthermore, there are bronze or gunmetal wheels, which give a more unique look. Lastly, red or bright blue wheels will be ideal for those who want to stand out from the rest.
Wrap Up
White cars are effectively empty canvases. They are excellent for pairing up with aftermarket wheels. This is because you can choose whatever rim color you like without fearing it will clash with the car. There are, however, several guidelines to consider, as these could help you achieve the desired effect. Black is the most common go-to wheel color, and it gives a stealthy, menacing look.
White wheels are more suitable for sport-orientated cars, especially when combined with bright-colored details. For a more unique appearance, you could choose wheels in bronze, gold, or gunmetal finish. Lastly, there are red or bright blue wheels, which will turn many heads.