Most car radios often have a slot for CD, SD card and a USB slot.
Normal CD files are encoded in a file type called .wav. For these file types, this means that your MP3 files are not compatible with your car radio.
An MP3 decoder is used to interpret MP3 files in the car radio. If you have a computer, you can easily convert your existing CD files to MP3 and store them on a flash disk.
With the help of your MP3 decoder, you can now enjoy your MP3 songs while driving. In some cars, you need to convert the AAC port to an MP3 decoder.
How to listen to music from a car that lacks a USB port

Most car sound systems have a USB port, but some old versions lack this port. It can be frustrating to have a dope music collection and not be able to enjoy it due to the lack of a USB connection. Investing in a new car radio is expensive, but there are alternatives.
To add a USB port to your car radio, look for the FM transmitter. Most FM transmitters are able to read USB files. However, the sound quality is not as good. This is because the FM transmitter is overloaded with signals. If you want to improve the sound quality, the other best option is an FM modulator. Once you have installed it, you need to add the software to play the MP3 files.
Playing music through the USB port is a simple plug-and-play method. If you have problems playing your MP3 files, the problem might be how your head unit converts and reads the files. Music files vary and include MP3, OCG, Apple's AAC, ALAC, or FLAC. The latter two are high-resolution files.
The problem occurs when your stereo system cannot read your music files. In this case, you need to search your car stereo manual for files that it can read, and convert the music files through your computer.
If your car stereo still won't play your music files, the problem might be because of how your USB flash drive was formatted. The USB might be searching for a FAT32 system while you have NTFS. Simple formatting can solve the problem. You may also need your file directory if you notice that the car radio takes time when playing songs.
1. Cassette Player adaptor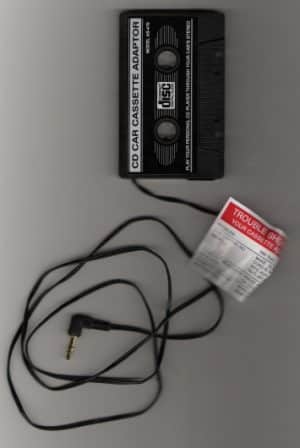 If you do not have a USB port, you can use the cassette player adapter. Cassette players are no longer used, so don't feel guilty if you change your player to MP3. The cassette player adapter is similar to a normal cassette, but with some modifications.
In this case the plug, the earphone jack of the adapter is connected to your MP3 player and the other end is plugged into the slot of the cassette player. Your mp3-files can then be played on your car radio.
2. Bluetooth
Most car radios are equipped with Bluetooth as standard. Bluetooth allows you to connect your iPhone or Android phone to your car radio. It also allows you to make and receive calls while driving. Older car models may not have Bluetooth connectivity, but the problem can be solved by installing a Bluetooth adapter.
With the adapter, you can now listen to your songs in comfort.
3. Music player jack
Modern car radios now allow you to connect your MP3 player directly via the audio jack. You can identify the jack by the glove or the stereo jack. On some car models, the audio jack can use an RCA/audio cable or a USB cable, and in some cases both are possible. With Advanced Stereo you can even control the MP3 player using the stereo buttons.
4. Line-in Jack
In this scenario, you use the line-in jack to connect to your MP3 player. The 3.5 mm head jack is connected with a plug-plug-cable so that you can listen to your MP3 files via the car radio.
What to look out for in-car stereo
It is important that you carefully read up on car radios before buying a car radio. A good car radio produces excellent sound quality and is equipped with various functions such as CD/DVD, AM/FM tuner, MP3, USB connection and satellite radio. You should also buy a stereo system that allows you to make various preamplifier settings such as volume, faders and sound selections.
Higher-end models come with an amplifier that boosts your sounds.
Sound quality
This is one of the most important features of a car radio. You want to be able to enjoy your music files without interference. You can use the preamplifier controls to adjust the sound settings for greater clarity. The better the sound quality, the more you pay for the stereo system. It's our recommendation that you buy a car stereo from a reputable brand such as Pioneer or Kenwood. Make sure that what you buy comes with a warranty. Test the device before you drive off.
Additions
The more options you have, the better the sound. Advanced stereo features allow you to play MP3/AAC/WMA. Other features you should look out for include: Android and iPhone support, DVD playback, satellite stereo, GPS navigation, Bluetooth connectivity, and support for multiple apps. A touchscreen monitor is a cool way to access the stereo features.
Today's stereo systems are equipped with digital time correction, which allows precise sound control. The higher-end models also feature parametric equalization. The touchscreen can be full color, and your budget will determine the size of the display. On the high-end models, you can play DVDs, some with flashing lights that match the beat of the song. A detachable face is an extra feature as it protects your car radio from theft.
Conclusion
Technical progress has made the typical cassette player superfluous. MP3 music files are the most common way to listen to your favorite songs. Modern car radios have USB ports or Bluetooth connectivity.
You can still listen to MP3s through an old stereo system by making some modifications, such as getting a cassette adapter, using a 3.5 mm jack cable from end to end and installing a Bluetooth adapter.