When you start shopping for a new truck, you have a lot to consider, from the motor option to the driveline configuration. You might also have noticed that trucks offer varying axle ratios, leaving you to wonder what the best option for you is. Does gearing make a difference and what is the right axle ratio for your truck?
If you aren't carrying heavy loads, you can probably go with the standard axle ratio and be just fine. However, if you need maximum power or acceleration, you will want an upgraded axle ratio. Still, it's important to know how the axle ratio affects performance, fuel economy, and towing capability as a whole. That's why we break down the axle ratio basics, show you how to find the axle ratio and help you pick the appropriate configuration for your needs.
What is the Axle Ratio?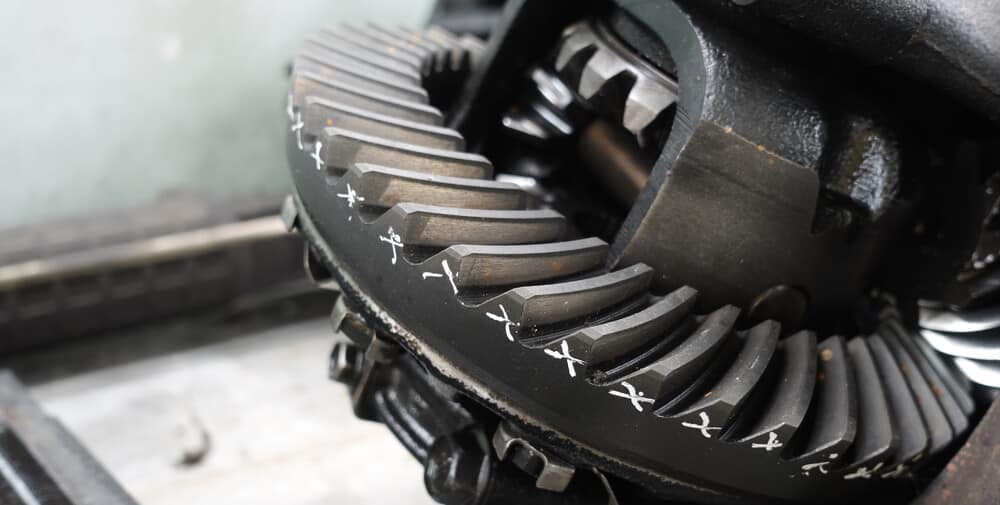 The axle ratio is the gearing of the truck's differential. This mechanical device links to the drive shaft axle and the engine.
Automakers manufacture trucks to include several axle ratios. You will see this figure listed as a ratio, expressed as 3.55:1. In this situation, the drive shaft rotates 3.55 times with every wheel turn. When discussing this gear ratio, it would be called "3.55" or "three fifty-five."
To understand various gear ratios, you simply look at the numbers. The more the ratio rises, the more towing capacity can be expected, but the lower the fuel economy typically dips. A higher axle ratio offers additional mechanical advantages by sending more torque to the wheels being driven. However, for that power, you will pay more when filling up.
How to Find Axle Ratios
When you are examining the specs of a truck, it's easy to find the engine configuration, transmission specifications and driveline setup. However, locating the axle ratio isn't always straightforward. The manufacturer should list the axle ratio in the specifications. If you are looking at a new truck, it is found on the sticker with the specifications. Otherwise, you could visit the manufacturer's site to get a rundown of the figures.
However, there's also a manual way to check it, although you probably have no reason to. You could count how many teeth are located on the ring gear and pinion. With these two numbers in hand, you must divide the number of the teeth on the ring gear by the number found on the pinion. This final figure is your axle ratio.
Right Axle Ratio for Trucks Based on Needs
1. Fuel Economy
If you are looking to find a fuel-efficient truck, you are going to want a lower axle ratio. In this case, you can examine the specifications based on what model is going to burn more fuel. While there aren't a ton of trucks that get exceptional gas mileage, you can easily find which ones are better than others.
For example, if you are comparing a truck with an axle ratio measuring 3.31 to another with a 3.55 axle ratio, the first one is going to consume less fuel. With the 3.31 axle ratio, the engine revolves less to do its job than the other truck's motor does.
2. Performance
With the same ratios used in the last scenario, it's clear which configuration is going to provide more power. The higher the ratio is, the more revolutions occur per minute.
With the 3.55 axle ratio, you can expect swifter acceleration compared to the 3.31. However, that performance does mean more fuel burning overall. The more power an engine puts out, the harder it has to work and the more fuel it usually needs.
3. Towing
If you are looking at a modern truck, dated 2010 or later, you will likely want an axle ratio of 3.55 to 3.73 for towing purposes. This is the ideal axle ratio range if you need acceleration and power from your V8 or diesel motor.
However, there are some 3.31 rated trucks that can also tow well. These models will be equipped with a solid eight- to ten-speed automatic transmission that contains lower first and second gears. When in doubt, research online what owners think about the truck and its towing ability.
How to Get Higher Axle Ratios
If you are buying a new light- or heavy-duty truck, you can choose an upgraded axle ratio, usually as a standalone option. If not, it should be bundled with an optional towing package. These packages typically include all of the equipment needed to make towing easier.
With your towing package, you can also find four- or seven-pin hitch connectors, heavy-duty springs and upgraded cooling systems, all designed to tow more. However, the price for the packages can be costly, so make sure you need all of the equipment before moving forward.