A puncture, dead battery and engine light popping up will always happen when you are in hurry and when you least want it to happen. A car owning life can be really difficult and expensive between the rides. The good thing is that there are several smart tools out there to make it a lot easier. I'm working as a mechanic and I use this tools daily and they help me a lot to save time and money. Let's take a look at what tools that I'm talking about.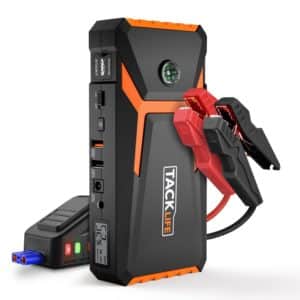 Portable Jump Starter
A jump starter is a perfect tool to have inside your car when the battery is dead. They are small and really powerful for the sizes.
There are a lot of different sizes and models, I can recommend you to choose a small one if you do not have a very big engine. The most of them are so small that you can store it in your glove box and it will start your car within a second. No need to ask random people if they can give you start boost help and damage parts with wrong connections.
A jump starter that I can recommend, that I use myself for professional use is the DBPOWER 600A Jump Starter Link to Amazon. It gives you a lot of power for a cheap price and high durability. I have done over 100's starts and it shows no signs of going to break.
If you want to research a bit more of what portable jump starter you should choose, you can check out my other post Jump starters.
Car Battery Charger
A good car charger is also a tool that every car owner should have. Especially if you are driving a lot of short distances with your car. Modern cars use a lot of electronic parts. If you only drive short distances your battery will not catch up with the charging. You start the engine cold, start all heavy consumers like fans, seat heat, stereo and drives 5 km and turn off the car. Do this sometimes and your battery will become more and more uncharged. In this case, a charger will be perfect for your rides to keep your battery healthy. What's more annoying than a dead battery when you hurry somewhere?
Today there are several smart car chargers out there which you can connect often and for long times. They will turn off themselves when the battery is fully charged. What car charger that you should get is depending a lot of the size of the battery and what use you are looking for. Small chargers require more charge-time. If you are looking for a good and fast universal charger for an affordable price is the NOCO Genius G3500 6V/12V 3.5A Link to Amazon. You can use it for both 6 volt and 12 volt systems and is suitable for a long time charging because of the active battery monitoring. To find more reviews of car battery chargers, check out this article Best car battery chargers.
OBD2 scanner tool
To have an OBD diagnostic scanner tool at home can save you a lot of money. The workshops charge you a lot of money to just read out the trouble code memory. What a lot of people don't know, is that to have their own OBD scanner tool is not that expensive and not hard to use. The most scanner tools can read the most critical trouble codes from the memory.
You are driving on the highway to your vacation and suddenly the Engine light comes up. Instead of trying to find a car repair shop and spend a lot of money, you can keep this tool inside of your car and read why the engine light is ON. Take the trouble code and search the web to see if it's okay to keep driving or you should stop imminently.
There are a lot of OBD DTC code tools out there and it can be hard to choose the right one if you do not have a lot of knowledge. If you have no idea of which to choose, I can recommend the FOXWELL NT301 Car Obd2 Code Scanner Diagnostic Tool Link to Amazon. Easy to use and works well with the most of the cars out there. Read and erase the DTC code memory easy. You will save this money very fast. Check out Best OBD2 scan tools for more reviews.
Puncture Repair Kit
What could be more irritating, than get a puncture of one tire on the weekend when there are no workshops open? If the puncture was from a nail or just a small puncture and you have some mechanic skills, you can fix it yourself at home in 5 minutes with a puncture repair kit. It's not hard to use and it will make a permanent fix of the tire. It's the same tool as the professional workshops are using to fix their punctures. Perfect to have inside your car when you are going for road trips far away from civilizations.
There are several different puncture repair kits out there, but the most use the same principle. A kit that I can recommend is the Boulder Tools – 56 Pc Flat Tire Puncture Repair Kit Link to Amazon. You can use it for all types of vehicles, even trucks and tractors.
This tool comes with a manual with pictures of how you do it.
Roadside Assistance Auto Emergency Kit
When the accident comes and you stand at the side of the road, it can be really dangerous if you do not have the right equipment. There are kits that you can store inside your vehicle in emergency situations that could save your life. I can really recommend you to get one of these. It's not a lot of money if you can save a life and prevent another accident.
A complete kit that I use myself is the Roadside Assistance Auto Emergency Kit Link to Amazon.
The kit contains all these parts:
• 1 Fully Equipped First Aid Kit
• 1 x Reflective Warning Triangle
• 1 x Reflective Safety Vest
• 1 x Tow rope (10ft 3 tons capacity)
• 2 x Gloves with Gripping Palm (1 pair)
• 1 x Safety Hammer & Seatbelt Cutter
• 1 x Hand Driven LED Flash Light
• 1 x Adhesive Tape
• 1 x Rain Coat
• 1 x Tire Pressure Gauge
• 1 x Screwdriver
• 1 x Jumper Cables Set (8ft length)
• 1 x Emergency Blanket
35 bucks for all these tools that can save your life, is not a lot of money if you ask me. This is a tool that everyone should have in their vehicle.
Summary
There is a lot of tools that can save your life and make it easier, but this is the tools that every car owners should have at home in my opinion.
If you have any more tips for tools that you recommend, you can write a comment down below. If you have used any of these tools before you can also write your opinion of the tools down below.
If you have any more questions about your car, you can ask them for free at our homepage.