When you own a car, you can feel the struggle of starting it – with normal car keys, you need to be physically present for you to start it.
The remote car starter is a way of eliminating this need, such as on a cold winter day when you do not want to stay in freezing temperatures for so long. The main advantage of these remote starters is their ability to allow you to heat up your car or turn on the air conditioning, just by pressing a button.
While remote systems for cars have been there for quite a long time, it is only in recent years that they are increasingly in popularity.
While this is a great thing, it can become very confusing when you are trying to pick a system that fits your car best, so we did the heavy lifting for you and compiled a list of the best remote car starters for 2022.
Always read the manual from the manufacturer before purchase – To make sure it is compatible with your vehicle.
Disclaimer – This article may contain affiliate links, this means that at no cost to you, we may receive a small commission for qualifying purchases.
The Best Remote Car Starters in 2022
1. Compustar CS4900-S Keyless Remote Car Starter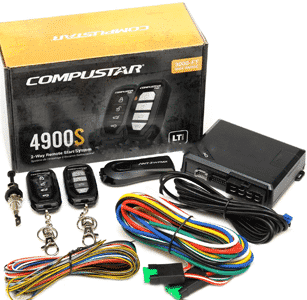 This is a two-way remote starter that prominently features a Blade AL Bypass molecule and two-way key fobs. This feature of using two-key fobs is quite rare among remote starters, making it quite unique among its competition, and it is also a part of the LT series of starters for the company.
The fobs have a good design and are quite strong. They consist of four silver buttons, while the mainframe of the control is comprised of plastic (entirely heavy duty). When you want to send commands to the car from the fob, you press the relevant button and the car will send back a command, which tells you that the car is on.
Key features
Comprised of heavy duty plastic
Features two-way key fobs and Blade AL bypass module
Automatic transmission system
What we like
The quality of the build is high
It is water-resistant
The two-way fobs are functionally connected, which makes control easier
RELATED: 6 Causes Why Your Car Alarm Keeps Going Off
2. Viper 5906V Color Remote Car Starter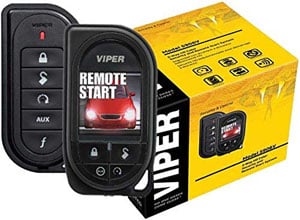 If you are looking for remote systems that can handlethe demands of both adventurers and non-adventurers, this is a great place to start. For instance, when you want your car to remain warm and cozy, even after a very long day in a very cold place; or when you are parked in a freezing cold area in the middle of winter and want the car to remain comfortably warm without leaving the ignition on.
The remote has the range of a mile, so even if you move away, you can still secure your car's warmth until you return. The only drawback is that the distance functionality seems to have challenges when you try to operate it behind buildings – as many people have raised complaints about it, it might go through improvements in the future.
Key features
The control has an LCD display screen, which is high-tech and allows you to control different functions
Good range – up to one mile
Allows you to monitor the temperature of the car before getting inside
Buttons tend to be sensitive
What we like
The Impressive range that is not hampered by distractions
The design is impressively slim and convenient
Has a very good security system
3. Crimestopper RS4-G5 Remote Car Starter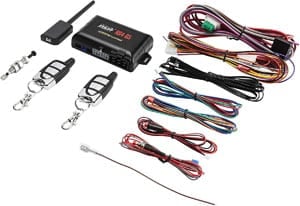 If you want flexibility, you can rarely go wrong with Crimestopper remote systems, as that is the primary aim. Because it also happens to be multi-functional, it will allow you to control two vehicles simultaneously even when you use one remote alone – the only condition is that they need to have the Crimestopper remote system installed in both.
The system will also work well, whether you use manual or automatic transmission vehicles, such as gas, liquid or hybrid engines. The range is also really good, as it covers up to 2,000 feet.
Key features
The range is quite expansive, about 2000 feet
The remote control is multi-functioning
You can incorporate the mobile phone start-up options through the app
Can do a wide variety of functions, such as including opening your car trunk and sliding doors
You can hook up simple data modules, thanks to the two-way data port
What we like
The system is compatible with two manual or automatic vehicles
Easy to control once it is installed
Includes a wide variety of functions, making it convenient to use
RELATED: 10 Best GPS Trackers for Cars
4. Avital 4113LX Cheap Remote Car Starter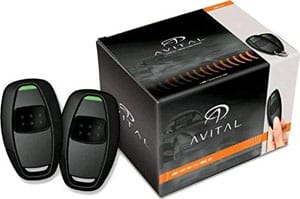 If you are looking at the different designs of remote starters, you might come across one-button starters. This raises the question of how these remote controls can still be efficient, even with only one button – but they still are, if this control is anything to go by.
The design of this remote is primarily meant to deal with complicated things, and make them easier for you to manage. Thanks to the keyless buttons on the screen, you no longer need to worry about the problem of accidentally pressing buttons that you should be avoiding. In addition, the product is even more interesting to handle, due to the Anti-Grind and Horn relay, and the outputs available for them.
Key features
You can select different run times depending on what is convenient for you- such as the 60, 24 or 12-minute run time
Can connect to other devices, thanks to the D2D serial port
You will need to hook it into many circuits to make it functional
The Range is not advertised
Uses Bitwriter programming mechanism, as well as Anti-Grind and Horn, relays, making it significantly easier to use compared to similar remote controls
What we like
Easy to setup
Has a one-year warranty
Auto-locking mechanism and an option to unlock
Affordable for those on a budget
5. Directed Electronics Inc. 4806P Python Remote Car Starter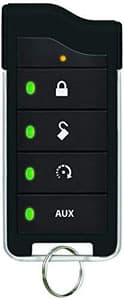 This remote control system is pricey compared to many similar products, but it does not invalidate how good it is – and you can rely on it. Thanks to the long-range of one mile, you will no longer have the issue of burning yourself on the car's leather on a hot summer day or freezing in the winter months while trying to warm up your car.
The Python system has a major advantage from a security standpoint; it always places the car under high protection. Coming with a siren that uses six different tones, onboard door-locking relays, and a secure protection mechanism, you will not need to worry about the car when you leave it outside.
Key features
You can disable the system safely through using the Emergency Override feature
A Horn honks help you control the machine easily and conveniently
The siren has six types of alarms, indicating what is happening to the car
What we like
Good range, up to one mile
Easy to control, once it is installed correctly
Four auxiliary channels to enhance your experience
6. Python 5706P LC3 SST Security Remote Car Starter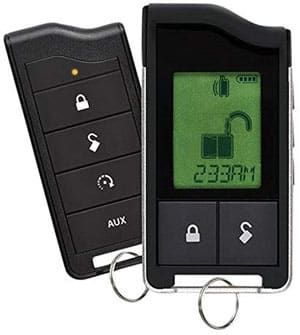 If you are on the hunt for a revolutionary, interesting responder, then you might want to try this model. The entire system has a wide range of amazing features that continue to guarantee your car's security and make you comfortable while you use it.
For instance, if your security system suffers a breach, know that icon displays, several vibrations, and a range of tones will activate, and this will immediately inform you of any changes or breaches. Think of it as a smartphone in terms of its functionality, although it is much cheaper and more reliable in many ways.
Key features
Has silent mode, which will quietly alert you of any breaches or intrusions
Has an improved remote functionality, with functions such as RunTime Reset
It has a range of a mile (maximum)
Has a great remote control center
What we like
The control center allows you to monitor the car and its condition as closely as possible, which also incorporates integrated text displays
Can show you the internal cabin temperature display
Versatile in its functionality
Affordable, and gives you value for money
What factors should you look at when purchasing a remote system starter?
It may be hard to comprehend why different remote systems vary widely among different brands, especially when you are a beginner in the world of remote controls for cars. However, the choice you make will depend on your primary reason for buying it in the first place – such as if you are looking to regulate the temperature of your car, enhancing your security, and so on.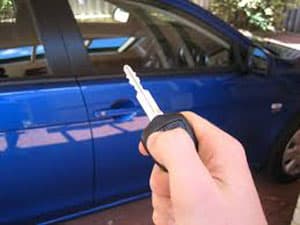 There are quite a number of factors to think about, therefore, so make sure to consider them to avoid buyers' remorse afterward.
The range
If you live in a moderate environment and are fine with starting the car when you stroll towards it from your home, then the remote you select will be different from if you want to start the car when you are inside the house and save yourself some chills in winter.
The range of a remote system will determine the end price you will pay for it, so ensure you consider it as carefully as possible. In addition, this range does not just mean the distance from the car to your house, it also means anywhere else you frequent – such as your office, shops you regularly go to, the mall, and so on.
The safety aspect
Even though remote starters are increasingly adopting sophisticated and impressive aspects of technology, it is always best to have a back-up option in case, especially if thee tech in use backfires or goes haywire at some point.
When you are purchasing, check to see whether the remote start has a cut-off switch under its hood. This will allow you to still leave your options open for access when you want to repair or take the car for service, and you can also prevent the occurrence of injuries through switching off the starter manually.
Communication
All remote start systems will use a pager, and this will utilize one of two systems for communication purposes: the 2-way or 1-way. This might seem insignificant, but it plays a major role in the information the remote system gives you as you operate the car (even if it will not play a role in its performance).
When you choose a system with 2-way communication, for instance, you will notice it tends to be pricier than the 1-way pager system.
In addition, remember that some of the remote systems are complex in their working mechanism, and this allows them to offer you extra features beyond just starting and shutting down your vehicle. In cases such as these, it is helpful for the remote system to have a form of strong dynamism in its communication setup. For instance, allowing you to easily see your messages and incorporate the use of other icons that are present in a smartphone device.
The engine sensors
Many systems of remote controllers will have some kind of engine sensor, which helps the system to know when the car is already running and not try to turn it on again. Without the sensor, you will notice the remote starter continuously tries to turn on the engine, and that causes long term damage to the engine eventually.
The sophistication of the sensors will depend on what you are looking for though. Some systems that have high levels of sophistication will also have specific trackers to keep track of the RPMs of the car motor when the engine is on. This is a safety feature that protects the engine in the long term and secures it from damage.
However, bear in mind that these sophistications can ultimately lead to wear and tear, especially if the engine is left on for too long. If you rev the engine too high, the remote systems that keep track of the RPMs will eventually kill the engine – so you need to be careful when using them, or stick to the simpler remote starters.
Convenience
There are many functions that remote systems can offer, with door unlocks being the most common. However, there are a variety of others, such as temperature control, trunk opening, and turning your lights on or off. Many models will also offer you the chance to add these features later if you want, so your choice is according to the aspects you want in your control.
The cost of installation
Interestingly, the most expensive part of acquiring a remote system is not the price of the equipment – rather, it is the cost of installation. For instance, when you buy premium brands, the installation cost will become higher than the cost of the remote control itself. If you buy a less expensive option, the cost of installing it will probably cost four or five times the buying price.
This makes it important to consider the installation cost, and even the products that are advertised as easy are not as straightforward as they might seem. In particular, if you lack experience with professional wiring and you have no idea about car wiring systems, it is best to take your car to a professional and have them install it for you.
In particular, the option of installing a system on your own is exceedingly uncommon, because of the potential there is to create massive operation problems afterward if you do it improperly. In fact, when this is the case brands will not honor their warranty unless you can prove to them that you had a professional install the system. To safeguard against this happening, many brands even have their own certified installation techs install the system when you purchase it.
Ability to program
If you happen to always leave your home at certain times of the day, it can be quite convenient to have a remote system that you can program to start the cars at these times. This can be particularly helpful if you live in a place with extreme weather changes and temperature adjustments. In this way, you ensure your car is always at optimal temperatures by the time you enter it.
Something to keep in mind though: certain states have prohibitions against people leaving their cars on when they are not there, so make sure to find out if your local laws allow for it. It is also good to remember that many remote systems will have a run time of fifteen minutes at the most before they shut down, whether you leave them unattended or not.
When choosing a remote control system, it is important to choose one that offers an impressive range of functions that will impress you, and you can rarely go wrong with it. There are numerous factors you can consider when choosing one, but you can thankfully have an easier time deciding what you would choose, as long as you use this buying guide to help you narrow down the choices.
Was this article helpful?