Smartphones make our life a lot easier. You can use them for making calls, videoconferencing, watching videos, and navigation.
Installing applications like Google Maps helps you find locations when driving. However, it is hard and dangerous to drive while using your mobile phone.
Car mounts are ideal for keeping your phone where you can see it and use it. Once the phone is mounted you can continue making calls and even launch your navigation application. This eliminates the need to constantly reach out for your phone.
But, before you can start using this great innovation, you need to find something that is easy to mount, affordable and offers stability while driving.
If you haven't identified the best car phone mount for your car, this guide offers some of the best car phone mounts in the market and what to look out for. Let's get started.
The Best Car Phone Mounts in 2022
---
1. Mpow Car Phone Mount
Editors Choice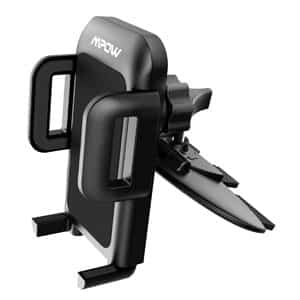 You can mount the device on your CD slot through an innovative screw lock system. Once mounted you do not need to worry about your phone wobbling as you cruise along bumpy roads. It also evenly distributes the phone weight so that it does not lean towards one direction. The downside of using the CD slot is that in some cars it can obstruct certain car controls.
Mpow car mount has a solid grip that is suitable for many smartphones. It can handle phones measuring 1.58 to 3.54 inches. This encompasses most smartphones in the market.
The grip is strong because your phone is held by two grips – one at the bottom and the sides. In this instance, your phone will not detach from the mount even when navigating rough roads. You can dismount your phone through and easy to use the release button. Once mounted, the Mpowcan be rotated to 360 degrees.
Key Features
Allows swiveling to 360 degrees
Grips at the side and the bottom
Easy to dismount phone through release button
Pros
The phone is stable even under rough conditions
Easy to install
Fits phones of all sizes
---
2. iOttie Easy One Touch 4 Car Phone Mount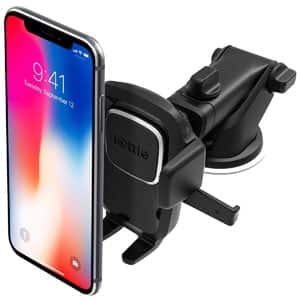 If you are looking for something that easily mounts on your windscreen then this is the ideal phone mount. The iOttie uses patented one-touch mechanism that lets mount and dismount your phone with a single touch. The mount enables you to position your phone wherever you wish.
One thing we liked about this mount is how stable it is even when driving on bumpy roads. You still can view your Google Maps when driving due to the enhanced visibility angles. The mount attaches to your windscreen through a suction cup. When purchasing the mount you get a one year warranty.
Key Features
Mounts to the dashboard/windscreen through a suction cup
Easy to mount and dismount phone through patented easy one-touch technology
Easy to install
Very stable when driving on rough roads
Fits phones of all sizes
Weighs 8 Oz
Pros
Stable even under bumpy roads
Easy to remove the phone
Enhances phone visibility as can be mounted anywhere
---
3. Arkon Car Phone Mount
Suction Cup Mount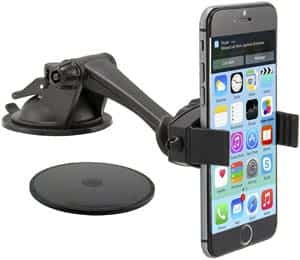 Just like many phone mounts, the Arkon attaches to the car's windshield or dashboard. This is done through a suction cup. Once in place, the mount remains stable and does not wobble around even under rough driving. It has an arm that makes the phone more visible. The suction cup can be removed and replaced with a new one if it loses its stickiness.
Most phones in the market – from 3.64 inches width – can use the Arkon car phone mount. Your phone is secured through a spring-loaded holder and this keeps it from wiggling when driving. You can view your navigation system comfortably. In addition, your phone is secured in place through two grips – one on the side and the other on the bottom. The car mount is firmness is enhanced through a series of grooves. The mounting arm can rotate 360 degrees giving you more visibility options.
Key Features
Grooved side and bottom grips
Spring-loaded holder
Attaches to the dashboard through a suction cup
Pros
Stable when driving
The arm rotates 360 degrees
Fits all smartphone brands in the market
RELATED: 10 Best Car Air Fresheners
---
4. Beam Electronics Car phone mount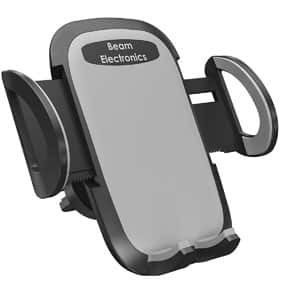 If you find that the suction cup car phone mounts obstruct your view, then you can consider this car mount by Beam Electronics. The device is constructed to attach to your car vents. This ensures that your windshield or dashboard is free of objects. It is easy to install and helps you slide your phone. A quick-release button lets you dismount the phone again.
You are probably wondering, "Will the air vents destroy the device?"
The answer is NO! The device is constructed to withstand both cold and hot conditions. Most car phone mounts on the market sometimes leave scratches on your phone but the Beam electronics phone mount comes with a padded interior. This keeps your phone secure even when driving through bumpy roads. You also get a one year warranty with each purchase.
Key Features
Connects to the car's air vents
Can fit most smartphones with the exception of the Google Pixel 5
Easy to slide phone to mount
Padded for extra phone protection
One year warranty
Pros
Air vents do not obstruct the driving view
Easy to install
Secures phone during bumpy rides
---
5. Fonus Car Phone Mount Holder
Lightweight Car Phone Mount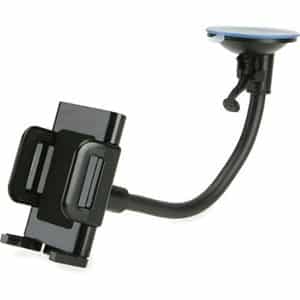 This car phone mount attaches to your windshield through a suction cup. It comes with an extended arm for enhanced visibility of your phone when driving. The suction cup can easily be removed and transferred to another location or car. The drawback of windshield mounted holders is that they can hinder visibility. This is the case when you are moving through bumpy terrains where the phone bounces back.
Adjustable grips secure the phone and prevent it from wobbling. The Fonus car phone holder can be used for phones that are below 5 inches in width. This carters for most of the smartphones in the market. The two grips on the side and one at the bottom ensure that your phone does not accidentally fall. If you want to remove your phone you just press a button. This phone mount is simple to install and you can place the mount in a vertical or horizontal position.
Key Features
Handles phones with a width not more than 5 inches
Has two side grips and a bottom grip
Suction cups attach the mount on the windshield
Press button to release phone
Pros
Easy to install
Adjustable grips for enhanced visibility
Handles phones of all sizes
RELATED: 10 Best GPS Trackers for Cars
---
6. WizGear Universal Air Vent magnetic Car Phone Mount
The WizGear magnetic holder offers good value for money and is ideal for those who do not want to attach anything on the windshield. The magnetics are powerful enough to attach to the air vents while having magnetic strips to attach your phone. You do not need to remove your phone's plastic case as the magnets are powerful enough to hold the phone.
The car phone holder also enables you to move your phone to the sides. This is great for visibility when driving. The WizGear car phone magnetic holders are suitable for all phone sizes and types (including mini-tablets).
Key Features
Magnetic mounts that attach to the air vents
Good viewing angle as the phone can be moved to the sides
Compatibility with all phone sizes
Pros
Easy to install
Offers good value for money
Mounts securely hold your phone in position
---
7. IPOW Car Holder Mount
Portable Car Phone Mount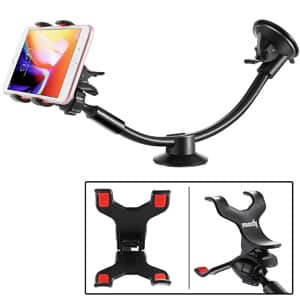 This great looking mount uses suction cups to stick to your windshield. Once mounted, it secures your phone in place and does not wiggle around even when driving on rough roads. With time the suction cup will lose its stickiness and you can remove it and clean it then reattach it to your windshield. The IPOW comes with an elongated arm that enhances your phone view.
Unlike most of the other car mounts that use a side and bottom grip, this one uses a claw-like grip that can be widened depending on the type of phone. The IPOW can handle any phone with a width of 3.6 inches. The grips are firm enough to hold the phone when you are driving in harsh terrain. You can also rotate your phone in many directions to increase visibility.
Key Features
You can view your phone from all angles
Securely attaches to the windshield
Claw like grip
Uses a suction cup to attach to surfaces
Pros
Easy to install
Handles most phones
Great for viewing the phone in all directions
---
8. Smart Outlet Car Phone Holder
Suitable Viewing Angle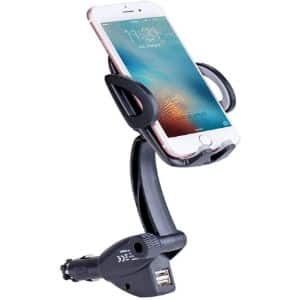 This is another cool phone mount that is placed on the air vents. The benefit of the air vents is that it does not obstruct your windshield view and it brings your phone to eye level. It also ensures that your dashboard is free off damage. The smart outlet is simple to install but you may experience challenges when removing your phone as the mount also comes off.
Since the mount is small, you do not need to worry about obstructing the air vents. In this regard, it is able to withstand both cold and hot temperatures. To secure your phone the mount comes with two side grips that have rubber on them. You also have a bottom grip that holds the phone in an upright position.
The only drawback with this is that the mount makes it hard to charge your phone. You will need to first dismount your phone for charging. But the arms are elongated and this gives you an easy time operating the phone with one hand. You can adjust the mount to find a suitable viewing angle.
Key Features
The device is mounted on the air vents
It does not block air from vents and you can continue using your heater
You can adjust the mount for a better visibility
Pros
Easy to install
Great viewing angles
Fits all phone sizes
Comfortable rubber side grips
---
9. Koomus Pro Car Phone Mount
With Springs Loaded Mechanism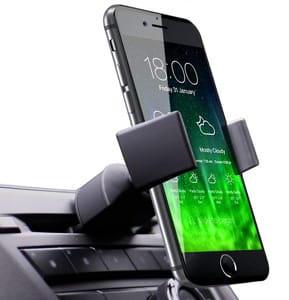 If you do not use your CD slot a lot then you should consider the Koomus Pro mount. Installing the mount is easy as you just insert it in an existing CD slot. The mount is stable and you will not experience challenges of it moving sideways when driving. You can also easily remove it and reinstall it in another car. The holder uses a springs loaded mechanism and this allows it to handle phones of all sizes. You also have grips to the side that also securely hold your phone in place.
You can also adjust the mount for enhanced visibility. However, the spring loaded mechanism can be hard to operate – especially using one hand. You can view your phone in either portrait or landscape position.


Key Features
Adjustable mount for better phone view
Mounted on the CD slot
Tight grips secure your phone when driving
Pros
Handles most phone sizes
Easy to install
Allows viewing of the phone in landscape or portrait.
---
10. Baseus Wireless Charger/phone mount
With Wireless Charger Feature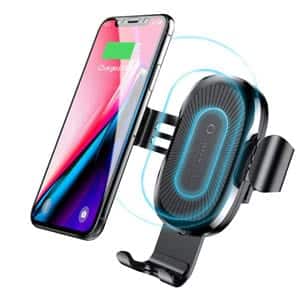 Most of the other phone mounts that we have reviewed one need to dismount the phone the charge it. This is can be burdensome. The Baseus mount is both a wireless phone charger and a mount that fits into the car's air vents. It can be used for iPhones, Qi-enabled phones and the Samsung Galaxy.
You can slip in and operate your phone with one hand. The grips are secured with rubber grips and this ensures that your phone does not get damaged. You can also rotate the mount to get the best viewing angle. The drawback is that it fits only a certain kind of phones.
Key Features
Operates as both a wireless phone charger and air vent mount
Charges most Qi-enabled phones
Ensures safe and fast charging
Adjustable for better view angle
Pros
Multifunction phone that allows both charging and mounting
Easy to install
Comfortable grips
---
How to select the right car phone mount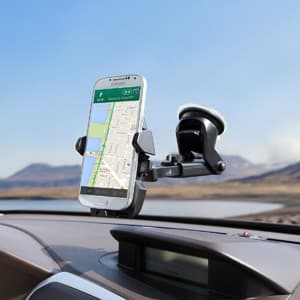 If this is your first purchase of a car phone mount then it can be challenging finding the right product. If you select the wrong product you may experience challenges with visibility as the device obstructs your view. In worst-case scenarios, a poorly placed car mount can cause your phone to slip and break. So, what product is right for your car?
Types of Grips
The car phone mount has grips that secure your phone in place and prevents it from falling when driving along bumpy roads. The grip can either be spring-loaded or one where you press a button. The springs loaded cradles tend to be long-lasting and grip the phone securely. The press a button grips are easy to use and you can mount and dismount your phone comfortably. All this can be done with one hand. The spring-loaded grips need you to set the arms apart meaning you can only dismount the phone when not driving.
Phone attachments
You can either attach your phone through the cradle or a magnetic strip. The cradle offers a firm grip that comes in handy when you are driving through bumpy roads but they are limited to certain types of phones. They can also hold heavier phones and not wobble. If your phone cannot be held by the cradle you can consider magnetic attachments. This can be attached to your air vents and enable you to view your phone from multiple angles. However, the magnetic mounts do not secure the phone as well as the cradle ones.
Types of car mounts
Air mounts: This allows you to attach the car phone mount on the air vents. It is the most common type of mount and works well on rectangular or square air vents. Many drivers prefer this mount because it does not hinder their view. However, you need to be careful not to switch on the heater as it can ruin your phone.
Suction cup mounts: This uses a suction cup to mount on the windshield or dashboard. They are easy to install but you need to consider getting a suction cup that retains its stickiness. Some suction cups allow you to clean them and the stickiness is restored.
Adhesive mounts: This allows you to place the mount anywhere in the car. The adhesive mount is more permanent as it is difficult to remove the mount once installed.
Placement of mount
The type of mount will determine where you place your mount. The suction cup mounts can be placed on the dashboard or windshield. However, you need to consider the type of windshield that you have as these can hinder your view. Mounts place on the dashboard can come with elongated arms that you can adjust for visibility.
The other place you can place your mount is on the CD slot. This offers a good grip and is fairly easy to install. However, the position does not work well if your CD slot is low. Most people have upgraded their music players to play from flash disks but they are those few who still listen to CDs. This type of mount will not work for them.
Adjustability
Once you have identified where you want to place your mount, you need to identify a mount that lets you change the angle of the phone. Some mounts come with elongated arms that you can twist to any angle that you deem fit. Find a mount that lets you rotate your phone 360 degrees. This means you can view your phone in either landscape or portrait position.
Durability
A good car phone mount should last. In this regard, you need a phone mount that is made from sturdy materials. The mount should be strong enough to carry the phone's weight even during bumpy rides. Take a particular interest in the grips ensuring that it does not bend when you are dealing with your phone. The holder should also be able to withstand various car temperatures without melting or breaking.
Car Phone Mount FAQ
Is it safe to use magnetic car mounts?
Most people have the wrong impression that a magnetic strip will wipe out the phone's memory. How phones operate is that they have a flash memory that stores information. Nothing will happen when you use magnetic car mounts.
Is it illegal to have windshield mounts?
The rule is that the windshield car mounts should not obstruct the driver's view. Which part of the windshield to mount your car phone will vary depending on state laws.
Is it true that a car phone magnetic mount can drain the phone's battery?
There is a general fear of the phone's battery being rendered useless when you get it near magnets. While it is true that magnetic fields can interfere with your phone, the magnet used in most mounts is small and does little harm to your phone.
Is it illegal to mount my phone on the dashboard?
Various states consider it illegal to use your phone while driving. But, you can mount your phone on eye level and use the speakerphone to make calls. This is legal in most states.
Can I use my phone GPS while driving?
It is legal to use the Phones GPS while mounted on your dashboard as long as you do not need to touch it while driving. You should be aware that driving while operating your phone to send texts is both dangerous and illegal. You will get fined for it in many states.
How do drivers get distracted while driving?
Firstly, you can get distracted if you take your eyes off the road. Secondly, if you are busy doing something with your hand like eating or operating your phone you will get distracted. Other drivers will get distracted when they take their minds off the road and start concentrating on other things.
Conclusion
The search for the best car phone mount is not easy with so many good products in the market. However, after closely examining the products we settled on the iOttie Easy One Touch 4. We found the device easy to install while being compatible with most mobile phones in the market. The mount can be installed on the windshield or dashboard and you can release it through an easy press mechanism.
Resources:
How to Install your Phone Mount – Cnet
Was this article helpful?